Whenever a shopper finds themselves in your store, chances are they were driven there by a combination of customer motivations. These motivations shape the purchasing decisions they make and influence which brands they shop with.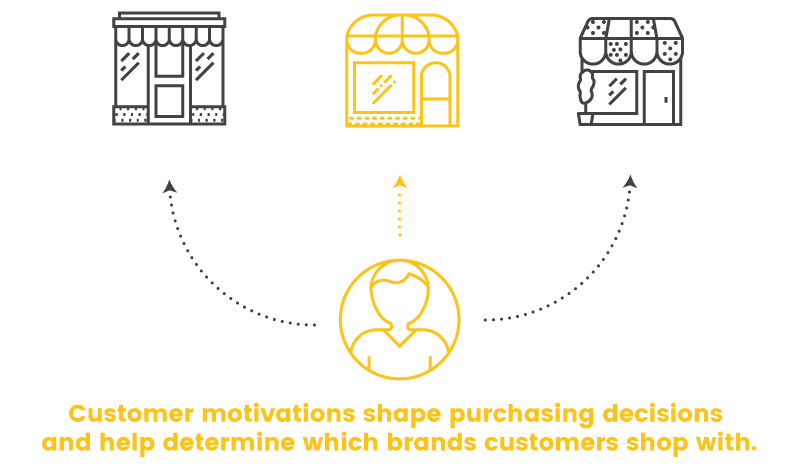 Too often brands become preoccupied with addressing only one or two of the most common customer motivations and completely disregard the rest.  This can lead to gaps in the customer experience that cause customers to shop with another brand.  However, an effective customer loyalty strategy can act as a switching barrier that prevents customers from leaving by addressing all of their motivations.
But let's not put the cart before the horse.  In order to fully harness loyalty's power to meet customer needs, we need to understand customer motivations and where they come from.
A Brief Overview of Customer Motivations
When a customer experiences a problem and requires a solution, their desired solution becomes the fuel that propels them to choose a specific product or service.  The ways that customers pursue these "future promises" are driven by customer motivations.

In other words, customer motivations are the result of an individual's dissatisfaction.  The greater the dissatisfaction, the higher the need. Businesses respond to these needs by designing a compelling reason to buy (CRTB).  CRTBs aim to define what the solution to the buyer's problem is, meaning that customers will only respond to them if they appear to be effective, convenient, and/or affordable.
Using Loyalty to Address Customer Motivations
There are seven customer motivations that occur more often than others.  These are a need/problem, fear, greed, pleasure, vanity, impulse, and fatigue.

How can we possibly meet all 7 needs at once?  That seems like a tall order!  Good thing you can address each of these motivations with one retention tool: customer loyalty programs.  Let's see how customer loyalty can meet each of your shoppers' needs.
Need/Problem
The need for a solution is the primary customer motivation, but customers aren't always aware that they have a problem.  This means it's up to a brand to make sure their customers know that their store is the ultimate solution to any and all needs they have.
The key is always clear communication.  Explainer pages give merchants the opportunity to clearly show why participating in their program (and shopping with them) is beneficial.  By outlining how to earn rewards and spend them, customers are able to fully visualize their membership in the program and how it will benefit their shopping experience.
Wild Poppies is an excellent example of this strategy at work.  For one thing, they've made the information easy to find by including a link in their address bar as well as a loyalty tab on every page of their website.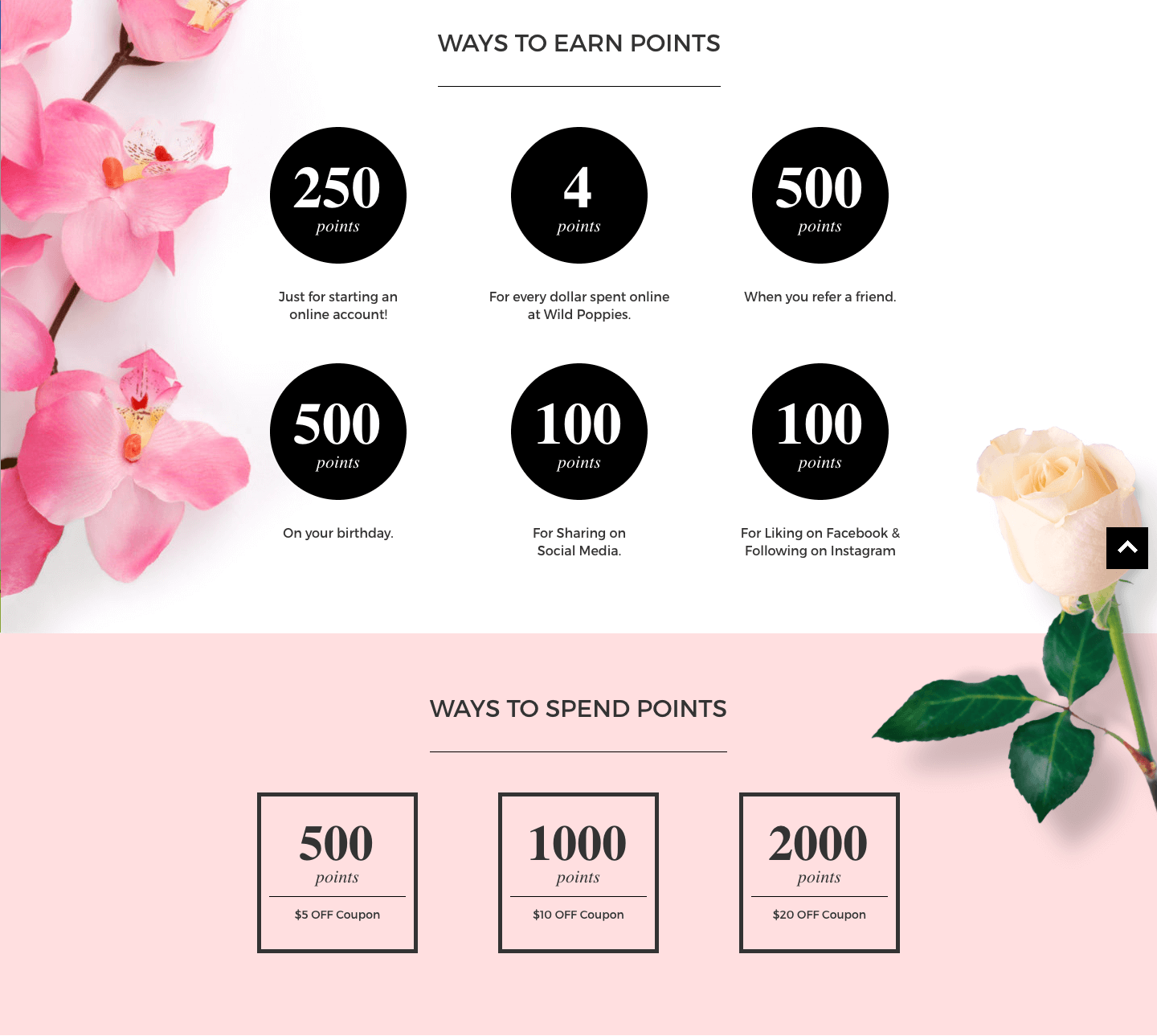 Once customers navigate to the page, they're treated to a highly visual and easy-to-scroll description of the loyalty program.  With a frequently asked questions section and clear statement of benefits, it becomes clear that becoming a member will improve their customer experience and make them an elite member of an exclusive community.
These considerations help solve the issue of repeat purchasability.  Whether the customer knows it or not, they were just convinced that shopping with this brand will improve their ecommerce experience, eliminating the issue of wondering where they should shop.

Fear
Have you ever heard of FoMO syndrome?  Otherwise known as the "Fear of Missing Out" syndrome, this social anxiety affects virtually every customer.  Email marketing is an effective way to keep your customers engaged and informed – especially when it's consistent.  Using a loyalty program as a retention hub allows you to design any number of emails that all look and feel like your brand.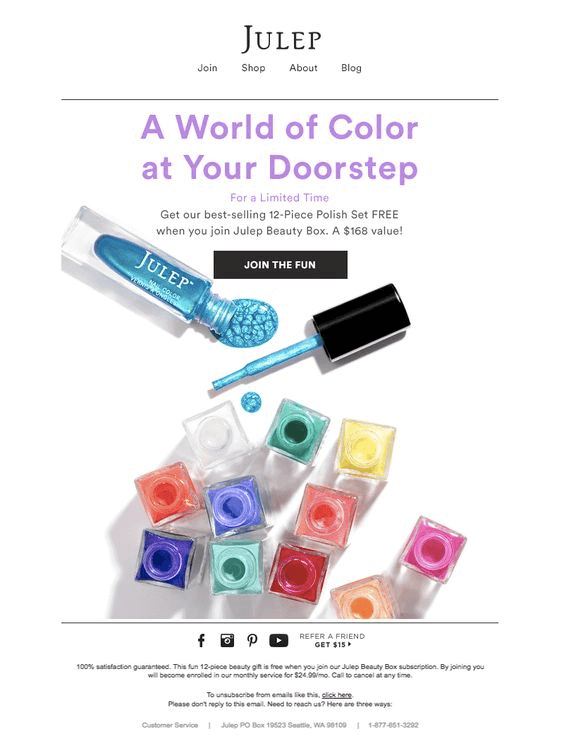 Julep is really good at this.  Through their multiple weekly newsletters, Julep is able to communicate sales, new products, and updates to their Beauty Box program to each of their customers.  These messages ensure customers never feel out of the loop or miss an opportunity to save money with a brand they love. It also gives the brand a great opportunity to build a relationship that delivers value on a regular basis.

Greed
As prices continue to climb higher and higher, people continue to be driven by a desire to make more and spend less.  This is what ultimately drives most customer's spending decisions.
A study by Colloquy found that 55% of people join a loyalty program to receive some sort of discount on products or services.  You can see this trend through the history of loyalty programs, especially since the most basic loyalty interaction involves rewarding a customer with discounts in return for their business.  These facts make transactional rewards a fundamental part of successful loyalty programs.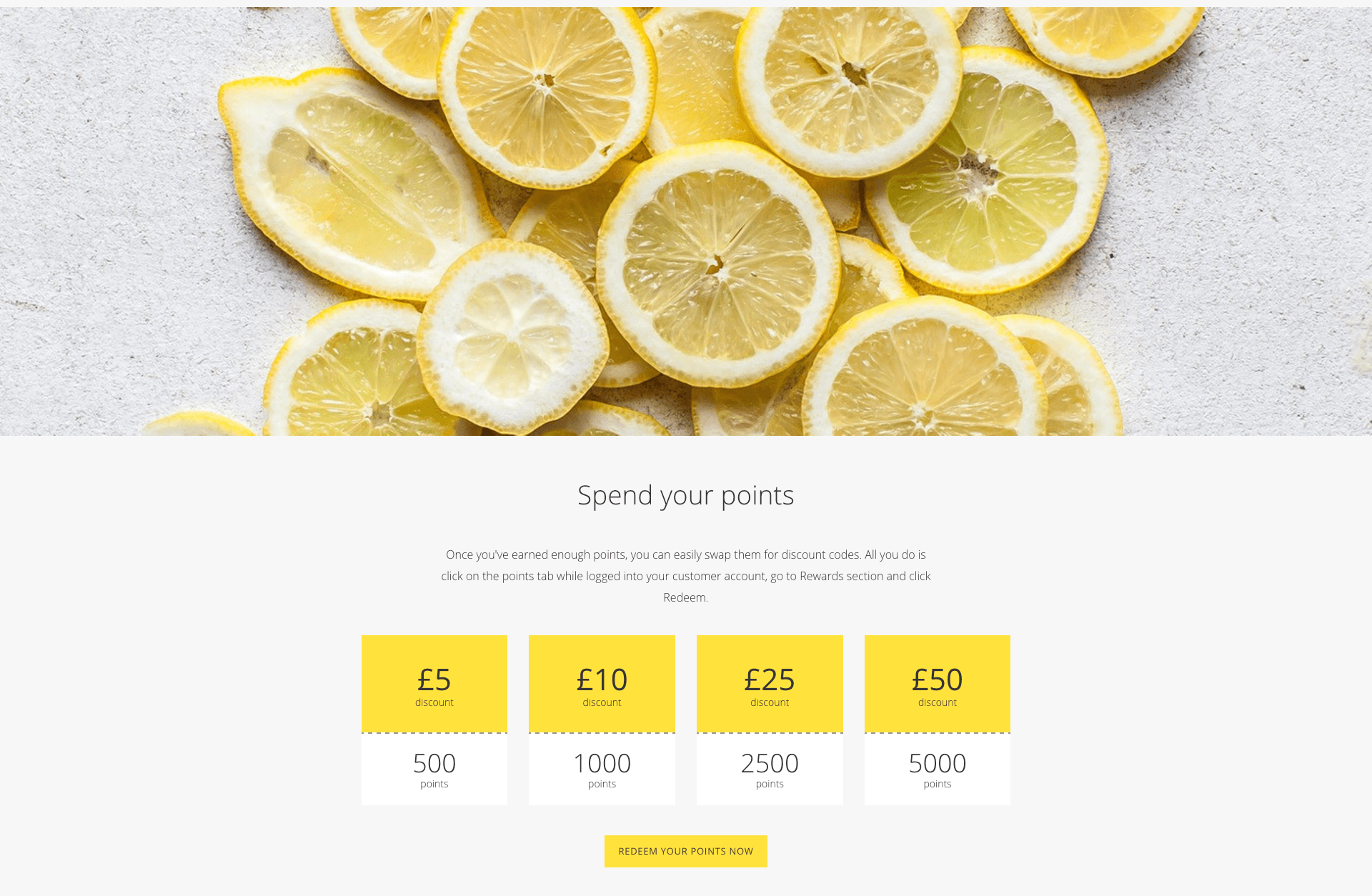 Transactional rewards can take many forms, such as free shipping, dollars off, percentage off, or store credit.  Allowing customers to choose their reward also enhances this experience as the act of saving money becomes something they control.
Although you could offer these to every customer, these costs would eat away at  your margins and affect overall profitability.  These strategies are also acquisition-based and do not foster repeat customers. Loyalty programs allow you to empower your best customers to control their savings, and they'll undoubtedly repay you with continued business.

Pleasure
Even though transactional rewards are traditional loyalty incentives, there are many brands that are beginning to break that mould.  Cosmetics and fashion brands are particularly good at this, with brands like Sephora and Neiman Marcus leading the way by offering both transactional and experiential rewards.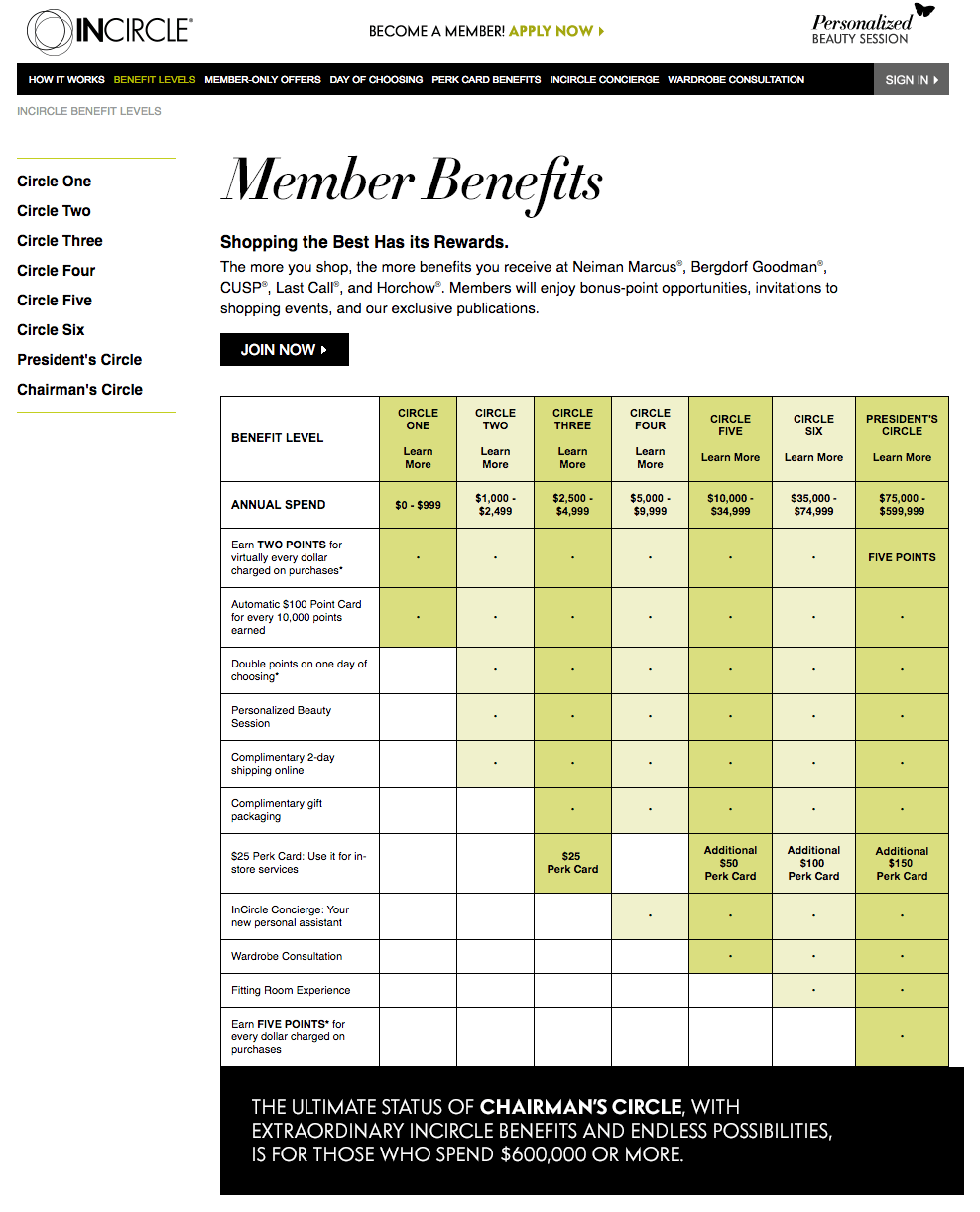 This is an extremely important shift in the world of customer loyalty.  For one thing, it gives customers more control over their rewards experience by allowing them to choose a reward that best suits their lifestyle.  Secondly, it's a clear effort to address pleasure as a customer motivation.  Someone once said "if shopping doesn't make you happy, then you're in the wrong shop!"  So make sure your customers stay in your store!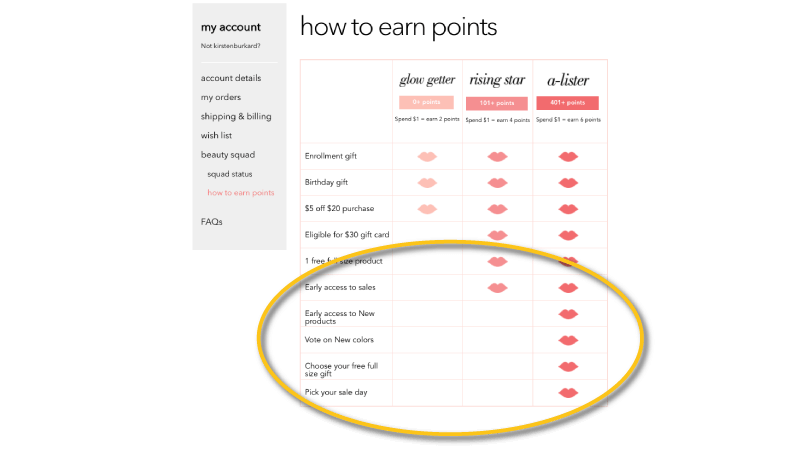 The concept of "retail therapy" is based on the idea that many people enjoy the act of shopping. Retention strategies are adapting to address this enjoyment at every stage in the buyer's journey.  Access to exclusive events, input on new products, and personal shoppers are only three examples of experiential rewards that make a huge impact on loyal customers.
Offering these types of rewards makes your brand a more appealing place to shop while empowering program members to enjoy the shopping experience.  These considerations round out your entire customer experience, and will continue to attract new customers to your store.

Vanity
This is one of the biggest customer motivations because social media has allowed people to share and promote their lives with others around the world.  Purchasing products associated with luxury and prestige help feed a customer's opinion of themselves, and satisfies a need to be accepted in certain social circles.
As a store, there are several ways you could approach this need.  Luxury brands like Apple rely on the price and design of their products to create repeat customers, but this isn't feasible for everyone.  Instead, the simplest way to do this is through customer segmentation.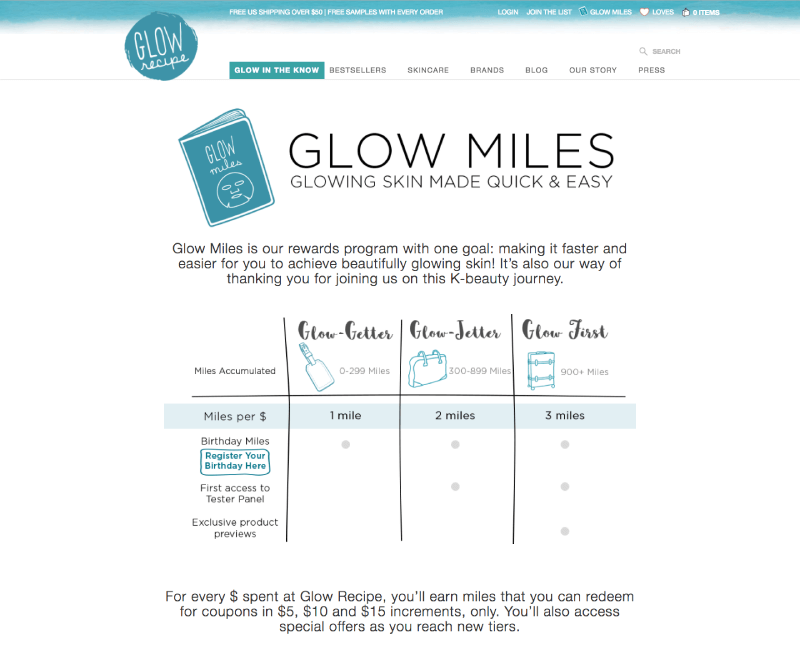 Loyalty programs built with wonderful apps like Smile.io (not biased) allow you to easily create tiers that separate your best customers from the rest.  This segmentation has huge benefits for both you and your customer because it increases engagement while also giving customers the opportunity to boast about their commerce accomplishments.
I know this might sound a little odd, but the proof is in the pudding.  Brands like Starbucks and Sephora have the world's best loyalty programs because they use customer motivations as building blocks.  Promoting prestige and social status above all else, both Starbucks Rewards and VIB Rouge allow customers to become members of an elite community with access to exclusive rewards and bragging rights.  These features make VIP tiers the perfect way to satisfy shoppers' vanity.

Impulse
Have you ever found yourself leaving a store with more things than you came for?  Impulse is one of the easiest motivations to work with because it builds upon society's desire to fit in and be part of a community.  If customers are told that everyone else is buying something, chances are they'll want to buy it, too.
That's because customers trust each other than your brand.  In fact, 92% of customers trust word-of-mouth marketing which means giving them the opportunity to share their experiences with each other is hugely beneficial to your store.   You can encourage this behaviour with a loyalty program that rewards shoppers for following your store on social media and writing product reviews.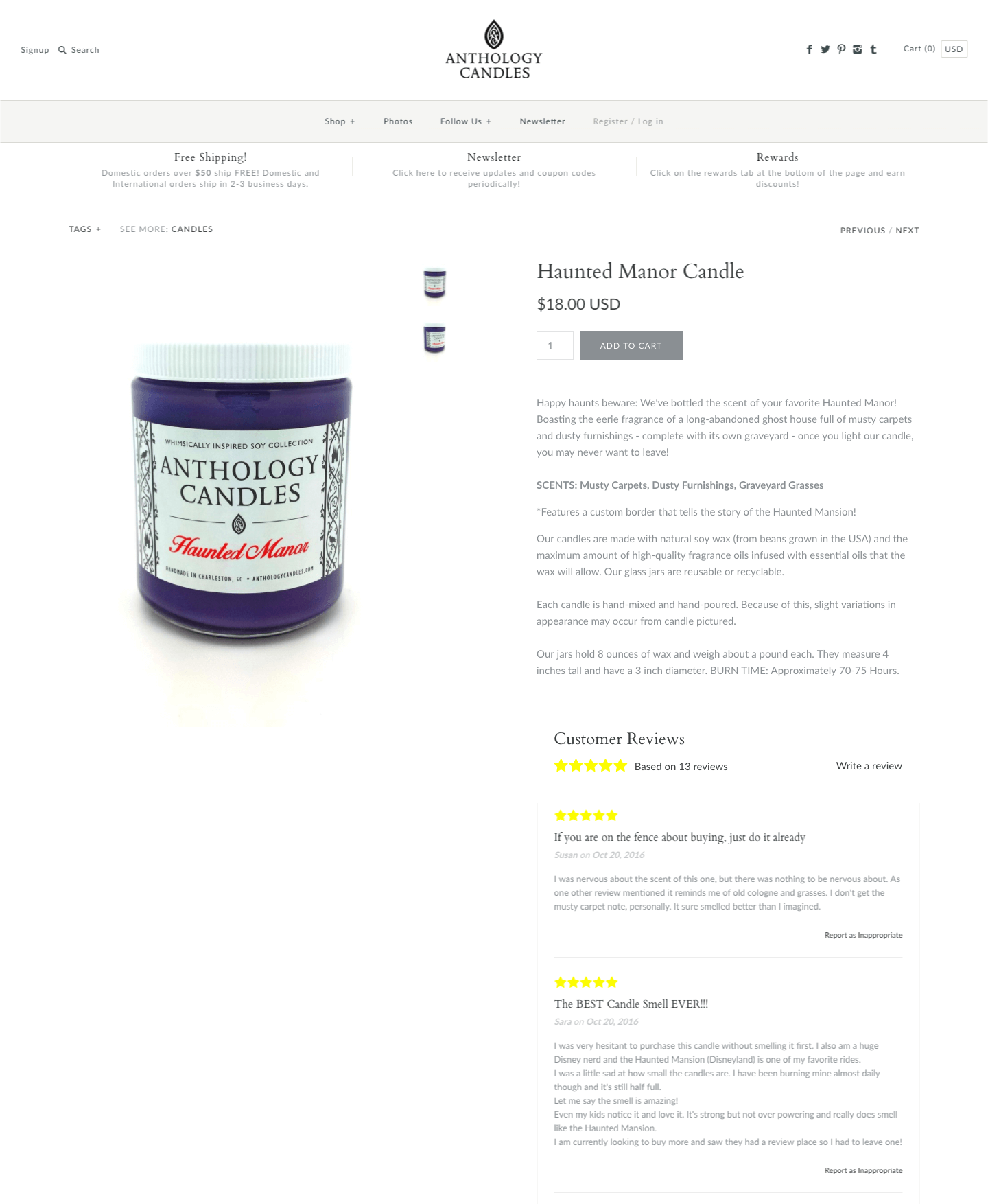 Not only are customers making purchases because their friends are, they're also seeing it everywhere online.  The greater your online presence, the more likely they are to click and find out what all the excitement's about!  This is the same with product reviews.  If a customer sees a glowing review of a product, they're more likely to consider purchasing it themselves.  This sort of impulse buying will help fuel your business' success for many years to come.

Fatigue
Consistent, ruthless marketing can wear customers down and result in them making decisions simply because they're tired of resisting the push.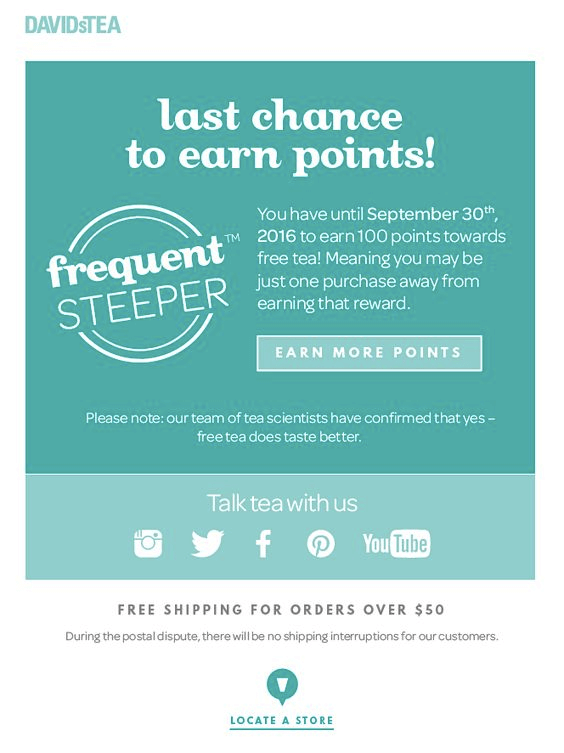 Calls to Action are a great opportunity for you to promote specific products or services at different stages in the buyer's journey.  This could be through email marketing, checkout prompts, or banner ads scattered throughout your store.  The idea is to expose your customers to an idea enough times that eventually they give in and click, if only because they're tired of seeing it.  This buyer's fatigue is closely linked to impulse, making these customer motivations a powerful combination.
This type of marketing should be used with caution because it can very quickly become annoying or invasive.  However, marketing a loyalty program this way is effective because it allows you to highlight the value of joining in places that make sense.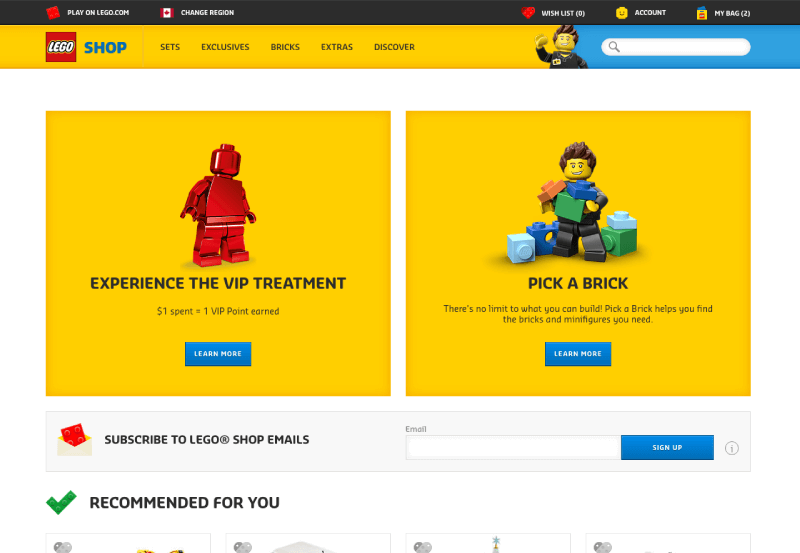 Lego does this very well by advertising their loyalty program on their homepage and at checkout.  In both locations the CTAs focus on what the customer will gain by participating, making the program and the store infinitely more valuable.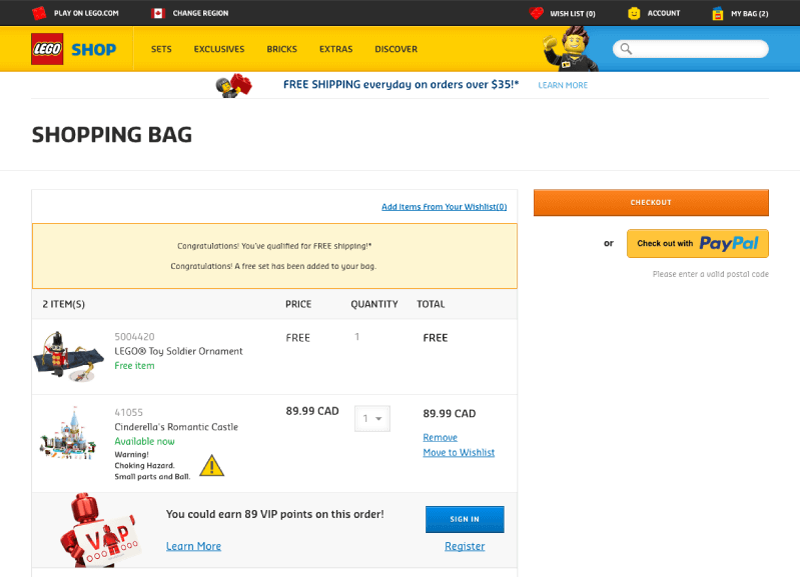 When the customer finally clicks on one of these ads, they're doing so not only because they've seen it so many times but also because they see value in it.  This is the fine balance a loyalty program can strike between fatigue and frustration.

Loyalty as a Customer Motivation Solution
Addressing all seven common customer motivations automatically makes your brand a better solution for potential and returning customers.  Combining this with a loyalty program only enhances this solution, providing additional value that improves your customer experience from beginning to end.

With email marketing, explainer pages, diverse ways to earn and redeem, and customer tiers, your store easily becomes the best choice for shoppers – no matter what motivates them.