Customer retention is a key element in making sure your ecommerce business is sustainable and in business for the long term. Without repeat customers, your business won't have the base it needs to grow.
Customer retention is the process of achieving repeat purchases from existing customers over time through retention strategies, tactics, and tools. Simply,  customer retention is trying to keep more customers for a longer period of time so they spend more over their lifetime.
🛍️
Customer retention is about keeping loyal customers, as opposed to recruiting new ones.
Customer retention is the opposite of customer acquisition, which is often the strategy most ecommerce brands prioritize over customer retention. Customer acquisition is when a retailer tries to get new customers through organic and paid channels, like social media, ads, etc.
Why is customer retention essential?
According to our data at Smile.io and a sample of over 1.1 billion shoppers and 250 thousand ecommerce brands, if you can get a customer to return a second and third time, you can lock in loyalty. After one purchase, a customer has a 27% chance of returning to your store. If you can get that same customer to come back and make a second and third purchase they have a 49% and 62% chance of making another purchase.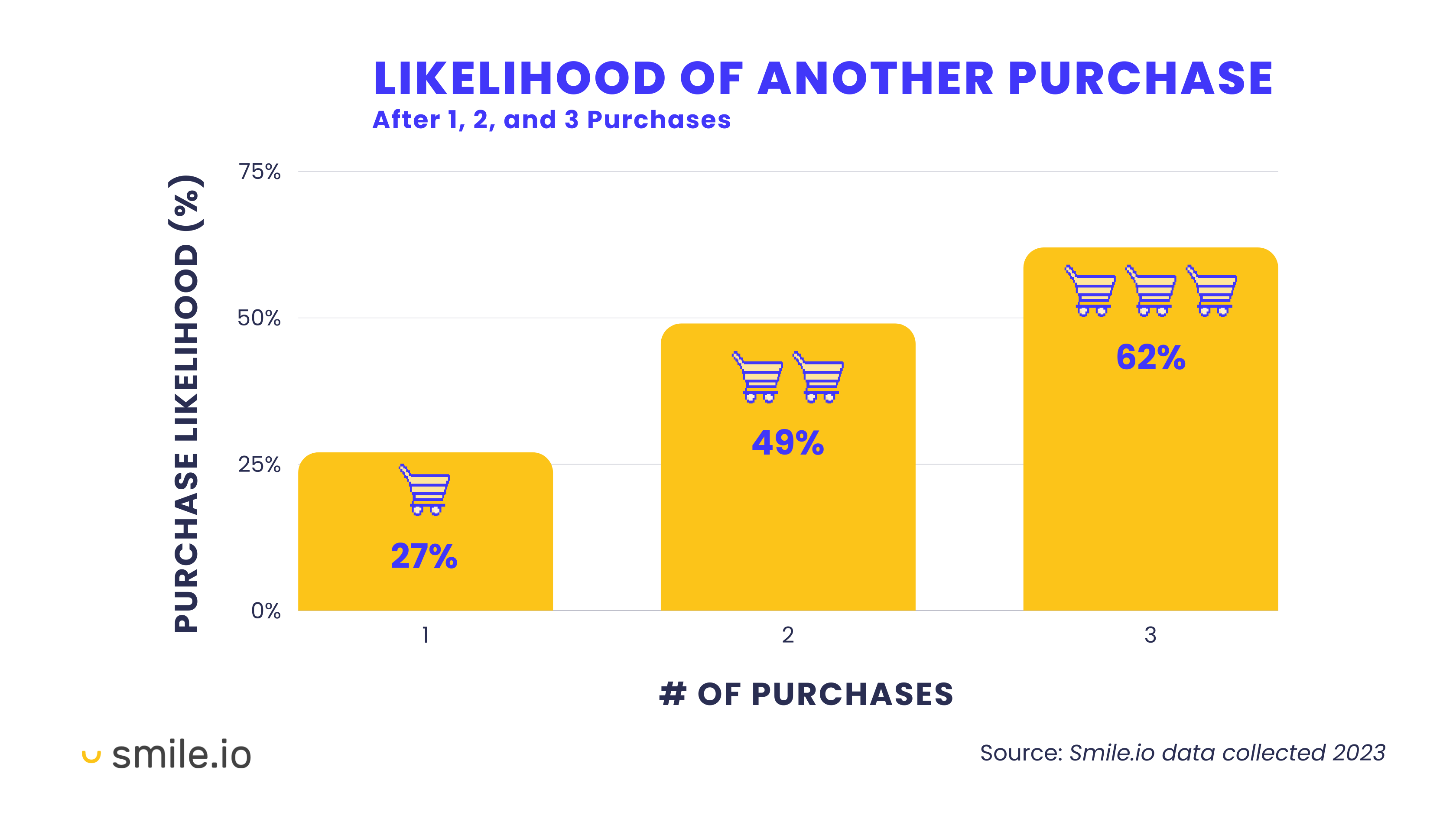 Here are three simple truths when it comes to ecommerce and customer retention:
It costs significantly more to acquire a new customer than it does to retain an existing one.
A successfully retained customer is a patron longer, which means they're spending more money with a retailer over their lifetime.
A successfully retained customer is much more likely to refer other customers. These referees are cheaper to acquire and usually have a higher lifetime value than a customer acquired via conventional channels.
Depending on your audience and industry, there are a lot of ways to retain customers. Think of them all as several paths up the same mountain, or different routes to the same destination.  While they are different in some way, they are all trying to do the same thing–keep more customers for longer to spend more.
The number one goal of customer retention is to boost profit for the ecommerce business. Customer satisfaction, loyalty, and brand community are the areas to focus on, ultimately bringing you toward your number one goal, profit.
Strategy vs. Tactics vs. Tools
We have three methods to increase customer retention–strategies, tactics, and tools. Learning about retention doesn't have to be confusing. In fact, it is easy when you approach everything as a retention strategy, tactic, or tool.
📣
A retention strategy is a plan designed to achieve the overall goal of retaining customers. An example is "keeping customers happy so they spend more." It is a plan, but it doesn't say how this is done (tactics) or what will do this (tools).
📊
A retention tactic is an action carried out with the goal of creating retained customers.

An example is "checking in with customers 2 weeks after their last order." It shows what we will do, but it doesn't say why (strategy) or what will do this (tools). is an action or act carried out with the goal of creating retained customers.
📲
A retention tool is a system or implementation used to carry out customer retention functions.

An example is "using SMS marketing to speak with customers about their purchase and overall experience." It shows what we'll use to do something, but it doesn't say why (strategy) or what we'll speak to them about (tactics).
Combining all three: "Keeping customers happy so they spend more (strategy), by checking in with them 2 weeks after their last order (tactic), using SMS marketing (tool)."
Customer retention strategies
A retention strategy is basically a plan used to create customer retention. All retention tools and tactics will attempt to achieve at least one of these retention strategies, although there is often quite a bit of overlap.
1. Customer satisfaction
Customer satisfaction is simply how happy (or unhappy) a customer was throughout the interaction with your ecommerce business. It can also be the entire customer experience whether they're shopping in-store or online.
Customer satisfaction is a big driver in customer retention and in helping increase customer lifetime value. Customer satisfaction strategies attempt to improve retention by increasing how satisfied a customer is with a business, the number of customers who are satisfied, or both. This is the most common form of retention.
2. Customer loyalty
Customer loyalty measures how likely a customer is to return for a repeat purchase or be an advocate for your brand in the form of referrals, and by simply being a fan. Loyalty marketing involves retaining customers through incentives that keep them engaged, such as referrals, rewards, and loyalty programs.
Customer loyalty strategies attempt to improve retention by increasing the likelihood that a customer will make repeat purchases with a business and decreasing the likelihood that a customer will purchase from a competitor. These strategies sometimes use incentives to motivate customers to purchase or perform actions. Incentives can be in the form of points, rewards, free items, discounts, status, or more.
3. Customer referral marketing
Customer referral marketing is the measure of how likely a customer is to refer others to a company.
Customer referral marketing strategies attempt to improve retention by increasing the likelihood that a customer will refer others ( friends, family, and inner circle). A referral has to be rewarding to both the person making a referral and the person receiving a referral.
Customer Retention Tactics & Tools

Customer service and "magic moments"
The ultimate customer retention tactic is simply providing the best customer service possible. How your customer feels before, during, and after interacting with your ecommerce business is the perfect indicator of whether there is a possibility they will return for a repeat purchase.
Providing extraordinary customer service, or as some call them "magic moments," is a strategy and tactic that is used to increase customer satisfaction and referrals. One of the best examples of an organization using customer service as a retention strategy is Hush Blankets, which has a 100-night guarantee on its weighted blankets. This has allowed Hush to become a top customer-rated brand that has built a solid community of loyal customers.
Discounts and coupons
Customers love a good discount or coupon, especially if they are returning for a repeat purchase. Discounts on a second or even third purchase are a tactic that is used to increase customer satisfaction and loyalty.
This is done by giving loyal customers discounts, which increases the value that they are able to receive. An example of a discount is the classic "buy 2 get 1 free card" – the most widely used retention program in the world. Another example would be giving customers who have been members for 1 year a 5-10% discount on all their orders.
Customer retention and rewards programs
If you can retain your top customers, you are on a trajectory to growth. Smile has determined based on our data, that your loyal top 10% of customers spend 2x more per order than the lower 90%, and your top 1% spends 2.5x more per order.
Rewarding customers for actions, purchases, and behaviors is a tactic and tool used to increase customer loyalty and sometimes referrals. Customers can be directly rewarded or can spend "points" or "credits" on discounts, status-based rewards, experiential rewards, charitable donations, and more through a loyalty and rewards program.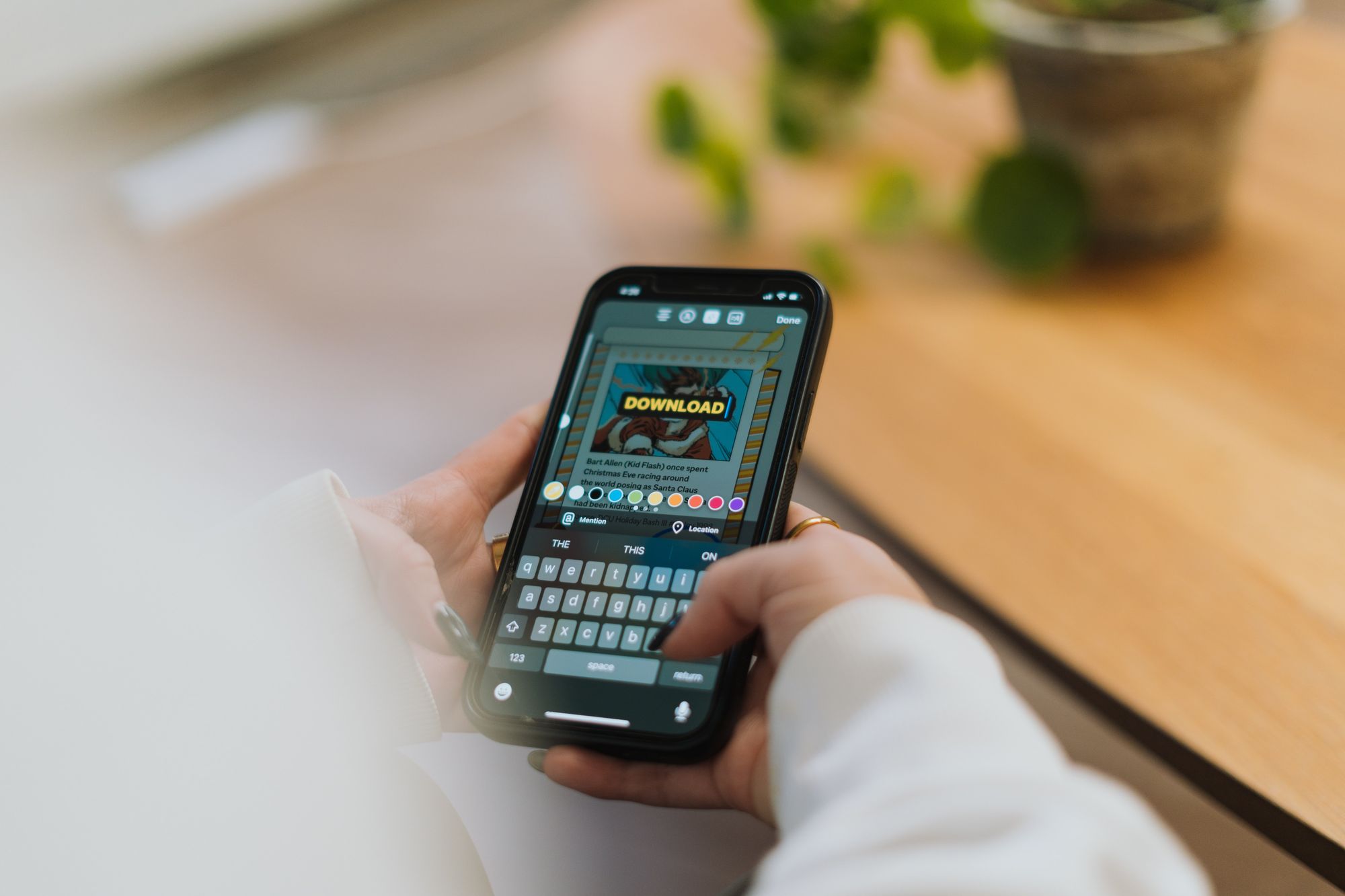 Points are often used as a value set and reward that a customer is receiving. An example of a customer retention program is Tim Horton's Rewards program in which customers can collect points that can be spent on free beverages, food, and items. Another example of a rewards program is Marriott Bonvoy, which has different tiers and levels of rewards status that customers can unlock with every stay at Marriott.
Personalization
Personalizing the customer experience is a tactic or tool that is used to increase customer satisfaction through more relevant experiences with your brand. Depending on the type of data being used to personalize the experience, it can also be used to increase customer loyalty. With customer loyalty, you have access to first-party data that can help craft your customer retention strategy.
🤝
A personalized customer experience can increase satisfaction as well as loyalty
Unwind Studio is a needlepoint and art brand that works with artists to transform their artworks and illustrations into needlepoint kits for customers to craft at home. By creating highly personalized products, they are able to personalize the customer shopping experience even further.
"Our rewards program helped us tremendously to increase our repeated orders and retain our customers," says founder Cristina Cerqueira. "The loyalty program is crucial for our customer retention strategy. Most of our loyal customers take advantage of the rewards every time they purchase with us. Investing in our existing customers first, allowed us to grow organically without relying on paid advertising."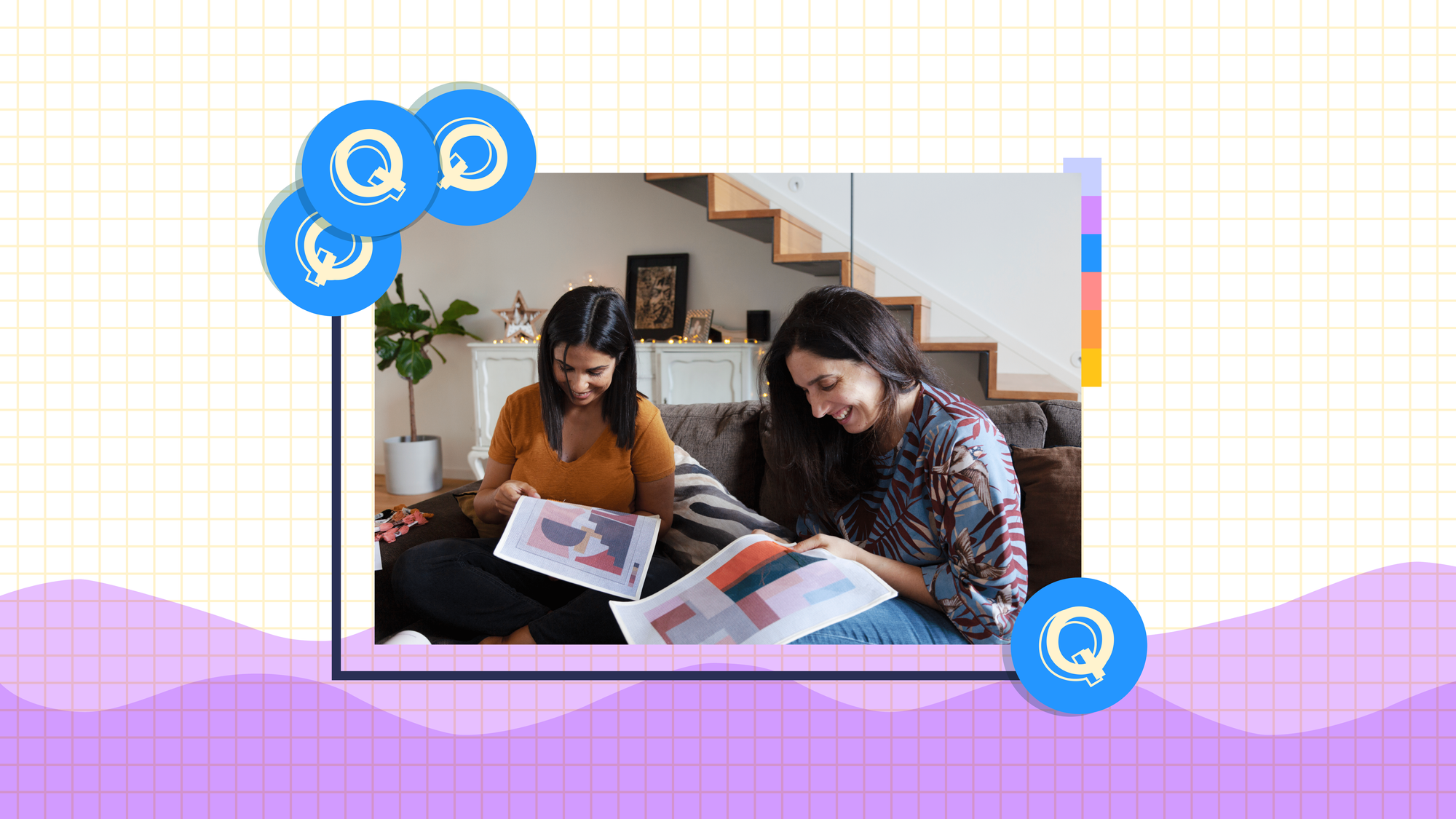 Proponents of personalization say that customers who experience personalization have higher conversion rates and customer satisfaction.
Gamification
Applying game mechanics to the customer experience and purchase process is a tactic or tool that is used to increase customer satisfaction by making the process more enjoyable and more likely to be performed. Gamification programs often use leaderboards, badges, status, and points to reward engagement. Unlike a loyalty program, these rewards are usually not redeemable– they are rewards in and of themselves. Gamification programs will often have elements of a loyalty program, and vice versa.
🎮
Often, gamification rewards are not financial - they offer status and make the customer experience more enjoyable
An example of ecommerce gamification is Bonobos, who hid images throughout their ecommerce site and would reward visitors with $25 credit for finding them.
Churn prediction
Customer churn prediction is a tool and tactic used to increase customer satisfaction. Churn prediction uses a merchant's data to predict which customers are at risk of leaving, or "churning." Usually, an email series or an SMS marketing strategy, with an enticing offer will be used to reach out to these customers before they churn.
💰
Being able to predict customer churn lowers marketing costs because less needs to be spent to replace customers that have been lost.
Customer feedback surveys
Customer surveys are used to increase customer satisfaction by identifying points of improvement in a customer's experience. You can add a survey post-purchase, or together with an incentive, offering a discount or even points in exchange for feedback.
Customer surveys are easy to implement and can be written to provide actionable results. They also provide a "forward look" into customer loyalty (they measure how the customer feels right now), whereas most loyalty metrics provide a "backward look" at loyalty (they measure what has already happened to affect how the customer feels).
🗒️
Customer surveys give you the chance to determine how your customers feel about your brand at any given moment.
What retention tools, programs, and strategies should you use?
These strategies, tools, and programs, are all paths up the same mountain and not mutually exclusive. They should be combined and used in what we are calling "full stack retention". Full Stack Retention (taken from the term "Full Stack Developer") refers to an ecommerce brand that has a full solution set to retain customers all throughout its customer lifecycle.

Customer retention is a key strategy in ensuring growth and sustainability of an ecommerce brand. Customer retention is a great strategy and should be the focus from the start, along with  customer acquisition. There are a lot of strategies, tactics, and tools to retain customers. Choosing the right set of solutions can be applied only when you know your customers and industry. As long as you're always trying to keep customers happy and spending – retention – you'll be working towards the right goal.
Editor's Note: This post was originally published July 10, 2014 and was updated for accuracy and comprehensiveness on May 1, 2023.
Build brand loyalty and retain customers.
Create a rewards program in minutes