Do you personalize the shopping experience? While it's common to address customers by their names in emails and leave it at this point, meaningful personalization is more than that. You can go beyond and tailor website content, emails, texts, apps, live chats, and call centers to every customer.
These days, customized experiences are more important than ever. 73% of shoppers expect brands to understand their unique needs and expectations. So if you overlook personalization, you're likely missing out on potential sales and customer loyalty. It's time to catch up.
This article will dive into why personalization is critical in today's ecommerce landscape. You'll find statistics and effective tactics for delivering tailored experiences that truly resonate with your audience.
Why is ecommerce personalization important?
Personalization is about creating unique customer experiences, whether an ecommerce UX homepage design or interaction via smartwatches. Yet, it also provides numerous benefits to businesses, such as:
Boosting the bottom line: According to the Next in Personalization 2021 Report, customization contributes to the company's growth and generates 40% more income for fast-scaling businesses.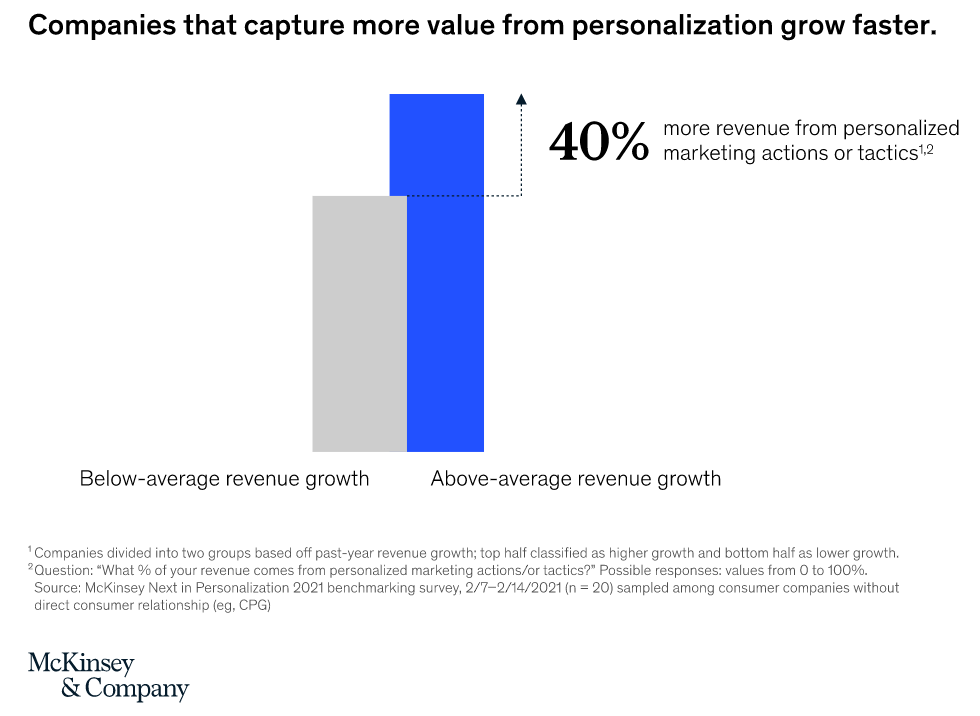 Increasing customer loyalty: The same report states that 78% of consumers will become repeat buyers and recommend products to their friends and families if the company employs personalization.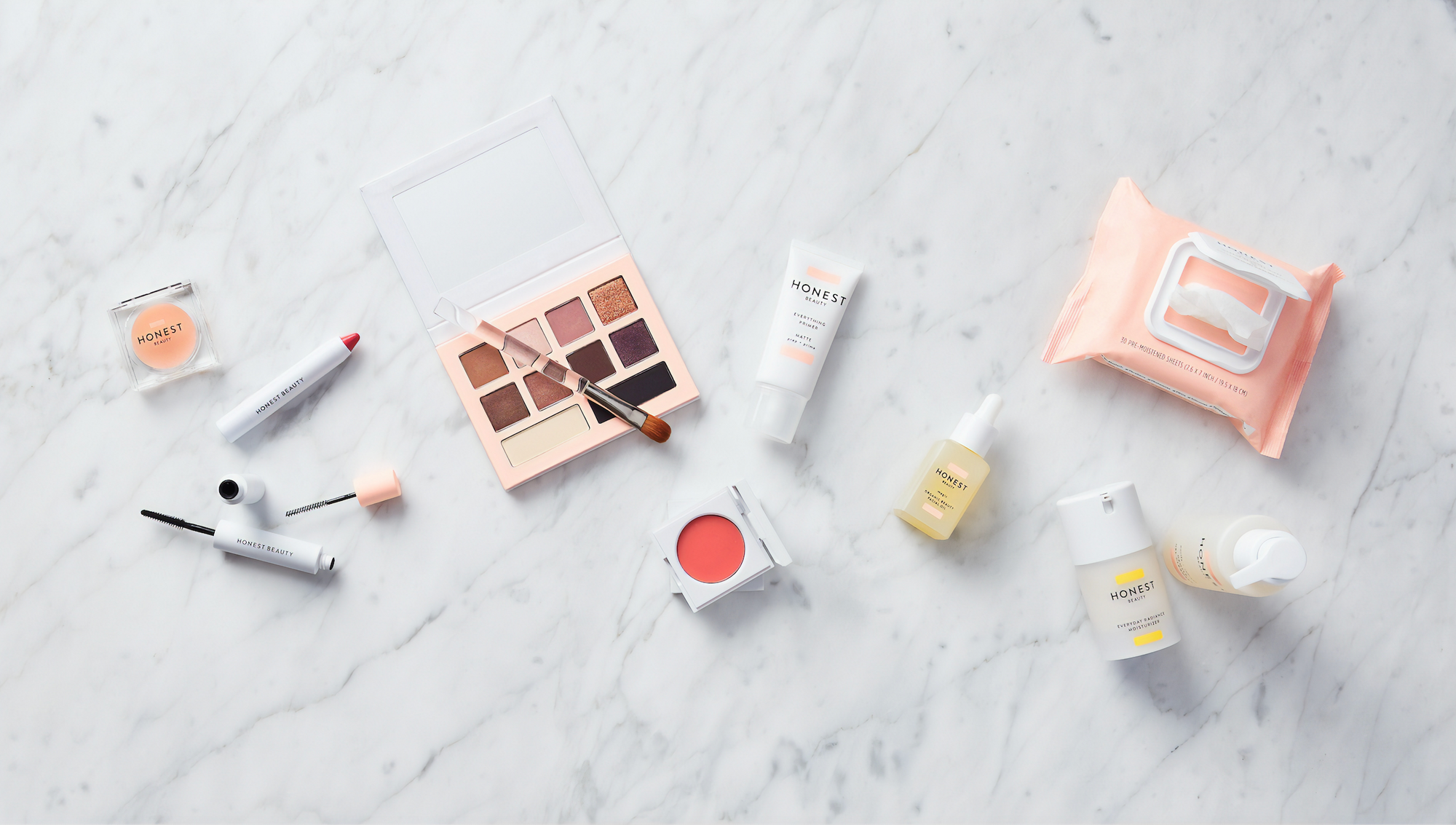 Bolstering conversions: A case in point is Tottenham. Dynamic Yield informs that the English football club improved its mobile homepage conversions by 40% thanks to mobile web customization.
Creating omnichannel experience: It means delivering a seamless and consistent experience across various channels.

For example, if people start shopping on their phones, they should be able to continue on their laptops without any issues. The website should recognize them without the need to repeat previous steps. It also applies to brand representatives, comprehending consumers' problems without collecting the same information at every stage.

To achieve this, ecommerce companies need technology to track and manage customer interactions across touchpoints.
Better understanding your audience: Websites and apps let you collect user information to see their preferences and offer similar content and goods.
Enhancing website metrics and key performance indicators: Personalization benefits other metrics besides improving conversions. It reduces the bounce rate and cart abandonment and increases the average check.
🛍️
82% of shoppers choose brands with an individualized approach in their messaging (an increase from 74% in 2022) -
Marketing Charts
.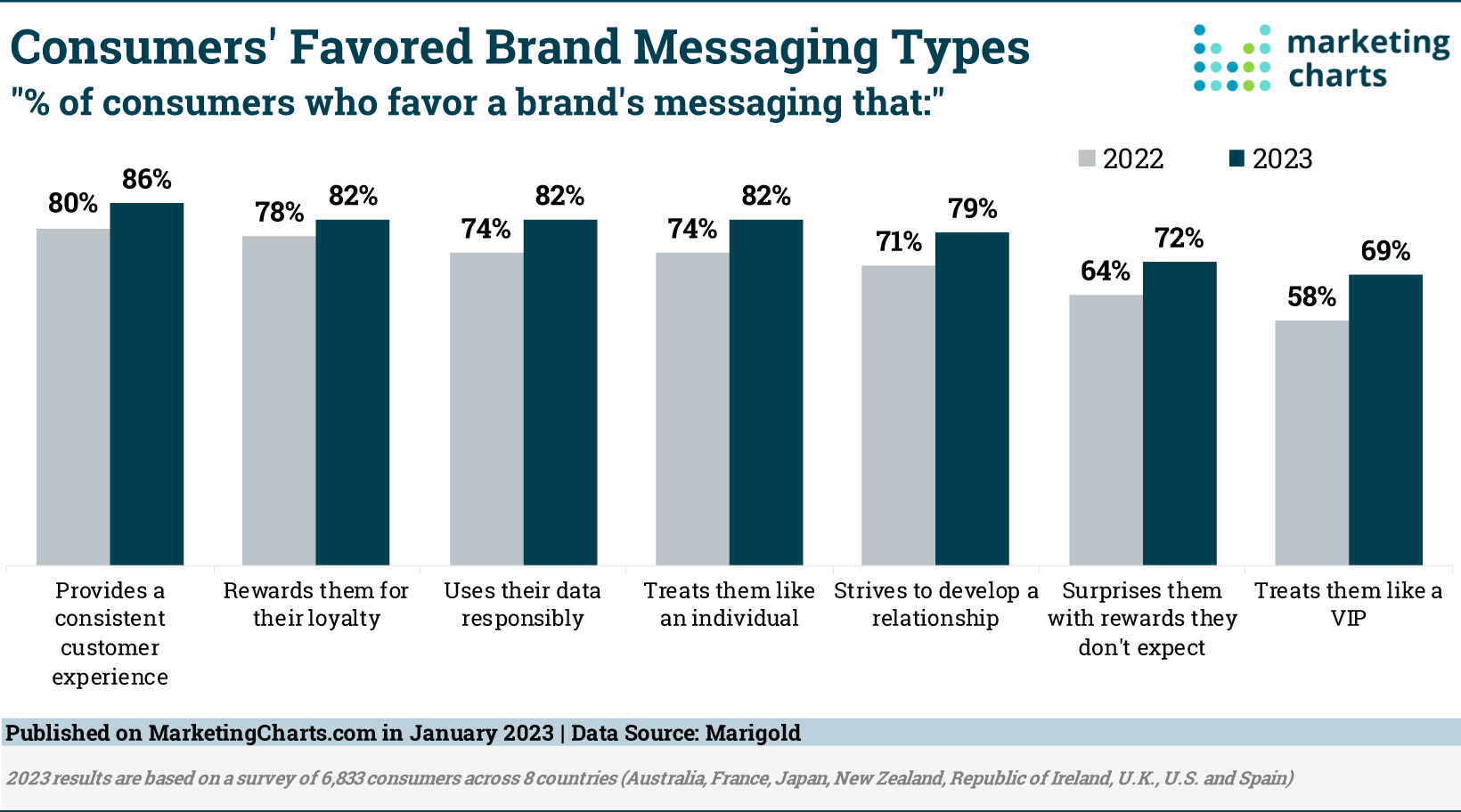 How can segmentation and marketing automation improve personalization strategies?
Now that you understand the importance of personalization, you may start to think, "How can I appeal to every prospect personally?" Segmentation and marketing automation can help in this situation.
Segment your database to market to your clients (and prospective customers) based on their interests. Suppose ten people are buying similar men's T-shirts. You can send them emails showcasing your latest men's T-shirt collection without having to market to everyone in your database individually.
Segment your audience based on past purchases, browsing history, or demographics (e.g., gender, age).
Even if you don't know your website visitors, you can still customize their experience. Track their browsing sessions. Show them products according to their location or recommend items based on previously viewed pages. These highly tailored experiences let you present the needed products to the right visitors at the appropriate time, boosting their chances of buying them.
Five tips for implementing personalization in ecommerce
1. Tailor website content
Working on your website is the first way to personalize the shopping experience. You can tailor various website sections to meet the users' demands. The process includes the following:
Personalizing the customer journey based on device type. Provide the best possible customer experience to all your shoppers no matter where they interact with you.

With the growing popularity of smartphones for shopping, optimizing the website for these devices is key. It entails convenient navigation, product pages, fast loading, a shopping cart, and checkout.
In 2023, 79% of smartphone owners have used their mobile devices to purchase.
For instance, more and more online store owners follow the mobile-first approach in web design. They ensure native-app looks or convert websites into progressive web applications. As a result, the website becomes user-friendly and brings more revenue.

Take a look at the button placement on these screenshots from Snapdeal. On the product page, the "Add to Cart" and "Buy Now" buttons are stuck to the bottom of the screen for user convenience. So no matter which point of the page the users are scrolling, these buttons will follow them. Similarly, the shopping cart page also has a button at the bottom.
Using the location to present relevant offers. Location customization is one of the easiest ways to minimize potential customer frustrations to provide a seamless shopping experience.

Suppose your store serves multiple markets like the U.S. and the U.K. Personalize the store based on those markets. Let consumers know whether certain items are available in their region in advance, not at the checkout.

Or show different currencies to buyers from each country at the very least. H&M, for example, offers visitors in either their U.S. or U.K. markets the chance to shop in their currency.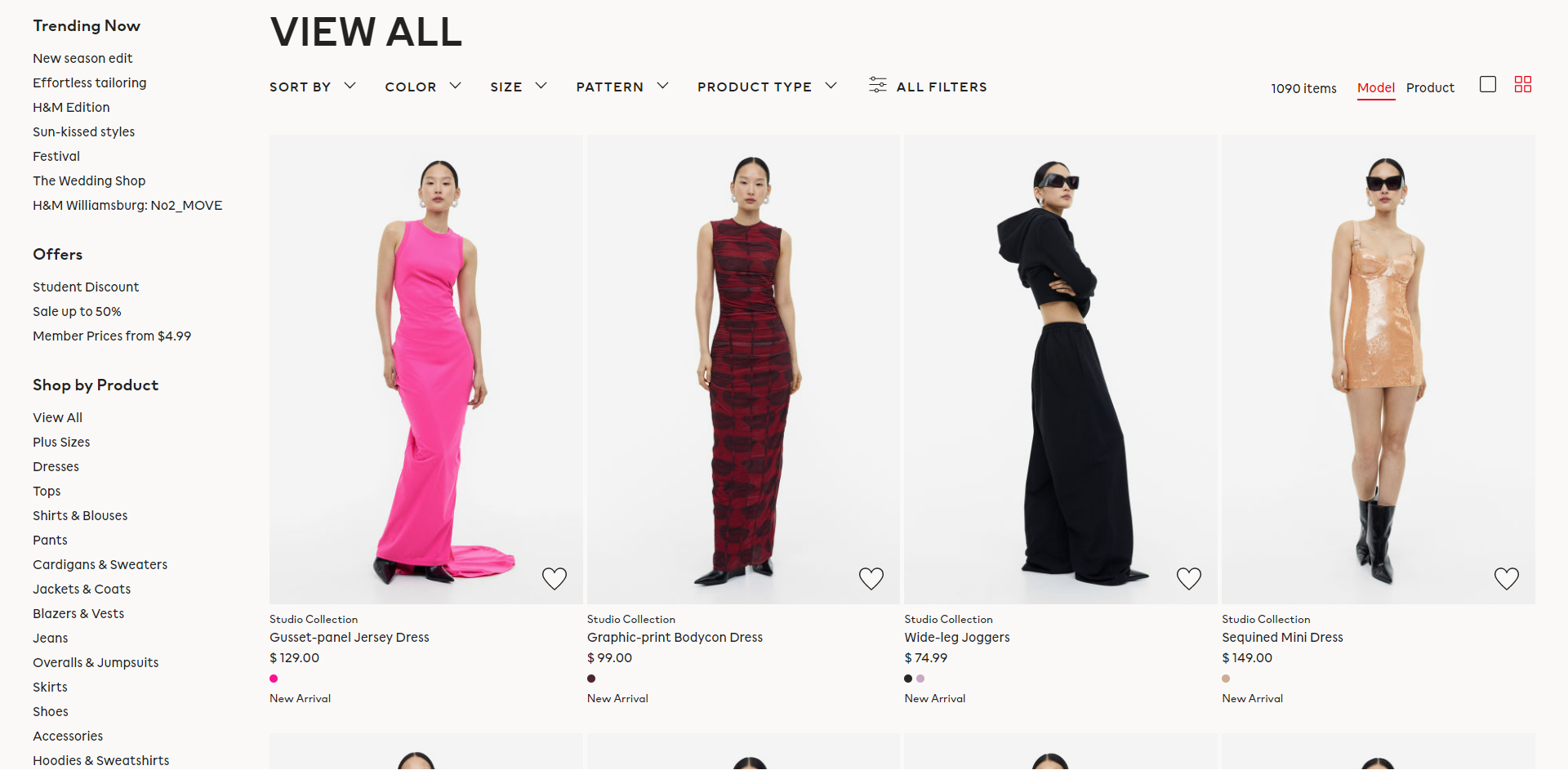 Presenting "People Also Viewed" or "People Also Bought" product recommendations. This strategy works even for anonymous users, providing maximum value to them.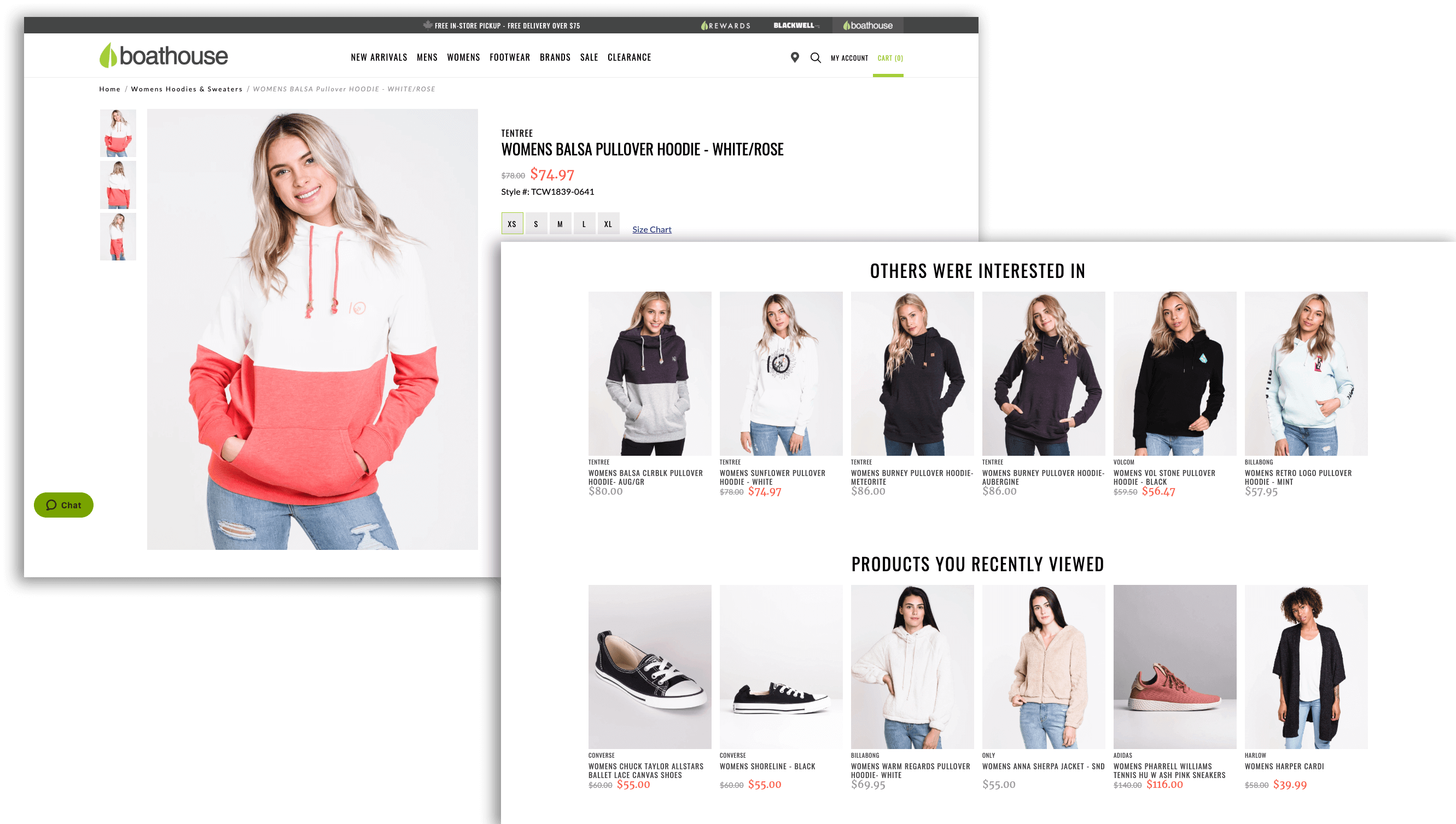 Product recommendations based on the visited pages. If your clients are signed into their accounts, leverage their data and show "Recently Viewed" products. Not only does this allow shoppers to easily find products that match their interests, but it acts as a reminder for these people, increasing their purchase frequency. For instance, I revisited the ModCloth website after viewing certain items. Now I see those products in the pop-up.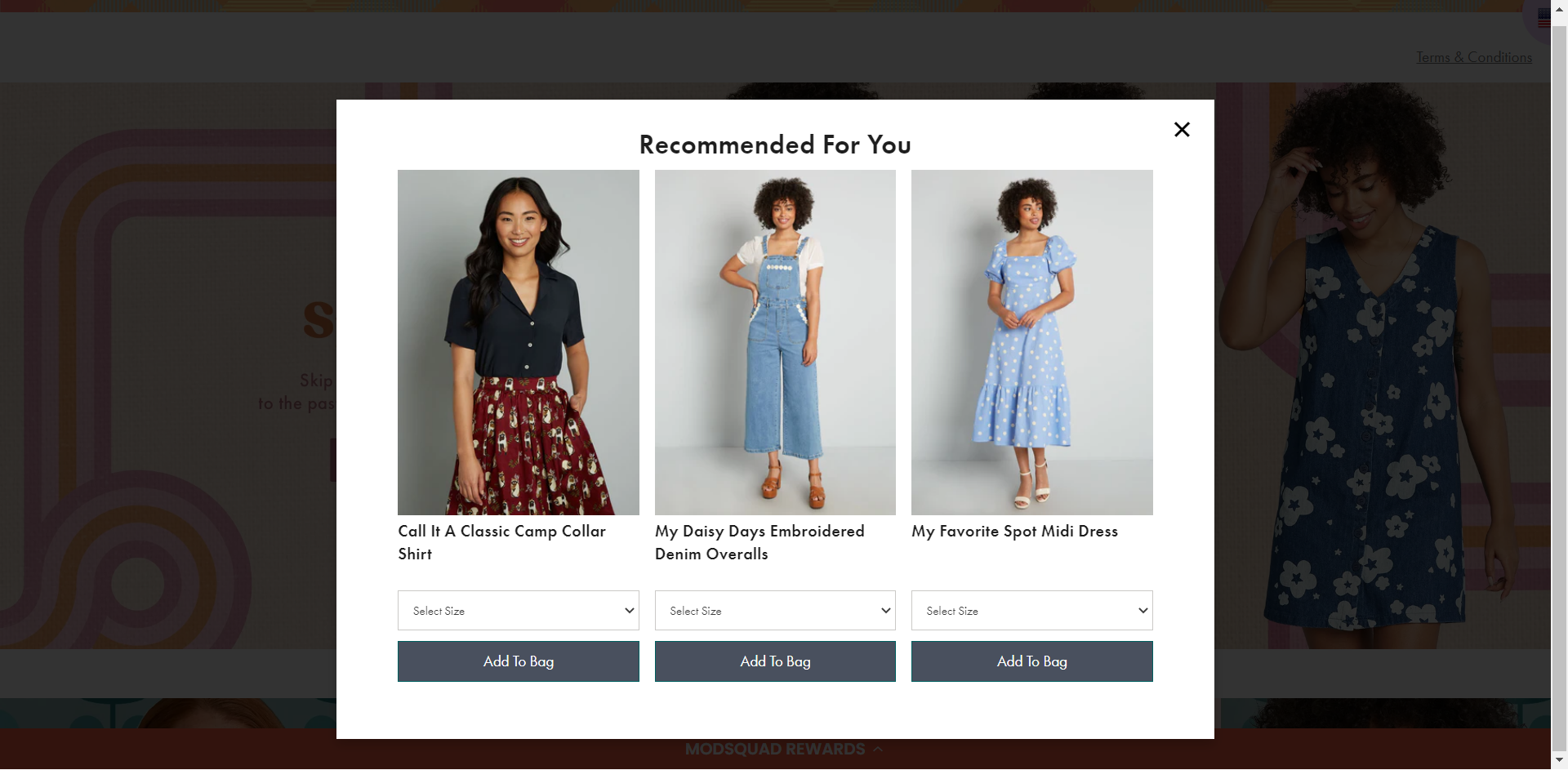 2. Send relevant emails
Reach out personally based on when customers last bought from you. Re-engage them. For instance, if you sell consumables like supplements or candles, and it takes a month to use them up, you can remind clients to reorder before they run out.
But, even if your products aren't consumable, reach out to buyers who haven't ordered in a while. Automate outreach to bring them back.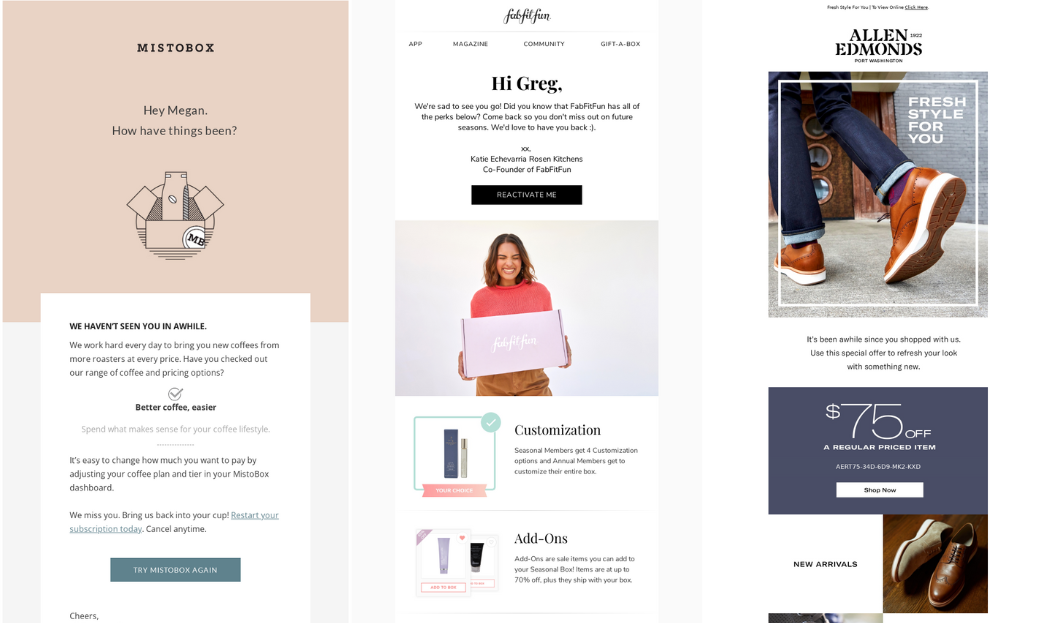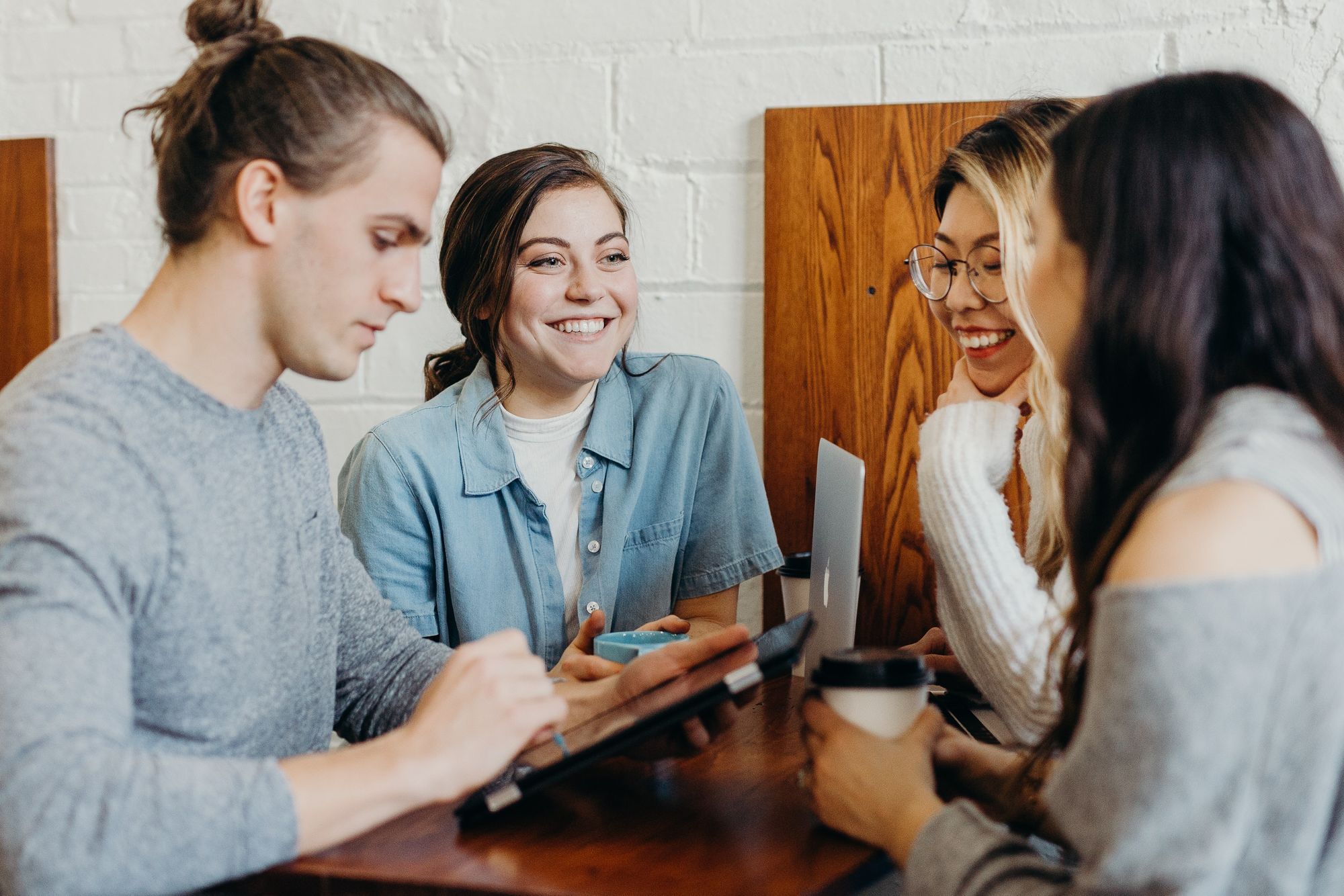 Another great personalization tactic is sending your email subscribers relevant offers. Fetch information about their views, wish lists, or shopping cart.
After all, they've agreed to communicate with you or bought from you before, so you have no excuse for not knowing their preferences and interests! It's also a powerful way to drive upsells and cross-sells.
A case in point is abandoned cart emails. When visitors add an item to their cart and decide not to go through with the purchase at that time, there is still the chance to win them back. These emails and communications provide a tailored experience to your customers' inboxes to show them how much you care.
As you can see in the screenshots below, some companies suggest more products apart from completing the order.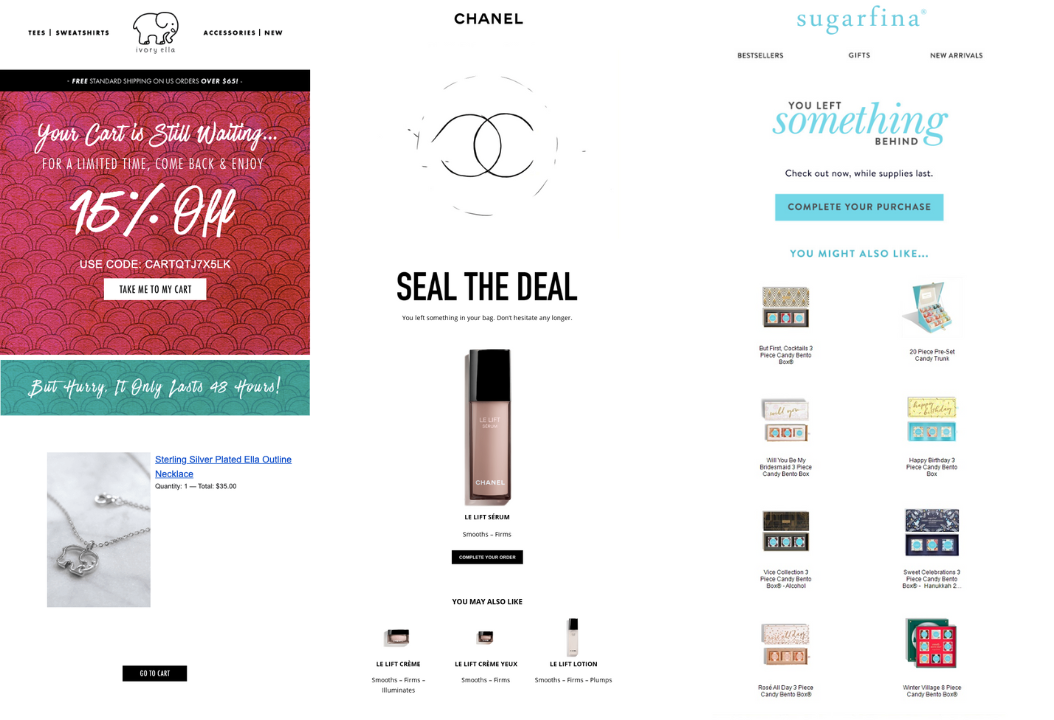 3. Use social retargeting ads
When visitors leave your website, it doesn't mean you've lost them forever. Employ retargeting on social media to get their attention back. But timing is everything. You have to be strategic to succeed in this approach.
Take granulated retargeting as an example. Here's how it works–the longer a visitor has been away from your website, the less valuable they become, so you can adapt the ad spend according to their value.
Shortening your retargeting period to 7-14 days can also help increase conversion rates. That's because you engage people when they're most likely to remember you. Leverage tools to retarget shoppers at the right time, such as Vue.AI, Bloomreach, Drip, and ActiveCampaign, so as not to lose clients to a competitor.
4. Choose the right tools
Personalization tools aim at different businesses, so you can get lost in this variety of technologies. However, picking the best software will determine the success of your campaigns. Consider these five factors when making a decision:
Personal needs. What do you want to achieve with this tool?
Project scope. Is your project small or big? The answer will impact how much work and time you need to deliver results.
Time to market. You can utilize some tools right after downloading, while others involve coding and designing.
Scalability. If you plan to grow, the software should be scalable to meet your needs without switching to another solution.
Security. How does the tool protect users' data?
Some popular website personalization tools are OptiMonk, Hyperise, Yieldify, VWO, PersonalizeFX, Personyze, HubSpot, Optimizely, etc.
5. Address privacy concerns
Data privacy and security remain among the main roadblocks when introducing personalization. Imagine an online store knowing when and where you were yesterday. It seems scary, right? That's why online consumers may hesitate to share their personal information with every store. Even for the sake of personalization.
Google, Apple, Firefox, and other companies have already introduced changes in privacy rules. Google Chrome will gradually stop supporting third-party cookies by the end of 2023. Thus, you must respect the right to privacy, leverage only first- and zero-party data, and ask for visitors' consent. You can collect first-party data with the help of the following techniques:
loyalty programs;
product recommendation quizzes;
members communities;
customer surveys;
newsletter sign-ups;
branded apps.
For example, Beardbrand uses a quiz to learn more about its prospective customers. It also gives the company a chance to collect shoppers' email addresses.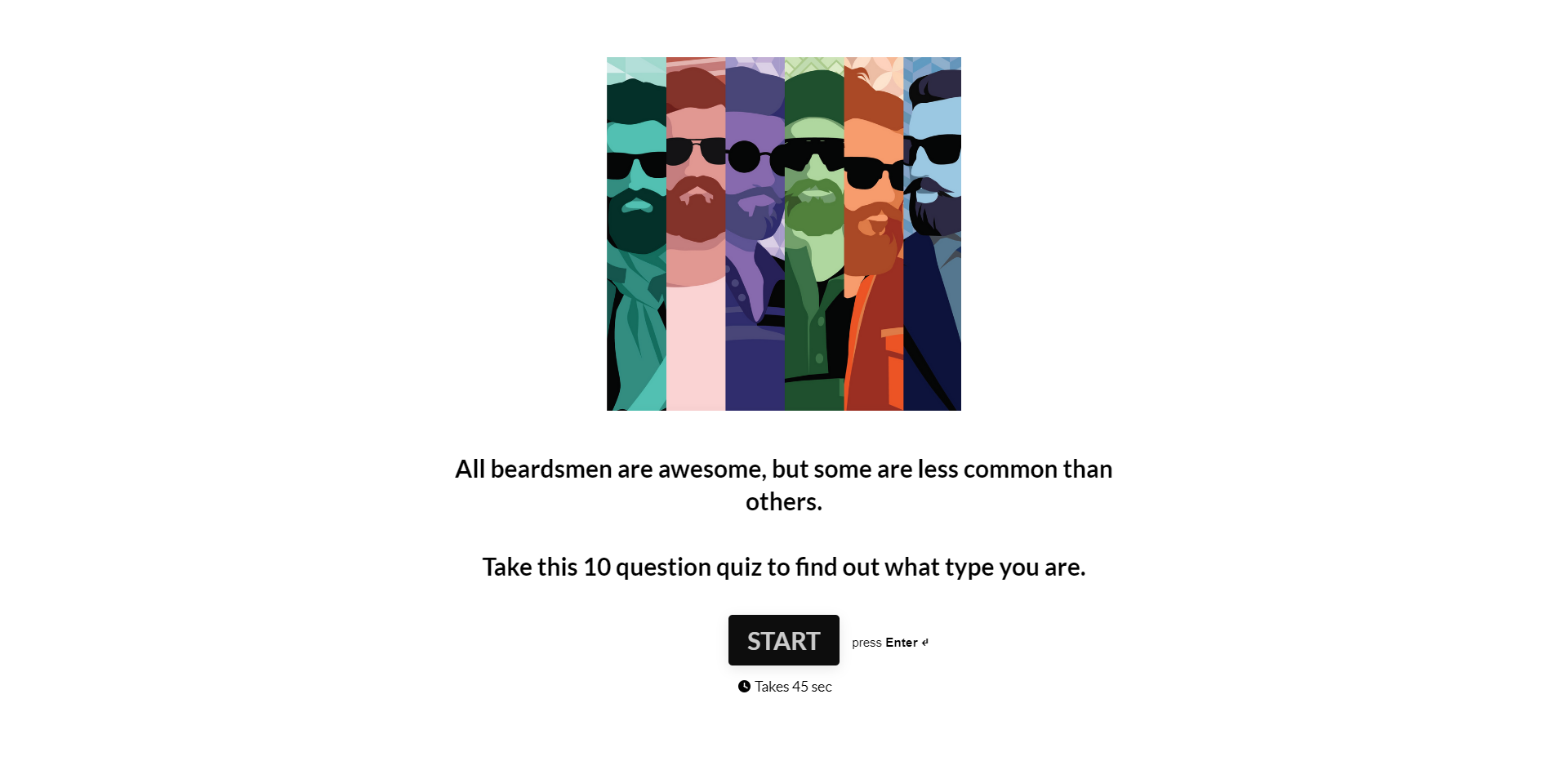 Give your clients the personal experience they desire
Consumers don't only appreciate personalized customer experiences—they expect them. Incorporate these five customization tactics to make your audience feel special and keep it engaged with your brand.
Creating tailored experiences can benefit your brand and boost performance. And you can do it even for anonymous users. Leverage device or location information, recommend related products based on purchase history, and pay attention to security. Or maybe approaches like tailored email campaigns will be more effective for you?
Start building connections with your customers today by creating customized experiences. No matter what strategy you choose, you'll soon notice how investments in personalization pay off.
Kate Parish is the CMO at Onilab, a web development agency. Being a top executive in a company specializing in ecommerce, she specializes in SEO, branding, and SMM.