I'm going to say something you might not like to hear:
Black Friday Cyber Monday isn't about sales — it's about strengthening your brand community.
I understand this might sound weird. After all, everyone measures their success based on how many new customers they're getting and the number of dollars each of those customers spends.
The problem with that approach is that it doesn't extend beyond the end of the BFCM period. What happens to each of those customers after you acquire them? Are they coming back to shop with you again, or are they simply being acquired and passing through without being engaged or retained?
A rewards program sets you up for BFCM
As ecommerce grows, more customers than ever are looking at your small business, and you need to make sure they're seeing the right things. Positioning your brand properly can make all the difference, and a rewards program allows you to do that as part of your larger community strategy.
Your brand community creates a sense of belonging and makes it easy to develop emotional relationships with your customers.
A rewards program gives you the opportunity to exceed customer expectations with every interaction. These positive experiences lay a foundation for strong, emotional relationships that only improve every time they engage with your brand.
When you take the time to build real connections with your customers, you separate yourself from those brands who simply want to make a sale. This brand community then becomes your most powerful tool for retaining and delighting your customers, setting you up for sustainable growth.

Your rewards program is the perfect tool to target each of these community-building stages over BFCM to both improve the success of your program and deepen customer relationships. That means your program should already be up and running before the holiday season to make sure as many customers as possible can take advantage of it!
Let's look at what you can do to make sure your program strengthens your brand community and, as a result, sets you up for success!
Phase 1: Acquire and encourage customers to join
Black Friday Cyber Monday is arguably the best time of the year to acquire new customers. With exponentially more customers discovering your store, you have tons of potentially loyal community members at your fingertips. The key is to make sure they join, and your rewards program is the best way to do that.
Run a launch campaign
Whether your program is new or not, your first course of action should be to let or remind customers that your program exists. Email is still the most effective form of customer communication, and sending a tailored message that outlines how your program works and what they can get out of it is the best way to get them excited enough to join.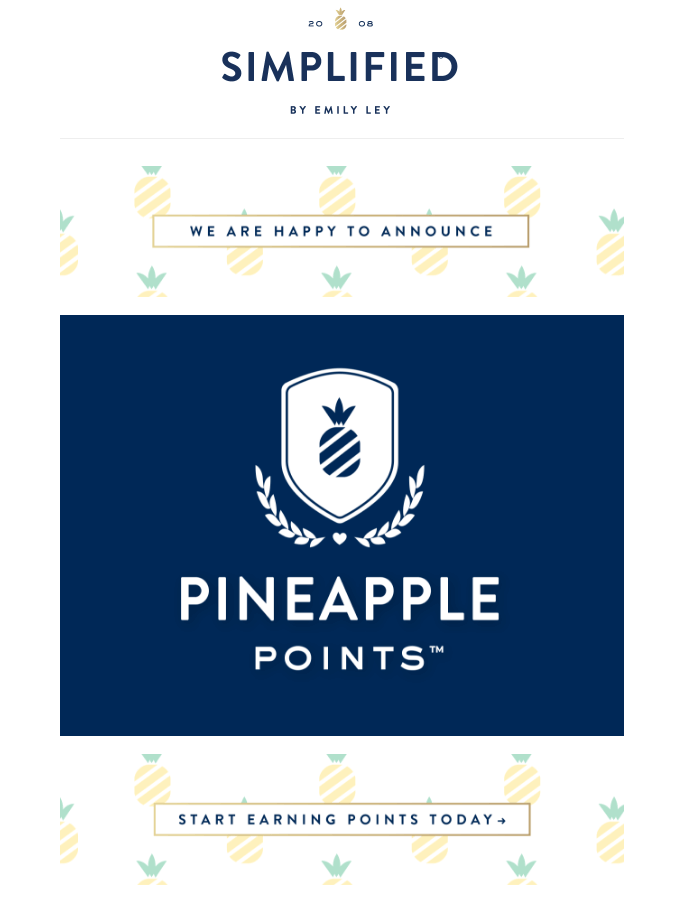 The best part is that these emails don't have to be complicated! Take this example from Simplified by Emily Ley — with nothing but a simple title, a clear "start earning today" call-to-action, and a branded logo, they've made it easy for their customers to discover, explore, and join their Pineapple Points community.
Following this type of announcement with clear messages on how to engage with and share your community will help you effectively communicate the benefits of your community with each of your new and existing customers to move them towards increased engagement.
Establish value with welcome points
One of your program's biggest assets is the promise of additional value. While customers join your community for a sense of belonging, they can also be won over with the rewards you offer.
This is especially true if your program can guarantee a sense of instant gratification. Welcome points are the perfect way to do this because they benefit both you and your customer. When you reward customers for creating an account, you reap the benefit of adding more customers to your community to market to in the future, while your customers receive additional value for completing a simple action.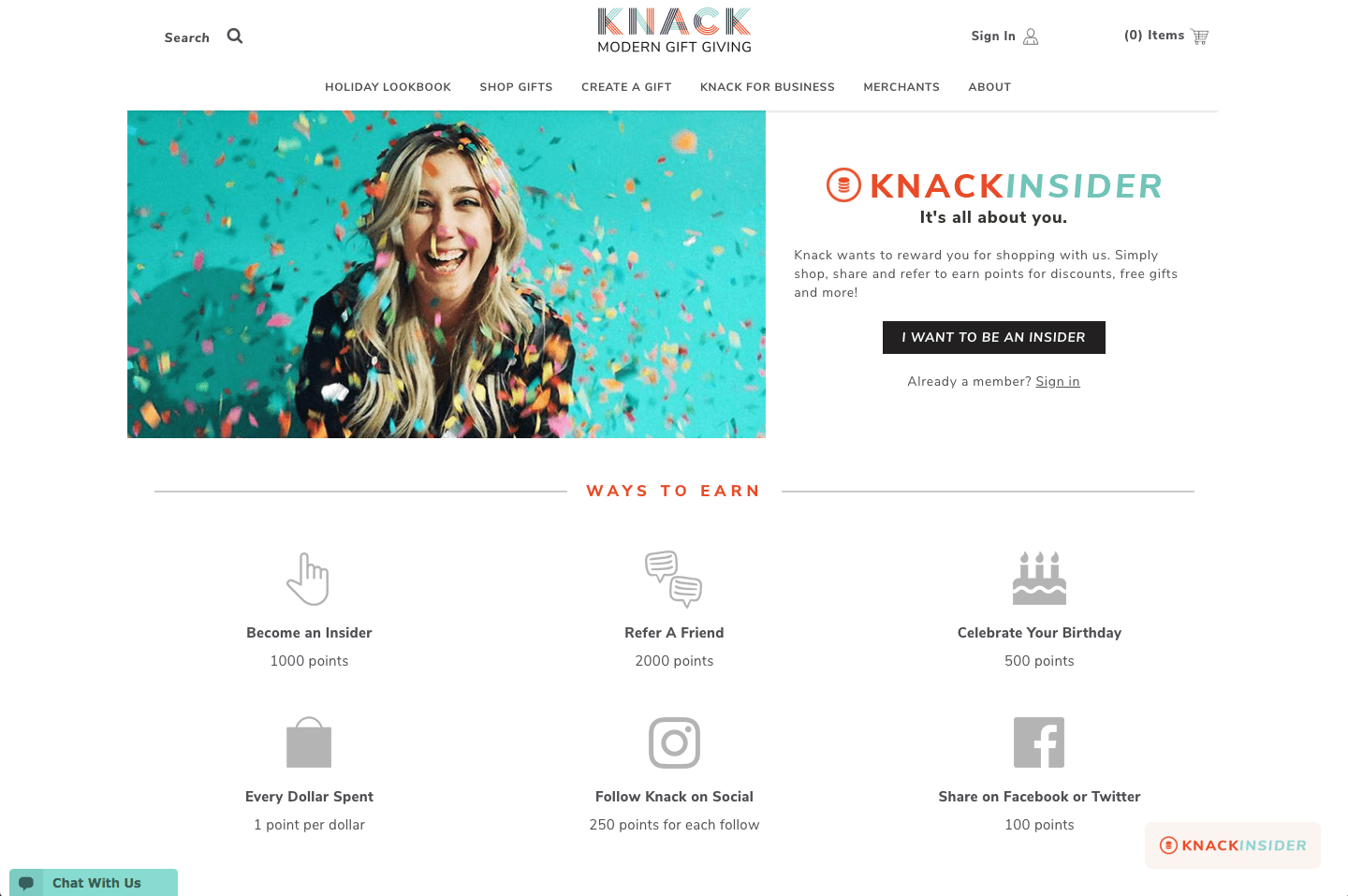 You can see this principle at play with Knack's Knack Insider program. Besides rewarding customers for referring friends and making purchases, they also offer a whopping 1,000 points simply for creating an account. This is enough points to redeem $5 off a $25 purchase or $10 off a $75 purchase, making it easy for their customers to see the value in joining right away.
Advertise your welcome points in other places on your store to encourage account creation and make customers feel special during Black Friday Cyber Monday.
Brand your program
The way your program looks has a lot to do with whether customers will want to join or not. The colors you use, what you choose to call the program, and what your points or VIP tiers are named all have a huge impact on how well your program integrates into the rest of your brand experience and how well your customers respond to it as a result.
SHEFIT puts all of these pieces together with their Sisterhood rewards program. From branded VIP tier icons to cohesive brand photography and color choices, every element of their program is perfectly tied to the rest of their web experience. This attention to detail, combined with the fun opportunity to collect "crowns"  by joining The Sisterhood , makes their rewards program feel more like a family and makes it the perfect complement to the web experience whether you're a first time visitor or not.
Make your program visible
If customers can't find your loyalty program, they can't be expected to join it. Much like a launch campaign, making your program visible can go a long way to making sure that new and returning shoppers understand that you're running a loyalty program and that there's value in joining your community.
Having your program's Launcher on every page is one of the easiest and most effective ways to make your program visible. This puts your program in front of every customer and makes it simple and obvious for them to engage. You can make your program even more visible by designing a dedicated explainer page that outlines all the ins and outs of your program.
By making these small tweaks to your web experience, you immediately amplify your program's accessibility and demonstrate how easy it is to join.
Phase 2: Motivate customers to engage
With so many deals, exciting promotions, and new stores to explore, it can be difficult to cut through the noise to make your brand stand out. Luckily, your rewards program has the additional value your community members are looking for, giving you a number of ways to encourage all kinds of engagement.
Send regular points balance emails
Even though your customers are excited to join your brand community, it might not always be top-of-mind. In the hustle and bustle of Black Friday Cyber Monday, they have lots to think about, which means it's up to you to let them know how and why they should re-engage with your brand.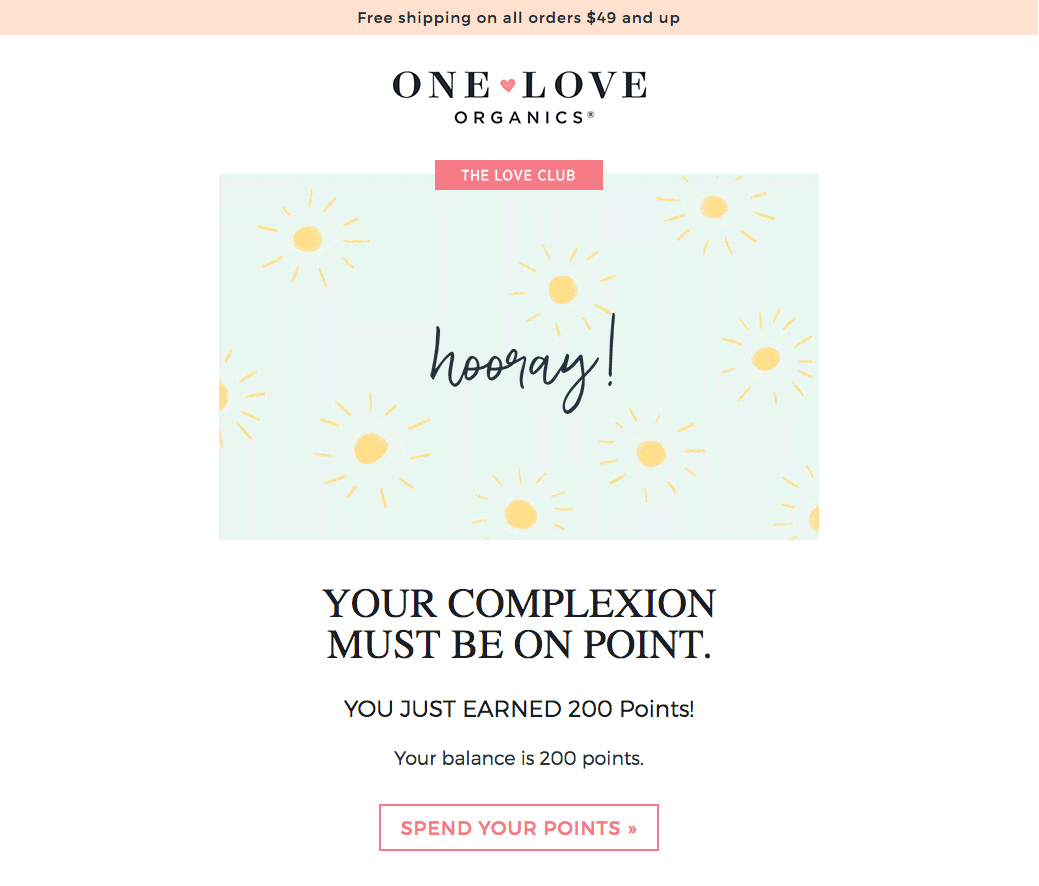 Points balance emails are the perfect way to let your members know that your program has something special to offer them, especially after BFCM. Reminding your customers that they have points to spend (and more points to earn!) after the holidays is a great way to re-emphasize your community's value and remind them why they joined in the first place.
You can also use these emails as regular reminders to re-engage. Take One Love Organics (OLO), for example. They send emails to customers every time they earn new points, with a cute message congratulating them on what they've achieved and a reminder of how many points they already have. These emails are then topped off with a clear "Spend Your Points" call-to-action that invites every Love Club member to re-engage immediately — no work required!
While these emails aren't overly fancy, they are highly effective at getting OLO's members to re-engage with their community and get excited about their next opportunity to earn and spend points.
You can work points balance reminders into your current post-purchase email campaigns to create a more holistic rewards experience all year long.
Run targeted email campaigns based on customer data
Running a rewards program gives you access to lots of data that can tell you a lot about who your best customers are. From how often they earn points, to the types of actions they like to complete with your store, your brand community can tell you a lot about how and when to communicate with them.
You can capitalize on this valuable information by designing marketing campaigns based on which VIP tier customers are in or how close they are to a reward. This is particularly easy if you're building your brand community with Smile (surprise, surprise!). With a number of different email integrations, it's easy to build beautifully branded campaigns designed to get your community engaged.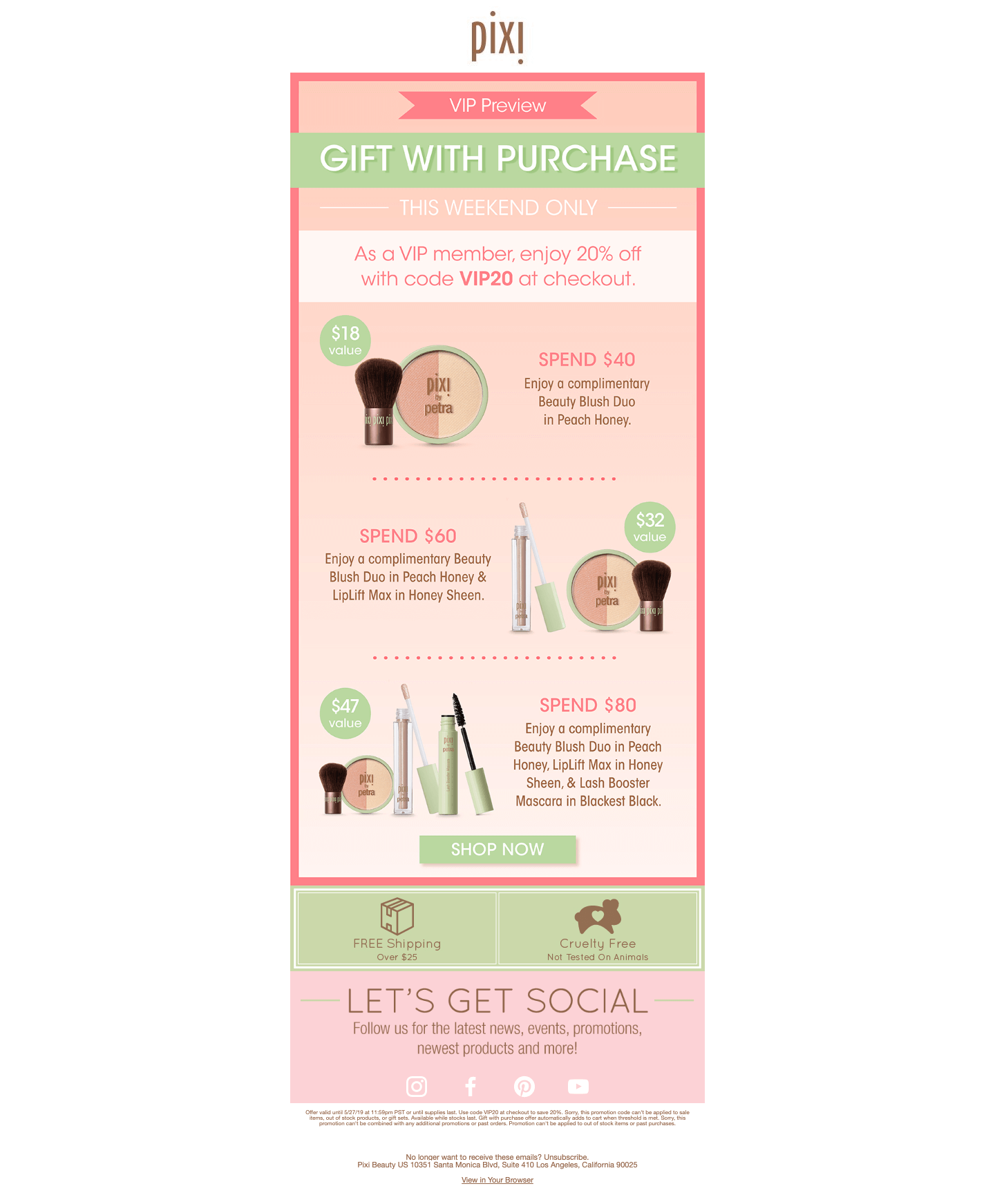 Pixi has done a great job of targeting their Pixi VIP members with emails that promise limited-time, exclusive discounts. With fun colors and the promise of high value, these messages easily grab their best customers' attention and get them to come back to the store to shop again.
This type of message is incredibly good at getting customers to return after BFCM. By offering even more value after the fact, you can turn your BFCM momentum into the perfect starting point for ongoing engagement from your community's best, most loyal members.
Only send targeted emails that deliver additional value. Otherwise, you run the risk of providing a poor community experience that doesn't bode well for future engagement.
Offer bonus points
Everybody likes to get a little something extra, especially when the holidays are approaching. Your customers and loyalty program members are no exception, and will jump at the opportunity to earn even more bang for their buck.
That's what makes bonus points events so successful! When you offer community members more points for every action they complete, you not only increase the sense of instant gratification but also validate their decision to join your community in the first place. With more points in hand and even more rewards up for grabs, it will be easy for your community members to understand why they should stay engaged longterm and entice new members to join your community.

Enso Rings ran a double points sale that allowed customers to redeem points for additional discounts and other bonus rewards. Through a number of email, social, and onsite messages, they created a buzz around their program and the opportunities getting engaged could bring, taking advantage of the scarcity principle to make their program even more valuable.
Running bonus points events during BFCM increases the buzz around your program and helps new and returning members alike find even more reasons to engage to take advantage of this limited time value.
Phase 3: Make it valuable to share
The final phase of community building is sharing. You need to mobilize your existing retained customers to help attract and retain new members by incentivizing the referral process. Without these peer-to-peer recommendations, your community's growth will falter, making this an unbelievably crucial stage.
Reward customers for referrals
This is both the most obvious program strategy and the most effective. Countless studies show that referrals are the most trusted form of marketing, making your existing community members your most powerful marketers. By rewarding them for referring friends to your brand, you effectively cut down on your marketing spend while also expanding your reach to those you might not interact with otherwise.
Referrals are particularly good at extending your BFCM success. Once one of your members has a positive experience and shares that with someone else, it organically and sustainably continues to grow your community. This connects the join and share phases of your community's growth and sets you up for ongoing success.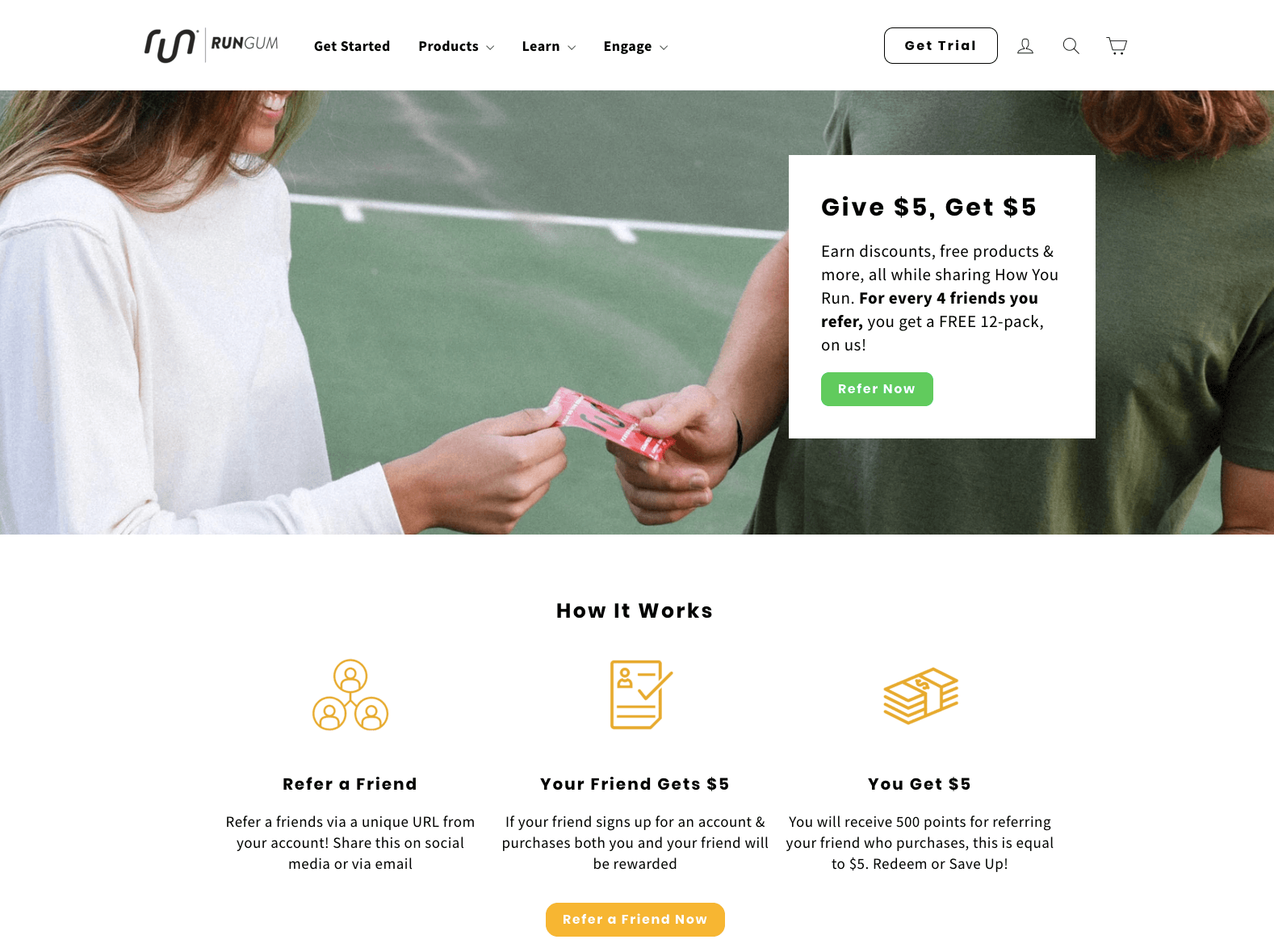 Run Gum's success is a fantastic testament to the power of referrals. With a product like caffeinated gum, they knew they had to rely on their existing customers to educate new members. By leaning on their existing brand advocates, they were able to grow their community exponentially and save money on ads — regardless of the time of year.
Introduce social rewards
Social media is one of the most powerful referral tools out there, and the best part is that it doesn't take much to encourage your customers to use it! Since it's already such a huge part of most customers' day-to-day activities, all it takes is a small incentive to motivate them to share your brand with their expansive networks.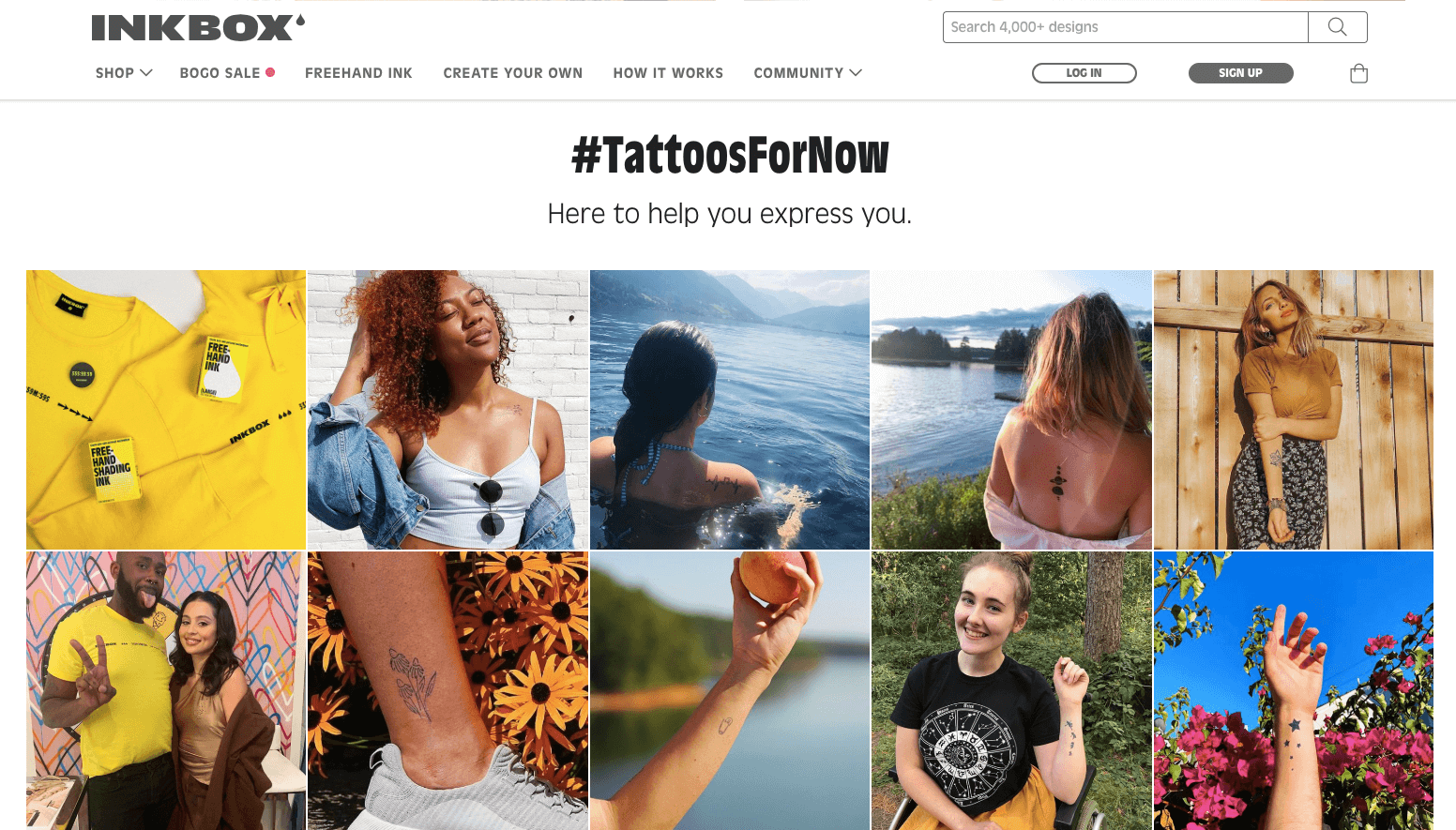 This incentive can take many shapes and sizes. For inkbox, the biggest incentive is the opportunity to be featured on their homepage. Growing from a small Toronto-based shop to a worldwide phenomenon, the semi-permanent  tattoo brand has gained phenomenal popularity by offering community members points and public recognition. By highlighting their community's personal Instagram posts, they invite each member to join the conversation around their brand, putting their experiences front and center for others to see.
You can use this type of social reward to encourage your community members to share your brand with others during and after the rush of BFCM. You can also retain your customers by offering points for following your brand on social media or sharing your posts on their personal profiles. These seemingly small actions all add up to create a big web of powerful brand advocates who are all engaged and passionate about spreading your brand's message far and wide.
Send post-purchase messages
If I'm going to refer a friend to a brand, it's almost always because of the complete customer experience. At every stage, the brands I love most go above and beyond to enrich every interaction I have with them, adding value at every possible opportunity. This is particularly true of brands who send post-purchase messages thanking me for my business. Anytime I receive an email like that, I immediately file it under the "awesome community I'm happy to be a part of" category!
You can make your customers feel the same way by thanking them for their business. With so many other brands to choose from in the flurry of BFCM shopping, taking the time to acknowledge each individual order can quickly turn an ordinary purchase into an extraordinary one.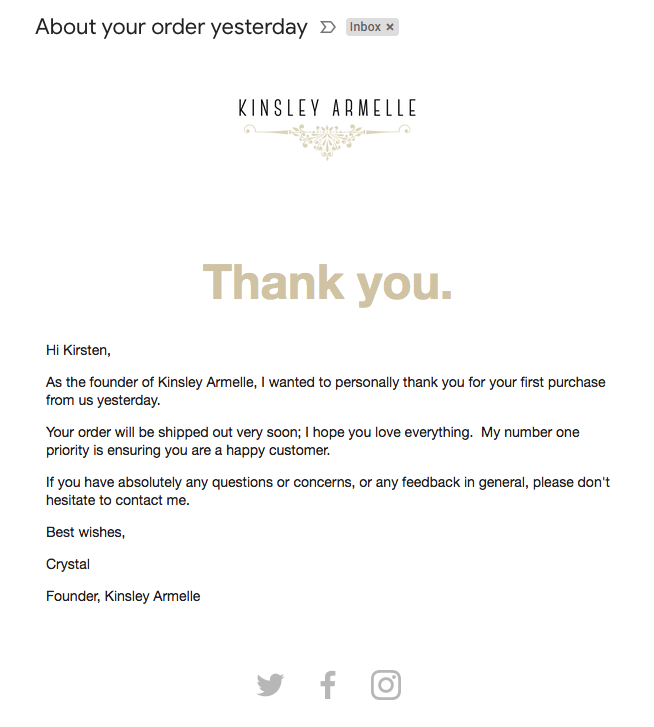 When I received this email from Kinsley Armelle, it immediately put a smile on my face. From the conversational subject line to the fact that it was sent on the founder's behalf, this email immediately elevated my experience with their brand community to a new level. Now, the happiness I experience while reading this is a memory I'll bring up every time I shop with them, increasing the likelihood of me remaining a long time customer.
As you can see, these simple messages can turn a one-time Black Friday Cyber Monday customer into a lifetime brand advocate of your community.
Send post-purchase messages to guest checkouts to thank them for their purchase and let them know they're missing out on the fun of being a member of your community.
Be prepared for Black Friday Cyber Monday with rewards
When you use rewards to expand your brand community, you make value-add marketing the foundation of every customer experience. By shifting the focus from your brand to your customers' experiences, you make it more appealing to join, engage with, and share your brand. Putting each of these rewards strategies into play will set you up for colossal success this holiday season and allow you to continue reaping the benefits long after BFCM is over.
The holidays might only come once a year, but your brand community doesn't need a special day to get ahead. All you need to know is how to start.