Social responsibility is a huge priority for your customers. 87% of customers are willing to choose brands that stand up for an issue they care about, and are more concerned with how involved businesses are in social justice issues locally and around the world.
"Social responsibility is the idea that businesses should balance profit-making activities with activities that benefit society. Social responsibility means that individuals and companies have a duty to act in the best interests of their environments and society as a whole."
Investopedia
From the way products are created, distributed, and sold to the opportunities a business provides to its employees and community, customers are now demanding that brands be authentic and impactful in their communities. This stems from a desire to build authentic, emotional connections with the brands they're shopping. Customers no longer want to be sold to — instead, they want to get involved with brands that not only care about their business but also care about the world at large.
To put this concept into perspective, we've put together a list of the 10 best socially responsible initiatives that keep customers coming back for more.
1. TOMS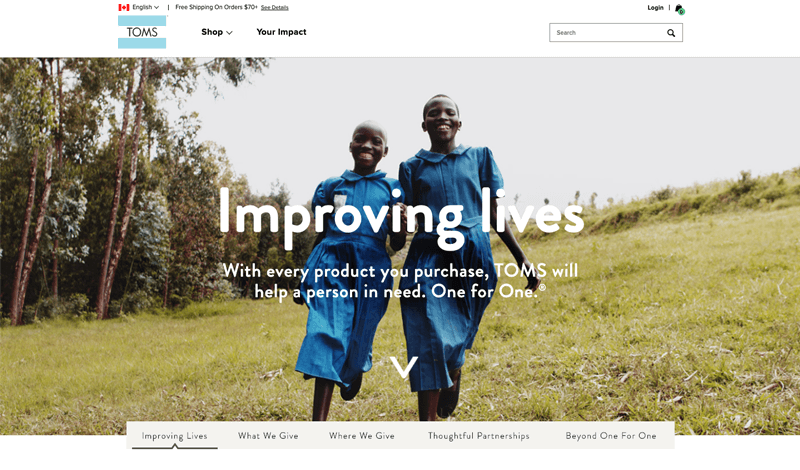 TOMS is the world's first (and most famous) example of how the "one for one" business model can benefit consumers and society as a whole. For every pair of shoes purchased, TOMS commits to donating a pair of shoes to an individual in need overseas. The success of this business model led TOMS to apply the "one for one" model to a variety of their products, including eyeglasses, coffee beans, bags, and backpacks.
"Exercise your purchasing power as a consumer, volunteer and bring joy to those in need, and share your experiences, tell your stories, and inspire others along the way."
Blake Mycoskie, TOMS CEO
Today, TOMS is donating a portion of purchases to a variety of social initiatives, including sight-saving surgeries, water systems in third-world countries, vital training and materials for women giving birth, and the training of school staff to fight against bullying.
With over 100 giving partners, the TOMS model has become an incredible example of how to approach social responsibility and made an incredible impact on the ways other brands operate all over the world.
What you can learn from TOMS
By creating opportunities for customers to have a direct impact on the lives of others, TOMS empowers their customers to change someone's life by completing a purchase. This results in positive emotions with every purchase, encouraging customers to buy more in the future.
2. H&M Conscious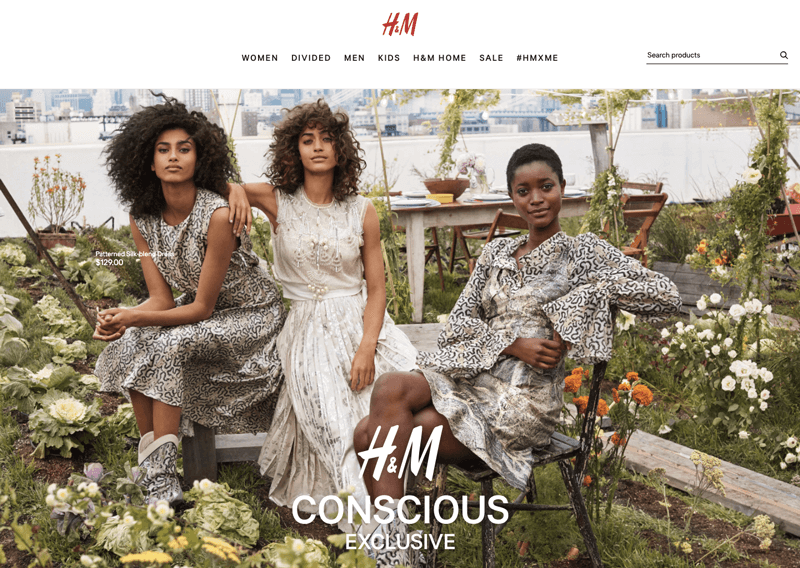 H&M is one the greatest examples of social responsibility at work in the fashion industry. With an independent site dedicated to showcasing the company's' sustainable practices, customers have access to sustainability reports and supplier details that clearly outline H&M's commitment to ethical and environmentally-conscious business practices.
Not only is H&M highly transparent about the way their products are made and their plans for a more sustainable future, but the brand has also launched a series of recycling initiatives that invite customers to get involved. Their H&M Conscious line is built around products made entirely from recycled fabrics and organic cotton and features prominently on their website and in stores.
"[The] Conscious Collection is a wonderful step towards meeting one of our main goals — to use only 100% recycled or other sustainably-sourced materials by 2030."
Isak Roth, H&M Global Sustainability Manager,H&M Conscious Press Release April 2019
In addition to their commitment to environmentally friendly products, H&M also launched a garment collecting initiative to "close the fashion loop."  Customers are encouraged to bring any unwanted clothes to an H&M store in exchange for 15% off their next purchase. Since the program launched in 2013, the company has collected over 40,000 tonnes of used clothing that may have otherwise ended up in a landfill!
What you can learn from H&M
H&M uses social responsibility as a customer retention tool by selling eco-friendly products that customers can feel good about. They also incentivize future purchases by offering discounts to those who recycle used garments in store.
3. EB Games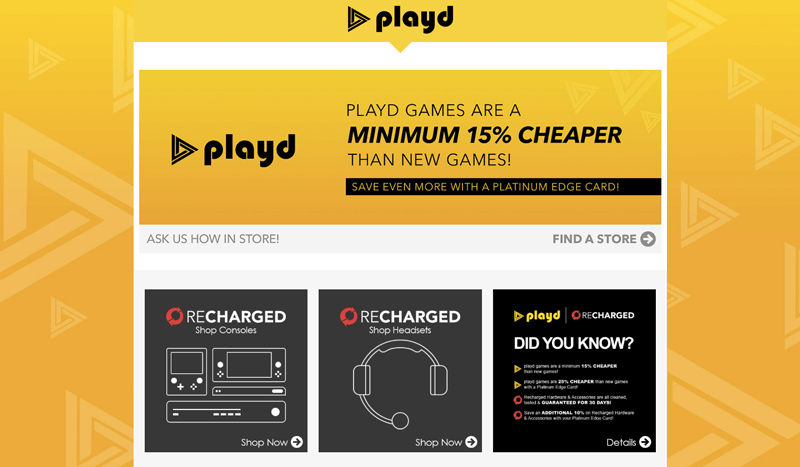 Not only does EB Games run the fantastic Edge Rewards program, but the gaming experts also heavily emphasize the importance of recycling used products in store. EB Games allows customers to trade old games and systems in exchange for credit that may be applied to the purchase of new games, consoles, and more.
"We concentrate on reducing our impact to the environment. GameStop has a very unique and robust refurbishment and recycling program that results in significant amounts of e-waste being kept out of landfills."
GameStop
While this might sound like a cheap retargeting gimmick, EB Games accepts games purchased at other retailers as part of their recycling program. They also resell many of the refurbished games and consoles in store, offering the same 30 day guarantee as any new products. This is a great incentive for customers to purchase "Playd" and "Recharged" products as opposed to buying everything new.
To make this part of their brand experience more visible, EB Games even has a "Playd|Recharged" tab in the top navigation bar of their website. This page is frequently updated to feature the latest and greatest trade deals, including a 25% discount for Platinum Edge Card members and some of the hottest games for 15% less than new games.
What you can learn from EB Games
EB Games provides customers with attractive offers in exchange for used games, consoles, and gear as a way of turning sustainability into a customer retention strategy.
4. ivory ella
ivory ella has one mission: to save the elephants. According to Defenders of Wildlife there are less than 800,000 elephants alive in the world, and this number continues to decline each year. ivory ella was launched in response to this reality, donating 10% of their profits on clothing and jewelry sales to the Save the Elephants foundation.
"Seeing this outcry (to save the elephants), we wanted to give the world something they would not only want to wear, but something that also stood for positive change and making the world a better place."
John Allen, ivory ella CEO
While ivory ella isn't the only for profit company whose business model revolves around social responsibility, they are one of the few doing everything they can to make their customers aware of the cause they're supporting. CEO John Allen recognized that consumer preferences were shifting, and that "run of the mill t-shirt" purchases weren't cutting it anymore.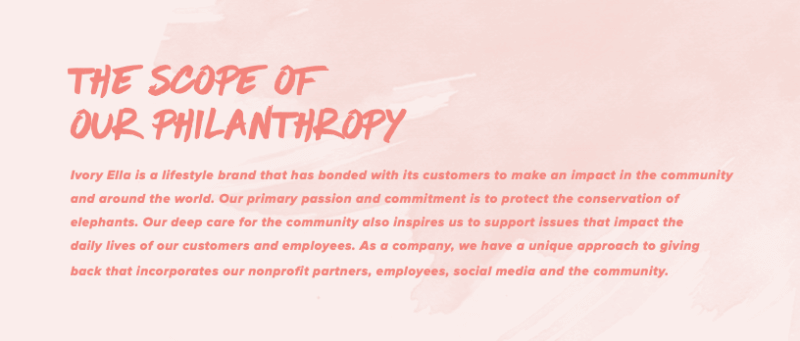 With a clear focus on something more than simply selling more clothes, ivory ella customers can trust that their clothing and jewelry purchases are more than investments into their wardrobe — they are investments into the greater good on a global scale.
What you can learn from ivory ella
With each purchase, ivory ella customers receive the products they love while also contributing to environmentally-conscious organizations committed to conservation and preservation.
5. Good Vibes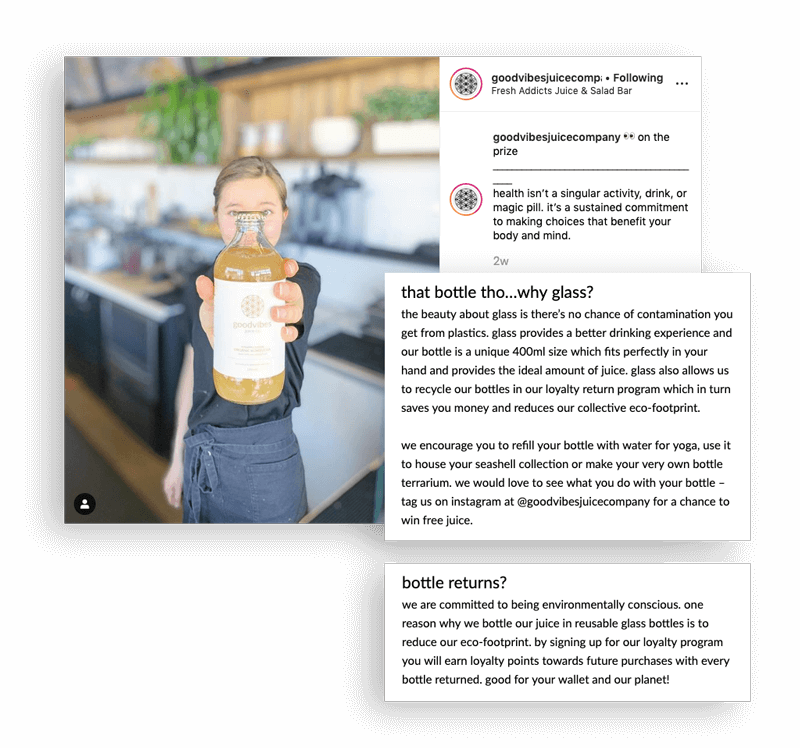 Good Vibes Juice Co is a prime example of how social sustainability can be tied into customer loyalty initiatives. With a commitment to local, organic products and environmental sustainability, Good Vibes launched a loyalty program that allows customers to return their glass bottles in exchange for points. With each bottle returned customers are closer to receiving discounts on future purchases, earning a $5 discount after returning 10 bottles!
"We are committed to being environmentally conscious. One reason why we bottle our juice in reusable glass bottles is to reduce our eco-footprint."
Good Vibes
Whether customers want to cash in on their recycling efforts or not, Good Vibes also  encourages customers to incorporate recycling into their daily life by getting creative. Whether the glass bottle becomes a customer's newest vase or their yoga class water bottle, Good Vibes often rewards creativity on Instagram by sharing user-generated content on their own feed.  In these ways, the cold-pressed juice company encourages a healthy environment and a healthy, positive lifestyle their customers want to pursue everyday.
What you can learn from Good Vibes
Good Vibes Juice Co's instore recycling program encourages repeat purchases with rewards. This retention tool, combined with a positive brand voice and social media presence, develops brand loyalty and puts sustainability at the front of their business.
6. IKEA
IKEA is one of the most recognized companies in the world when it comes to social sustainability — so much so that the company was ranked 2nd in Sweden's most Sustainable Brands Index. IKEA is always looking for better, socially responsible ways to create, sell, and recycle their products, and the company has committed to a variety of environmental and social initiatives in the hopes of a better future for all.
"The best way of achieving a sustainable future is by moving forwards, not backwards."
Steve Howard, IKEA Group CSO
Two noteworthy initiatives include IKEA's switch to a lighting range comprised entirely of energy-efficient LEDs and the IKEA Family Sell-Back program. With these campaigns, customers are educated on the benefits of switching to LED bulbs and encouraged to sell back unwanted furniture and home goods that may otherwise end up in landfills. From cardboard to couches and everything in between, customers can return products in store to be recycled at no extra charge. They'll even do home pickup (for a small fee, of course)!

Both of these programs demonstrate a commitment to not only their customer experience but their environmental footprint as a company. This aligns their values with those of their customers', creating a greater emotional relationship that will prompt customers to choose them over a competitor the next time they redecorate their home.
What you can learn from IKEA
IKEA uses social responsibility to retain their customers by offering affordable, energy-efficient products customers can't find anywhere else. Customers can also take advantage of IKEA's recycling program that disposes of used products on the customer's behalf.
7. Charlie Hustle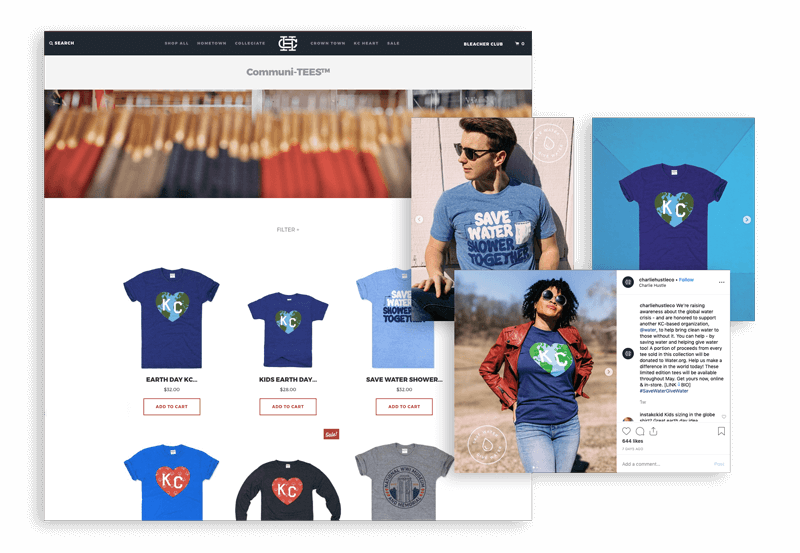 Charlie Hustle has built their brand around not only selling the softest t-shirts around but also boasting lots of civic pride. Social media manager Patrick McAnulty thinks this is one of the reasons their brand has become so popular.
"People love that we give back to our community as well. Over the past 4 years, we've raised over $500,000 for the Kansas City community, and people love that we're so involved."
Patrick McAnulty, Charlie Hustle Social Media Manager
With their Communi-TEES line of products, Charlie Hustle has made their brand's commitment to philanthropy something they can share with their customers. From war memorials to water preservation efforts and local hospitals, 25% of the profits from every Communi-TEE purchase goes back to the organization represented on the shirt.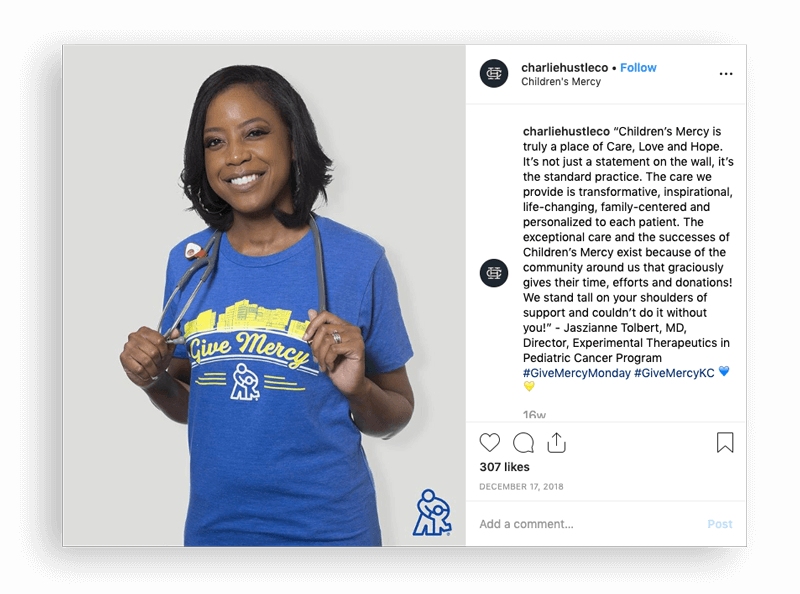 This business model creates a special relationship between Charlie Hustle and their customers. Not only are they providing their customers with high quality fashion, but they're also inviting them to do something good for their local community. No matter where their customers are from, this commitment is one that helps Charlie Hustle's brand community feel connected to each other and the world around them, deepening the emotional connection that prompt them to shop again.
What you can learn from Charlie Hustle
Charlie Hustle dives into their local community as a way of empowering their customers to give back with every purchase. This "homegrown" approach to social responsibility builds strong connections between every customer and the world around them, making it a much friendlier place to be.
8. MudLOVE
MudLOVE started with a simple vision: use their business to love others. What started as a simple project out of a garage has turned into a worldwide business that raises money for clean water projects in the Central African Republic.
"In the right hands, a mug becomes a tool for meaningful conversation. On the right wrist, a simple word can take on a powerful significance."
MudLOVE, "Our Story"
Whether it's with a clay bracelet, handmade mug, or any of their other made-with-love products, MudLOVE empowers their customers to turn every purchase into a donation to those in need around the world. Since their launch in 2009, MudLOVE has been able to raise over $350,000 with the help of their committed brand community.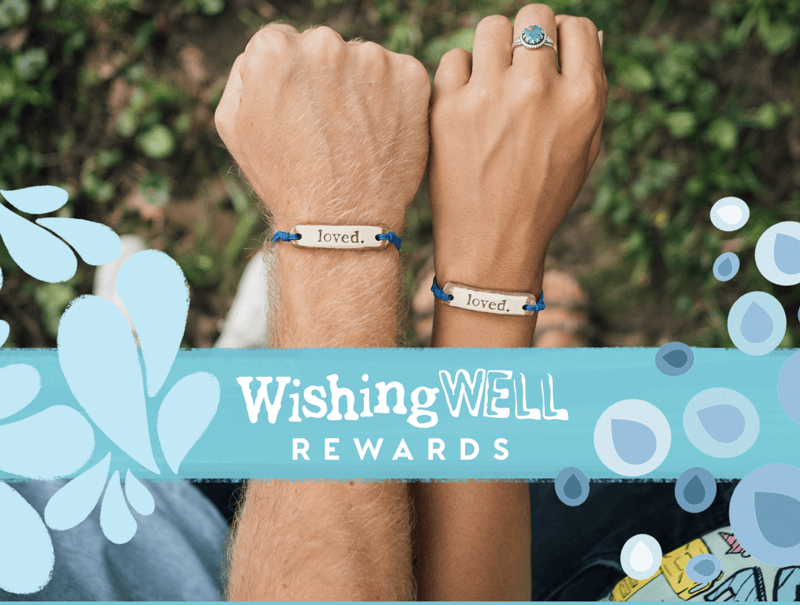 This community mindset is what ultimately makes shopping with MudLOVE so appealing, and is made even stronger with their Wishing Well Rewards program. For every purchase they make, customers are awarded Clay Coins that remind them of the work they're doing to help build a better world. As founder Luke Wright says, "the opportunities to do good are endless. As long as you're in this, we're in it, too," reminding customers that their commitment to the MudLOVE community is part of something so much bigger than a simple purchase.
What you can learn from MudLOVE
MudLOVE combines the powers of rewards and emotional storytelling to involve their customers in a much bigger cause. These elements work together to build stronger emotional relationships between their community members and larger philanthropic organizations that make everyone feel like a valuable contributor.
9. Levi's Water<Less

Did you know that around 95% of the water used by Americans goes down the drain? In contrast, many individuals in third-world countries use less than 3 gallons of water per day — the amount we use in a single flush of the toilet. Levi's knows that every drop of water counts, and as a result they launched their Water<Less campaign in the hopes of paving a way toward a more sustainable use of water worldwide.
"Our push to curb water use across our operations has — so far — saved more than one billion litres of water globally since 2011. It's also given us the credibility to challenge our customers to embrace more sustainable practices."
Charles V. Bergh, Levi's CEO
Water<Less is a line of products that uses 96% less water than traditional denim finishes.Since making the switch, the company has saved over 1.8 billion litres of water.
By 2020, Levi's has committed to ensure that 80% of all their products are created as Water<Less innovations, and they want their customers to be a big part of that. In order to empower shoppers to conserve more water in their day-to-day lives, Levi's has gone so far as to share tips on their website.  Whether it's taking a shower instead of a bath, or letting the rain wash their car, Levi's wants their customers to be involved in creating a more sustainable future.
What you can learn from Levi's
Levi's offers their customers products they can trust were made sustainably. In the mission to conserve water, Levi's encourages customers to conserve resources alongside them, creating a partnership between every customer and their brand that's hard to break.
10. Starbucks
As the largest coffeehouse chain in the world, it's no surprise that all eyes are on Starbucks when it comes to socially responsible initiatives. As a result, Starbucks is well-known for their commitment to ethically sourced materials. In addition to ethically sourced tea and cocoa, the brand purchases coffee that has been responsibly grown and has committed to supporting the farmers that make their sales a reality.
"Business leaders cannot be bystanders."
Howard Schultz, Starbucks CEO
Starbucks relies on C.A.F.E (Coffee and Farmer Equity) practices to ensure the integrity of their materials is verified. These practices evaluate coffee production against economic, social, and environmental criteria that must be met before it's purchased. According to Starbucks, these practices have benefitted more than one million workers employed by participating farms.
Making this information a significant part of their brand image makes it easy for their customers to understand their priorities as a company. By remaining transparent about their business practices, Starbucks makes every customer's investment into their premium products worth the premium price!
What you can learn from Starbucks
Starbucks uses social responsibility to make a small, everyday purchase represent something more. Customers can trust that their coffee is contributing to thousands of jobs for farmers, making every purchase enjoyable for both themselves and the global economy.
One small step for your business, one giant leap for customer relationships
When you consider that 66% of customers are willing to spend more with brands that demonstrate a commitment to social and environmental initiatives, it's clear that social responsibility is a highly effective customer retention tool.
By defining your brand experience with the ways you're giving back to the world around you, you can sow the seeds that foster strong emotional connections between your business and every customer who shops with you. These connections are what turn into lifelong loyalty and fuel a thriving brand community committed to positively impacting the world around it.
That being said, the 10 brands we mentioned here are only a handful of the businesses setting the stage for the future of business practices. Now it's your turn. What will your business do today to create a brighter future for everyone?