It can be difficult to find sustainable brands that really practice what they preach. With all the greenwashing noise out there, it can be hard to know which brands are truly acting environmentally conscious. And then there is the issue of wanting to shop but not wanting to add to the pollution caused by mass consumption. We get it–it can be hard for us shopaholics who still want to be sustainable.
That's why we've created this list of 12 sustainable small businesses that are doing great things for the environment. Whether they are selling eco-friendly products or using sustainable packaging, these are brands you can do some sustainable shopping at without guilt.
1. Good Change Store
With a variety of green cleaning products from refillable tablets and bottles to reusable cloths and scrubbers, Good Change Store truly makes it simple for customers to live a sustainable lifestyle. This New Zealand brand specializes in "natural, eco-friendly cleaning products that don't cost the earth".
But their commitment to sustainability doesn't stop at their products. Good Change Store inspires customers through their Good Change Conversations podcast, Small Change Revolution encouraging customers to make small, impactful changes, and several Giving Back initiatives to further their social responsibility. From carbon-negative delivery to a Clean Water initiative for families in Cambodia, Good Change Store is not just a good place to start making changes–it's an outstanding one.
2. Ocean and Main
Calling all shoppers who love fashion and sustainability. Ocean+main is here to show you that you don't have to choose just one. This ethical fashion brand is inspired by its love of the ocean–being in it, around it, and most importantly, saving it. This is why they've implemented sustainability into every aspect of the  business from production to packaging.
Ocean+main is a LA-based brand that lives by several sustainability principles including zero plastic, locally made, artisan made, using recycled water, no dyes, and more. They've also been recognized for their efforts and have been awarded the re/make Our World Certification, a rigorous test that ensures a brand's labor and sustainability claims have been vetted and are not simply greenwashing. They've also earned a Butterfly Mark certified score of 70, 40% above the standard. Ocean+main's sustainability practices are shown transparently on its website through an annual report and several policies.If you're looking for a new caftan or dress for your next beach vacation, Ocean+main has got you covered.
3. Organic Bath Co.
Self care is something you should never feel guilty for. Bath and body care brand, Organic Bath Co. makes that easy with their variety of safe and effective products made from natural and organic ingredients. After suffering an allergic reaction to conventional beauty products, the founder and her partner decided to turn to natural home remedies using ingredients like shea butter from Ghana, argan oil from Morocco, and almond and jojoba oils. With these ingredients, they formulated a body butter that was safe for sensitive skin.
Organic Bath Co. embeds environmental consciousness into every element of the brand–including marketing. For the month of April, every order placed plants a tree in honor of Earth Month.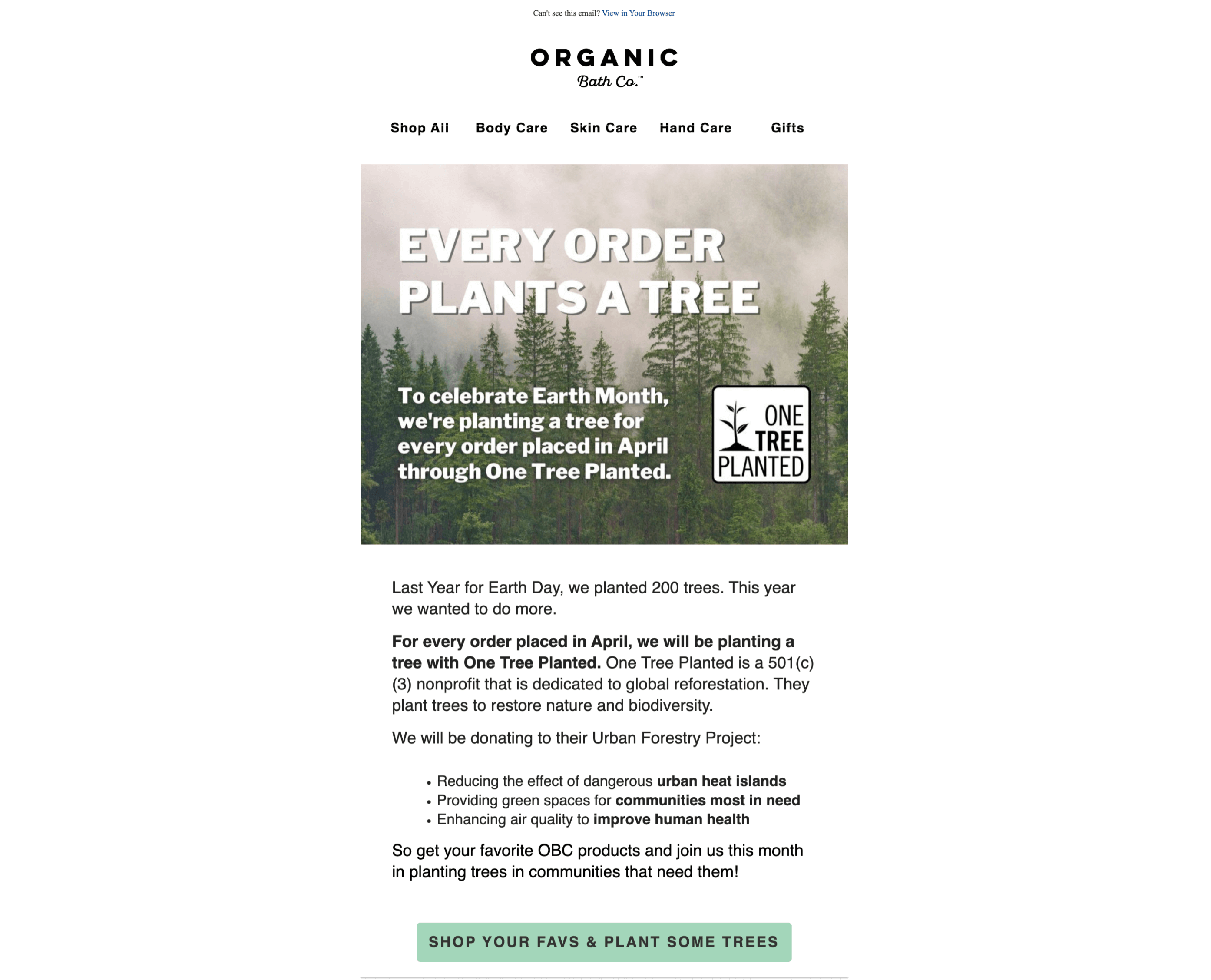 As a Belizean woman herself, Gianne and her partner Jay discovered that women of color are often marketed toxic personal care products. Organic Bath Co. believes that what you put on your body is just as important as what you put in it. The brand values sustainability through an ethical supply chain and a 92% Certified Organic, Fair- and Direct Trade for a beautifully simple—and safe—self-care routine.
4. FreeMet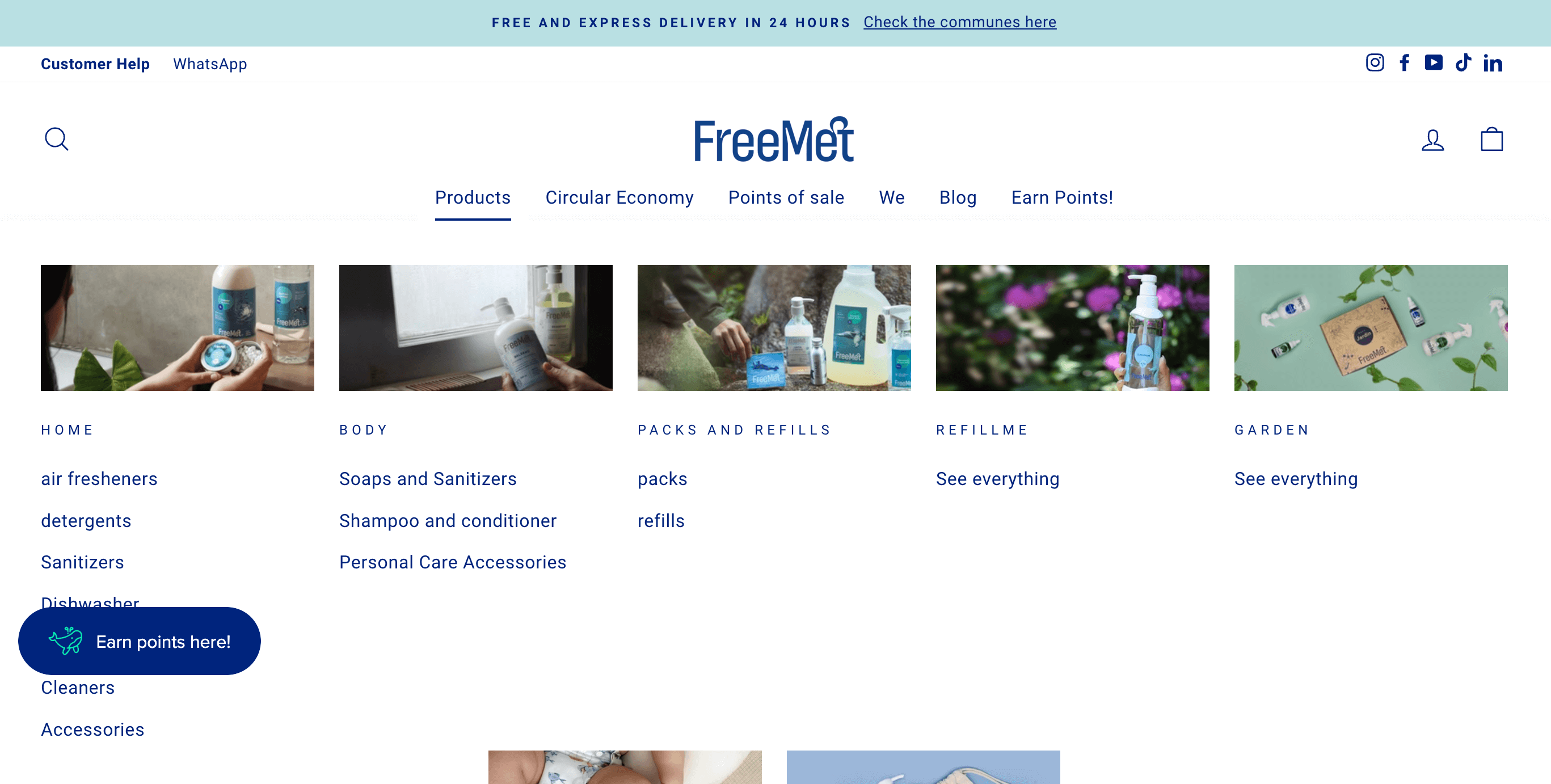 Let's be realistic–it's hard to go from 100 to zero-waste real quick. Luckily, there are brands like FreeMet that recognize this and encourage their customers to do zero-waste imperfectly as long as they're making an effort. This Chilean zero-waste brand shares a sad reality–there is a plastic island 3 times the size of continental Chile in the Pacific Ocean. Despite the harm to the environment, FreeMet believes little changes every day can and will make a difference for our planet.
With a variety of products spanning categories like household, bathroom, kitchen, beauty, garden, and more, customers can start making more conscious decisions in one aspect of their life at a time. So give it a go and swap your paper towels for their Reusable Bamboo Pulp Paper Towels. Or maybe you'll ditch the single-use plastic shampoo and conditioner bottles for their eco-friendly refillable bottles. It's all about progress, not perfection folks.
5. Little Change Creators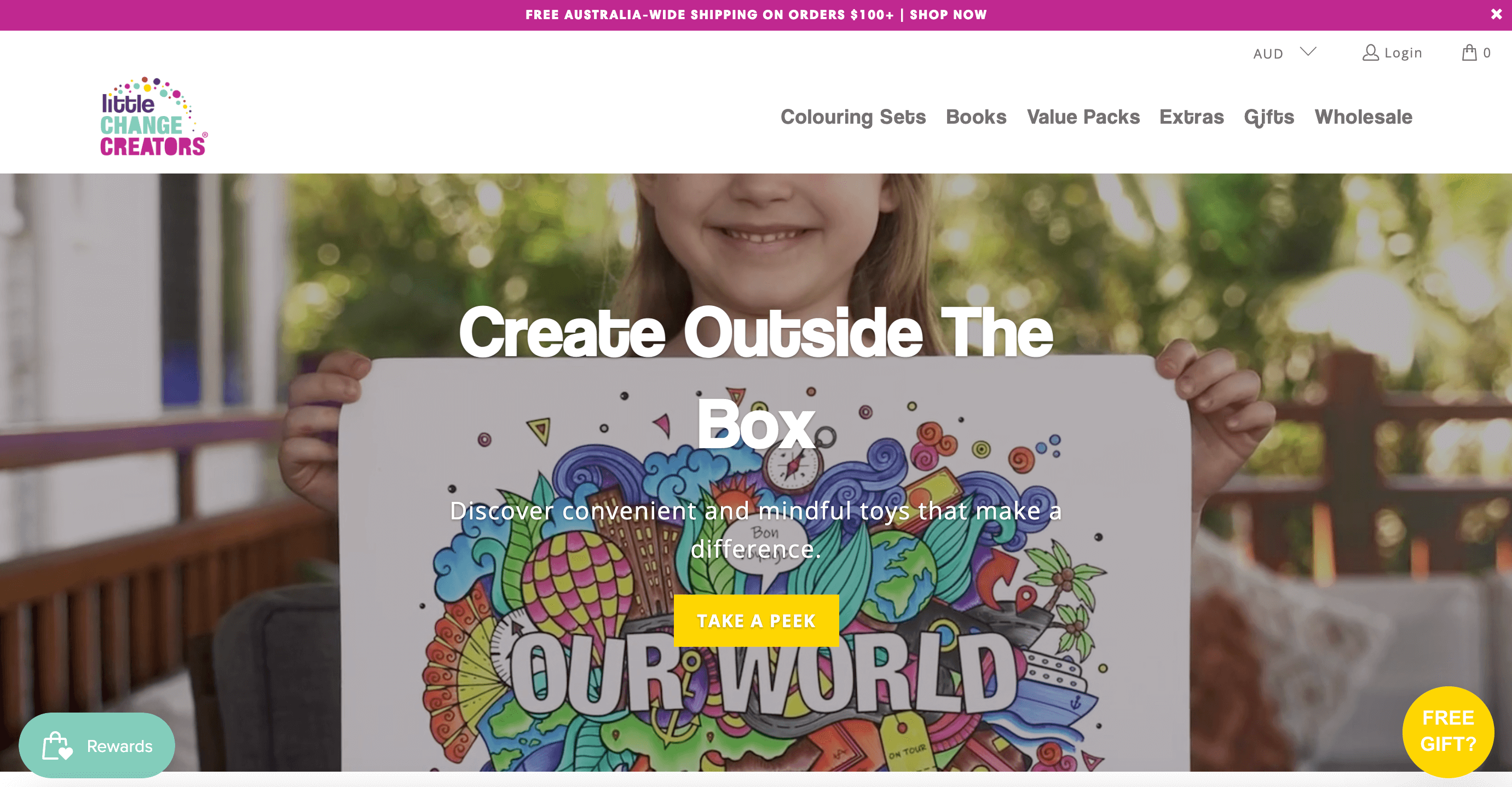 For a lot of parents out there, making sustainable choices is easy when they think of their kids. That desire to create a better world for your children is powerful. Little Change Creators is an Australian toy brand that operates on the belief that parents "owe it to our kids to pave the way forward for a better tomorrow."
They sell a variety of eco-friendly reusable coloring mats and drawing sets to allow kids to enjoy some creative, screen-free activities. Founder Paige is a mom of two herself and believes that children are going to be the change creators of the future–but today is for fun. With sustainable designs and a "pay-it-forward" token included in every purchase, Little Change Creators shows you that you're never too young to make an impact.
6. Ecoslay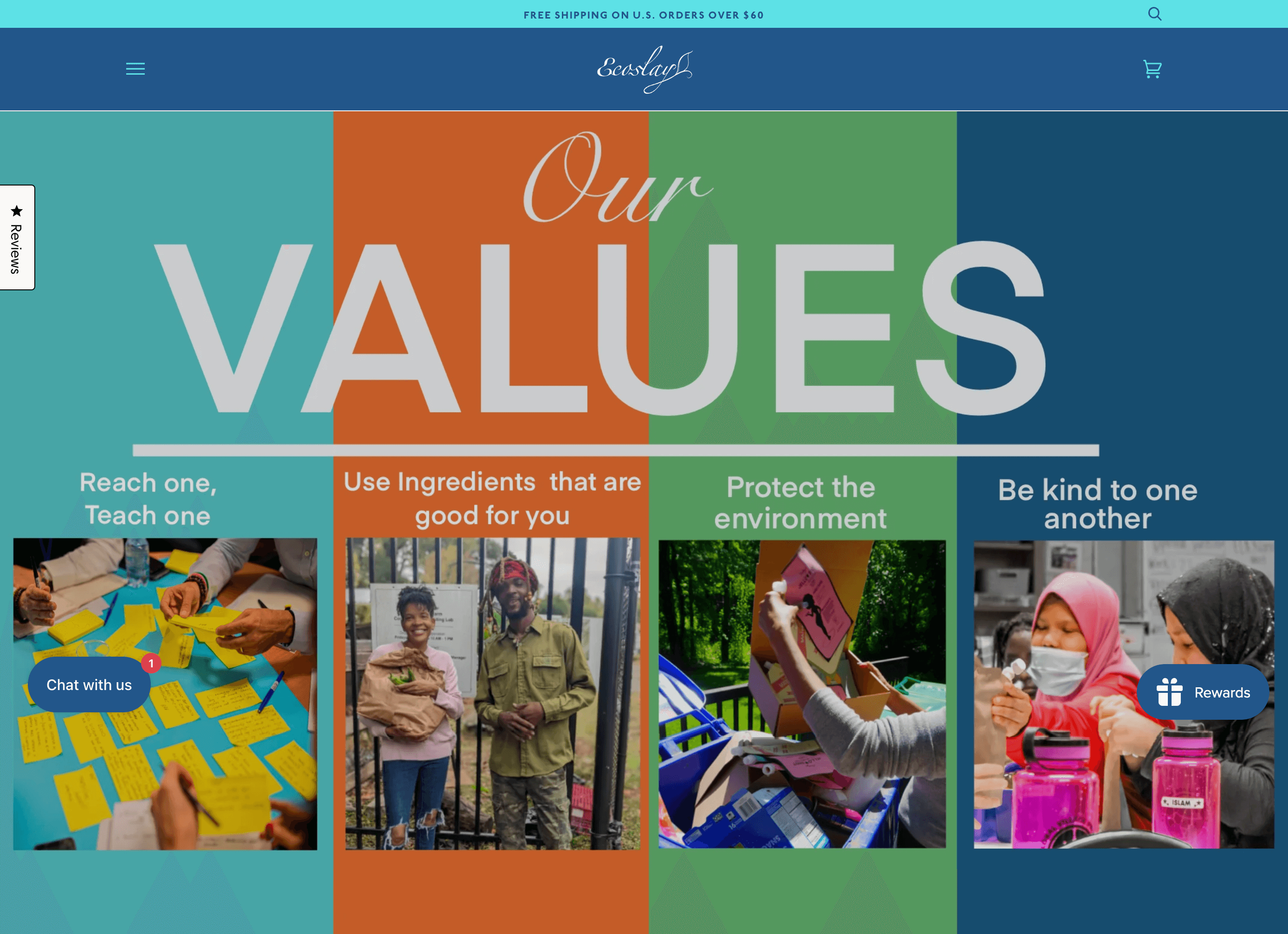 When it comes to hair care, chances are you want the best ingredients for you. Ecoslay takes care of that with its plant-based hair products, sustainable pouches, and Farm to Pouch ingredient philosophy. This Black woman-owned business shows a solid environmental purpose with messages like "Slay Your Look, Not the Planet" and values such as "Protect the Environment".
But they also walk the walk. Ecoslay offers a recycling program where customers can collectively earn reward points for the proper recycling of their empties. Customers can fill out an online form on the website after mailing in their empty pouches and receive points which they can redeem for discounts on future purchases. We think that's a great way to motivate your customers with meaningful rewards.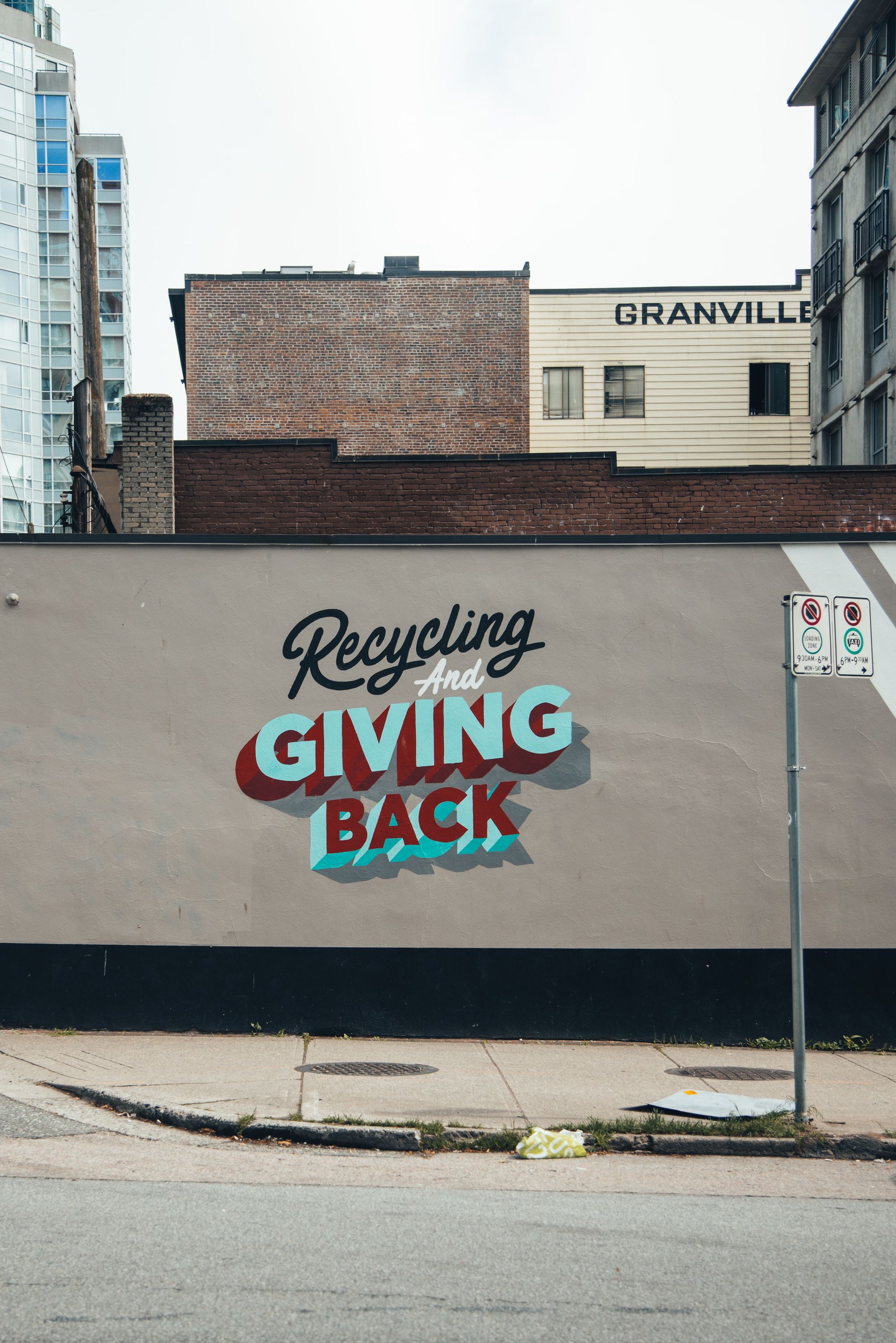 7. Shoko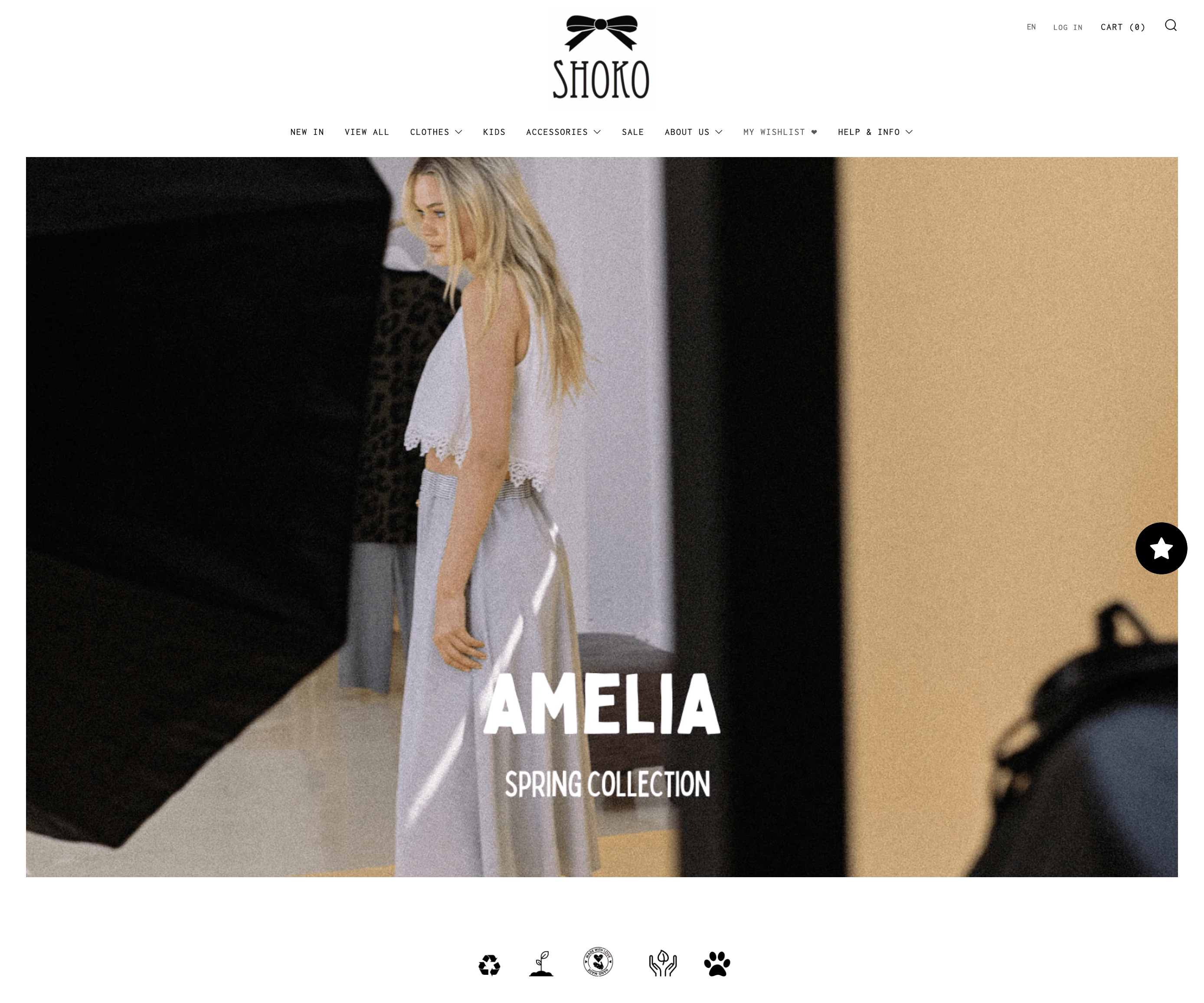 From the day this brand started in 2009, it had a mission to be an ethical clothing company for the everyday woman. Shoko was founded in Greece by the creative duo, Daniela and Manos. They both ensured that ethical processes would be integral to every part of Shoko's production process. From their made-to-order business model bringing the brand as close to zero waste as possible to their compostable packaging and environmentally friendly tags with seeds of basil and tomatoes that customers can plant!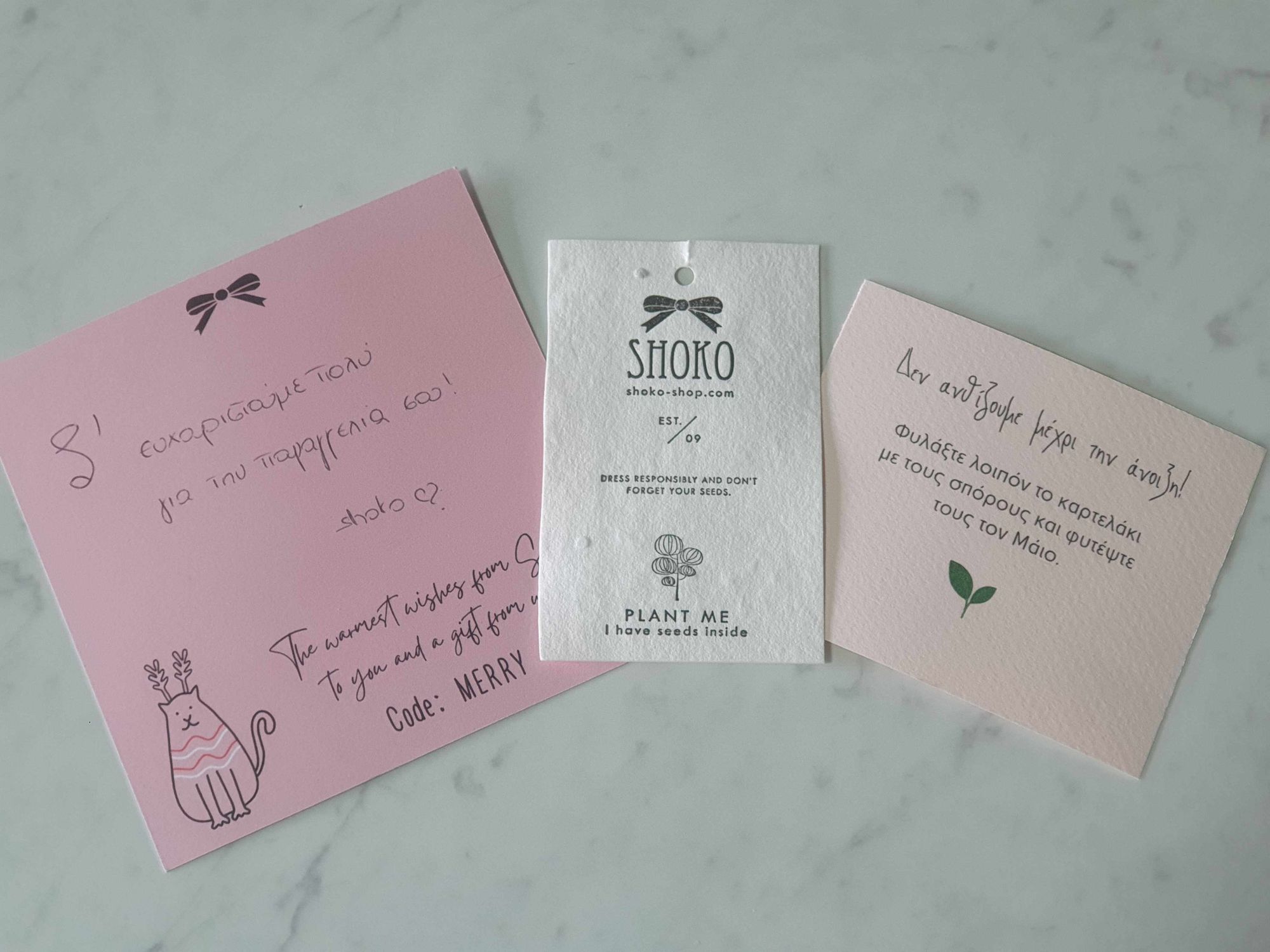 Shoko takes pride in producing hand-made, quality products that are built to last. This type of "slow fashion" helps the environment once again by reducing the need to replace clothing as often. And if you can't find exactly what you're looking for, just tell them–Shoko specializes in custom-made-to-order designs. No matter what you're in the market for, shopping with Shoko will make you feel good about your clothes from the inside out.
8. I Say Organic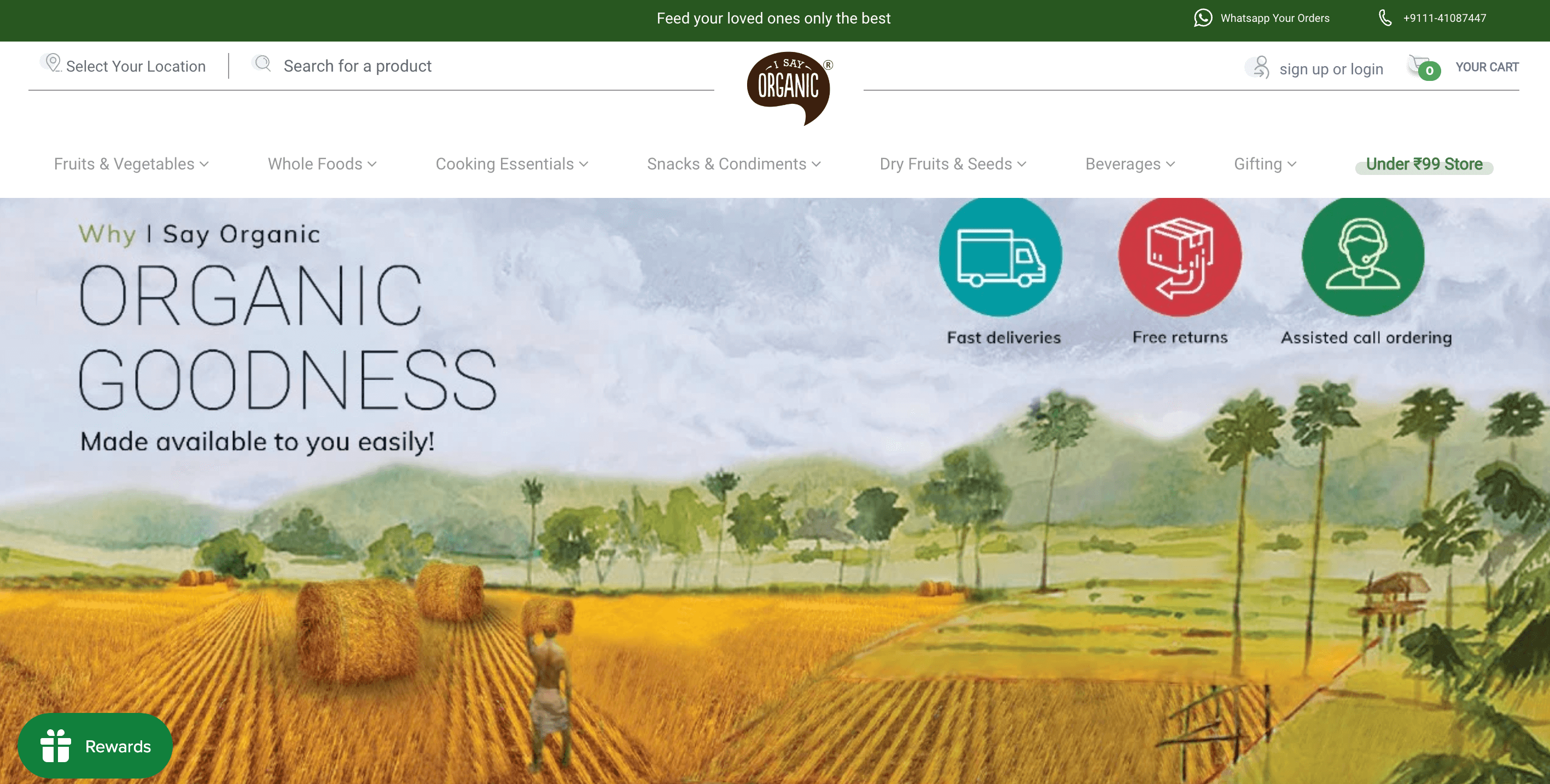 One of the most harmful industries to the environment is agriculture due to the production of greenhouse gases that cause climate change. However, at the end of the day, we all have to eat and deserve to enjoy delicious food! But, you can even incorporate sustainability into your diet by choosing natural and organic products. I Say Organic makes finding eco-friendly food options easy by providing an online grocery store full of certified organic products free from chemicals.
Based in India, this online grocery store is stocked with the purest, most natural form of food available from ethical farms and farmers. With over 300+ products sourced from 13 states, I Say Organic offers everything from fruits and vegetables to pantry staples, and everything in between. This brand is committed to fulfilling the 21st-century definition of sustainability, "The ability of the earth (and all its resources) and humanity to coexist successfully." This is why they make the process as easy as possible with online ordering across multiple platforms, the ability to pick up in person or get at-home delivery, and free returns. When you consider the benefits of shopping organic combined with the ease of doing it with I Say Organic, there's no reason not to make some sustainable grocery swaps.
9. Beeja May
Shopping for your children can quickly become very expensive and time-consuming, especially with a little one by your side. That's why shopping online and second-hand for baby clothes, accessories, and toys is a great way to save money–and the planet. That's exactly why Beeja May, a Canadian second-hand baby store, offers a variety of pre-loved products.
Starting out as a solution to their own struggles, this Toronto couple started the brand to make shopping second-hand more accessible for parents. Customers have the option to shop for clothes by age or brand or to browse their selection of "Rescues" which are overstocked or returned products sold at a discount. There's no denying that you'll have to constantly buy new clothes for your baby–so why not try second-hand for a few pieces?
10. Jiminy's
We've seen that sustainability can be incorporated into so many aspects of your life, from fashion to cleaning to food and more. Well, the same is true for your furry friends. Jiminy's is a US-based dog food brand that sells pet food made with cricket protein instead of traditional beef or chicken protein. Not only is this more sustainable, but it's human, great for dogs' food sensitivities, and loved by many four-legged friends across the States.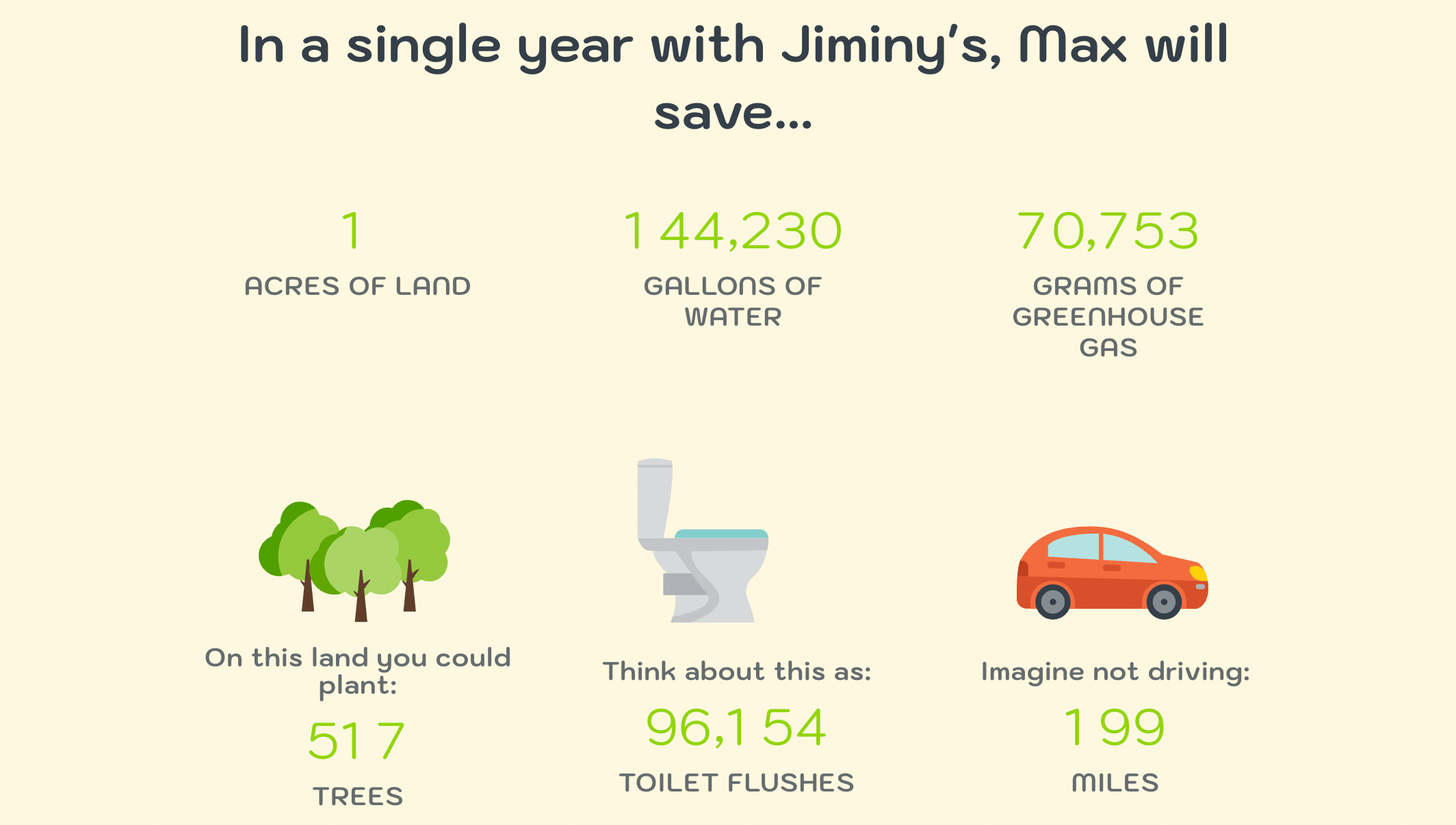 Jiminy's is on a mission to help better the planet by reducing the carbon pawprint of dogs across the globe. And they do so in a very transparent way. Customers are able to access their Eco Calculator on their website and see the exact impact they can have. After filling out a few questions about their dog's breed, size, and current eating habits, pet owners can see how much land, water, and greenhouse gas they could save in a year by switching to Jiminy's.
If this wasn't convincing enough, Jiminy's also offers "Paw Points" for purchases and reviews, which you can redeem for discounts on your next purchase. So what are you waiting for?
11. Thrift+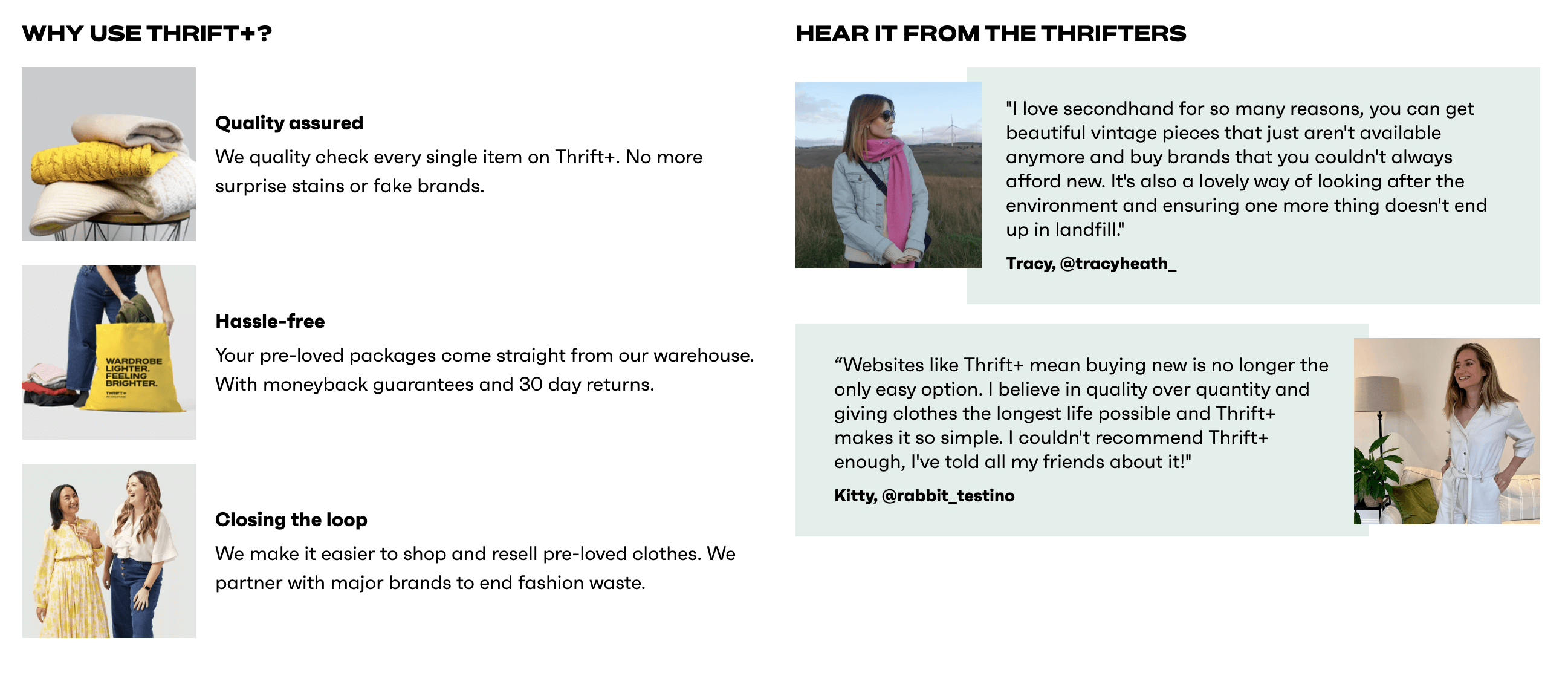 It's often said that the best clothes you can find are the ones already in your closet. But we get it; you outgrow things or may want to add new pieces to your wardrobe. This is why thrift shopping, or buying second-hand clothing is a great, sustainable option. UK-based online thrift store, Thrift+ gives customers an accessible platform to experience the thrill of thrift shopping from the comfort of their own homes.
The fashion industry is one of the world's biggest polluters, and Thrift+ aims to combat this by offering a variety of pre-loved products from mainstream and designer brands. They also encourage their own customers to donate their old clothing to be sold. Once their items are sold, customers are rewarded with Thrift+ reward points or have the option to donate to their favorite charity. Thrifting is becoming more mainstream in the fashion industry thanks to brands like Thrift+ that make it easy, fun, and affordable.
12. The Bare Home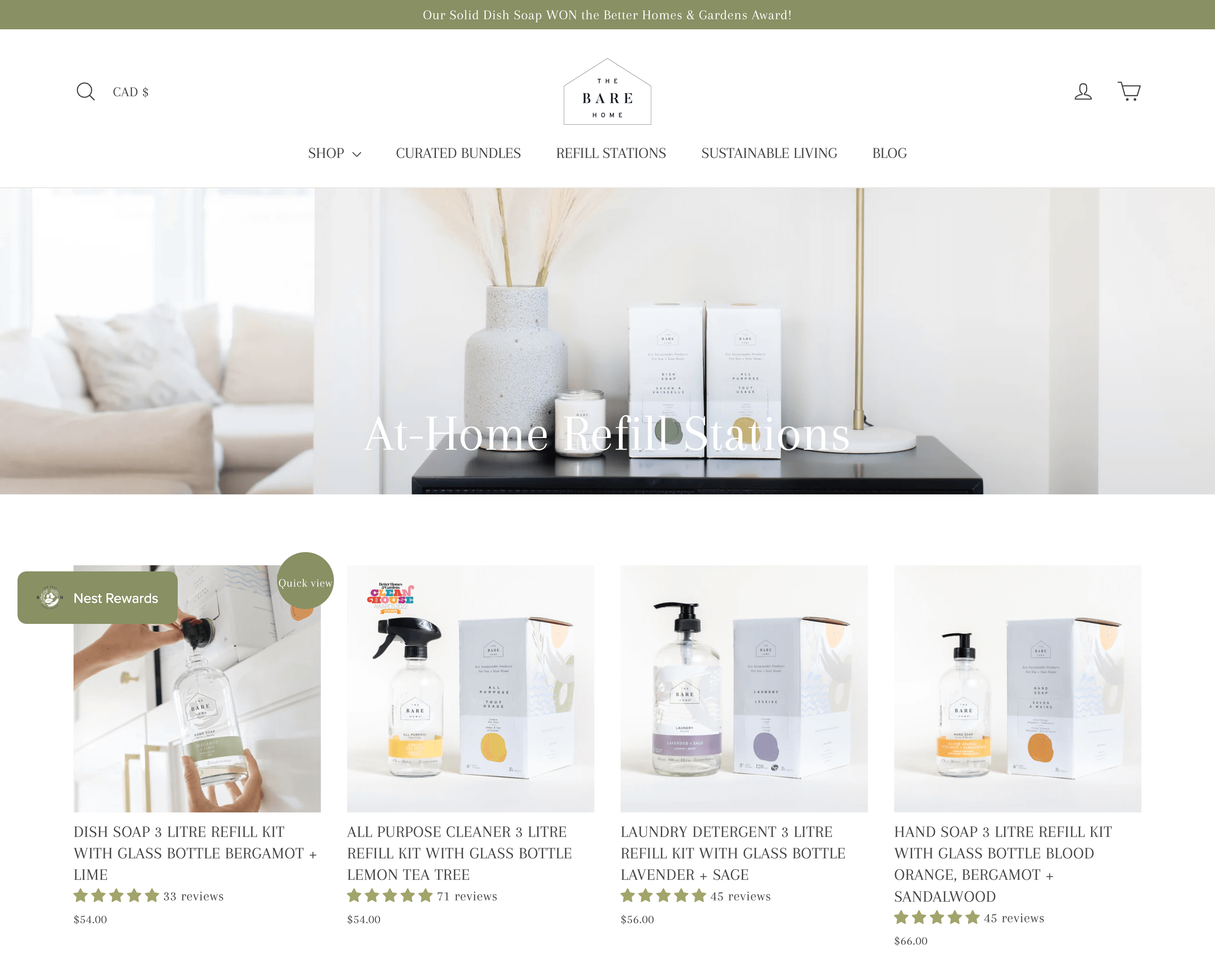 While living a minimalist lifestyle and consuming less is an option for some things, there are certain products that you just can't avoid purchasing on a regular basis. For the essentials like cleaning products, there are brands you can purchase from that make the process as sustainable as possible. One of those brands is The Bare Home.
This natural, eco-clean brand offers a variety of environmentally friendly soaps, detergents, and home accessories. They also offer at-home refill stations for a variety of their soaps and cleaners, which are a great way to reduce waste from plastic bottles. So while we haven't found a way to eliminate the need to clean altogether (unfortunately), we have found a way to make it more sustainable every step of the way–The Bare Home.
Start making sustainable swaps
As we've mentioned, living a more sustainable lifestyle isn't about perfection. There are tons of little things you can do every day to make a positive impact on our planet.
🌍
"We don't need a handful of people doing zero waste perfectly. We need millions of people doing it imperfectly."
Anne-Marie Bonneau
Whether you aim to buy second-hand clothing once a month or you're ready to do a complete zero-waste renovation of your kitchen, these 12 sustainable brands are there to help without judgment. Happy sustainable shopping!  
Editor's Note: This post was originally published April 6, 2022 and was updated for accuracy and comprehensiveness on April 17, 2023.
Discover more small businesses to shop from
Subscribe to Talking Shop, the Smile Newsletter