In honor of International Women's Day, which is celebrated on March 8th every year, we thought it was time to recognize ten ecommerce brands with some strong female founders. Just as women are unique and come in all forms, from all walks of life, these brands span the globe and inspire women everywhere. With ecommerce stores in every industry—from fashion and accessories to organic healthy food—it's clear that women are capable of accomplishing anything they put their minds to.
Let's dive into some of our favorite woman-owned brands and the strong founders behind them.
Island Tea
This tea brand was founded by Mélody who wanted to introduce the benefits of drinking tea experienced in her West Indian culture to the country she lives in, France. Island Tea offers a range of 100% natural tea and infusion blends developed by skilled herbalists.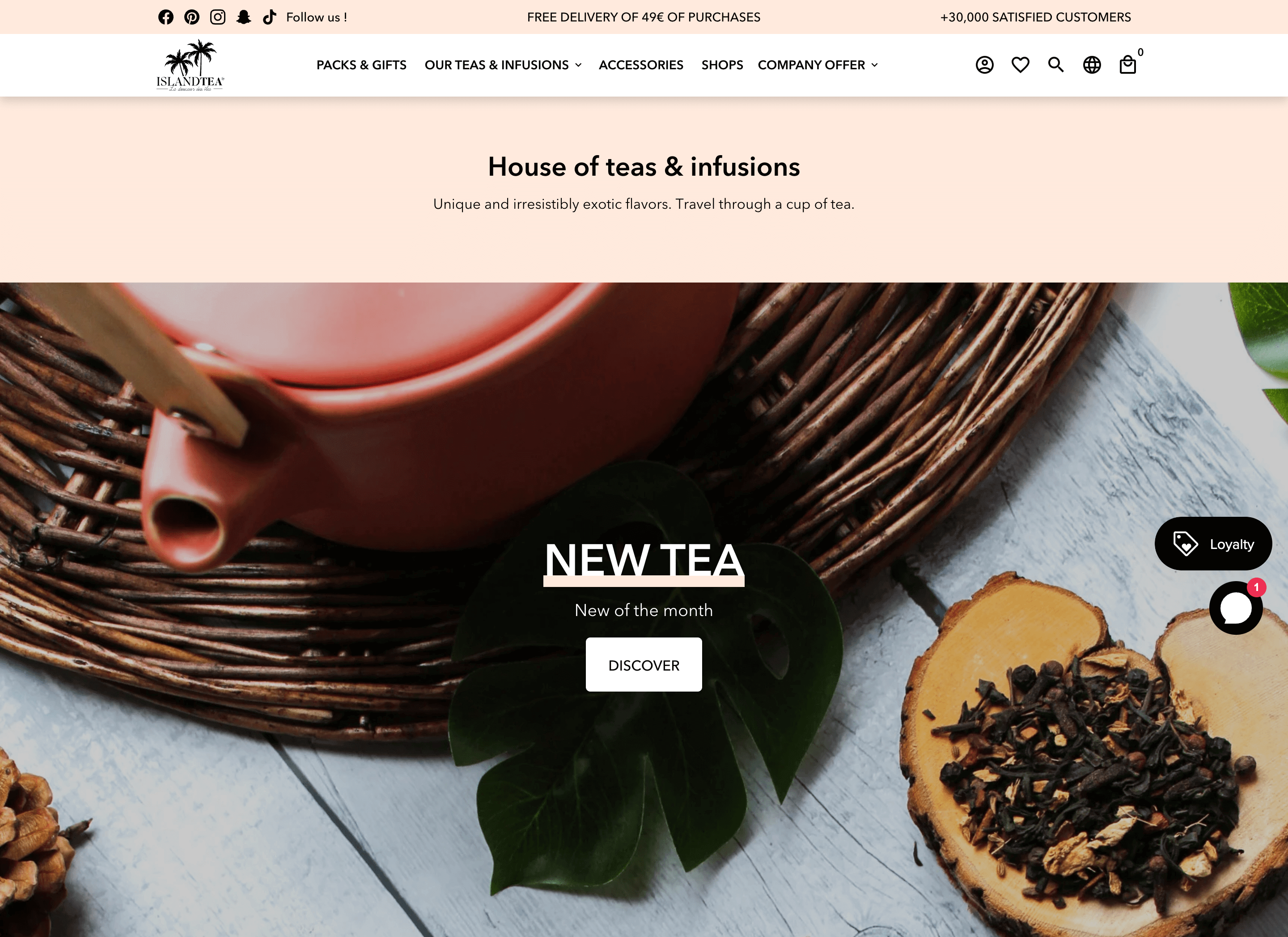 With a variety of tea blends, Island Tea offers products aimed at aiding digestion and improving immunity. Mélody wants to share the health benefits that are so widely accepted in Asian cultures through her brand. Whether you're looking to test out a fun new flavor or have a steady supply of tea, Island Tea has you covered with its wide range of blends and subscription model.
Aside from the products themselves, Island Tea's branding is just as unique and beautiful. Their packaging is created by another woman creator, Clémenece who hand draws their designs in watercolors. In line with its commitment to plants and sustainability, Island Tea uses vegetable inks and a short production chain when producing its packaging.
Blue Peppermint Boutique
If you're looking for a clothing brand that gives you a warm welcome, look no further than Blue Peppermint Boutique. As soon as customers land on the brand's homepage they're greeted with an on-brand "Hey Minty Gal" message from the founder. This message also assures customers that they'll receive exceptional customer service, a great brand community, and fashionable products, making them instantly feel valued and welcomed.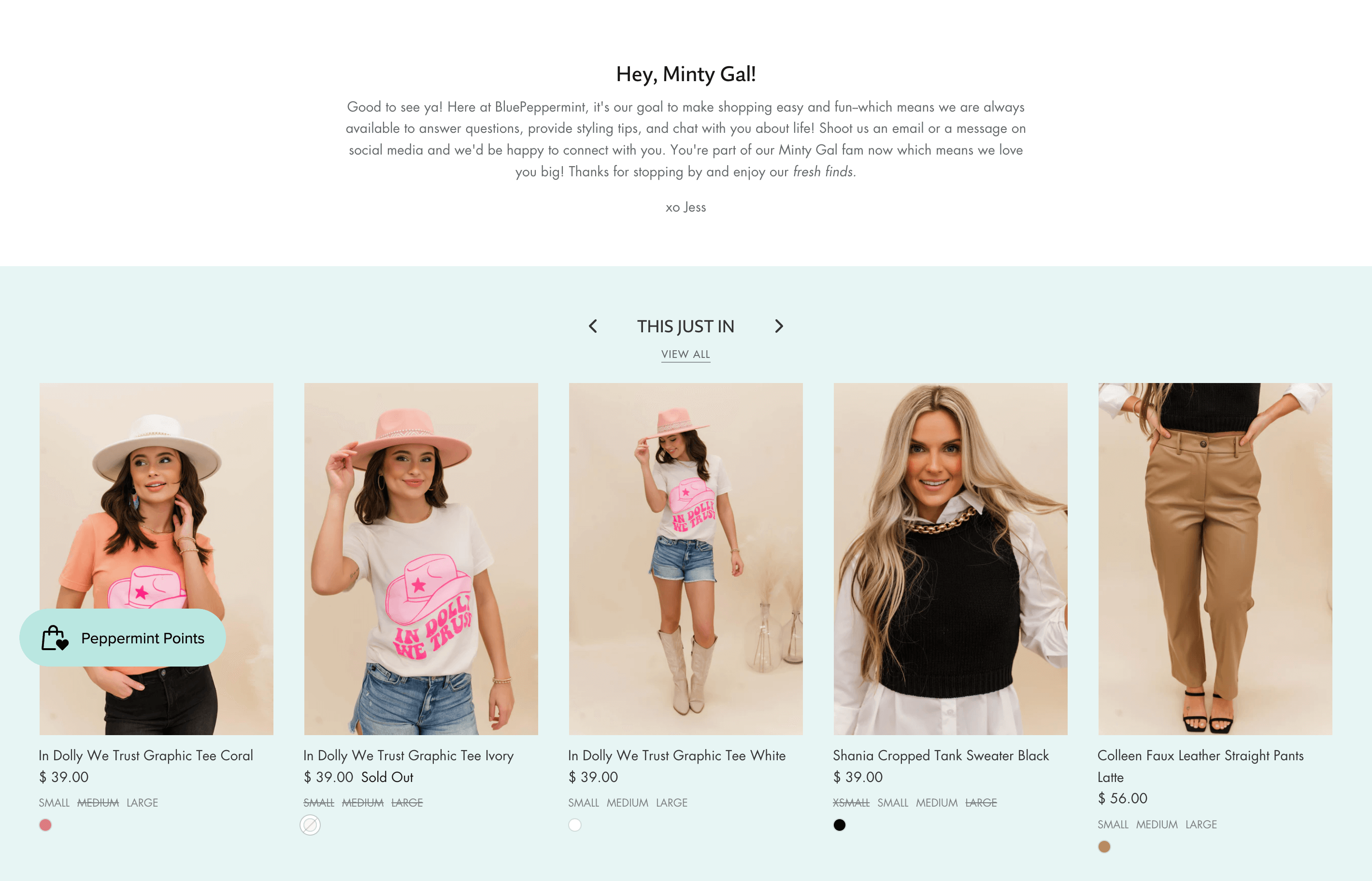 Blue Peppermint Boutique also has a very strong Instagram presence where the founder and all-women team post photos of their products and themselves to keep their brand human. This gives customers a chance to connect with the brand on a day-to-day basis beyond its website.
With a brand experience that's just as "fresh" as the clothing they sell, customers are able to relate to the brand right away.
Healthy Roots
Female empowerment can and should begin when girls are young. Every girl deserves a chance to be confident in their own skin, and that's exactly where the inspiration for Healthy Roots was born.
The brand's founder, Yelitsa Jean-Charles, shares her memory of receiving a Black doll as a child from her parents who wanted to give her a toy that looked like her as an African-American girl. She remembers bursting into tears because the doll wasn't "the pretty one" and has since made it her mission to ensure no other young black girls feel that way about their appearance. It's this type of personal, emotional anecdote that inspires customers to stand behind this brand, its values, and its founder.
Healthy Roots sells dolls named "Zoe" that have dark skin and authentic curly hair to teach young Black girls with curly and wavy hair that they are beautiful the way they are. The brand's three main goals are positive representation, teaching self-love, and providing educational hair play. Building strong, powerful women like the one who started Healthy Roots all begins with building strong, powerful young girls.
Freely
Every morning women all over the world wake up and get dressed in underwear that doesn't fit properly, is uncomfortable, or doesn't allow them to be as free as they want. Freely set out to change that. This South-American brand was founded in 2017 by female entrepreneur, Eileen after she struggled to find underwear that fit her needs in Lima, Peru.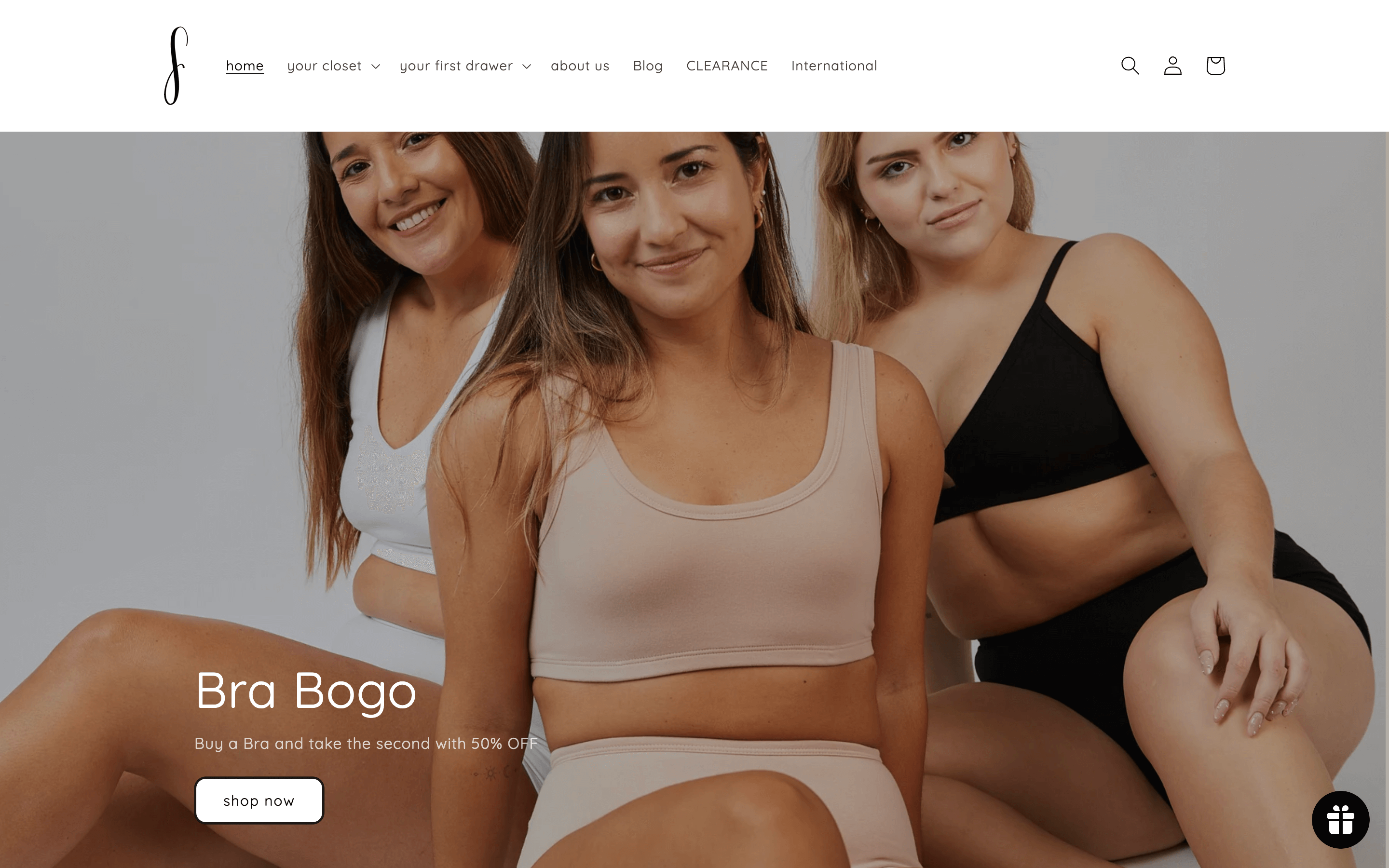 Eileen decided to create the product she was so desperately looking for. Freely's line of bras and underwear is "a first layer of clothing that I feel like putting on every day, combining its colors and feeling the softness of its fabrics," Eileen tells us on Freely's website. They've recently expanded into shirts, pants, and leggings because why shouldn't all of you're clothing be comfortable?
Freely aims to make women of all shapes, sizes, and colors feel confident and free through their products. "My vision is that, just like me, many women can feel that same feeling of freedom when using Freely and that through their choice they feel more authentic and happier with who they are," states Freely's website.
Good Change Store
This next brand is owned by two determined female founders on a mission to revolutionize the cleaning industry. Kristy and Stine of Good Change Store believe that small changes can have a big impact. Their line of natural, zero-waste cleaning products is available online and in many supermarkets and grocery stores in Australia and New Zealand, making it easy for their customers to live out their mission to "Be Better Than Yesterday."  
Good Change Store sells a variety of eco-friendly cleaning products including 100% compostable, natural cloths, wipes, and refill sprays. Customers can shop for their individual favorite products or buy starter kits and bundles. If the product benefits weren't enticing enough, Good Change Store offers loyalty program points that can be redeemed for money off their next purchase for things like making purchases, interacting on social media, and celebrating a birthday. Next time you're restocking your cleaning supplies, be sure to make a good change and check out this eco-friendly brand.
Only Human
Every day, hundreds of people worldwide are ridiculed and judged for things as basic as the clothes they wear, the things they say, or even just their gender. Only Human is here to remind us that, at the end of the day, we all have one thing in common–we're only human.
This clothing company partners with non-profits to "exist to do more good so that together, we can make the world a better place". Originally starting as a brand to help people live fulfilling lives with workshops and events, they've eventually evolved into a clothing brand, but their goal remains the same. The name, Only Human, is sharing the message that we are all human and connected with each other on a vulnerable level beyond all the labels society categorizes us into.
As the founders share in this video, the power of the message that "Only Human" conveys is what connects people from all walks of life. Although their products may appear as "just a shirt", it's much more than that to their customers, which is why Only Human has been able to create such a strong brand community. Giving your customers something to believe in that is bigger than themselves is a great way to create true, sustainable loyalty.
This brand may be women-founded, but it's for anyone and everyone because, at the end of the day, we're all only human.
Hello Updo
The key to any successful ecommerce brand is identifying a need that your potential customers are facing. After struggling to get her hair out of her face in the heat of the Dominican Republic, Magdaline began questioning "why a global industry didn't already offer hair ties for textured and fuller hair types." With that, the idea for Hello Updo was born.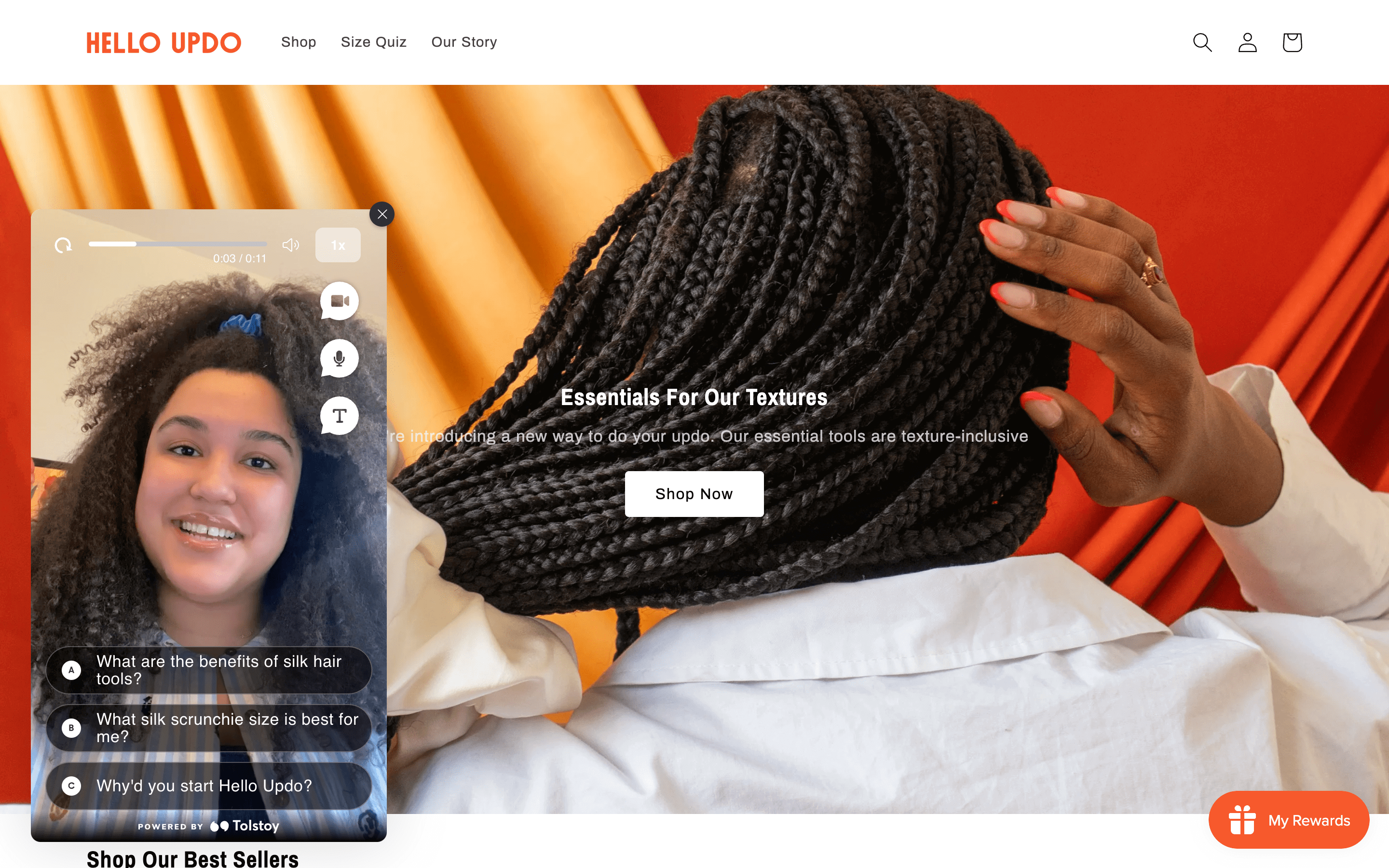 Hello Updo offers a variety of silk scrunchies, hair ties, and pillowcases designed for all hair textures. Immediately upon landing on the website's homepage, customers are greeted with messages of inclusivity, including a video message from Magdaline herself welcoming customers to the brand and explaining its mission. This creates an exceptional customer experience right off the bat.
For customers who aren't sure what their perfect product is, there's a size quiz that allows customers to answer questions about their hair in exchange for personalized product recommendations. To top it all off Hello Updo offers points and referral loyalty programs to reward customers for their dedication.
Happy Organics
In order to create an exceptional brand, it takes a founder who is an industry expert. For natural honey brand Happy Organics, this was not a problem at all. Jessica Gonzalez is a third-generation beekeeper who received a degree in Computer Science, specializing in sustainable farming and agriculture. After returning to her family farm, "Jessica developed innovative and regenerative farming principles to make wellness and honey products that would benefit those around her," the website tells us.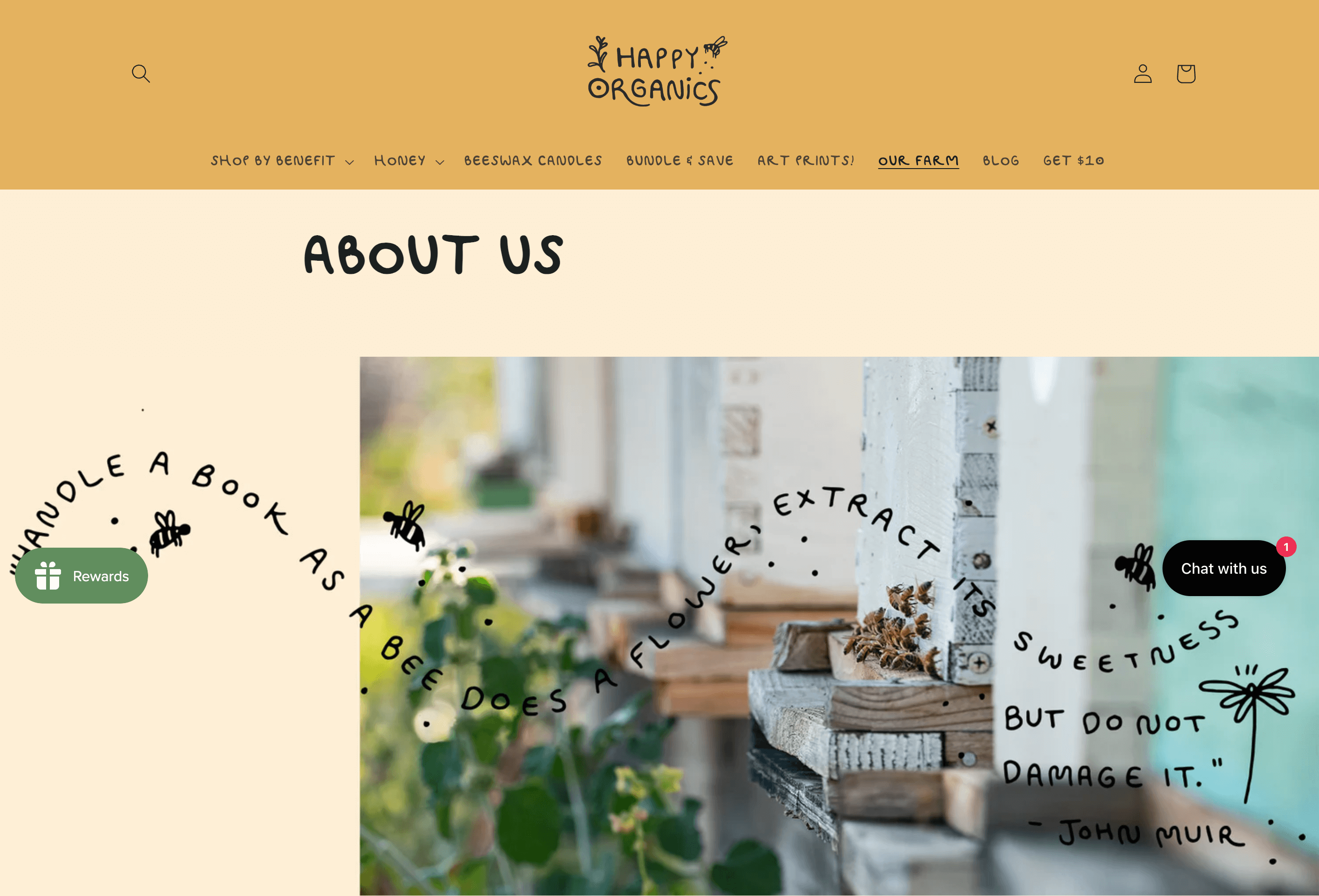 Happy Organics has grown since being founded in 2018 and now offers over 20 products designed for different benefits. From stress and anxiety relief or sleep health to skincare or pain management, Happy Organics offers a wide range of honey, oils, and drink mixes. Their products are cruelty-free, sustainably harvested, and made with love and intention so you can feel good about supporting Happy Organics.
After her father was diagnosed with terminal cancer, Jessica began infusing honey with CBD to help ease the pain. This is when she discovered that she could help provide relief to tons of other customers as well. With a brand story just as sweet as the products it sells, Happy Organics is a woman-owned brand with a great cause.
Join the Creative Side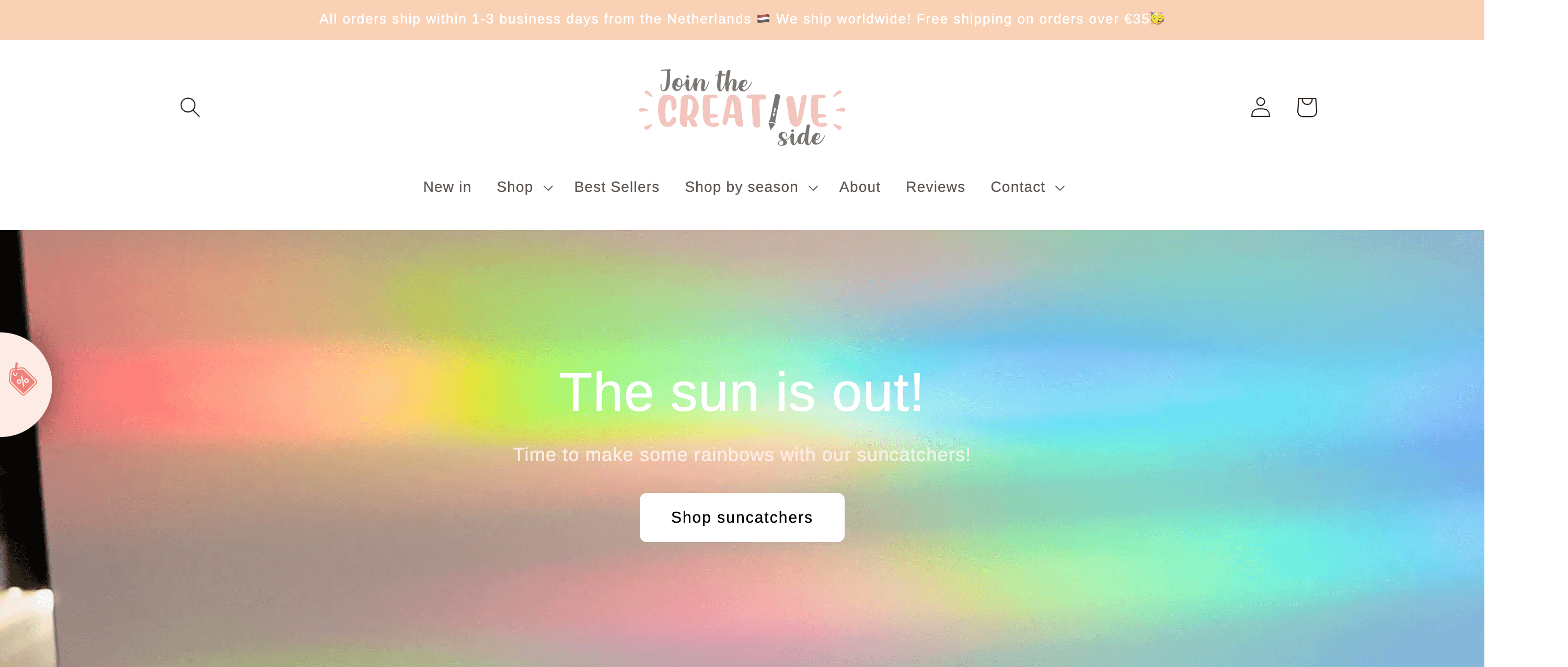 In a world full of minimalist and sleek, modern designs, Join the Creative Side encourages its customers to embrace their quirky, colorful, and fun side. Based in the Netherlands, Chelsea started this brand to offer affordable, high-quality stationery to her customers.
With a wide range of waterproof stickers, bookmarks, suncatchers, and greeting cards, Chelsea designed her products to share her "goofball energy" and put a smile on other people's faces. Keeping on-brand with its fun products, Join the Creative Side features light-hearted, sarcastic videos on social media and engages with its customers in the comments.
If you're looking for an adorable bumble bee pin or a fun rainbow suncatcher, Join the Creative Side has you covered!
Judes & Co.
If you're looking for a brand to light up your day, look no further. Eco-friendly, Canadian candle brand, Judes & Co. sells a variety of wooden wick candles meant to elevate your space through the power of scent. With polished designs and sophisticated scents, these candles aim to bring joy and peace to any space while evoking feelings of comfort, relaxation, and nostalgia.  
This woman-owned brand was started by Judy, more commonly known as Judes, as a way to elevate her own home through candles with ingredients she felt good about using. Knowing that her home was her sanctuary, she thought others might feel the same and wanted to help bring a little piece of magic to their homes.
Judes & Co candles are handcrafted in small batches in Vancouver Canada with quality ingredients that don't harm the environment. It's no wonder this small, woman-owned business leaves its customers feeling relaxed, peaceful, and lighter.
It's time to keep the celebration going
It's clear that women have earned their place in the world of entrepreneurship and are making waves in the sea of ecommerce brands. However, just because today is International Women's Day doesn't mean it's time to end the celebration once it's over. There are millions of other inspiring women and stories beyond these ten brands that deserve to be recognized every day.
Supporting these women entrepreneurs can start with something as simple as shopping at their brands, and who doesn't love to shop?
Learn from other amazing women entrepreneurs
Subscribe to Talking Shop to hear from more ecommerce entrepreneurs