Instagram has become a verb, an adjective, and much more than a photo-sharing app. With more than 1.4 billion users across the world, Instagram's potential reach is wide for businesses to grow their social presence.

Whether you're an established brand or a new business, the potential to build a loyal following on the platform is an easy start, where 90% of users are already following a brand.

Reward programs fail because of how they are set up in the first place. They are not optimized for growth, don't cater to customers, and most often businesses fail to promote their programs in the first place with the set-it-and-forget-it mentality. You can't be successful if you never tell people you have a loyalty program they can join. With Instagram as a powerful social platform for new and established businesses, there are various ways to promote your loyalty program on Instagram and be successful.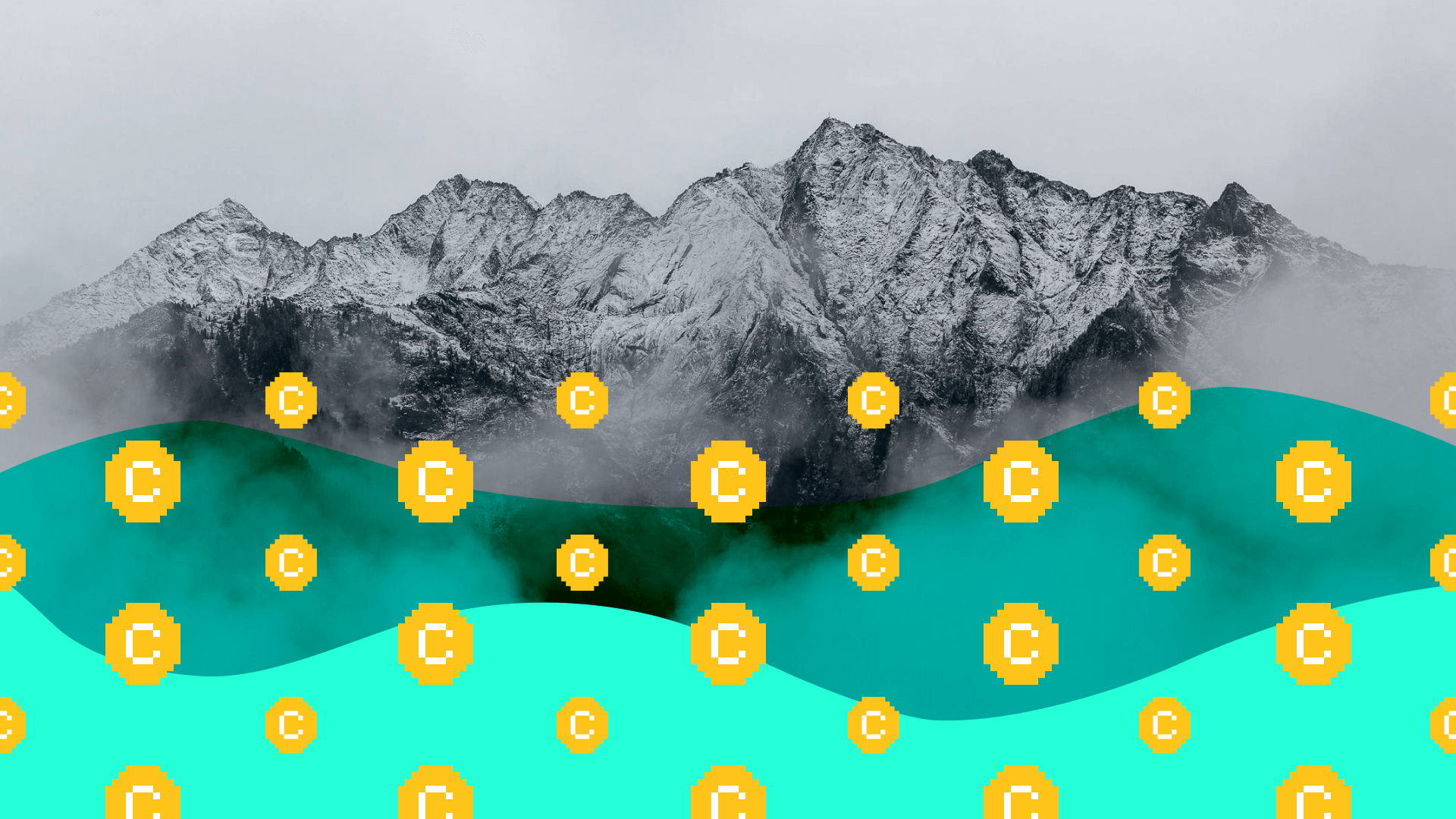 Instagram Carousels bring the highest form of engagement
Instagram is all content and in order to stand out, you need to create content that is creative and speaks to your customers. A report from 2021 notes that Instagram engagement rates dropped by 25% across all accounts, the median now being 0.98%. Don't let this stat deter you away from the platform or feel like you missed the golden days of Instagram.
Instagram still has the highest engagement rate among any of the established social media platforms.
Instagram Carousels have the highest form of engagement among the platform's features. It's even more powerful for small businesses, with accounts under 5,000 followers having an 8.01% engagement rate per impression. This is a perfect feature for small businesses that are trying to promote their loyalty program and products.
Retea is a reusable tea cup and premium bubble tea kit brand that has a pastel and fun Instagram account. Having just crossed 5,000 followers, Retea uses the carousel feature to highlight how users can save money on their orders through referrals, taking social action, and joining their email list.
Synch your product catalog on Instagram Shopping
Instagram has grown to include more than photos with its addition of Instagram Stories, Reels, and now its shopping feature. Instagram is the perfect platform to introduce products to new consumers. According to insights from Sprout Social, "70% of shoppers look to Instagram for their next purchase." Through the shopping feature, you can let consumers shop for the products that are tagged in your photo or video content.

If your ecommerce store is hosted by Shopify, the Instagram and Shopify integration makes it easy for customers to shop on Instagram by synching your product catalog and offering a one-click checkout. To promote your loyalty program with this feature, link to a product and explain in the caption how many points you could earn on that purchase.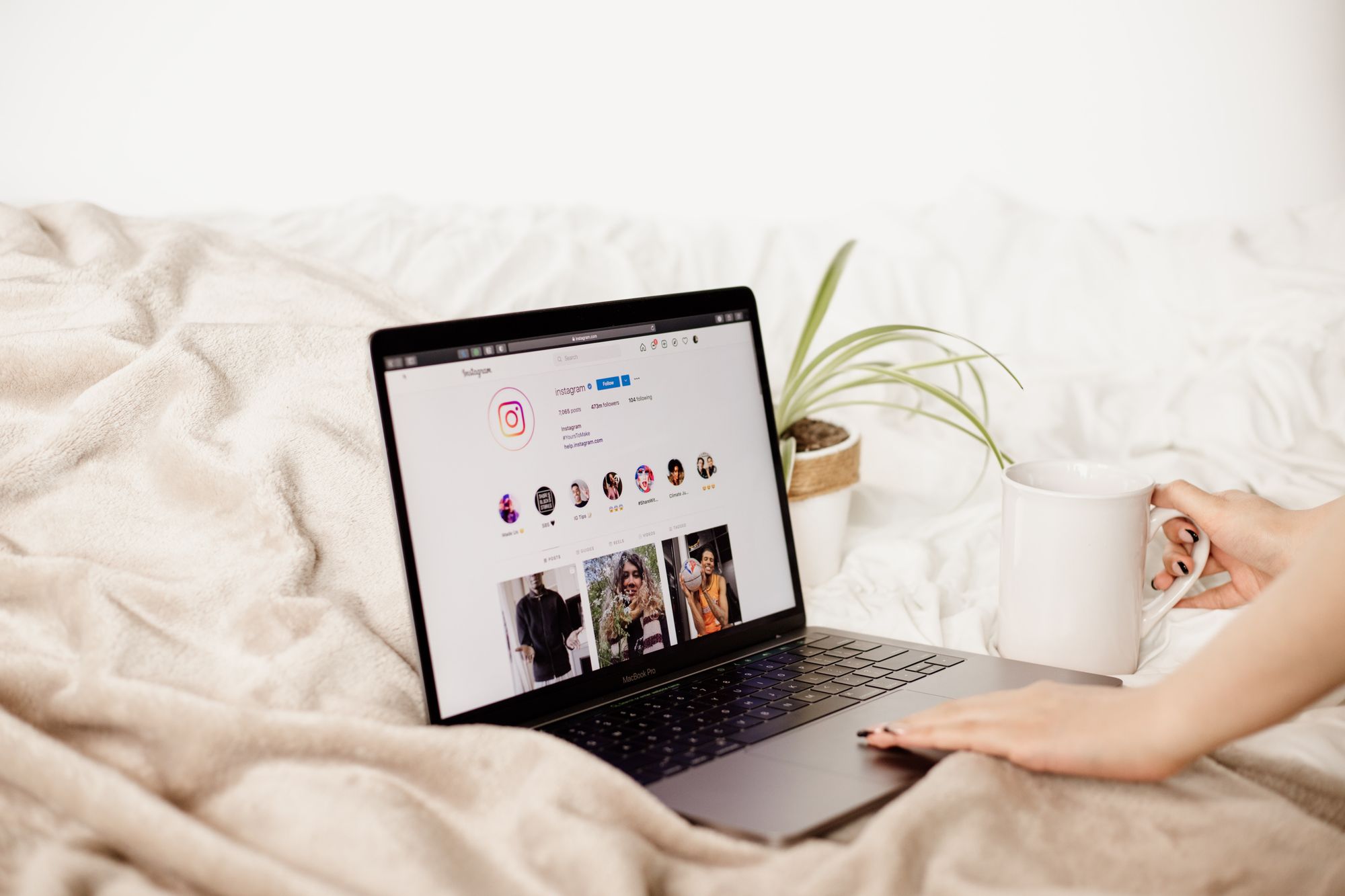 Static posts still work with a CTA
You may have heard of the rumblings this summer where users, creators, and celebrities were calling on Instagram to stop implementing changes to be like TikTok. The campaign "make Instagram, Instagram again," sparked the dissatisfaction users had on the platform. One thing that creators and Instagram can agree with is the key to succeeding on Instagram is creative content. Static posts still work, you just have to get creative.

Drive engagement and promote your loyalty program with a call to action. Drive traffic to your loyalty program or explainer page. A static post explains how users can go step by step and earn loyalty points. Use CTAs in all your content, especially in your captions on static posts or carousels–this gets users to take action.

Hush Little Jane is a small business beauty brand that explains to users how to earn their first reward on their Instagram posts. This had an effective call to action that gave users a first step in getting a reward. This post gave a clear call to action and walked users through what to do next. It gave clear directions on how to immediately earn your points now.
Tell a story with Reels
Storytelling is powerful and the basis to keep your audience engaged in your content. This makes Reels a great feature within Instagram to experiment with storytelling through existing and new trends, and long-form video content.
Later compiled these Instagram Reels tips straight from Instagram headquarters themselves.
No watermarks on your Reels content. Meaning if you are repurposing content from TikTok or other platforms, make sure there is no watermark from another app on the video.
Focus on storytelling–"Great Reels typically have a beginning, middle, and end."
"Surprise people. Plan a big reveal, add a punchline, or end with a plot twist. Even something as small as an interesting transition may get people watching more than once."
Ensure your content is vertical at a 9:16 aspect ratio and immersive on any platform, especially on mobile.
Reels can be a great feature to promote your loyalty program on, especially if you are just launching your program. Successful loyalty programs have used Reels to walk their customers through exactly how they can earn rewards while making creative announcements and content.

When Sweetgreen launched its summer loyalty program, it used Reels to create an announcement and buzz around its launch. Their content was creative, and personable, and provided value to their customers. Another strategy used by the Sweetgreen social media team was jumping on trends that fit well for their brand.
Similarly, The Copper Bell Candles used Reels to provide valuable loyalty program information to its customers by walking them through a step-by-step process on how to sign up for their program, earn points, and redeem rewards. This provides value, gives a how-to explainer, and gives a call to action for customers.
Guide customers with Instagram Stories and Highlights
Instagram Stories is another feature within Instagram that can bring additional engagement to your business. Over 500 million users use Instagram Stories on a daily basis. If you're thinking it's too late to start posting Instagram Stories, you're not too late. According to insights, 75% of brand posts are single images, so brands using video and other features on Instagram can think of it as being ahead of the game.
Instagram Stories should be fun and engaging and make the audience feel like they are learning something new about a brand. Successful brands show day-to-day content, behind-the-scenes, and in-the-moment content.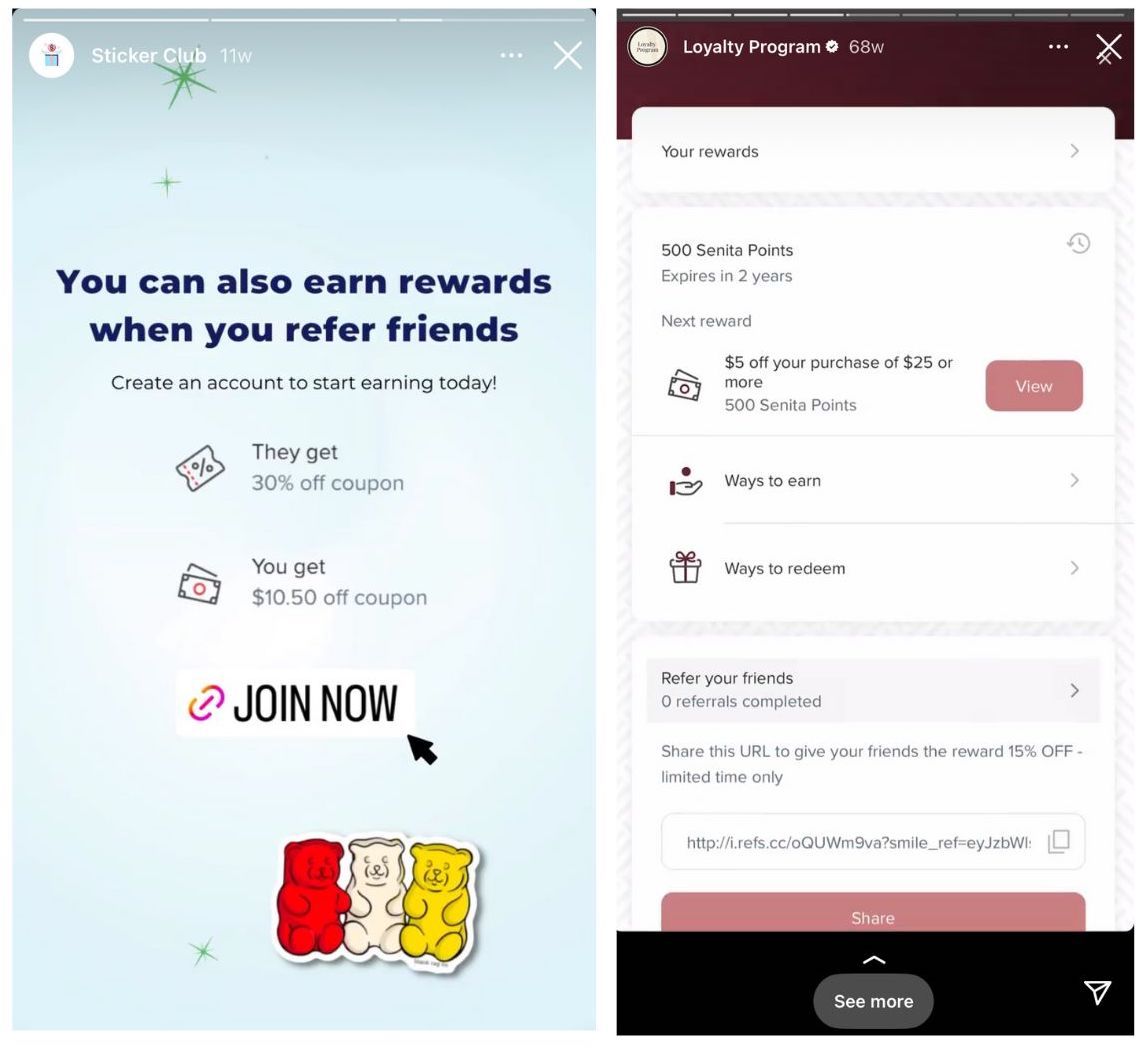 Senita Athletics is a fitness apparel brand that walks the user through how to use its loyalty program and how to use referrals. Senita does a screen recording that walks customers through how to earn points through their VIP tiers. Both Senita Athletics and Blank Tag Co. use call-to-action buttons that drive visitors to their loyalty programs. Both businesses allow visitors to (come back and) see how their program works when their Instagram Stories are saved as a highlight on their profile page. Saving highlights can let visitors explore your page, and products, and explore more information, once they land on your Instagram page.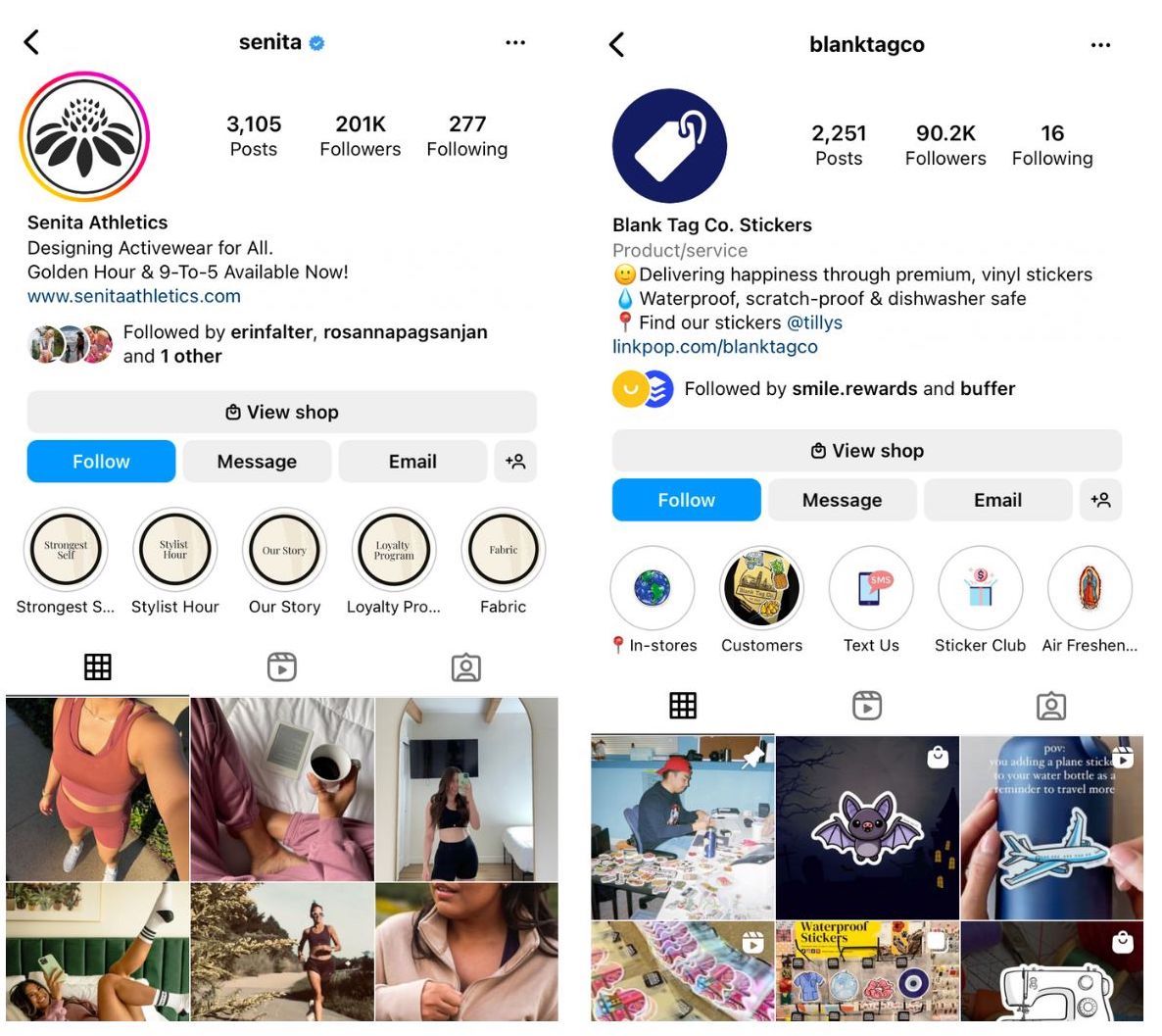 Optimize your Instagram profile
Instagram is now a storefront, a website page, a place visitors check for reviews, and overall it's the go-to place to discover a brand, business, or location. More people head to Instagram and other social media channels than Google to search for things. According to TechCrunch, "nearly 40% of Gen Z prefers searching on TikTok and Instagram over Google Search and Maps."
Optimize your Instagram profile by utilizing SEO practices within Instagram. Add keywords to your profile and utilize branded hashtags to be discoverable by new visitors. You can now include business hours, how to be reached, and even allow customers to place an order online (via links) if you sell food items.
Pinned posts and comments are a great way to introduce visitors to what you are all about as well. Guiding them to learn about your business right away.
Soul Chocolate has been making tasty chocolate since 2015. Their Instagram page is optimized well with links to their store and their address within their bio. The customer has multiple ways to get in touch with them and buttons allow them to order food and view products directly on Instagram.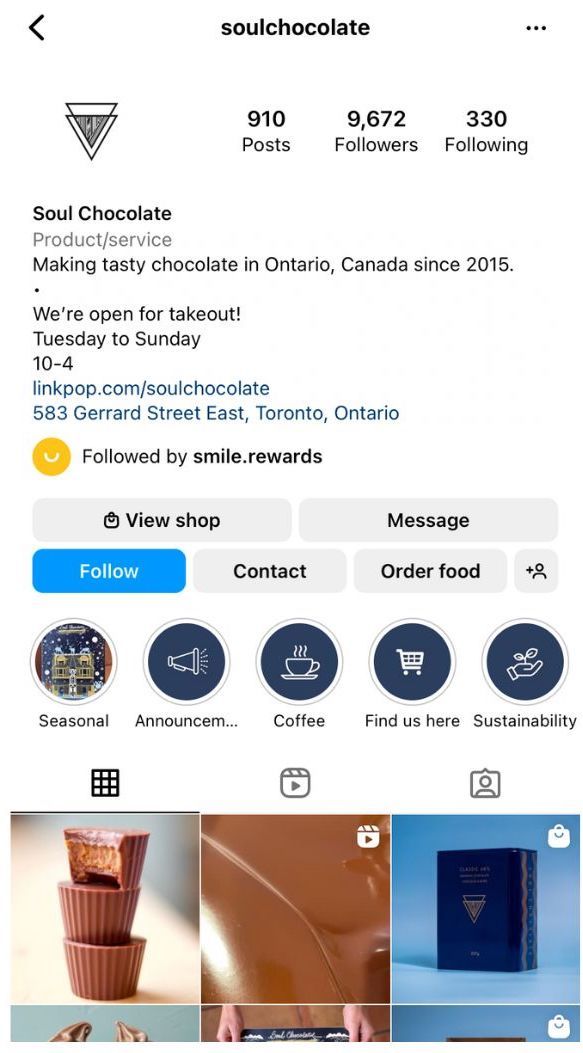 TL;DR How to Promote on IG
Instagram has become synonymous with building a community and has evolved so much more than a photo-sharing app. You can't be successful if you never tell people you have a reward and loyalty program in the first place. Promoting your reward and loyalty program can now be simple by putting these ideas to use in one platform where 90% of users are already following a brand.
Instagram Carousels bring the highest form of engagement, use them often.
Sync your product catalog on Instagram Shopping.
Add clear call-to-actions with each static post.
Tell a story with Instagram Reels.
Guide customers with Instagram Stories and Highlights.
Optimize your Instagram Profile with SEO practices.