It's no secret that customer retention is a big deal. As the ecommerce world continues to evolve, more and more brands are finding their way into the marketplace which means competition is getting steeper. In the midst of all this growth, ecommerce experts are all saying the same thing: it's easier to convert existing customers than new ones.
These types of statements have made retention a regular topic of conversation, and have prompted many businesses to realize that they need a loyalty program. But once that decision is made a lot more questions begin to surface, and most of these questions revolve around time. With Black Friday, Cyber Monday, and the Christmas rush coming up, you might find yourself wondering how long it actually takes to start a loyalty program.

Luckily for you, the Smile.io team has been around the block and have successfully launched thousands of loyalty programs. With this experience in mind, let's break down what it takes to start a loyalty program and how long that process takes from beginning to end.
Types of Loyalty Programs
Before you can walk you have to crawl, and understanding the difference between the various types of rewards solutions is the first step towards knowing how long it takes to start a loyalty program.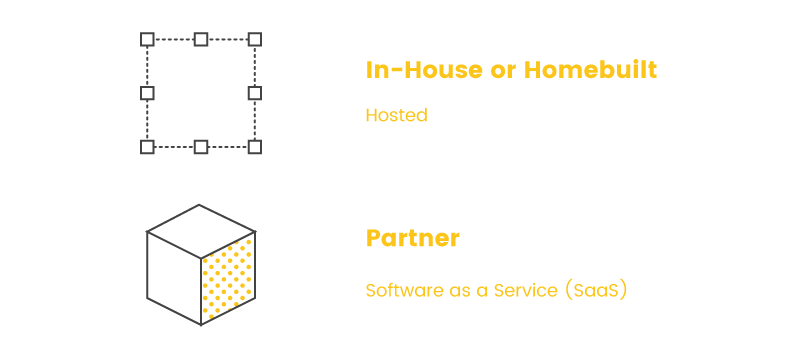 When I say there are different kinds of programs, I'm referring to how a program is actually built and operated. With those conditions in mind, there are two types of loyalty programs available: in-house or homebuilt and partner.

The biggest difference between these definitions is the level of customization required to start a loyalty program. Hosted programs are independently designed and built on a customer-to-customer basis. These programs tend to have many unknown variables, which means that they require more customization in order to meet each store's specific requirements.

SaaS solutions like Smile.io on the other hand may be referred to as "out-of-the-box" loyalty solutions. These programs are often used by stores hosted on ecommerce platforms like Shopify and BigCommerce and require less customization work in order to get up and running.
Choosing a Type of Program
Before you can start a loyalty program, you need to know which one is best-suited for your business. Now that we know what sets hosted and SaaS programs apart, we can determine which loyalty solution is right for you!
As I mentioned before, hosted loyalty programs have many unknown variables that need to be considered when designing and implementing a loyalty strategy. Many of these variables are a direct result of the brand having multiple customer touchpoints, such as offline and online stores and mobile services. Hosted loyalty programs are also typically used by stores that experience higher volumes throughout the year.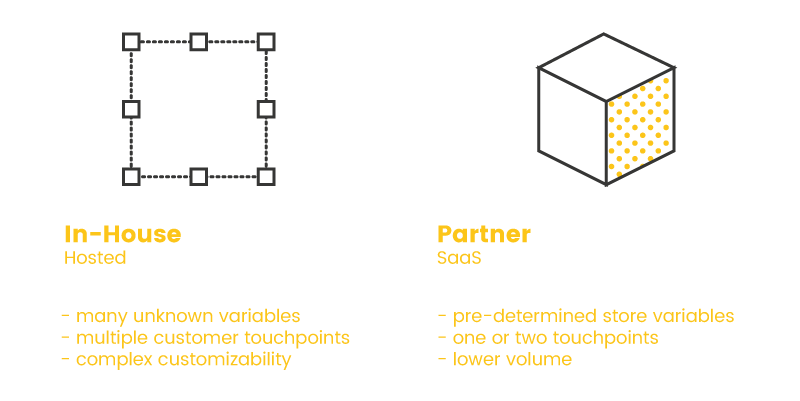 With these points in mind, it makes sense that SaaS loyalty programs are used by stores on the opposite end of the spectrum. With lower volumes and only one or two customer touchpoints, these merchants are looking for clean and simple loyalty solutions that they can use to help their business grow.
"How Long Does it Actually Take to Start a Loyalty Program?"
I know this is the real question you wanted answered, and now your patience will be rewarded!
It shouldn't be surprising that hosted and SaaS loyalty programs can't be launched using the same timeline. With more touchpoints to integrate with, hosted rewards programs tend to take much longer to implement. This process is made even longer when you consider that these brands often have more employees to educate about the program as well.

These conditions can result in brands spending anywhere from one month to a year developing their loyalty program before it's ready to be launched publicly. This timeline is dramatically longer than the time it takes to start a loyalty program with a SaaS solution.

SaaS solutions make it a lot quicker and easier to start a loyalty program. Combining ready-to-go loyalty products with fewer touchpoints makes it possible to reduce implementation time to as little as one day. Even at its longest, implementation does not need to be longer than a couple of weeks. So while one solution is not necessarily better than the other, one takes significantly less time.
Knowing When to Start a Loyalty Program
The final piece of the launching puzzle is knowing when to start your program. In order to determine what is best for your store, there are three elements you should consider:
1. Type of Products
Every industry has different "busy seasons" that need to be taken into consideration. For example, office and business supplies see an increase in sales during the back-to-school season, while supplements tend to sell better in the new year after everyone's made resolutions to get healthier.
Regardless of what products you're selling, you will need adequate time to plan for and start a loyalty program in time for your busiest season. In general, it's recommended that the average store allow for at least two months of prep and development in order to ensure their program is fully functioning.
2. Testing Period and Launch Stages
When designing a new product, brands tend to roll it out in stages by introducing new features and improvements over time. This same principle can be applied to loyalty programs!
We've often said that loyalty is not a "set it and forget it" marketing tool, and that it requires attention and maintenance over time in order to generate the best results for your business. That means you need to give yourself enough time to try it out before you officially start a loyalty program.
A great way to do this is with a soft launch, which means that you make your program available to a select group of customers before anyone else. These customers can then give you feedback that helps you improve your program before your official launch. You can even continue to use this feedback/release model once your loyalty program has been launched! This method makes your new program easier to understand and increases the chance of customers enrolling.
3. Size of Store
This is one of those satisfying situations where it all comes full circle. We started this discussion by talking about the size of your store, and the bottom line is that the size of your store is the greatest factor when determining how long you need to start a loyalty program.

If you want the best loyalty program possible, you need to give it time to grow and evolve, and this process gets longer the larger your store is. Larger stores should plan to start and launch a loyalty program 5 months prior to their busy season, while smaller stores can afford to start anywhere from only two months or two weeks before!
The Brass Tacks of Starting a Loyalty Program
No matter how you slice it, you should aim to have your rewards program launched in time for your busiest season. Whether your store is big or small, you need to give yourself enough time to start a loyalty program and effectively test it before the demand for your product spikes with seasonal shoppers.

With these points in mind, there's never been a better time to build a loyalty solution for the Christmas rush. So what are you waiting for? Start a loyalty program for your business today and watch your business experience significant growth!