Launching your loyalty program is half the battle in building a successful program that customers love. While there are many ways to launch a loyalty program, we are breaking down how Sweetgreen launched its summer loyalty program with a mix of omnichannel marketing strategies and in-store promotions. As well as using Instagram Reels and TikTok to reach a larger audience.

Sweetgreen is a popular chain of fast healthy food, whose menu consists of fresh seasonal salads. With over 900 locations throughout the United States and celebrity partnerships, Sweetgreen has become a staple eatery for those searching for a healthy meal. Sweetgreen was started in 2007 by three college students and now has over 4,000 employees. With growth comes new retention strategies and new ways to reach more customers. Sweetgreen wanted to launch its loyalty program after testing out a subscription plan earlier this year.

Their loyalty program rewarded customers for completing weekly challenges and earning exclusive discounts and perks. "Join now and every week we'll introduce you to a new challenge to complete with a sweet reward to choose from at checkout," proclaimed Sweetgreen! Users have to download the Sweetgreen app and opt into the weekly challenges. Users would be encouraged to order menu items based on the challenge of the week and once an order was placed, a challenge would be complete. Earning rewards towards your next purchase.
Newly launched program challenges
Well-executed loyalty programs work, but there are a few brands that will launch their loyalty programs with failure and challenges. There are a number of reasons why loyalty programs fail, including having a "set it and forget it" mentality. Just adding a loyalty program won't build loyalty or retain customers to make repeat purchases. Another failure some loyalty programs fall into is never promoting their program in the first place. Loyalty programs take work from promotion to motivating customers to join and spend on purchases.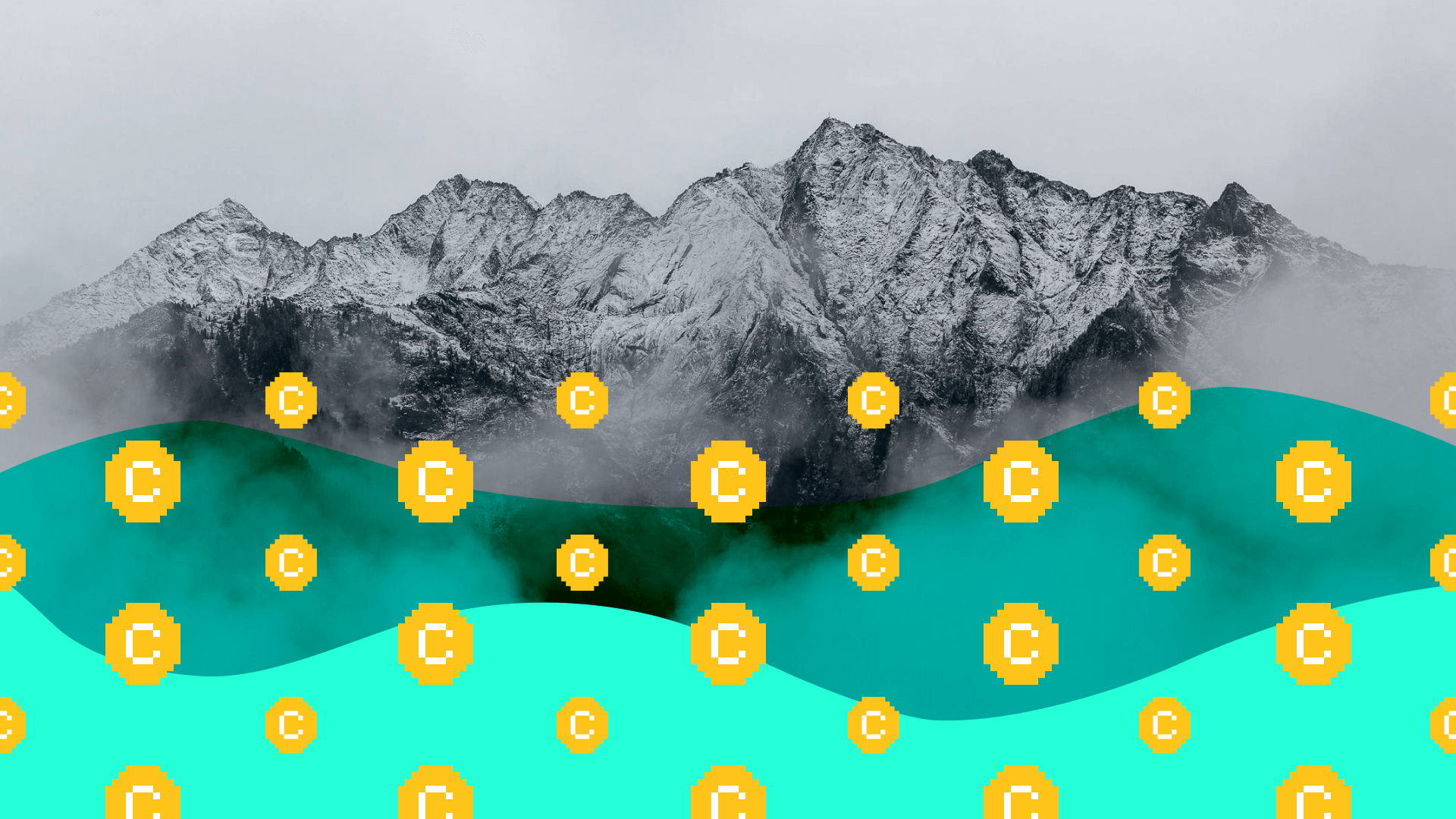 How Sweetgreen launched
Omnichannel marketing was a key component for Sweetgreen. Ensuring every message introducing their loyalty program was communicated online, in their app, and in-store. Online communication from Sweetgreen used a mix of in-app promotions, emails, landing pages, and a mix of social media content in the form of Instagram Reels and TikToks. This omnichannel marketing strategy was important for Sweetgreen to reach multiple generations of consumers while being inclusive when it comes to where customers are focusing their attention.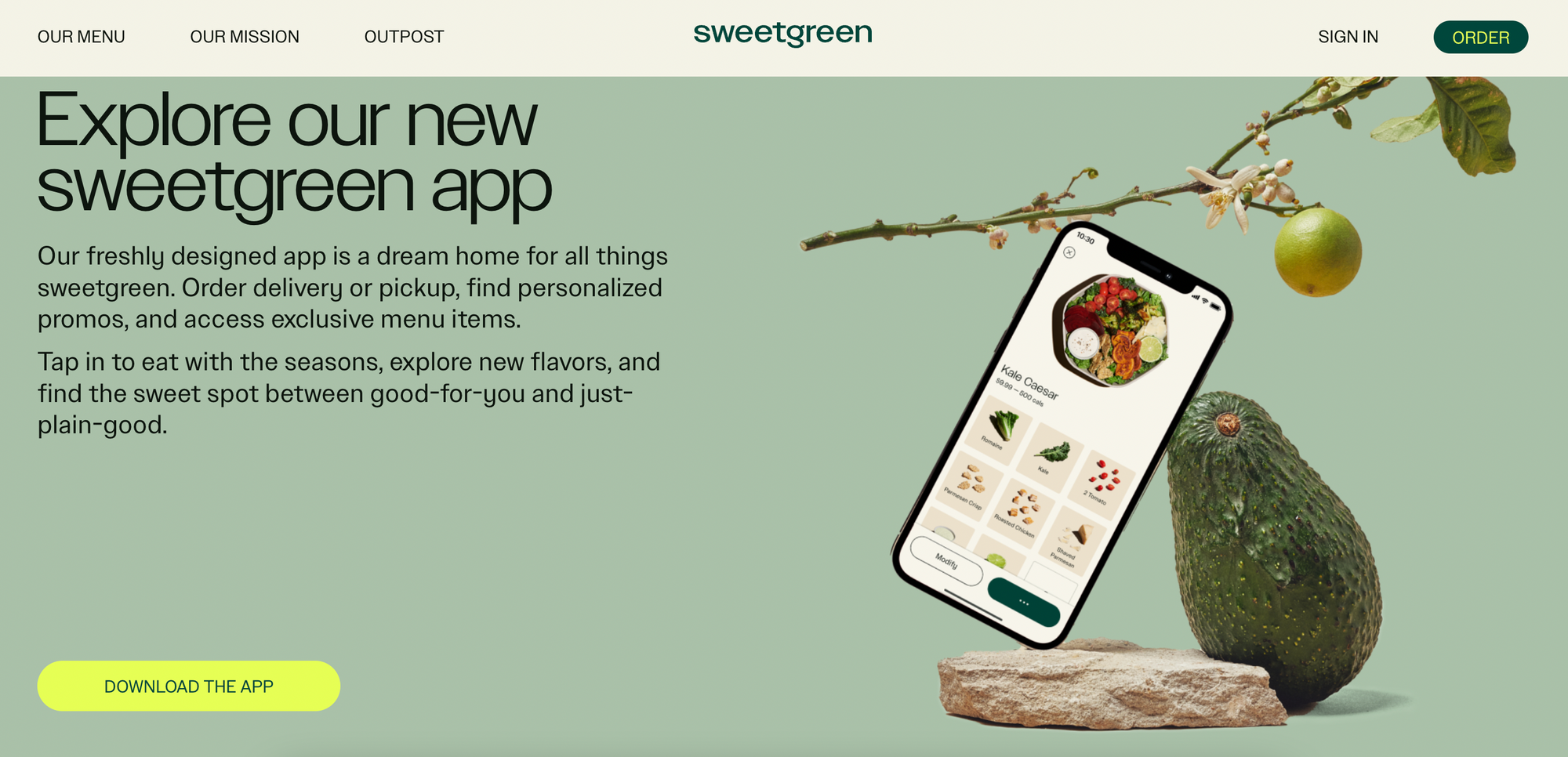 Treat your website like a landing page
Sweetgreen's website acted as its loyalty program landing page, prompting users to take immediate action by downloading its app. Sweetgreen users could stay on their website or head into their app which prompted them to join their loyalty program and make a purchase. Sweetgreen knew the buying journey is different for every customer. It can involve a crossover of shopping on a desktop, mobile, or tablet device through social media, mobile apps, and offline channels such as brick-and-mortar, pop-up shops, and various retail locations.
In-store marketing
If Sweetgreen customers were inside one of their retail locations, they were able to get prompted with signs about their loyalty program and specific challenges. The message was simple and incentivized customers to go into their app and unlock a reward.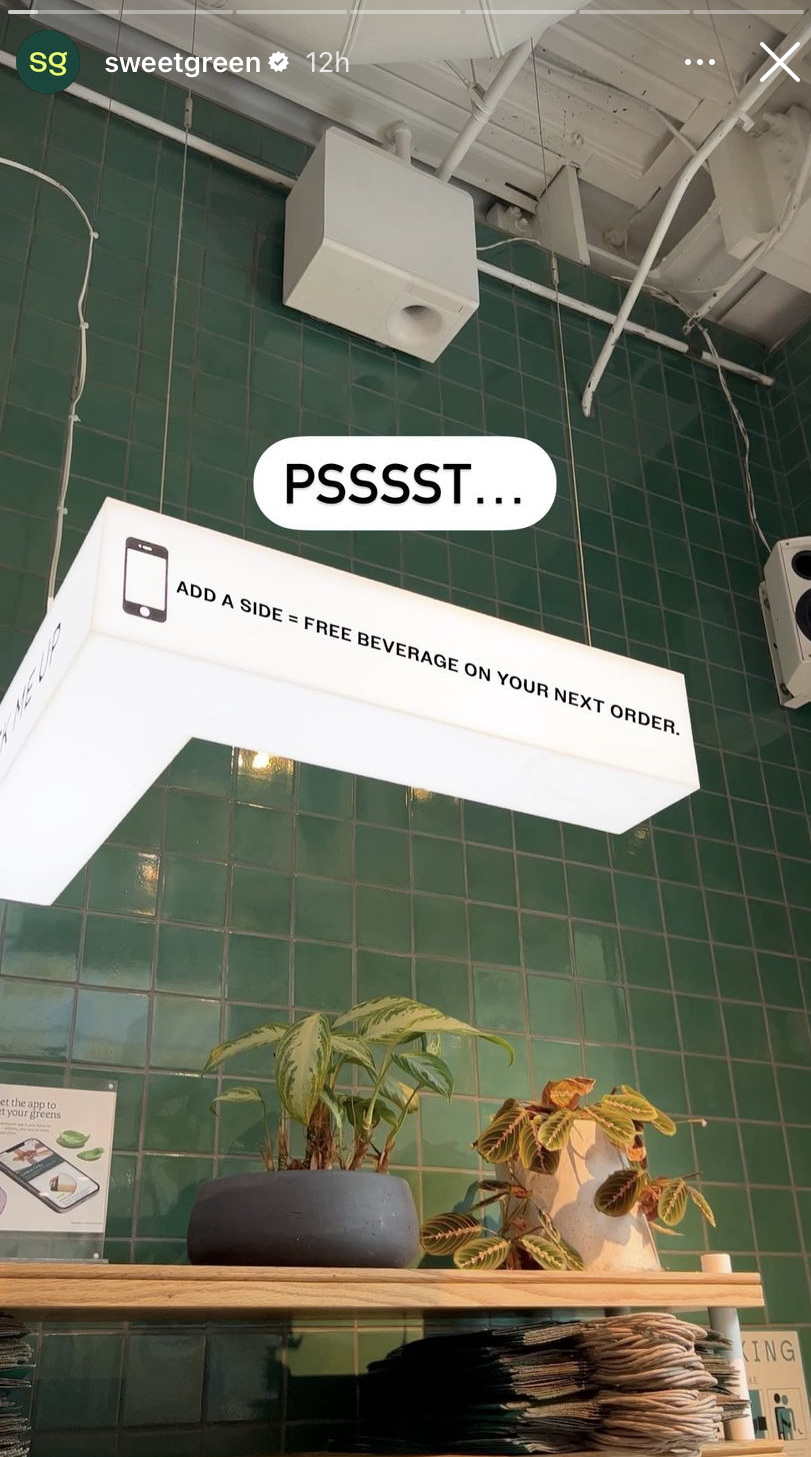 A uniform experience through email
Simple, informative, and to the point, can be used to describe Sweetgreen's email campaigns surrounding its loyalty program. Sweetgreen sent out emails with a step by step process how their loyalty program worked. Weekly emails on weekly challenges were sent out to get customers back into the app and earning rewards. The gamification Sweetgreen had on its program got users to come back for their next rewards and fostered a sense of achievement for its customers.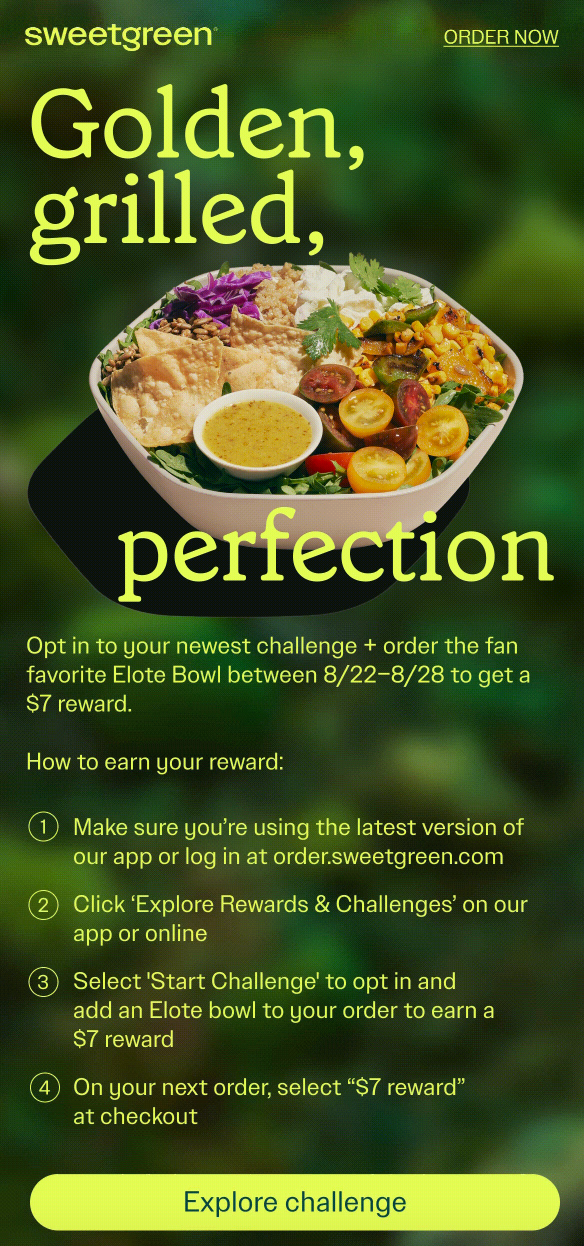 For an ecommerce brand today to have a strong and effective omnichannel commerce strategy, you have to align your company and product messaging together, along with your company goals, objectives, and a uniform design across each channel and platform.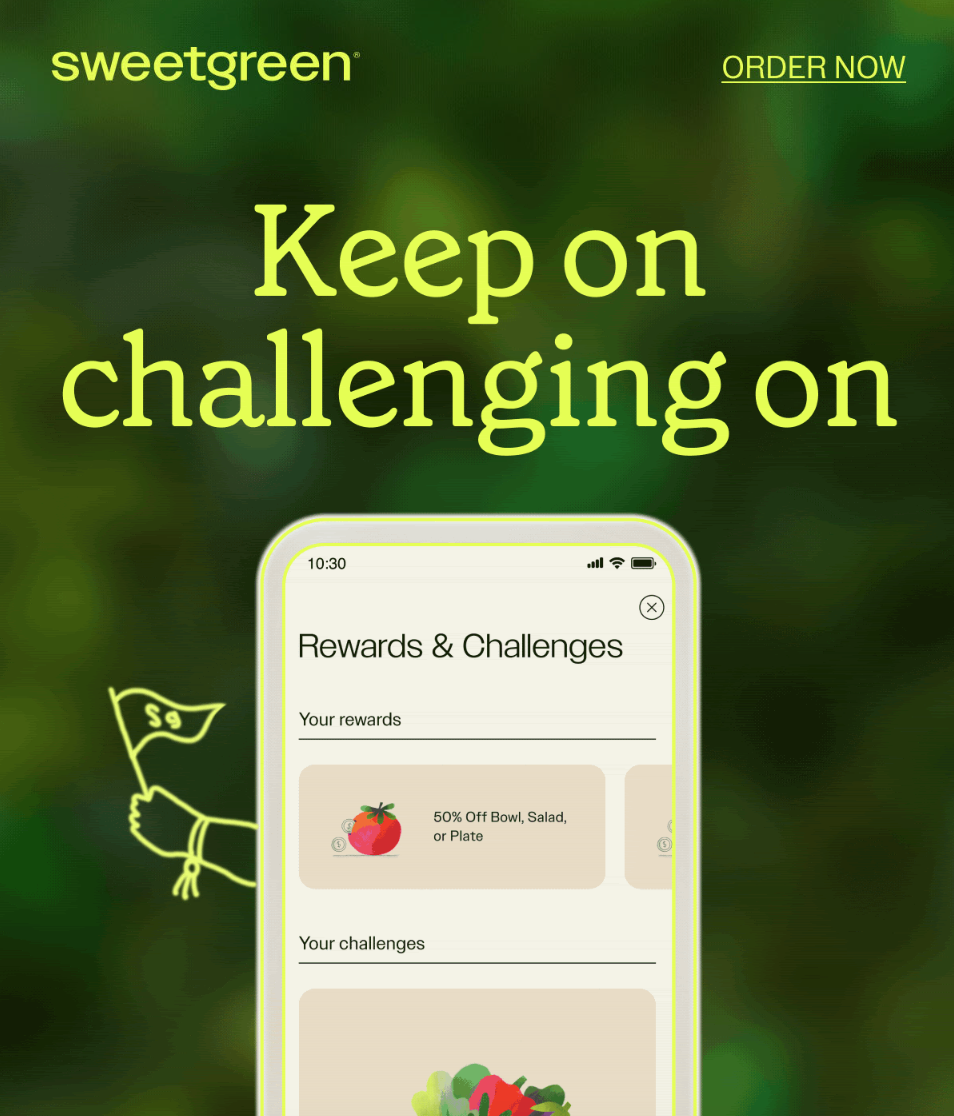 Instagram Stories and Reels
Sweetgreen teased its loyalty program across Instagram through content that was engaging with dynamic content across static posts, Instagram Stories, and Reels to their 324,000+ followers. It's estimated that 500 million people use Instagram Stories on a daily basis and Sweetgreen took advantage of this by guiding users how to use its program.
The content showed Sweetgreen posting about the types of salads users can earn with their rewards. One great way to get new eyes on your Instagram Stories content is by creating a highlight on your Instagram page that users can see upon landing on your page. Sweetgreen did this to show returning visitors how your program works even after the Instagram Story disappeared after 24 hours.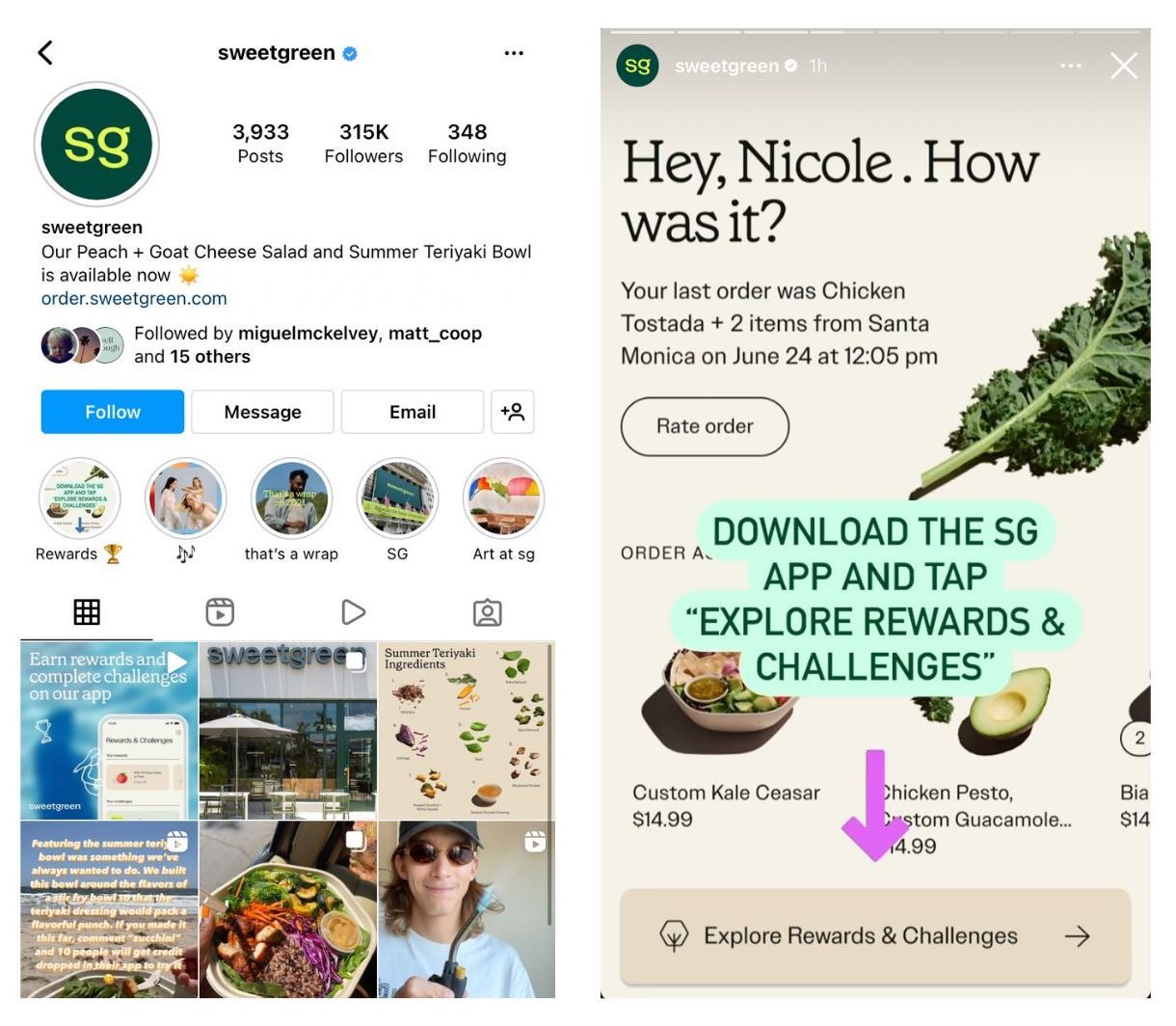 Instagram Reels have become a big part of increasing organic reach and growing on Instagram. Video content is powerful when promoting a new launch of your loyalty program because you can show exactly how customers can earn rewards. Sweetgreen played into its playful brand and created some fun Reels that educated their customers, communicated its messages, and were entertaining.
Getting creative on TikTok
One area Sweetgreen's loyalty program stands out from different brands is putting a human element into its content. Their TikTok features all team members, customers, or their social media team that is on camera and showcases their salads in a fun and engaging way.
What brands can learn from Sweetgreen is to be human, personable, and ensure your brand fits your TikTok content. TikTok is a great way to acquire new customers and reach an audience that is entirely new to your brand. Here are some ways Sweetgreen is using TikTok to not only promote its loyalty program but its business throughout the year.
Going behind the scenes with team members
Make sure their content fits its aesthetic, brand, and target audience
Jumps on trends and sounds in a creative way
Engages with customers
TLDR: Launch with omnichannel strategies
If there is one major takeaway from how Sweetgreen launched its loyalty program, it's to launch with an omnichannel marketing approach. Ensure your online experience is uniform across every channel and matches up with your offline experience as well. Value your customers with motivational rewards that are actually rewarding. Customers want to feel valued and will offer loyalty to brands that go the extra mile. Be human! Whether it's on social media, in-store, or talking one on one, be human with your customers.
Grow your brand with a rewards program
LAUNCH A FULLY-BRANDED LOYALTY AND REWARDS PROGRAM IN MINUTES