What's one of the first things you do after waking up in the morning? According to Deloitte, 61% per cent of people admit that they check their phones within five minutes of waking up each morning, and checking social media is a huge part of that. With 3.48 billion active users on social media (45% of the global population!) our world is more connected than ever before. No matter where you are, thousands of people are available right at your fingertips and it's hard to resist joining the conversation.
45% of the world's population is active on social media.
For businesses, this provides an opportunity to connect with customers in ways that simply weren't possible before. Each time your customers pick up their device, they have the chance to start a digital conversation with your brand. Whether it's through direct messages looking for support, reviews shared with their social network, or referring a friend to your website, customers can interact with your brand 24/7 in a variety of ways.
"People buy from people like, know, or trust."
Joel Comm
As a vehicle for all of these conversations, social media is quickly developing into a tool that is all about building emotional relationships with your customers. These relationships offer an engaging experience that builds trust with your brand, making it the perfect tool for promoting and improve your loyalty program.
Through a combination of rewards for social actions, social promotion, and social analytics, you too can find success by encouraging more valuable customer engagement than ever before.
Incorporate social media actions into your loyalty program
Involving social media actions is one of the easiest and most engaging ways to create a better customer experience for your program members. With so many users on social media, giving your customers the option to earn rewards for social actions they perform on a regular basis will make them feel like reaching a certain points balance is attainable. These achievable milestones will in turn increase the likelihood of them participating in your program.
In addition to high engagement rates, involving social actions in your rewards program will increase the likelihood that your brand is shared across your customers' social media networks. The impact of this can be huge: 33.2% of social posts reach up to 999 people, while 24% of social posts can reach up to 5,000 people. Through social sharing, you are tapping into the digital networks of each of your customers, which can result in global exposure for your brand and loyalty program.
One social post has the power to reach up to 5,000 different people.
In order to create the best possible experience for your program members, you should reward social actions that make sense for your brand. For example, if you're a cosmetics brand with a large presence on Instagram, you should reward members for following you there, not on Twitter.
Encouraging customers to earn points by sharing your products on a channel that most of them don't use will cause frustration and lower your redemption rates. Instead, find a way to incorporate popular channels like Facebook, Twitter, and Instagram into your rewards program to give your customers more opportunities to earn points in ways that make sense to them!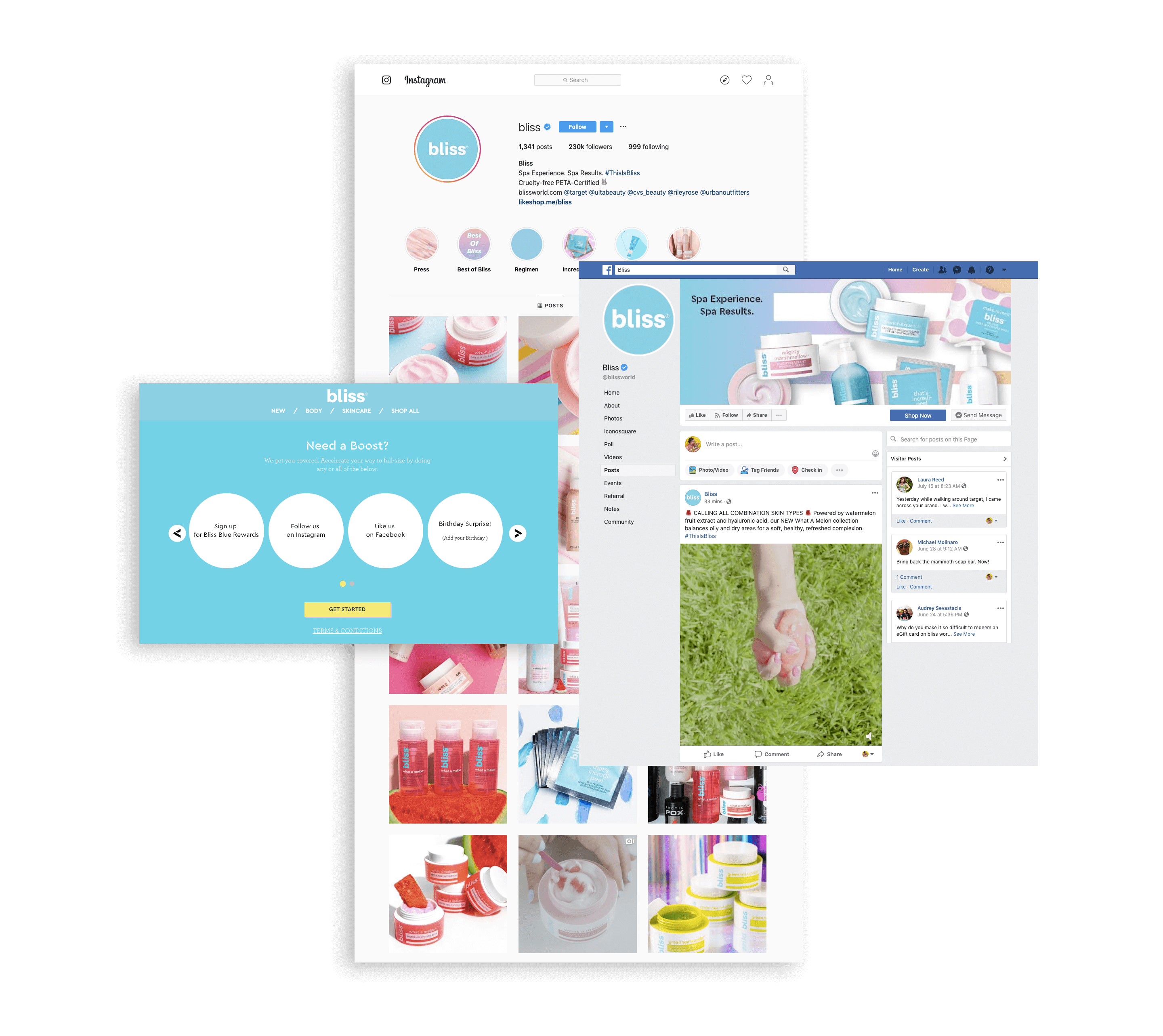 For Bliss, this means rewarding customers for following them on Instagram and liking their page on Facebook. With a lot of content existing on both platforms, they know their customers are most likely to find them there, making this action valuable for both them and their members: they get greater exposure for their marketing content, and their customers are rewarded for joining their network.
In these ways, rewarding customers for performing social actions are a win-win: finding ways to integrate popular platforms into your rewards program will create a more engaging experience for your customers, while also resulting in more exposure for your brand.
Use social media to promote your rewards program
With so many users all over the world, social media is an incredible resource to help you create awareness about your rewards program on a global scale. Once you've determined which platforms your target audience is most likely to interact with, you can begin sharing rewards content that's been designed with your audience in mind.
"Visuals are the next level of sharing what's happening right now. Not only can you tell people, you can show them."
Joel Comm (Social Media Examiner)
Social sites like Facebook, Instagram, Twitter, and YouTube all have unique benefits that give you a number of ways to communicate the value of your program.  This is an incredible way to share visual, interactive content with your followers.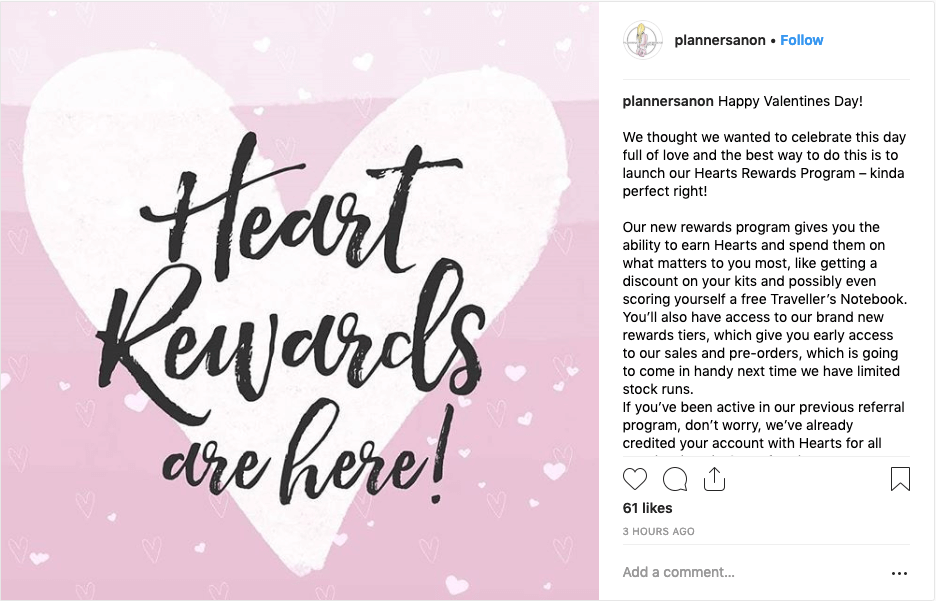 Take Planners Anonymous, for example. To build buzz around the launch of their Heart Rewards loyalty program, the stationery boutique took to Instagram and Facebook to both showcase their products and build excitement around the upcoming program launch. This campaign also kept followers coming back for more information leading up to the launch.
Social media can also make it easier for customers to access your rewards program by making it simple for you to link customers back to your website. From there, there are countless ways you can convert your followers to program members through engaging, visually-delightful calls-to-action. Littlest Prince Couture is a great example of this at work: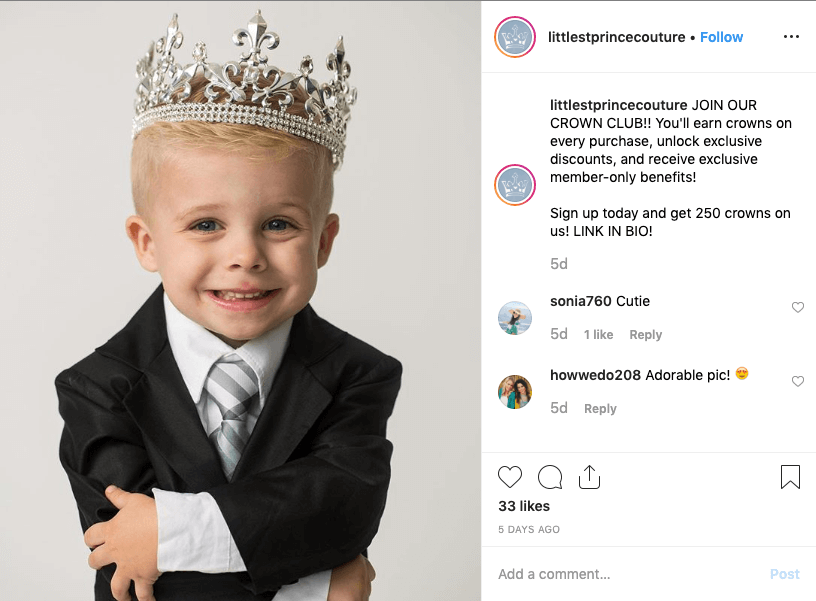 With a clear link to their loyalty program in their profile and an easy-to-understand value proposition on display (250 Crowns just for signing up) customers can quickly understand what they have to gain from joining the rewards program. This reduces the barriers and makes Littlest Prince's rewards proposition extremely desirable.
No matter how you choose to do it, the most important thing to remember when promoting your rewards program on social media is to cater your content to the platform you are sharing on. If you're sharing the right message in the wrong place, the value of your program won't be understood. When you've determined where your customers are, how to engage them in conversation, and how to position your program creatively, you'll be on track to promoting your rewards program effectively!
Use social media analytics to improve your rewards program
It's one thing to decide to use social media to improve your program engagement, but how do you know if you're achieving your goal?
One of the ways social media can be leveraged to improve your program is through analytics. With powerful tools like Hootsuite Analytics and Buffer, you can monitor your social performance and analyze key metrics in real-time. These metrics will not only give you insight into what content your followers are engaging with but will also help you determine why.
Let's say you are running a loyalty program in the cosmetics industry and you are designing a social media campaign that features one of your products as a reward. Based on how often customers engage with your social media messages, you can determine how interested your members are in redeeming this new reward. If engagement rates are low, it may mean that your customers aren't interested in this reward, reducing the likelihood that they will want to participate in the program.
Social analytics will give you a sense of how engaging customers find different aspects of your program.
In this situation, you could counter this low engagement by running a social campaign that features a best-selling product as a reward. This reward will motivate customers to perform more actions that will result in redemption, such as sharing your brand on Facebook, following you on Instagram and Twitter, or referring a friend. Performing A/B testing on your social campaigns and tracking the results through analytics will allow you to make data-driven decisions about what members want from your rewards program and what they simply don't like.
A rewards program worth sharing
With social media, your rewards program can become more effective than ever before. Social media platforms act as promotion tools with global reach, while providing countless ways to reward your customers for brand engagement. In addition, your social analytics act as market research, allowing you to cater your program to your customers based on their engagement behavior.
It's no secret that a rewards program and social media go hand-in-hand. Now go make an impression on your followers!