If you ever Googled something you're thinking of buying, you may have noticed ads popping up for that item on your social media feeds and the websites you visit. Commerce, social media, and how we interact with a brand have all become more connected than ever. Social media is an incredibly powerful tool for building a sustainable brand community.
With billions of users on every platform, it's a fantastic place to encourage valuable customer engagement for a number of reasons:
It's highly visual;
It's accessible;
It allows you to share your message with multitudes of people at once;
It's instantaneous.
It's estimated that there are 4.74 billion social media users around the world (as of October 2022). That is 59.3 percent of the population. It's normal to head to your favorite brand's Twitter, TikTok, or Instagram page and see their content on your feeds. Customers can interact with your brand at any time of the day, whether it's a DM for support, comments left on your content, a tag in one of their reviews, or someone looking up your product before they make a purchase decision. Social media is an integral part of the customer journey and impacts their experience with your brand.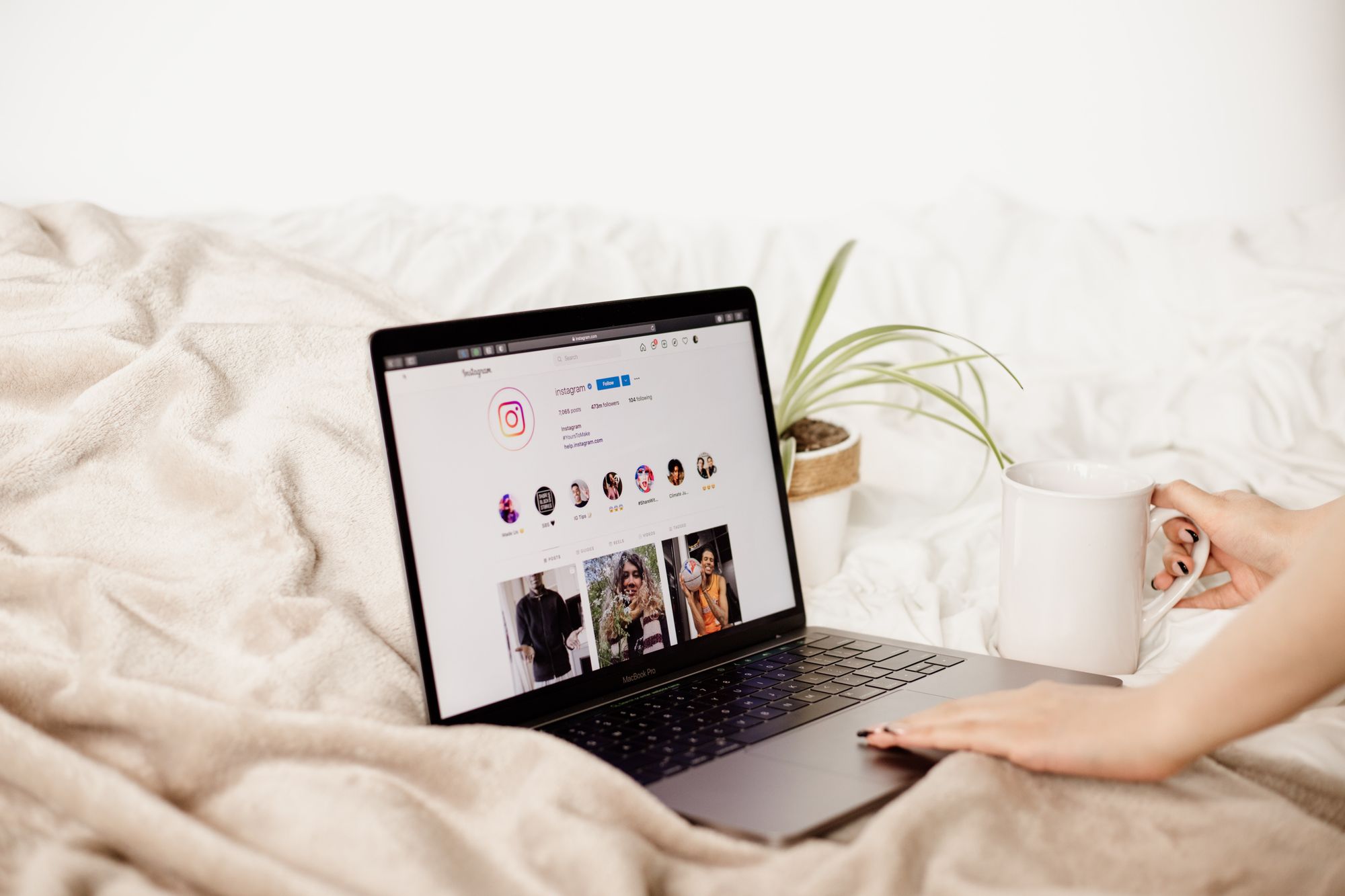 We have gathered 5 brands that are creating incredible content, have mastered what their audience wants to see, and have strengthened their brand community with customer engagement being the result.
Yes Darling Tea keeps members in the loop
One of the first things we recommend to brands launching a new program is to promote it widely. While there are a number of ways you can do that on your website, social media is one of the best ways to get your program in front of all of your dedicated customers and start building a brand community.
It's estimated that 90% of social media users are already following a brand on Instagram alone. As loyal followers of your brand, you know that your social audience is already interested in what your brand community is doing—they just need the opportunity to get involved in other ways.
Yes Darling Tea, is a tea brand focused on providing wellness tea blends. To remind users of unused points and how to register for their loyalty program, they created a visual walkthrough on Instagram and Facebook. They showed users how to sign up for their program on both mobile and desktop, as well as how to log into their accounts.
Yes Darling Tea consistently reminds customers of their loyalty program and their unused points, so customers can return for a repeat purchase. They remind users of the 5 points for every dollar spent and the potential for a $5 off their next purchase. By offering this value so soon after launching, they were able to deliver the perks they promised in their post spreading their loyalty program information across platforms.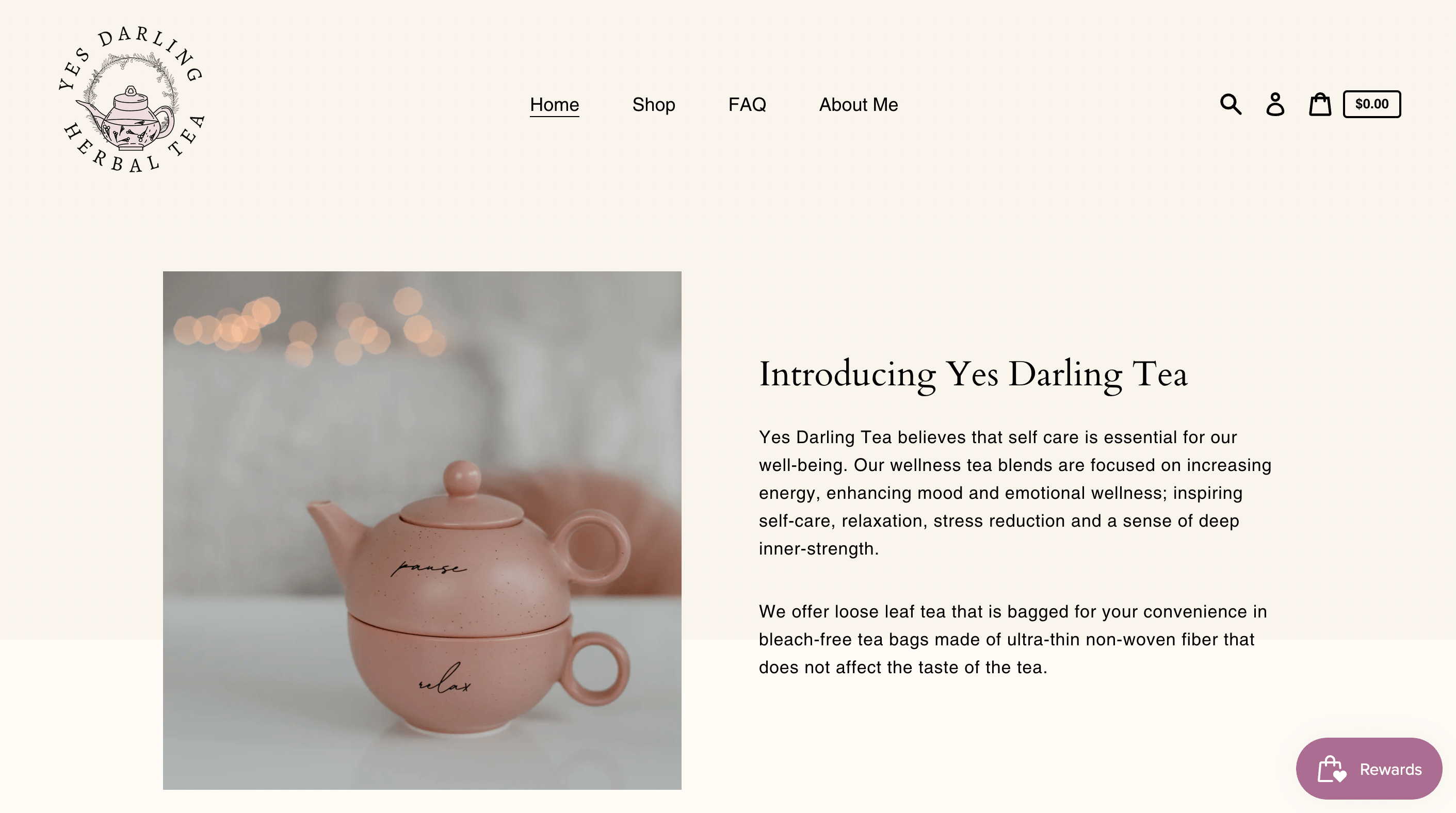 These types of posts help new and returning customers discover the benefits of their program quickly after launch while also generating genuine enthusiasm. Keeping your messages simple, to the point, and actionable (with phrases like "join now" or "redeem now") makes your program more accessible, motivating customers to engage right away.
Most importantly, showing how excited you are about your program will get your customers excited too, putting you in the perfect position to build on your initial launch success.
📣
Lesson learned: Promote your program launch properly.
Omnichannel marketing with Blaze Pizza
An omnichannel marketing approach to your rewards program, ensures you get the most eyes and engagement on your program. Blaze Pizza is a pizza chain that ties National Pi Π Day (3.14 on March 14th) with its rewards program.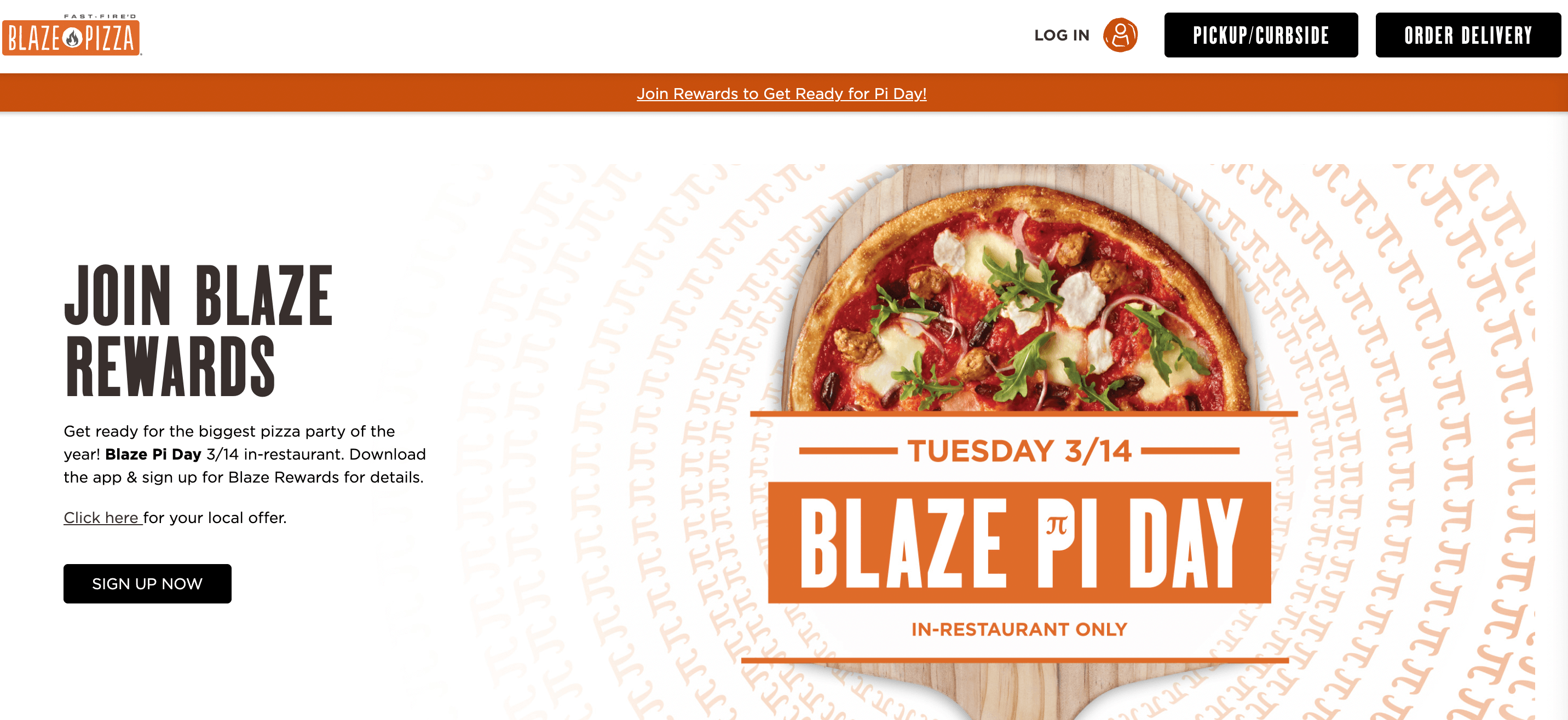 Blaze Pizza allows customers to receive a pizza on National Pi Day for only $3.14. Customers can get this deal only by signing up for their rewards program, Blaze Rewards by March 14. "Don't miss out on this fire offer. Just click the button above to signup for a Blaze Rewards account, download the Blaze Pizza app, and (important!) set your favorite Blaze Pizza location. Then come and enjoy the Pi Day Party with us in restaurant."
From the moment you step foot into a Blaze Pizza location, there are signs promoting Pi Day and its Rewards Program. This matches their online and social media promotion, leaning into their omnichannel strategy. What they are promoting online matches their in-store promotions and vice versa, no matter how their customer lands on their promotion.
Whether they're talking about a special event like Pi Day, a new promotion, new products, or celebrating their employees, Blaze Pizza uses the same tone of voice and brand imagery style on every channel as well their website. By keeping their tone consistent, they're able to deliver the same experience to every customer who discovers them, no matter where they are online.
As channels become more connected, an omnichannel experience will become an expectation for customers. Blaze Pizza leans into this strategy not only through marketing but by letting users engage in their app, online through their website and social media channels, as well as through in-store. Their TikToks from other Blaze Pizza chains and customers are a great example of creating engaging content and leveraging UGC by connecting with their community.
📣
Lesson learned: Build an omnichannel approach for your social media strategy that your community can engage with.
Chipotle covers all of its bases
Chipotle launched the rebrand of its rewards program earlier this year with a social media campaign appropriately named "Freepotle." To incentivize customers to sign up for their program, Chipotle is running its campaign "Freepotle" to give customers free guac just for signing up and some reward members could win free Chipotle for a year.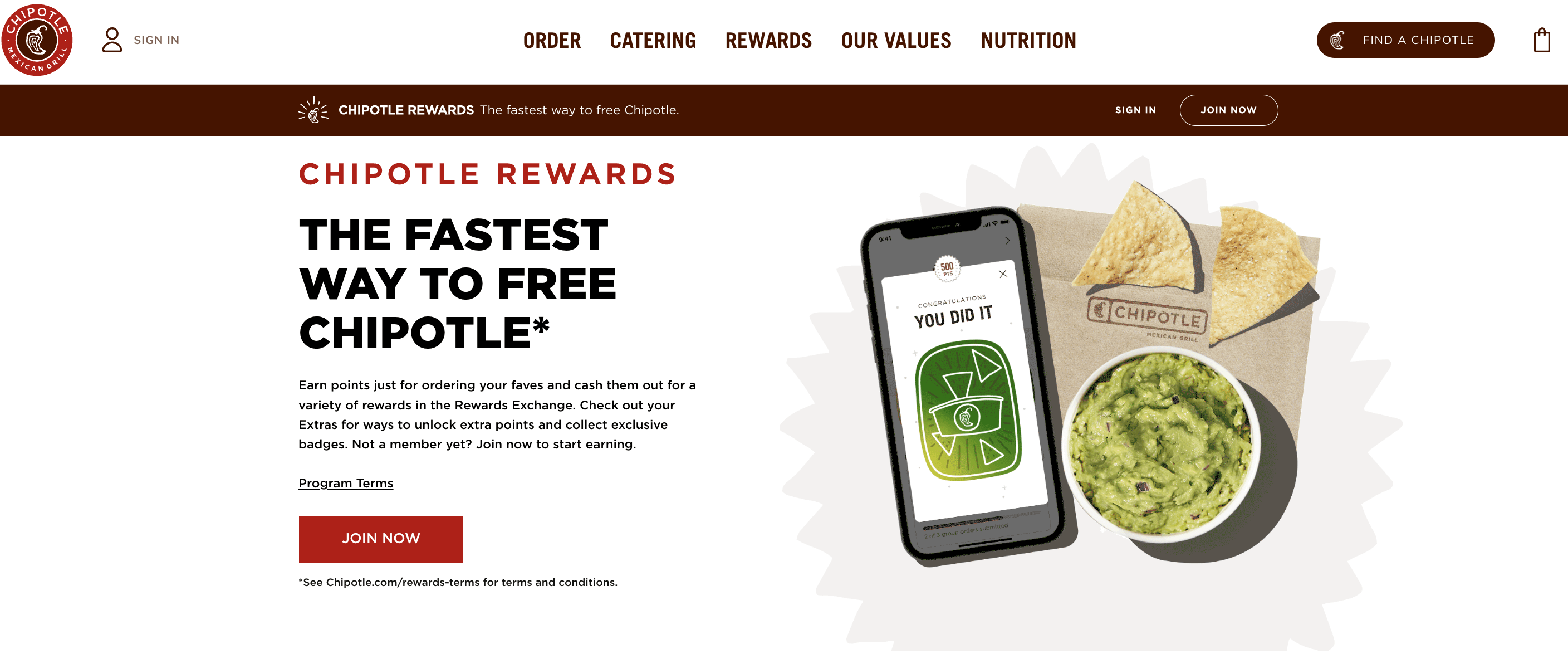 Chipotle Rewards' goal is to offer additional meaningful rewards to its customers. Members can redeem their points for free items such as guac, double protein, beverages, and company swag items. Chipotle launched its campaign on social media by creating content for each of its platforms, Twitter, Facebook, TikTok, and Instagram.
It's pronounced free-poat-lay pic.twitter.com/VVZpCTUULQ

— Chipotle (@ChipotleTweets) January 9, 2023
Chipotle committed to making sure that every customer has access to the same value and loyalty program messaging on every platform, no matter which one they landed on. This is an incredibly accessible approach to social media that complements its target audience. With customers of all ages loving Chipotle, it makes sense to make sure that every customer can find and learn about their program on the platforms they're most comfortable with.
Chipotle Rewards has created this campaign to introduce members to its rewards program and in some cases reintroduce unengaged members to use Chipotle Rewards and drive customers to their locations.
By providing so many opportunities to discover and explore their rewards program on social media, Chipotle makes it an integral part of their community experience and a valuable way to communicate with each of their members.
📣
Lesson learned: Create awareness and CTA with multiple touch points.
Retea makes value a priority
A rewards program is one of the best forms of value-add marketing because it puts your customers first and delivers an optimal experience. Social media channels come into play by making it easier for customers to access your rewards program while educating customers on your program.
Retea is a reusable tea cup and premium bubble tea kit brand. With a clear link to their loyalty program in their link in bio, Instagram Stories, and feed posts, Retea is ensuring customers can understand their loyalty program benefits. By earning 50 points for a follow on Instagram and 50 points for a like on Facebook, Retea is leveraging its social media earning actions to grow its social media following. It's an easy-to-understand value proposition that customers can quickly understand what they have to gain from joining the rewards program.
Retea taps into this additional value on each of their social channels. When you browse through their Instagram feed, you're met with a lot of how-to videos that highlight different ways to use their products and delicious recipes to make boba tea. Each of these posts adds a different dimension of value to the content experience they've curated, helping customers get even more from their brand.
That's why their loyalty program Retea Perks is such a natural fit. After launching their program, they positioned the rewards as a value to first-time and returning customers. Upon landing on their website you are met with their rewards launcher being $5 off for customers.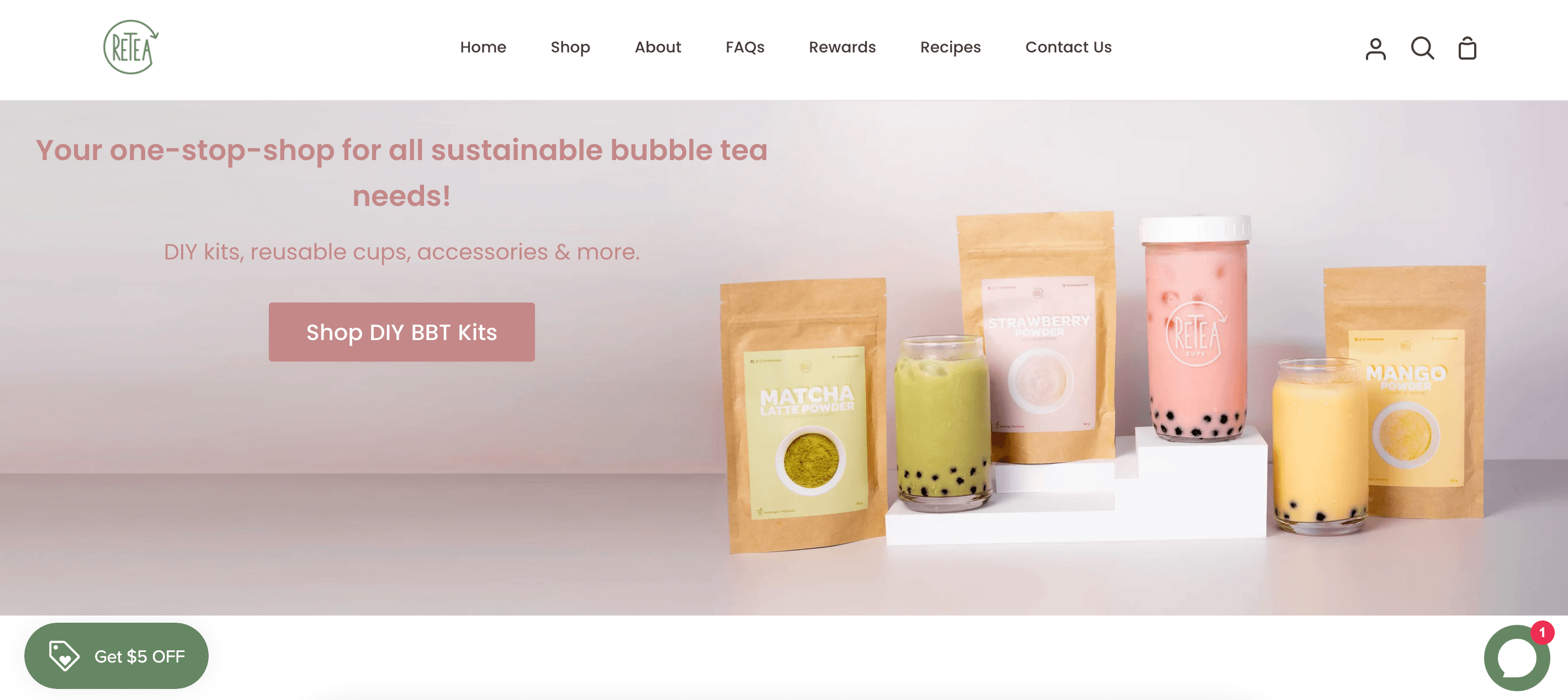 This type of program exposure, combined with effective social media content, conditions their members to know they will always get value from their community online. By exceeding customer expectations with every interaction, your loyalty program has the power to deepen every customer relationship by establishing you as the most valuable brand to shop with. Retea does this by positioning its loyalty program as an immediate value to customers and through its social channels educates customers. One of the biggest points for Retea is that they don't gatekeep that discount for customers.
📣
Lesson learned: Don't gatekeep discounts and value to your customers. Incorporate your loyalty program into the rest of your value-add marketing.
Chica Beauty includes their loyalty program in other social initiatives
As a beauty brand, Chica Beauty's social identity is extremely visual. With rich, bright imagery across each of their channels and a mix of user-generated content (UGC), they've established a consistent visual language for themselves that prioritizes its brand colors and imagery.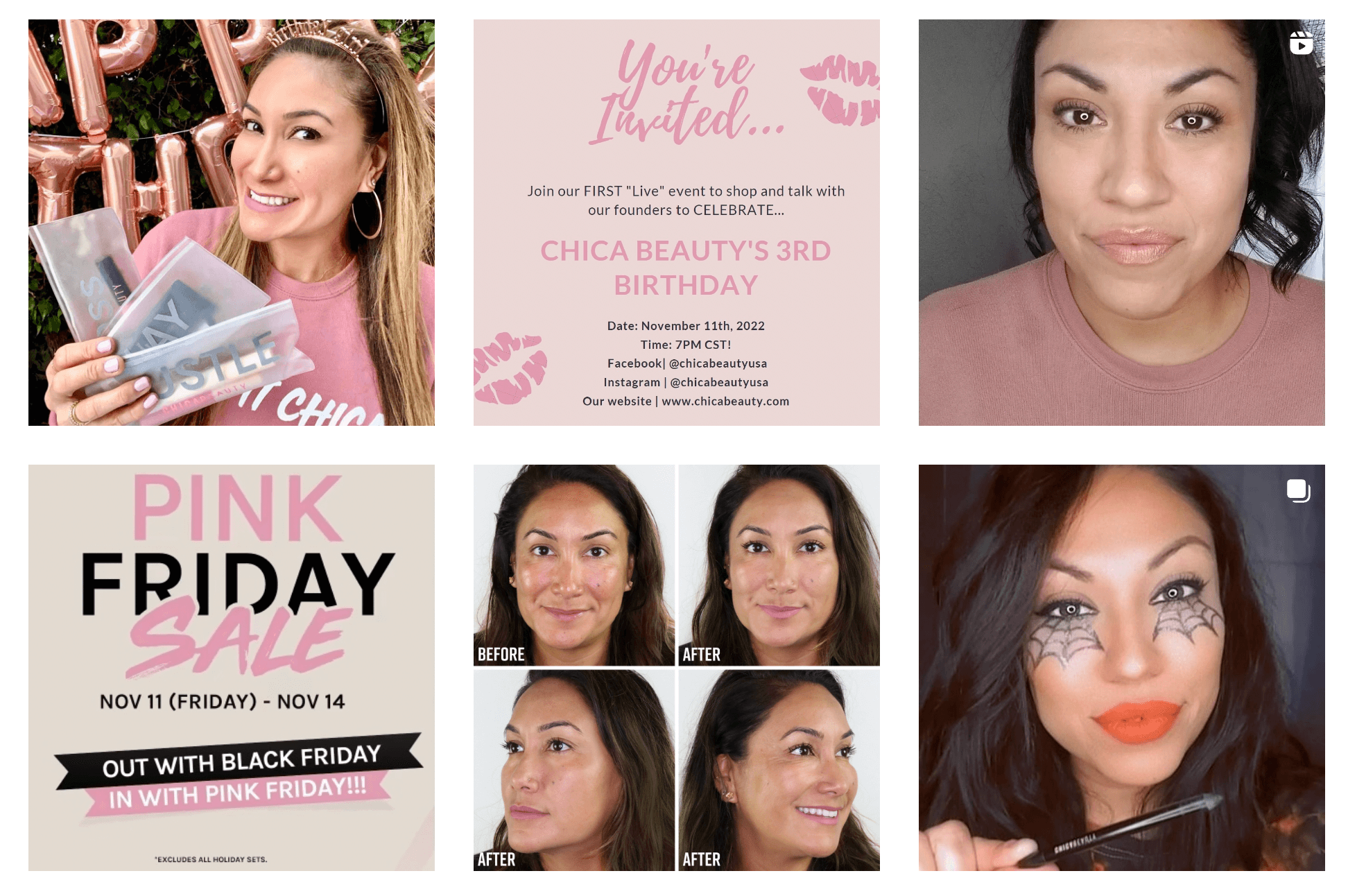 Chica Beauty's brand imagery extends to their loyalty program as well. Fitting perfectly with their website and social media channels, their rewards explainer page builds on the visual trends they've established on platforms like Instagram and TikTok, making it easy for them to combine social campaigns with others.
Chica Beauty incorporates social media actions into their loyalty program to drive engagement and build their following. While at the same time, customers can earn rewards for following on Instagram, sharing something on Facebook or posting a review.
Chica Beauty has been able to build a following by being innovative with their loyalty program as well as creating meaningful content that speaks to its audience. When you build a brand you can invite your community to be part of your different social media campaigns. One great social media campaign Chica Beauty has lean into is their live-shopping experience through Facebook and Instagram.

Being engaged on social media channels with their community makes all the difference between customers noticing and engaging with their program. With so many ongoing ways to get involved, Chica Beauty's reward program, Prima Perks Rewards becomes a natural extension of every interaction customers have with the brand, making it an integral part of each brand message.
📣
Lesson learned: Build a brand community and find ways to incorporate your program into other social media campaigns.
Build your community with effective social campaigns
At the end of the day, social media is a creative tool that brands can use to build communities and engage with their customers. As one of the few free marketing tools available, you need to take advantage of everything it has to offer your growing brand community. Use it to promote your program, increase visibility for your value-add marketing campaigns, and lower barriers to entry to make your community more accessible to everyone.
Most importantly, have fun with it! Try new ideas, try new trends, and be as creative as you can. No matter how many brands there are on each platform, and whether you choose to use memes or simply want to start a conversation, social media is the untapped avenue your brand community needs.
Editor's Note: This post was originally published on January 8, 2019, and was updated for accuracy and comprehensiveness on March 16, 2023.
Subscribe to Talking Shop
Learn from other top brands