Social media is an incredibly powerful tool for building a sustainable brand community. With millions of users on every platform, it's a fantastic place to encourage valuable customer engagement for a number of reasons:
It's accessible
It's highly visual
It allows you to share your message to multitudes of people at once
It's instantaneous
However, if that's the case, why are so few brands using it? As popularity on social platforms continues to grow, small businesses who choose to ignore them are wasting opportunities to reach a wider audience who are not only interested in their community but also excited to join.
In order to help you get the most out of this largely unused tool, I've gathered 5 brands who have cracked the social media code and strengthened their brand community with customer engagement as a result.
MyChelle Beauty lets members know what's going on
One of the first things we recommend to brands launching a new program is to promote it widely. While there are a number of ways you can do that on your website, social media is one of the best ways to get your program in front of all of your dedicated customers. As loyal followers of your brand, you know that your social audience is already interested in what your brand community is doing — they just need the opportunity to get involved in other ways.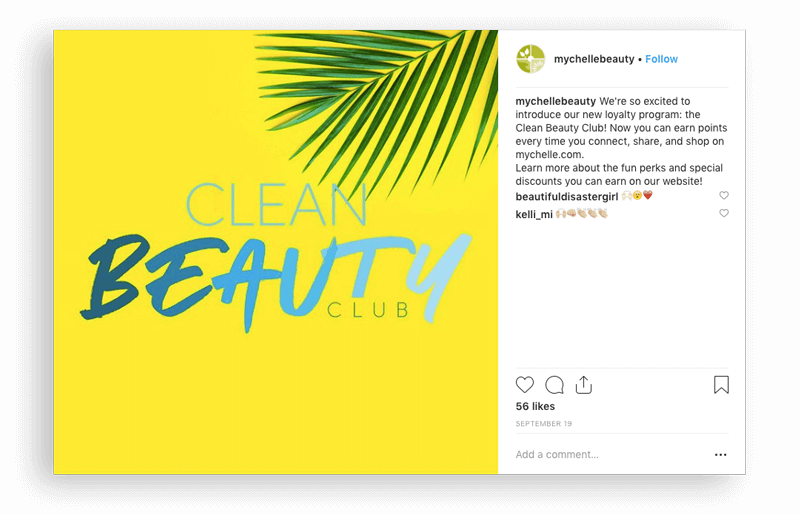 MyChelle Beauty identified social media as the perfect promotional tool very early on. As soon as their Clean Beauty Club program launched, they shared a bold image on their Instagram account that encouraged customers to join. With eye-catching color and an enthusiastic caption, they let customers know how their program works and shared how excited they were to offer it.
They followed this post up two weeks later with a bonus points campaign. Just like their program announcement, the MyChelle team included this as part of their larger social strategy and designed an image that was both visually striking and on brand. By offering additional value so soon after launching, they were able to deliver the perks they promised in their first post, confirming each members' decision to join.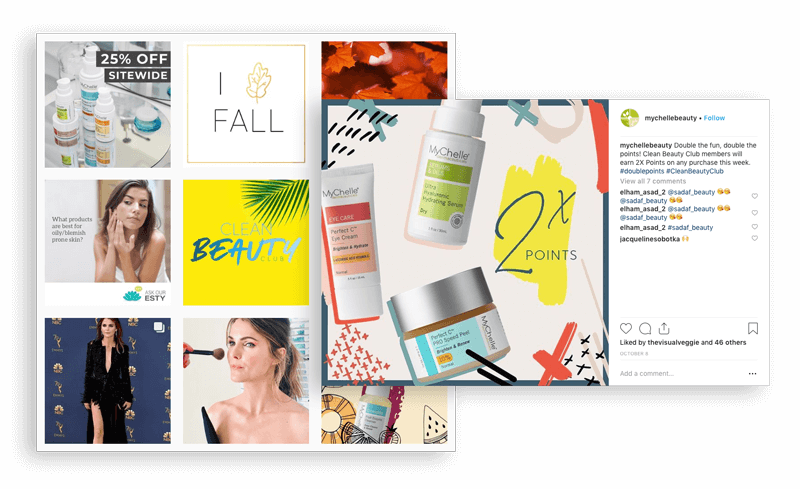 These types of posts help new and returning customers discover the benefits of their program quickly after launch while also generating genuine enthusiasm. Keeping your messages simple, to-the-point, and actionable (with phrases like "join now" or "redeem now") makes your program more accessible, motivating customers to engage right away.
Most importantly, showing how excited you are about your program will get your customers excited too, putting you in the perfect position to build on your initial launch success.
Lesson learned: promote your program launch properly
Mark Bell Slingshot delivers personality
I don't know about you, but one of the reasons I love Instagram is the memes.Whether they're cats falling off of things or rappers playing Minesweeper, memes are easy to share with your friends and even easier to laugh at. No matter what the meme is, they're relatable to huge groups of people.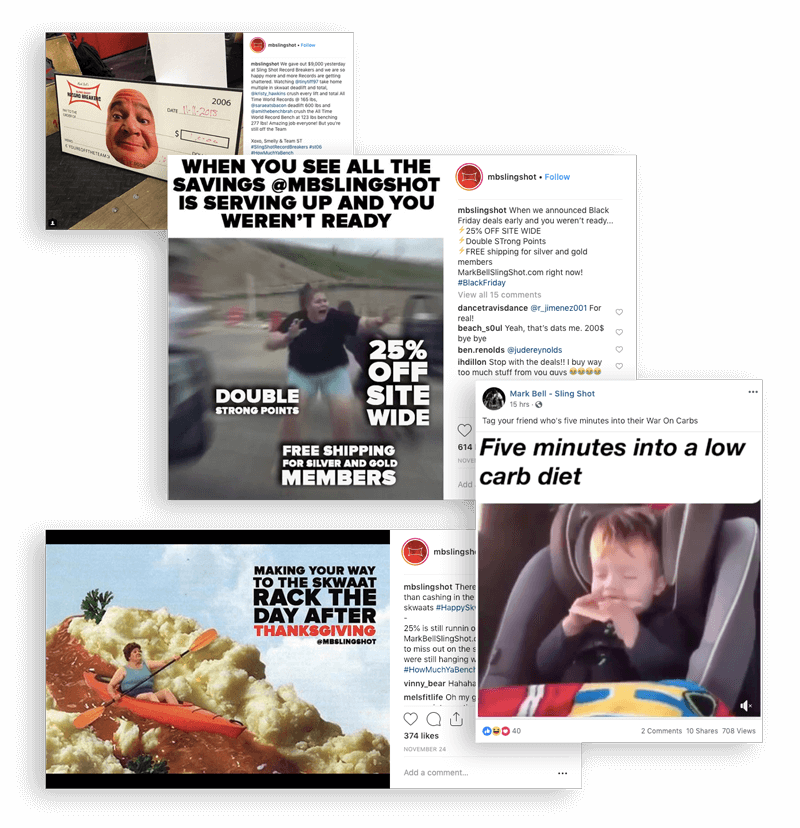 This approach is what makes Mark Bell Slingshot's social rewards strategy so popular. As soon as you land on any of Mark Bell Slingshot's social accounts, you immediately know who they are as a brand. With fun videos, memes, and GIFs acting as the foundation for each of their social posts, MBSS has established that they're a fun brand with a great sense of humor.
Whether they're talking about a program promotion, new products, or celebrating their community members, MBSS uses the same tone of voice on every channel as well their website. By keeping their tone consistent, they're able to deliver the same experience to every customer who discovers them, no matter where they are online.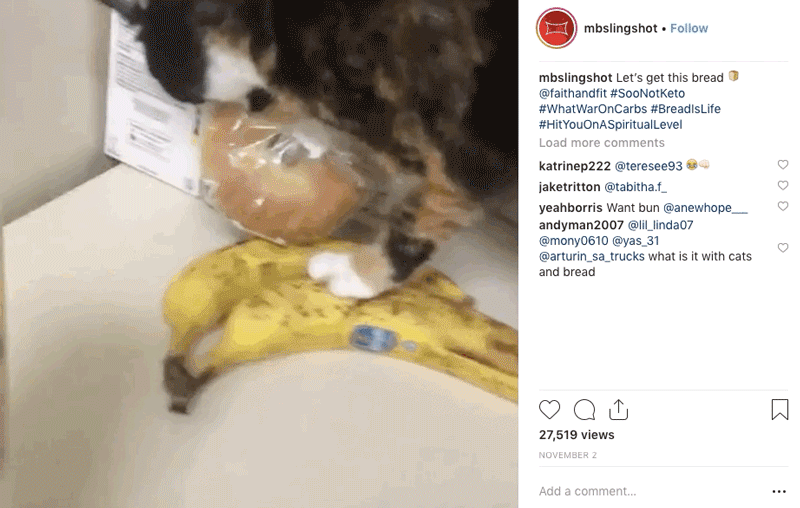 This predictable voice makes it easier for customers to get to know them as a brand and makes them more relatable. Using a visual language their members understand, Mark Bell Slingshot is able to connect their program, social messages, and community members together. As a result, members feel that the MBSS team not only understands them but is wholly committed to delivering the best community experience possible whether they're a member of their loyalty program or not (and giving them a regular reason to laugh).
Lesson learned: use a consistent tone of voice
SheFit covers all of their bases
One of the best things about social media is that it's free. No matter which platforms you're interested in using, you can get started immediately with no additional cost — something that's almost impossible to come by in a world where ad prices continue to skyrocket.
This additional exposure and marketing reach can have a huge impact on your community's ability to sustain itself over time. Unfortunately even with this vast potential, many brands still aren't taking advantage of it. Most brands seem to limit themselves to Instagram and Facebook, reserving their best content for only certain groups of customers who may or may not be their target audience.
Not SheFit, though. From Twitter to Facebook to Instagram, SheFit is committed to making sure that every customer has access to the same value and loyalty program messaging on every platform. This is an incredibly accessible approach to social media that beautifully complements their target audience. With customers of all ages buying their product, it makes sense to make sure that every customer can find and learn about their program on the platforms they're most comfortable with.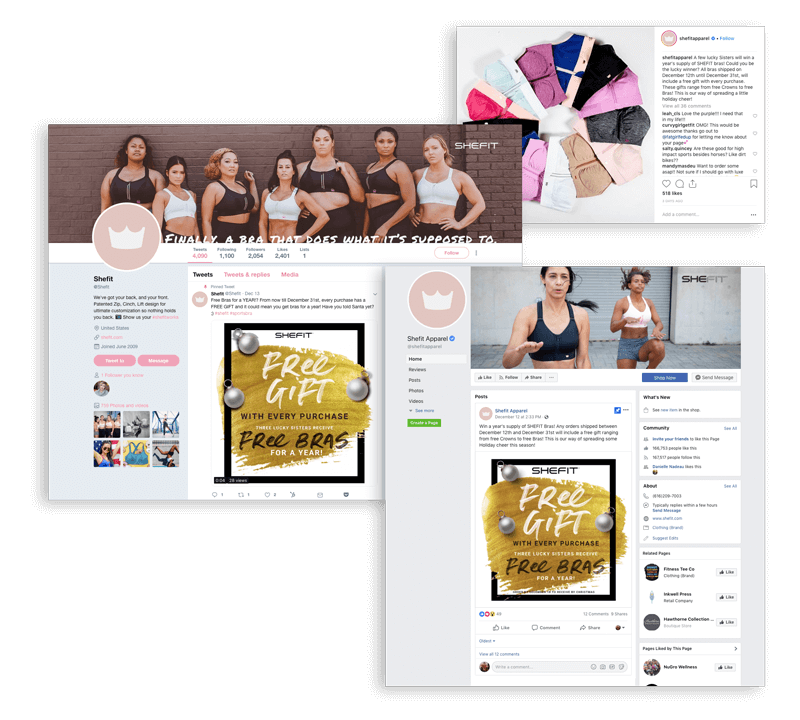 Take this holiday campaign, for example. As part of their holiday marketing strategy, SheFit offered every member of their brand community the opportunity to win a free gift with every purchase. From points to free bras for a year, members are shown the same message on Instagram, Facebook, and Twitter to ensure equal opportunity for everyone.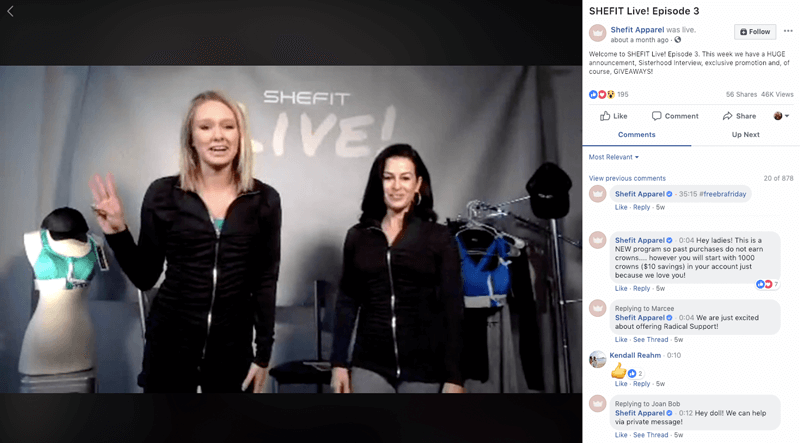 SheFit goes even further by incorporating tools like Facebook Live into their social media rewards strategy. With live video, they're able to add a sense of dynamism and relatability to each of their social campaigns, bringing their customers even deeper into their brand community. When their program launched in October 2018, they ran a dedicated Live stream on how the program worked, allowing viewers to ask questions and join the conversation.
By providing so many opportunities to discover and explore their program on social media, they make it an integral part of their community experience and a valuable way to communicate with each of their members.
Lesson learned: create awareness with multiple touch points
Hayabusa Fight makes value a priority
A rewards program is arguably the best form of value-add marketing. By exceeding customer expectations with every interaction, your loyalty program has the power to deepen every customer relationship by establishing you as the most valuable brand to shop with.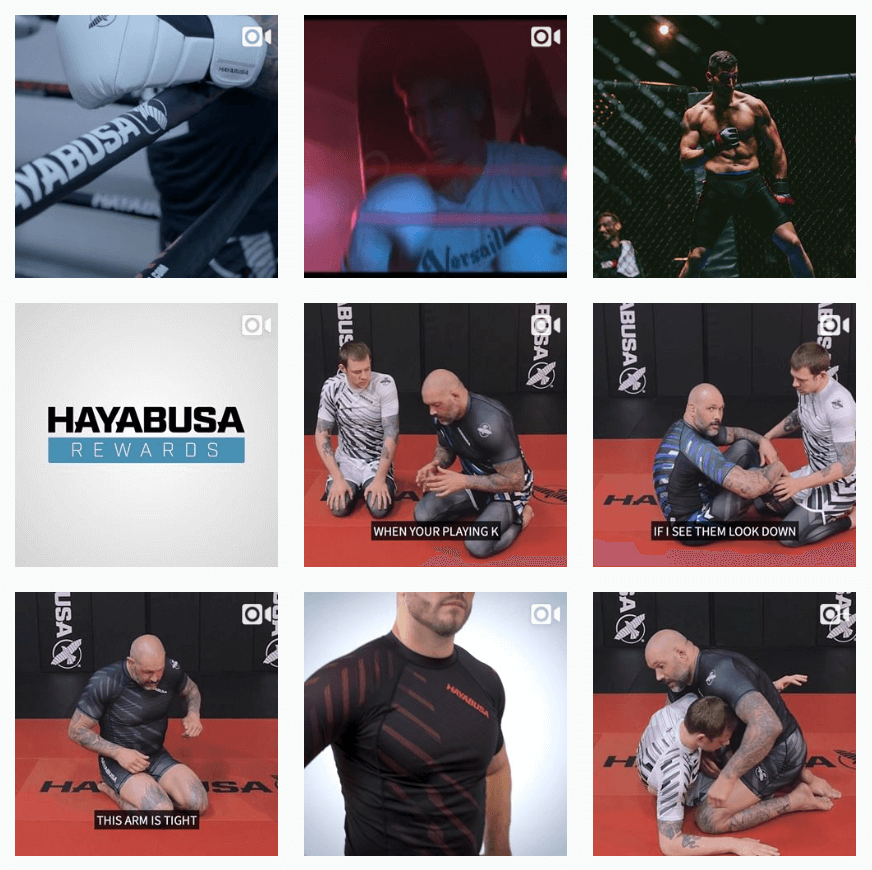 Hayabusa Fight taps into this additional value on each of their social channels. When you browse through their Instagram feed, you're met with a lot of demonstration videos that highlight different fight techniques, products, and advice from industry experts. Each of these posts add a different dimension of value to the content experience they've curated, helping customers get even more from their brand.
That's why their loyalty program is such a natural fit. After launching their Hayabusa Rewards program, they shared a video on their Facebook and Instagram pages that detailed the ins and outs of becoming a member.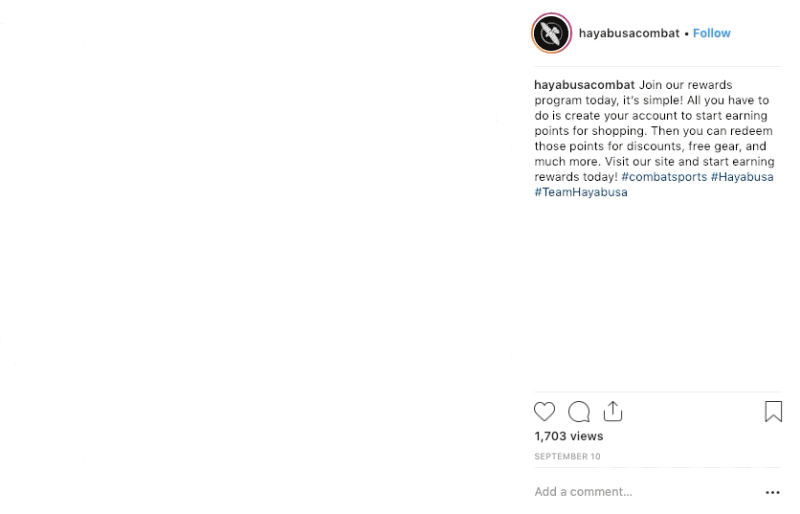 By including it among their other tutorials and value-add pieces, they establish a strong correlation between the value of their program and the other content they've created. Making these connections increases the likelihood that their loyal customers will see their program as valuable, too, ultimately motivating them to join.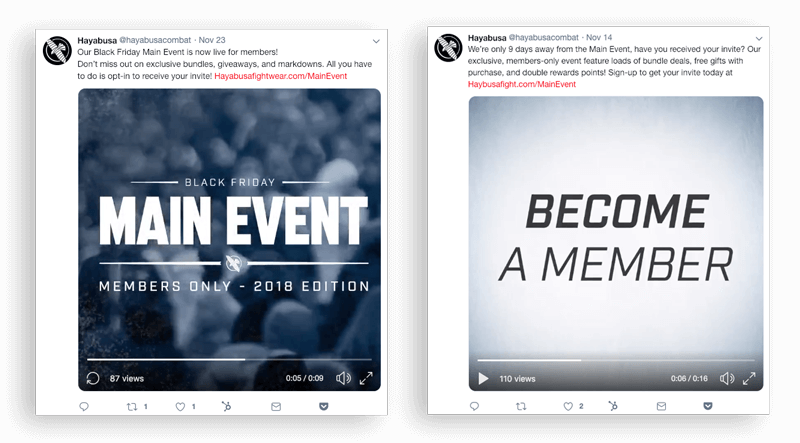 This type of program exposure, combined with effective email marketing and other social rewards campaigns, conditions their members to know they will always get value from their community online. With this value prioritized on each of their social accounts, their program becomes easier to engage with on a regular basis and a more enjoyable part of their online identity.
Lesson learned: incorporate your loyalty program into the rest of your value-add marketing
WelleCo includes their loyalty program in other social initiatives
As a beauty and wellness brand, WelleCo's social identity is extremely visual. With rich, bright imagery across each of their channels, they've established a consistent visual language for themselves that prioritizes natural colors and beautiful contrast.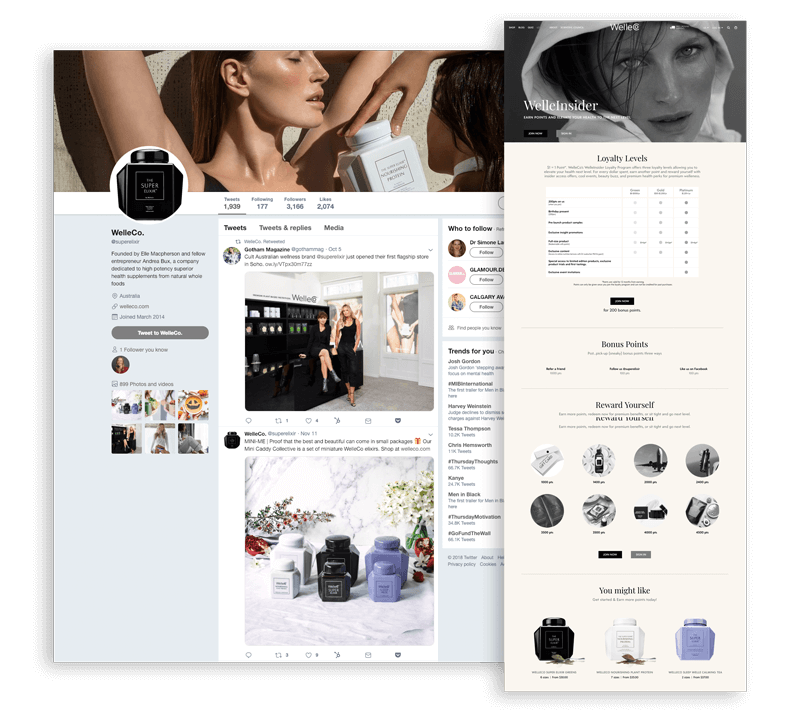 This language extends to their loyalty program as well. With similar photography styles and color palettes, the WelleInsider program builds on the visual trends they've established on platforms like Instagram and Twitter, making it easy for them to combine social campaigns with others.
You can see this at play in their 12 Days of WelleCo Giveaways holiday campaign. With a different valuable promotion each day, WelleCo incorporated their rewards program into this ongoing promotion effortlessly. Offering triple loyalty points on the second day of the campaign, this messaging fit it in seamlessly with their other Instagram posts, making it a logical addition to their company feed.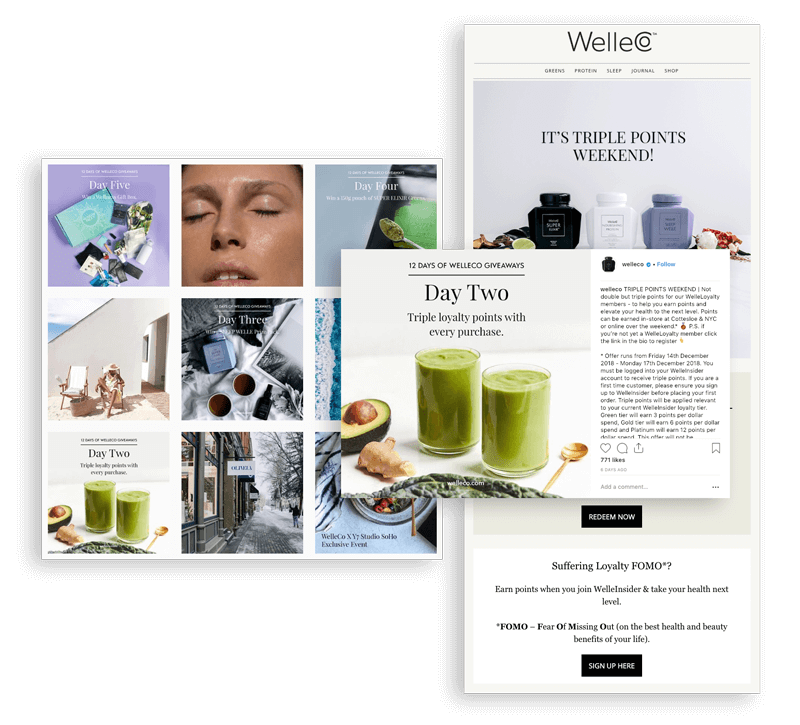 These posts were then further supported by email messaging that invited customers to "avoid loyalty FOMO" by joining their program and taking advantage of their bonus points weekend.
This small consideration makes all the difference between customers noticing and engaging with their program. With so many ongoing ways to get involved, the WelleInsider program becomes a natural extension of every interaction customers have with the brand, making it an integral part of each brand message.
Lesson learned: find ways to incorporate your program into other campaigns
Give your customers something to talk about with effective social campaigns
At the end of the day, you need to realize that social media is for more than just press releases. As one of the few free marketing tools available, you need to take advantage of everything it has to offer your growing brand community. Use it to promote your program, increase visibility for your value-add marketing campaigns, and lower barriers to entry to make your community more accessible to everyone.
Most importantly, have fun with it! Whether you choose to use memes or simply want to start a conversation, social media is the untapped avenue your brand community has been missing.