If you're anything like me, you're probably part of dozens of reward programs. On the other hand, if you're anything like me, there's probably also many programs that you've either forgotten about or abandoned completely.
Since building a brand community with a rewards programs is the best solution to many of the retention problems facing today's brands, it's easy to feel like all you need to do is start a program and everything will work itself out. However, that couldn't be further from the truth! A poorly managed rewards program can create a mediocre at best customer experience that won't stand the test of time.
There are several "crimes" a rewards program can commit that most customers simply aren't willing to forgive your brand for. We've put together a list of the 10 worst ones to help you determine if you're committing any of these crimes yourself, and will also show you a way to bail yourself out.
Problem 1: joining your program is frustrating
There are few things more frustrating to shoppers than being put through the ringer when it comes to creating an account. Customers, both online and offline, are looking for convenient shopping solutions that can deliver value quickly and easily.
This means that a registration process that requires customers to fill out extensive forms or navigate through multiple pages will be a real turn-off that could prevent up to 70% of your customers from signing up.
Solution: simplify your sign-up process
Call me Captain Obvious, but if your registration process is too long or complicated, the best and easiest solution is to simplify it. Minimize your registration form and critically assess what information you're going to ask your customers for.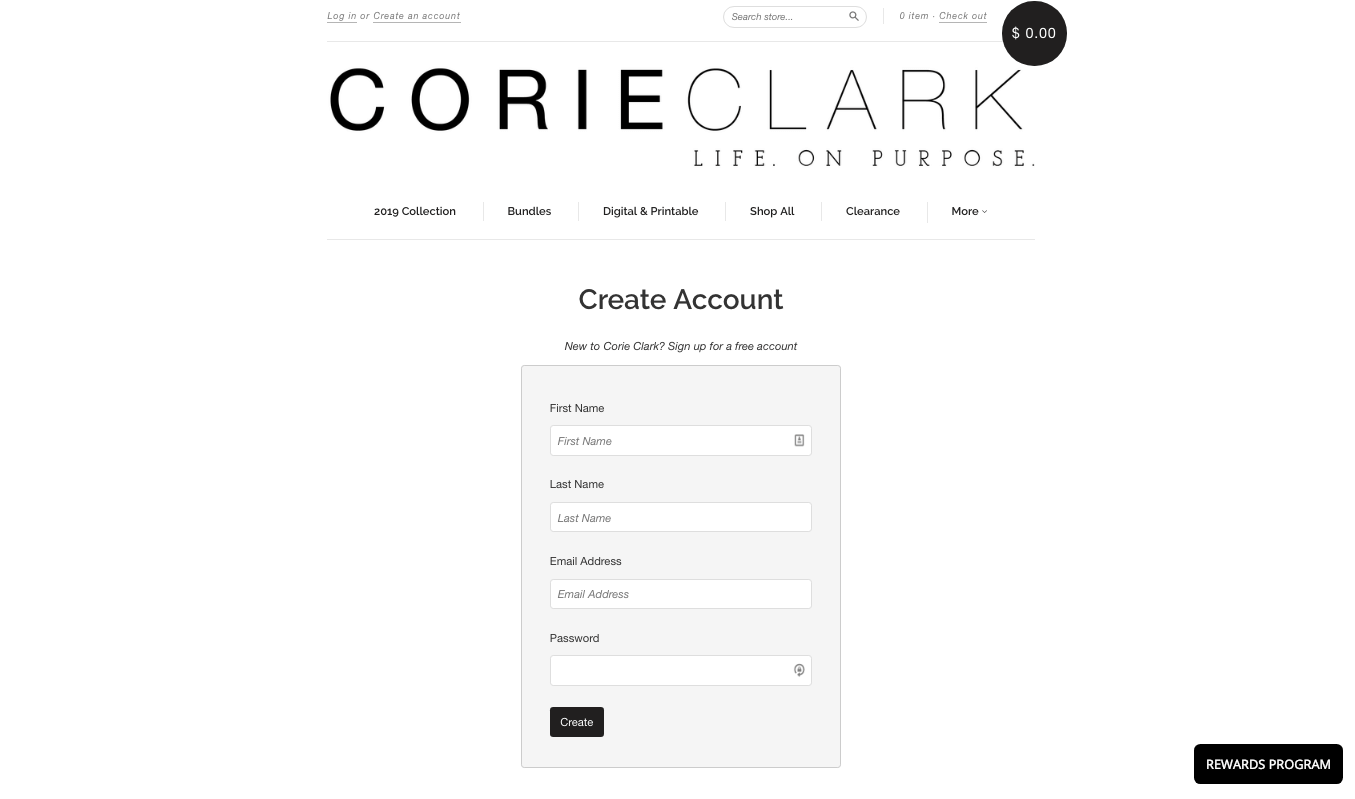 As you can see with this account creation page example from Corie Clark, customers are only required to provide four pieces of information. While it might be tempting to collect as much data about each customer as possible, take a step back and assess what you actually need to know in order to reward them.
Good relationships with your customers will prompt them to share more with you in the future, and respecting their time and privacy now is the perfect way to start building that trust.
Problem 2: program structure is confusing
Points-based loyalty programs have been around for over 100 years, which means your customers are likely already very familiar with the basics of how they work. This familiarity lends itself to easy adoption and encourages customers to join your program, but only if you keep it simple.
Too often brands try to spice up their program by adding new rules and complicated conditions, but instead of generating excitement it just frustrates shoppers, making it difficult for them to engage with the program.
Solution: design a comprehensive explainer page
When it comes to reward programs, there's no reason to reinvent the wheel.  Points programs are still successful because it's easy for customers to understand the value they can receive.. With this in mind, the best way to take your program to the next level is with a well-designed explainer page.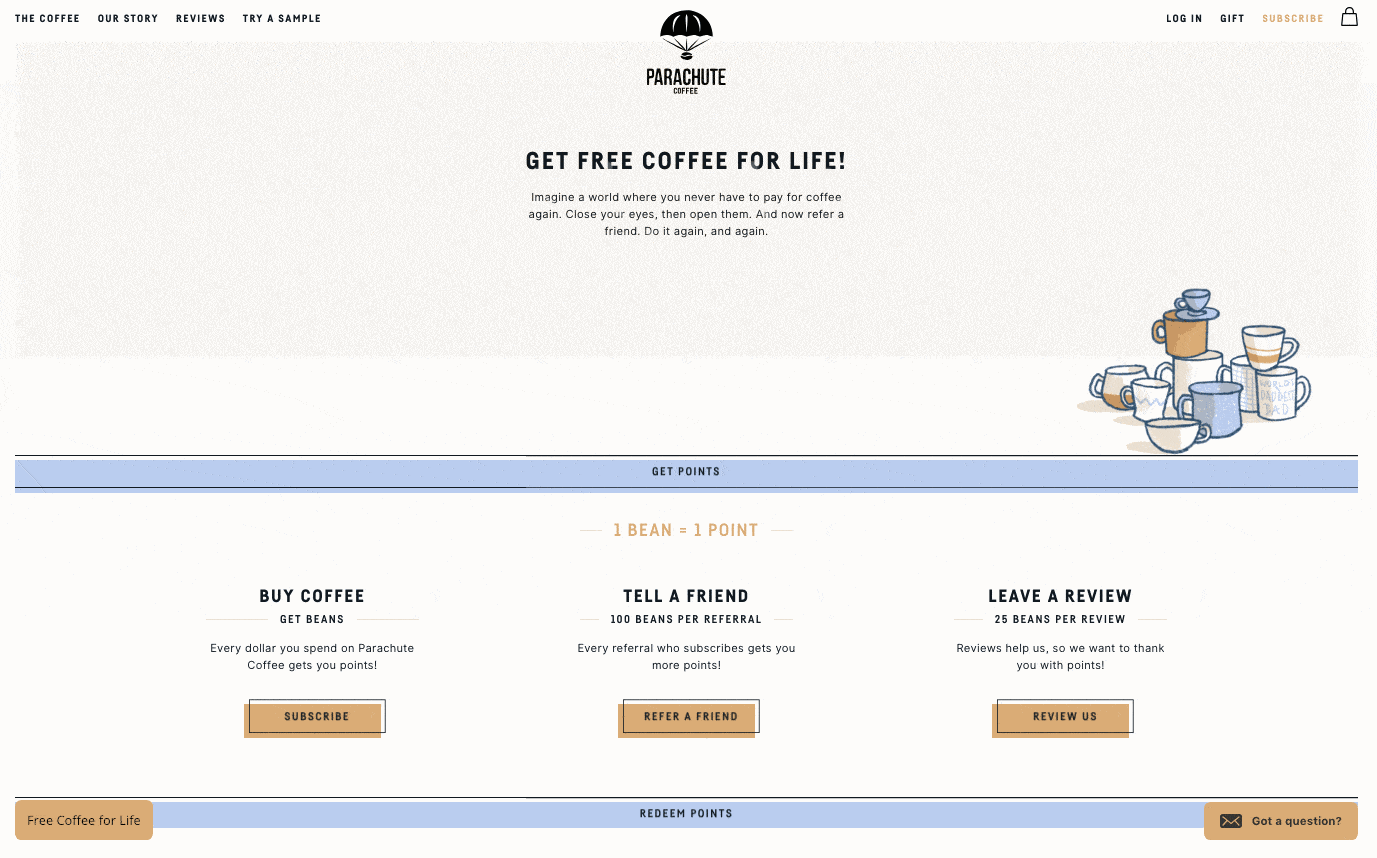 A dedicated program page like this one from Parachute Coffee gives you the chance to clearly define how your program works with text and images. This eliminates any confusion customers could have about how your rewards program functions. More importantly, it clearly shows them what value it's offering them, motivating them to join your program and start engaging with it.
Problem 3: bad user experience
With so many digital experiences available at their fingertips, customers have grown accustomed to good design and responsive interfaces. That makes it completely unacceptable to run a program that looks like it hasn't been made a priority. Broken links, ugly design, and programs that look disconnected from the rest of your customer experience are surefire ways to lessen the appeal of joining your brand community and have your customers heading for the door.
Solution: provide a branded experience
Putting your brand front and centre can be the difference between customers trusting your program or walking away from it. When they see a logo and colors they recognize attached to your program, they'll automatically associate the good feelings they have for the rest of your brand with what you're offering through your rewards program.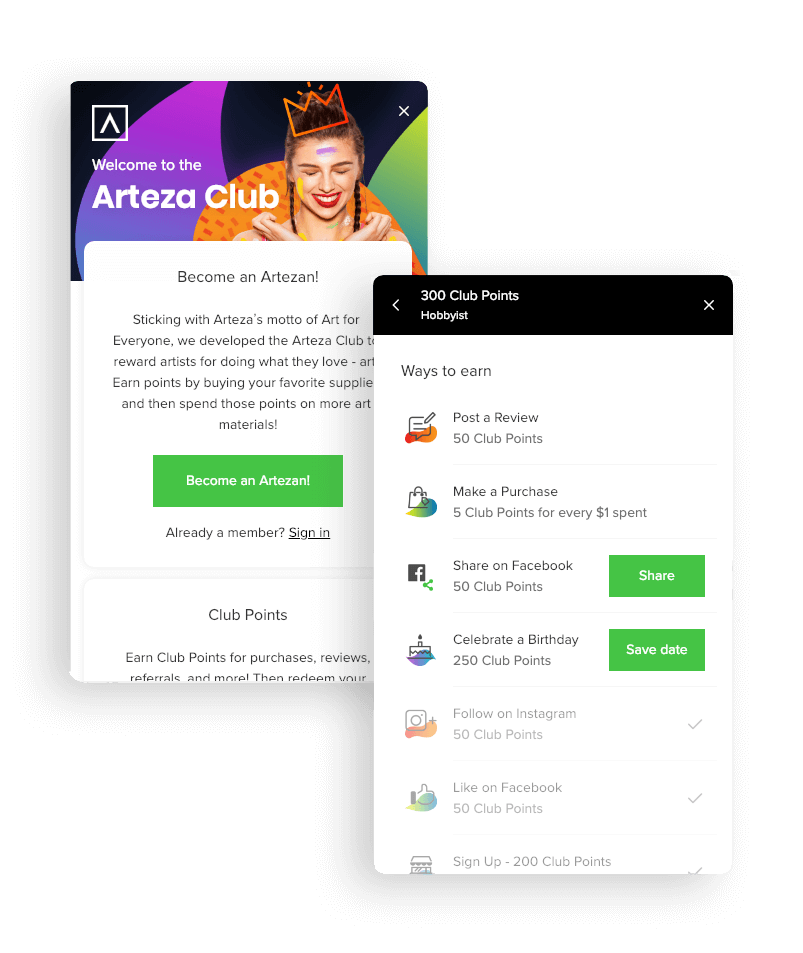 This makes it imperative that your program be properly branded from top to bottom.  This includes logos, colors, and both text and icon customization that makes this clearly your brand's rewards program - all of which you can see at work in Arteza's beautiful program Panel above.
Choosing a rewards program solution that allows you to customize each of these features will make your job easier, your customers happier, and your program feel fresh, exciting, and engaging.
Problem 4: offering unappealing rewards
While your customers might be interested in the same types of products, they're not all interested in the same kinds of rewards. Just because dollars-off coupons work for some of your customers doesn't mean they'll appeal to everyone.
Offering only one type of reward can paint your loyalty program into a corner by lowering its perceived value for prospective members. This is particularly dangerous for brands that exist in highly competitive, discount-driven markets like cosmetics or supplements.
Solution: diversify your available rewards
When I was a kid, there was nothing more thrilling than getting to choose the toy for my Happy Meal at McDonald's. Although the reward was small, being given the choice for what I'd receive was extremely exciting.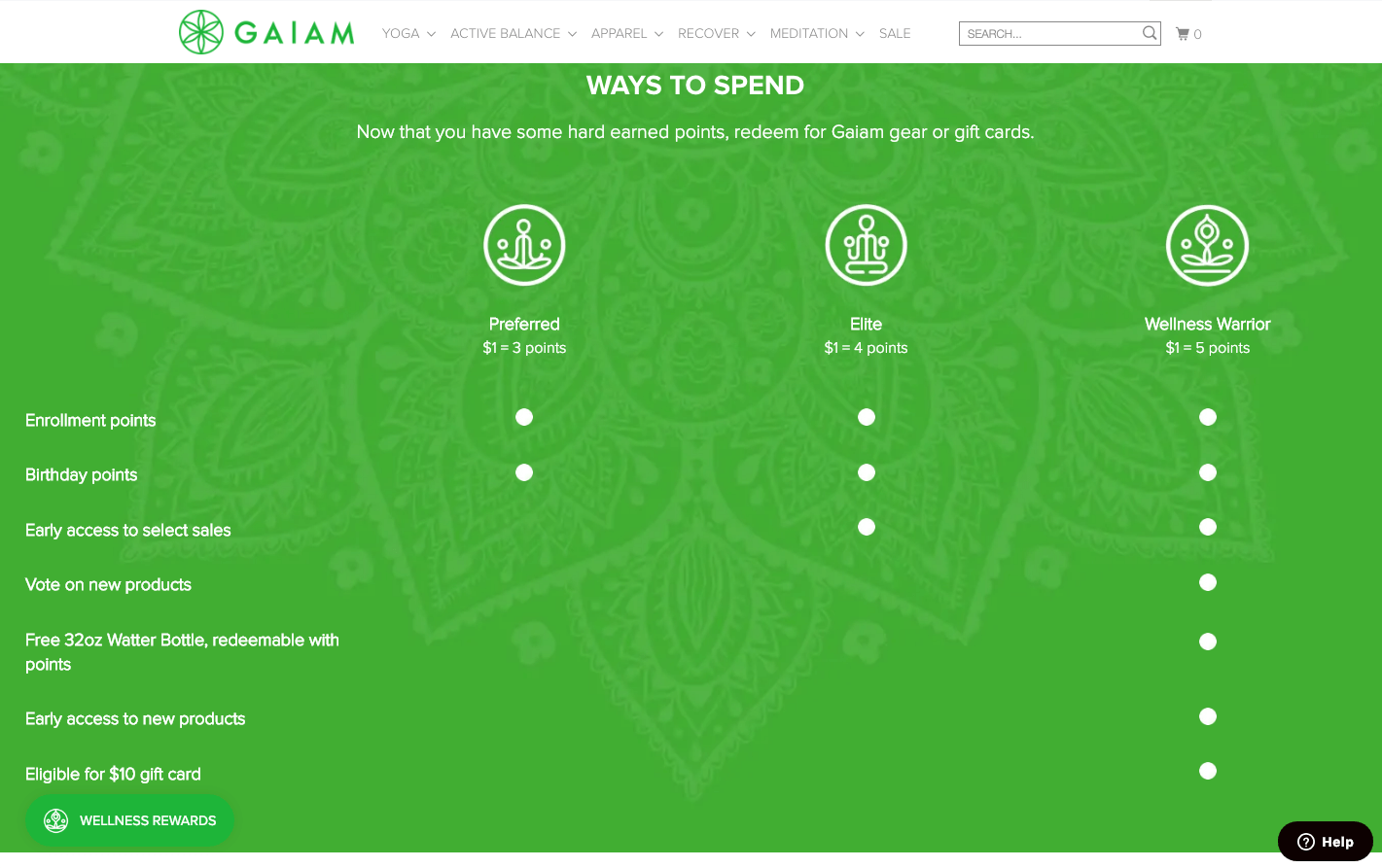 This same principle should be applied to the rewards in your loyalty program!  Combining transactional rewards with experiential ones will help your program stand out, and don't need to cost you anything! You can mix rewards like discounts and free swag with less tangible but equally valuable rewards like early access to sales or being part of the product development process. Gaiam does this with their Wellness Rewards members, offering their best customers to vote on new products and get early access to product launches.
Whatever way you do it, giving customers a choice automatically increases the appeal of joining  your program and adds a level of customization that customers crave. Offering your customers options for how they can redeem their rewards can go a long way to improving your customer experience and program engagement, and ultimately your customer retention.
Problem 5: program rules change too often
Do you ever feel like you're finally getting the hang of something only to have the rules changed on you? For me, it was learning calculus but for your customers it might be your loyalty program.
Even though reward programs are not a set it and forget it tool,  that doesn't mean you should be bombarding your members with changes. While change is sometimes inevitable, the more of it you have the less stable your program looks. This perceived instability can shake member confidence in your brand community, preventing them from enjoying the improvements you've made it.
Solution: effective communication
Even for the best reward programs, change is inevitable and is more often than not a good thing! With this in mind, the best way to get in front of these "disruptions" is to communicate them clearly to your members.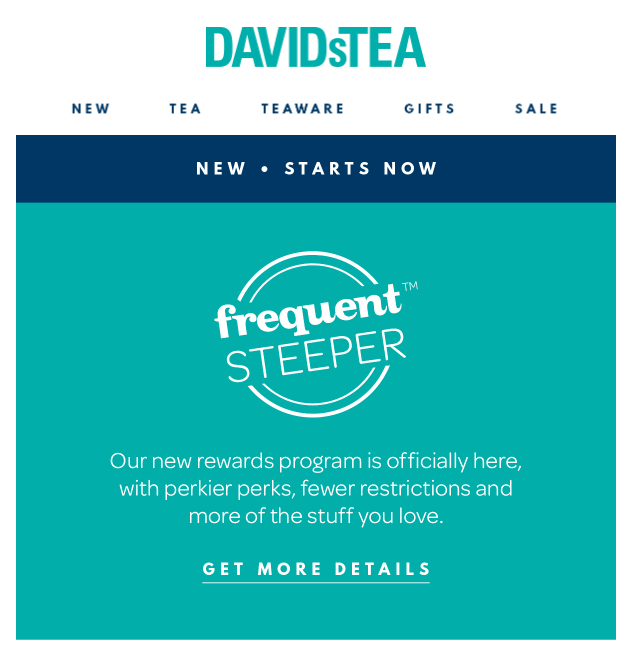 Often the problem isn't with the change itself but rather the lack of communication. Nobody wants to be blindsided (even if it's by something good) so make sure to let your customers know what is changing, how that change impacts (and hopefully benefits) them, and what they can expect from your program in the future. You can do this through social media, email, or customer support.
The important thing is to clearly explain the changes and continue to show customers that they are valued members of your brand community, no matter what changes are made!
Problem 6: stale program marketing strategies
Have you ever heard of the Law of Diminishing Marginal Utility? It basically says that the more people get of something the less valuable it becomes. In the context of your loyalty program, this is most likely to happen with your rewards and special promotions. No matter how great your everyday offers are, customers will eventually get bored. Rewards are only exciting when they still hold value.
Solution: bonus point events
A valuable way to inject a bit of excitement into your program is with bonus points events. Since customers won't be expecting them, bonus events  give you the chance to create truly rewarding experiences for your community members.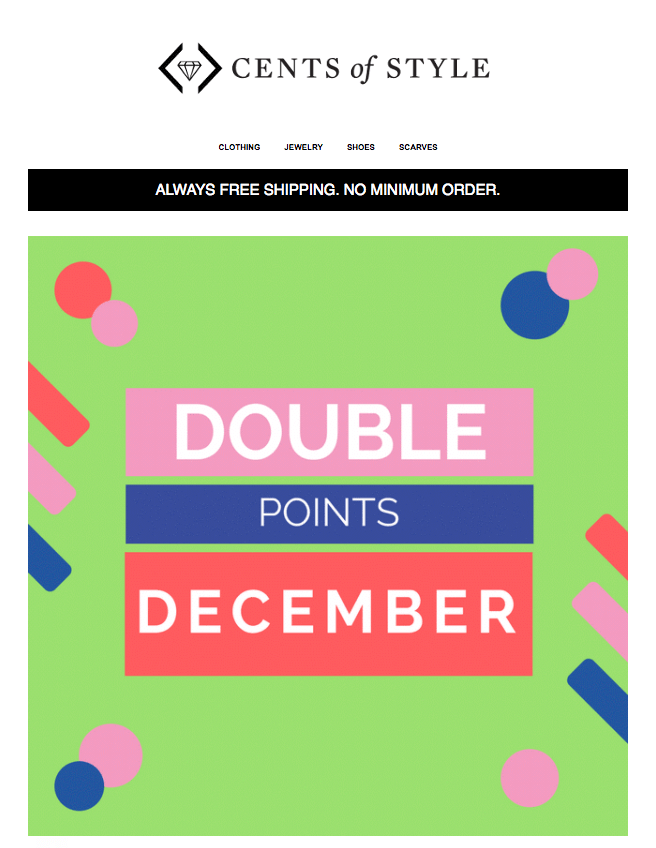 Whether you choose to run your event over the course of a day, a weekend, or even a month like Cents of Style, bonus points can be used to spice up the value your program has to offer without requiring you to completely restructure your program. If it's not broken, don't fix it - just give it a bit of a facelift!
Not only will this motivate members to engage with your program during the event, but it can entice them to share it with their friends, too. As a result, these events not only strengthen the Engage arm of your community building cycle but the Share one as well, bringing it full circle.
Problem 7: members forget they're enrolled
If I asked you how many loyalty programs you're actually enrolled in, would you be able to answer? Chances are you're enrolled in more than you think - you've just stopped engaging.
The same thing happens to your customers. Even if they really love your brand, your members might forget they're enrolled and start shopping with your competitors, weakening the connection they have to your community.
Solution: send behavioral email marketing
A simple way to remind people that they're enrolled is to simply remind them!  Incorporating behavioral emails into your marketing strategy is the perfect way to meet shoppers at every stage in the customer journey.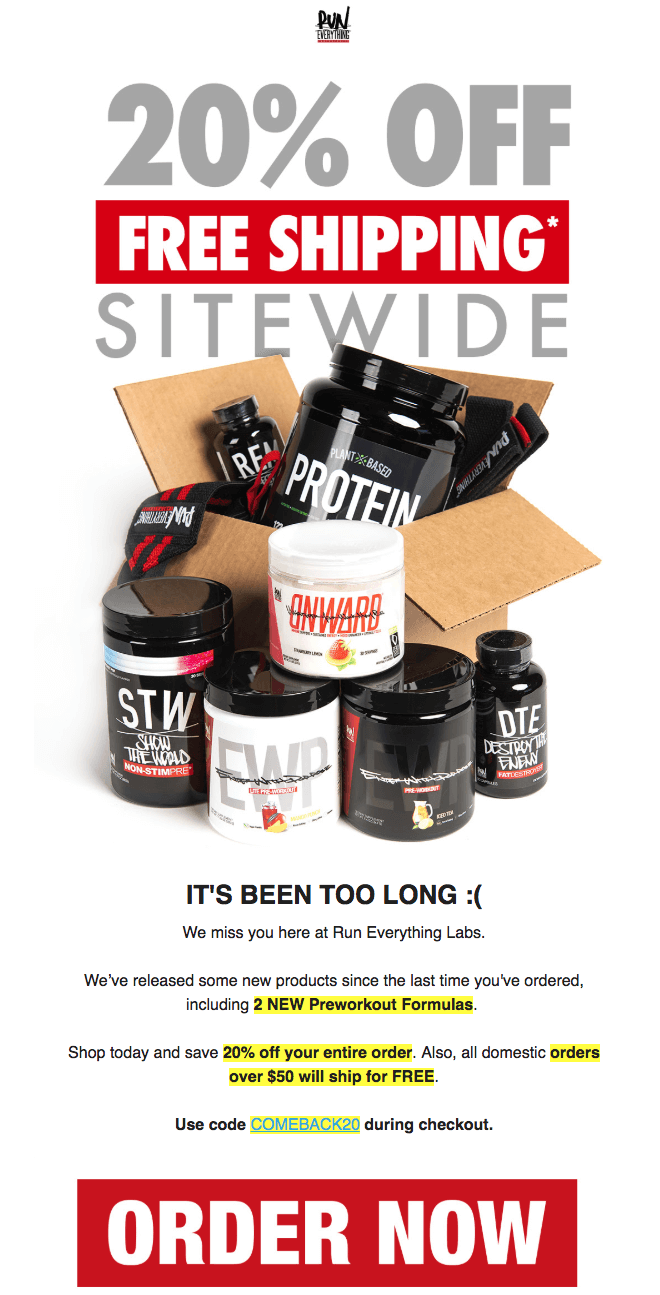 There are a number of powerful email tools that can integrate with your rewards program to help you set up email campaigns that target customers who haven't revisited or engaged with your brand in a while. You can even up the ante by offering bonus rewards or special incentives. In the example above, Run Everything Labs offers an exclusive discount to customers who reengage.
This incentive creates more ways to draw them back into your brand community and re-establish ongoing engagement.
Problem 8: members have issues redeeming their points
There are few things that will have customers looking for the exit quicker than points they can't redeem. After all, what's the point of earning something you can't take advantage of? Technological hiccups and related program issues are extremely detrimental to your customer experience, and will leave customers questioning whether they can truly trust and depend on your brand.
Solution: choose a reliable platform
Choosing a loyalty program provider that can stand up under pressure will do wonders for the reputation of both your program and your brand as a whole.  Here at Smile.io (shameless plug, I know) we're confident that our software will never leave your customers (or their rewards) in a lurch.
Even on Black Friday, a program built by Smile.io will ensure you deliver a world-class customer experience with every transaction.
Problem 9: customers don't know what they've earned
When you don't know how close you are to reaching a goal, it can be very hard to stay motivated. No matter how badly you might want something, it can begin to lose its lustre without a real way to track your progress.
This phenomenon, otherwise known as the Goal Gradient Theory, is especially true within a points-based program. While points are valuable within the context of your program, customers can easily lose track of how many they've earned or how many they need to take advantage of the awesome rewards you offer.
Without these types of benchmarks, it's difficult for customers to remember why they joined in the first place, leaving your points and program viewed as trivial instead of valuable.
Solution: display customer's status
Showing customers how close they are to their next reward or moving up a VIP tier is an incredibly easy and impactful way to motivate them to continue engaging and can be done with almost any rewards program.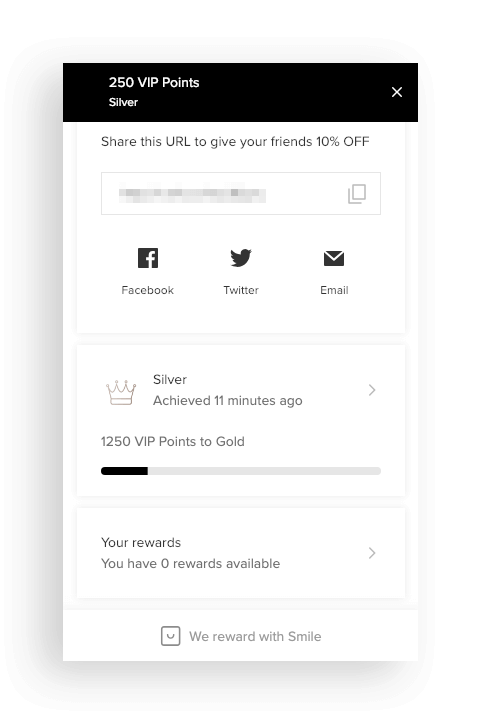 When members can see how close they are to their next achievement, their efforts become much more tangible as they're reflected in your program. You can see this at play in Esther & Co.'s customer Panel. In this example, I'm already on my way to the next VIP level and can track my progress with the visual progress bar.
By reminding customers of the time and effort they've already invested in your program you help drive them to reach their next goal. Additionally, they will be regularly reminded about the perks and rewards they can attain with just a little bit more investment. As a result, they're also infinitely more valuable, having boosted their desire not just keep coming back, but be actively engaged.
Problem 10: increasing competitive alternatives
As retention marketing continues to pick up speed, the biggest hurdle for your rewards program will be that everybody else also has one. This means that if at any point your program doesn't meet their expectations, they'll be able to find a brand that can.  With so many options to choose from, your program can easily be lost in the shuffle.
Solution: commit to your rewards program
At the end of the day, the success of your loyalty program comes down to your priorities. The more time and energy you invest in it, the more your customers will be able to see how much you value them and their commitment to your brand.
This includes putting the people and systems in place to help your program run smoothly. While launch managers and a well-informed support team are especially helpful, they're not always necessary!  No matter the size of your brand, your rewards program has the potential to elevate your customer experience above that of your competitors, making it a truly invaluable part of your brand that customers can't wait to experience.
Bring customers back
Keeping customers interested in your program doesn't have to be a daunting task if you know what's driving them away. By adjusting and reassessing a couple of key areas in your program, you can easily bring your loyalty program back up to code and help your customers find additional value with each transaction and interaction with your brand community.
So what are you waiting for? Start improving your loyalty program today, and avoid being sentenced to a lifetime of customer churn.