When you consider the path that brands take on the journey to success, the most successful businesses all have a multitude of customers who don't just like them, they really love them.
It's not that a brand's success inspires these customers to rally around them though. In fact, we would argue that it's the collection of passionate customers coming together with the brand itself that has made the best businesses as successful as they are.
Together, brands and their dedicated customers, form a brand community.
What is a brand community?
If someone were to ask us to define a brand community, we'd say:
👥
"A brand community is a group of customers who are invested in a brand beyond what is being sold. These customers want to become a part of the brand itself and will interact with each other, without involving the brand."
If a brand community comes from customers being invested in a brand, what does that even mean? In this case, investing comes in the form of the emotional connections made when customers put their money, time, and interest into more than just a simple purchase.
No matter how they are made, the purpose of these connections is to build the relationships that will form your brand community.
How can you benefit from forming these relationships and having a brand community though? Not only can they lower your customer acquisition costs through true customer advocacy, but more importantly they enable long-term, sustainable growth based on repeat purchases from high-value customers.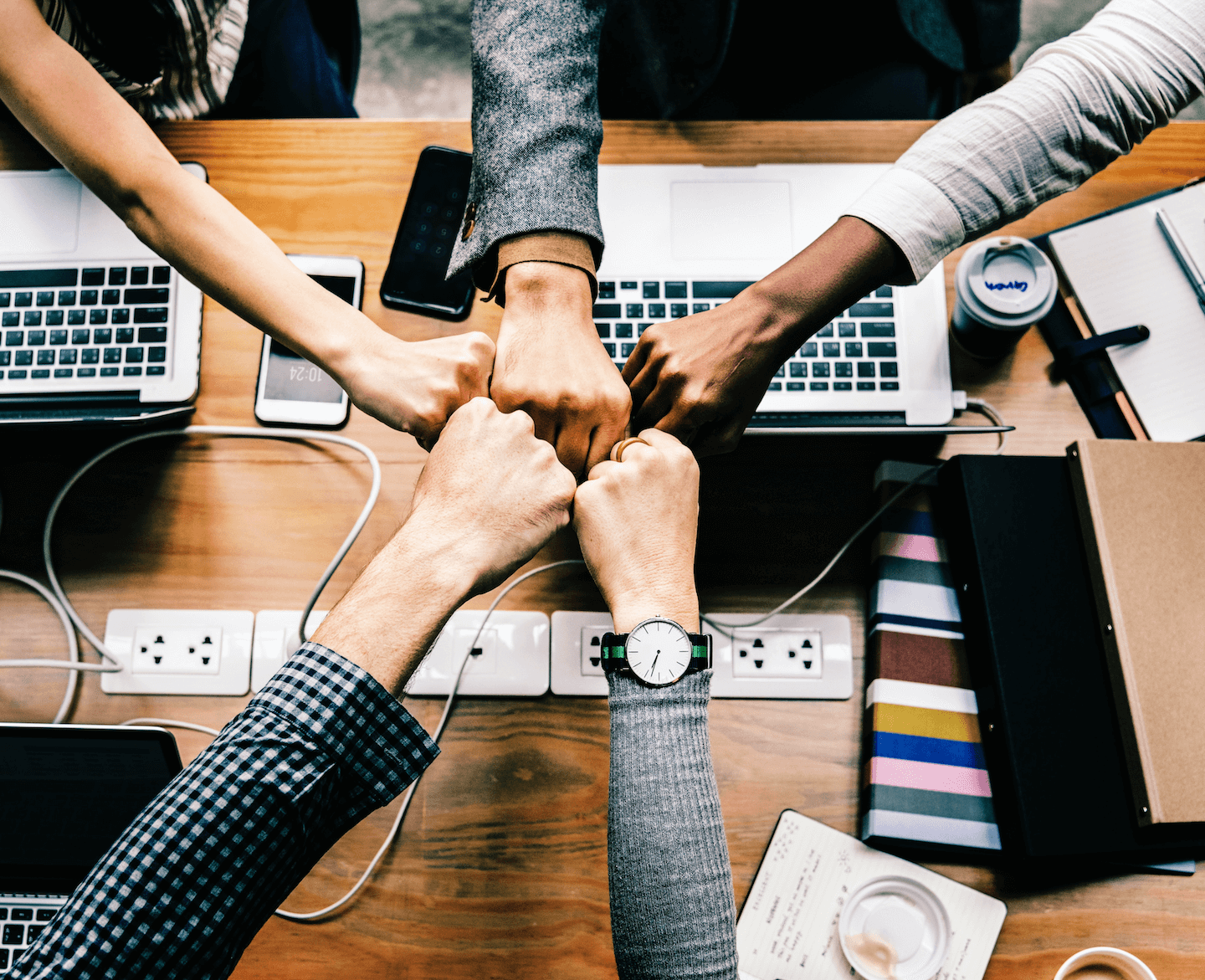 How to identify a strong brand community
There are lots of great brands in the world. The trouble is determining the difference between companies that just have a recognizable brand and those with a strong brand community.
Brand awareness ≠ brand community
Most marketers will say a brand is strong when it's the first one that comes to mind in its industry. However, just because we think about Kleenex first when we want tissues doesn't mean they have a thriving brand community. Your customers, target market, and audience are all different terms with different meanings and none of them are interchangeable with brand community.
If a strong brand community is not the same as a recognizable brand, what should you be looking for to identify an effective brand community?
There are three things that brands with strong communities can achieve with their customers: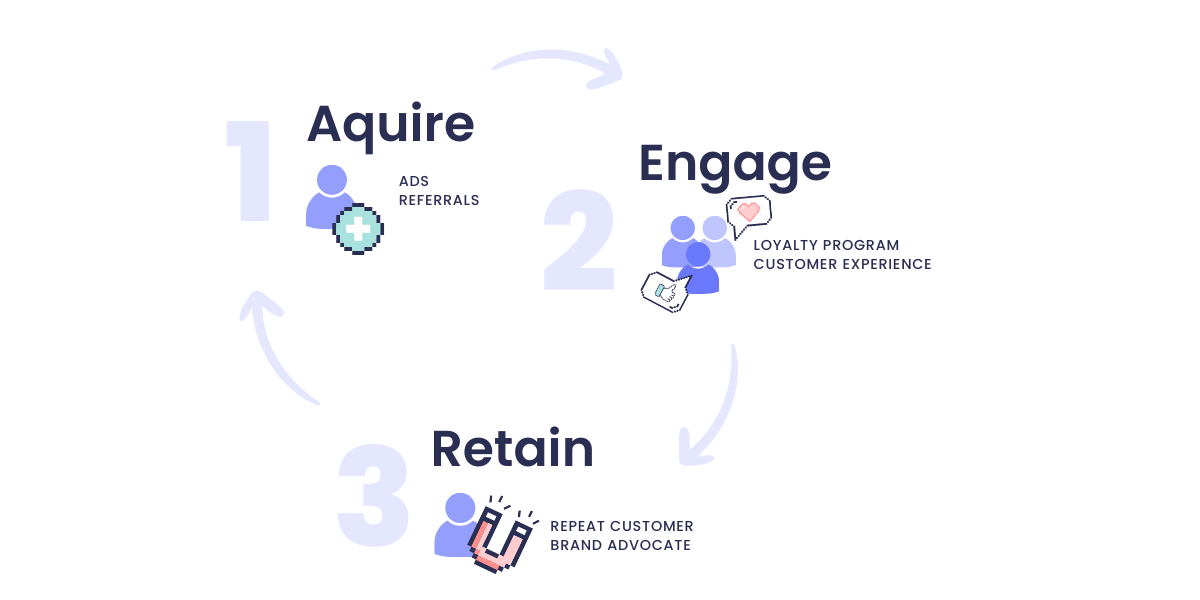 These concepts are simple, but can be difficult to spot in the wild, so let's take a look at how each of these ideas plays out in examples from some of our favorite brand communities.
Customers are excited to join
If we look at step one–acquisition, it's all about motivating customers to join the community in the first place. For a community to be effective, it has to have members, so logically the most effective brand communities are ones that excel at showing customers the value of belonging to them.
One way to establish this value is with a welcome reward such as a referral reward or points for account creation, but this is not the only way. The important thing is to establish and communicate clear value, like this example from MudLOVE.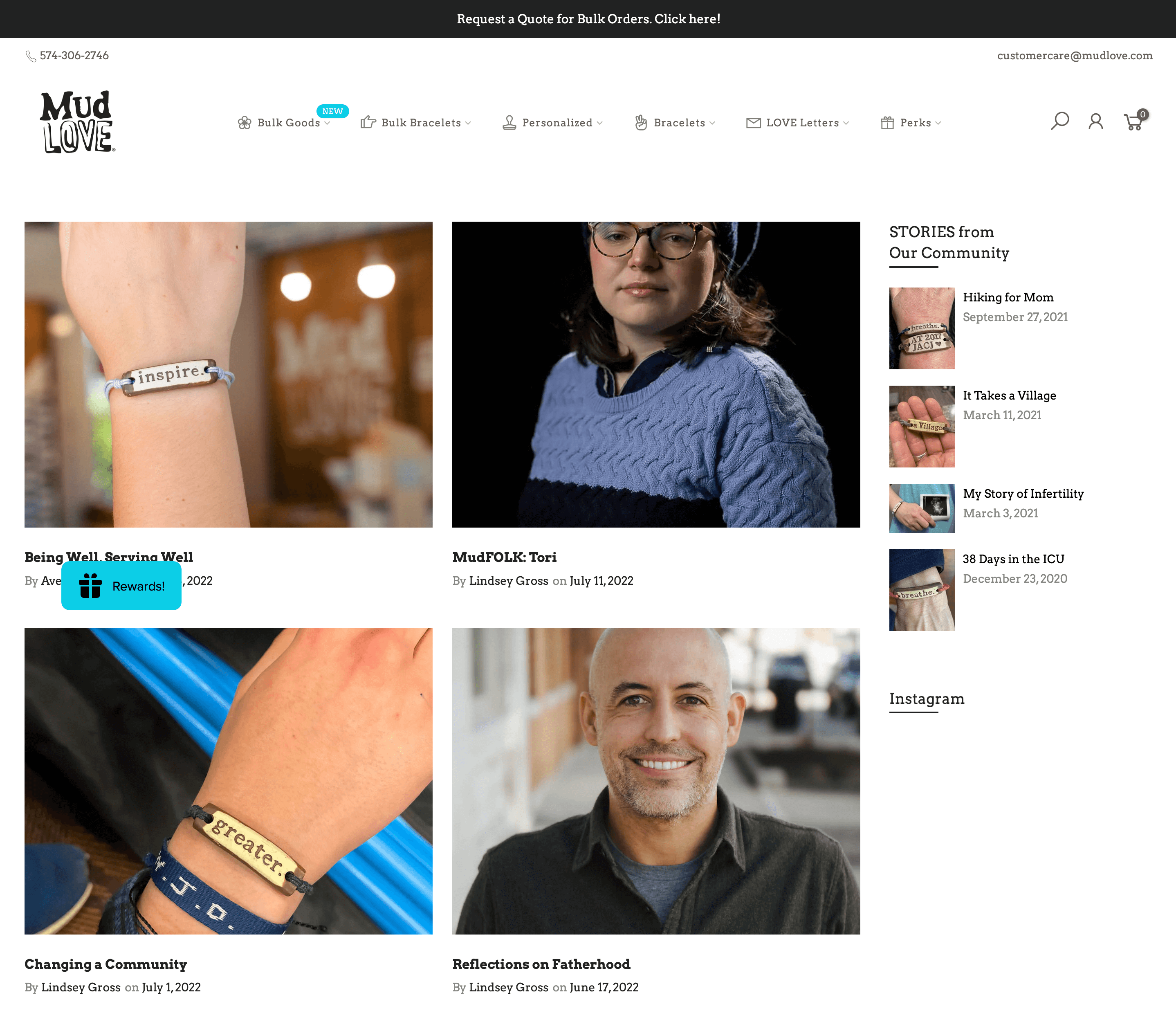 They've built their community around the vision of inspiring others and providing clean water to those in need. Before they've even purchased any products yet, shoppers are excited to join the MudLOVE community and be part of the story they are telling. MudLOVE's blog is full of customer stories as they share what the products mean to them.
Any brand can do this, and they don't have to be a social enterprise like MudLOVE to create a desire to belong either. All it takes is knowing what your customers care about most and inviting them to join you (and each other) in celebrating it.
Members are motivated to engage
Once members have joined a community they need to actually do something to be considered active members of it. That's why the strongest communities encourage their members to get engaged in ways that have benefits in the long and short term.
Long term engagement could be as simple as motivating members to earn the prestige of achieving a top-level VIP tier. Smaller scale micro-actions, on the other hand, benefit you and your members in the short term to prompt regular and consistent interaction with your community. Combining these two types of engagement is what separates ok brand communities from great ones.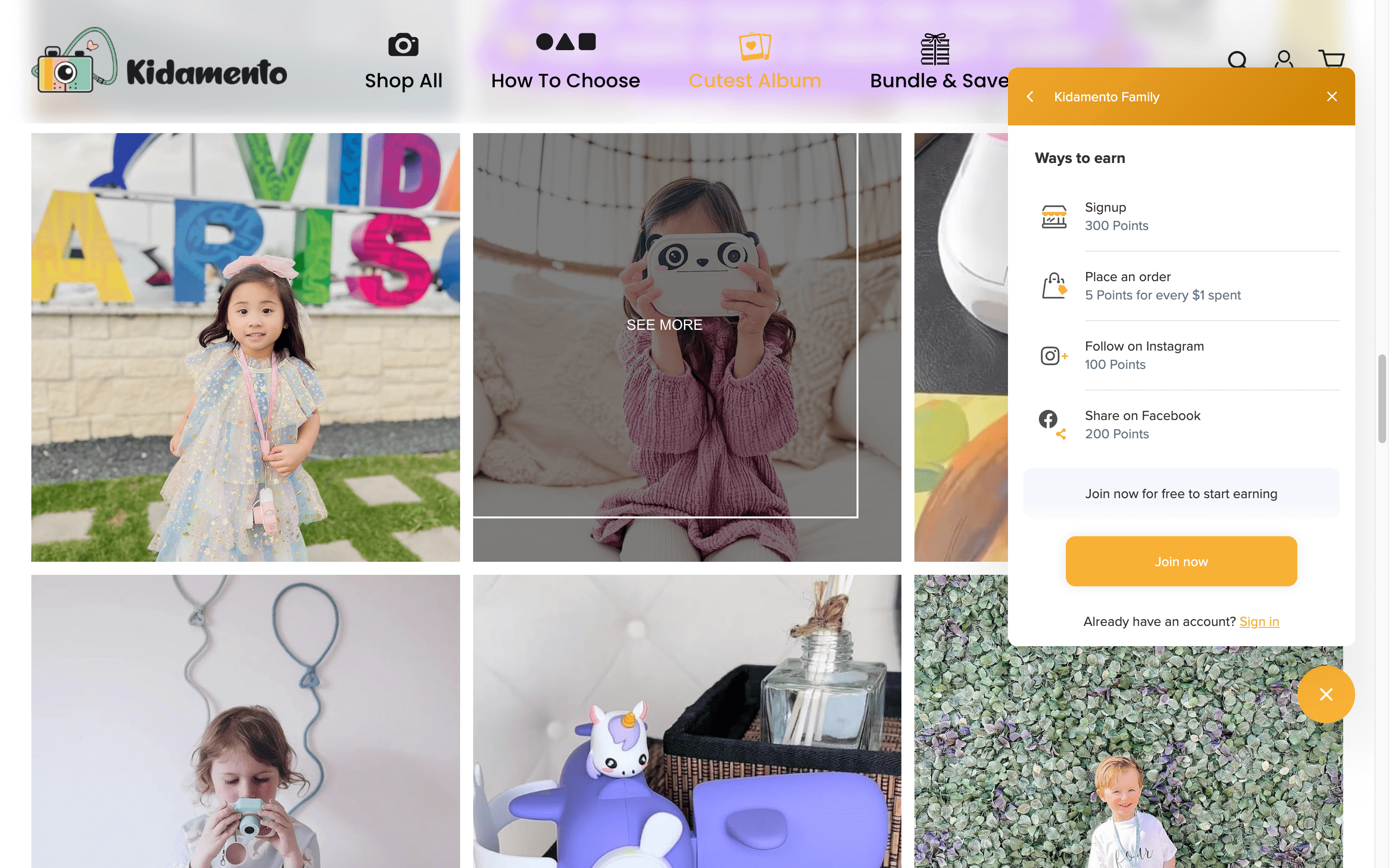 Take Kidamento for instance, a kid friendly camera brand that leverages one of the strongest types of brand communities in the world–parents. This brand motivates customers to interact with each other and engage with the brand by rewarding customers for social interactions like sharing on Facebook or following on Instagram. They've even created an entire page on their website, the Cutest Album, featuring customer posts and stories to inspire other community members.
They know that long-term goals aren't enough to motivate frequent engagement by themselves. That's why Kidamento and other strong communities keep the desire to engage high with small but frequent motivation bursts, rewarding not just for purchases but for actions like reviews and social media interaction too. One glance at the comment section shows dozens of customer-to-customer interactions, a clear signal of a strong brand community.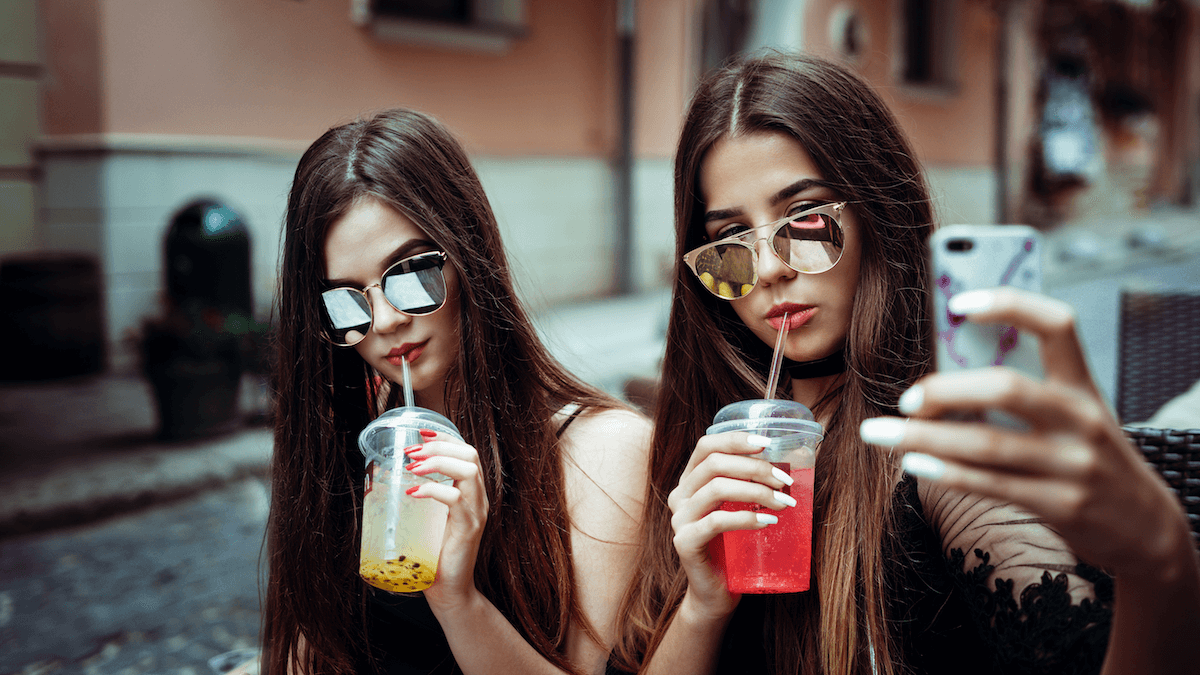 By motivating with long-term goals and rewarding micro-actions like user-generated content along the way, great brand communities make engagement with their brand just another part of members' everyday lives.
Advocates can't help but share
After joining and engaging, the strongest brand communities close the community-building loop with the simple power of sharing. When your customers are sharing your brand, not only are you retaining those brand advocates, you're starting the process over again with the acquisition of new customers.
If something is great, you're going to want to tell people about it. For instance, if you log on to any social media app you'll find endless streams of content recommending products. And while there are paid affiliate and influencer posts, there is also tons of organic content from actual customers who just want to share their positive experience.
The best brand communities make it valuable for members to start sharing and make them take the leap from being just customers to becoming passionate brand advocates. The best brands understand what their customers' interests, values, and beliefs are, and appeal to those beyond their products.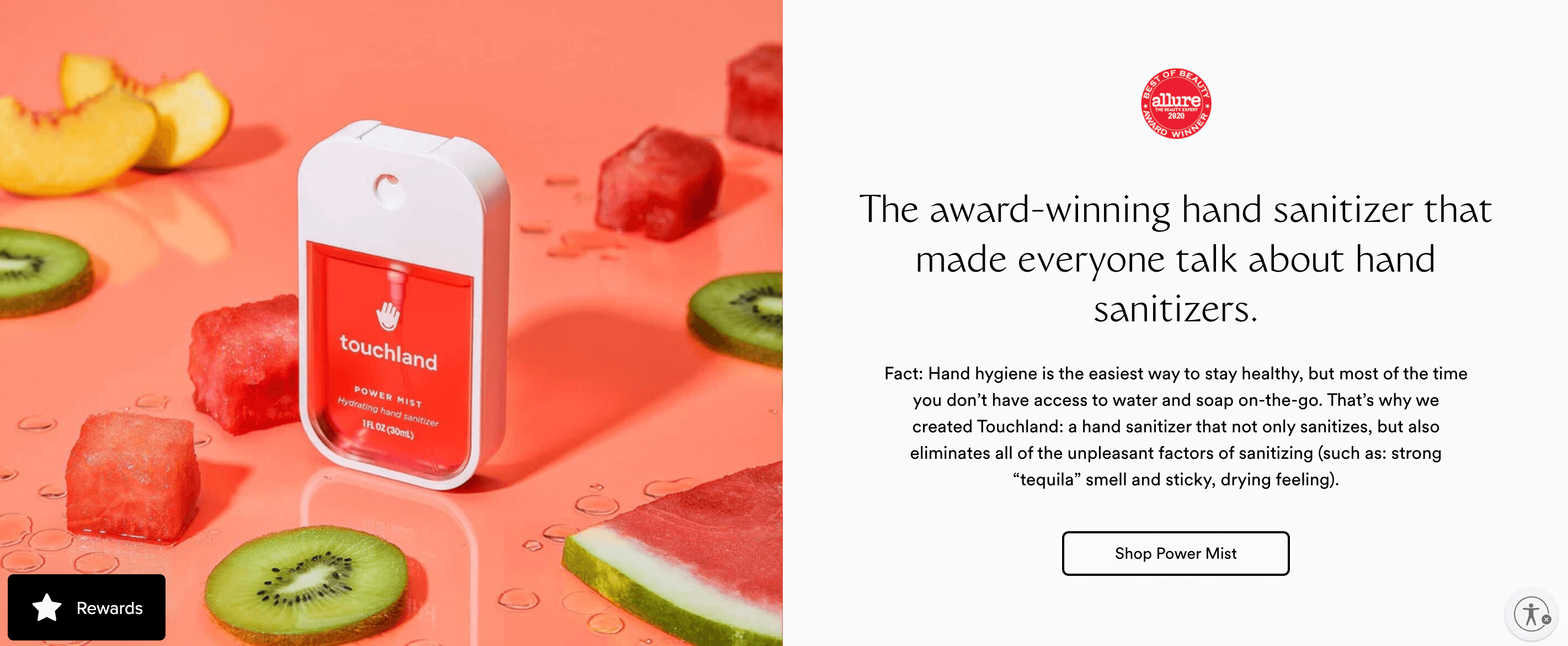 Take touchland for example, a successful hand sanitizer brand that turned a basic commodity into a luxurious, cult classic through the power of a strong community. To accomplish this, brands like touchland give members something in return for telling others about them, like how they use a referral program to give advocating a financial incentive.
They also effectively use a strong marketing strategy to build online spaces for customers to connect. From Instagram to TikTok, touchland's social pages are filled with lifestyle content seemingly unrelated to their brand. Take this partnership with content creator, Yellow Belly Kelly, who shares cocktail recipes on the brand's Instagram page. At first glance, there's no connection between hand sanitizer and cocktails, but the value lies in what it does for community-building. It allows customers to interact with one another, get inspired, and build emotional relationships with touchland beyond the products.
The important thing is showing members the value of sharing the community so they can't help but advocate for the community and spread the word any chance they get.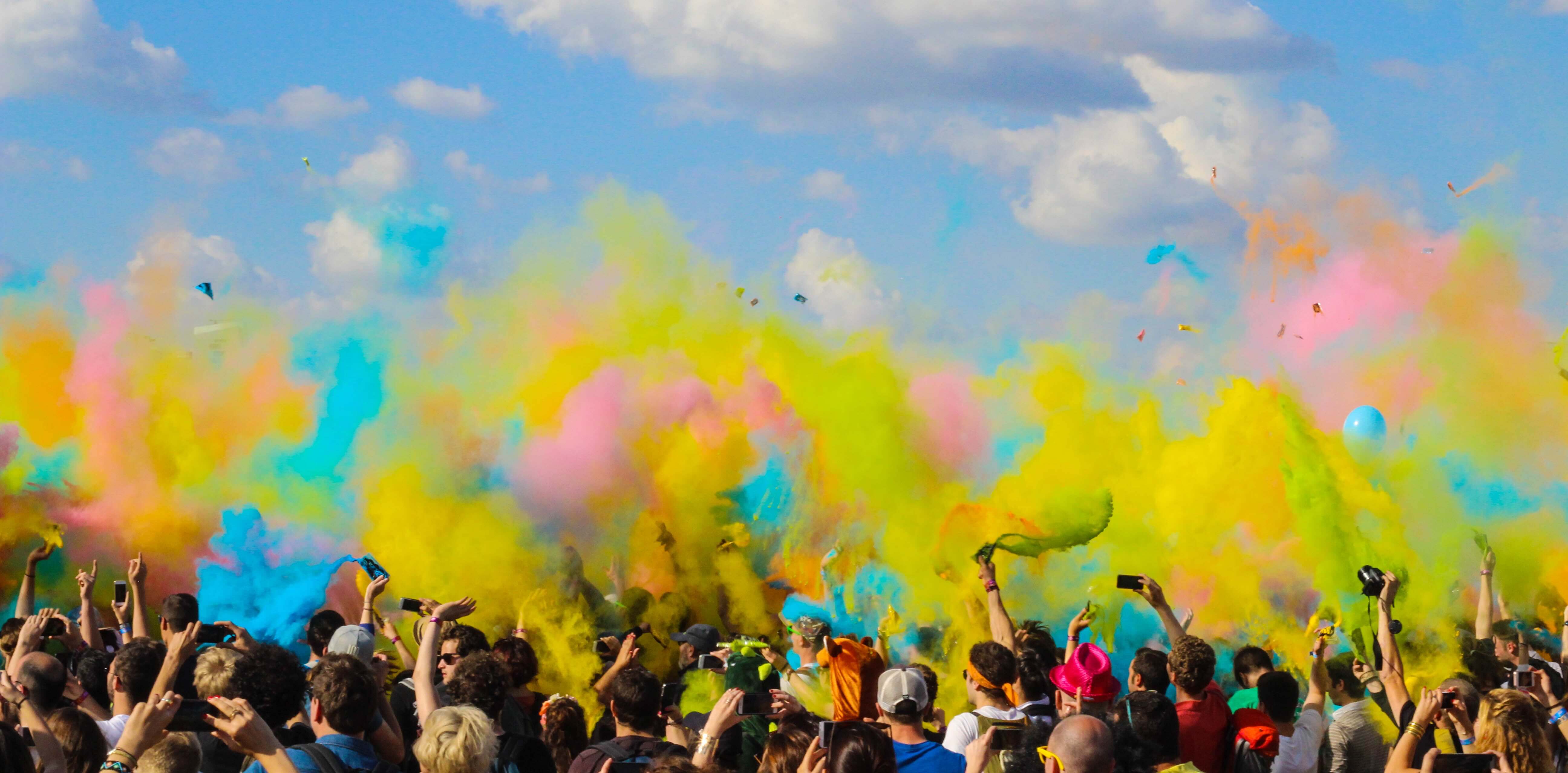 Great communities have to start somewhere
With the new understanding of what a brand community is and how to recognize a strong one when you see it, do you see these concepts reflected in your own business?
Putting all three community attributes to work can seem like a daunting task. If you recognize the importance of building a tribe of passionate customers though, all it takes is dedication and the right set of tools to be well on your way to a thriving brand community.
Editor's Note: This post was originally published on January 29, 2019 and was updated for accuracy and comprehensiveness on June 5, 2023.
Ready to build your own brand community?
Incentivize joining with a loyalty program