Customers are demanding more than just a great product these days. Having a good product and offering a delightful customer experience is a good starting point–but it's no longer the end all be all. In today's online environment of increased transparency, customers are searching for brands aligning with their values and actively making the world a better place.
🌍
"77% of customers are motivated to purchase from companies committed to making the world a better place."
- 2019
AFLAC
CSR Survey
Social responsibility or CSR is likely a term you've heard before–but what exactly does it mean? In this post, we'll define social responsibility, explain its importance in ecommerce, and share some strategies and advice from five industry ecommerce sustainability experts.
What is social responsibility?
Most brands today incorporate some form of corporate social responsibility (CSR) into their brand, either formally or informally. CSR can be looked at as action a brand takes to make the world a better place and fight injustice, above and beyond the legal requirements. This could refer to environmental protection, ethical working conditions, corporate governance, philanthropy, cause marketing, and more.
💗
"Social responsibility is the idea that businesses should balance profit-making activities with activities that benefit society. Social responsibility means that individuals and companies have a duty to act in the best interests of their environments and society as a whole."
-
Investopedia
Forbes defines corporate social responsibility as, "the acknowledgment that your business has an effect on the world, and it should be a better corporate citizen because of that." However, CSR isn't the same as adding a recycling program or equitable hiring policy into your business as an afterthought. If customers can see through your CSR, you could be accused of greenwashing and actually lose customers' trust and business.
Why is social responsibility important for ecommerce businesses?
Now that we know what social responsibility is, it's time to ask ourselves why it really matters. Aside from the benefits of improving the state of the world, integrating corporate social responsibility into your brand will improve your customer retention and earn more profits.
A recent study from KPMG revealed that 70% of U.S. CEOs acknowledge that incorporating environmental, social, and corporate governance (ESG) into business improves financial performance. However, this same study revealed that 59% of CEOs said they planned to pause or reconsider their ESG efforts given the current economic climate. In a period of time when customers are reining in their spending, it may not be the best idea to move business efforts further away from aligning with customer values.
But don't just take it from us or these stats. We sat down with five brands specializing in ecommerce sustainability and social responsibility to get their take on this topic. Let's see what each of them has to say on why social responsibility is a must for ecommerce brands today.
Arka
Specializing in sustainable packaging, Arka is a branding company that produces packaging made from eco-friendly materials to help entrepreneurs enhance their unboxing experience for every buyer.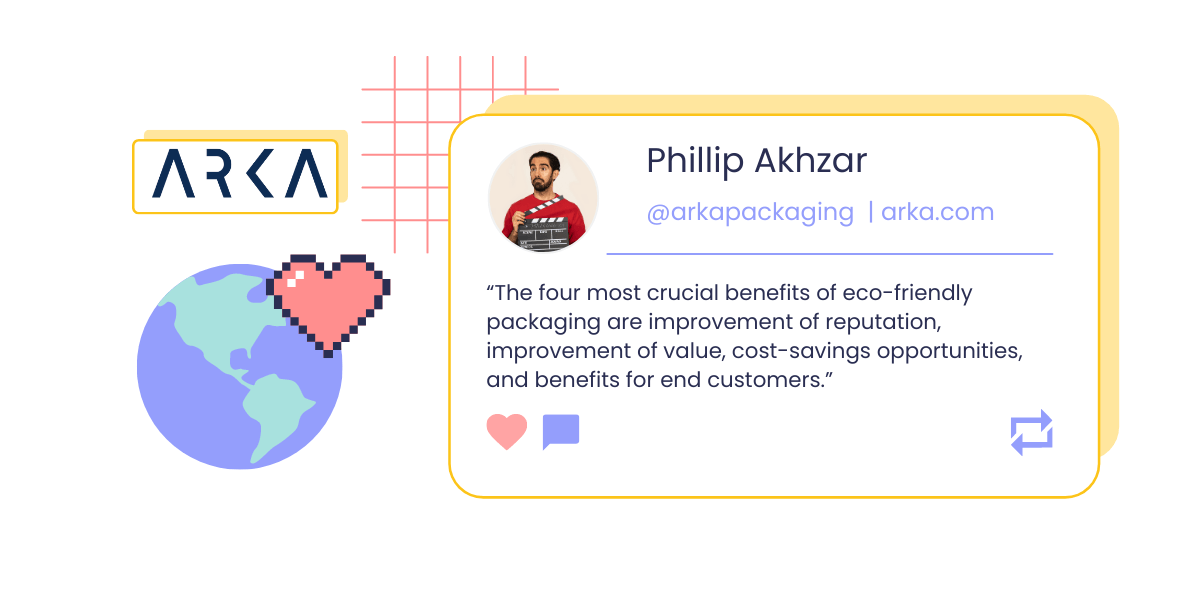 Arka identified four key benefits of sustainable packaging for ecommerce entrepreneurs. Starting with reputation improvement, Arka reveals, "The latest surveys confirm that more than 80% of people REQUIRE eco-friendly packages. People have become aware of the damage normal packaging is causing. That's why they won't hesitate to skip the brands that do not use sustainable ones, even if the quality of the product is high."
With a positive reputation comes the next benefit–higher value. With a top-tier reputation and Arka's customizable sustainable packaging, you can boost your price margins since customers will be willing to pay more.
Keeping on the topic of financial success, sustainable packaging also presents significant cost-saving opportunities. When you include less packaging waste, you reduce your materials cost, and "you will need to pay lower taxes and spend less time, money, and energy on dealing with waste." You can also customize your packaging to be smaller which again reduces your costs associated with materials and shipping costs since you can fit more packages on the same truck.
Finally, traditional packaging materials are often full of allergens and toxins. Using sustainable packaging can improve the health of your buyers, which loops back into improving your reputation, making it one big socially responsible loop.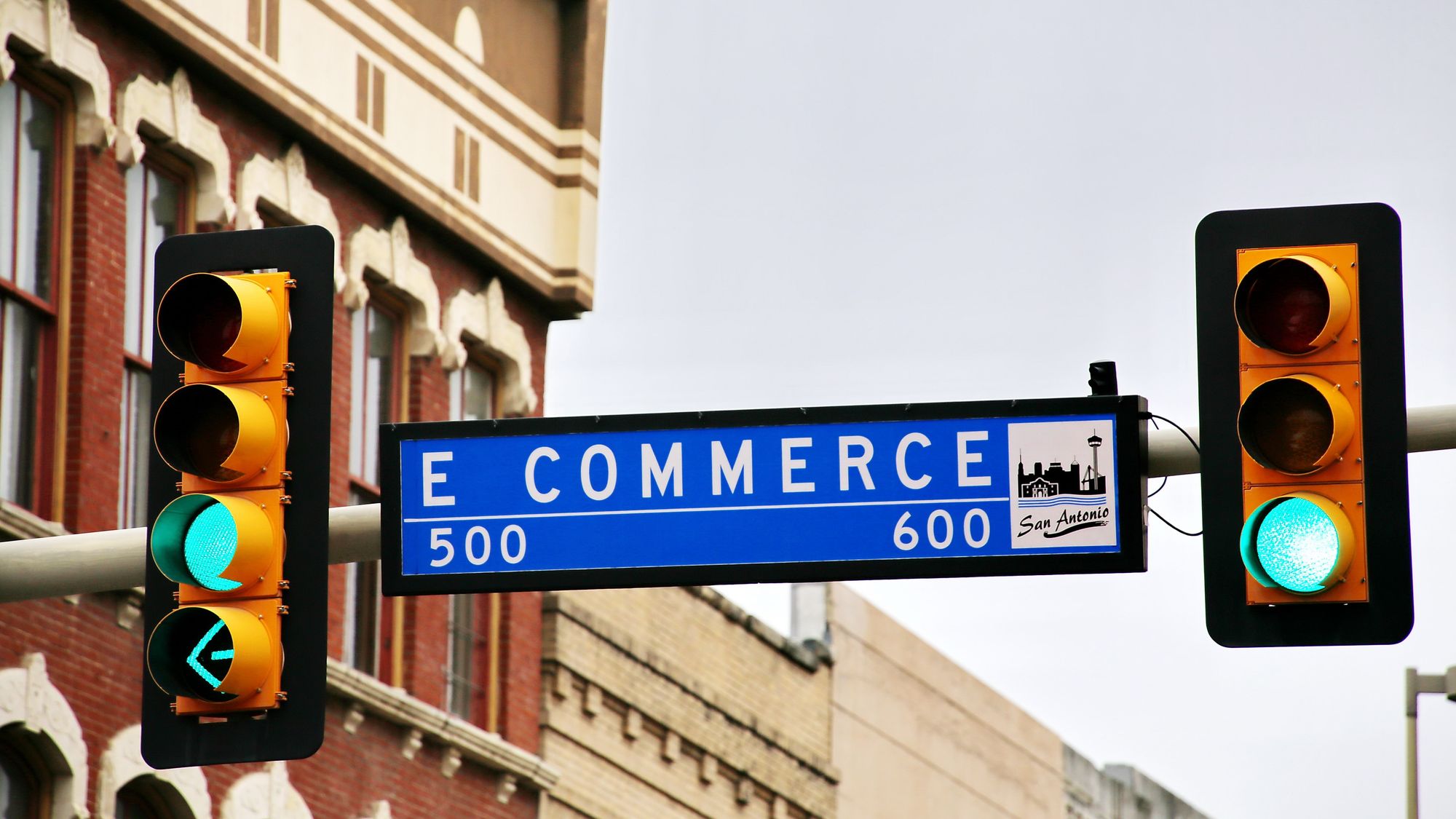 Daily Karma
Sustainability is just one element of social responsibility–this next brand takes us in a new direction with the concept of cause marketing. Daily Karma is a B2B marketing platform that helps ecommerce brands and their customers to support their favorite charities while shopping at their online stores.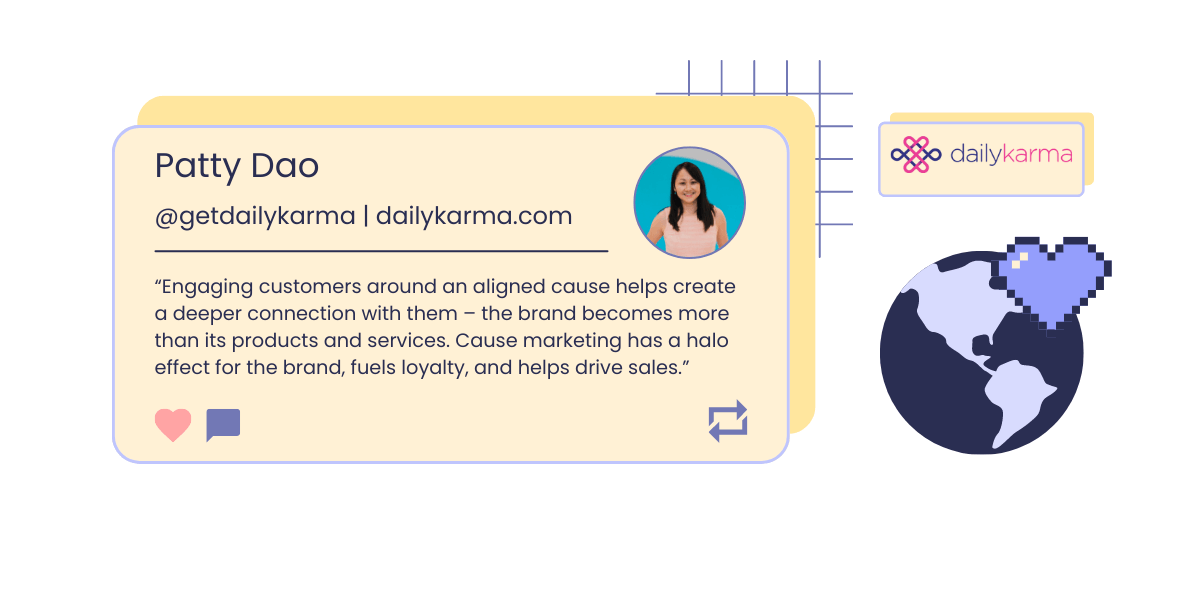 With the ability to seamlessly integrate flexible charitable marketing campaigns like round-up, donation tiers, donations for a discount, impact widgets, and more, Daily Karma has earned its spot as Shopify's highest and most-rated cause marketing app.
According to a recent PwC study, 88% of ecommerce brands know they must lead with purpose to gain a competitive edge. And in this day and age, 83% of consumers expect brands to incorporate a purpose-driven mission that leverages their brand as a force for good.
🎗️
"Companies that align with causes that resonate with their brand and customers–whether on a global level or a local level–have a competitive advantage. It's so important for ecommerce brands to bring cause-related efforts to the forefront of the online shopping experience and engage customers in the process."
Daily Karma shares the benefits that can be expected from cause marketing – "Some of our clients have seen a 29% decrease in cart abandonment rates, others have seen a 34% increase in average order value."
It's clear that doing good is good for business.
EcoCart
EcoCart is a sustainability software that helps online brands calculate and reduce the carbon footprint of the products they sell by offering a carbon-neutral checkout option to their shoppers. By allowing brands to partner with certified carbon offsetting projects, EcoCart offers features like live impact counters, educational pop-ups and banners, and transparent landing pages.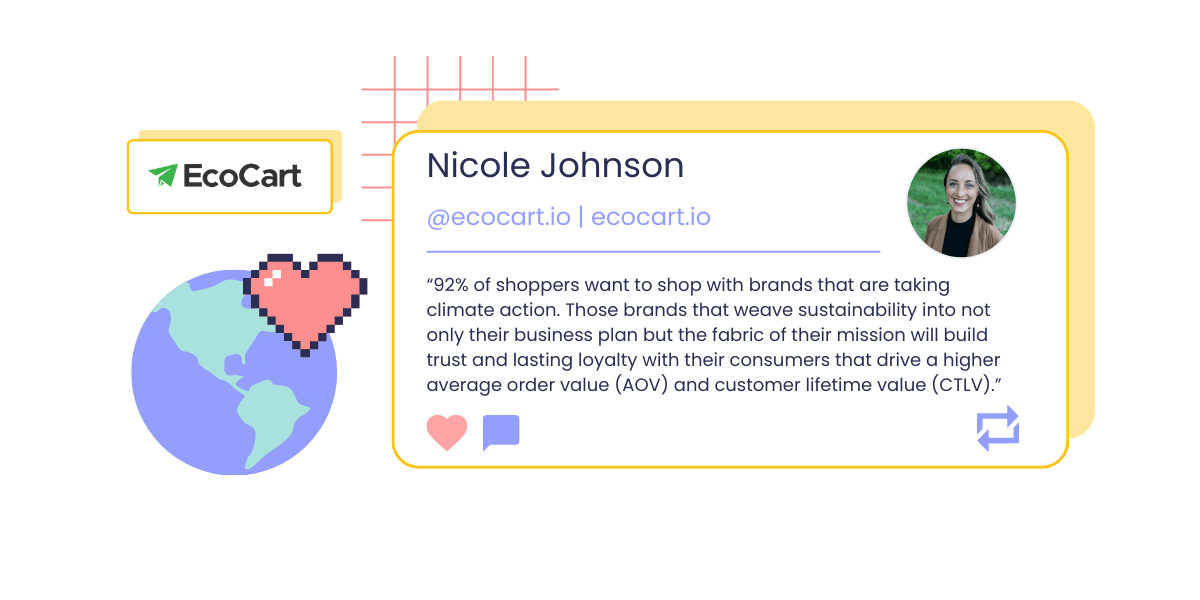 "As the world becomes more aware of the effect commerce has on the planet, ecommerce must do better," Nicole shares with us. As market trends continue to evolve, and younger generations gain more buying power, brands need to evolve with them.
EcoCart's recent State of Sustainability in 2023 Report reveals that "The number of shoppers that want brands to be operating sustainably continues to grow, a trend largely driven by younger shoppers. Together, Gen Z and Millennials represented $350 billion in spending power in 2020 with Gen Z accounting for 40% of the global consumer industry that year."
In the coming years, sustainability will not only be a nice-to-have–it will be the deciding factor in which brands prevail and which fall short. "Brands who see sustainability as an innate part of their business strategy in the next decade will foster the quality of trust and loyalty that will breed financial results in the long term as Millenials and Gen Z gain spending power," EcoCart shares.
Since sustainable shoppers care about more than a great product or discount, they tend to have higher AOVs and brand loyalty. Securing these customers now will pay off in the long haul.
Sifted
Sifted is a logistics intelligence software company that helps shippers optimize their parcel shipping for greater efficiency, sustainability, and cost reduction. Through data clarity and actionable insights, Sifted has helped over 1,500 companies save more than $110M on parcel shipping expenses. Chief Growth Officer at Sifted, Caleb Nelson shares some insights from their 2023 Ecommerce Sustainability report.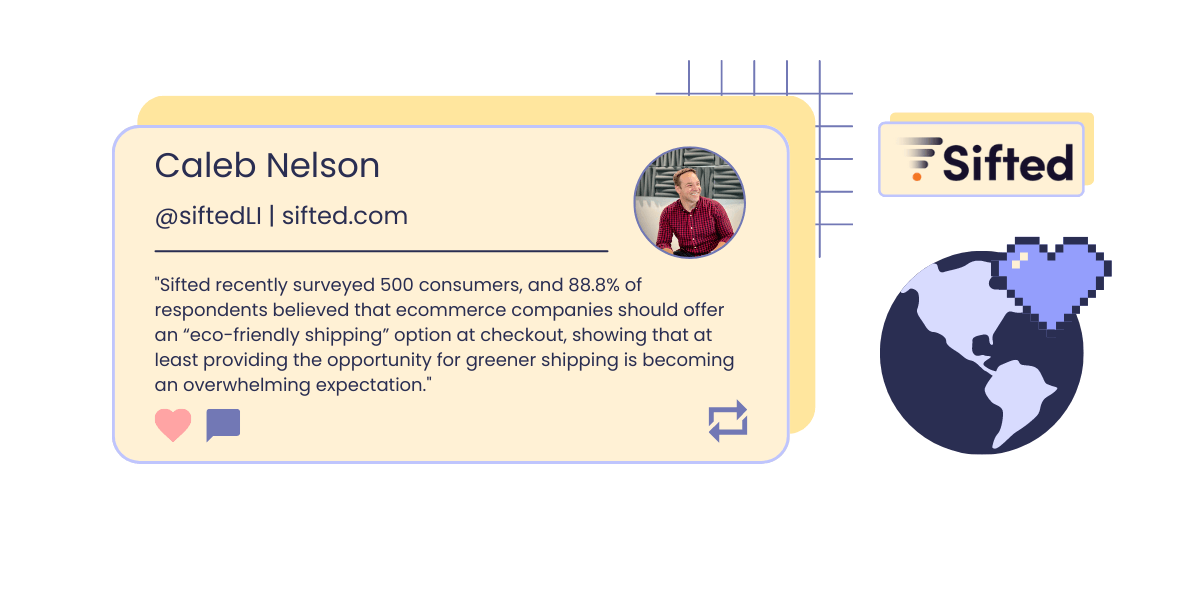 The same Sifted survey reveals that, "69% of consumers reported that sustainable shipping practices had influenced a past purchase decision online." It's clear that customers are looking for sustainability at every stage of the shopping cycle.  
📦
"In shipping, becoming more sustainable means reduction, either in packaging materials or average distances packages travel. Reducing materials and transit distances reduces costs."
Most shipping carriers use a dimensional weight-based pricing system. Meaning that shipping in standard, oversized packages full of filler material is not only environmentally harmful but economically harmful as well. Sifted helps brands determine the smallest possible box size that your product will fit into, helping you improve your financial efficiency and customer experience.
The other part of the puzzle that Sifted excels at is network optimization. It's no secret that the farther your package travels on a truck to reach your end customer, the more damage you're producing through emissions and the higher your cost will be. "Strategically placing warehouses (or selecting third-party warehouses) drastically reduces carbon footprint and zone-based costs," Caleb tells us.
If you're worried about the initial costs associated with sustainable shipping, you may want to consider asking your customers to cover that cost. "Our survey found that 75.8% of consumers are willing to pay an extra 5% on shipping costs for a more sustainable service than standard options. 41% would pay an extra 10%, and 10% would even pay an extra 20%.," Sifted's study reveals.
Once again, it all comes down to being transparent with your customers. The ones who truly care about sustainability will support you and stay loyal because of your efforts.
Noissue
With the ecommerce boom that's taken place in the past few years, there's been a rise in the amount of single-use plastic packaging ending up in landfills. Noissue is an eco-friendly packaging brand that aims to provide businesses of all shapes and sizes with easy access to custom, high-quality, brand-forward sustainable packaging.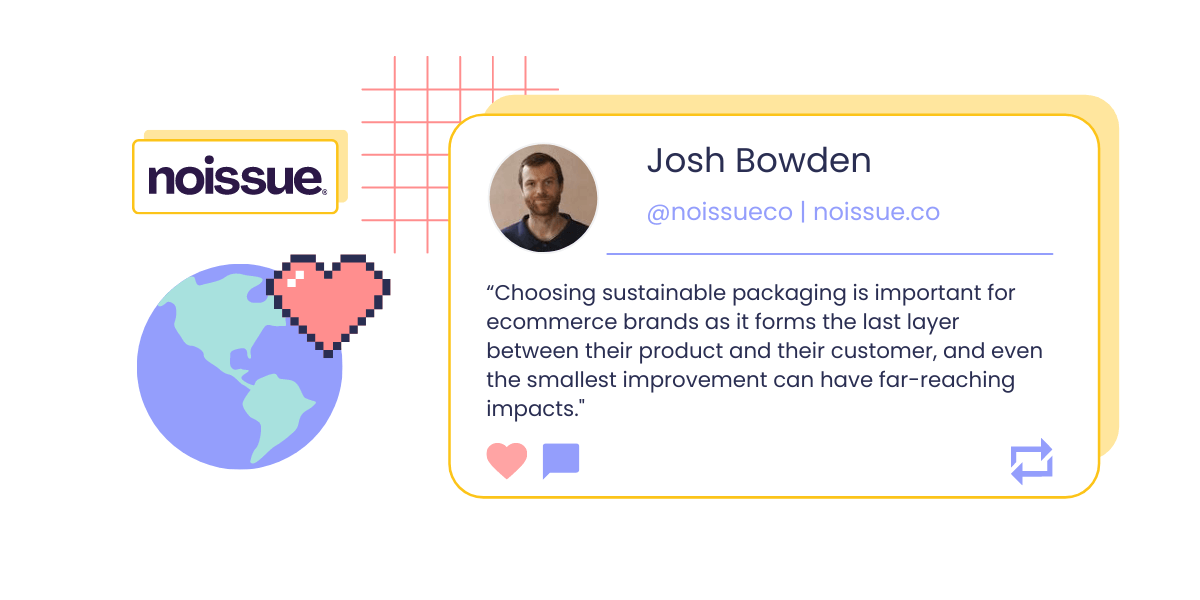 The rise in sustainability and environmental consciousness has been taking consumers by storm. If brands want to stand out, they need to adapt and align with what customers want. But this doesn't mean compromising on your brand identity, or customer experience.
"We're known for our commitment to sustainability, our accessible online design platform, and our emphasis on letting our customers have their impact, their way," Josh Bowden from Noissue tells us. When value-driven customers are able to receive an on-brand unboxing experience that's both custom and eco-friendly, it'll stick out in their brains and build trust with your brand.
"Let your customers know what you're doing! It's amazing to adopt sustainable packaging, but the buck ultimately stops with them when it comes to disposal. Encourage your consumers to get invested in your sustainable values and let them know your packaging is sustainable so they can close the loop with you," Josh shares.
With low minimum order quantities, customizable designs, and various packaging options, there's no reason not to make greener choices.
Being socially responsible is a must in 2023
Whether you're looking for ways to reduce your carbon footprint or ready to launch a new donation campaign, it's clear that corporate social responsibility is here to stay. In 2023 customers are not only hoping for brands to make a social impact–they're expecting it. Now that you have a clear social responsibility definition and understand the importance of it, it's time to learn how to do it for yourself.
Use a loyalty program to reward customers
Launch a program in minutes