Ecommerce has gone from waves of highs and lows over the years. From the start of the pandemic to the accelerated growth of online retail. To the now looming recession and an increase in prices of everyday goods and services that every consumer is feeling. Things in ecommerce are just different.
However, this doesn't mean that consumers are not spending. Quite the opposite, Retail Dive reports ecommerce sales in Q4 of 2022 reached their highest quarterly level ever at $332.2 billion. Leading to the total ecommerce sales surpassing $1 trillion for the first time for the entire year in 2022. Consumers are spending across industries.
Smile.io spoke with 20 incredible ecommerce experts who are marketers, CEOs, founders, and actual business owners on their predictions for the future of ecommerce. They offer tidbits on how to fuel growth in 2023 and trends ecommerce brands should try.
Customer Behavior
Jean Francois, ShipperHQ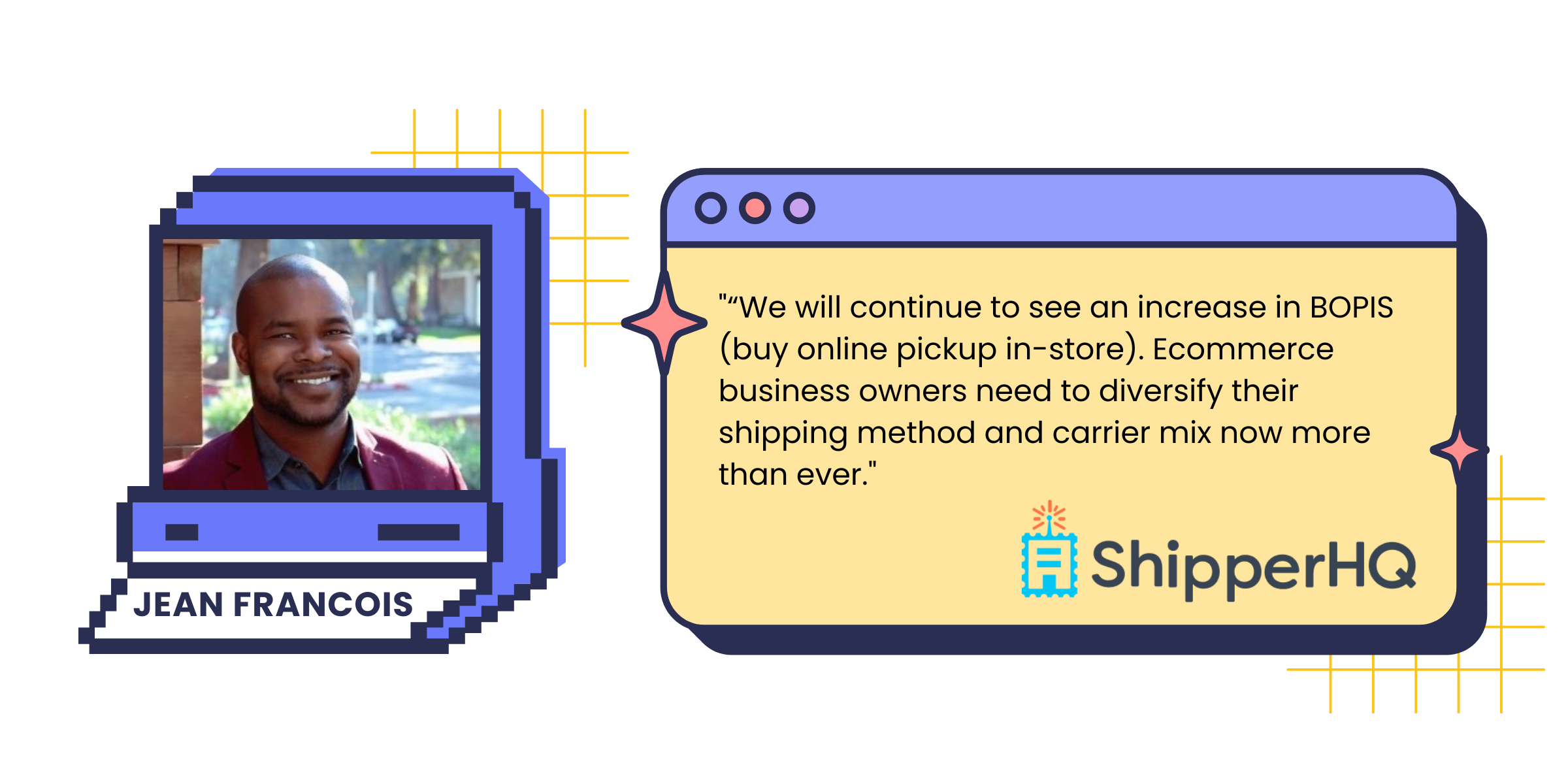 The pandemic brought the surge of alternative shipping methods such as BOPIS, curbside pickup, and local delivery, to get products into the hands of consumers. Jean Francois is the VP of Partnerships & Channel Sales at ShipperHQ. Jean predicts these shipping methods are not going anywhere.
Prediction:
"We will continue to see an increase in BOPIS (buy online, pickup in-store). Ecommerce business owners need to diversify their shipping method and carrier mix now more than ever. In an economy where costs matter more than anything, to avoid the race to the bottom is to pull the right levers on the customer experience side. Shipping is where there are a lot more options and flexibility in what brands can give their customers."
Koshi Samarasinghe, Shopify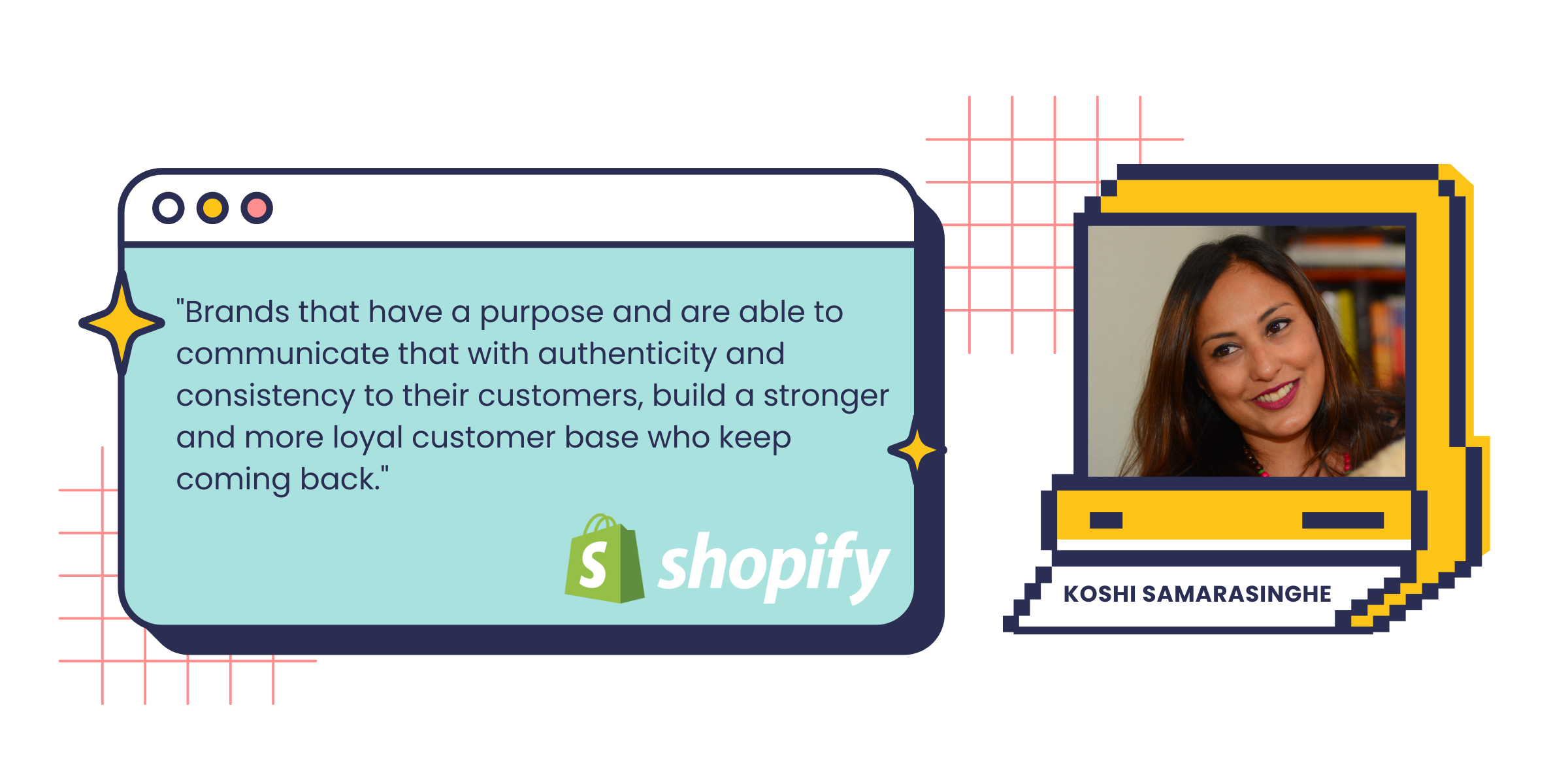 Consumers have more power than ever in retail and ecommerce. With more options, consumers can choose where they want to spend their money and which brands align with their values. Koshi Samarasinghe is the Senior Partnerships Manager of Retail for Shopify, and explains values are the keys to authentic relationships between a brand and its customers.
Prediction:
"Today there is a growing group of consumers who want to invest in brands that represent values they believe in–ethical manufacturing, carbon offsets, recyclable or compostable packaging, and giving back to causes that they identify with. Brands that have a purpose and are able to communicate that with authenticity and consistency to their customers, build a stronger and more loyal customer base who keep coming back. Conscious consumers invest in the brands they believe in. I think that's going to be a defining factor that helps small businesses compete against the mega-retailers like Amazon. Authentic purpose, ethics, and great customer relationships translate into brand loyalty, better profits, and lower margins."
A trend every ecommerce brand should try in 2023:
"There's functionality that allows for easy online exchanges (protecting the retailers' bottom line) and aggregation of returns that lowers shipping costs and carbon footprint. I think every retailer should invest in seamless delivery and returns, especially as that's one of the key factors that influence online shoppers' purchasing decisions."
Phillip Jackson, Future Commerce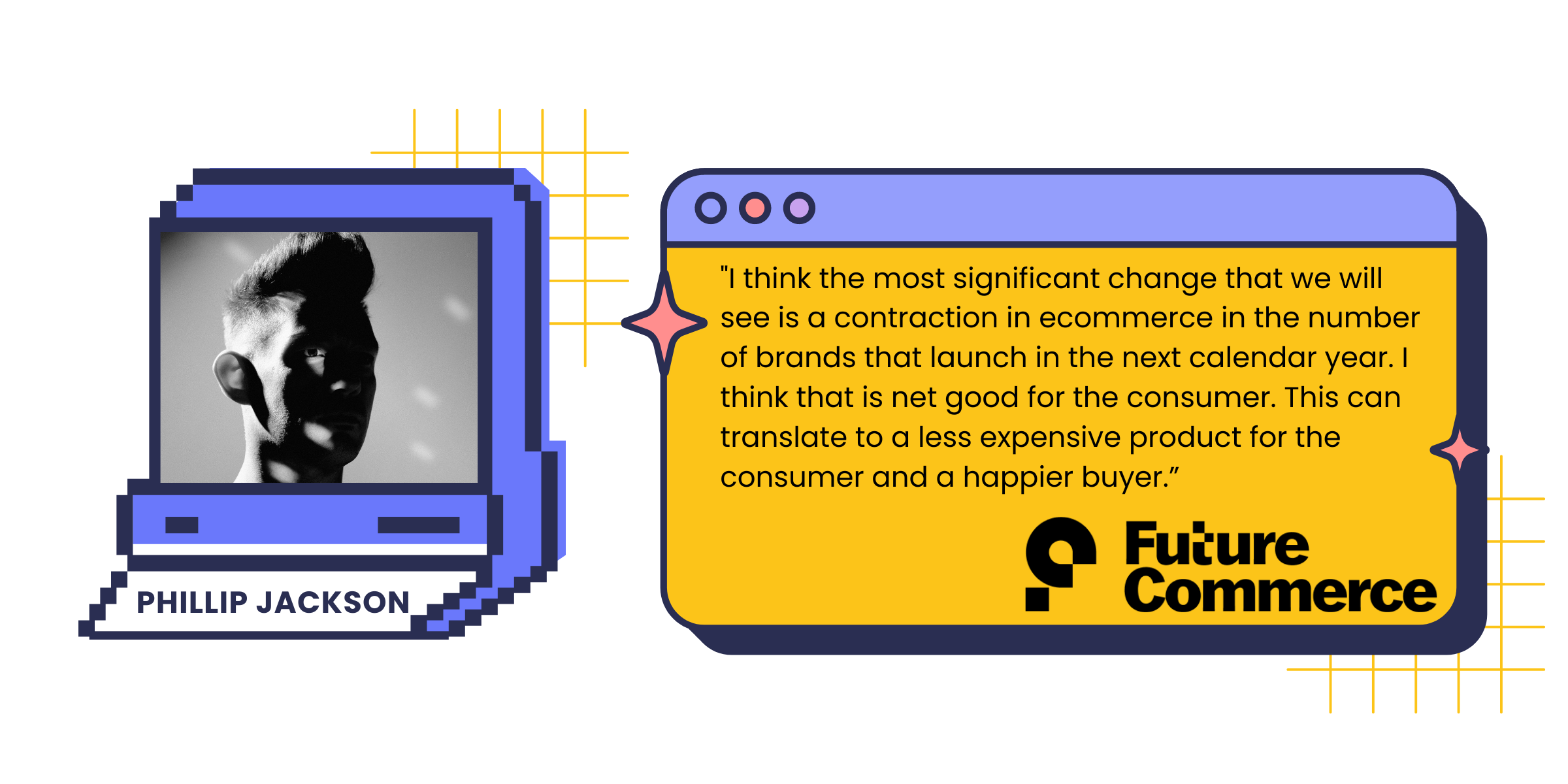 Phillip Jackson is the Co-Founder of Future Commerce, a retail media research startup. They have an audience of almost 100,000 people across their podcast, videos, and its newly published magazine, Archetypes.
Prediction:
"I think we're almost in a post-DTC (direct-to-consumer). The difference of expectation to actual realized experience, with the product you purchased in ecommerce. That delta is still large. People are not getting the level of quality they thought they were buying when buying premium in DTC. I think the most significant change that we'll see is a contraction in ecommerce in the number of brands that launch in the next calendar year. I think that is a net good for the consumer. This can translate to a less expensive product for the consumer and a happier buyer."

How to fuel growth in 2023:
"AI (artificial intelligence) can enable experiments. We need less playing it safe and we need more standing out, and that requires being unafraid and unapologetically experimenting. Very few brands are taking those risks today because it's expensive to invest in creative. What happens when the cost of creativity is zero, you can be as experimental as you want."
Oren Inditzky, Wix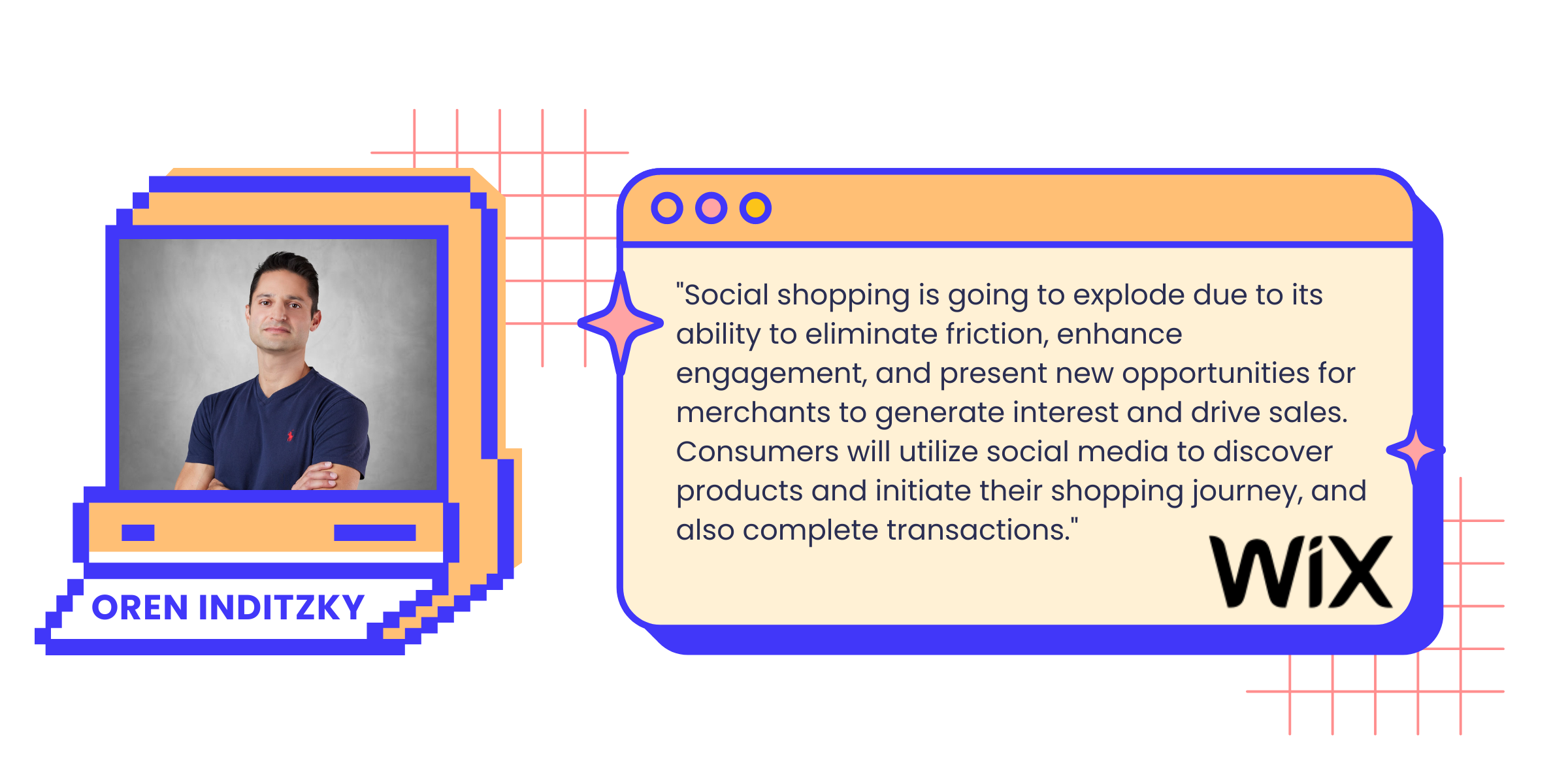 Social commerce and shopping have fueled (organic and paid) growth for ecommerce brands. Oren Inditzky, VP of Online Stores at Wix, predicts this is only going to get bigger going into the future.
Prediction:
"Social shopping is going to explode and is projected to surpass $2 trillion by 2025, due to its ability to eliminate friction, enhance engagement, and present new opportunities for merchants to generate interest and drive sales. Consumers will increasingly utilize these social media not only to discover products and initiate their shopping journey but also to complete transactions. Social platforms such as Instagram, Facebook, and TikTok are offering increasingly seamless and frictionless options for businesses to integrate their catalogs, with features such as designated shopping tabs, native store pages, and live shopping capabilities, and the bridge between social connectivity and shopping will continue to narrow in 2023."
How to fuel growth in 2023:
"With the accelerated growth of social shopping, merchants should embrace a comprehensive omnichannel approach to expand their reach and increase their customer acquisition opportunities. Approximately 73% of US consumers engage with multiple channels during their purchasing journey. Furthermore, in the US, those who shop four or more channels tend to spend up to 9% more than those who rely on a single channel. Not only does an omnichannel approach foster a cohesive brand experience and a seamless shopping journey, but it also significantly enhances the potential for acquiring new customers."
Bonnie Pecevich, Pantastic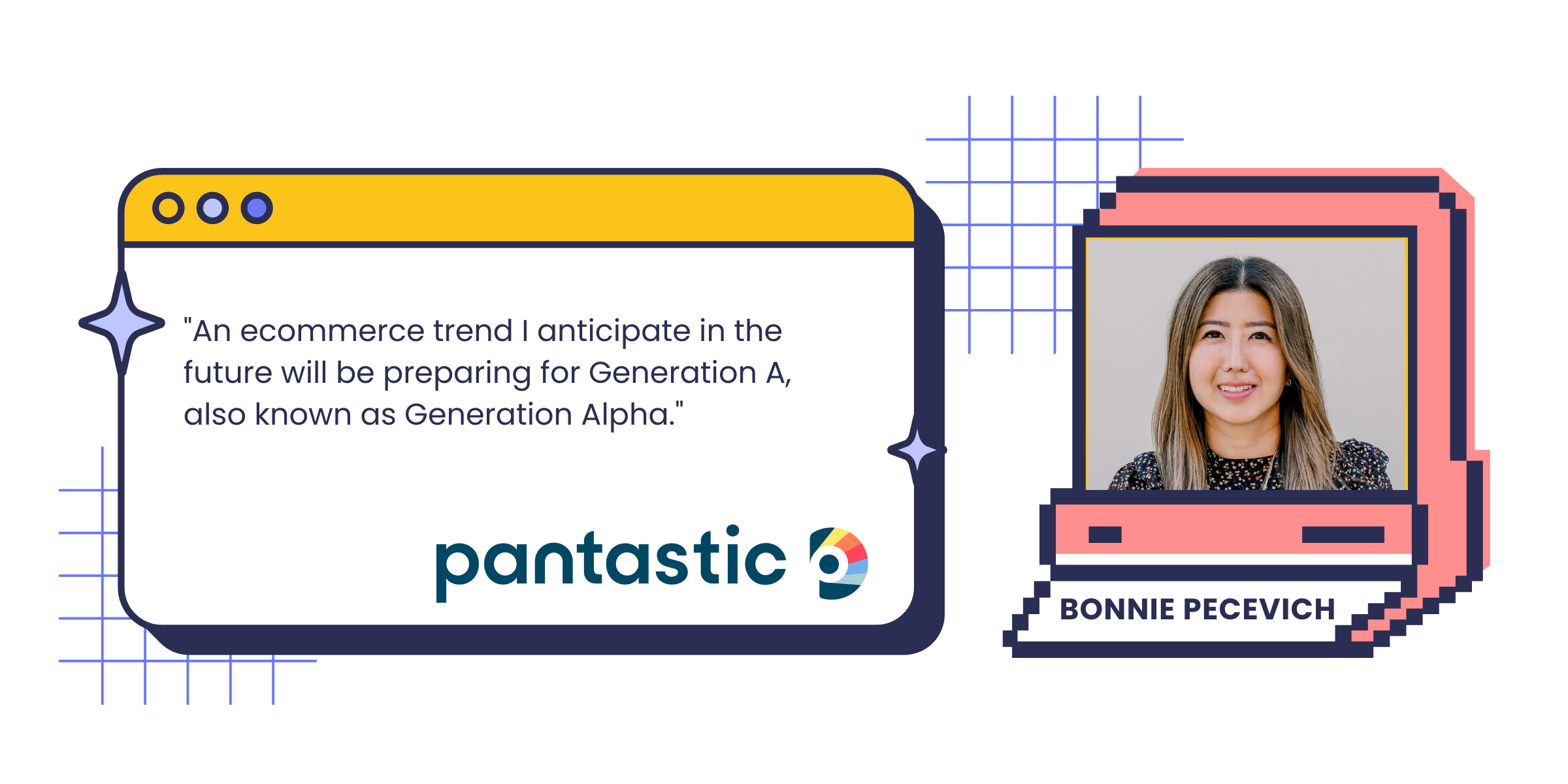 The next generation of young shoppers is already influencing how ecommerce brands are thinking about their future approach to growing their base of customers. Bonnie Pecevich, Director of Product Marketing at Pantastic, believes in preparing now for the future of ecommerce, Generation Alpha.
Prediction:
"An ecommerce trend I anticipate in the future will be preparing for Generation A, also known as Generation Alpha. Right now, Generation A is pretty young–it's defined as those born after 2010, most of which have limited disposable income and generally need a parent to conduct any type of online shopping. However, according to Spectra, $500+ billion in purchases are already influenced by children under the age of 12.
Gen A is known for being the most tech-savvy generation yet and their ways of shopping will directly impact their parents' spending habits. They heavily rely on technology and ecommerce platforms to research and purchase products. They're also known for being more conscious of sustainability and ethical considerations when shopping."
Krissie Leyland, Kollectify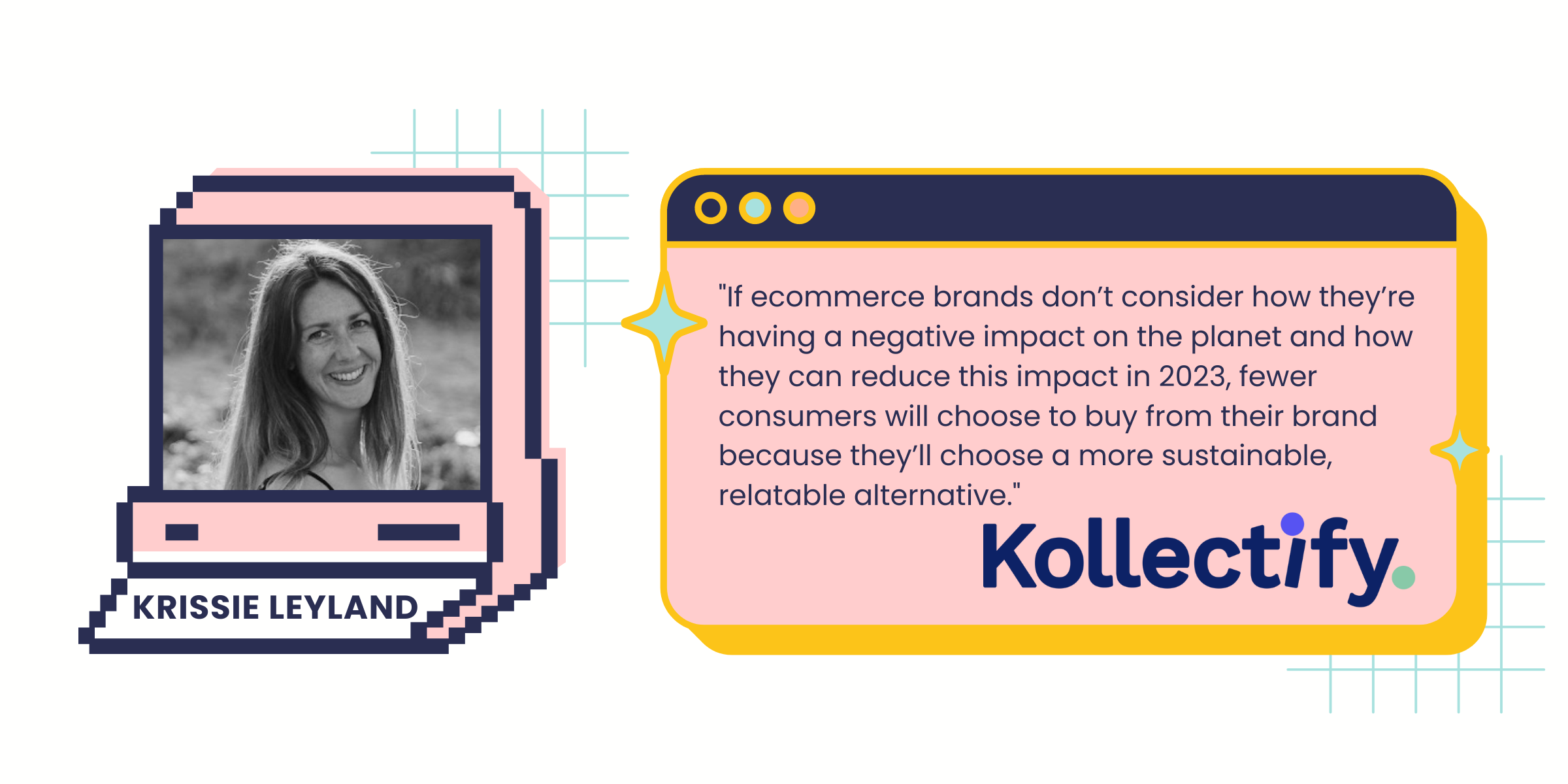 Sustainability is a must for today's modern ecommerce brand. Krissie Leyland is the Founder & CEO at Kollectify, a zero-waste digital marketing service that helps ecommerce and Shopify apps in marketing. Krissie explains if brands want to acquire customers, communicating the sustainable journey of a brand is a must.
Prediction:
"People choose a brand because it feels close to who they are or who they want to be. Every year, more consumers are becoming more conscious and want to find the most sustainable option. So sustainability considerations need to run through the entire company and it's important to communicate this. If ecommerce brands don't consider how they're having a negative impact on the planet and how they can reduce this impact in 2023, fewer consumers will choose to buy from their brand because they'll choose a more sustainable alternative.
The most important thing to do is to communicate your sustainable journey, even if you're not quite there yet, talk about what you're working towards and what you plan to do."
Blake Wisz, Littledata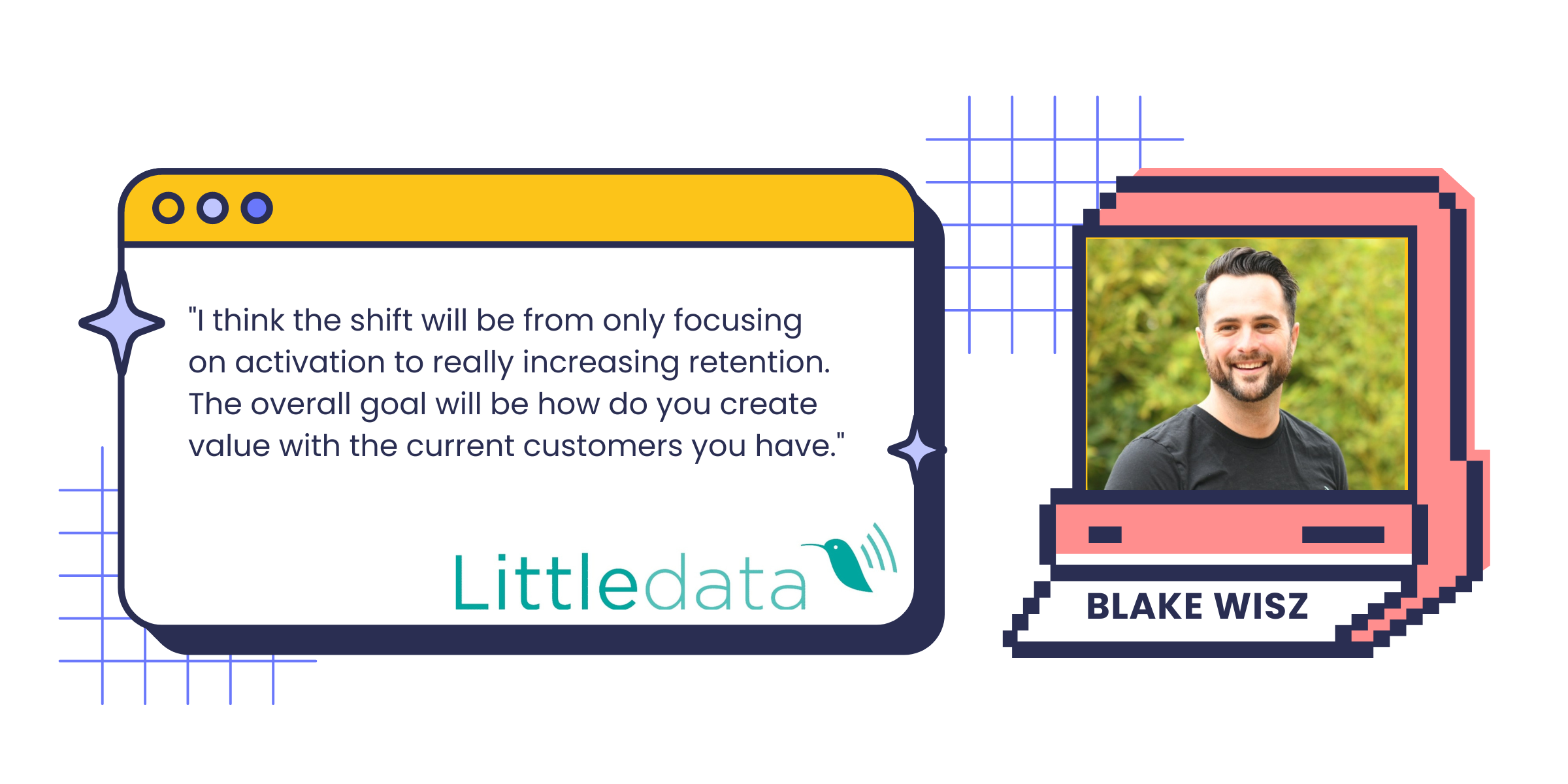 Retention is becoming a major focus for ecommerce brands in the midst of economic challenges. Blake Wisz is the Growth Marketing Manager at Littledata, and believes that communicating a brand's value should be a major goal for brands.
Prediction:
"We are seeing a slow uptick in the ecommerce world, so I think the shift will be from only focusing on activation to really increasing retention. The overall goal will be how you create value with the current customers you have. Not value in the traditional sense of something is on sale or is it a good price, but the value of what you are truly offering the customer, how is it going to benefit their life, and why are they choosing you over a competitor product."
Phillip Akhzar, Arka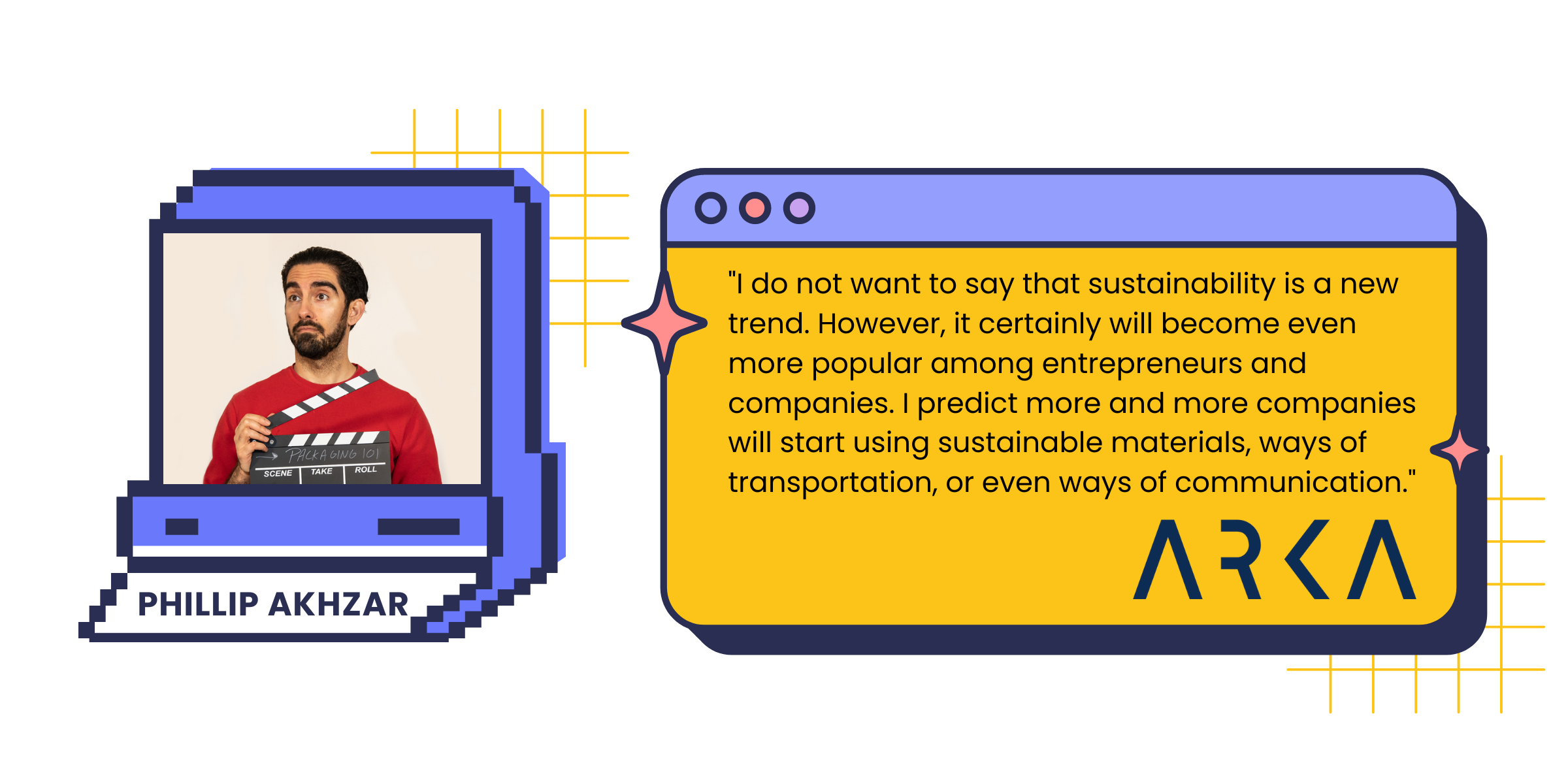 Sustainability will be at the top of mind for not only consumers but ecommerce brands and entrepreneurs. Phillip Akhzar is the founder of Arka, and predicts this will become the number one trend.
Prediction:
"Sustainability will certainly become the number one trend in the ecommerce business world in 2023. People all over the globe have become aware of the damage that businesses are making. That's why they are regularly supporting ecommerce brands that take care of sustainability.
I do not want to say that sustainability is a new trend. However, it certainly will become even more popular among entrepreneurs and companies. I predict more and more companies will start using sustainable materials, ways of transportation, or even ways of communication. I am very excited to see that the number of companies investing in sustainability is growing. It seems to me that ecommerce businesses will invest more in eco-friendly packages and healthy ways of transportation. That truly makes me excited and gives me hope that the world can become a healthier place for living."
Tools and Strategies
Katie Hughes Olson, Tydo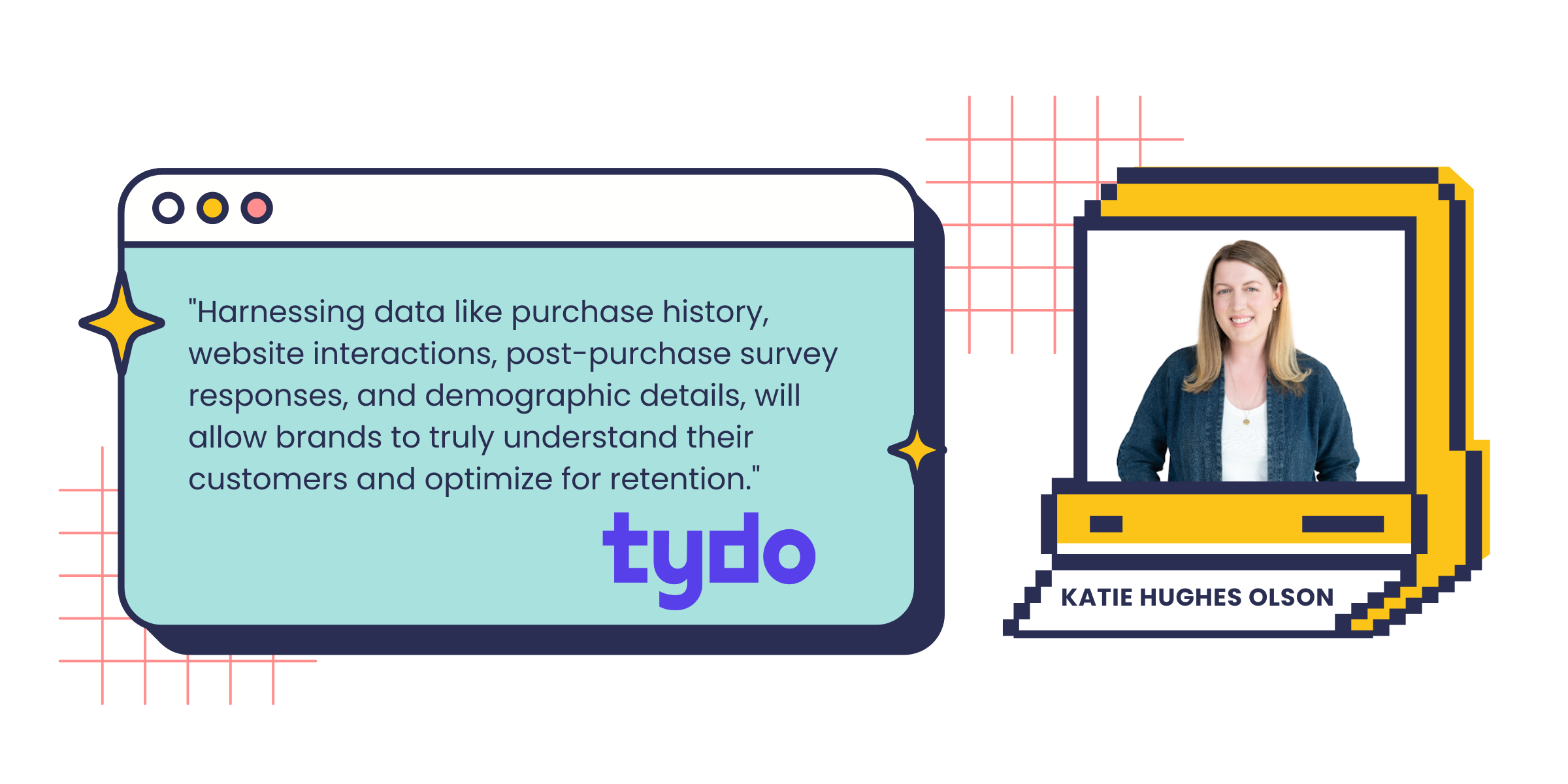 Ecommerce brands are starting to realize the value in owning and collecting first-party data that can help inform brands to make strategic decisions. Katie Hughes Olson is the Senior Partnerships Manager at Tydo and explains the benefits of optimizing data points.

Prediction:
"The shift from growth at all costs towards profitability is the most significant change in ecommerce in 2023. Brands tracking and optimizing data points like AOV (average order value), LTV (lifetime value), and conversion rate, metrics that impact the bottom line, will be well positioned for profitability heading into 2023. Brands can start to optimize these metrics by pulling actionable insights from customer cohort analysis, A/B testing, website heat mapping, and first-party data."
How to fuel retention in 2023:
"Product packaging-based QR codes are an efficient way for brands to collect first-party data and improve LTV and retention. Some of my favorite use cases enable opting into a subscription, sharing a survey, showing a product tutorial, or signing up for a newsletter–all right from the product packaging."
Maria West, DTC Mom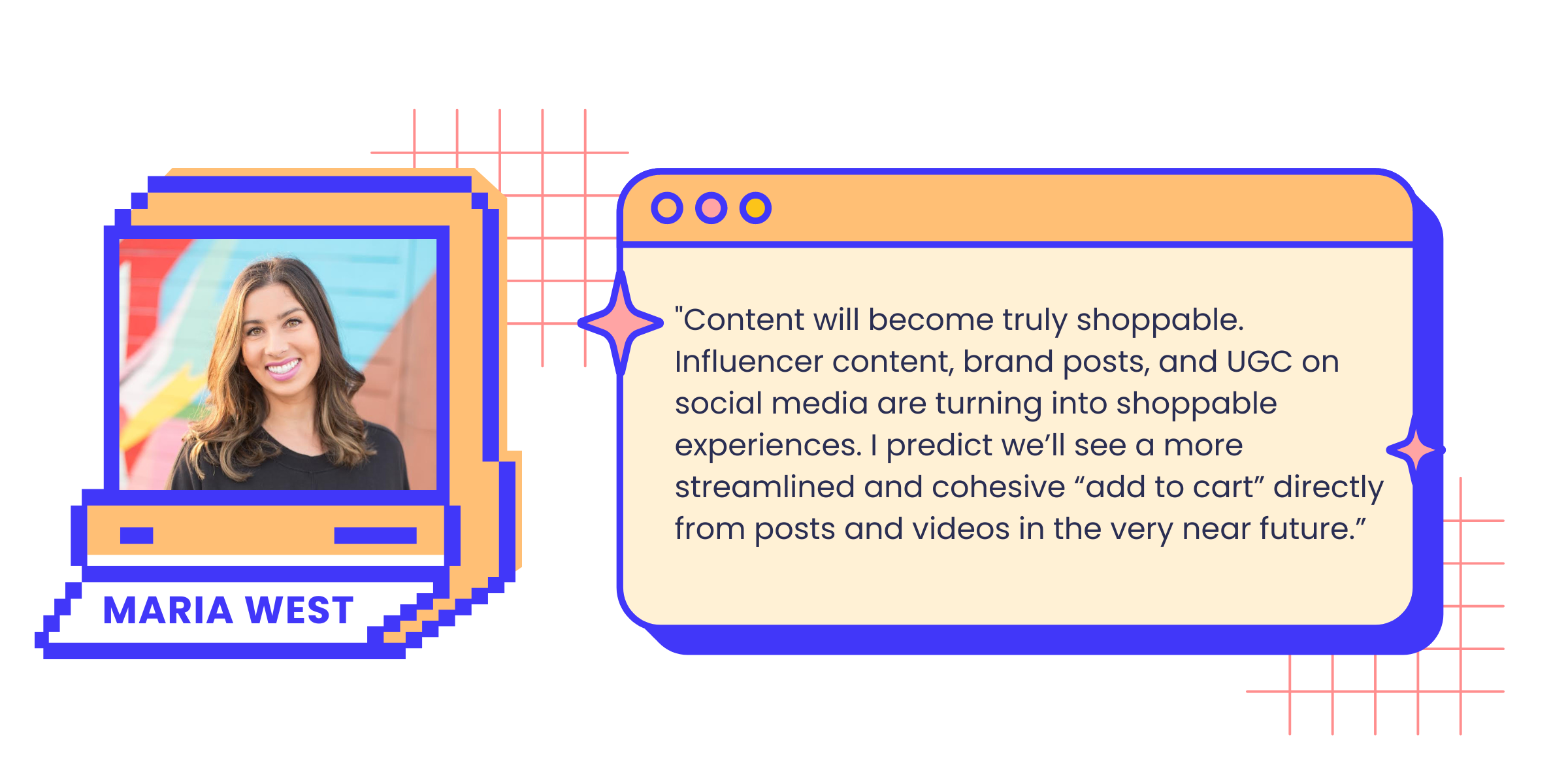 Maria West is known as the DTC Mom, a writer for parenting ecommerce brands and tools, Maria explains how shoppable content and reaching audiences where they are at will be a big influence in ecommerce.
Prediction:
"Content will become truly shoppable. Influencer content, brand posts, and UGC (user-generated content) on social media are turning into shoppable experiences, but features like Instagram Shopping are still very clunky (hence Instagram's upcoming change to remove the Shop button feature). Comments on creator posts are riddled with, "Where did you get that?!" and the poster directing them to a third-party affiliate link or landing page. I predict we'll see a more streamlined and cohesive "add to cart" directly from posts and videos in the very near future."
A trend every ecommerce brand should try in 2023:
"I'm a sucker for a style quiz (e.g., Jones Road Beauty) or a virtual try-on (Zenni Optical). Anything that helps me know, "Yes, this is for me!" wins a larger chunk of my consumer heart."
Mike Rossi, Smile.io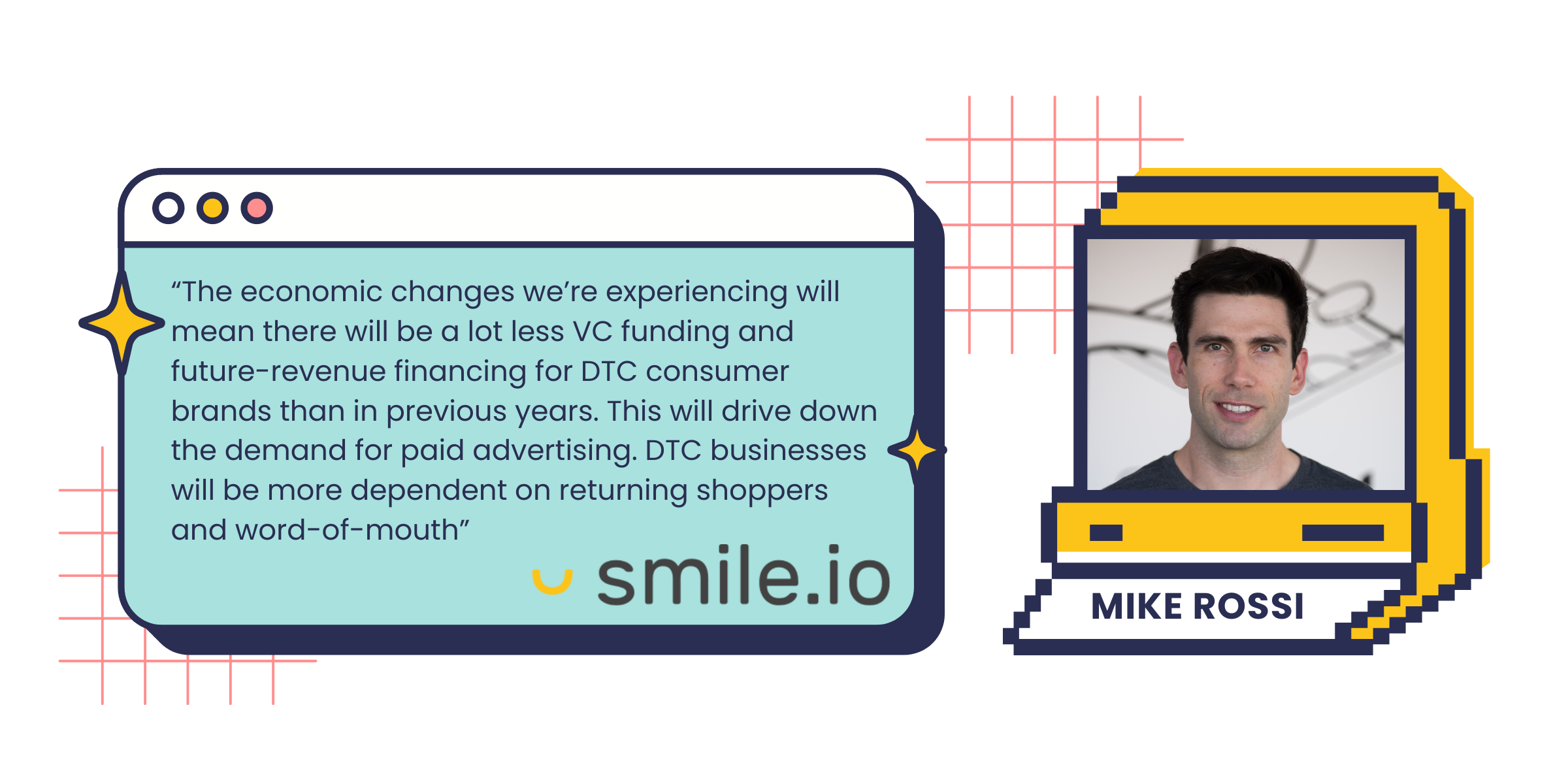 With the looming recession and increase in prices on everything, ecommerce businesses will be focused on retention. Our CEO Mike Rossi shares how brands can turn first-time shoppers into repeat customers.
Prediction:
"The economic changes that we're experiencing will mean there will be a lot less VC funding and future-revenue financing for DTC consumer brands than previous years. This will drive down the demand (and therefore the price) for paid advertising. DTC businesses will be more dependent on returning shoppers and word-of-mouth"
How to fuel retention in 2023:
"Loyalty and retention can help businesses in 2023 and beyond this year. Once a shopper hears about a brand, makes a purchase, and has a good experience, it'll be worth more than ever to retain them. This is because there won't be low-interest capital available for many brands to go acquire more shoppers via ads. Providing some delight + an incentive to return can help be the difference between a shopper returning or forgetting about your brand!"
Devin Pickell, Privy
AI has made a big debut with experts explaining how to make the most of these AI tools. Devin Pickell is the Growth Marketing Manager at Privy, and explains how ecommerce business owners can simplify their work with AI.
Prediction:
"AI content generation (ChatGPT, OpenAI) made huge leaps in 2022, and in 2023, we'll start to see tons of these projects come to fruition. I imagine if you're a business owner trying to come up with an email subject line for your next product newsletter. You could ask an AI chatbot within that email app for suggestions, and it'll return dozens of options for you to choose from. I believe that AI will simplify some of the day-to-day busywork that ecommerce business owners go through. Whether that's writing emails, designing images for their websites, or writing product descriptions, AI will give business owners more time back in their day to focus on growing their online stores."
How to fuel retention in 2023:
"Nurturing your current email and SMS subscribers (while growing your contact lists) is a tried and true way to retain customers and bring new ones through the door. It is foundational to the success of your online store, especially through difficult financial times."
Jimmy Kim, Sendlane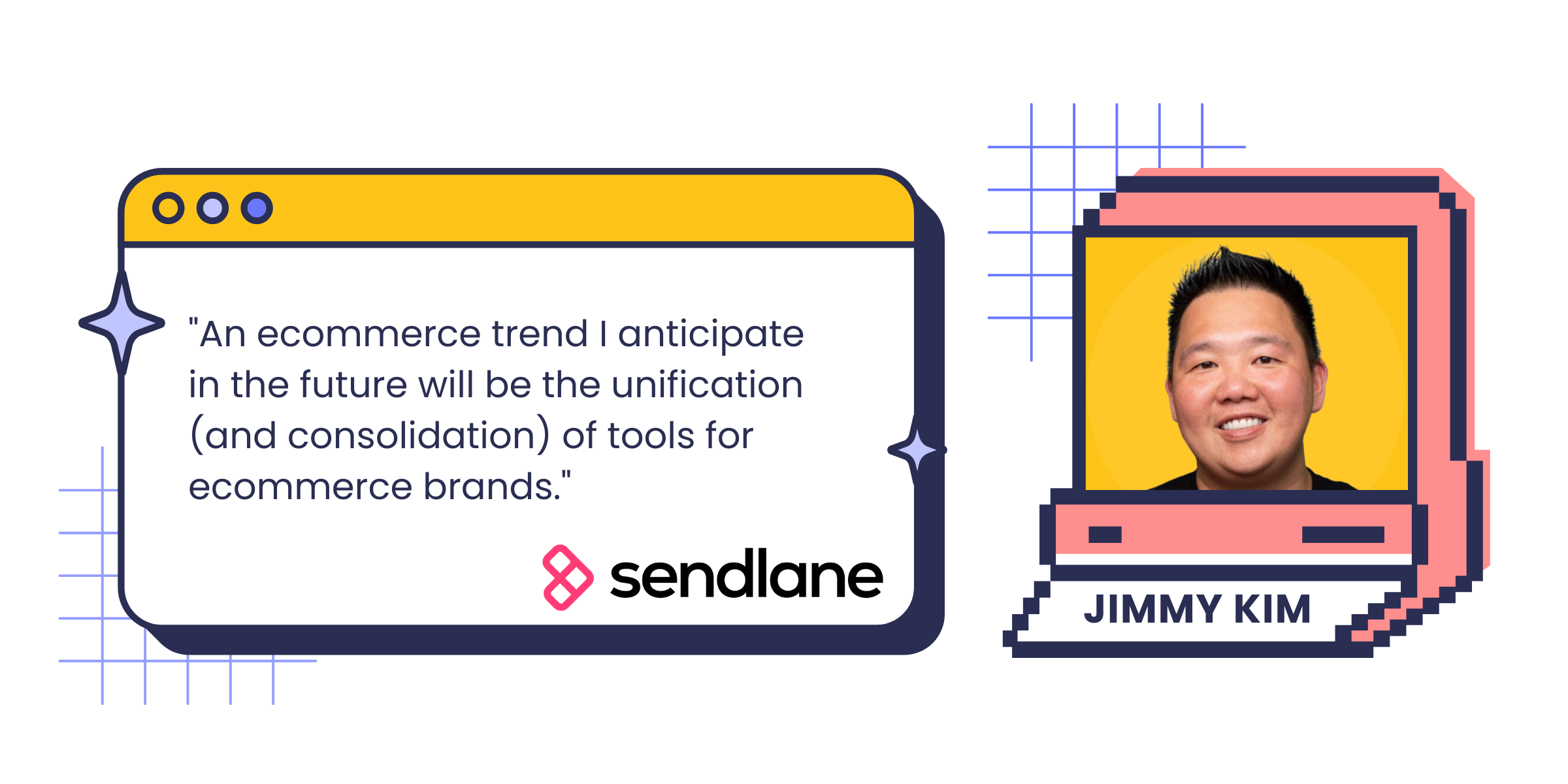 Jimmy Kim is the CEO and co-founder of Sendlane an email and SMS marketing automation for ecommerce brands. With so many tools for ecommerce brands, Jimmy believes fewer tools will be a trend for the coming year.
Prediction:
"An ecommerce trend I anticipate in the future will be the unification (and consolidation) of tools for ecommerce brands. There are too many tools that do the same thing. Plus, MarTech tools eat a sizable amount of the budget. With the looming recession, those budgets are getting tightened. However, one trend every ecommerce brand should try is to offer customer support in real time.
Most customer service software—chatbots, email, and toll-free numbers—make customers go out of their way to get answers. It's high friction, confusing, and straight-up annoying for customers (and annoyed customers don't buy!). SMS marketing, on the other hand, can deliver updates and answers straight to their hands. By offering two-way SMS replies you can overcome objections, relax customer concerns post-purchase, and make the entire customer experience top tier."
Tina Donati, Alloy Automation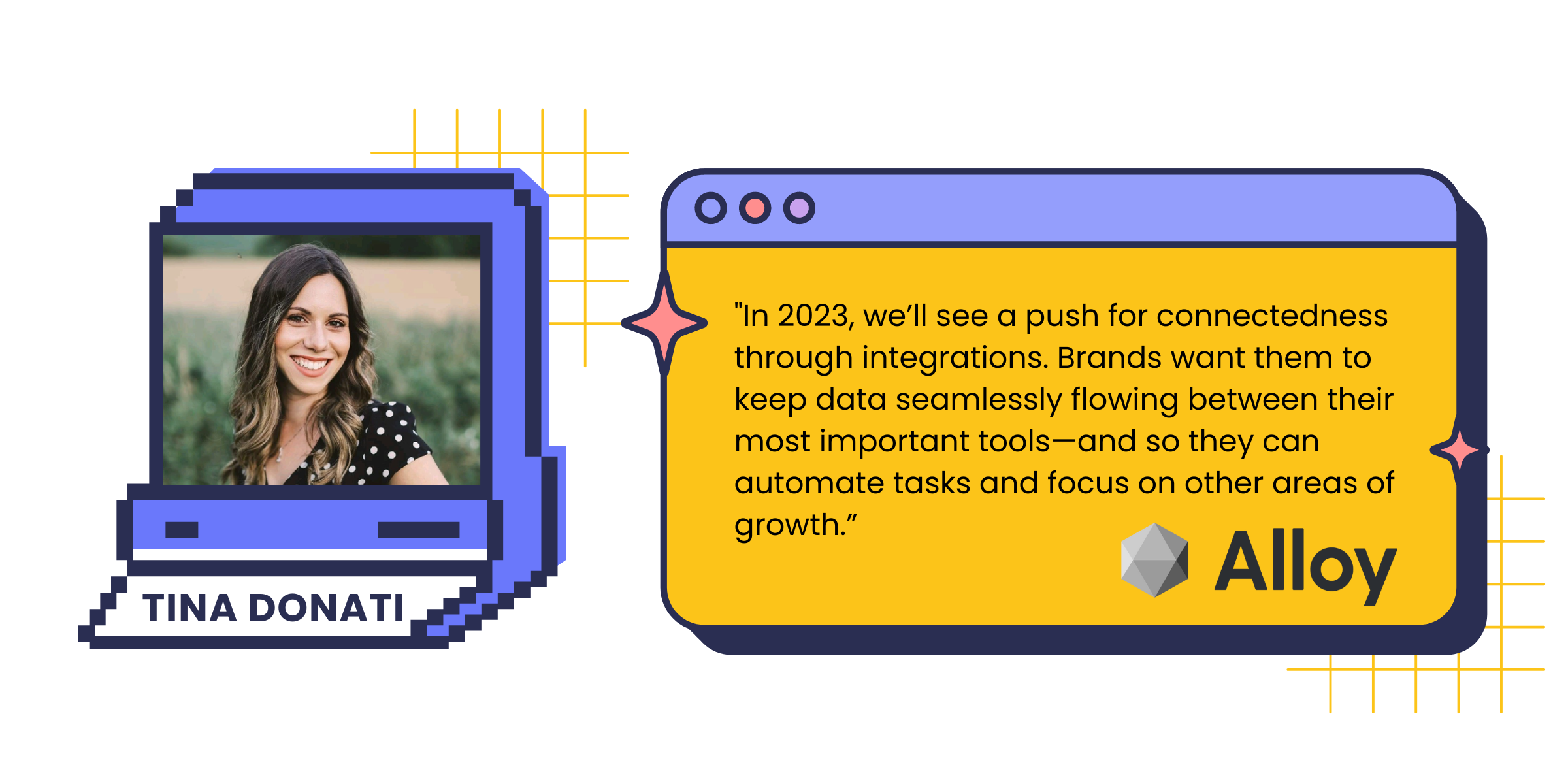 Content can connect people and 2023 is the year of community and connection. Tina Donati is the Content Marketing Lead at Alloy, and explains how integrations can lead a brand to grow.
Prediction:
"2023 is going to be the year of connectedness. In 2023, we'll see a push for connectedness through integrations. Brands want them to keep data seamlessly flowing between their most important tools—and so they can automate tasks and focus on other areas of growth.
We'll also see more interactive content embedded in emails and landing pages, such as clickable videos and quizzes. Interactive content is a great way to engage with your subscribers in an exciting way. Plus, you can learn a lot about your customers, which helps you intelligently segment them to send only relevant, personalized content to them in the future."
How to fuel growth in 2023:
"People have learned it's impossible to be on every channel, so they have to narrow down their creation and provide value above anything else. With that, brands will pivot away from paid ads and build an organic engine. 2023 is going to be THE year for creatives. Also, there's a pivot for brands to build true connections with customers—not just a transactional relationship."
Eric Dyck, DTC Newsletter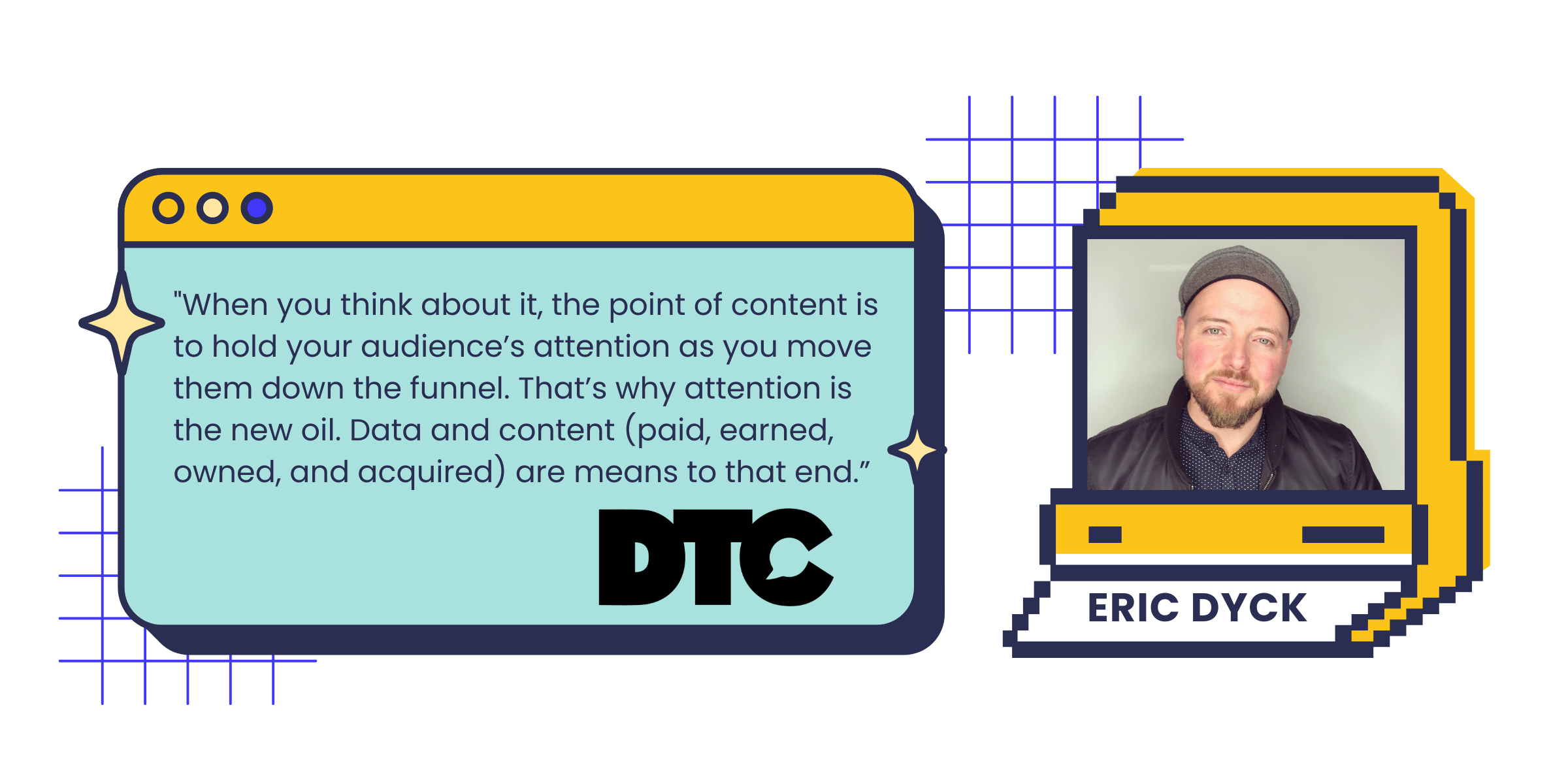 Eric Dyck is the CEO of the DTC Newsletter explains how attention is the new oil, valuable and worth investing from brands.
Prediction:
"Earlier this year, entrepreneur celeb David Friedberg said on his All-In Tok that in the next 30 years, all legacy brands will die, and the millennials and Gen Z creators who build audiences now will be the ones who create the next McDonald's, a la Mr. Beast. When you think about it, the point of content is to hold your audience's attention as you move them down the funnel. That's why attention is the new oil. Data and content (paid, earned, owned, and acquired) are means to that end.

2023 is the year of SEO (search engine optimization) and AI. Make sure you understand all the questions your customers might have about your products, as well as the general category of your business, and make sure you answer these questions in your content regularly. Test out using AI tools like ChatGPT or Inkforall.com, but don't go hog wild on 6000 new pages tomorrow before we know more about how Google feels about AI content."
Marketing
Jayde Powell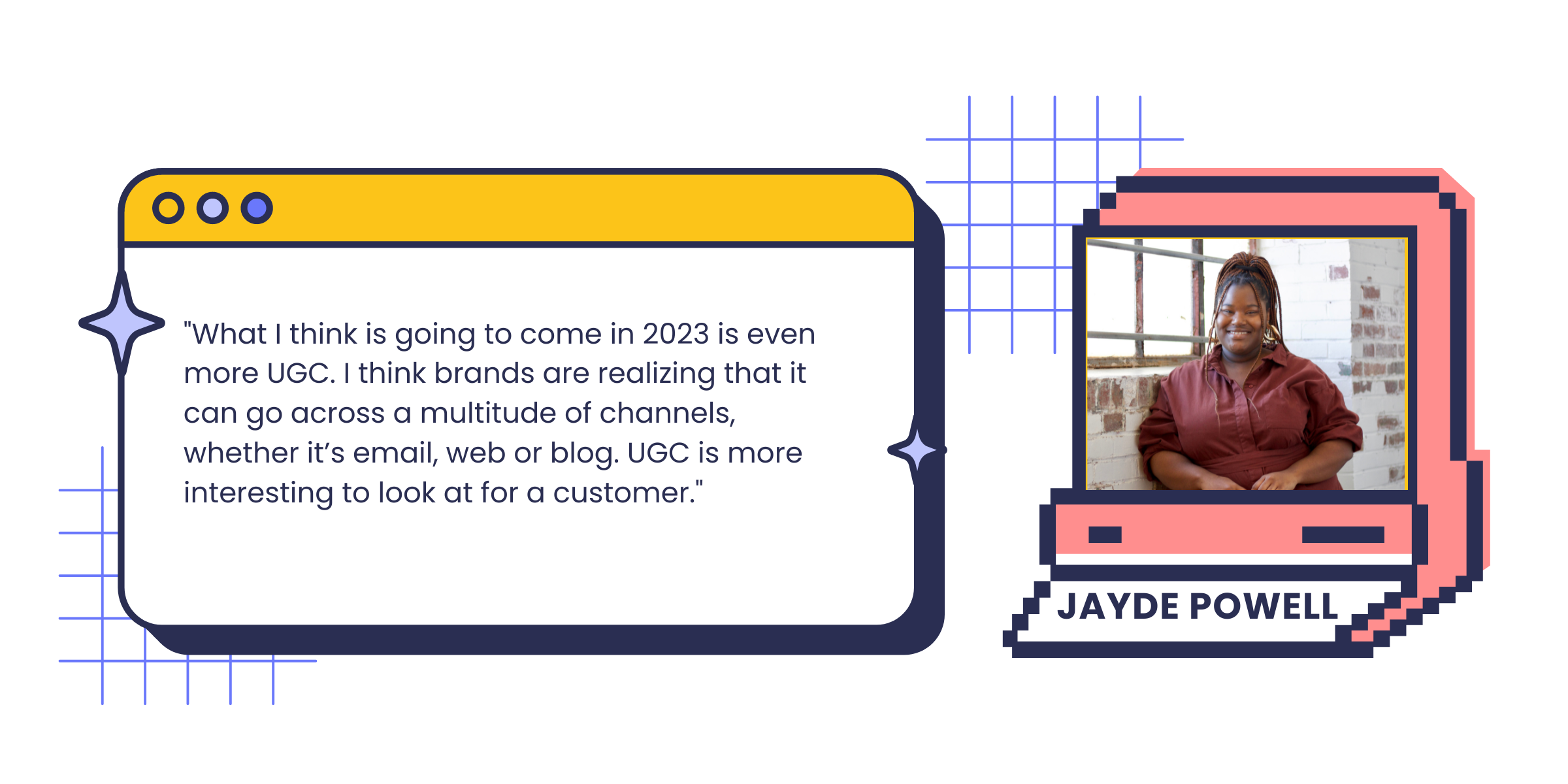 UGC (user-generated content) has become a big topic for ecommerce businesses. How brands can utilize this in 2023 will drive shoppers to choose your brand over competitors. Jayde Powell is a former social media strategist turned content creator and predicts UGC is the future.
Prediction:
"Working on the brand side I have seen a shift on what content looks like. What I think is going to come in 2023 is even more UGC. I think brands are realizing that it can go across a multitude of channels. UGC is more interesting to look at for a customer. If you think about the shopping journey on a website, there is all this copy they are looking at. There are product descriptions and product reviews which is great, but at the end of the day they just want to see what the product looks like. What really drives a customer to make a purchase is showcasing a product in a way that looks familiar to them. That low produced, I shot this with an iPhone, in my house type content drives people to purchase online."
How to fuel growth in 2023:
"Incorporate more video content throughout the user journey. When you look at how a user goes through their shopping journey on a website they are mainly looking for the visuals because they just want to see the product, what's in it, and how to use it. Video content has surpassed even the need for imagery and photos. Product reviews with photos are great, but video content takes us a step further because you're seeing how a product or service is being used in real life. With photos, they can be photoshopped, edited, or altered. Video, there is only so much you can do so it provides a more authentic experience to the user to really understand how the service or product works."
Lisa Popovici, Cartloop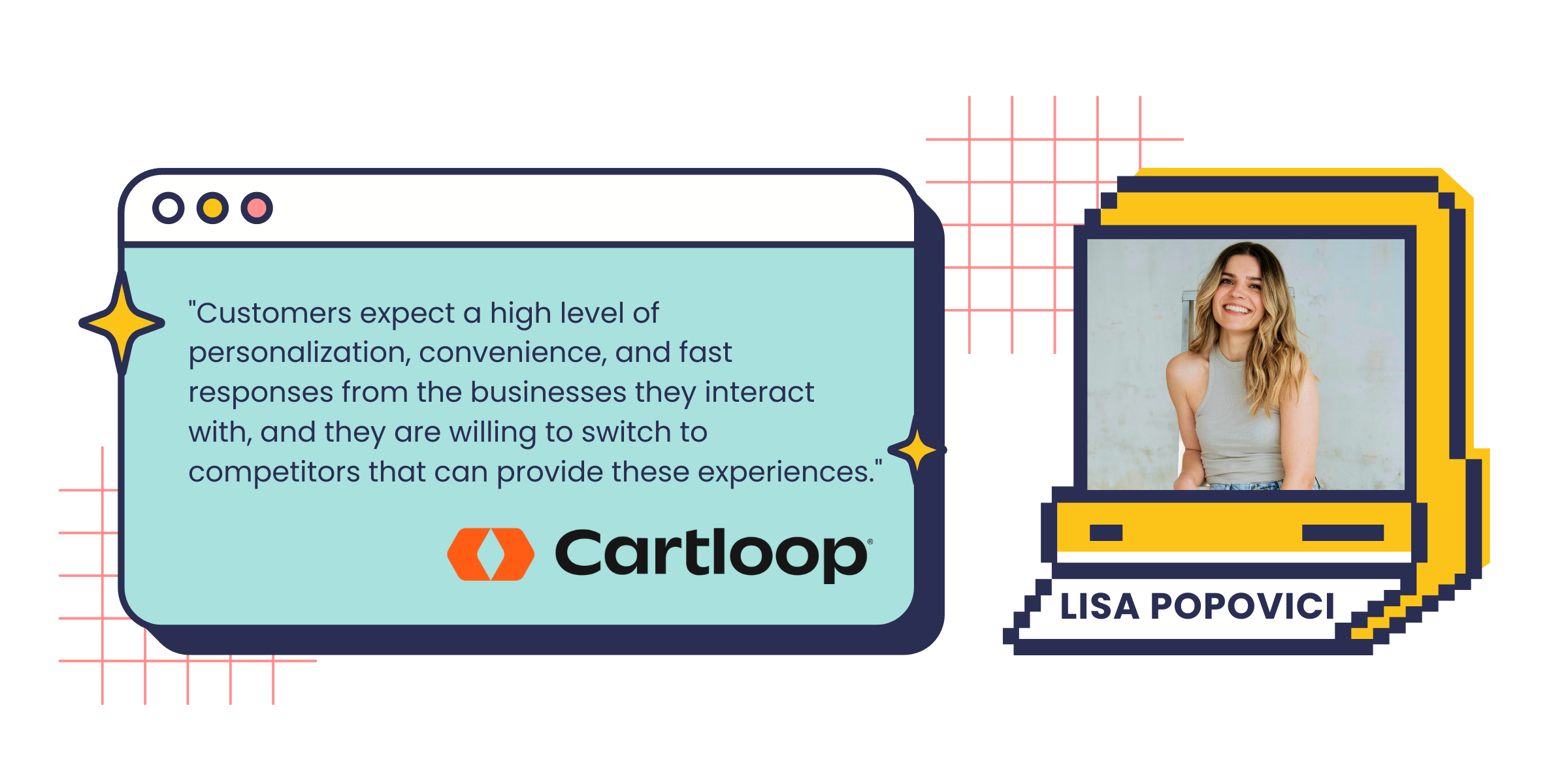 Keeping customers engaged is one-way brands can stand out in 2023. Lisa Popovici is the Co-founder and CMO at Cartloop, and explains how SMS marketing can help ecommerce brands overcome challenges in connecting with customers.
Prediction:
"One challenge that ecommerce businesses may face is keeping customers engaged and interested in their products or services. SMS marketing can help ecommerce businesses to overcome this challenge by providing a direct line to communicate and shop for customers.
In recent years, consumer demands have risen significantly, particularly in the ecommerce space. Customers expect a high level of personalization, convenience, and fast responses from the businesses they interact with, and they are willing to switch to competitors that can provide these experiences. SMS marketing, particularly SMS concierge services, can help ecommerce businesses to meet these rising consumer demands and stand out in a crowded market."
Florence Kwok, Jelcie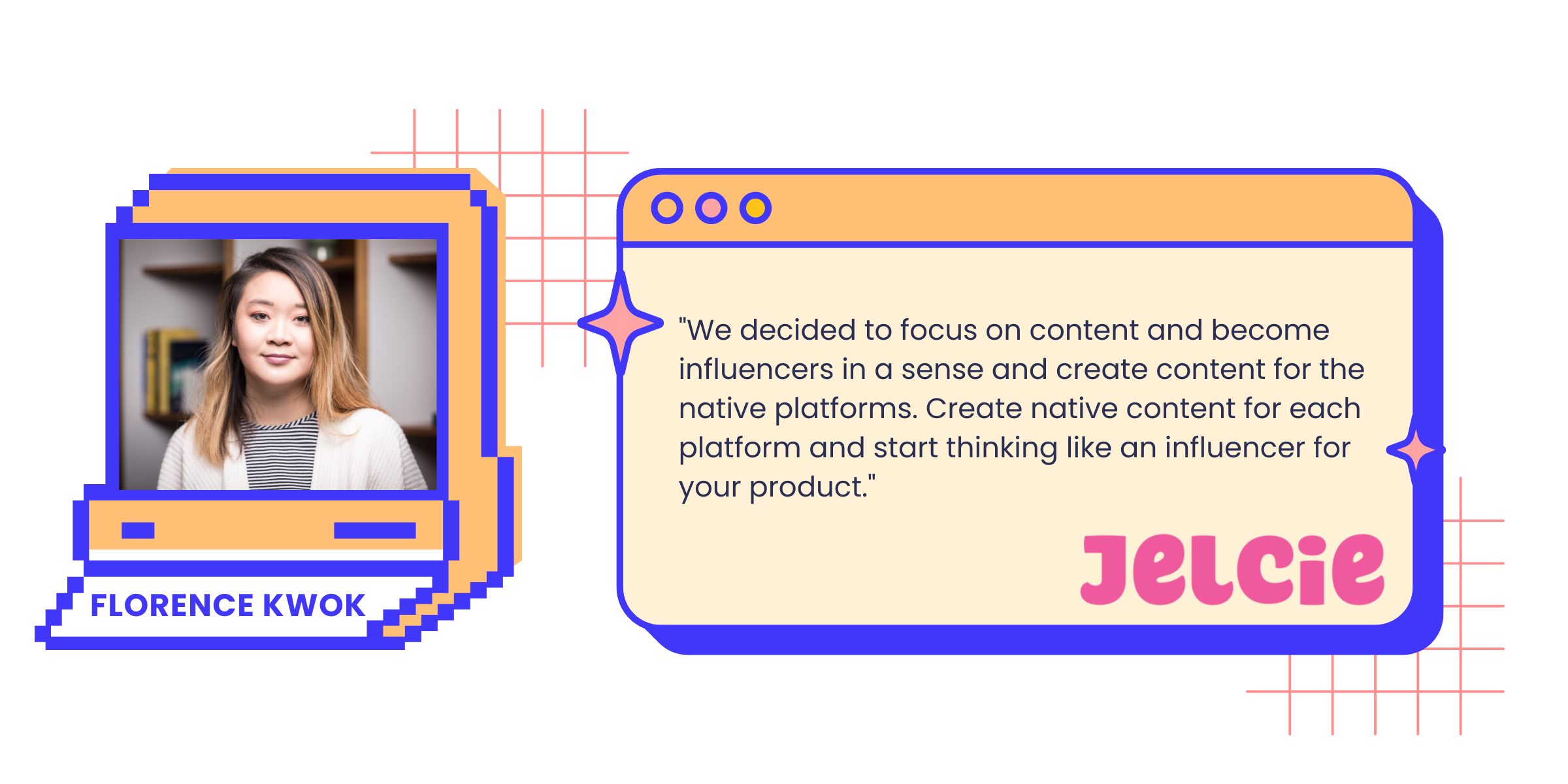 Florence Kwok is the CEO and founder of Jelcie, an ecommerce brand founded in 2020. Amidst all the challenges every business owner faces, Florence has tested and experimented with marketing strategies to cater to her audience.
Prediction:
"We decided to focus on content and become influencers in a sense and create content for the native platforms. Create native content for each platform and start thinking like an influencer for your product.
The cost of performance marketing kept increasing. We decided to invest in content marketing. If you see our channels we have specific content catered to each platform we are on. We have a native style for YouTube, one for TikTok, and one for Instagram. It took us a while to figure out the different strategies for each platform. Initially, we copied and pasted our content onto all our platforms, so we noticed that wasn't working for us."
How to fuel growth in 2023:
"Focus on customer retention. Retention is the name of the game this year. We have to continue to be creative each year as a brand. We have to be more and more thinking like bootstrapped founders every year. You have to be ready and able to embrace change if you want to survive as a business."
Meghan Carreau, Aztech Digital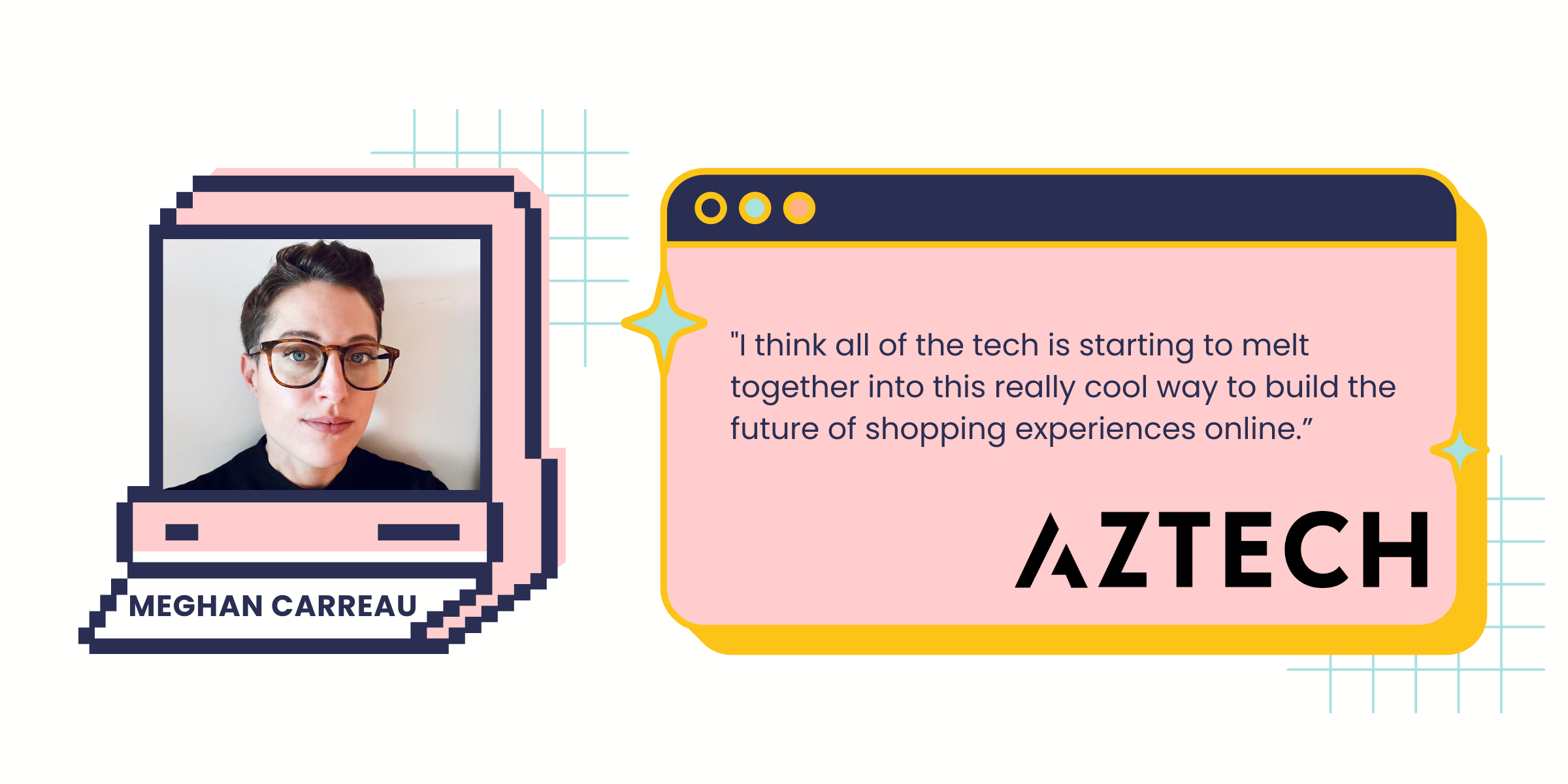 Meghan Carreau is the Co-founder of Aztech, an ecommerce agency. Meghan believes 2023 will be huge for brands that have built strong communities.
Prediction:
"Right now we are talking to our clients about growing communities and being authentic with their customers and the community they are building and how fruitful that can be long-term. At the end of the day, it's about building a lasting brand that does that.
You need to continuously provide value to customers. Whether you're leaning into Discord or going back to old school and having chats. We're going to see brands that have strong communities bubble up to the top. A lot more videos in the product page, actual UX physicality of the things that you use on social, being native on a site, like viewing video clips. I think all of the tech is starting to melt together into this really cool way to build the future of shopping experiences online."
Jasmine Powers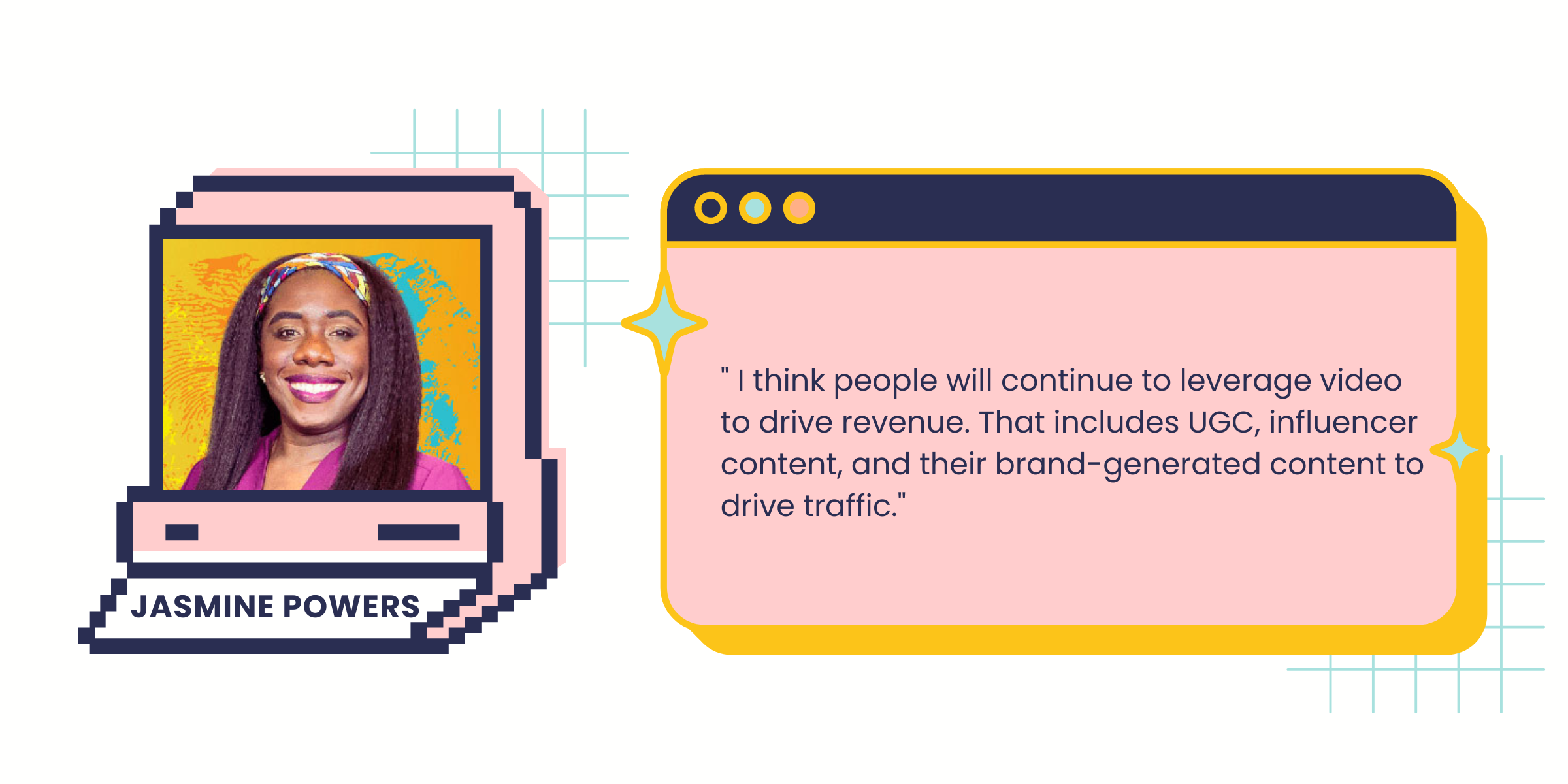 Jasmine Powers is the CEO of Jasmine Powers Multimedia, a full-service go-to-market strategy and consultancy providing content marketing for ecommerce businesses. Jasmine mentioned the power of social media, specifically, UGC will be big for brands.
Prediction:
"Keeping customers on social. Brands will lean on TikTok more and their shopping solution to stay on the platform and checkout. I think people will continue to leverage video to drive revenue that includes UGC, influencer content, and their brand-generated content to drive traffic, all with the goal of keeping their buying experience inside social platforms."
Engage Your Customers
CREATE A LOYALTY PROGRAM IN MINUTES