Social responsibility is much more than a buzzword. It's the belief that businesses should be positively impacting the world and stakeholders around them in ways that go beyond just making a profit. Customers are demanding this from brands and if you want to stay relevant in today's market, it's time to start incorporating social responsibility strategies into your business plan.
We sat down with 5 experts in the ecommerce industry who shared their best advice regarding social responsibility and sustainability. Check them out and see which ones are a good fit for your brand.
Create a customized, eco-friendly unboxing experience
One of the key pillars of social responsibility is sustainability. This includes everything from selling sustainable products, using ethical manufacturing processes, and even shipping your products in an eco-friendly manner.
Arka is a branding company that sells customizable packaging solutions made from eco-friendly materials. CEO, Philip Azkar, shares some of the key first steps a brand should take to improve its sustainability efforts when it comes to packaging.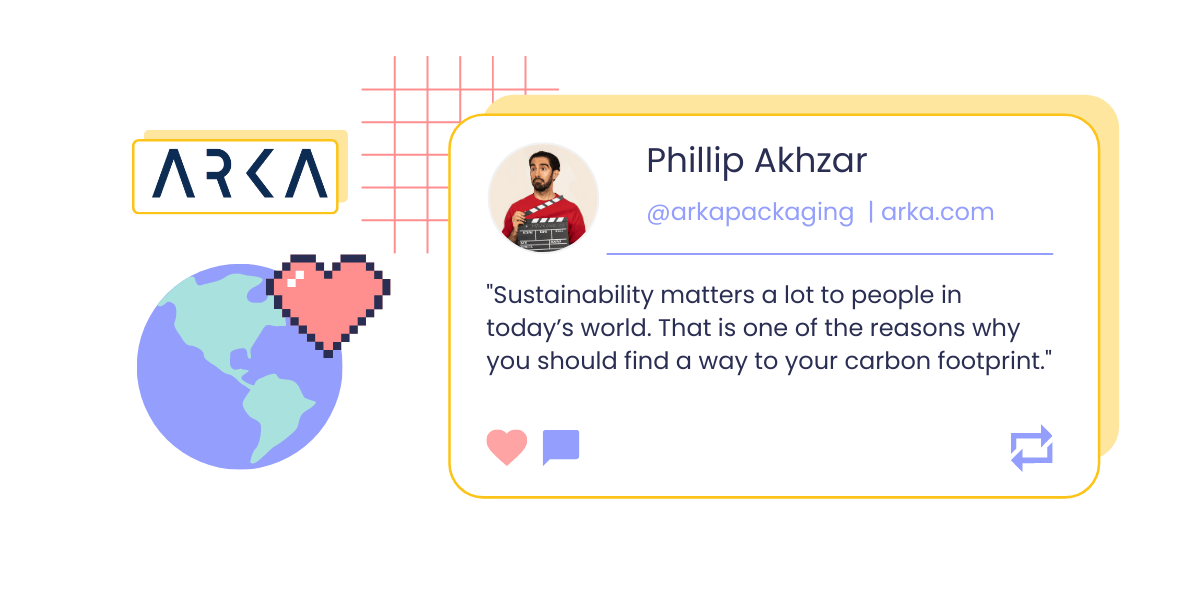 First up is to educate your team. "You need to understand why sustainable packaging is good, which ones are suitable for your products, and many other things," shares Philip. Once you train your team on these sustainability topics, you'll be ready to easily adapt to the new standards.
Next is to research all the available options. "You can use recycled cupboards, kraft papers, mushroom packagers, corrugated bubble wrap, etc. You will understand which suits your brand and products best by analyzing all the options." Once you determine which best suits your product, you can analyze the price of each.
📦
"The packaging does not only have a protective role. Its purpose is to send a message to every customer."
- Phillip Akhzar, CEO of Arka
After that, you'll want to determine the message you want to send. Arka is a branding company afterall. Philip shares his expertise here, "Based on your messages, people will determine whether your brand is worth their attention or money. These messages are usually emotional and try to touch the soul and subconsciousness of the potential buyer. So, think carefully about what you are going to do here!"
Once you know what you want your package to communicate, it's time to design and customize sustainable packaging with Arka. They advise you to think about the best designs and shapes that will grab customers' attention, while also keeping an eye on what competitors are doing and upgrading those ideas for your own brands' needs.
Making the switch not only allows you to make a socially responsible decision and reduce your carbon footprint, but you can also take advantage of the Smile.io and Arka integration to reward your customers for their sustainable choices. You can offer a sustainability-related event for your loyalty program, motivate customers to recycle your product packaging in exchange for loyalty points, and ensure post-purchase engagement.
Embed cause marketing in your brand
Another way to incorporate social responsibility is through cause marketing, which involves collaborating with a non-profit organization or charity to achieve social impact. Daily Karma is an online B2B marketing platform that makes this easy for ecommerce brands. CEO, Patty Dao shared her advice for brands looking to take their first steps towards cause marketing.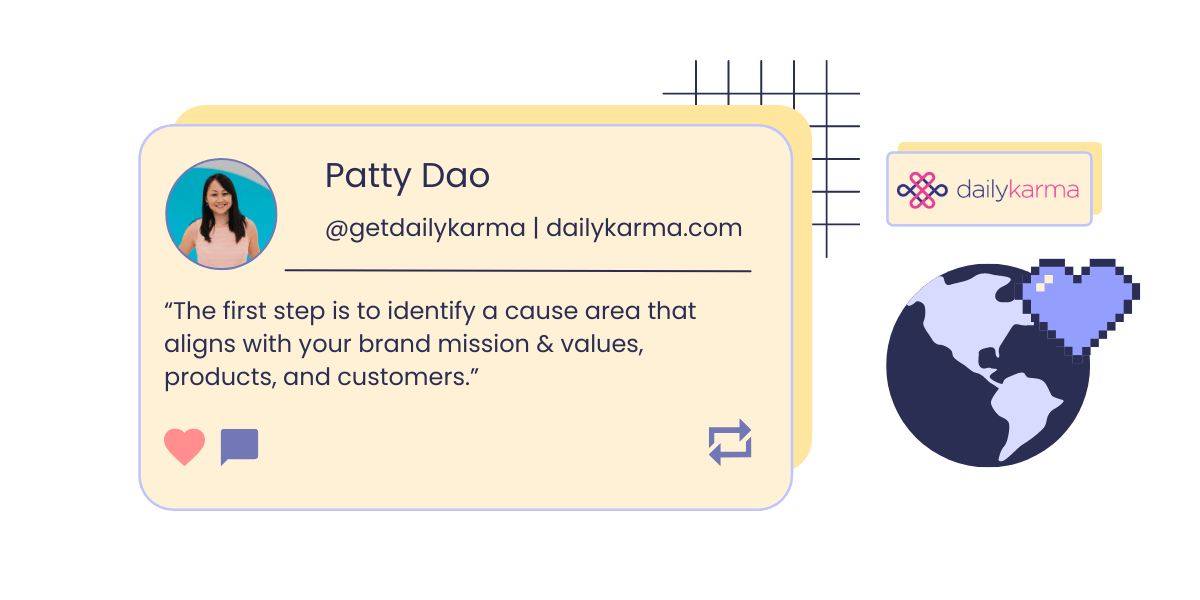 "Whether your cause is broad, like access to clean water, or more focused, like girls' education, in Guatemala, the next step is finding the right nonprofit partner(s) who support your cause mission and really match your brand," Patty shares.
By leveraging integrations such as Daily Karma, ecommerce brands can easily take the first steps toward becoming more socially responsible. You can run a single campaign at first and work up towards embedding a donation option as a permanent part of your customer experience.
As with any campaign, cause marketing is only effective when your customers know about it. "Start small and build out from there with content on your website and socials and even collaboration with the nonprofit if desired," Patty advises.
"Stay true to your brand and connect with a cause that tells a real, compelling story. Your social responsibility and cause marketing efforts should be authentic–they should enhance your brand and make your customers love you even more and want to join in."
You can take this a step further by integrating your Smile.io loyalty program with Daily Karma, allowing you to let shoppers redeem their points towards donations or rewarding them with loyalty points when they add donations to their cart. Either way, rewarding customers for participating in your cause marketing campaign is even more incentive for them to support your cause.
Understand your carbon footprint and offset emissions
While sustainability, social responsibility, and ESG (environmental, social, and governance) are all related, they are different concepts, and understanding the difference is key. Content Marketing Manager of EcoCart, Nicole Johnson shares some advice on the topic, "Understanding that sustainability is the foundation of an umbrella of topics that include social responsibility is one of the first steps to achieving it."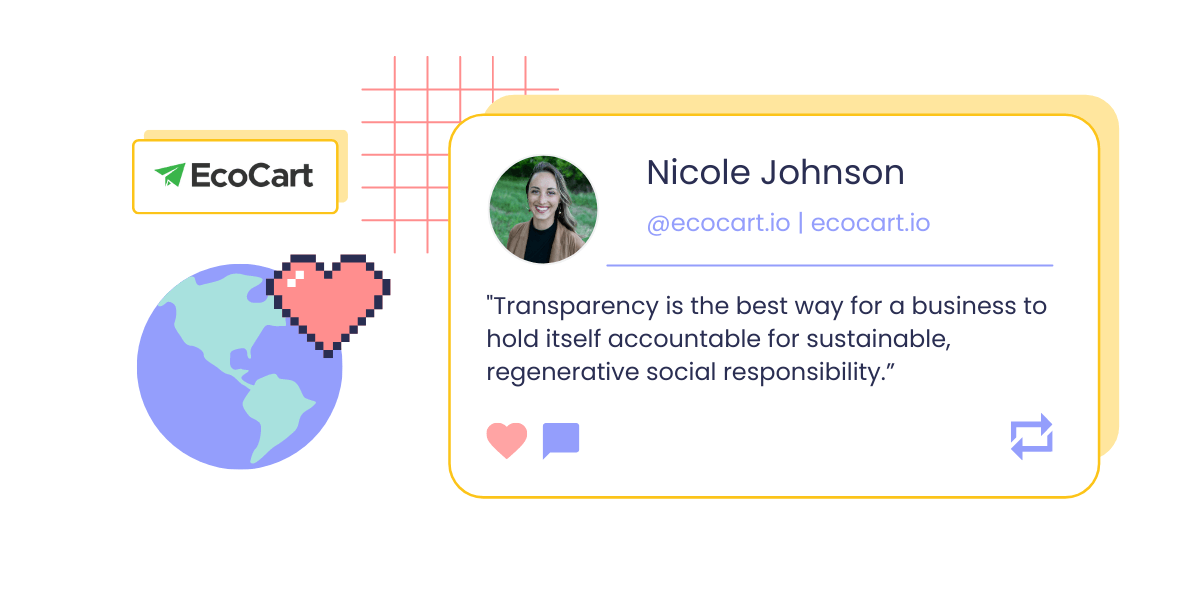 The first step to balancing your economic, environmental, and social responsibilities is understanding where you're currently at. "For brands looking to take the leap into sustainable practices, it's important to first understand your carbon footprint and build a multi-tier plan off of it. We recommend all brands have a life cycle assessment done, which is a way of calculating the total amount of carbon emitted throughout the lifespan of a product or service."
Ecommerce brands are one of the biggest contributors to packaging waste and carbon emissions from delivery processes. While implementing sustainable packaging and optimizing logistics are ways to minimize this, you can also offset your carbon emissions.
👣
"One of the most cost-efficient steps in reducing a brand's carbon footprint is to offset the emissions you are creating while working towards cutting emissions altogether. And, for ecommerce brands with a smaller operating budget, any action is better than doing nothing."
You can involve your customers in the process too by using software like EcoCart that gives your consumers the option to offset the carbon footprint of their online orders if they please. "This allocates the cost away from a smaller ecommerce business' budget and engages shoppers who want to make a difference, " Nicole explains.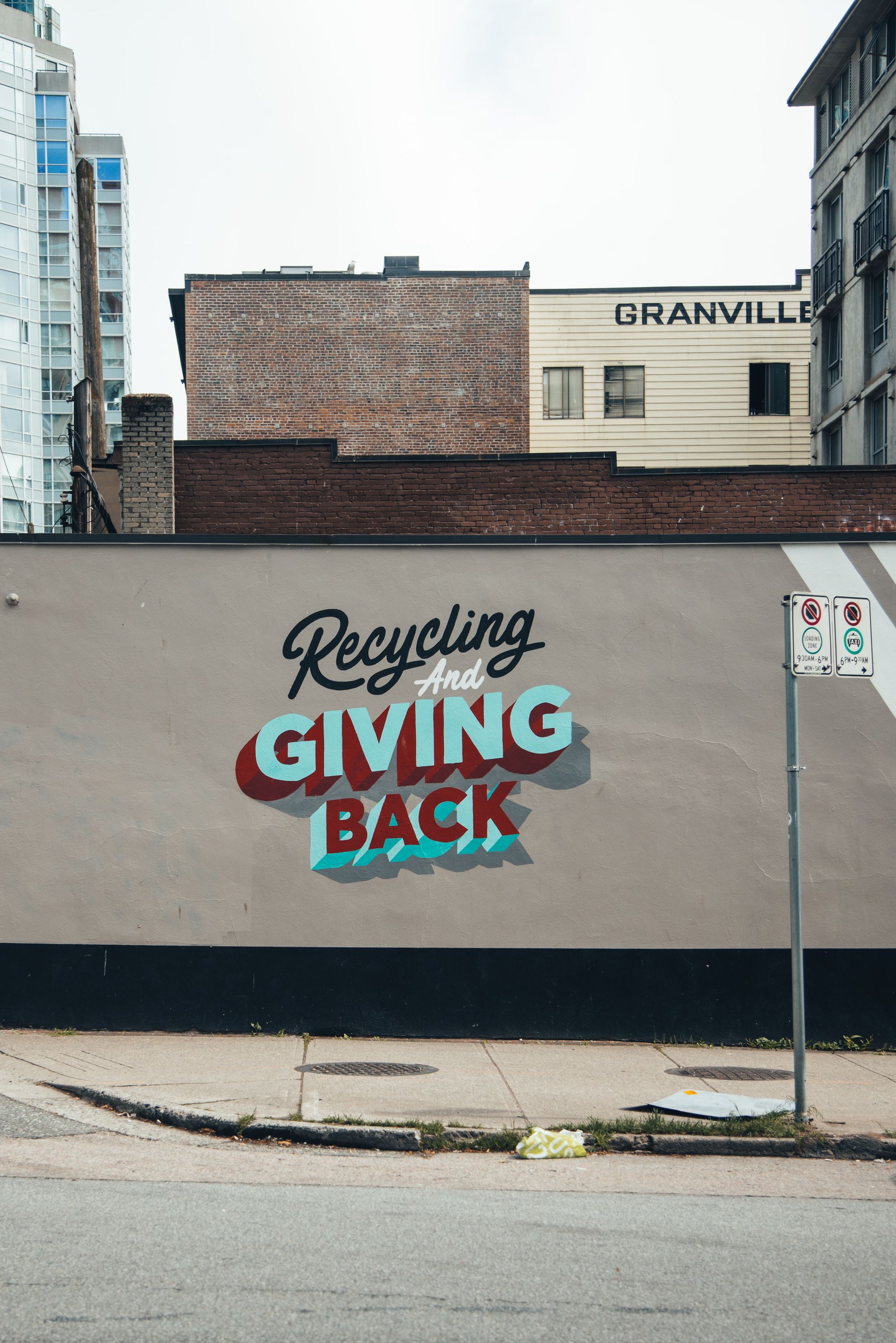 Every stage in your business cycle presents an opportunity for more sustainable choices. What's important to remember for small businesses is that taking steps in the right direction while being transparent is a great start. Starting with social responsibility is about progress, not perfection.
Make data-powered logistics and shipping decisions
Just as it's important to use customer feedback to make business decisions, it's important to analyze your historical data and see where there's room for improvement. When it comes to shipping and delivery costs, Sifted can help.
Sifted also helps clients improve the sustainability of their shipping operations through package size optimization to reduce waste and distribution network optimization, which reduces carbon footprint through reduced transit times and lower reliance on air-based shipping.
"Many businesses think their ecommerce shipping is largely out of their hands and that the only major improvements to sustainability will have to be made by FedEx or UPS themselves," Caleb Nelson, Cheif Growth Officer at Sifted shares.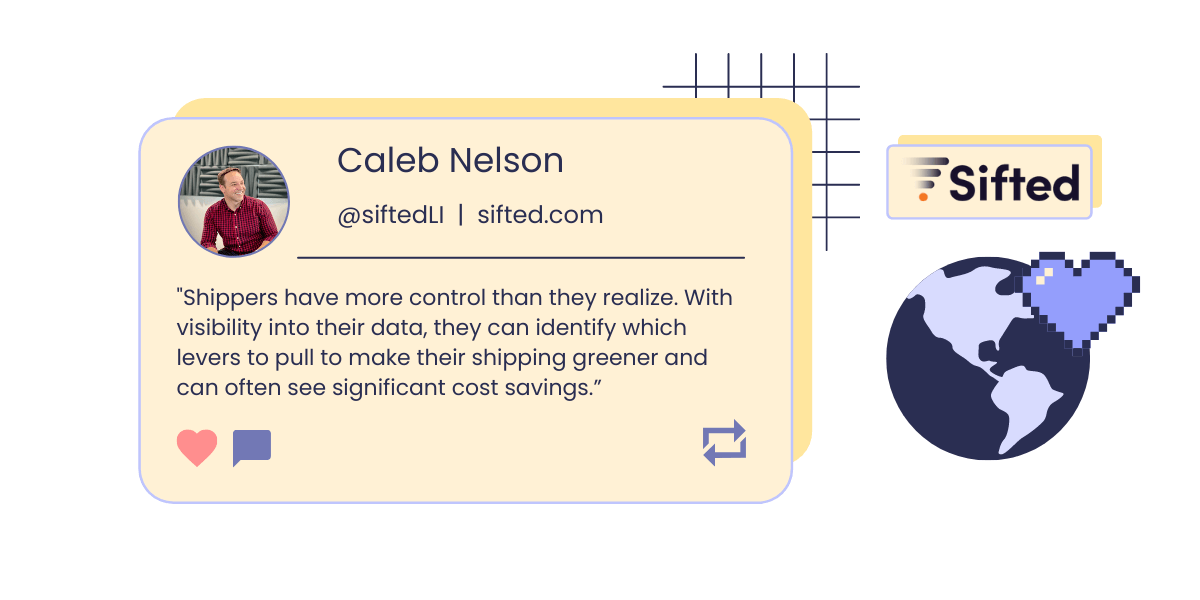 By analyzing your historical carrier invoices, you can discover where your greatest sustainability inefficiencies are. You'll see which packages are receiving the highest weight and size-based costs, presenting an opportunity to reduce waste and costs with smaller package sizes.
Stay ahead of the competition and meet your customers' demand for eco-friendly #shipping practices with our new consumer sustainability report! 🌍🌱 https://t.co/VU4TjDJdoJ pic.twitter.com/dAXBC8L08z

— Sifted (@SiftedLI) April 28, 2023
Sifted shares another tip related to distribution network optimization, "Using historical shipment data, you can find which ZIP codes are shipped to the most frequently to determine the best cities for a new distribution or fulfillment center."
🚚
"Strategically selecting warehousing partners closer to major client bases or FedEx or UPS' national hubs can greatly reduce the distance your shipments travel."
"Network expansions aren't impossible for smaller businesses. You don't have to buy property, build a distribution center, and hire and train employees. In recent years, there's been an explosion in third-party fulfillment centers that will store, pack, and ship for you," Caleb shares.
Introducing smaller package sizes and optimizing delivery routes are great ways to improve your brand's sustainability efforts.
Collaboration over competition can create real change
Creating positive environmental change isn't done in a vacuum. Every brand incorporating social responsibility and sustainable measures are working towards a common goal–so why not work together?
This collaborative mindset is the one held by Noissue, a sustainable packaging provider for ecommerce brands. Co-founder and CEO, Josh Bowden encourages brands to work together on this front, not compete. "If you're stepping into this world for the first time, get in touch with a community of other business owners doing the same thing!"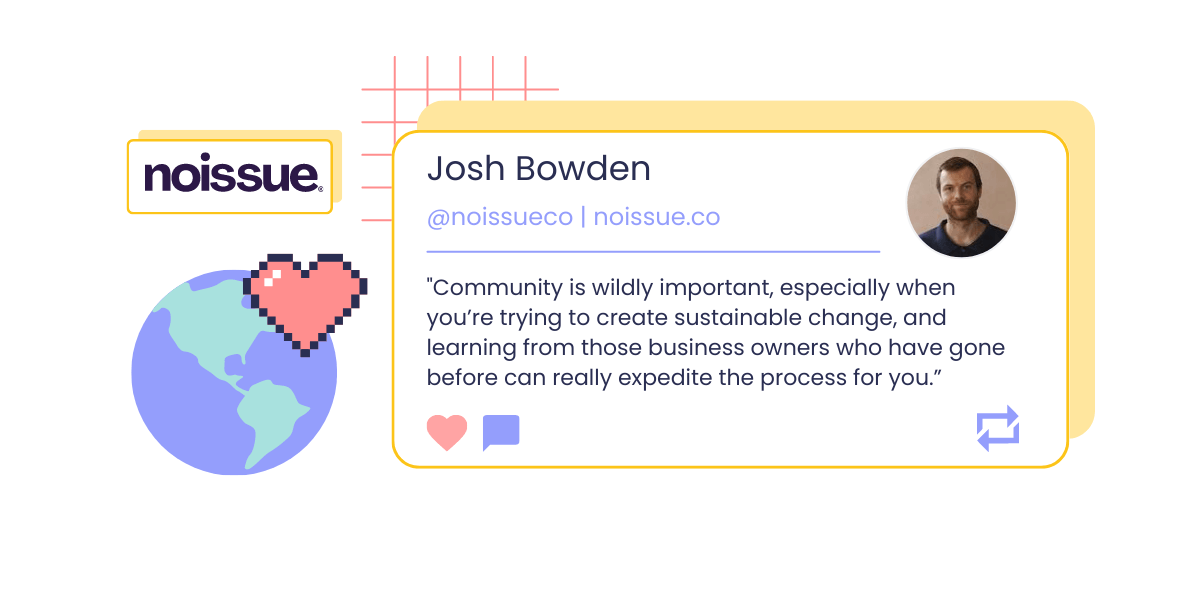 No Issue puts this philosophy into practice through its Eco-Alliance. Through this community, program members choose to use sustainable packaging and in return, No Issue commits to planting a tree in areas in need of reforestation for every order placed. This immediately gives entrepreneurs access to like-minded brands to learn from, work with, and get inspired by. With a visible Eco-Alliance badge, consumers are also able to immediately recognize the brand's commitment to sustainability.
No Issue shares its approach to environmentalism, "Our sustainability framework breaks down into three simple dimensions: composting, recycling, and reusing. For brands looking to reduce their carbon footprint, choosing one of these frameworks and making a single, simple change is an amazing place to start." Some action is always better than nothing–even if it's just one small change.
Josh's final words of advice are simple–tell your customers what you're doing. "Encourage your consumers to get invested in your sustainable values and let them know your packaging is sustainable so they can close the loop with you."
Making environmental changes can be overwhelming–whether it's day 1 or day 1,000 for your brand. Don't reinvent the wheel, see what other brands are doing and how you can put your own spin on it to best suit your store.
One small change at a time
As many of the experts pointed out, making sustainable and socially conscious changes can be overwhelming. But you don't need to do everything, all at once. Social responsibility is something we should all work together on and if thousands of small businesses made one change each, imagine the impact that could have.
So what do you think–are you ready to take action?
Power up your rewards program with integrations
Explore all Smile integreations