Tiered programs are becoming an increasingly effective tool for encouraging customer engagement and participation. As rewards marketing continues to gain prominence, more companies are taking advantage of VIP programs. This is because they drive both acquisition and retention results by making their best customers feel special.
Whether they exist online or offline, brands from many different industries are taking the time to invest in building the perfect VIP program. As you consider the benefits of tiered programs for your brand, we've scoured the web for seven of the best VIP programs for you to explore and learn from. So without further ado, let's see what a perfect VIP program looks like!
Sephora's Beauty Insider
It shouldn't come as a surprise that Sephora ranks as one of the best tiered programs out there. Oozing luxury at every turn, the Beauty Insider program demonstrates a strong alignment between the brand, its products, and the customer, offering exclusive products to its best shoppers with an emphasis on quality and presentation.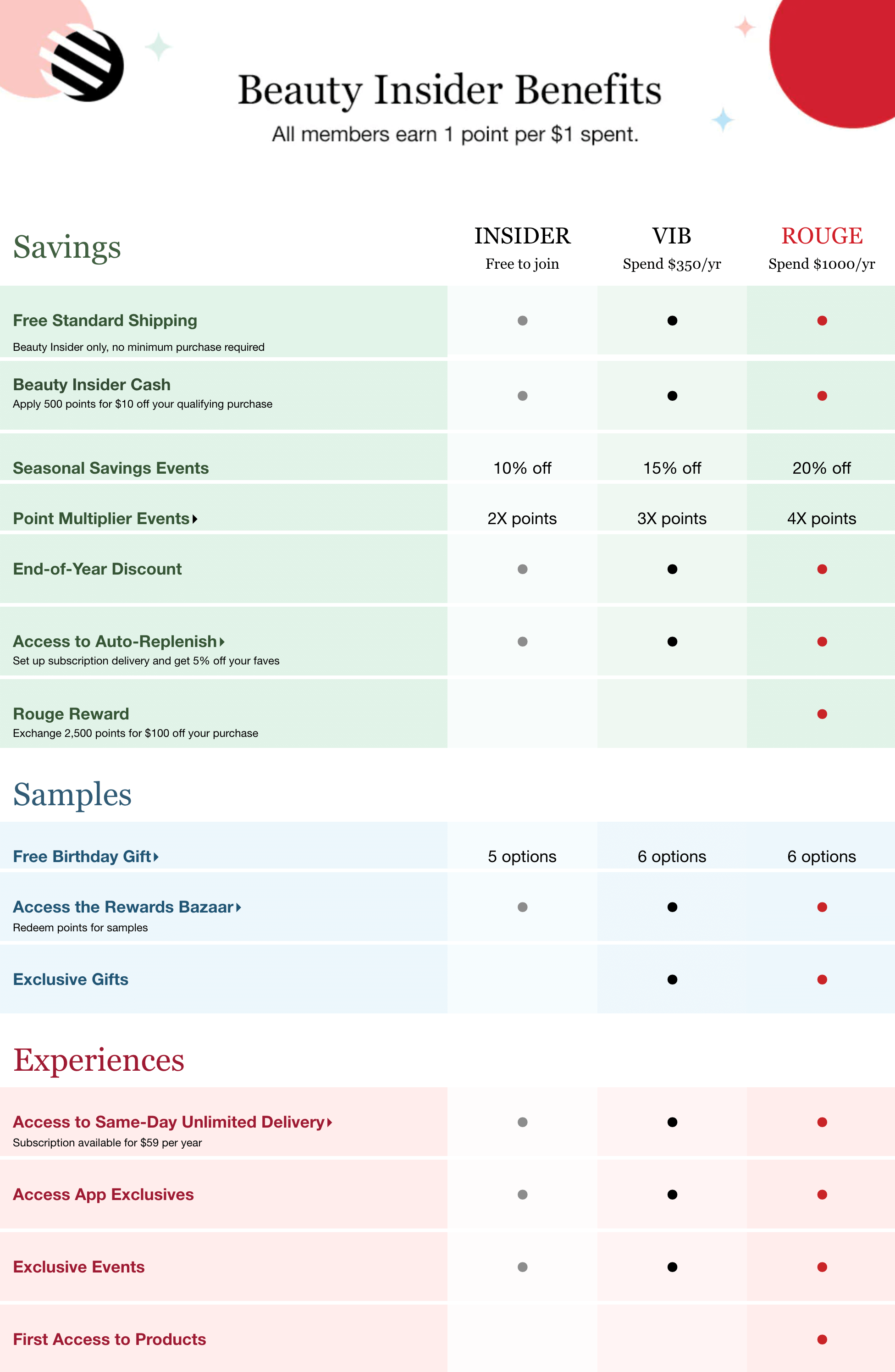 On top of the exclusive products, VIB Rouge members are also given access to several experiential rewards that are not available to members of the basic Beauty Insider program. This clear distinction between the lower and upper tiers provides an extra layer of exclusivity, making VIB Rouge that much more valuable of a status to achieve.
Sephora's use of personalized recommendations further helps set it apart. These recommendations provide an elevated experience by demonstrating an understanding of each customer's purchase habits and preferred products.
With features like the customized Beauty Profile, Beauty Insiders are treated to a customer experience that extends beyond the parameters of the program. As one of the biggest beauty brands in the world, Sephora has a large and diverse community and they go the extra mile to ensure everyone feels welcome, regardless of their VIP status. Sephora's brand community makes VIB both a lifestyle and a loyalty solution.
Sephora's keys to VIP
Community-driven loyalty experience.
Experiential rewards.
Personalized recommendations.
Obus' Obus Travel Club
One of the best ways to create a group of loyal customers is by creating a lifestyle associated directly with your brand. Obus has leveraged lifestyle marketing by appealing to the adventurous side of its customers through travel-inspired clothing to stand out from the millions of competitors in the fashion industry.
Everything from its clothing designs inspired by travel destinations to its social media marketing instills a sense of wanderlust in its customers. The name of their loyalty program, "Obus Travel Club'' further shows that this brand is all about exploring and pushing boundaries.
Travelers are welcomed with wide arms to Obus' loyalty program with this beautifully on-brand explainer page that feels like an extension of their main website. Obus continues appealing to the sense of wonder in its customers through VIP tier names. Working their way up from a Wanderer to a Voyager, customers are encouraged to gain that coveted status through on-brand status names.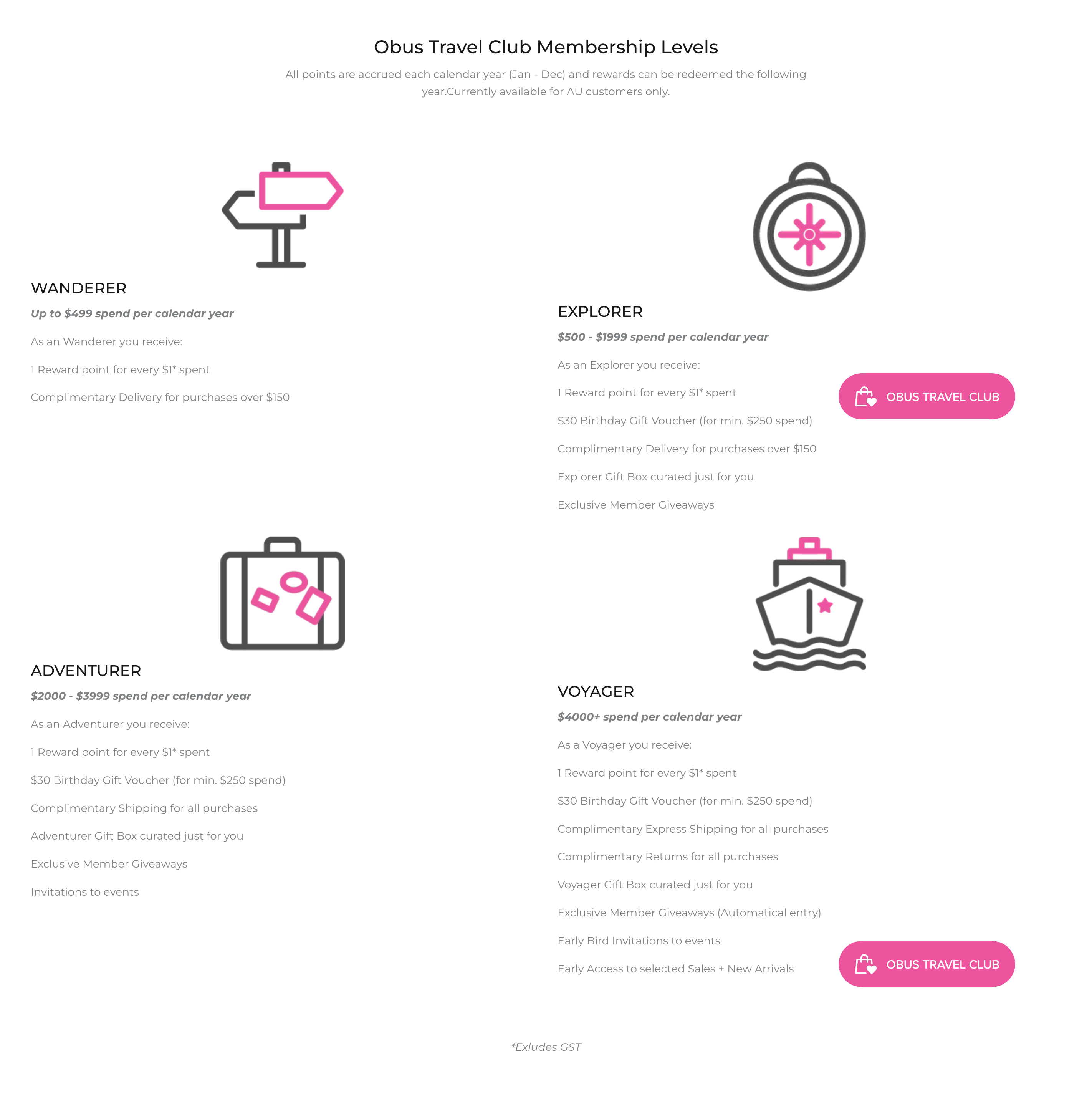 Although Obus Travel Club earns its badge for top-notch branding and naming, it's not the only reason this program stands out from the rest. With unique rewards such as curated gift boxes, members-only giveaways, and exclusive events, customers have a reason to be genuinely motivated to level up.
Customers may be initially drawn to Obus Travel Club because of the lifestyle it conveys, but they'll stay for the 5-star rewards.
Obus' keys to VIP
Branded explainer page.
Personalized tier-entry gifts.
Inspiring lifestyle marketing.
Diamond Art Club's Diamond Insider Rewards
If you take paint-by-numbers, but make it sparkle, then you get this next brand. Diamond Art Club sells diamond painting kits that allow customers to create a sparkling masterpiece by placing small plastic diamonds onto an adhesive grid. With designs spanning multiple categories, there is something for everyone whether you want to create a majestic Blue Winter Wolf or bring the magic of Hogwarts to life in your own home.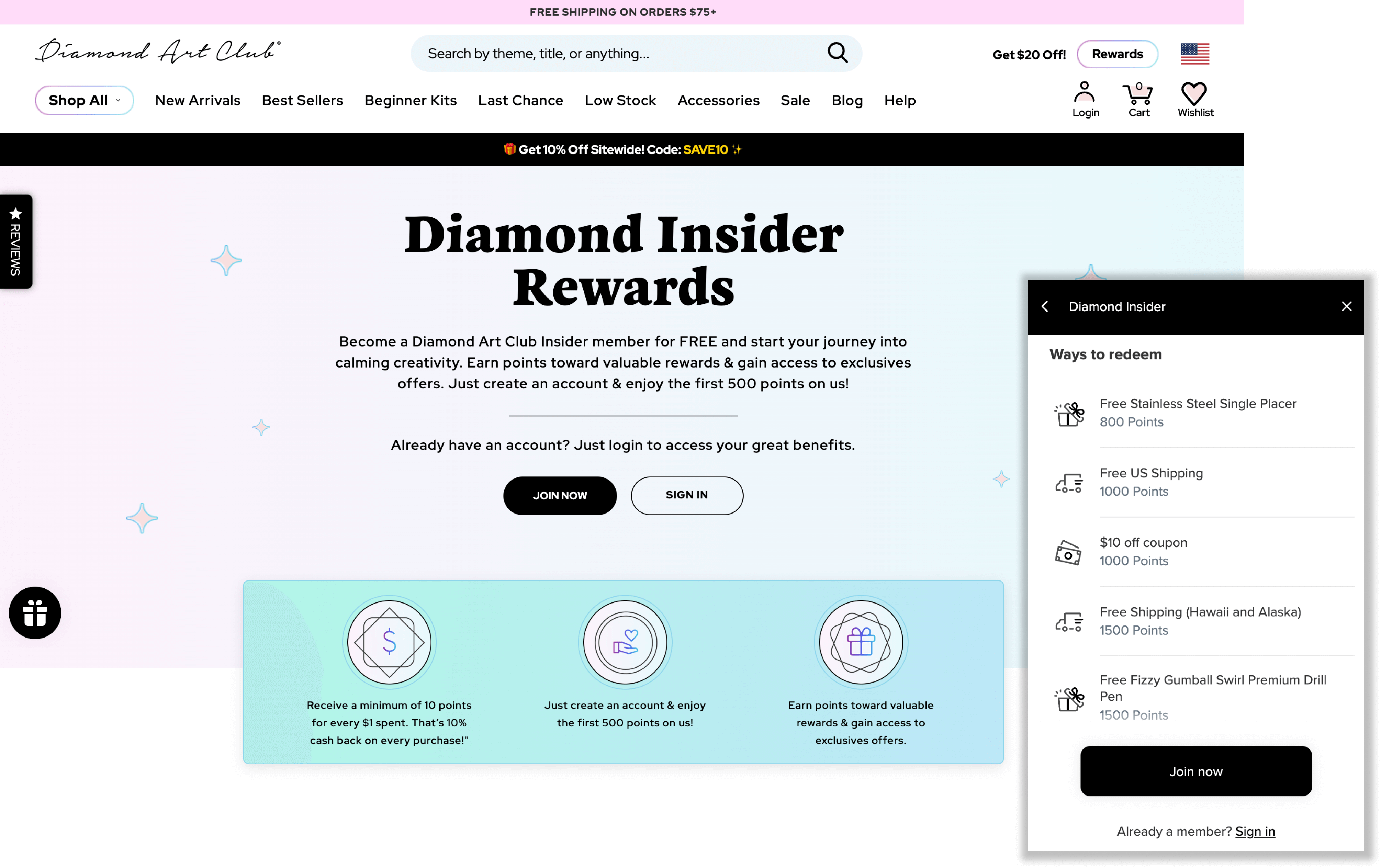 Diamond Art Club has brought the sparkle and creativity of its products to its loyalty program, Diamond Insider Rewards. With a branded explainer page, customers get a great first impression of the program immediately. They keep the momentum going with value-driven language explaining the benefits of joining the program. Phrases like "enjoy the first 500 points on us", and "That's 10% cash back on every purchase!" communicate what customers have to gain from the program. They round out this incredible experience with a variety of rewards like amount discounts, free shipping, and free products to appeal to different types of customers.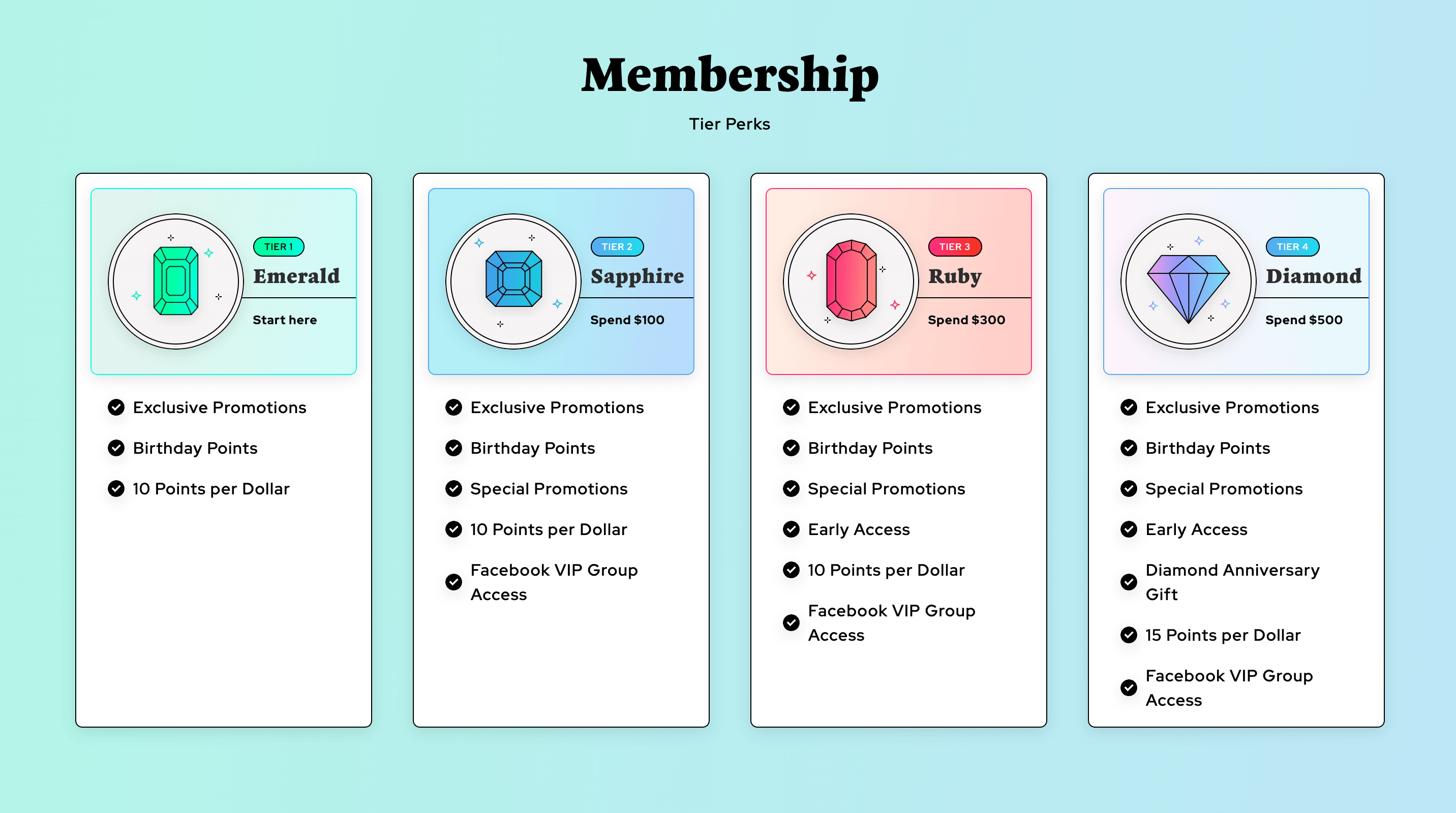 If you thought the Diamond Insider Rewards program already sounded incredible, buckle up because they bring it to the next level with a tiered-VIP program. After joining the program, members can work their way through aptly named tiers like Emerald, Sapphire, Ruby, and Diamond. These spend-based tiers reward customers for making repeat purchases with more desirable perks at each level.
While each tier comes with increasingly valuable rewards, the program truly sparkles in the coveted Diamond tier. Not only do customers earn 5 more points per dollar spent, but they also receive exclusive rewards such as a Diamond Anniversary Gift, access to a Facebook VIP Group, and early access to sales.
From their VIP tiers to their diverse rewards, Diamond Art Club has provided an excellent example of how to build an effectively tiered loyalty program.
Diamond Art Club's keys to VIP
Value-driven language.
Spend-based tiers.
Access to online community group.
Indigenous Designs Care Coins
Fashion may be constantly changing at a rapid pace, but consumer trends are shifting at an even faster one. Customers are moving away from fast fashion and towards clothes that are ethically and sustainably made. This is why brands like Indigenous Designs, an organic and fair trade fashion brand sourced by artisans based in Peru, are on the rise. Brands with a strong social impact stick out from the rest in a great way.
When you can make customers feel good about shopping with you, they're going to do your marketing for you. Indigenous Designs capitalized on this with their loyalty and referral program Care Coins. Their explainer page is filled with images of their artisans, as well as messages driving home their ethical production process.
Aside from their strong brand values, Indigenous Designs also make their rewards extremely reasonable to reach by offering customers $1 off their future purchase for just 20 Care Coins. The key to a great rewards program is ensuring your customers can actually use their rewards, increasing purchase frequency and customer retention.
Customers are also able to work their way through three VIP tiers, earning more Care Coins at every step along the way. Indigenous Designs has nailed the customer rewards process by rewarding customers who spend more with more points per dollar spent, encouraging them to continue spending more to earn even more. It may sound confusing but it makes perfect sense–spend more, earn more.
As a brand centered around ethical fashion, Indigenous Design's social media is flooded with its brand values. From sharing customer reviews on Instagram as strong social proof to their "Meet the Artisan" features, this brand shows customers who they really are. Creating these type of personal connections online are a great way to build strong emotional connections that keep your customers coming back.
Indigenous Designs' Keys to VIP
Attainable rewards.
Strong emotional connections.
Increased earning values for each tier.
Marriott's Marriott Bonvoy Rewards
While there are many travel rewards programs out there, none have embraced the power of tiered loyalty quite like Marriott Bonvoy Rewards.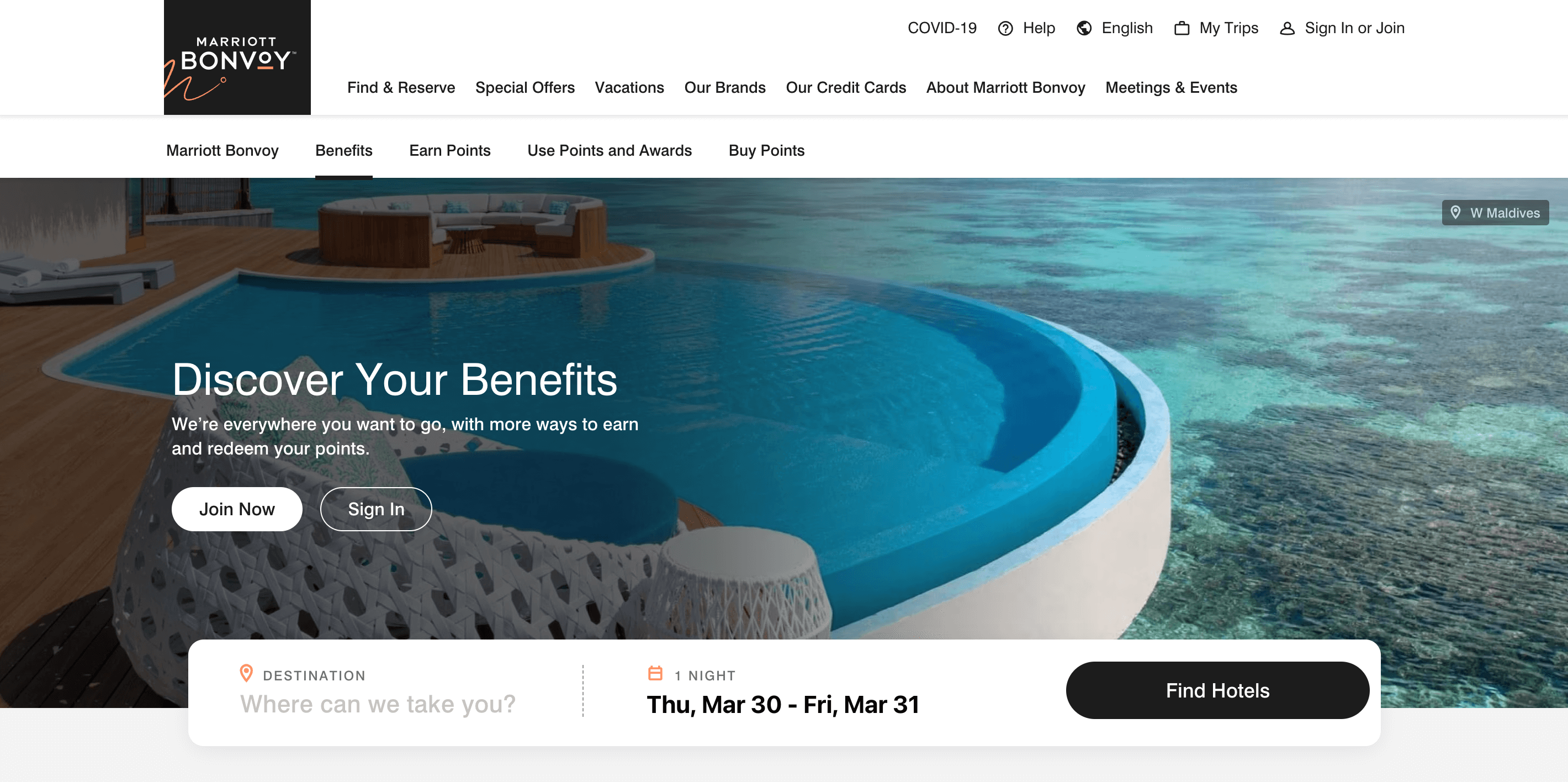 At first glance, Marriott's program looks like any other hotel rewards program–as you accumulate nights stayed at any of their participating hotels you're promoted to the next customer group, with Ambassador Elite being the ultimate goal. Using the VIP tier name "elite" already heightens the perception of the social status associated with that tier, but Marriott decided to push this concept one step further with what we like to call "tier-ception".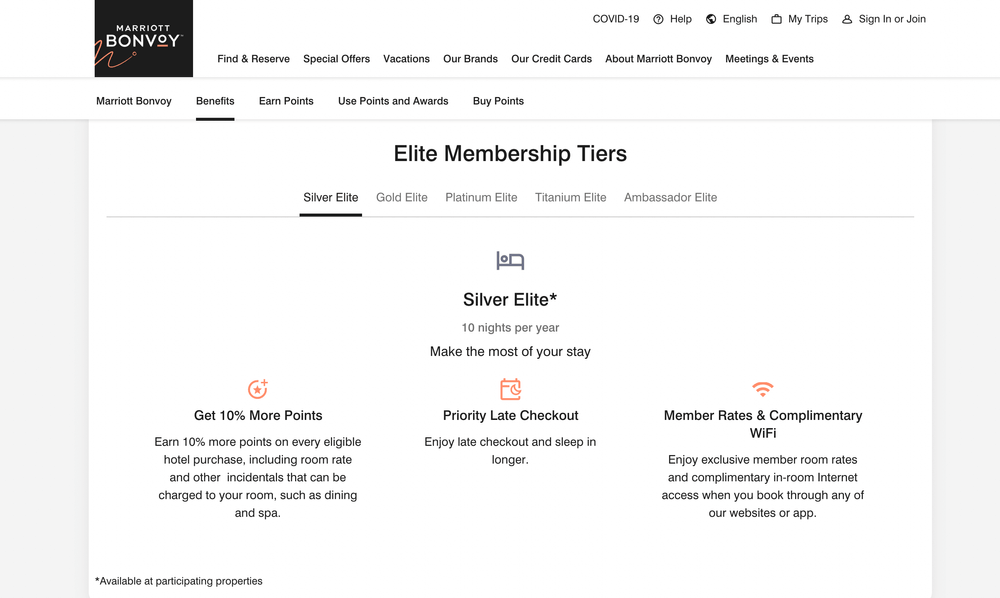 Marriott Rewards takes gamification to a different level by allowing customers to never stop improving or engaging with their status in the program. The program was already set up with reasonable milestones, asking customers to stay a significant but not unreasonable number of nights to receive the best rewards and luxuries. It's the luxurious experiential rewards that come along with leveling up that truly puts Marriott Bonvoy on the map.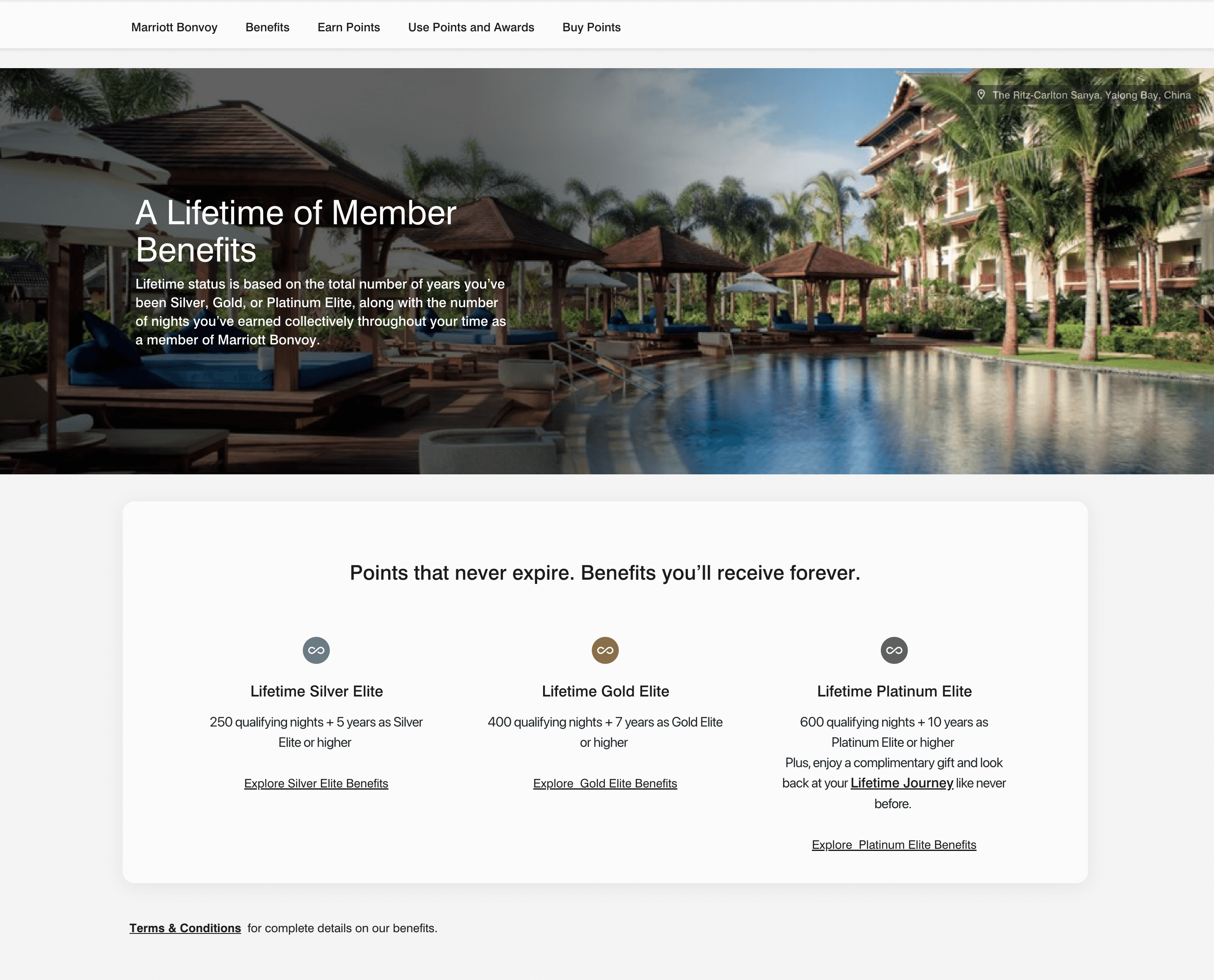 The Lifetime Status tiers take this one step further, by giving Marriott the chance to recognize customers who make a long-term commitment to the brand's customer experience. Once Lifetime status is achieved, it can never be revoked or expire, ensuring the customer receives the benefits of either Silver, Gold, or Platinum status with each visit.
This method of organizing customers demonstrates a keen understanding of each demographic and makes participation easy, measurable, and achievable.
Marriott's Keys to VIP
Significant levels of tiers.
Achievable milestones.
Use of luxury language.
Dose of Colors Daily Dose Rewards Program
There's no shortage of beauty brands in the ecommerce world. From the giants like Sephora to small niche K Beauty brands, all beauty brands want to attract, engage, and retain a group of loyal customers. A VIP program is a great way to do so. Dose of Colours is an American, cruelty-free makeup brand with a great VIP program.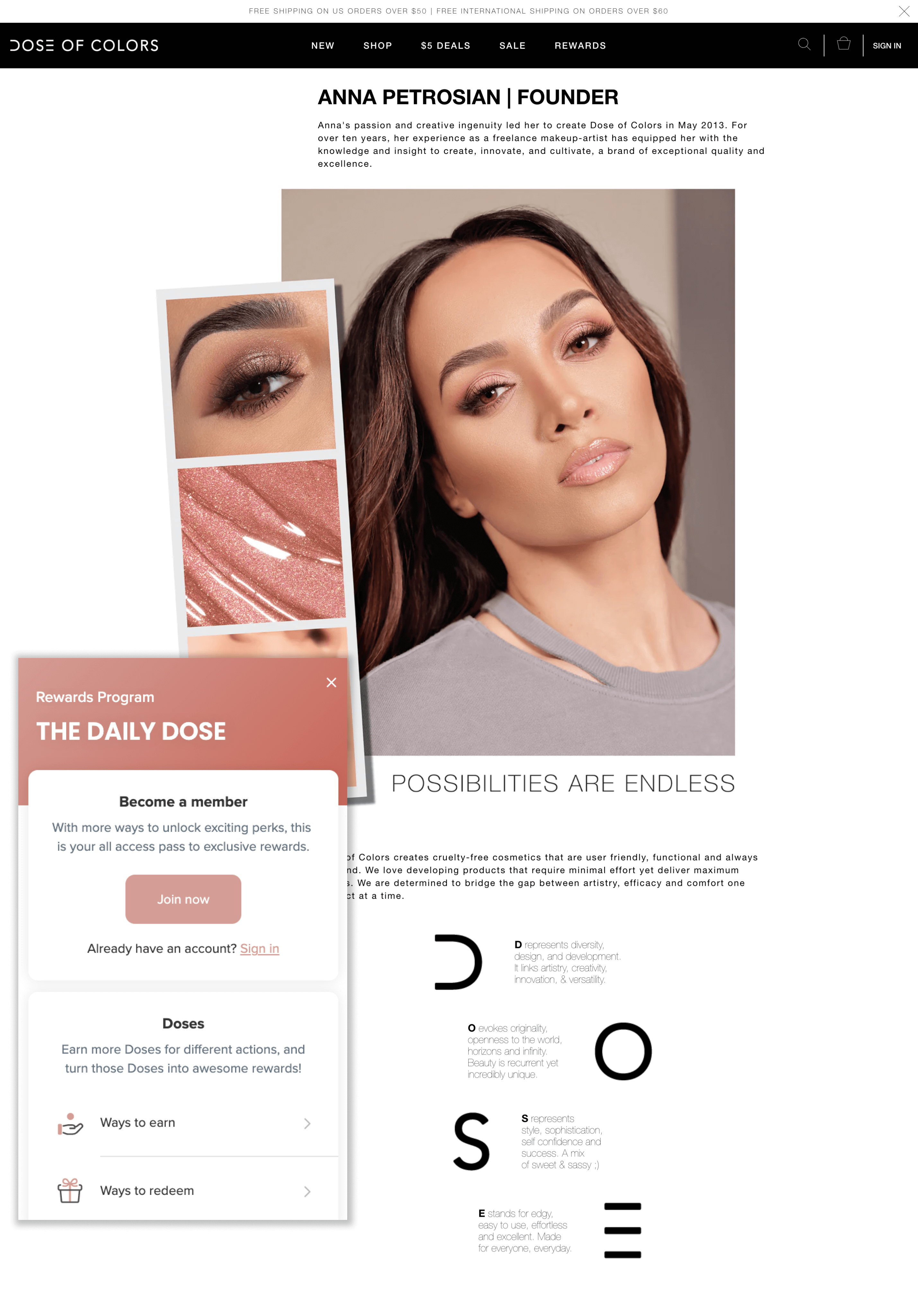 As a relatively smaller beauty brand, Dose of Colors takes big steps in creating authentic customer connections by getting personal. The About Us page includes information about their founder's story to really help customers put a face to the artist behind the makeup. They also share their brand values in a creative, unique, on-brand way through an acrostic-poem style graphic. Letting customers know who you are allows them to connect with you and want to join your brand community, working their way to loyal brand advocates.
Known as The Daily Dose, Dose of Colors program is made up of three tiers that clearly reflect the brand's products, marketing strategy, and customer demographic. Playing with the concept of "girl squads", the pink palette and star symbols blend perfectly with the brand's website and product packaging.
Dose of Colors also clearly lays out what you can earn at every level of their VIP program. Coupled with their customized My Rewards page, customers know exactly what they can expect from this exclusive loyalty program.
The Daily Dose also understands how to properly reward their best customers. As a VIP, customers are given early access to new products and sales along with VIP exclusive promotions.
These rewards, coupled with transactional ones like birthday gifts and bonus points for tier entry, make Dose of Colors VIP customers feel valued and special, reminding them why they chose to shop with this particular brand in the first place. These feelings will translate into more repeat purchases, proving that offering your best customers a better payoff is always in style.
Dose of Colors' keys to VIP
Personal connections.
Customized consumer rewards profiles.
Consistent branding.
PITAKA'S Rewards
Most of the programs we've seen so far have at least 3 tiers for customers to move through. This next brand shows how you can create a winning VIP program with just 2 tiers. This Chinese tech accessory brand created an engaging VIP program with only 2 levels by perfectly aligning its top-tier rewards with its customers' values.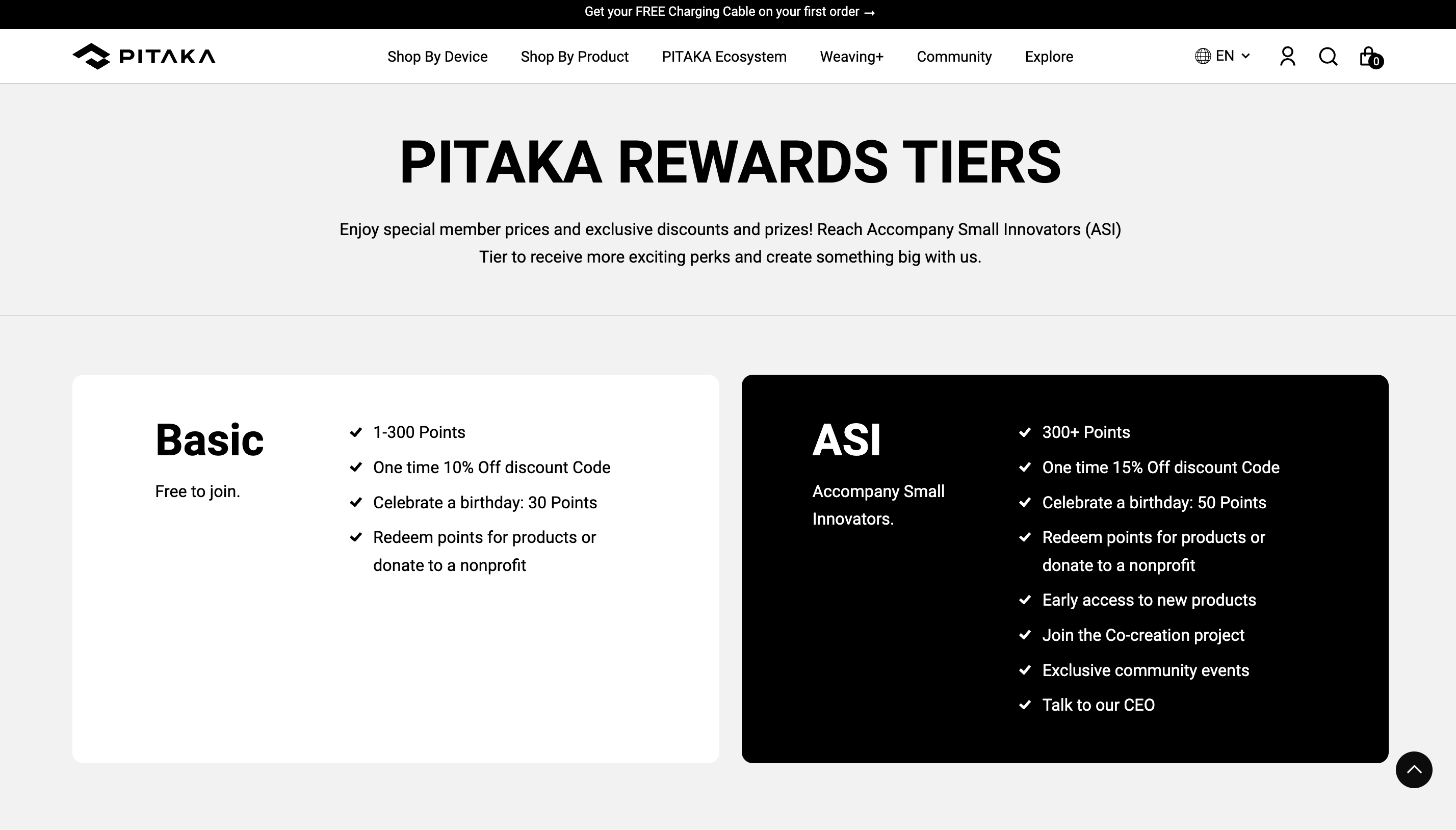 PITAKA offers two rewards tiers–Basic and ASI (Accompany Small Innovators). By default, all customers are entered into the Basic tier upon joining the program and are rewarded with a 10% discount, a birthday reward of 30 points, and access to product rewards.
When customers earn at least 300 points they level up to the ASI tier and unlock experiential rewards. ASI members not only get a more generous discount and birthday reward of 15% and 50 points, but they also receive intangible benefits like the ability to join the company's co-creation project, invites to community events, and even a chance to speak to the CEO.
📣Attention iPad Pro users!

We're looking for 10 iPad Pro users to test the MagEZ Folio 2 and provide us with honest feedback.

Fill out the recruitment form at https://t.co/C2hnoQrCow.

Recruitment ends on Mar 19th, and testers will be informed by email the next day. pic.twitter.com/hARscFsV8S

— PITAKA (@PitakaGallery) March 15, 2023
These rewards are community-driven experiences that allow customers to feel like they are gaining access to something bigger than themselves as an ASI member. What's amazing about these type of rewards is how they fit into the brand as a whole. PITAKA prioritizes customer feedback at every stage whether that involves crowdsourcing ideas through social media or incentivizing it by making it a reward!
It's no secret that these rewards are one-of-a-kind and extremely valuable. PITAKA has successfully configured its VIP program by making the high-status tier achievable, but only for its best customers. With $1 spent equalling 1 point, customers have to spend a significant amount to reach the ASI tier, once again illustrating its value. PITAKA also offers a bonus 50 points when customers make their third purchase, increasing both purchase frequency and repeat customer rate.
While having multiple tiers is a great engagement tool, offering one extremely valuable hard-to-reach tier can work just as well!
PITAKA's keys to VIP
Personal connections
Customized consumer rewards profiles
Consistent Branding
Designing the MVP of VIPs
After assessing the best of the best, it's clear that successful VIP programs are all built using similar elements. With experiential and transactional rewards, VIP customers are made to feel like they're part of an exclusive, high-status group that is still achievable.
In addition, programs are made up of multiple tiers and branded to fit cohesively with other elements of the brand's marketing strategies. Finally, customers are shown how close they are to the next level, which increases their desire to level up and receive additional rewards.
With these things in mind, any brand has the potential to design the best VIP program imaginable and make the best customers feel nothing but elite.
Editor's Note: This post was originally published in August 2021 and was updated for accuracy and comprehensiveness on April 5, 2023.
Launch a VIP Program of your own.
Pick the Smile.io plan right for you.