Tiered programs are becoming an increasingly effective tool for encouraging customer engagement and participation.  As rewards marketing continues to gain prominence, more companies are taking advantage of VIP programs.  This is because they drive both acquisition and retention results by making their best customers feel special.
Whether they exist online or offline, brands from many different industries are taking the time to invest in building the perfect VIP program.  As you consider the benefits of tiered programs for your brand, I've scoured the web for seven  of the best VIP programs for you to explore and learn from. So without further ado, let's see what a perfect VIP program looks like!
Sephora's Beauty Insider
It shouldn't come as a surprise that Sephora ranks as one of the best tiered programs out there.  Oozing luxury at every turn, the Beauty Insider program demonstrates a strong alignment between the brand, its products, and the customer, offering exclusive products to its best shoppers with an emphasis on quality and presentation.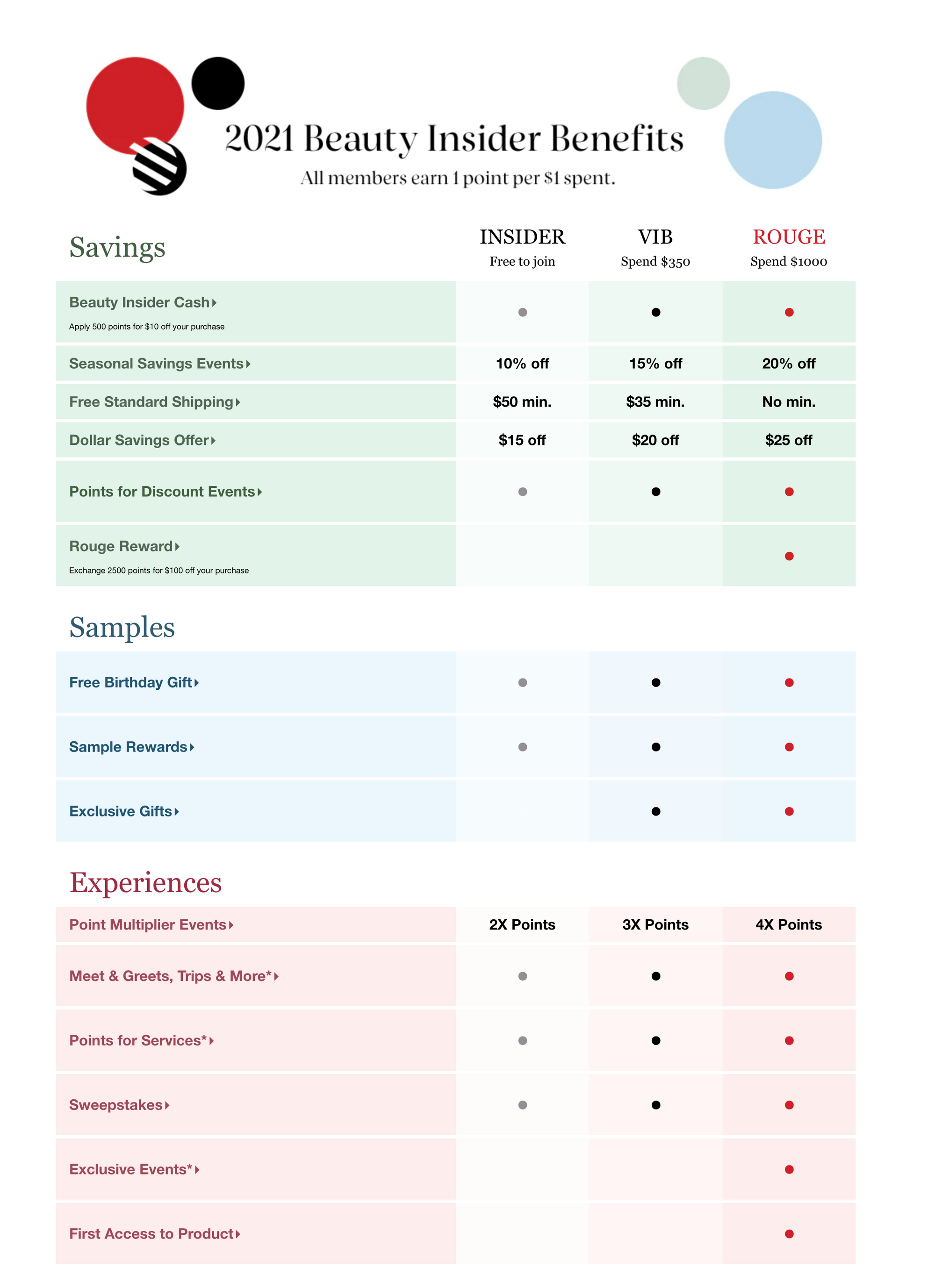 On top of the exclusive products, VIB Rouge members are also given access to a number of experiential rewards that are not available to members of the basic Beauty Insider program.  This clear distinction between the lower and upper tiers provides an extra layer of exclusivity, making VIB Rouge that much more valuable of a status to achieve.

Sephora's use of personalized recommendations further helps set it apart.  These recommendations provide an elevated experience by demonstrating an understanding of each customer's purchase habits and preferred products.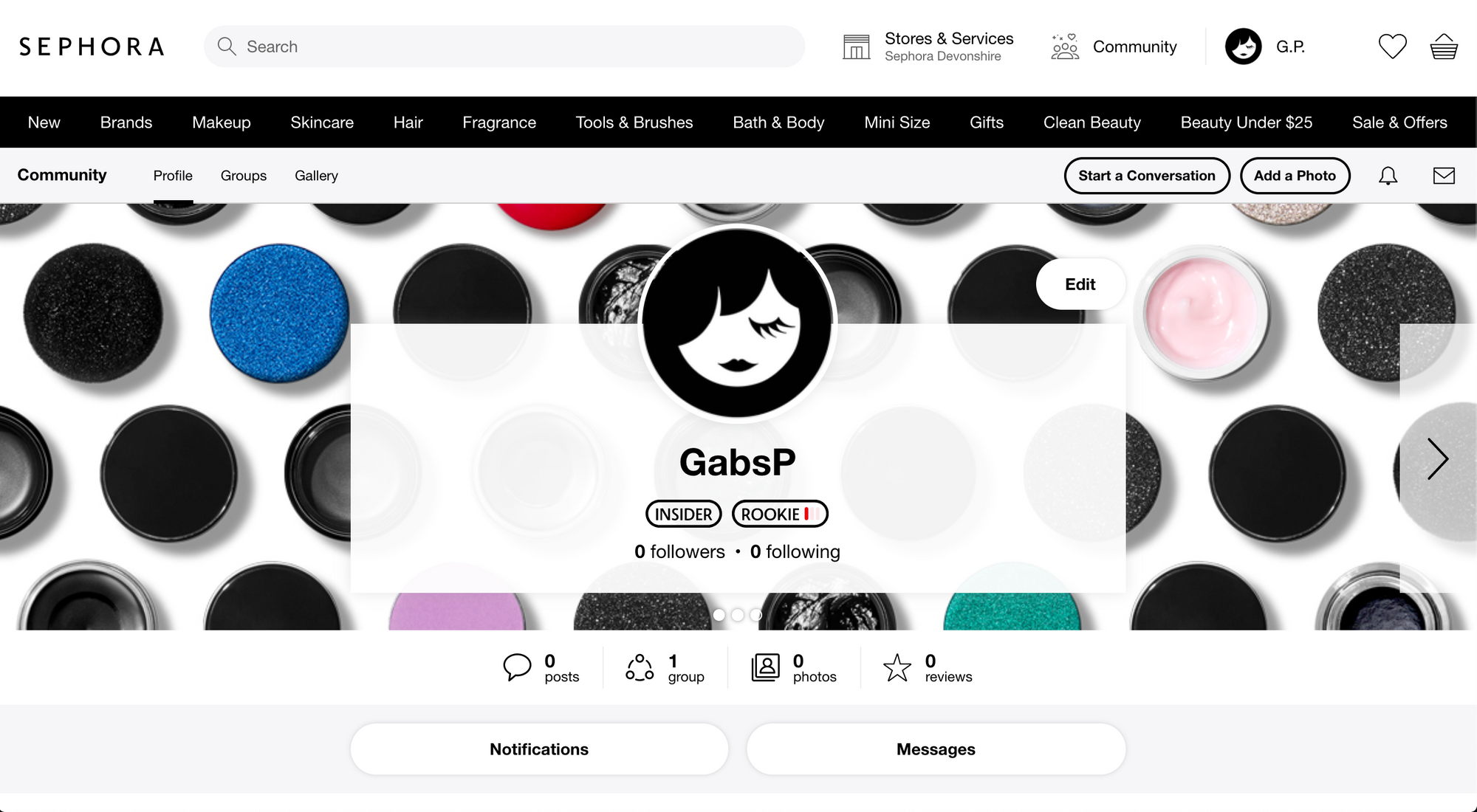 With features like the customized Beauty Profile, Beauty Insiders are treated to a customer experience that extends beyond the parameters of the program. Sephora's brand community makes VIB both a lifestyle aid and loyalty solution.
Sephora's Keys to VIP
Exclusive products
Experiential rewards
Personalized recommendations
DaVinci's Explorers Club
One of the best ways to create a group of loyal customers is by creating a lifestyle associated directly with your brand. DaVinci has leveraged lifestyle marketing by appealing to the adventurous side of their customers to stand out from the hundreds of competitors in the vaporizer industry. Beginning with the name of their loyalty program, "Davinci's Explorers Club'' it's clear that this brand is all about pushing the boundary.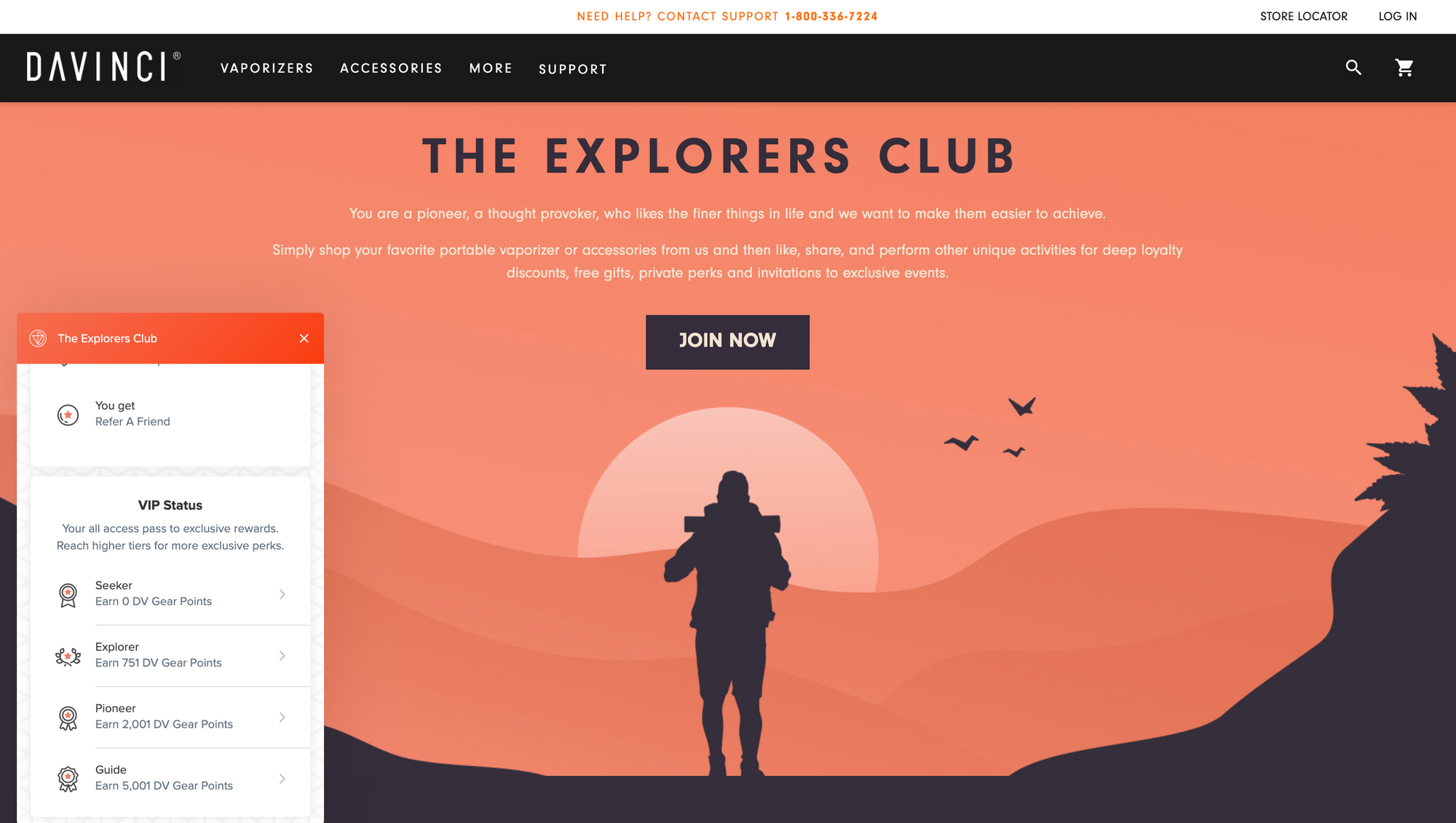 Explorers are welcomed with wide arms to DaVinci's loyalty program with this beautifully on-brand explainer page that feels like it's an extension of their main website. DaVinci continues appealing to the sense of wonder in their customers through their VIP tier names. Working their way up from a Seeker to a Guide, customers are encouraged to gain that coveted status through on-brand status names.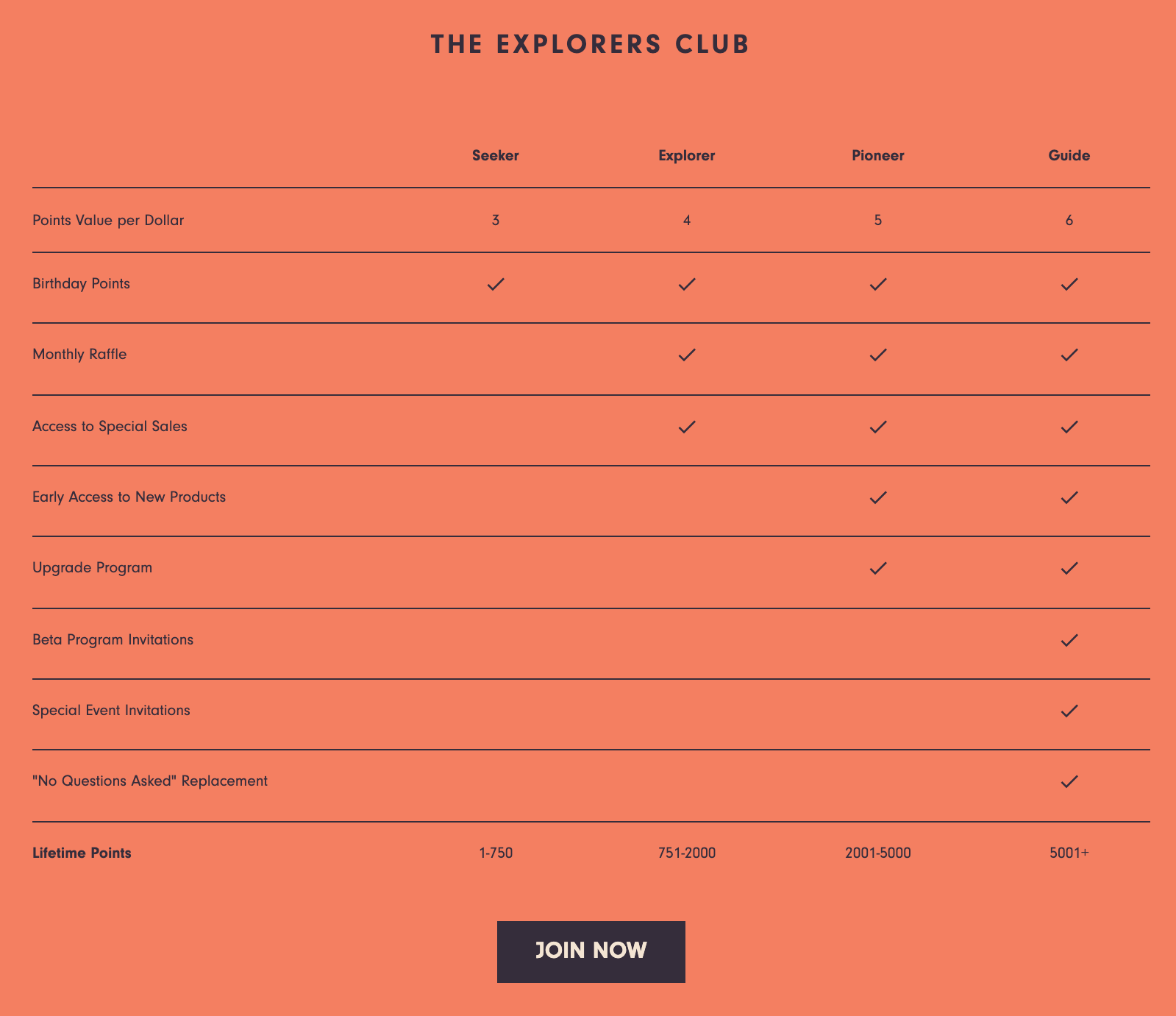 Although DaVinci's Explorers Club earns its badge for top-notch branding and naming, it's not the only reason this program stands out from the rest. With unique rewards such as monthly raffles, beta program invitations, and "no questions asked" replacements, customers have a reason to be truly motivated to level up.
They seal the deal as one of the best with their Lifetime Points. Allowing customers to earn and redeem points that never expire is a great way to re-engage with customers who may have been dormant by reminding them that they have a reason to come back to you.
DaVinci's Keys to VIP
Branded explainer page
Unique recurring experiential rewards
No point expiration
Run Everything Labs' Rewards
Run Everything Labs is an excellent example of how tiered VIP programs can take advantage of gamification. REL knows that their customers are high-level athletes, and this prompted them to design a rewards program that's as competitive as their customers are!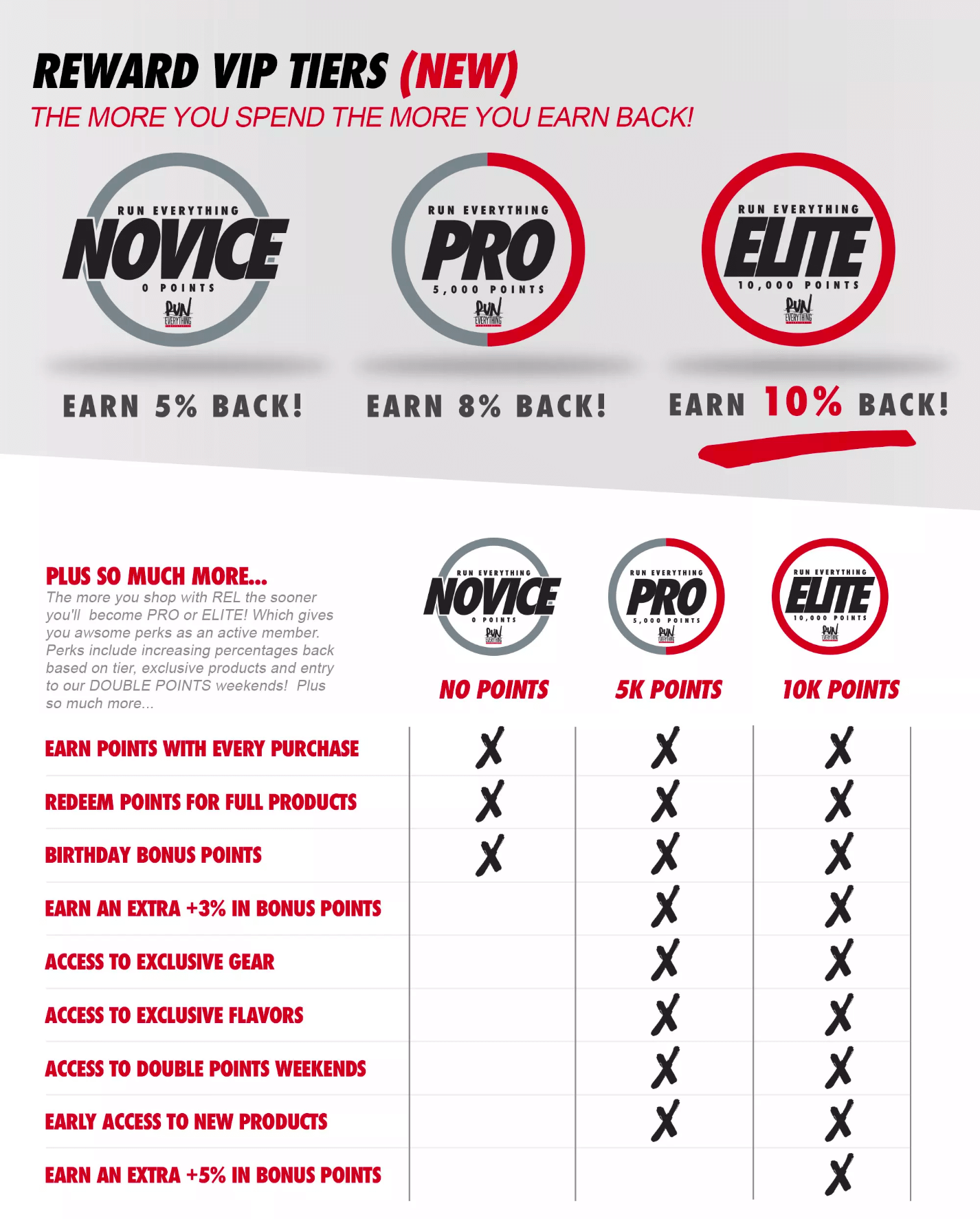 Their tiers are separated into three levels: Novice, Pro, and Elite. The difference between each of these levels is super easy to understand on their explainer page, and as a result is highly motivating. From exclusive gear and special flavors to early product releases and double points weekends, REL has created a VIP tier system that their customers love!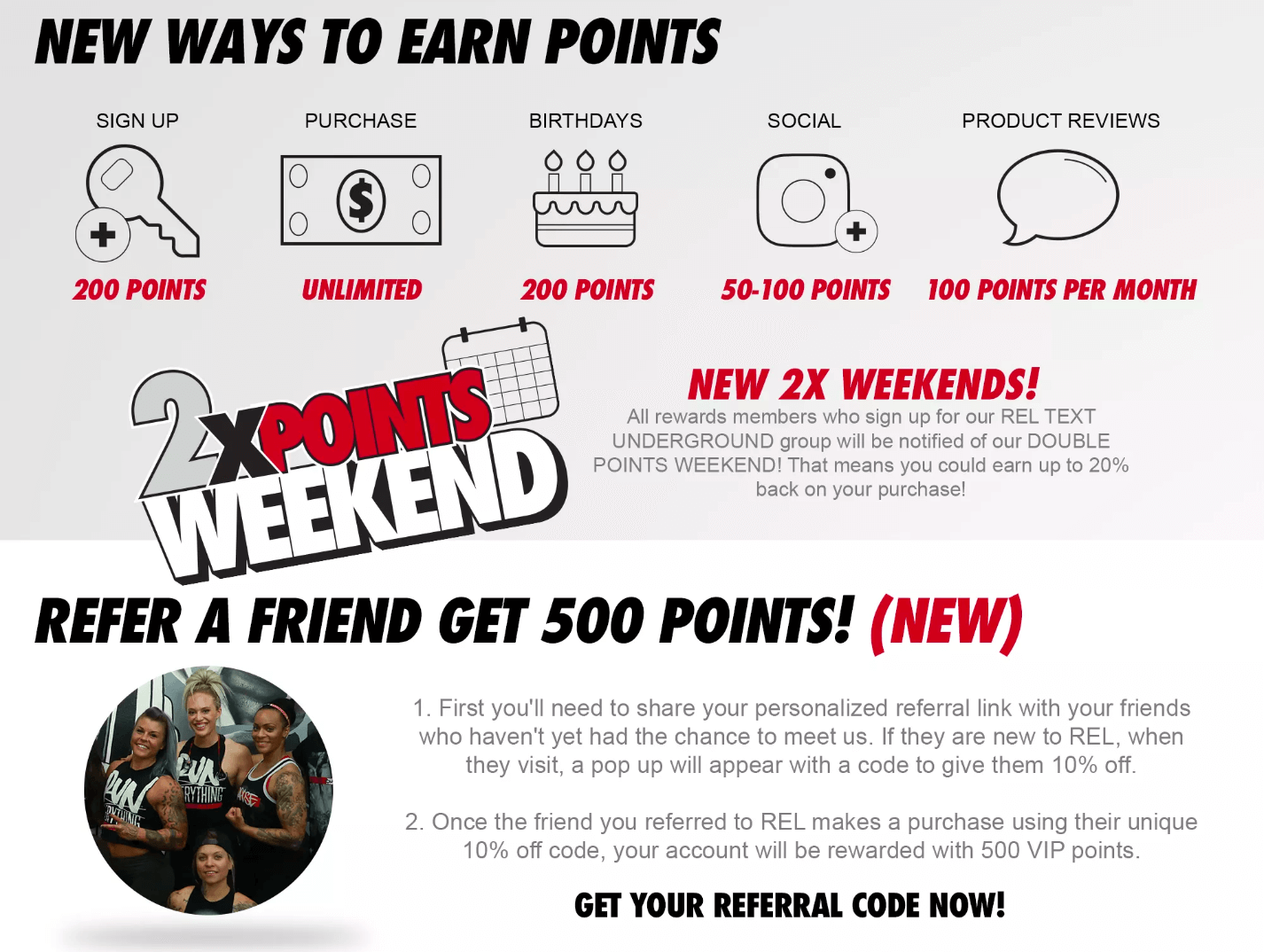 Customers are also given a number of ways to earn points towards rewards. REL knows that their fitness enthusiasts rely heavily on word of mouth recommendations from friends, so they've made it easy for their VIP members to get rewarded for sharing products with friends. For every friend you refer, you receive 500 points, which is equal to $5 off your next purchase!

REL is also crushing the game by awarding  rewards that reflect their brand culture. They've carefully crafted a rewards menu that their customers actually value, ensuring their customers have access to the gear and supplements they need to be competing at the highest level. These comprehensive rewards are what solidify REL's position as one of the top VIP programs for the fitness industry.
Run Everything Labs' Keys to VIP
Gamification through exclusive tiers
Referrals redeemable for points
Brand culture
Indigenous Designs Care Coins
Fashion may be constantly changing at a rapid pace, but consumer trends are shifting at an even faster one. Customers are moving away from fast fashion and towards clothes that are ethically and sustainably made. This is why brands like Indigenous Designs, an Organic and Fair Trade Fashion brand sourced by Peru-based artisans are on the rise. Brands with a strong social impact stick out from the rest in a great way.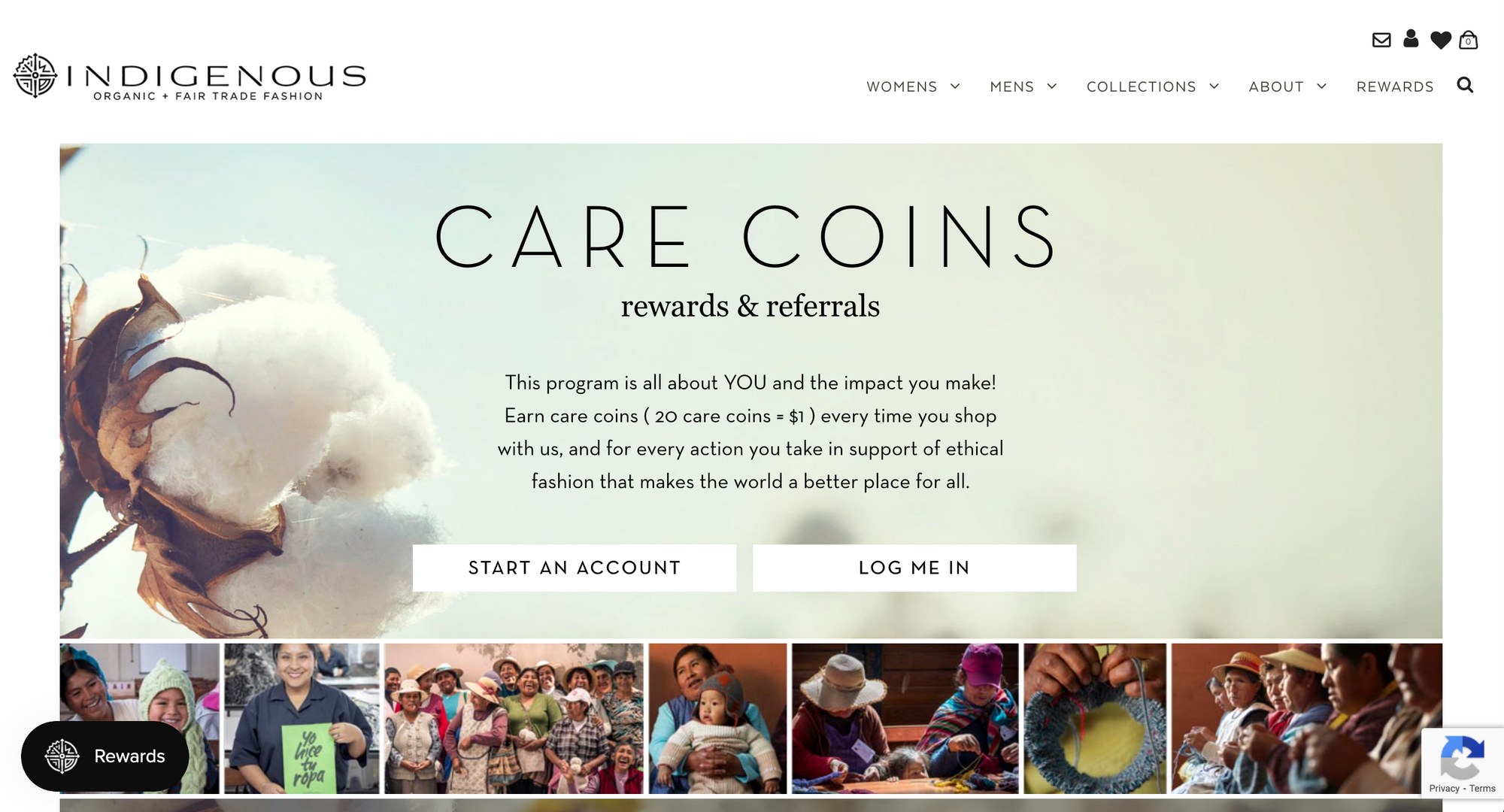 When you can make customers feel good about shopping with you, they're going to do your marketing for you. Indigenous Designs capitalized on this with their loyalty and referral program Care Coins. Their explainer page is filled with images of their artisans, as well as messages driving home their ethical production process.
Aside from their strong brand values, Indigenous Designs also make their rewards extremely reasonable to reach by offering customers $1 off their future purchase for just 20 Care Coins. The key to a great rewards program is ensuring your customers can actually use their rewards, increasing purchase frequency and customer retention.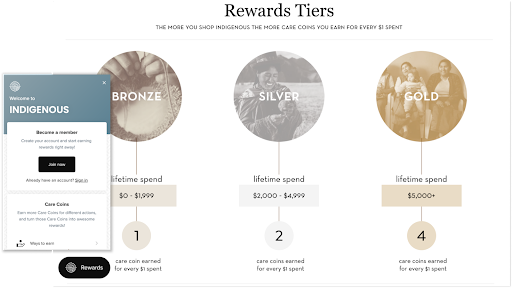 Customers are also able to work their way through three VIP tiers, earning more Care Coins at every step along the way. Indigenous Designs has nailed the customer rewards process by rewarding customers who spend more with more points per dollar spent, encouraging them to continue spending more to earn even more. It may sound confusing but it makes perfect sense - spend more, earn more.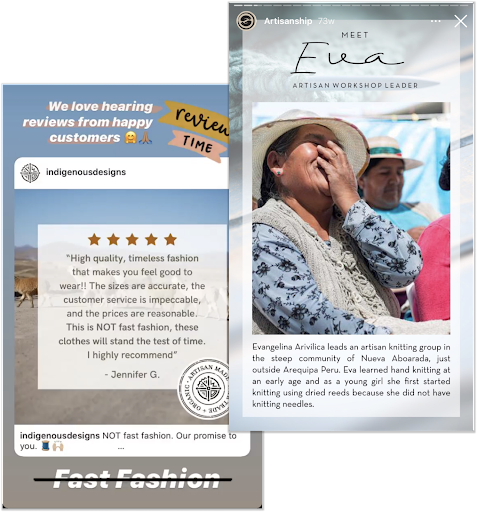 As a brand centered around ethical fashion, Indigenous Designs social media is flooded with their brand values. From sharing customer reviews on Instagram as strong social proof to their "Meet the Artisan Monday" features, this brand shows customers who they really are. Creating these type of personal connections online are a great way to build strong emotional connections that keep your customers coming back.
Indigenous Designs' Keys to VIP
Accessible rewards
Strong emotional connections
Increased earning values for tiers
Marriott's Marriott Bonvoy Rewards
While there are many travel rewards programs out there, none have embraced the power of tiered loyalty quite like Marriott Bonvoy Rewards.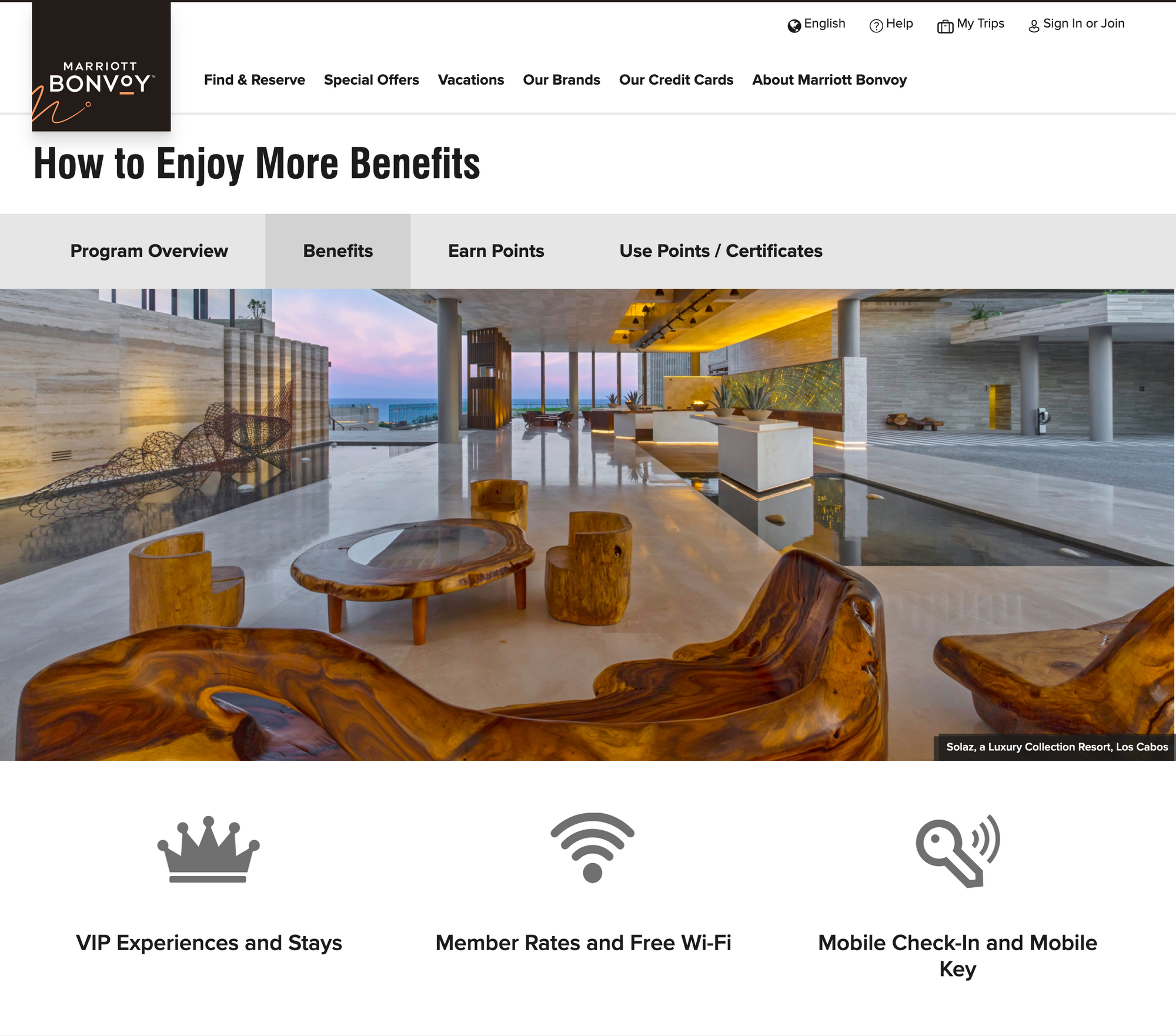 At first glance, Marriott's program looks like any other: as you accumulate nights stayed at any of their participating hotels you're promoted to the next customer group, with Platinum Elite being the ultimate goal.  Using the VIP tier name  "elite" already heightens the perception of the social status associated with that tier, but Marriott decided to push this concept one step further with what I like to call "tier-ception".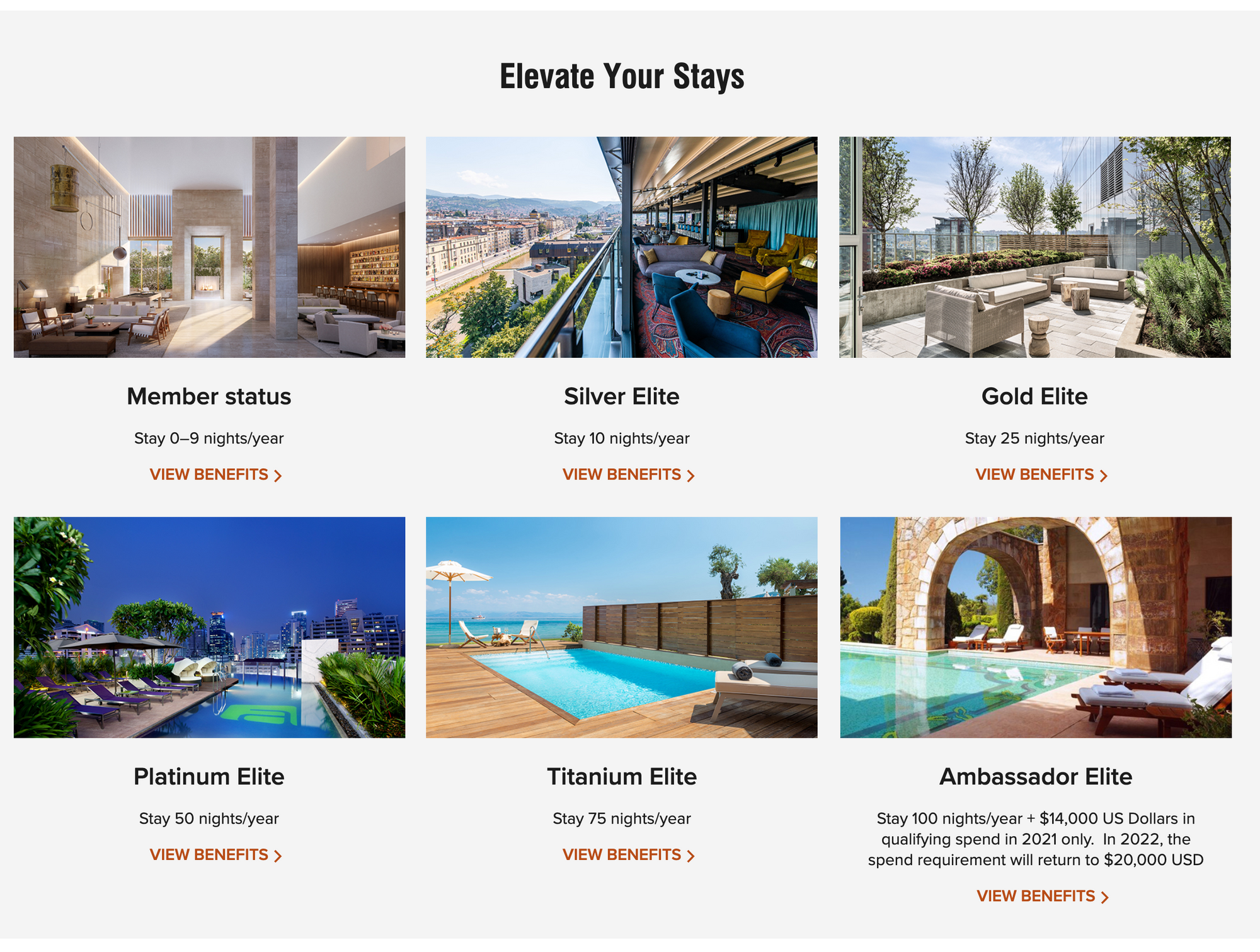 Marriott Rewards takes gamification to a different level by giving customers the opportunity to never stop improving or engaging with their status in the program. The program was already set up with reasonable milestones, asking customers to stay a significant but not unreasonable number of nights in order to receive the best rewards and luxuries. It's the luxurious experiential rewards that come along with leveling up that truly puts Marriott Bonvoy on the map.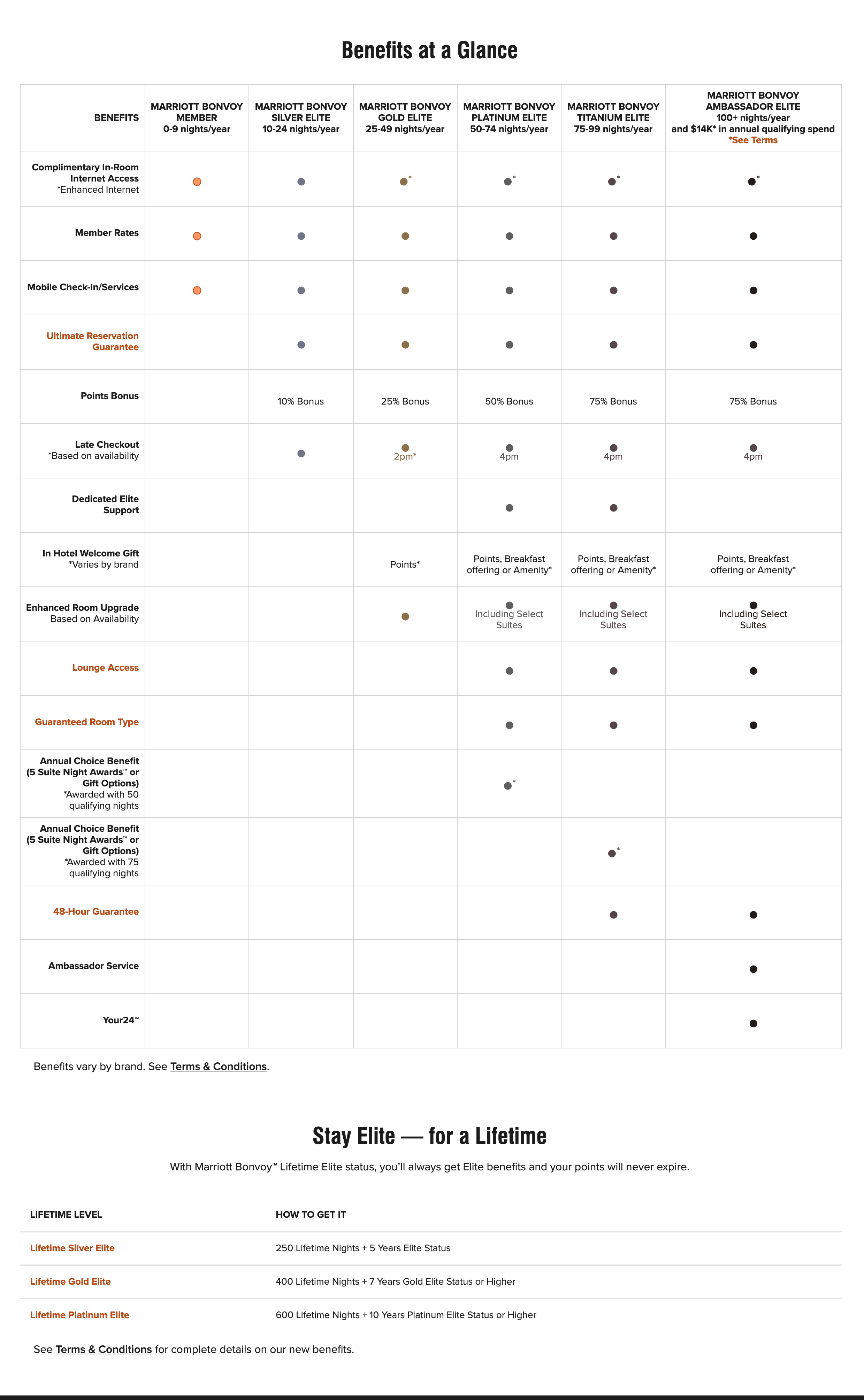 The Lifetime Status tiers take this one step further, by giving Marriott the chance to recognize customers who make a long-term commitment to the brand's customer experience.  Once Lifetime status is achieved, it can never be revoked or expire, ensuring the customer receives the benefits of either Silver, Gold, or Platinum status with each visit.
This method of organizing customers demonstrates a keen understanding of each demographic, and makes participation easy, measurable, and achievable.
Marriott's Keys to VIP
Significant levels of  tiers
Achievable milestones
Use of luxury language
Dose of Colors Daily Dose Rewards Program
There's no shortage of beauty brands in the ecommerce world. From the giants like Sephora to small niche K Beauty brands, all beauty brands want to attract, engage, and retain a group of loyal customers. A VIP program is a great way to do so. Dose of Colours is an American, cruelty-free makeup brand with a great VIP program.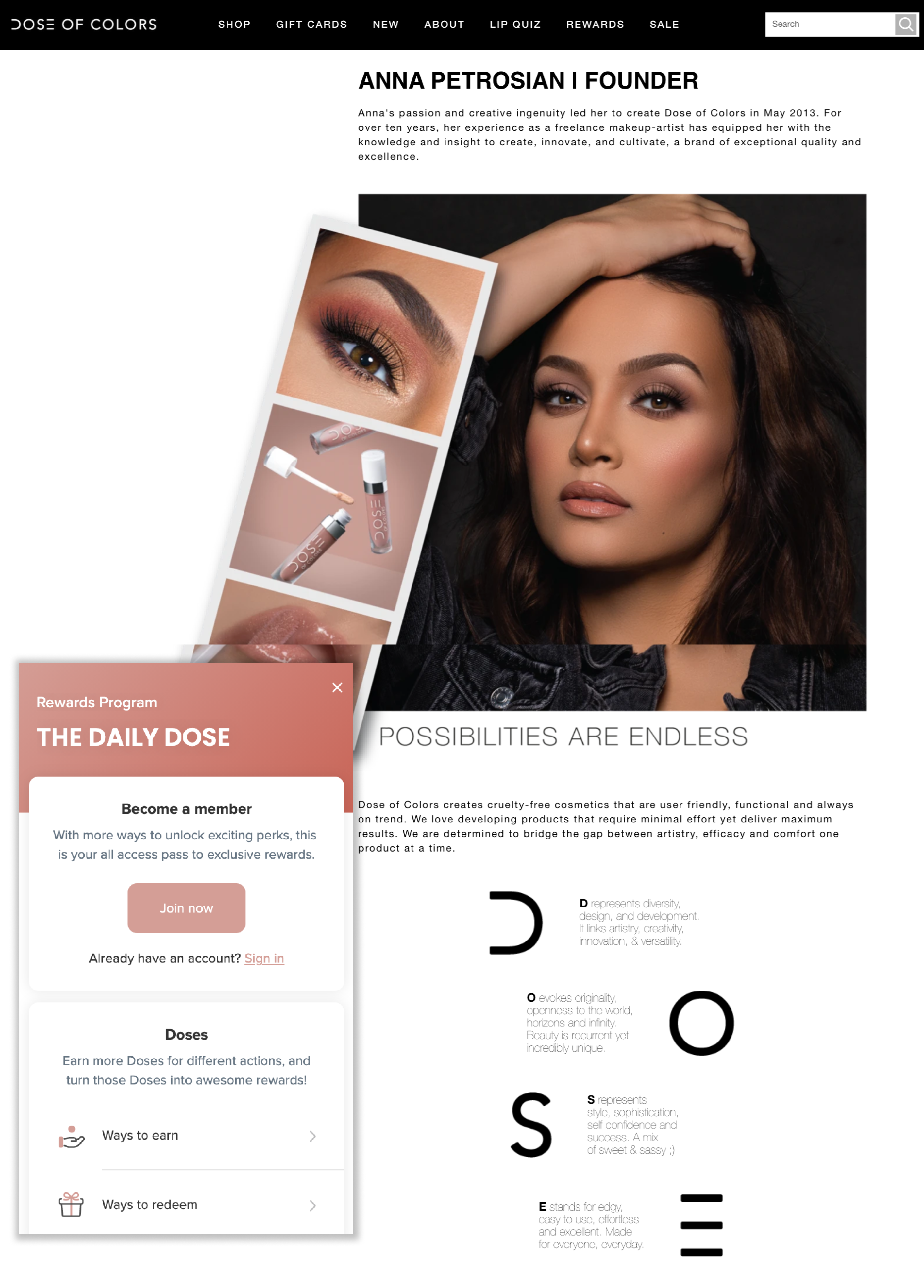 As a relatively smaller beauty brand, Dose of Colors takes big steps in creating authentic customer connections by getting personal. Their About Us page includes information about their founder's story to really help customers put a face to the artist behind the makeup. They also share their brand values in a creative, unique, on-brand way through an acrostic-poem style graphic. Letting customers know who you are allows them to connect with you and want to join your brand community, working their way to loyal brand advocates.
Known as The Daily Dose, Dose of Colors program is made up of three tiers that clearly reflect the brand's products, marketing strategy, and customer demographic.  Playing with the concept of "girl squads", the pink palette and star symbols blends perfectly with the brand's website and product packaging.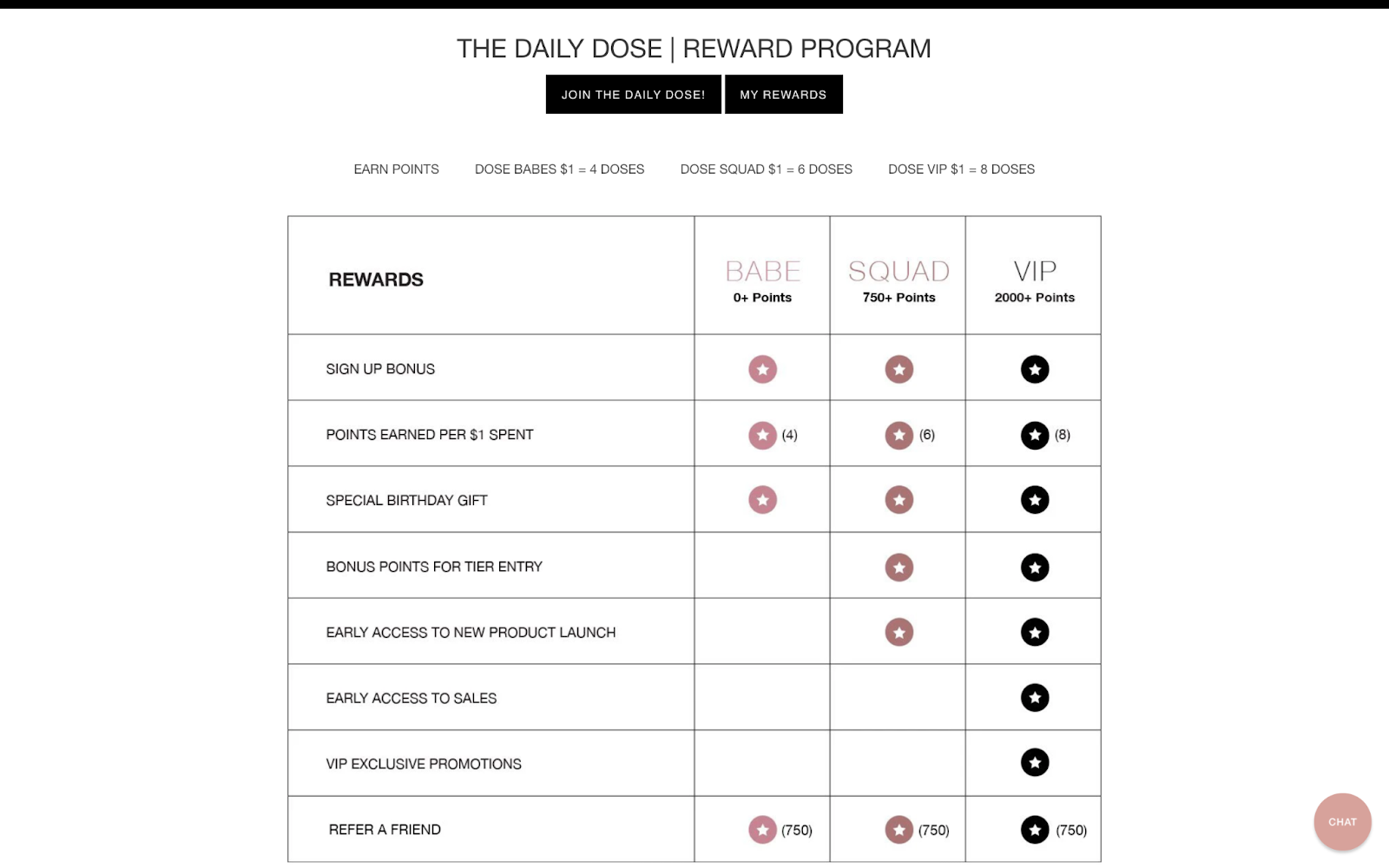 Dose of Colors also clearly lays out what you can earn at every level of their VIP program. Coupled with their customized My Rewards page, customers know exactly what they can expect from this exclusive loyalty program.
The Daily Dose also understands how to properly reward their best customers.  As a VIP, customers are given early access to new products and sales along with VIP exclusive promotions.
These rewards, coupled with transactional ones like birthday gifts and bonus points for tier entry, make Dose of Colors VIP customers feel valued and special, reminding them why they chose to shop with this particular brand in the first place. These feelings will translate into more repeat purchases, proving that offering your best customers a better payoff is always in style.
Dose of Colors' Keys to VIP
Personal connections
Customized consumer rewards profiles
Consistent Branding
inkbox Rewards
inkbox has received lots of attention by inventing temporary tattoos that allow customers to make "temporary bad decisions." However, while their tattoos may disappear after a few weeks, inbox has managed to keep their customers' loyalty from fading away by implementing an amazing rewards program.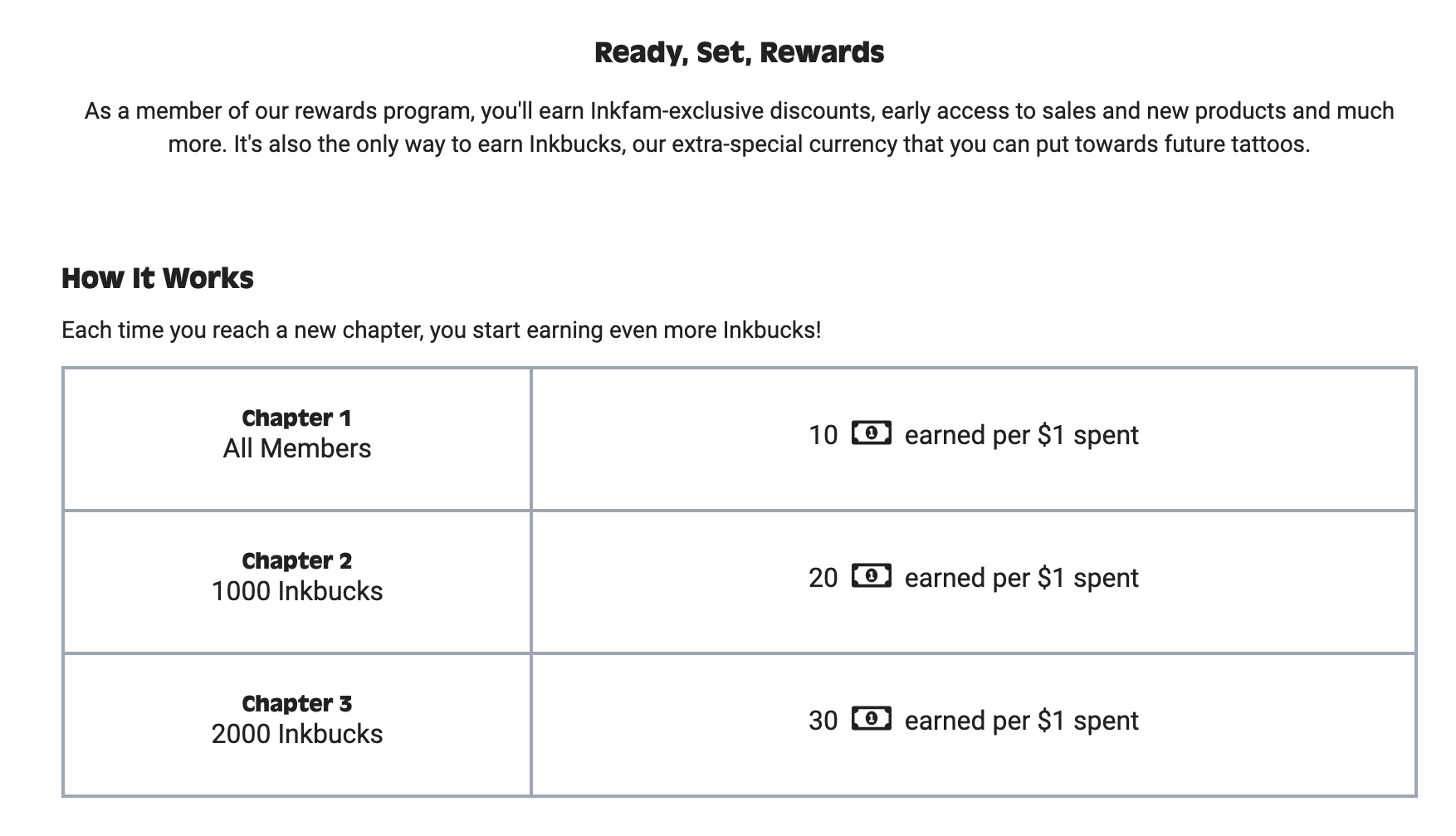 The first thing inbox did right was their VIP tier names. They have three tiers named "Chapter 1", "Chapter 2", and "Chapter 3" respectively. These names suggest that moving through each tier is a journey, just like reading a book. It's easy to remember, unique, and provides the necessary motivation for their customers to continue progressing through each level.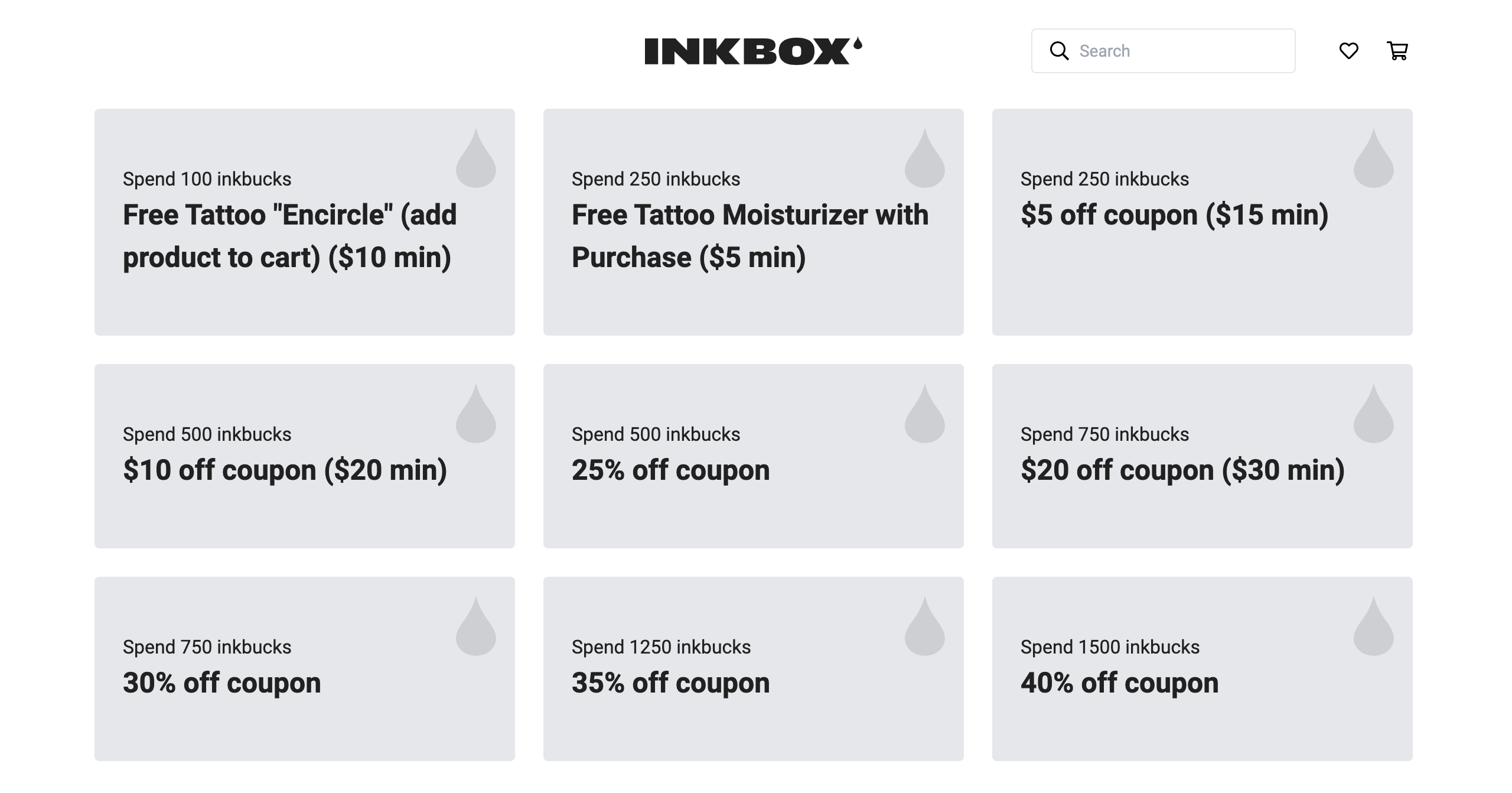 Another area inbox excelled was rewards design. In addition to discounts off future purchases, they chose additional rewards that were exclusive and valuable to their customers. For example, customers can redeem their points for free tattoos or tattoo accessories. This acts as both a powerful motivator to reach the next tier and a great way to give your customers even more access to your quality products to encourage future purchases. Through their VIP program, inkbox demonstrates that they have a keen interest in building valuable relationships with their customers. From their VIP tiers to their exclusive rewards, inbox has provided an excellent example on how to build an effectively tiered loyalty program.
inkbox's Keys to VIP
Clever tier system
Valuable rewards
Branded explainer page
Designing the MVP of VIPs
After assessing the best of the best, it's clear that successful VIP programs are all built using similar elements.  With experiential and transactional rewards, VIP customers are made to feel like they're part of an exclusive, high-status group that is still achievable.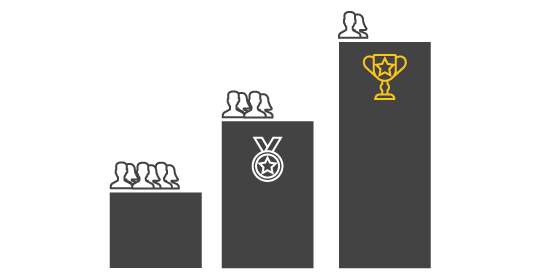 In addition, programs are made up of multiple tiers and branded to fit cohesively with other elements of the brand's marketing strategies.  Finally, customers are shown how close they are to the next level, which increases their desire to level up and receive additional rewards.
With these things in mind, any brand has the potential to design the best VIP program imaginable and make the best customers feel nothing but elite.
Editor's Note: This post was updated for accuracy and comprehensiveness in September 2021.