Tiered programs are becoming an increasingly effective tool for encouraging customer engagement and participation.  As rewards marketing continues to gain prominence, more companies are taking advantage of VIP programs.  This is because VIP programs have been known to drive both acquisition and retention results by making their best customers feel special.
Whether they exist online or offline, brands from many different industries are taking the time to invest in building the perfect VIP program.  As you consider the benefits of tiered programs for your brand, I've scoured the web for seven  of the best VIP programs for you to explore and learn from. So without further ado, let's see what a perfect VIP program looks like!
Sephora's VIB Rouge & Beauty Insider
It shouldn't come as a surprise that Sephora ranks as one of the best tiered programs out there.  Oozing luxury at every turn, the VIB Rouge and associated Beauty Insider programs demonstrate a strong alignment between the brand, its products, and the customer, offering exclusive products to its best shoppers with an emphasis on quality and presentation.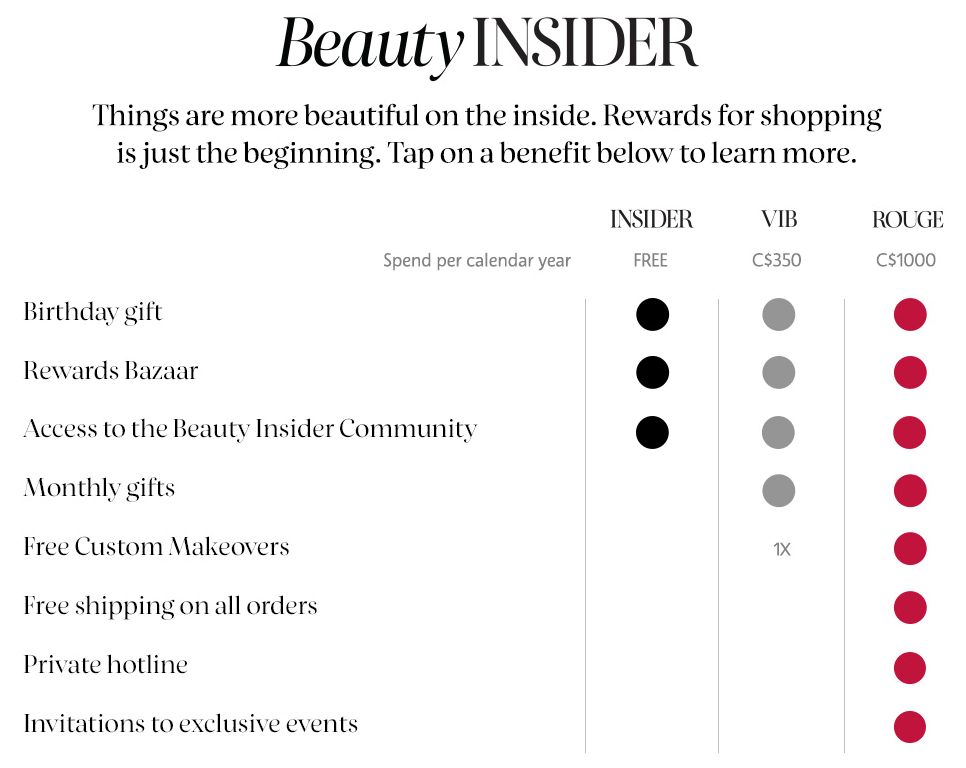 On top of the exclusive products, VIB and VIB Rouge members are also given access to a number of experiential rewards that are not available to members of the basic Beauty Insider program.  This clear distinction between the lower and upper tiers provides an extra layer of exclusivity, making VIB Rouge that much more valuable of a status to achieve.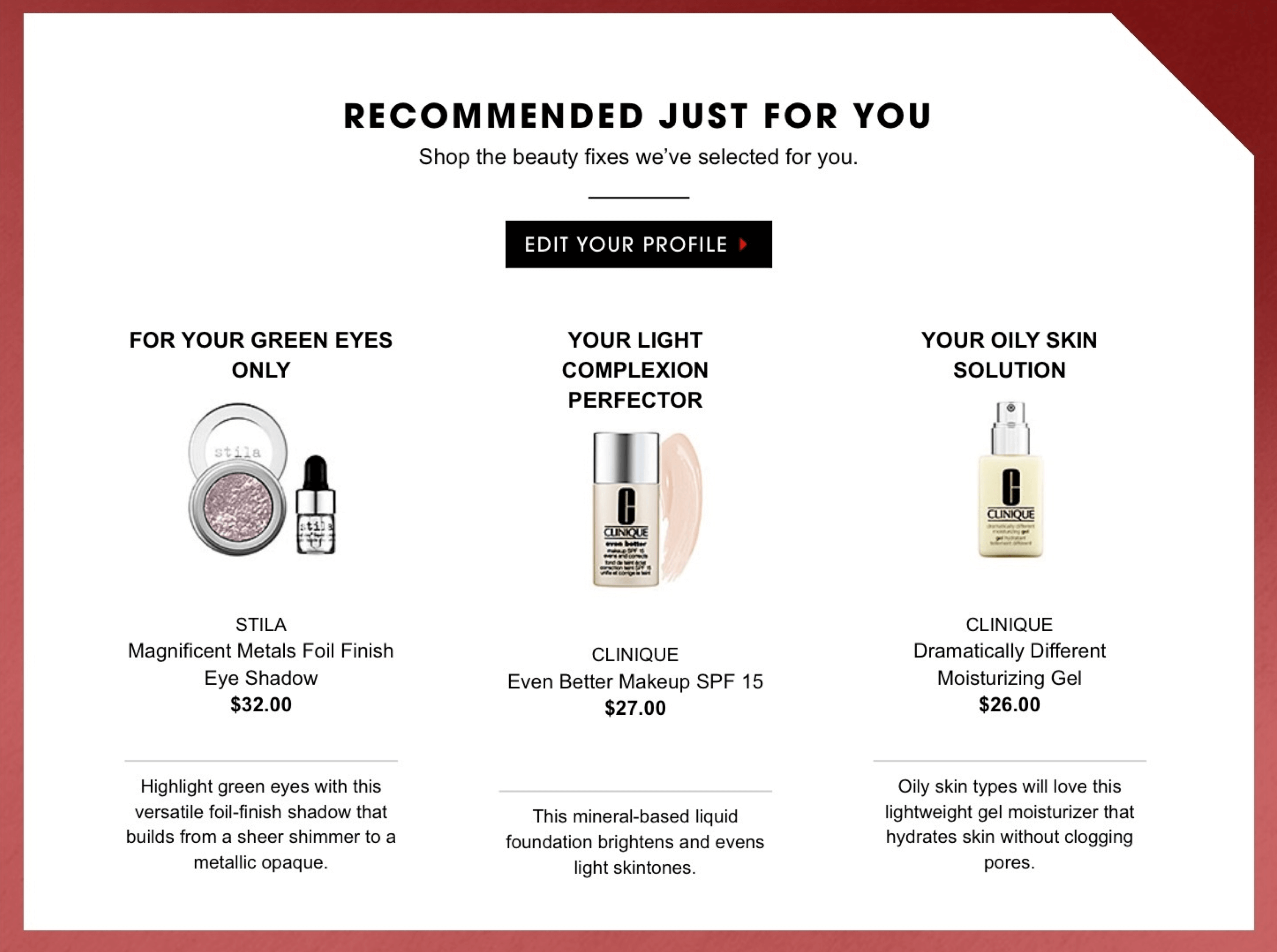 Sephora's use of personalized recommendations further helps set it apart.  These recommendations provide an elevated experience by demonstrating an understanding of each customer's purchase habits and preferred products.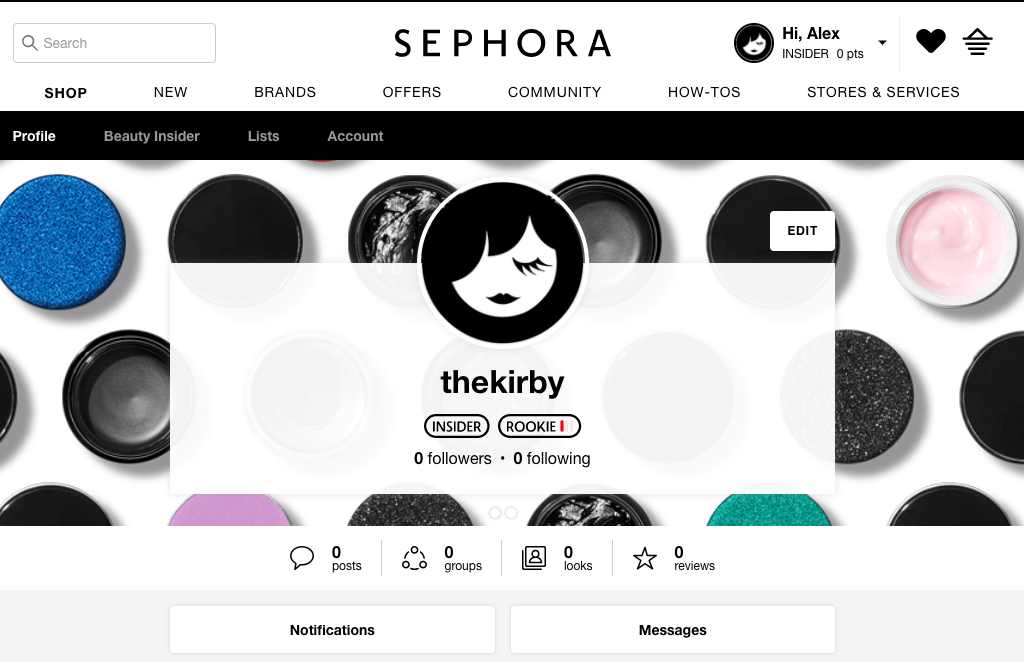 With features like the customized Beauty Profile, Beauty Insiders are treated to a customer experience that extends beyond the the parameters of the program that makes VIB both a lifestyle aid and loyalty solution.
Sephora's Keys to VIP
Exclusive products
Experiential rewards
Personalized recommendations
Starbucks' Starbucks Rewards
Many people would say that their day can't start without a cup of coffee.  Starbucks found a way to capitalize on that, designing their loyalty program so that it can be accessible anytime, anywhere.
With a strong mobile experience, the Starbucks Rewards program becomes a part of the customer's daily routine, giving them the privilege of ordering ahead, jumping the line, and paying directly from their phone.
While their mobile interface is an excellent example of an exceptionally-designed app, Starbucks provides their Rewards members with an amazing in-store experience as well.  Unlike many other VIP programs, Starbucks Rewards has only two tiers: Green and Gold. As a Green member, customers are still able to pay by phone, receive free in-store refills, and take advantage of member offers, but it's the Gold members who truly feel special.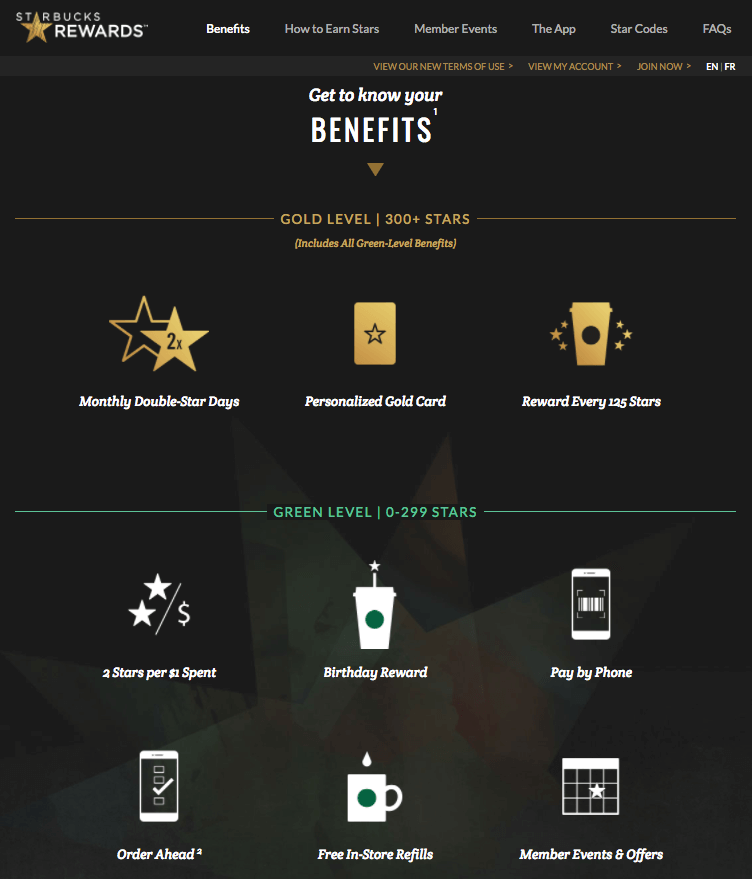 The Starbucks Gold card has become status symbol or sorts, indicating which customers are truly dedicated to their morning coffee.  Although many loyalty programs exist purely online, Starbucks has tapped into the appeal of physical tokens and gift each of their Gold members with a personalized card that can be used in lieu of the app if desired.
The Gold Card demonstrates a keen understanding of how Starbucks' customers perceive the brand.  The chic elitism associated with Starbucks' green and white cups is now replicated in each of their best customers' wallets, making the benefits of their program something tangible.
Starbucks' Keys to VIP
Mobile experience
Convenience
Social status
Run Everything Labs' Rewards
Run Everything Labs is an excellent example of how tiered VIP programs can take advantage of gamification. REL knows that their customers are high level athletes, and this prompted them to design a rewards program that's as competitive as their customers are!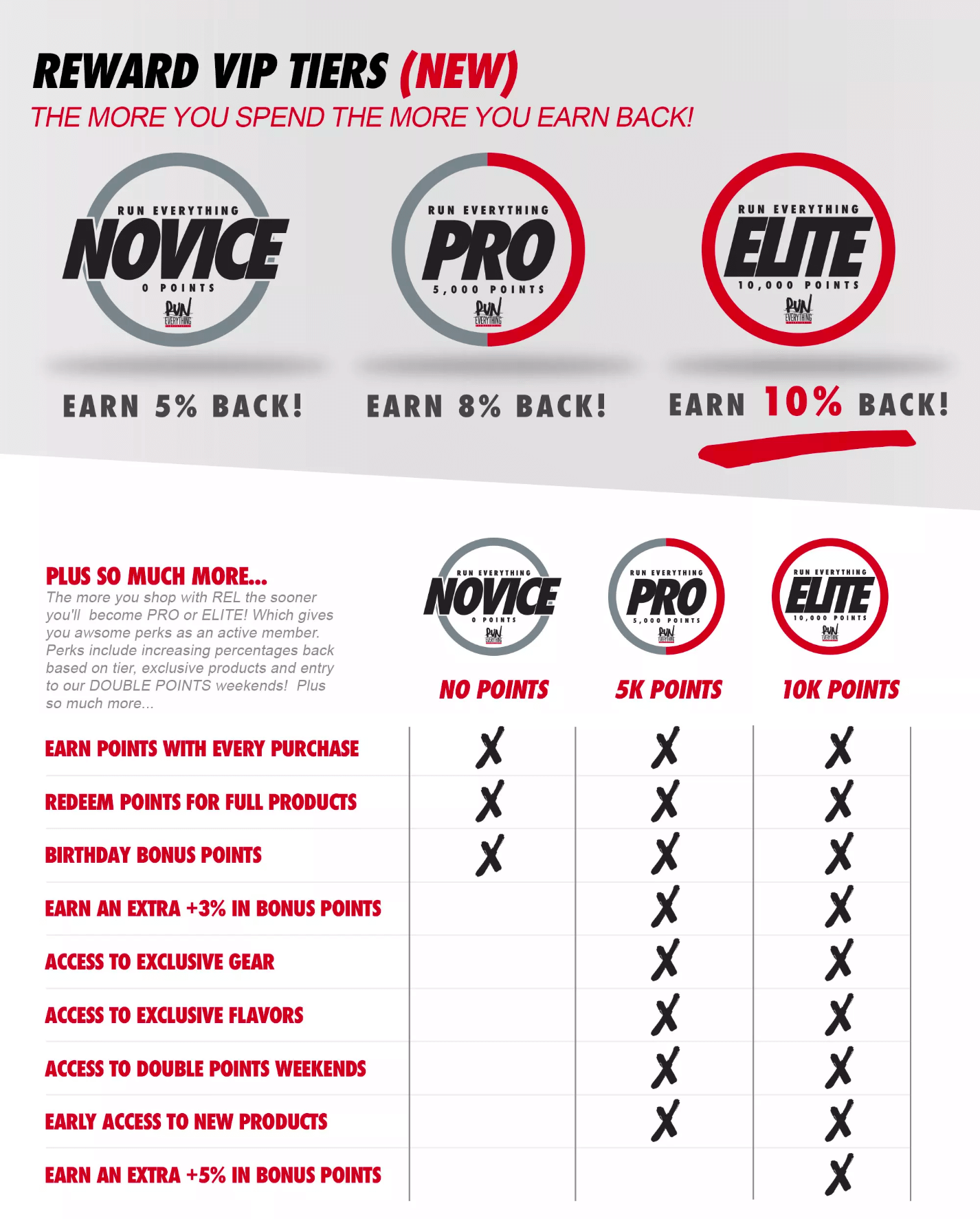 Their tiers are separated into three levels: Novice, Pro, and Elite. The difference between each of these levels is super easy to understand on their explainer page, and as a result is highly motivating. From exclusive gear and special flavors to early product releases and double points weekends, REL has created a VIP tier system that their customers love!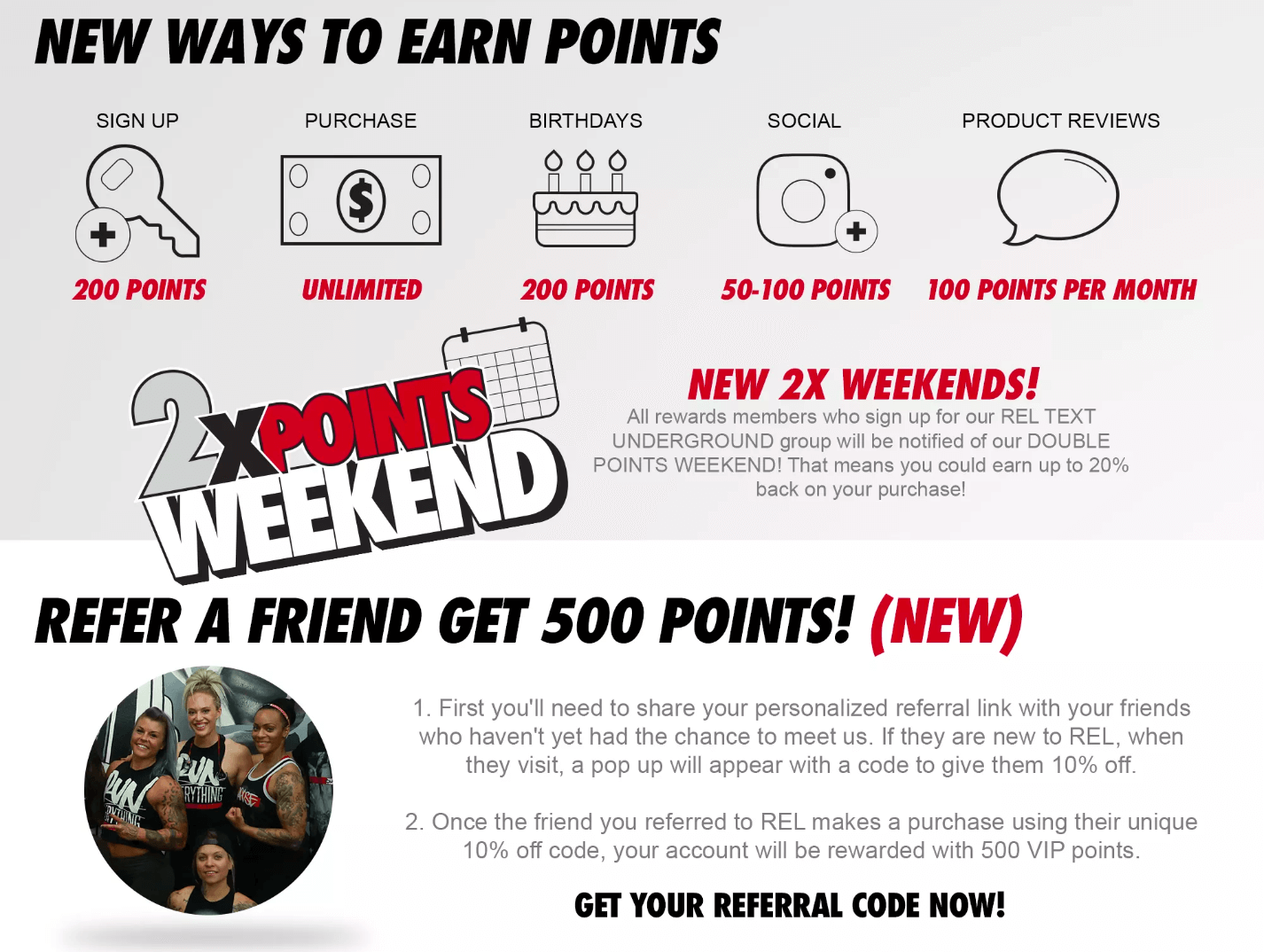 Customers are also given a number of ways to earn points towards rewards. REL knows that their fitness enthusiasts rely heavily on word of mouth recommendations from friends, so they've made it easy for their VIP members to get rewarded for sharing products with friends. For every friend you refer you receive 500 points, which is equal to $5 off your next purchase!



I also love how REL has built rewards that reflect their brand culture. They've carefully crafted a rewards menu that their customers actually value, ensuring their customers have access to the gear and supplements they need to be competing at the highest level. These comprehensive rewards are what solidify REL's position as one of the top VIP programs for the fitness industry.
Run Everything Labs' Keys to VIP
Exclusive tiers
Referrals
Brand culture
Neiman Marcus' Incircle
The average American woman owns 30 outfits – one for every day of the month.  This figure has grown exponentially since the 1930s and will only continue to skyrocket, making customer retention highly valuable in the fashion industry.
Neiman Marcus has designed a loyalty program that works to acquire and retain customers shopping on any budget, and they do this with several excellent VIP program practices.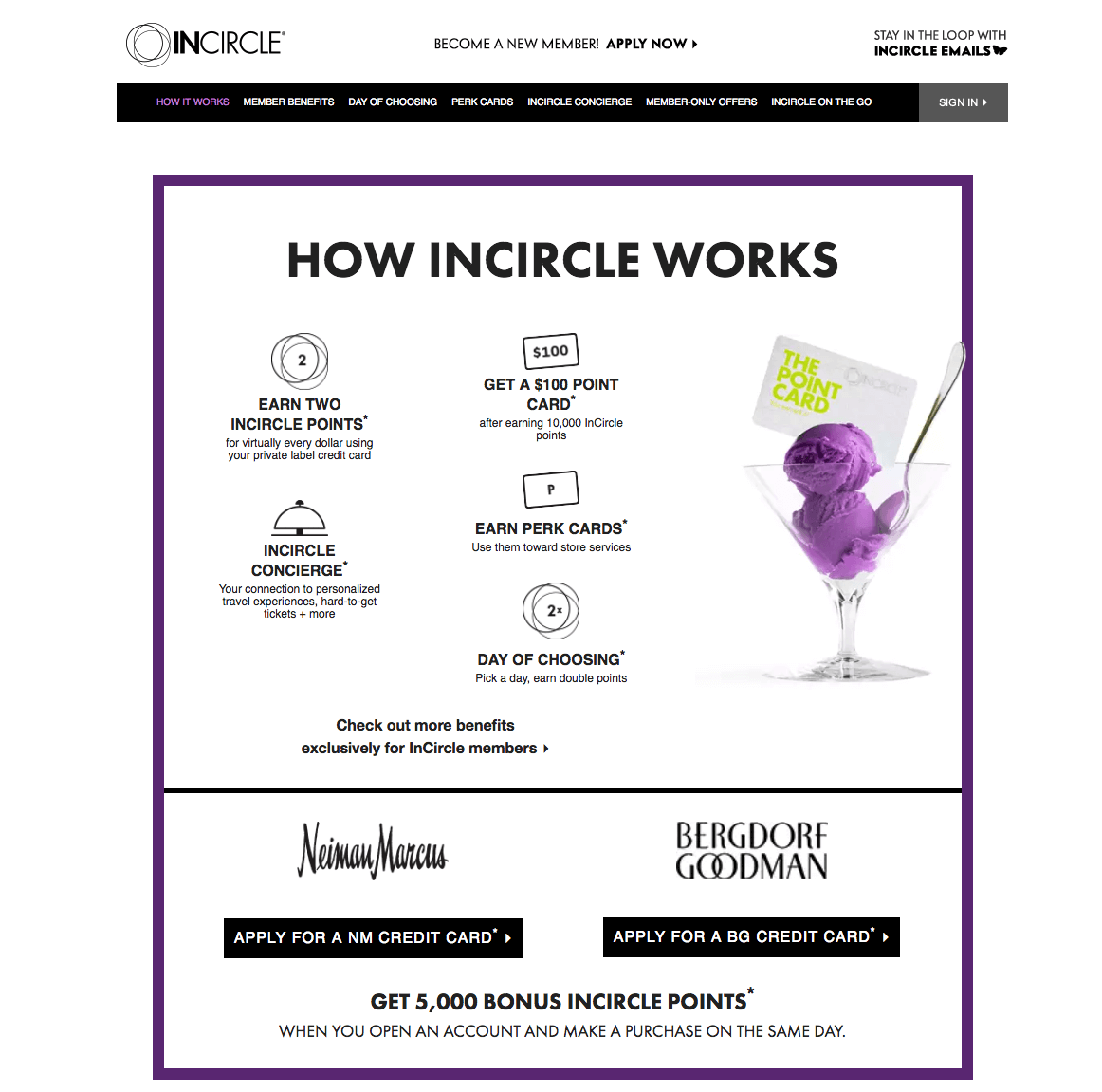 First and foremost, Incircle is presented on an outstanding explainer page.  With on-brand images, colors, and fonts, it feels like a natural extension of Neiman Marcus' main page while still feeling like a fresh component of their marketing strategy.  The page is also super easy to navigate, with each major component of the program broken out into separate bite-sized pieces that can be navigated along the top of the window.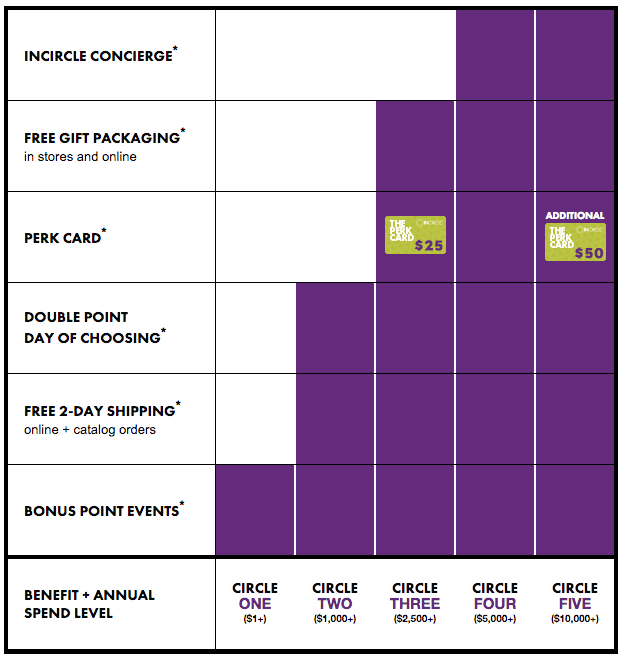 Secondly, the program places a lot of emphasis on experiential rewards for their best customers.  As a five tiered program, Incircle needed to ensure that their best customers feel like they are being rewarded according to their level of loyalty.  This is accomplished by only offering rewards like wardrobe consultation and concierge services to their upper echelon of customers.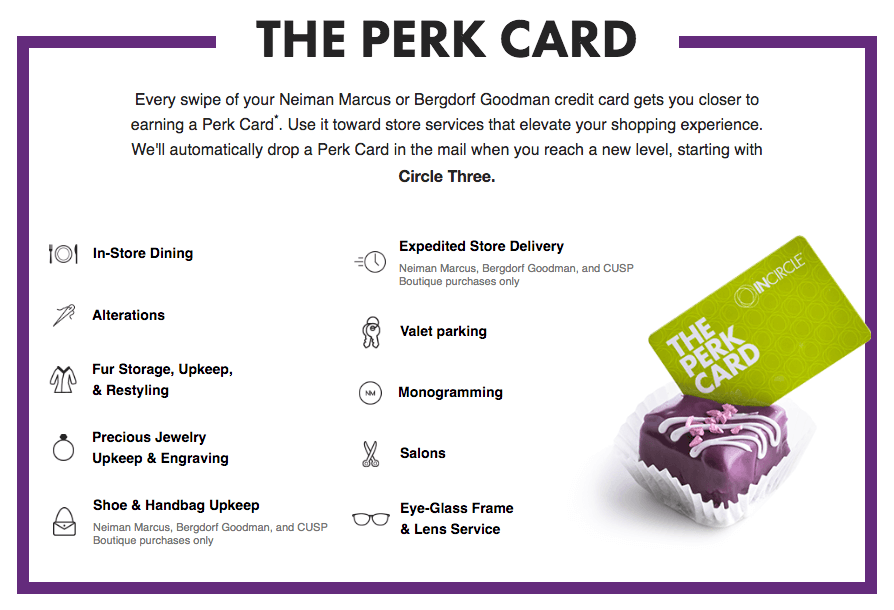 These rewards promise a certain lifestyle - especially when they're coupled with a Perk Card that offers additional shopping services.  Extending the program's rewards beyond a simple transaction indicates a level of personalization that tailors a customer's experience to their specific needs and desires.  This allows the Incircle experience to stand apart from other fashion brands, preserving an aura of luxury around customers and rewards alike.
Neiman Marcus' Keys to VIP
Branded explainer page
Experiential rewards
Personalized rewards experience
Marriott's Marriott Rewards
While there are many travel rewards programs out there, none have embraced the power of tiered loyalty quite like Marriott Rewards.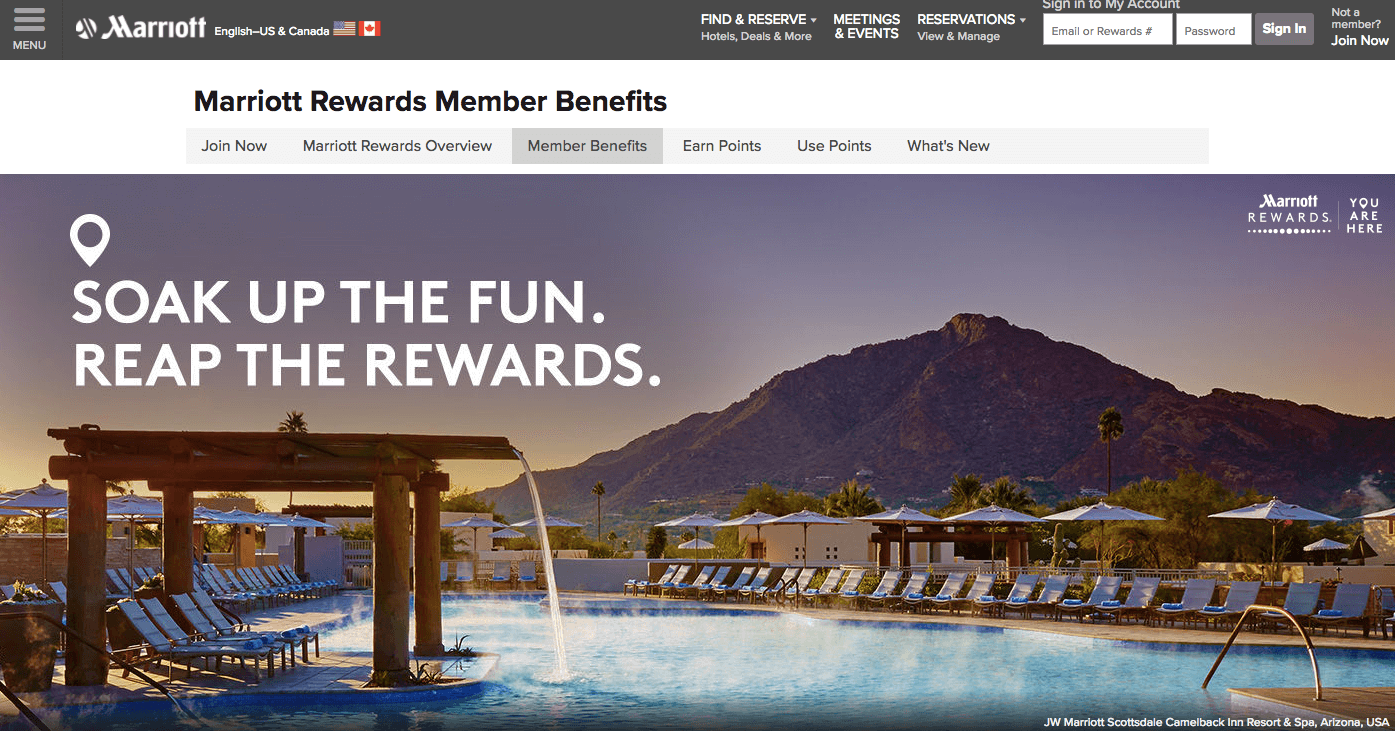 At first glance, Marriott's program looks like any other: as you accumulate nights stayed at any of their participating hotels you're promoted to the next customer group, with Platinum Elite being the ultimate goal.  Using the term "elite" already heightens the social status benefits of the program, but Marriott decided to push this concept one step further with what I like to call "tier-ception".

Marriott Rewards takes gamification to a different level by giving customers the opportunity to never stop improving or engaging with their status in the program.
The program was already set up with reasonable milestones, asking customers to purchase a significant but not unreasonable number of nights in order to receive the best rewards and luxuries.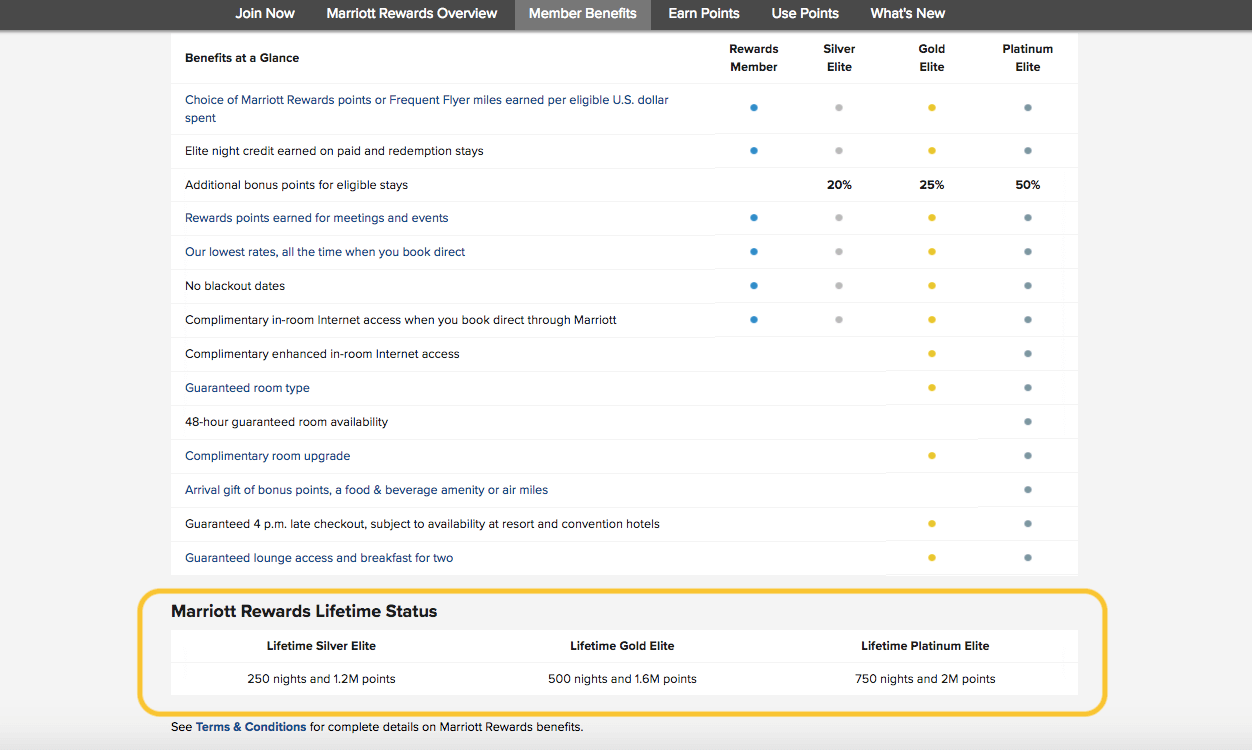 The Lifetime Status tiers take this one step further, however, by giving Marriott the chance to recognize customers who make a long-term commitment to the brand's customer experience.  Once Lifetime status is achieved, it can never be revoked or expire, ensuring the customer receives the benefits of either Silver, Gold, or Platinum status with each visit.
This method of organizing customers demonstrates a keen understanding of each demographic, and makes participation easy, measurable, and achievable.
Marriott's Keys to VIP
Layered tier organization
Achieveable milestones
Use of luxury language
e.l.f.'s Beauty Squad
Named for the types of products they sell (that being makeup for your eyes, lips, and face) e.l.f. has taken the cosmetics industry by storm with their loyalty program (built with none other than Smile.io, we'll have you know!).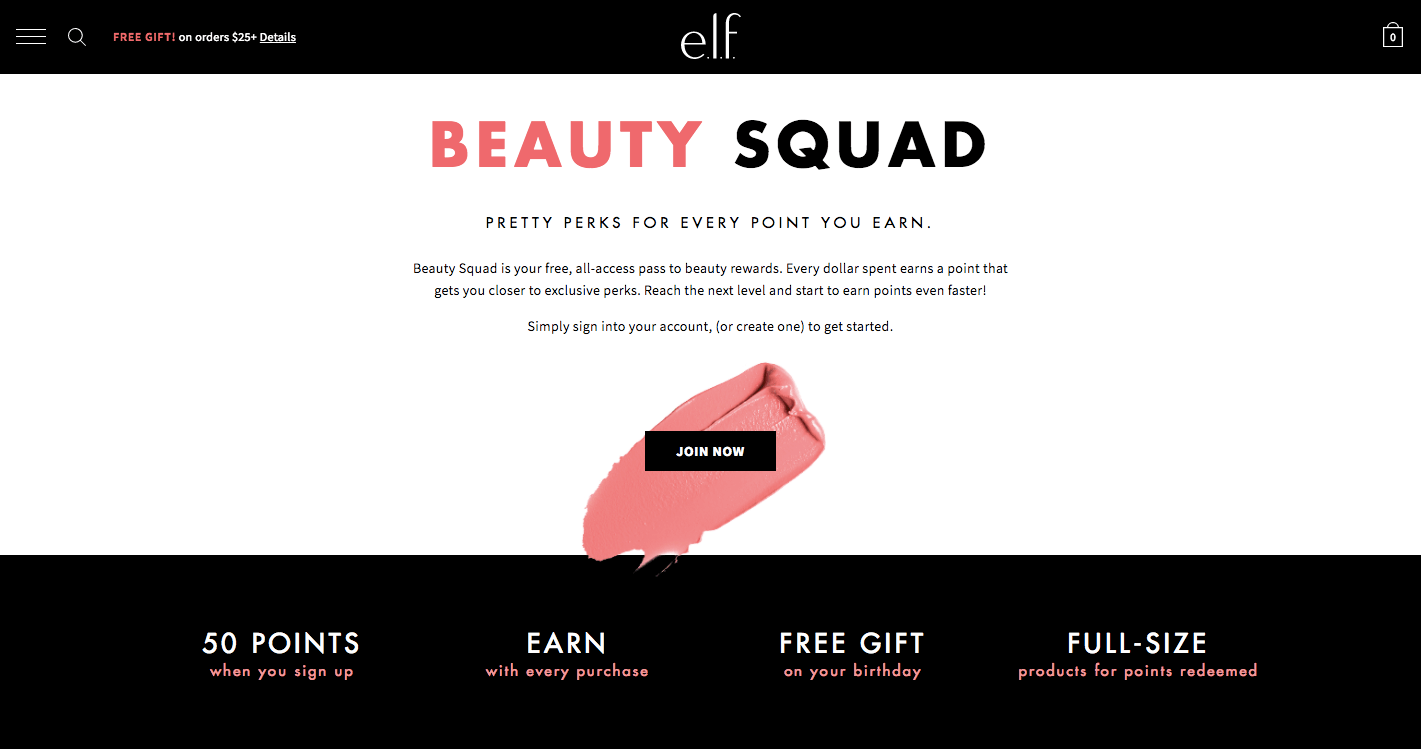 Known as Beauty Squad, e.l.f.'s program is made up of three tiers that clearly reflect the brand's products, marketing strategy, and customer demographic.  Playing with the concept of "girl squads", the pink palette and lip motif blends perfectly with the brand's website and product packaging.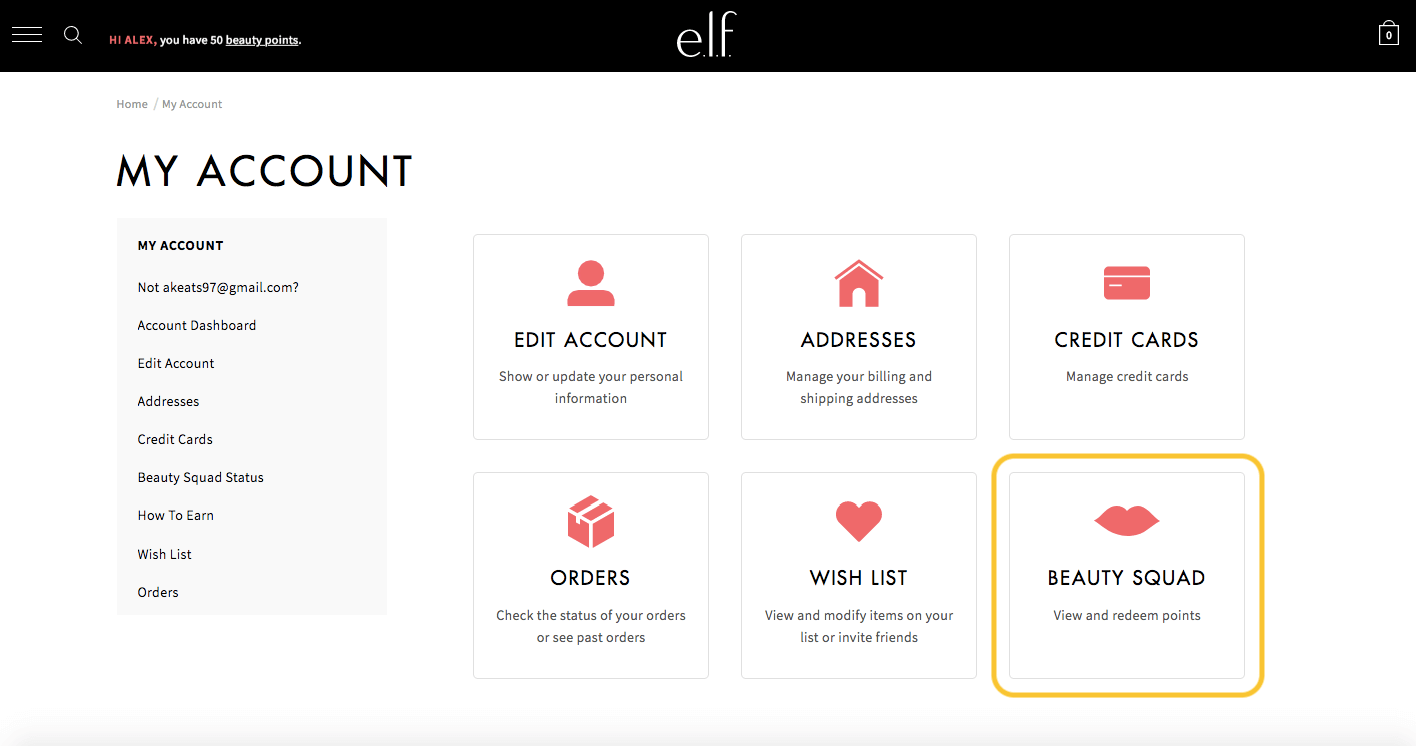 e.l.f. has also taken the time to design an easily navigable account page for their customers.  With a clean and organized layout, program members can easily access their "Squad Status" and figure out how close they are to the next tier of the program.  This increases the desire to participate and secures customer engagement, which is crucial to running a successful loyalty program.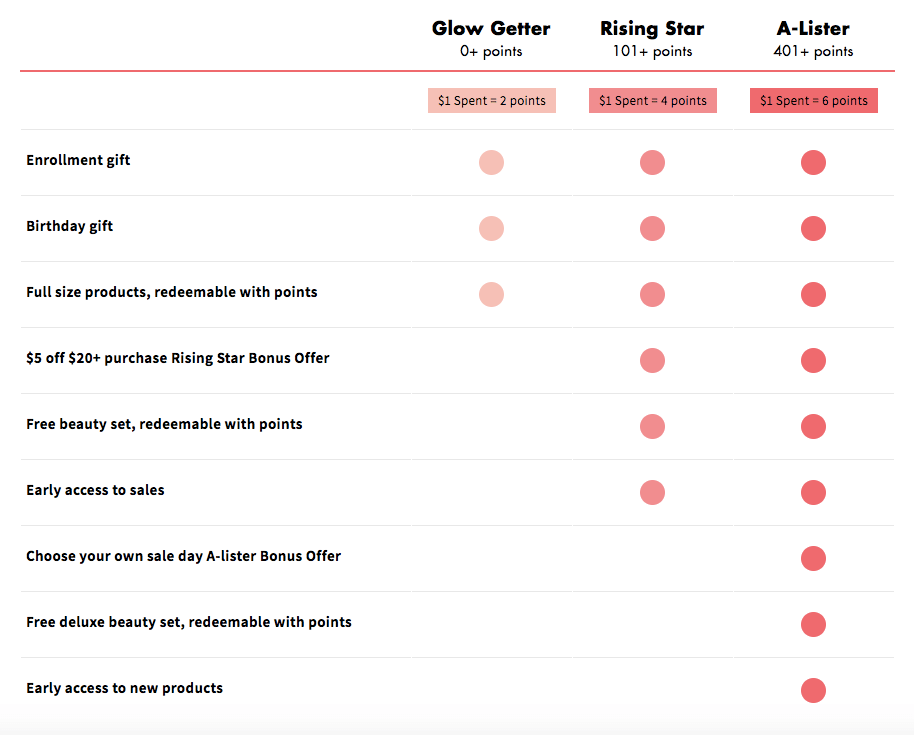 Beauty Squad also understands how to properly reward their best customers.  As an A-Lister, customers are given early access to new products, along with the chance to voting on new product colors.
These rewards, coupled with transactional ones like personalized sale days and full size gifts, make e.l.f.'s VIP customers feel valued and special, reminding them why they chose to shop with this particular brand in the first place.  These feelings will translate into more repeat purchases, proving that offering your best customers a better payoff is always in style.
e.l.f.'s Keys to VIP
Consistent branding
Status bar
Experiential rewards
inkbox Rewards
inkbox has received lots of attention by inventing temporary tattoos that allow customers to make "temporary bad decisions." However, while their tattoos may disappear after a few weeks, inbox has managed to keep their customers' loyalty from fading away by implementing an amazing rewards program.
The first thing inbox did right was their VIP tier names. They have three tiers named "Chapter 1", "Chapter 2", and "Chapter 3" respectively. These names suggest that moving through each tier is a journey, just like reading a book. It's easy to remember, unique, and provides the necessary motivation for their customers to continue progressing through each level.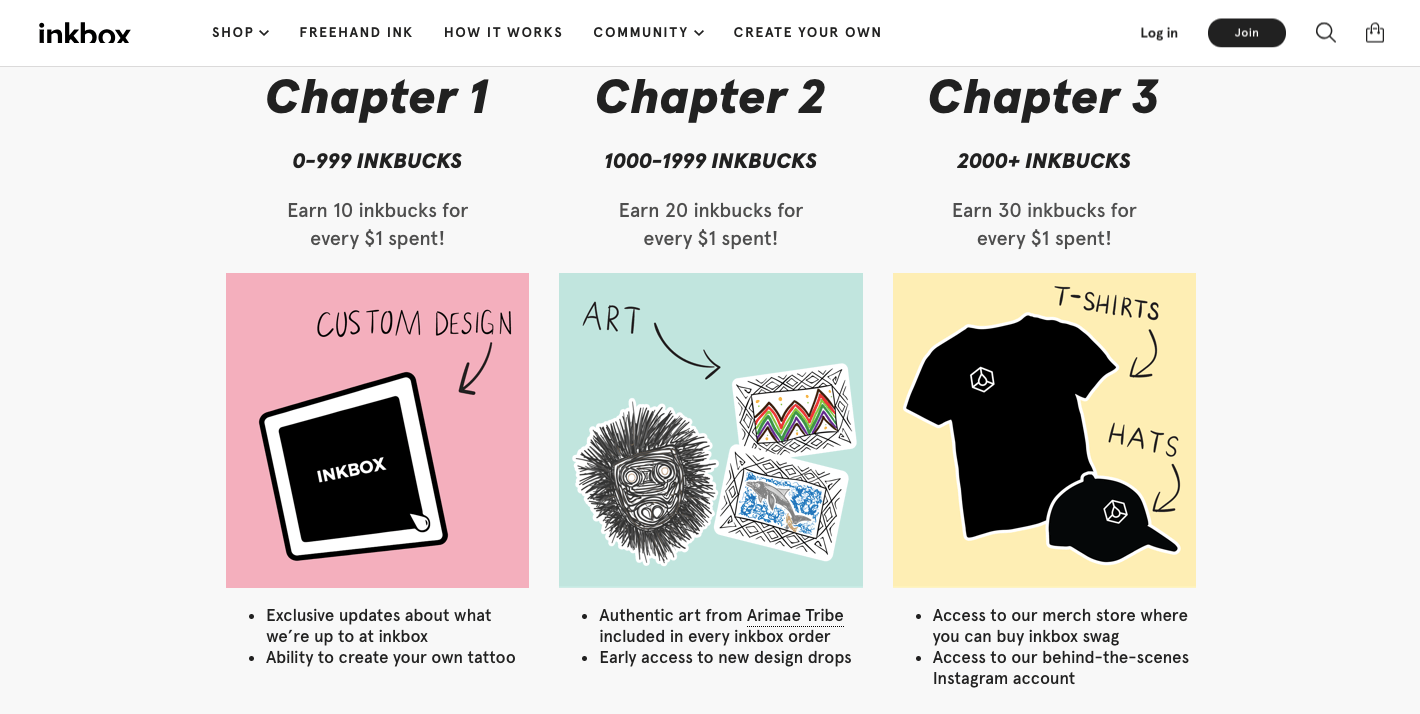 Another area inbox excelled was rewards design. In addition to discounts off future purchases, they chose additional rewards that were exclusive and valuable to their customers. For example, customers in the Chapter 2 tier receive authentic art from the Arimae Tribe with every order. This acts as both a powerful motivator to reach the next tier and a great way to build a unique emotional bond with their customers.
Through their VIP program, inkbox demonstrates that they have a keen interest in building valuable relationships with their customers. From their VIP tiers to their exclusive rewards, inbox has provided an excellent example on how to build an effectively tiered loyalty program.
inkbox's Keys to VIP
Clever tier system
Valuable rewards
Branded explainer page
Designing the MVP of VIPs
After assessing the best of the best, it's clear that successful VIP programs are all built using similar elements.  With experiential and transactional rewards, VIP customers are made to feel like they're part of an exclusive group that is achievable but still clearly separate from other customer groups.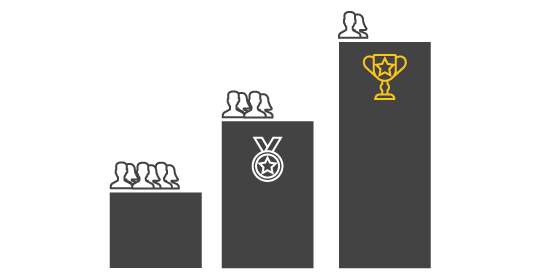 In addition, programs are made up of multiple tiers and branded to fit cohesively with other elements of the brand's marketing strategies.  Finally, customers are shown how close they are to the next level which increases their desire to level up and receive additional rewards.
With these things in mind, any brand has the potential to design the best VIP program imaginable and make the best customers feel nothing but elite.