If you're a regular here on our blog, you know the Smile.io team regularly covers loyalty and rewards programs in small businesses and major large brands. From the lessons you can learn from Starbucks Rewards to how a small sunglasses brand has built a massive community, we break it all down here.
Marriott Bonvoy Rewards is a perfect example of a rewards program that is recognizable and yet has reinvented itself multiple times. If you're a world traveler, chances are hotel rewards are something you actively pay attention to. If you're just looking for inspiration on reward and loyalty programs to take lessons from, Marriott is a prime example to look at.
Hotels around the world have launched their own loyalty and rewards programs, most tied in with branded credit cards. The ultimate goal of these hotel reward programs is to lock in customers and have them choose their hotel over the millions of others. Let's find out what makes Marriott Bonvoy a world-class rewards program and the lessons any business can learn from. In other words, is it a 5-star program or worthy of a negative review?
Why Marriott Bonvoy Rewards is successful
Marriott has a reported 120 million members in its rewards program. With over 8,000 hotel locations, chances are you have stayed at a Marriott before. Marriott has over 30 different hotel brands under its Marriott brand name. This gives customers endless options to choose a hotel to stay at while earning and redeeming points in different ways. Marriott Bonvoy is also the name of their loyalty program that allows members to earn and redeem points through their branded credit cards, hotel stays, shopping, and so much more.
Rewards explainer page is simple and easy for new members to find
When setting up a rewards program, our team recommends ecommerce brands create explainer pages to let customers know the ins and outs of your rewards program.
Well, when it comes to Marriott Rewards, their page is clean, simple, and effective in guiding a first-time visitor or a returning customer to learn more about their rewards program. Right below the fold, users can learn about each Elite Membership Tier customers can fall into or they can navigate to the tab. Marriott has designed a rewards portal that breaks their program into clear sections members can click between to learn everything there is to know about the program. Instantly, anyone can look up the benefits associated with the tier they fall into or one they're striving for.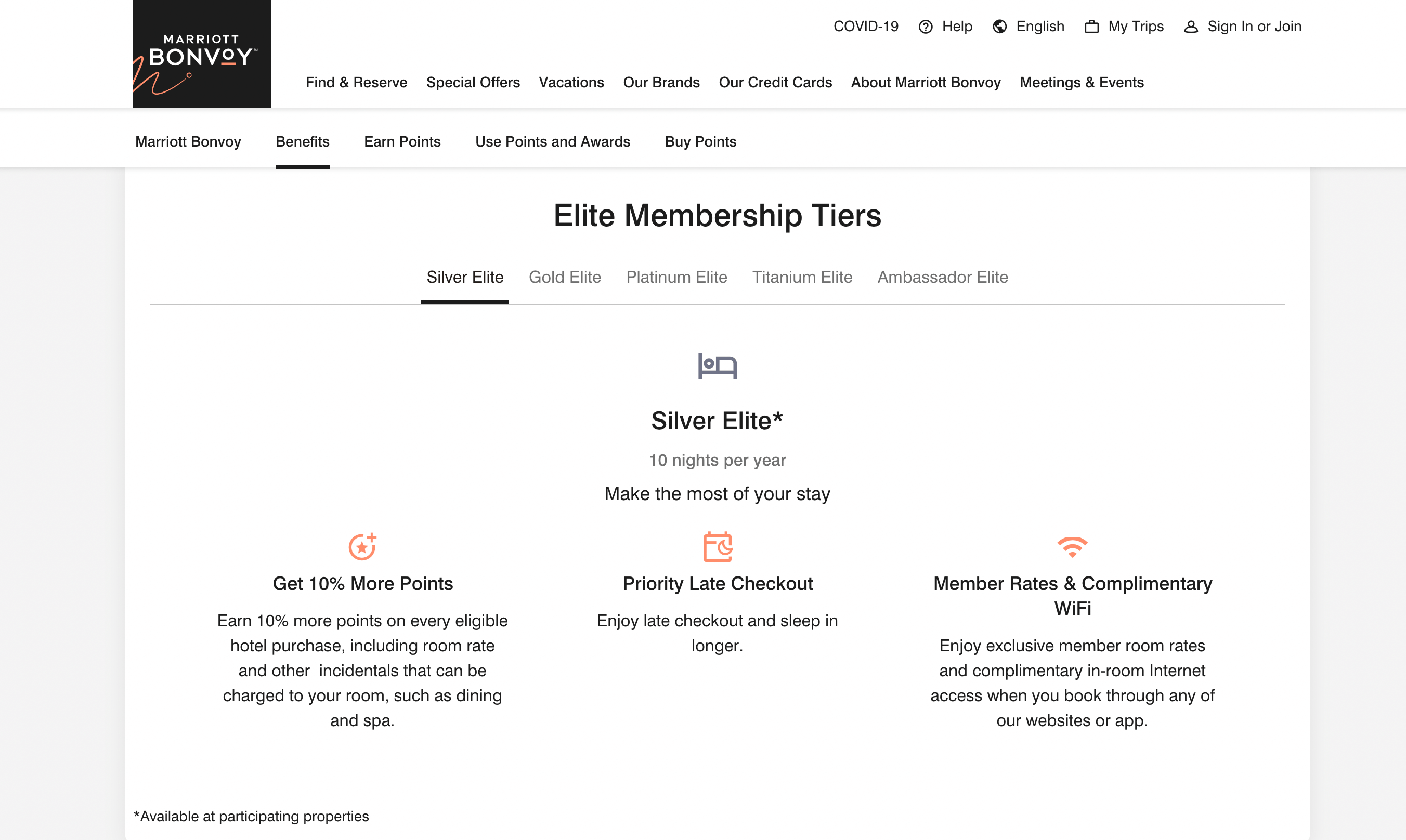 Each page in their rewards portal beautifully captures a Marriott location, which in a subtle way tells their members they can stay at a beautiful Marriott location through their points. No matter what part of the program you're exploring, Marriott makes it easy to find your way around with a scrolling navigation bar that outlines the four key pieces of their program: Benefits, Earn Points, Use Points and Awards, and Buy Points.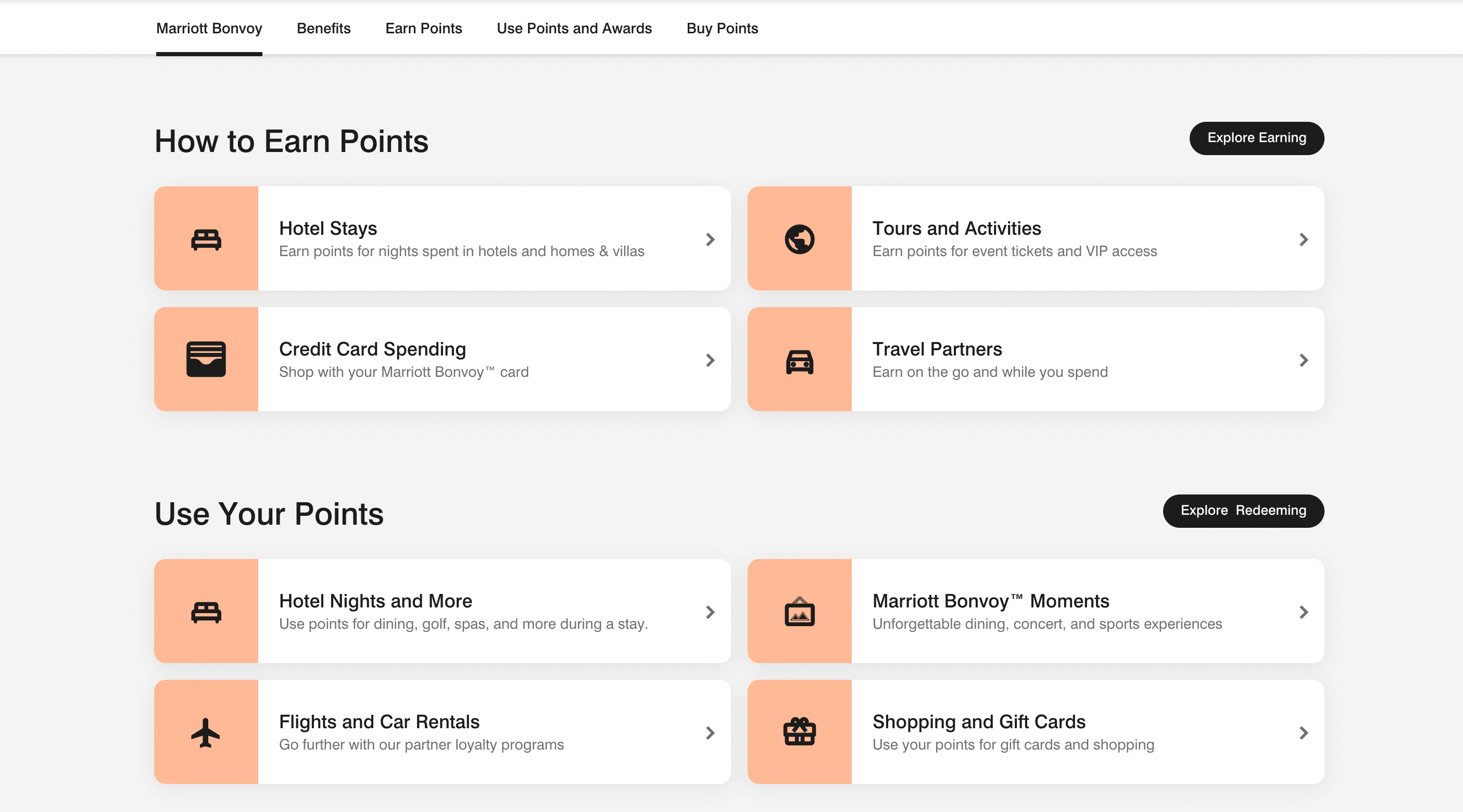 Marriott clearly defines how to earn points and how members can use their points showing all the ways a customer can make the most of their reward program. These features, combined with the clear calls to action scattered throughout the explainer page, make it easier for customers to create an account and start experiencing the benefits of being a Marriott Bonvoy member.
Marriott Rewards gives meaningful rewards and earning actions
When you give meaningful rewards you make your customers feel special and like it's worth their time (and money) being spent on your business. Marriott Bonvoy lays out exactly how reward program members can earn more points toward those meaningful rewards.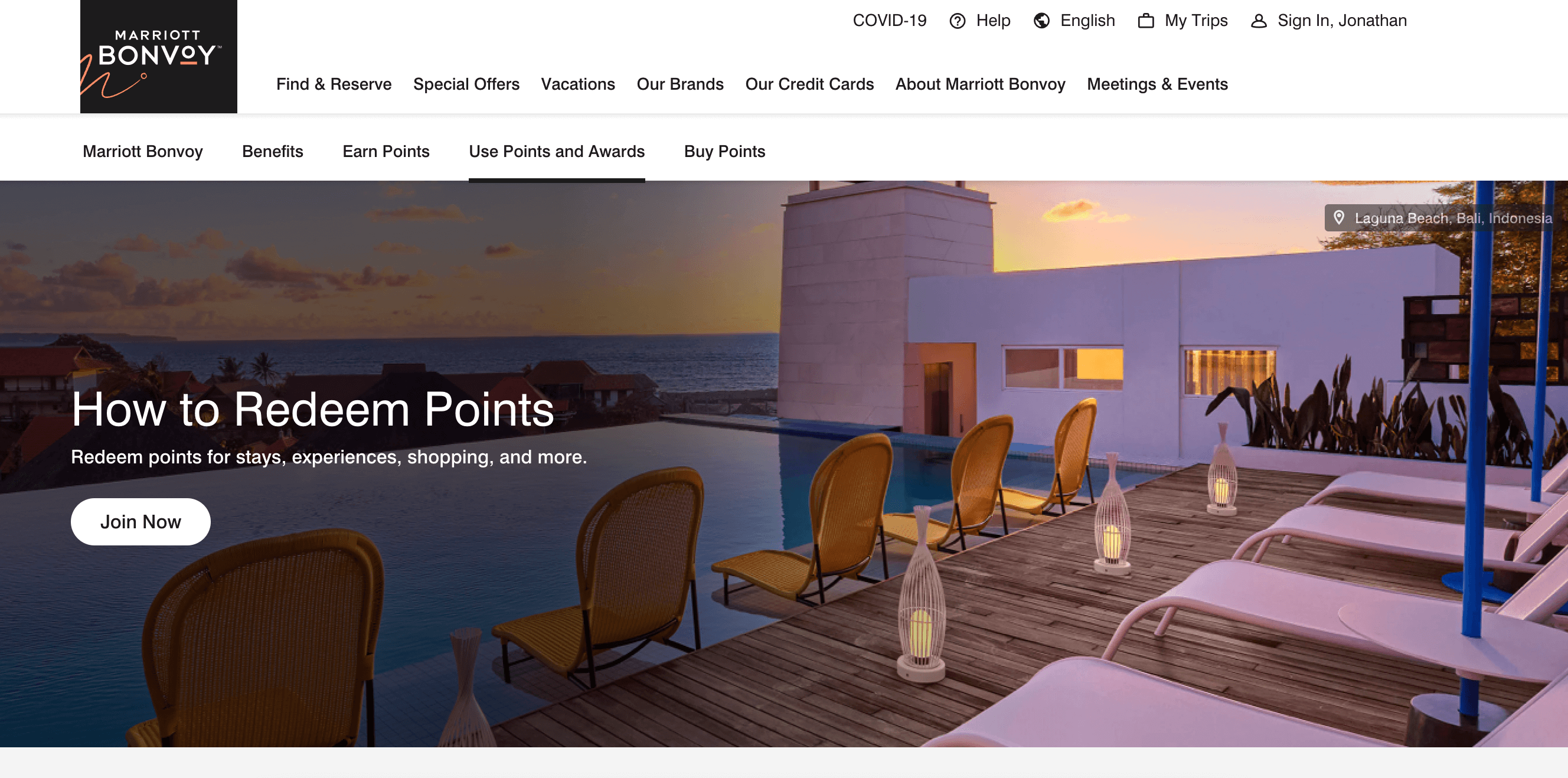 Marriott Bonvoy reward members can redeem for hotel stays, car rentals, airfare, or shop with the points they acquire in the form of a gift card to major brands. Giving members options on where and what to spend their reward points on incentivizes members to continue to earn more. For example, Marriott members can also combine loyalty points with cash to stretch their points or spend on tech gear and apparel.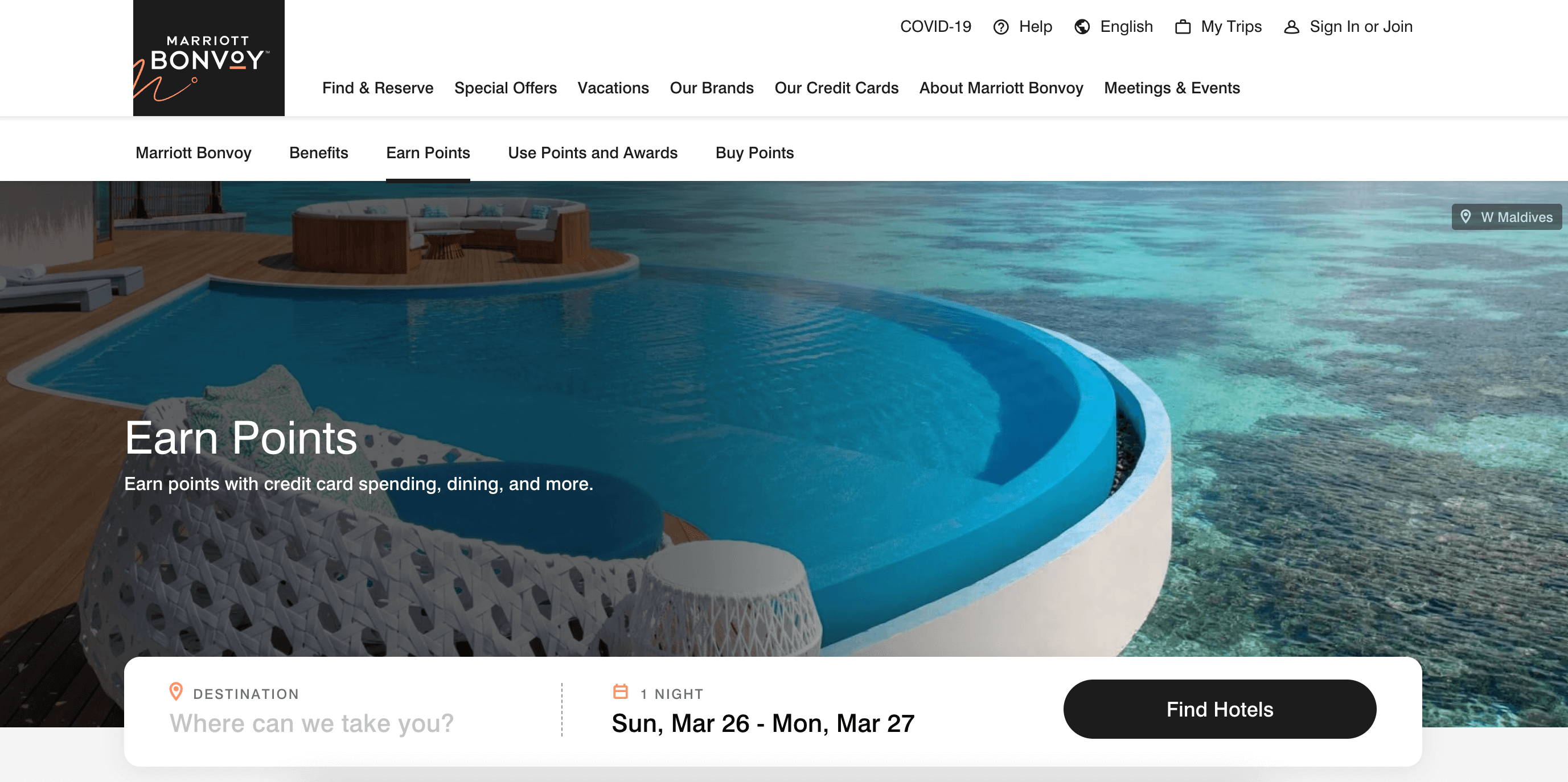 Members are also motivated to earn points through different ways other than just staying at a hotel location. Marriott Bonvoy members can earn points on booking experiences through their portal, like a travel tour, seeing a concert, or a cooking class. For example, booking a Washington DC site bike tour can earn members 270 Bonvoy points. Or booking a taco night food tour in Mexico City can earn members 399 Bonvoy points.
If members have a branded credit card, some can earn up to 6x points for every dollar spent on hotel stays with their Chase boundless credit card. Or 4x points on every dollar spent at restaurants and groceries with their American Express card.
Offering both meaningful rewards and meaningful earning actions emphasizes the value Marriott has on its reward members and their brand community. With a focus on emotional relationships, Marriott makes it easy for their members to feel connected not only to the hotel chain but through the experiences and where they can maximize their rewards.
Highly personalized VIP experiences

One area Marriott excels in is making their members feel valued through a personalized VIP experience. Whether visiting a hotel location or paying with points, you get a personalized experience.
With six different VIP levels, from member to ambassador elite, Marriott Rewards knows how to make you feel like one of the travel elite. From mobile check-in services to bonus points and hotel welcome gifts, everyone can feel special no matter how much you travel!
Marriott Bonvoy has the tiers, Member, Silver Elite, Gold Elite, Platinum Elite, Titanium Elite, and Ambassador Elite status up for grabs. Members can start with only needing to stay with Marriott 10 nights/year to reach the next tier from Member to Silver Elite. From there, you will need to stay 25 nights to move on to the next milestone. These increments are incredibly reasonable if you travel a lot, making the program accessible to anyone who takes more than one trip a year.
The real luxury comes with their Ambassador Elite tier. Intended for business travelers who can take advantage of the program all year long, this exclusive VIP tier pulls out all the stops to make every Marriott stay a perfectly-personalized experience. Not only do Ambassadors have the option to choose their 24-hour check-in and check-out window, but they're also treated to special welcome gifts and a 75% bonus points on every hotel purchase.
When you've been collecting reward points from Marriott bonvoy app and earn a free hotel stay night! 🥳 @MarriottBonvoy

— Jasz (@JasmineMichell3) February 17, 2023
These personalization efforts make reaching that higher tier even more valuable for travelers and demonstrate that Marriott's number one priority truly is customer comfort, satisfaction, and experience.
Where Marriott Rewards needs an upgrade
Marriott Bonvoy has some great perks and ways to earn points, but there is always room for improvement on even the best loyalty and reward programs.
If you're not a frequent traveler, it's not for you
The truth is, if you're not a frequent traveler or prefer the Airbnb route, Marriott Bonvoy is not for you. In order to cross over to the next tier, 25-night increments are needed, which can be hard to hit if you don't spend time in hotels. If you're not an avid credit card user, chances are the Marriott Bonvoy branded credit cards are not for you either, especially as some have an annual fee between $95-$500 a year.
One way Marriott Bonvoy can use an upgrade is by making the program more inclusive, for those who maybe travel differently than staying at their hotels. Of course, you can hack the points game and use your points for car rentals or cruises, but if you're not staying at Marriott hotel locations, chances are you are a reward and loyalty member elsewhere.
By making their program expansive on where to earn and redeem points, Marriott can lock in the emotional connection on the days members don't stay on their properties. If your business and brand is not top of mind for customers, or not emotionally connected, their loyalty lies elsewhere.
Is Marriott Rewards worth a 5 star rating?
Absolutely! Marriott Bonvoy hits every area we recommend every ecommerce brand to do in order to be successful with their loyalty and rewards program. Marriott offers meaningful rewards, diverse earning options, and an explainer page that walks through every detail of the program.
Marriott Bonvoy has thought about the customer experience and incentivized customers to feel connected to the brand beyond their stay at a Marriott hotel. Marriott Bonvoy rewards is simple for new members to sign up for and easy to navigate. Making 120 million program members feel connected and valued is not easy. But Marriott has proved to be a good example of building a program that can instill loyalty in customers.
Editor's Note: This post was originally published on December 4, 2018, and was updated for accuracy and comprehensiveness on March 28, 2023.
Build a loyalty program for your ecommerce store.
Launch a program in minutes.