When I was a kid, spending a night in a hotel was the ultimate luxury because it had a pool and cable TV. Now that I'm older, I realize that the pool wasn't the reason my parents picked a particular hotel. Instead, they were looking for the best deal and often chose hotels based on the rewards they could earn. More hotel chains are offering loyalty rewards today versus back then, which means you want to make sure you're getting the best possible value whether you're a seasoned business traveler or just taking the kids away for the weekend.
That's where Marriott Rewards comes in. While my ten-year-old self is wondering how big the pool is, the rewards specialist in me wants to know if their program is as world-class as their hotels.
I guess there's only one way to find out!
How Marriott Rewards earns a great tip
From turning down the sheets to leaving a chocolate on your pillow, there are a lot of things a hotel can do to deserve a tip. Marriott Rewards earns a generous tip in a couple of incredible ways.
Rewards portal is easy to find onsite
If you're a regular reader of the Smile blog, you know that we use the term "explainer page" to describe a page dedicated to explaining the ins and outs of a rewards program.
Well, when it comes to Marriott Rewards I just don't think "page" is a big enough word to describe their online rewards experience. Instead, Marriott has designed a rewards portal that breaks their program into clear sections members can click between to learn everything there is to know about the program.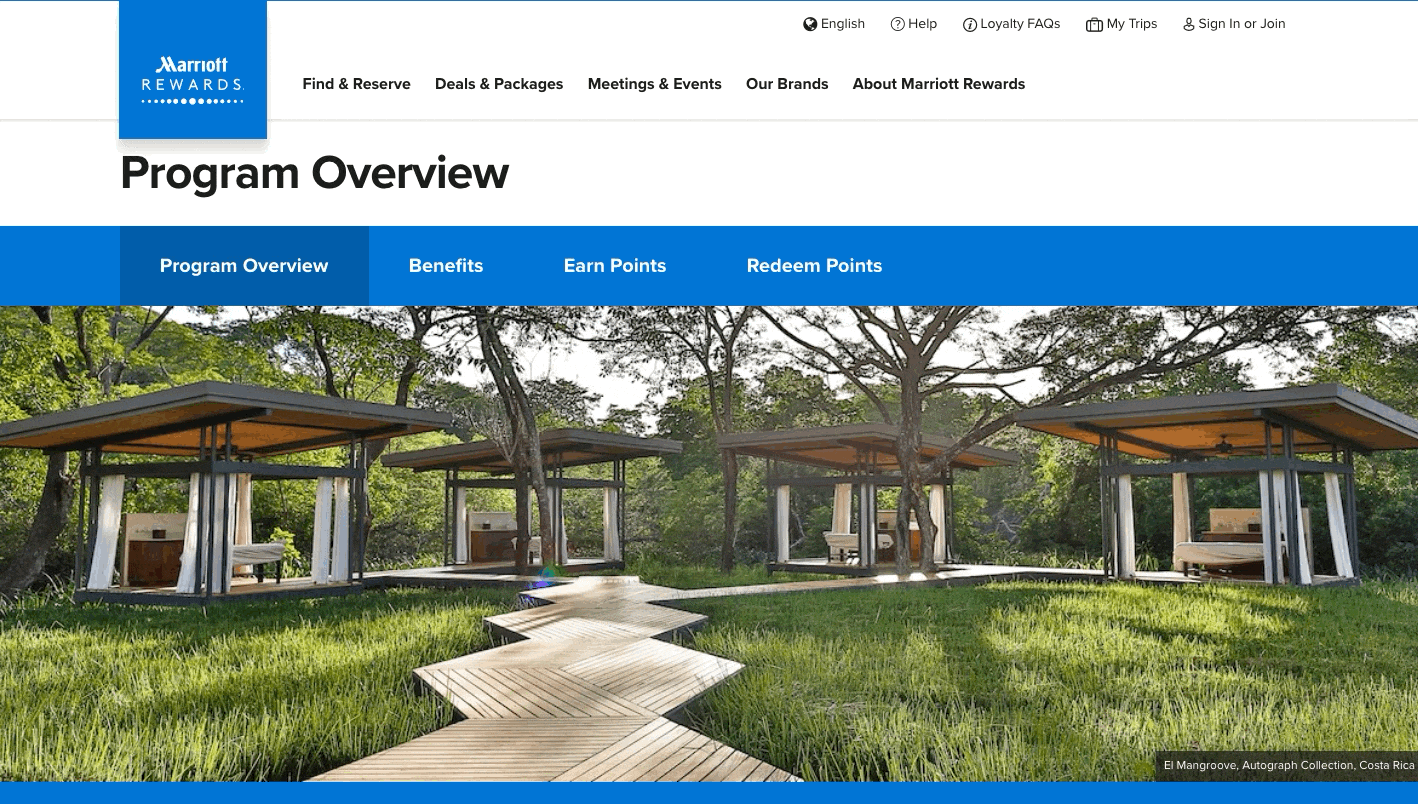 Each page is beautifully designed, with gorgeous photography and clearly labelled sections to make navigation easy and painless. No matter what part of the program you're exploring, Marriott makes it easy to find your way around with a scrolling navigation bar that outlines the four key pieces of their program: Overview, Benefits, Earn, and Redeem.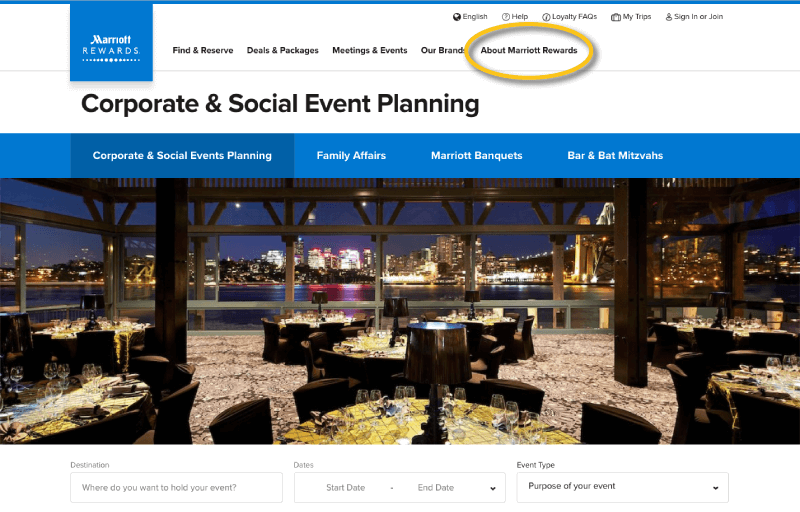 As if that wasn't enough, they've also added a clear link to their site's navigation bar, making it easy to access the program from anywhere in the browsing experience. These features, combined with the clear calls-to-action scattered throughout the portal, make it easier for customers to create an account and start experiencing the benefits of being a Marriott Rewards member.
Marriott Rewards encourage community
Traveling is the most fun when you do it with people you love. Unfortunately, you can't always bring them with you.

Although Marriott Rewards doesn't offer to pay for your friends and family, they do give you other ways to share your experiences with them by allowing you to gift your points to other members. Now, you have the power to make it possible for your bestie to join you on your next trip to Mexico — all without actually spending more money!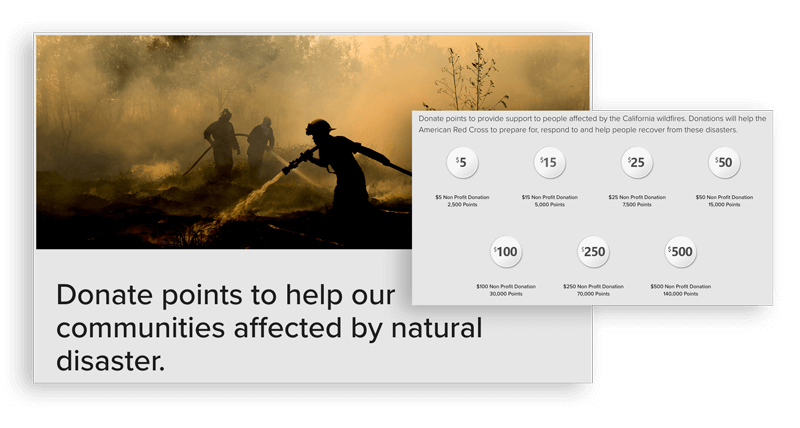 Members can also donate to charitable causes like the American Red Cross. With donation sizes ranging from $5 to $500, customers can cash in their points to help others in their communities.
Both of these rewards emphasize sharing, putting a strong focus on the third stage of an effective brand community. With a focus on emotional relationships, Marriott makes it easy for their members to feel connected not only to the hotel chain but other members and external causes, too. This sense of being part of something bigger helps every member feel good about their decision to stay with Marriott, making it an easy decision to choose them on their next family getaway.
Highly personalized VIP experiences
There are few things that feel more luxurious than travelling first class. That includes not just your flight but your hotel accommodations, too.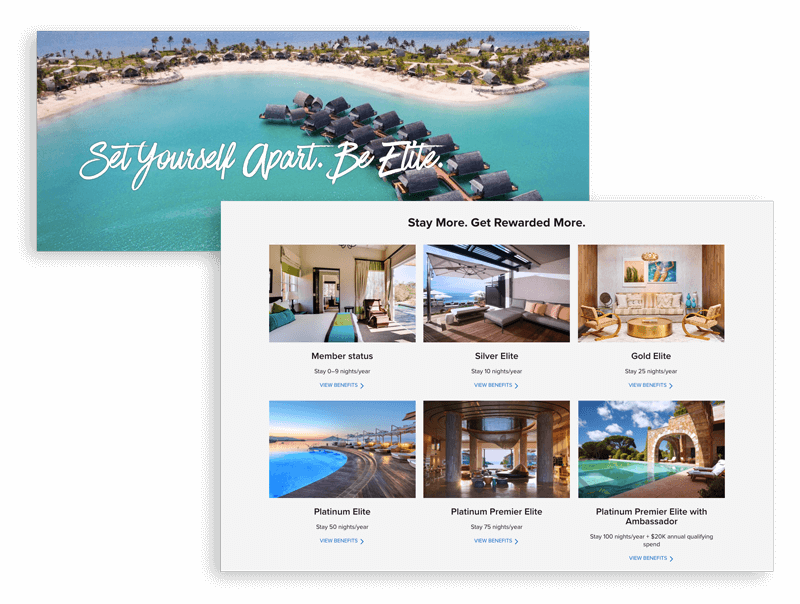 With six different VIP levels, Marriott Rewards knows how to make you feel like one of the travel elite. From mobile check-in services to bonus points and hotel welcome gifts, everyone can feel special no matter how much you travel! With Silver Elite, Gold Elite, Platinum Elite, Platinum Premier Elite, and Platinum Ambassador status up for grabs, members only need to stay with Marriott 10 nights/year to reach the next tier. From there, the 25 night milestone increments are incredibly reasonable, making the program accessible to anyone who takes more than one trip a year.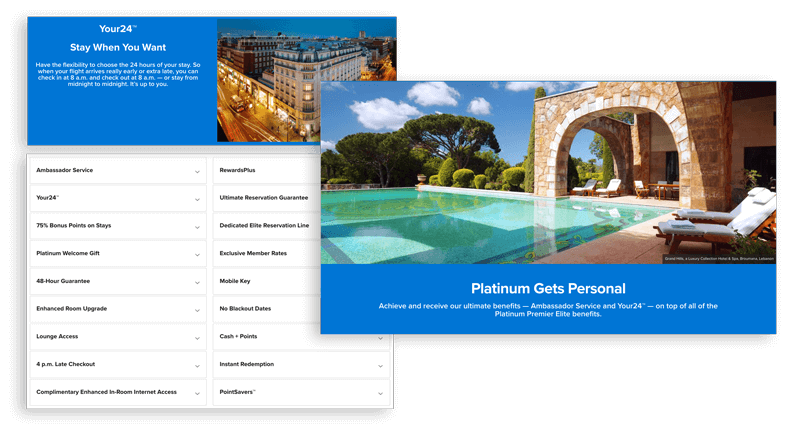 The real luxury comes with their Platinum Ambassador tier, though. Intended for business travelers who can take advantage of the program all year long, this exclusive VIP tier pulls out all the stops to make every Marriott stay a perfectly-personalized experience. Not only do Ambassadors have the option to choose their 24 hour check in and check out window, they're also treated to special welcome gifts and exclusive member rates that no one else has.
These personalization efforts make reaching that higher tier even more valuable for savvy travelers and demonstrate that Marriott's number one priority truly is customer comfort, satisfaction, and experience.
Why Marriott Rewards needs room service
Even the most respectful travelers need their rooms cleaned after they spend a night in a hotel, and the same goes for Marriott Rewards. While they offer a number of great perks, they still have some cleaning up to do.
Portal provides too much information
You may recall that one of my favorite things about Marriott Rewards is their amazing portal, so I can understand if this section feels a bit hypocritical. However, if I learned one thing from my mom it's that too much of a good thing is too much, and the Marriott Rewards portal is indeed too much.
There's such a thing as giving your customers too much information.
Even though each of the elements included in the portal are incredible on their own, there is an overwhelming amount of information provided in only a number of pages. At a glance it's great — you know that every question you've ever had about Marriott Rewards will be answered! The problem is that you need to click through page after page in order to find what you're actually looking for.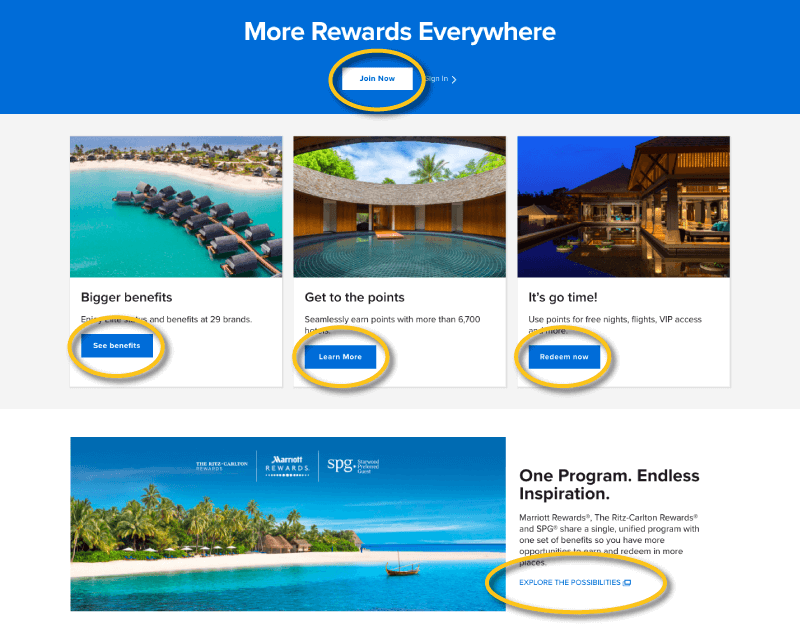 There's also a ridiculous number of links on each page, many of which opens another tab. This can make it hard to know where you actually are in the Marriott Rewards portal at any given time.
Each of these features, combined with an exhaustive amount of text, has turned a relatively simple program into one that feels complicated and involved. These characteristics can very quickly distract potential members from the benefits of being a member, no matter how beautiful the photography on each page might be.
Earning rules aren't clear
I know I just said that there's such a thing as too much information, but it's also possible to give too little. Somehow, Marriott Rewards has managed to do both on their Earn Points page.
As a customer, the things that prompt you to join a rewards program are the rewards you can earn and how easy those rewards are to get. Without that information, it's difficult to determine if becoming a member is worth your time.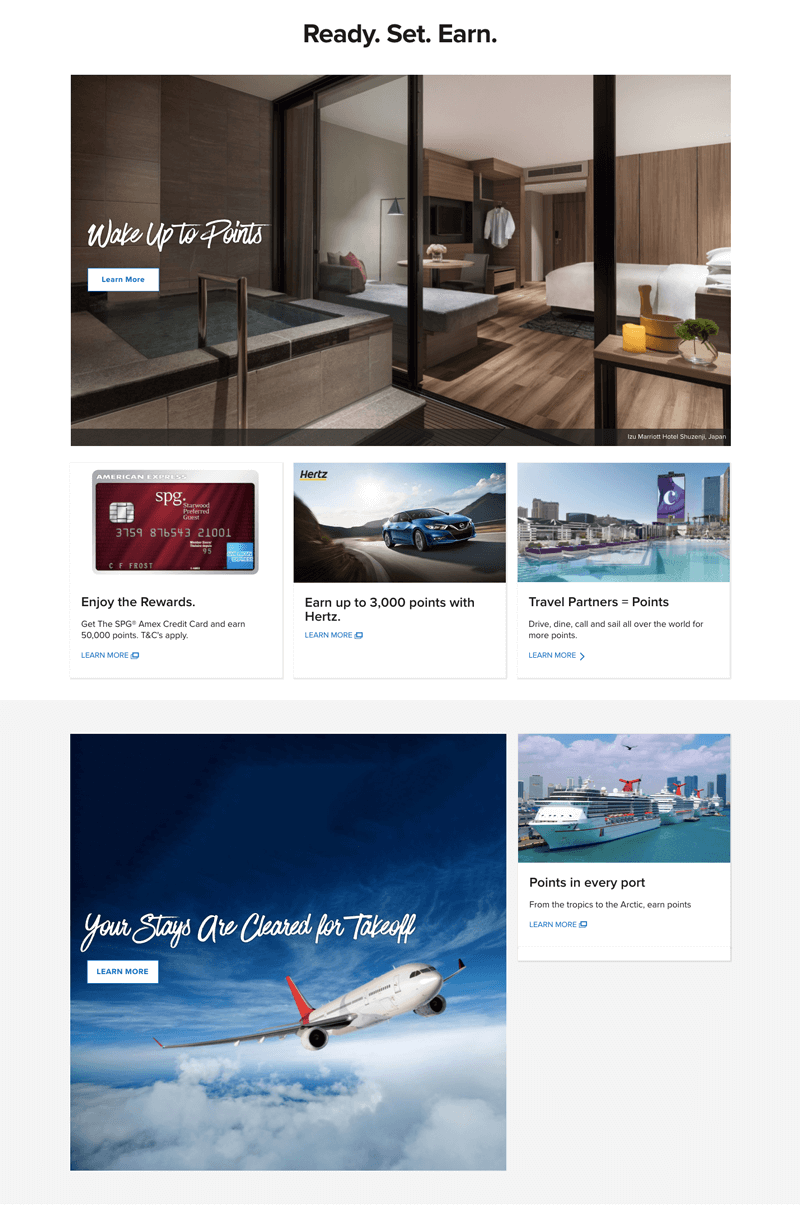 This is the problem with Marriott Rewards' earning page. When you first land there, you're blown away by idyllic photos of nice hotel rooms and tropical vacations. However, a quick scan tells you absolutely nothing about how you can take earn points to use on your next trip or hotel stay. Instead, generic copy is used to point you to a number of Learn More links that then point you to even more Learn More links on different pages.
All of this clicking quickly turns the experience into a wild goose chase that leaves customers wondering how beneficial the program really is, creating a huge barrier to entry. No matter how great the rewards you're offering are, not knowing how to earn them can frustrate customers enough that they don't want to join. With their portal organized the way it is, this is definitely a risk Marriott Rewards is facing.
Google is getting confused
When I decided to write about Marriott Rewards, the first thing I did was go to Google. It seemed like a logical place to start since it's the easiest way to find information on virtually anything.
That's what made my search results so surprising. Searching for "Marriott Rewards" returned a slew of web pages that all had different page names, domains, and descriptions.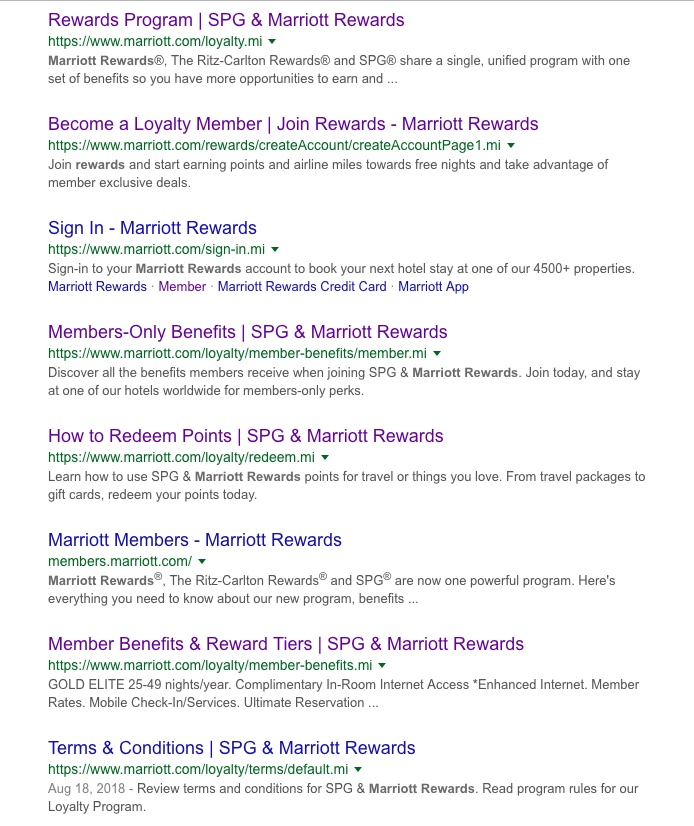 Based on the results they gave me it almost looked like Google was confused, and I can see why! The meta descriptions gave me very little to go on, and it took a number of clicks for me to find the Marriott Rewards portal I was looking for. This experience not only left me a bit frustrated but also confused as to how the program is set up. I found myself wondering if I was missing something simply because I chose the first link instead of the third, and left the portal not entirely sure I had ended up in the wrong place.
It doesn't matter how good a program is if it's not search engine optimized.
While this might sound inconsequential to some, this is a huge issue for the share piece of Marriott's community building cycle. No one navigates directly to websites anymore, which means your site's organization and search engine optimization needs to be better in order to make sure the correct page gets found. After all, if someone recommended this program to a friend, they wouldn't know which page to visit!
I can easily see many potential members getting frustrated with this process, ruining Marriott's chances of earning another loyal customer for life. Goodbye repeat travelers, hello poor customer experience.
Is Marriott Rewards worth a 5 star rating?
I set out to determine whether Marriott Rewards was worth the hype, and finish my investigation feeling a bit conflicted. On the one hand, they've made it relatively easy for customers to advance through their VIP tiers and built a number of amazing personalized experiences into their program structure. Not to mention their program's beautiful presentation and their emphasis on emotional relationships.
Unfortunately, these positives are buried beneath a mountain of external links, poor SEO, and wasted web space. At the end of the day, Marriott Rewards has some significant barriers to entry that will keep new customers from fully investing in their program, if only because they can't find it.
That's not to say I won't ever consider staying with them — I just can't guarantee I'll care about more than the nice pool.