Starbucks has been credited with revolutionizing the coffee industry. They took something that had been done the same way for decades and turned it upside down. They have been doing things differently ever since, including customer loyalty.
Starbucks Rewards is often regarded as one of the best retail loyalty programs in existence. They have created a loyal following of customers both with their customer experience and revolutionary rewards program. But what makes their program so great?  More importantly, is there room for improvement?
How Starbucks Rewards Raises the Bar-ista
Since implementing the Starbucks Rewards program, Starbucks has seen an impressive 14.2 million customers join their rewards program. With revenues increasing every year,  executives have pointed to the increased participation in the loyalty program as the main driver of these amazing results. So, what is the program doing so well?
1. Outstanding mobile experience
How a customer interacts with a loyalty program can often make or break that program. Starbucks' app makes their loyalty program more interactive and more effective. The app makes it easy to see how many "stars" (points) you currently have, as well as make orders and payments right from your phone. You can even use the service to find the nearest Starbucks location.
The Starbucks app gives the program an edge that other standard "card only" programs do not have. In today's competitive environment, just having a loyalty program is not enough. You have to make a concerted effort to differentiate your program from others.
The app is obviously differentiating the program in the eyes of the consumers as the mobile app generates around 6 million sales per month, making up around 30% of all US sales for the franchise.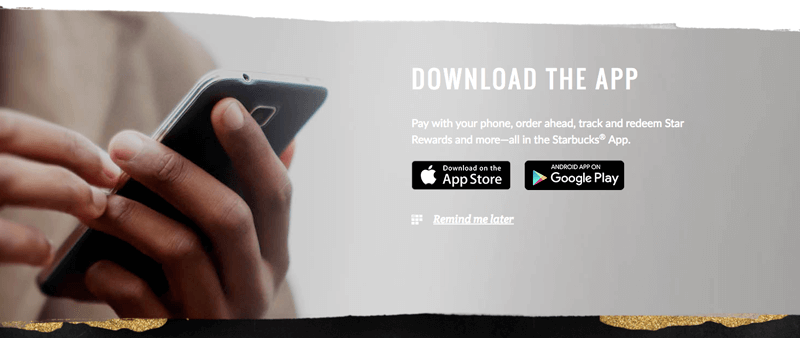 Most importantly, the mobile app allows Starbucks to make its reward program extremely dynamic. Whenever a customer checks the app they are greeted by brand new, limited time, bonus offers that Starbucks has created to reward loyal customers with even more stars. This keeps customers engaged and keeps the program feeling fresh all through the mobile app.
Including the mobile app rather than just having a card has made My Starbucks Rewards different from other typical loyalty programs, and has contributed heavily to the program's overall success.
2. Rewarding for grocery product purchases
Starbucks was able to expand the scope of its loyalty program by introducing points for purchases outside of their retail locations. Starbucks sells many products outside of their retail locations including coffee beans, tea, K-Cups, and ready to enjoy drinks.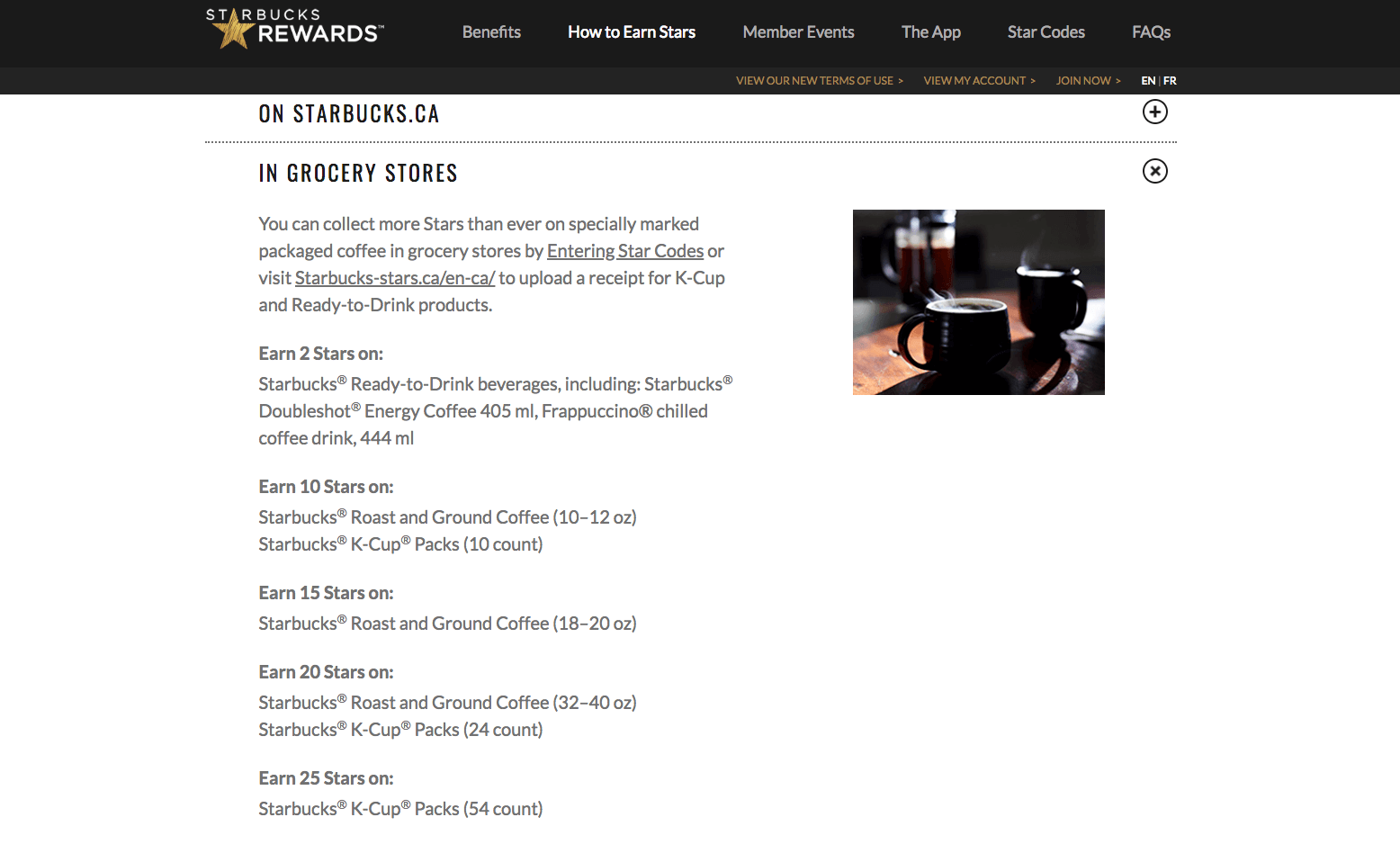 Starbucks Rewards actually lets customers earn points for purchasing coffee beans outside their retail locations. A shopper just needs to look for a Star Code on participating products and enter the code into the app.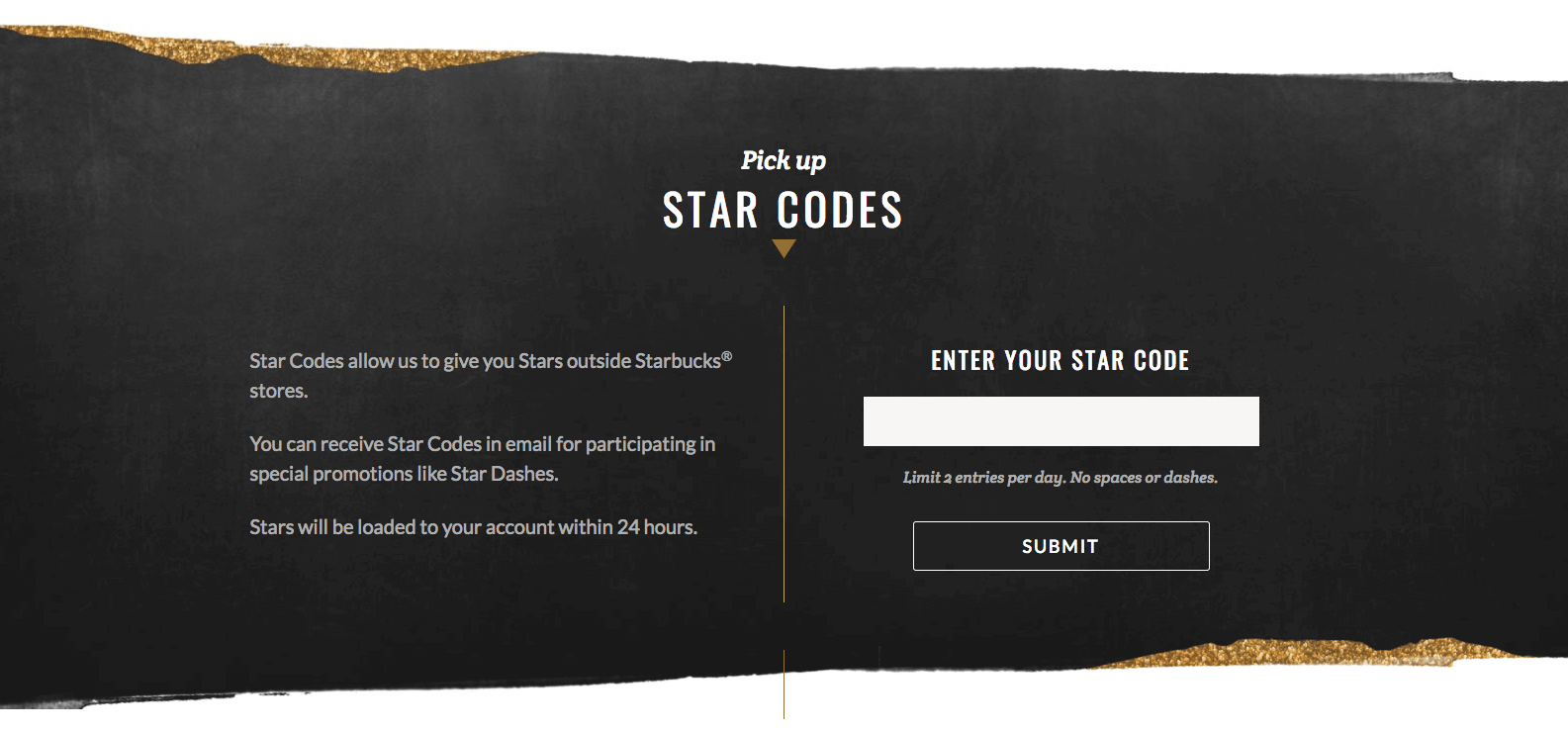 I love this component of Starbucks program because it allows Starbucks to motivate purchases no matter where their brand is, and does so with minimal cost to implement. It's these types of little additions that make a loyalty program truly elite.
3. Exclusive gold card
When a member of the Starbucks program gets 300 Stars in a 12 month period they achieve "Gold Level" status. This comes with some great perks including: free refills on ice or brewed coffee, free refills on tea, free food and drink offers, and most importantly the personalized gold card.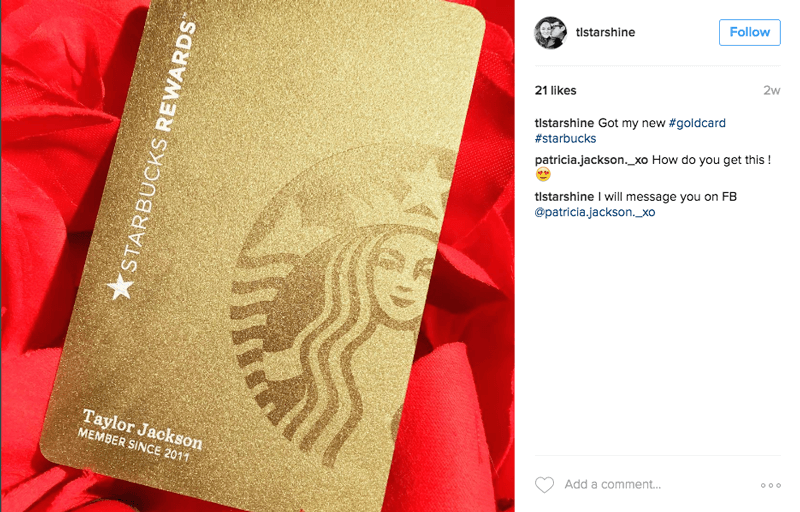 In my opinion there's only one true motivator for a customer to achieve Gold level, and that is the Gold Card. The other perks are great but are not exactly game changing rewards. What customers truly desire in the Starbucks program is the chance to feel exclusive and important.
Customers of Starbucks also love to show others what they are drinking, sharing updates on social media like Instagram and Twitter. That is behavior you just don't see with other coffee companies like Dunkin' Donuts or, here in Canada, Tim Hortons. Starbucks drinkers feel a sense of pride and feel of a higher class when drinking Starbucks compared to other coffee. That's why the Gold Card is so effective.
The Gold Card is a physical representation of Starbucks status. Only the elite Starbucks drinkers can achieve this prestigious award and it signals to other Starbucks drinkers that you are part of an elite group. The card gives the customer a status symbol and an exclusive feeling that becomes the strongest motivator in the program.

How Starbucks Rewards Misses the Mark
Don't get me wrong – I definitely think that Starbuck's program is one of the best examples of customer loyalty. The suggestions below are really just nitpicking the program, but there are always areas where improvements can be made.
1. Poor explanation of earning conditions
Loyalty programs are effective when customers know exactly how much they are earning and what they can redeem it for. This is usually displayed in a visual way on the company's site, like in these loyalty program explainer page examples.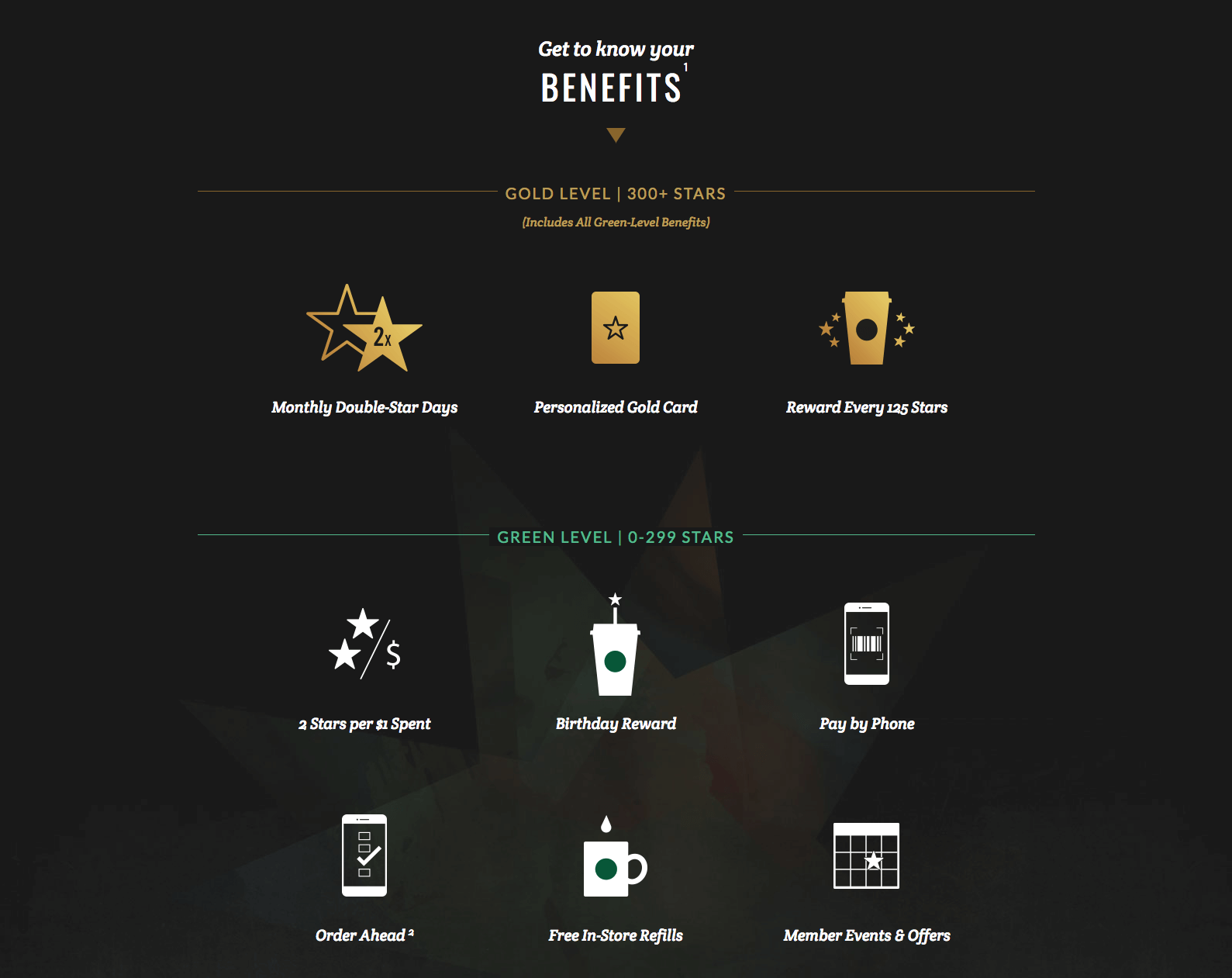 In early 2016, Starbucks completely revamped their program to improve their communication strategy.  This included releasing a series of informational videos on YouTube and completely revamping their explainer page.  While the benefits of the program are now easier to understand, the program's earning conditions are still unclear.
From the explainer page, it would appear that Stars do not expire, and that once Gold Status is achieved a member is part of that group for life.  However, this isn't actually the case. In order to continue to qualify for Gold Status, a customer must earn 300 stars each consecutive 12-month period.  If this isn't achieved, a customer is demoted to Green Level and their Stars balance resets to zero.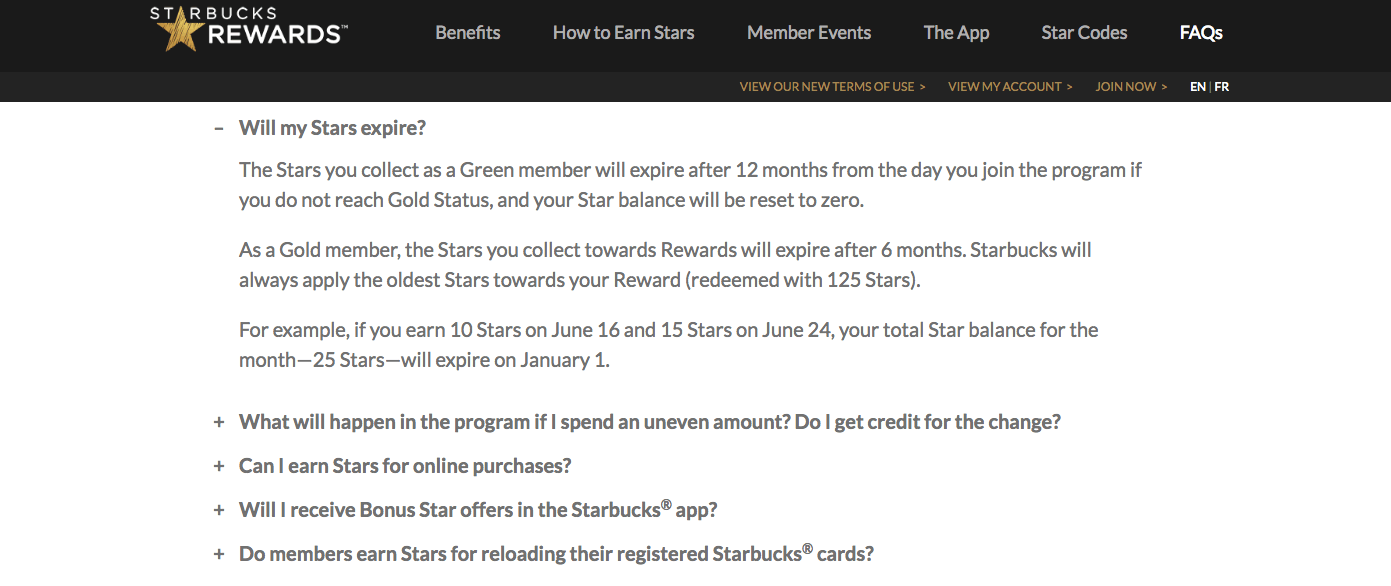 I had to dig through their website in order to find this information, meaning I'm sure there are many customers who aren't even aware this is the case.  Starbucks could really improve the program's effectiveness and customer experience by clearly communicating how the earning process works on their explainer page. This will ensure customers aren't ambushed by this in the future.
2. Tiers don't create exclusivity
Tiered programs are an amazing way to encourage customers to spend more and engage more. Tiers challenge customers to reach the next level while also introducing an element of gamification that customers love. Tiers are also effective when the highest tier is reserved for only the most loyal and profitable customer.
I am a firm believer that the highest tier in a program should be reserved for an exclusive 5% – 10% of loyalty members. According to Lauren Johnson of Retail Dive, more than 50% of Starbucks Rewards members are Gold Status customers.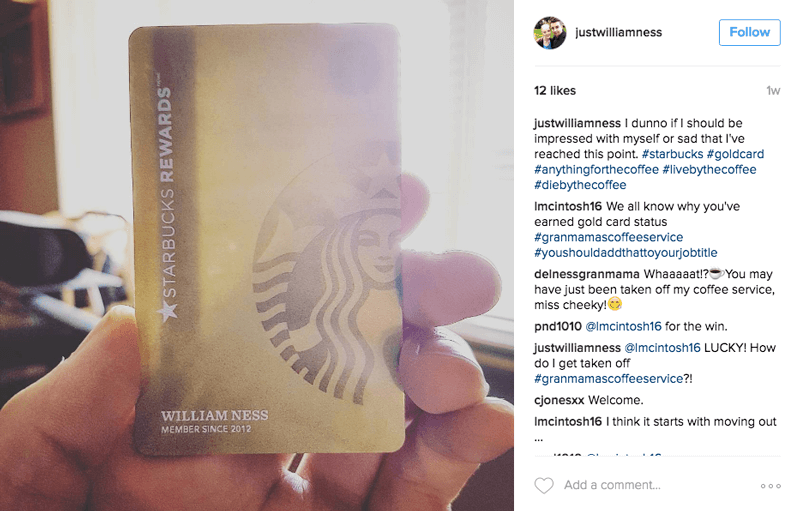 While I believe that customers are motivated by the exclusivity of the Gold Card, it may lose its effectiveness soon. If everyone is special, no one is. With only two levels to work towards, the excitement of earning and redeeming rewards lessens the longer a customer is participating in the program.
I would recommend that Starbucks assess how customers feel about the Gold Status. If customers are beginning to see the Gold Card as a commodity, I would introduce a tier above Gold to better motivate with exclusivity. This next tier could be the platinum level and have its own card as well, replicating the success of Gold with additional benefits.
3. Customers must pay with a Starbucks card or the app
I'm torn between classifying this as what the program is doing right or what the program is doing wrong. From the company's standpoint it's fantastic because customers must load up cards in order to participate. They know once the card or app is loaded they must spend the money at a Starbucks store.

This means that Starbucks can account for the revenue when the customer loads the card. This is fantastic for any company as it deters customers from using credit cards which come with transaction fees. Every customer in the program is one more customer Starbucks isn't paying transaction fees for, so from a company perspective this is a huge win. However, it is a slight negative for program adoption.
I'm an advocate of making program registration as easy as possible. This encourages maximum program adoption, and the more members in a program the more effective it becomes. The Starbucks card adds a step to the loyalty equation that could increase churn and decrease adoption.
I know that if I'm in a hurry and don't have a card loaded, I simply avoid Starbucks because I don't want to go through the process of loading the card. I'd rather pay in cash, making me into a missed opportunity for engagement.
Gold Stars for Starbucks Rewards
Many experts list Starbucks Rewards program as one of the top in retail. I would say the program is top notch from a company standpoint and is very attractive for customers as well. My suggestions for Starbucks are very minor: have a clearer explainer page, tweak the highest loyalty tier for exclusivity, and accept more methods of payment.  Once these objections are resolved, there's very little stopping me from declaring Starbucks Rewards the best in the world.