Sephora's Beauty Insider Program is one of the most well-known rewards programs in both the retail and ecommerce loyalty communities. Time after time this program is included in top loyalty program lists, but what is it that makes the VIB program so great?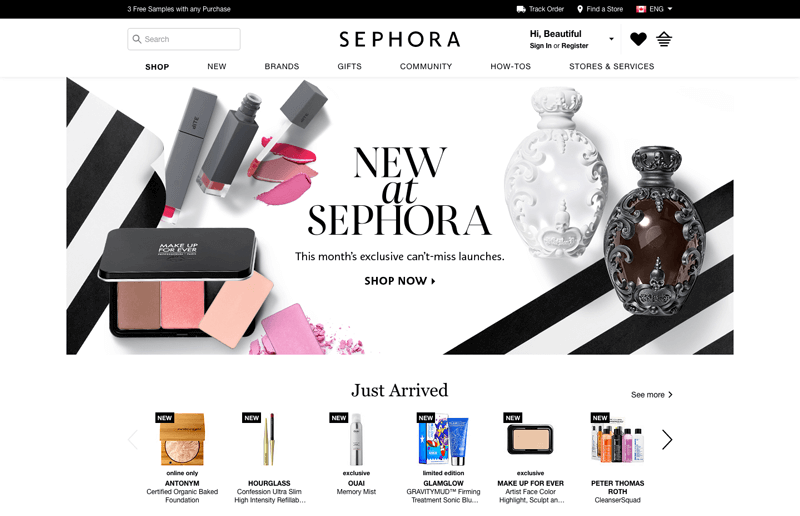 We've taken the time to explore what makes this program so popular, diving into the specifics of what makes Sephora's Beauty Insider so good and where they can still improve. After all, no matter how successful they are, even the best programs have room for improvement!
What Beauty Insider Does Right
With over 10 million Beauty Insider members, it's pretty clear that Sephora is definitely doing a couple of things right. While there are many things we highlight about this outstanding program, here are three of the top reasons Sephora's loyalty program is so successful.
1. Effective Use of Tiers
Tiers are one of the most effective ways a loyalty program can motivate a desired behavior. By breaking customers into distinct groups, you can use each tier to challenge shoppers to see if they can reach that next milestone. Tiers can be set based on number of orders, loyalty points earned, or total dollars spent, and Sephora has chosen to use the dollars spent method within their loyalty program.

One of the reasons Sephora's tiers are so effective is because of the exclusivity the upper tiers create. Tiered programs are effective when the upper tiers have a minimal amount of members - usually around 10%. You want your most loyal customer to feel like they achieved something that others could not, and inspire your other customers to strive to get there.
With their Beauty Insider program, Sephora has effectively segmented shoppers into three groups: Beauty Insiders, VIB, and VIB Rouge.  With an annual spending "fee" of $1,000, VIB Rouge status is tough to reach but obtainable.  The social status associated with joining this elite groups leads to the most effective form of motivation. Just look at how many people are bragging about their VIB Rouge status on social media outlets like Twitter.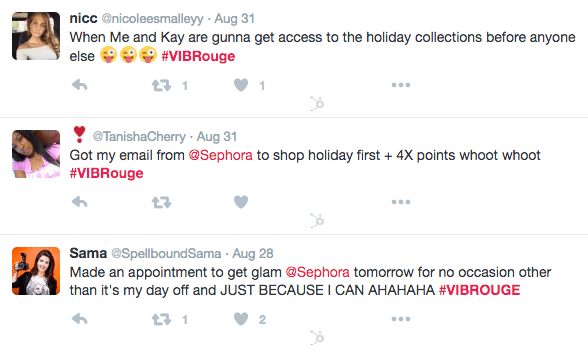 On their own, tiers add an element of gamification to Sephora's loyalty program that influences customer behavior. The trick to effective engagement, however, is motivating customers to pursue each new tier.  Based on their member's comments on social media, they've clearly got this down to a science.
2. Rewards Match the Brand and Customer Base
Sephora has done an excellent job aligning their rewards with what the brand stands for. The Sephora brand has become synonymous with prestige, quality, and luxury - all of which are reflected in what they offer as customer rewards.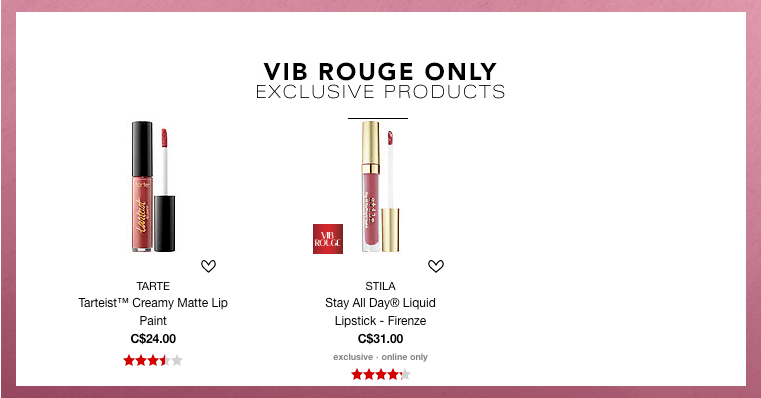 VIB Rouge members are given the chance to earn rewards like exclusive products and events, access to the Sephora Beauty Studio, and early access to products and sales.
Sephora shoppers are passionate about the newest beauty products and want things that others cannot get. Each of these perks align perfectly with what Sephora stands for, making an investment in the VIB program well worth the customer's while.

The rewards that Beauty Insider customers can redeem with points follow a similar principle. Sephora's Beauty Insider Program is seen as a high end or luxurious program, and they have created a redemption process that reflects that.
Instead of using points for a discount, Beauty Insider members can use their points to claim more beauty products at the Rewards Bazaar.  Once again, this a very effective way for Sephora to allow points to be redeemed. Since discounts and coupons are not typically associated with premium or luxury brands like Sephora, redeeming points for products is a much better fit.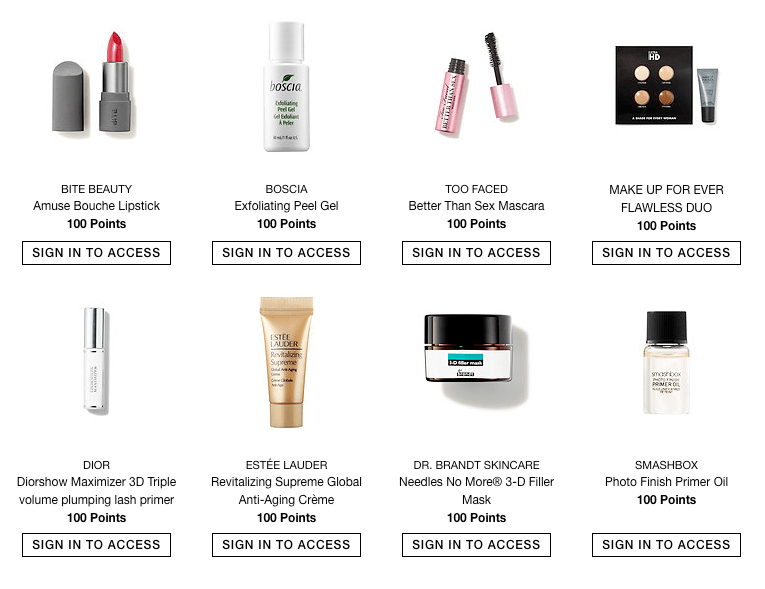 Sephora's rewards do an amazing job of motivating customers to perform profitable actions without compromising the brand's identity. This is what makes their rewards one of the key factors driving the success of the Beauty Insider Program.
3. Personalized Product Recommendations
Sephora knows that their shoppers are highly motivated by experiences, which is clear through how they have set up their tiers and rewards. This desire for experiences is also why they have created personalized product recommendations for Beauty Insider members.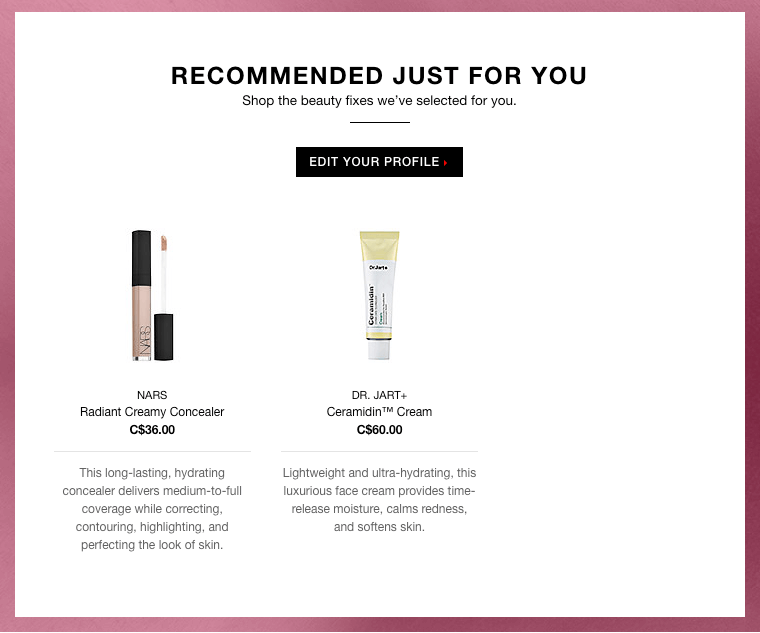 These personalized product recommendations are tailored to each customer based on their prior shopping history.  This is a fantastic feature for regular customers, but what about new shoppers or those who are new to cosmetics?  Sephora has a solution for that, too: the Beauty Profile.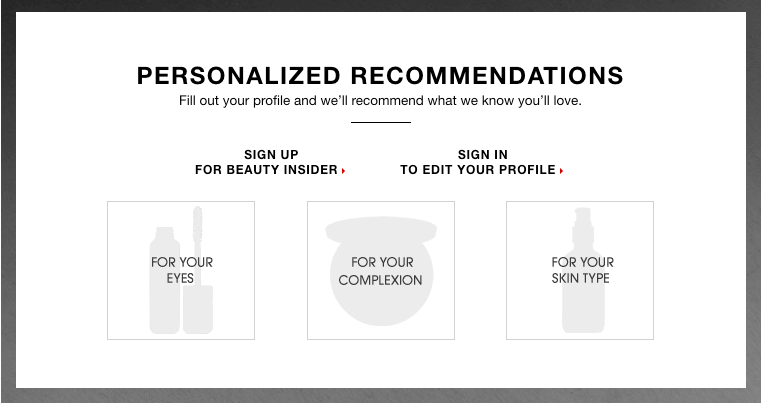 With Beauty Profile, a shopper simply needs to provide some information about their hair, skin, and complexion for Sephora to generate recommendations specific to their information.
Personalized products and recommendations establish a relationship with their customers that creates a positive association with the Sephora brand. Not only does this motivate customers to purchase more products (that Sephora knows know they will like), but it also gives shoppers the type of experience they need to become a brand advocate.  In these ways, product recommendations are definitely a win-win program feature!
What Beauty Insider Does Wrong
While the program might have millions of members, it doesn't mean they're doing everything right.  In spite of some of their program's fantastic elements, Sephora still has a couple of areas that could use a touch-up.
1. Poor Explanation of Benefits
A loyalty program is only truly effective when people are enrolled and engaged, and people only enroll if they know how it works. You need to be sure you explain to customers exactly how they can signup, how they will earn points, and most importantly how they can redeem points. This information is usually shown on an explainer page.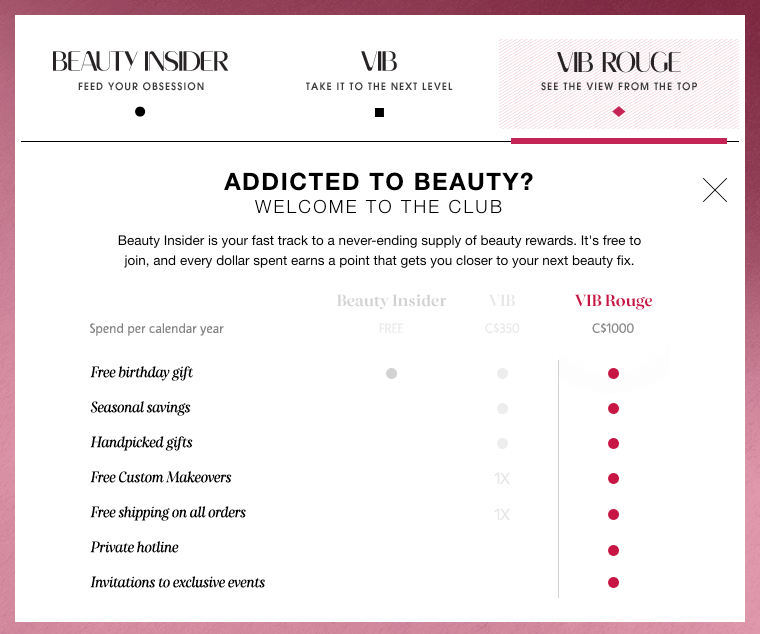 Sephora does a good job of explaining some aspects of the program, such as the tiers and rewards, but fails to explain how customers will earn and then redeem points. I only found one mention of how many points you'll earn, and it was buried at the bottom on the account page.

Having been in Sephora a few times myself, I know that their employees do a good job of explaining the program to shoppers in store.  However, as their online sales continue to grow Sephora should consider updating the site to make it more clear. Customers only really see value in a rewards program when they spend their points, so they need to know how to do so.
2. Inadequate Earning Window for VIB Status
As I mentioned earlier, Sephora has chosen to use dollars spent as the milestones in their tiers.  In order to move up each tier, a customer has to first spend $350 to become a VIB member, and then $1,000 to unlock VIB status. This is a highly effective strategy for motivating customers to spend more, but only if they are given adequate time to earn that status.

Sephora's program resets each customer's dollars spent at the beginning of every calendar year on January 1st. From a company perspective, this is a simple way to establish a cut off and award VIB or Rouge status for the following year. From a customer perspective, however, it can be very demotivating.
Say a customer joins Beauty Insider in November and spends $200 on gifts for the holidays.  In January, they spend an additional $150 on products for themselves. Based on the amount they spent, they would expect to become a VIB member. Unfortunately, the refresh ensures that they don't get the new status, meaning that the customer has spent $350 in 3 months but is still not considered a VIB.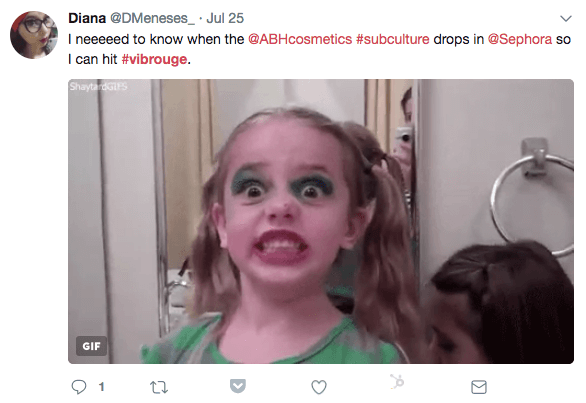 An easy way to improve this customer experience issue is by determining tiers based on a rolling expiration. By rewarding customers tier status based on their spending over the last 12 months, no customer can feel cheated out of a reward.
This goes hand in hand with the program's lack of clear explanation.  Many brands choose to use either a visible tab or a clearly highlighted link on their homepage to point customers to their loyalty program.  After all, they want them to participate, and in order to participate they have to be able to find it!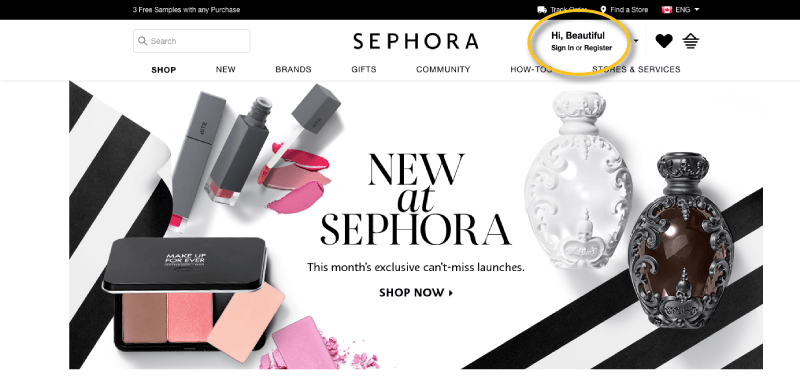 Sephora has done a rather poor job of making their program obvious and accessible to their customers.  While their homepage is sleek and beautiful, they've hidden their program at the very top in small font without any real push to sign up or log in.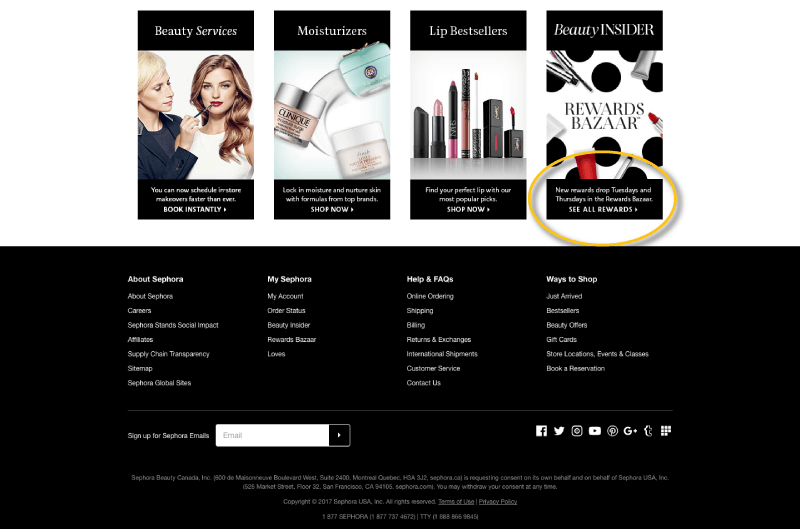 The only other place I could find mention of the program is at the bottom of the page, which some customers might not even see if they don't intentionally scroll through the entire page.
Even though Beauty Insider's prestige is well-established, Sephora can always stand to gain new program participants.  Making Beauty Insider difficult to find is definitely not the best course of action.
The Beauty Insider Program
Sephora's Beauty Insider Program is without a doubt one of the best examples of a loyalty program in existence. It is successful both in store and online, with many elements that help make it great. The successful use of tiers, rewards that match the brand, and personalized product recommendations make Beauty Insider a hit with Sephora shoppers.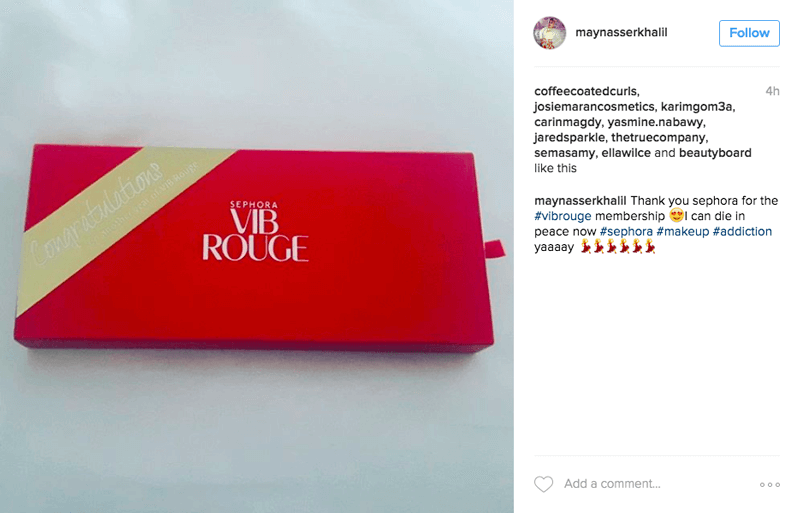 I do however think there is room for improvement. The program should fix the hard cut off of Jan 1st, improve their explainer page, and make the program more easily accessible.
That being said, I think the program benefits outweigh the negatives, and over 10 million program members seem to agree.