Sephora's Beauty Insider Program is one of the most well-known rewards programs in retail and ecommerce loyalty communities. Time after time this program is included in top loyalty program lists, but what is it that makes the VIB program so great?
We've taken the time to explore what makes this program so popular, diving into the specifics of what makes Sephora's Beauty Insider gorgeous and where they can still use a touch-up. After all, no matter how successful they are, even the best programs have room for improvement!
Where Beauty Insider is flawless
With over 25 million Beauty Insider members, it's pretty clear that Sephora is definitely doing a couple of things right. While there are many things to highlight about this outstanding program, here are three of the top reasons why Sephora's loyalty program is so successful.
1. Effective use of VIP tiers
VIP tier programs  are one of the most effective ways a loyalty program can motivate a desired behavior. By breaking customers into distinct groups, you can use each tier to challenge shoppers to see if they can reach that next milestone. Tiers can be set based on the number of orders, loyalty points earned, or total dollars spent, and Sephora has chosen to use the dollars spent method within their loyalty program.


One of the reasons Sephora's tiers are so effective is because of the exclusivity the upper tiers create. Tiered programs are effective when there is an element of gamification, making the upper tiers both difficult and exciting to reach. You want your most loyal customer to feel like they achieved something that others could not, and inspire your other customers to strive to get there.
Smile.io recommends aiming for 10% of customers in your top VIP tier to create exclusivity.
With its Beauty Insider program, Sephora has effectively segmented shoppers into three groups–Insiders, VIBs, and Rouge members. With an annual spending "fee" of $1,000, Rouge status is tough to reach but obtainable for Sephora's most loyal customers. The social status associated with joining this elite group leads to the most effective form of motivation. Just look at how many people are bragging about their VIB Rouge status on social media outlets like Twitter.
my Sephora cart is piling up & once that Rouge sale hits on Friday, I'm hitting purchase 😂

— An (@annleeee) April 12, 2023
On their own, tiers add an element of gamification to Sephora's loyalty program that influences customer behavior. The trick to effective customer engagement, however, is motivating customers to pursue each new tier for the exclusive benefits that come with each level. Based on their member's comments on social media, they've clearly got this down to a science.
2. Exclusive rewards and bonus point events
Sephora has done an excellent job aligning its rewards with what the brand stands for. The Sephora brand has become synonymous with prestige, quality, and luxury–all of which are reflected in what they offer as customer rewards.

Beauty Insider members are given the chance to earn rewards like exclusive in-app offers, event invites, and first access to new products.
Program members can redeem their reward points for online masterclass events and often receive exclusive gifts that they can't get anywhere else. Sephora shoppers are passionate about the newest beauty products and want things that others cannot get. These perks align perfectly with what Sephora stands for, making an investment in the Beauty Insider program well worth the customer's while.
The rewards that Beauty Insider customers can redeem with points follow a similar principle. Sephora's Beauty Insider Program is seen as a high-end or luxurious program, and they have created a redemption process that reflects that.
One of the most loved parts of Sephora's rewards program is its Savings Event Sales that take place three times per year. During this two-week period, rewards program members are able to save up to 30% on their beauty staples. Higher-tiered members gain first access to the sale as well as a more generous discount, making it clear that Sephora appreciates their loyalty.
Instead of using points for a discount, Beauty Insider members can also use their points to claim more beauty products at the Rewards Bazaar or to make a charitable donation. Once again, this is a very effective way for Sephora to allow points to be redeemed. Since discounts and coupons are not typically associated with premium or luxury brands like Sephora, redeeming points for products is a much better fit.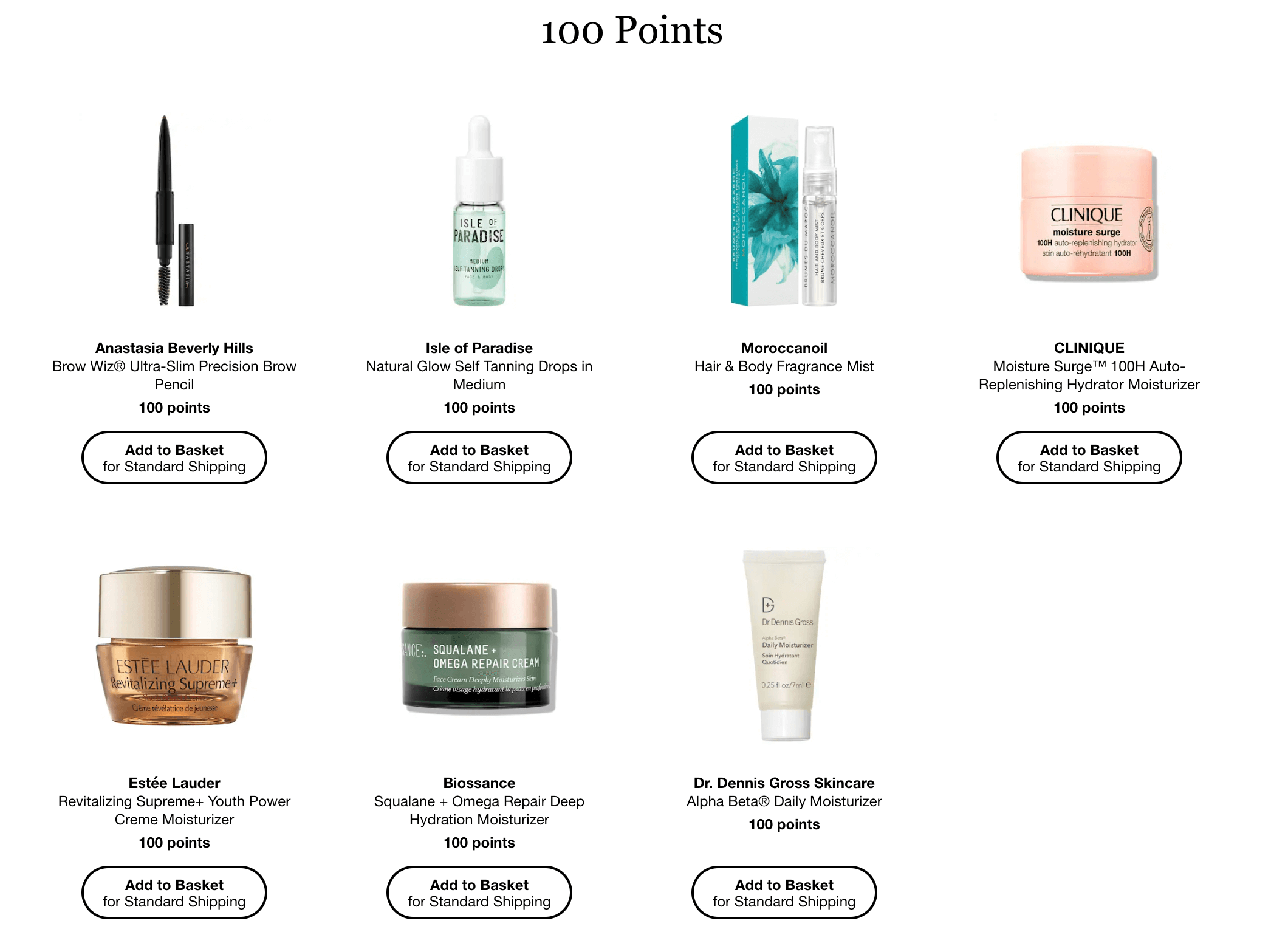 Sephora's rewards do an amazing job of motivating customers to perform profitable actions without compromising the brand's identity. This is what makes their rewards one of the key factors driving the success of the Beauty Insider Program.
3. Personalized product recommendations
Sephora knows that its shoppers are highly motivated by exclusivity, which is clear through how they have set up its tiers and rewards. This desire for unique experiences is also why they have created personalized product recommendations for Beauty Insider members.

With an entire page dedicated to filling out your beauty preferences, Beauty Insider members receive personalized product recommendations tailored to their individual beauty needs and desires. A shopper simply needs to provide some information about their hair, skin, and complexion for Sephora to generate recommendations specific to their information.
They also use your past purchase history to recommend new products making personalization available to new and existing customers, alike.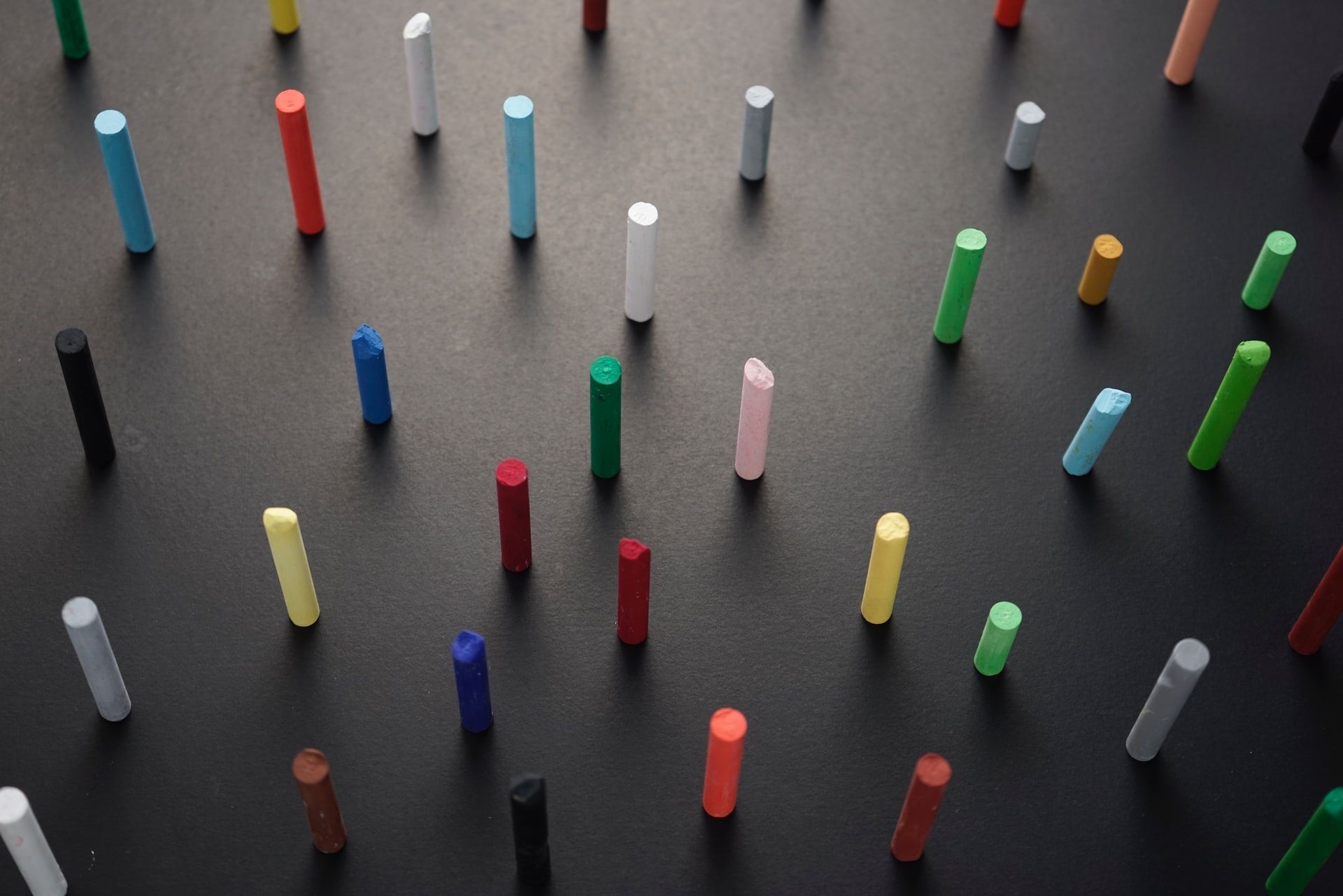 Personalized products and recommendations establish a relationship with their customers that creates a positive association with the Sephora brand. Not only does this motivate customers to purchase more products (that Sephora knows they will like), but it also gives shoppers the type of experience they need to become a brand advocate. In these ways, product recommendations are definitely a win-win program feature!
Where Beauty Insider could use a makeover
While the program might have millions of members, it doesn't mean they're doing everything right. In spite of some of their program's fantastic elements, Sephora still has a couple of areas that could use a touch-up.
1. Top rewards are often unavailable
As we mentioned, Sephora offers product rewards that align perfectly with their customers' desires. The Beauty Insider program has several reward redemption tiers so customers can choose to redeem a reward every time they shop or save their points for a big ticket item. With rewards available for everything from 100 points to 19,999 points, there's truly something for every type of customer–when they're actually in stock.
However, when checking out their options in the Rewards Bazaar, many customers are disappointed to see that the high-value rewards are almost always sold out.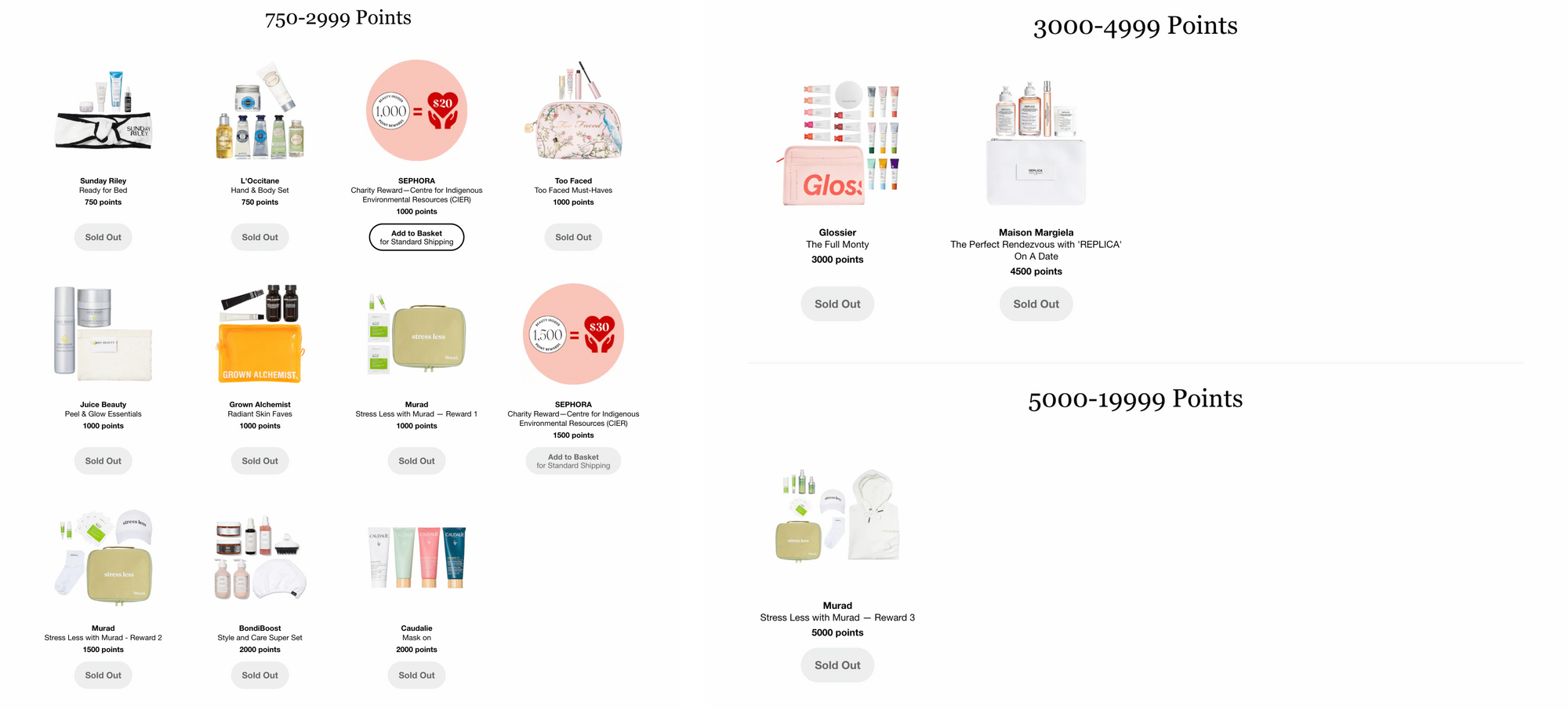 With Sephora's spring sale event just around the corner, every reward above 750 points is unavailable aside from charitable donations. When a customer works hard to save their points for an exclusive reward they've been eyeing, there's nothing more disappointing than being told they can't have it. By not making these rewards available during one of the busiest sales periods, Sephora is setting itself up for a poor customer experience.
What can you learn from this? If you're going to talk the talk with exclusive rewards, you better walk the walk and make them actually achievable.
2. Rouge members don't feel the VIP treatment anymore
Sephora certainly does a great job at making their VIP tiers exclusive, with a hefty $1,000 annual spend requirement for the coveted Rouge status. But customers aren't really sure how "coveted" that Rouge status actually is these days.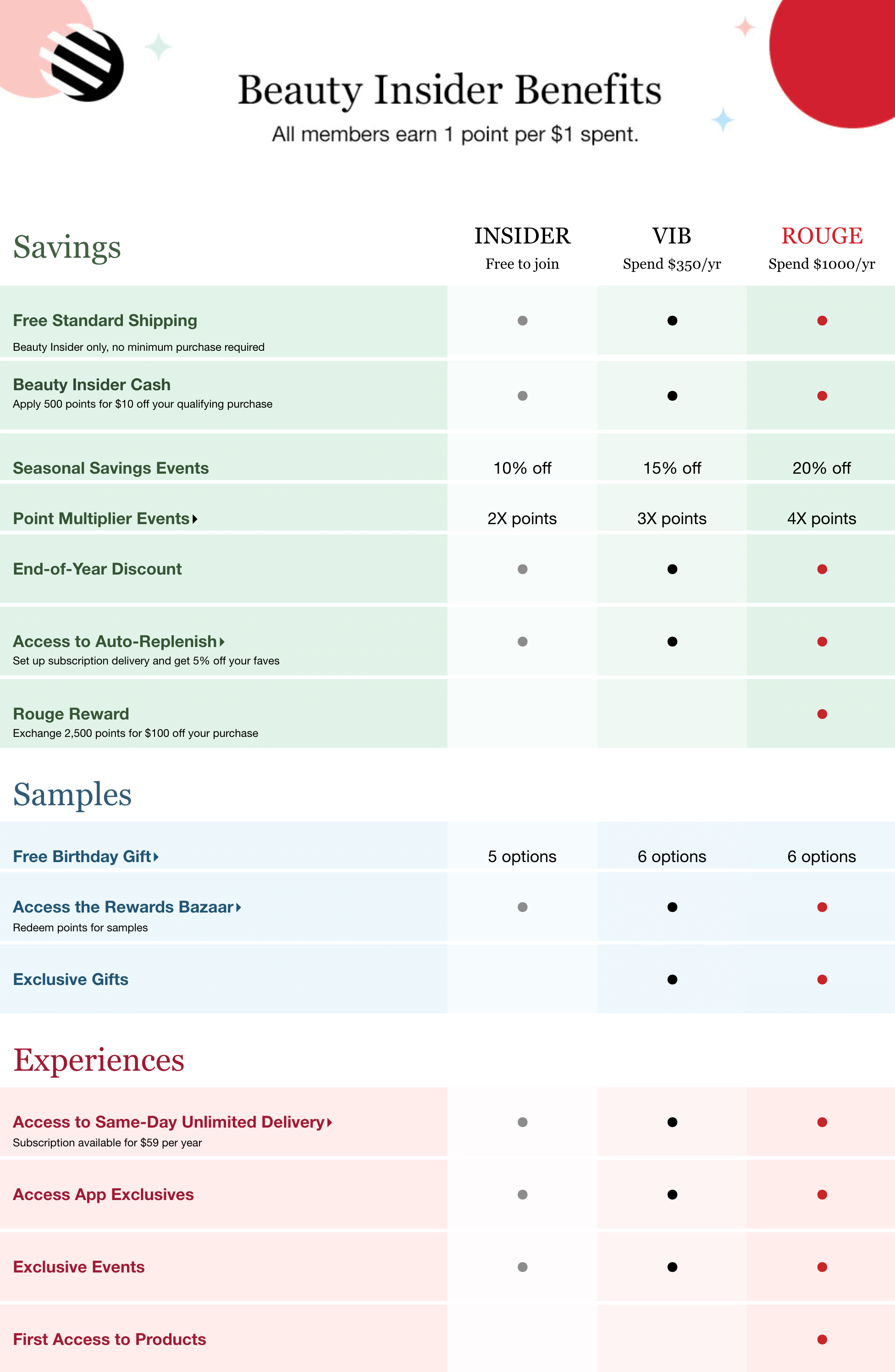 When we look closer at the VIP tiers and rewards for each, Rouge members aren't actually receiving much more value than VIB members. With the major benefits being an extra 5% off 3 times a year, 4x compared to 3x more points during bonus events, and first access to products, customers are wondering if it's worth the extra $650 each year.
The final difference between the two tiers is the "Rouge Reward" where members can exchange 2500 points for $100 off their purchase. But when we crunch the numbers and do some loyalty program math, customers are only earning 4% back on their points with 2500 points requiring $2500 spent for a $100 gift card. While this is within Smile.io's recommended range of 3%-10%, it's a little low for your most loyal customers in an extremely hard-to-reach tier.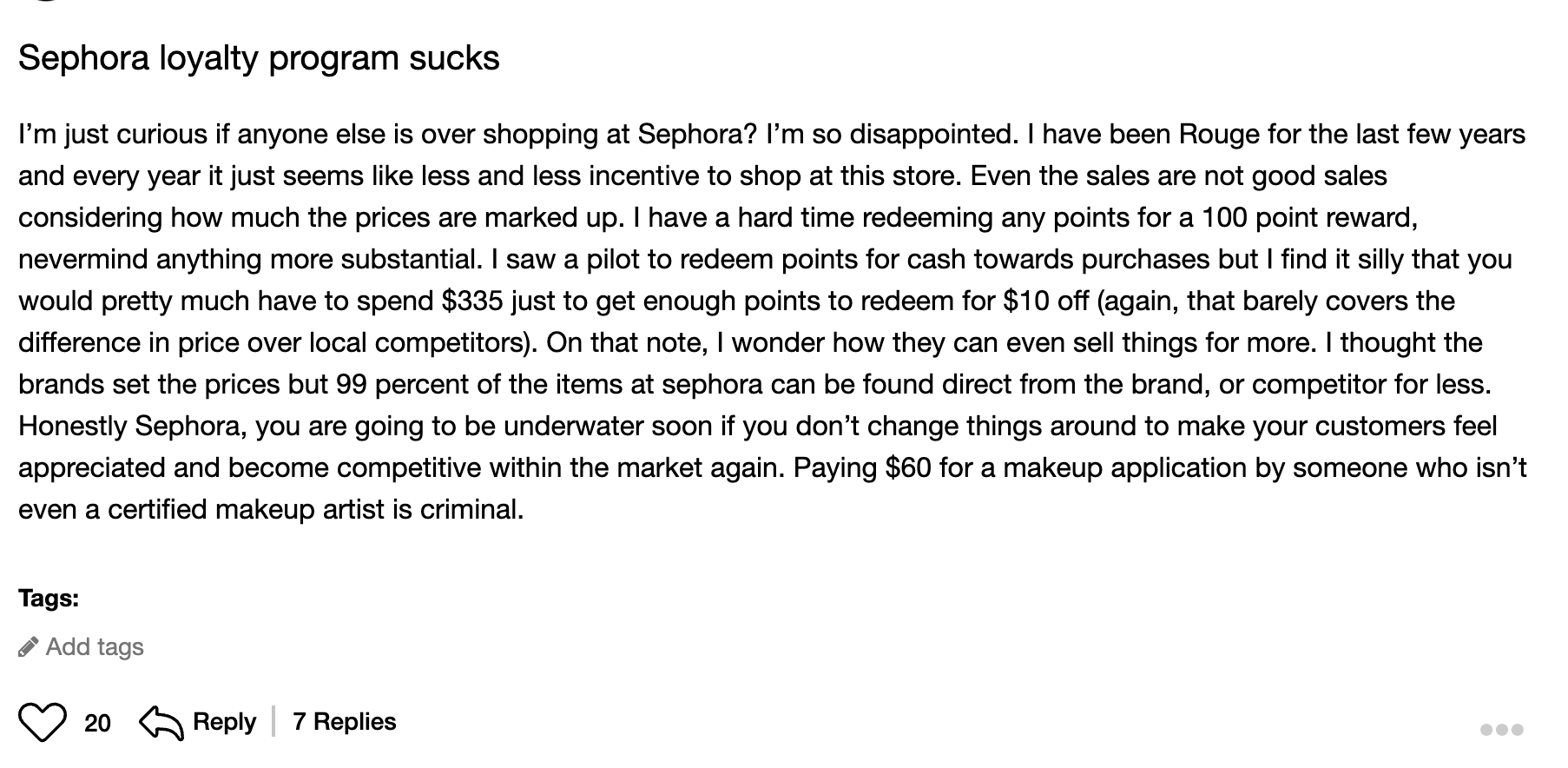 Even Sephora's most loyal customers are quickly turning to competitors where they feel they get more value for their purchases. With customers taking to Sephora's own community forum and social media to complain, it may be time for the beauty giant to take a step back and talk to its customers directly. No matter how big or successful your brand is, you can never ignore the value of gathering customer feedback.
3. Sephora misses the mark with sustainability
Customer preferences and values are constantly changing and evolving. Now more than ever, conscious consumerism is a trend that brands can't ignore. People want to shop with brands that align with their values and actively try to minimize their harm and do social good.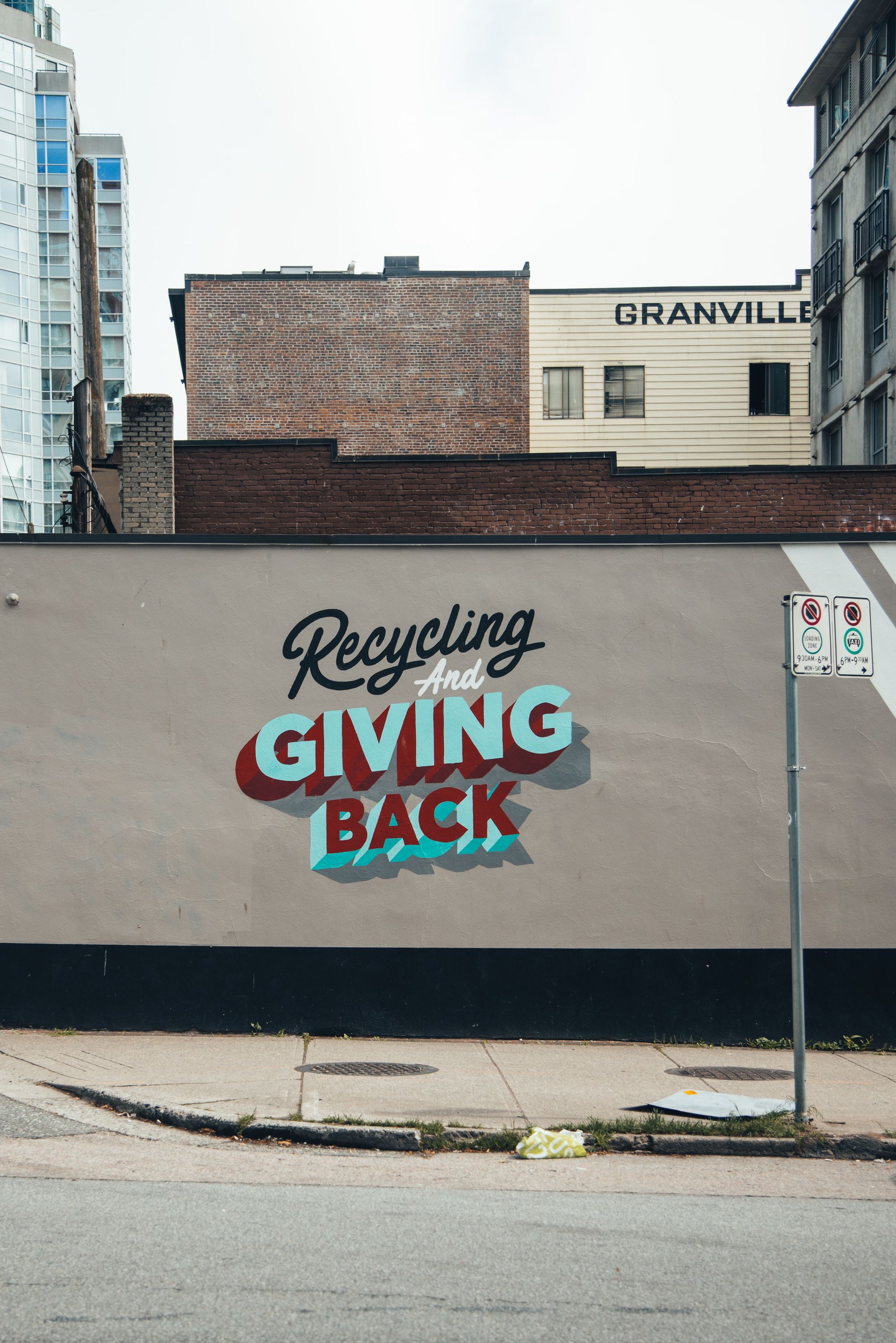 With large amounts of plastic packaging, difficult-to-recycle containers, and harmful production cycles, the beauty and cosmetics industry is one of the largest contributors to negative environmental impacts and climate change. With 70% of the beauty industry's waste coming from packaging, consumers are looking for brands with effective recycling programs.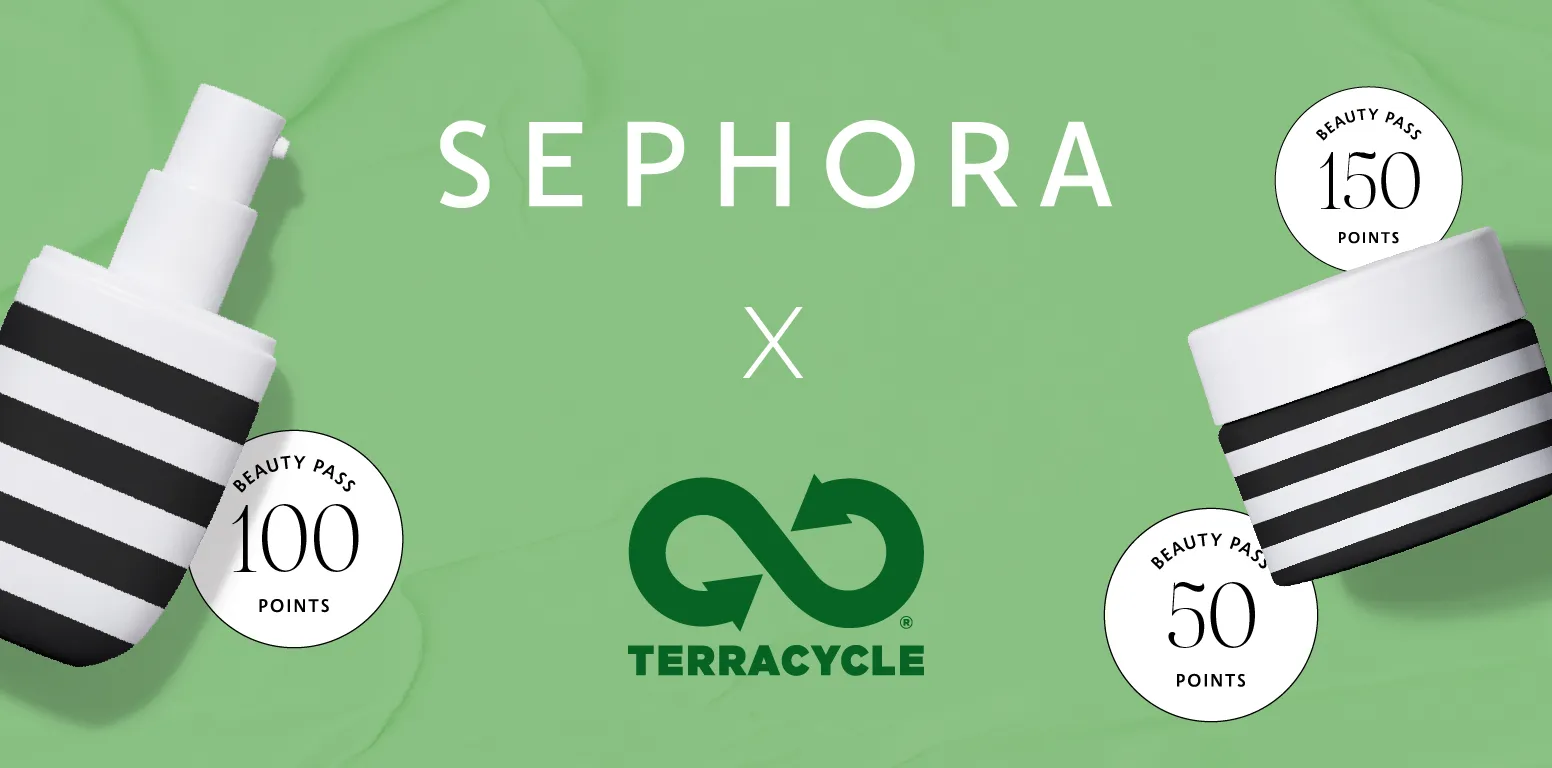 While Sephora has rolled out a recycling program in Australia, in partnership with TerraCycle, rewarding customers with loyalty points, the brand has failed to launch a program like this in other major countries. With major competitors like MAC and Nordstrom offering sustainable recycling programs, consumers who value eco-friendly options may switch to a brand that better aligns with their values.
While the beauty brand has taken some steps towards sustainability with the ability to shop its Clean + Planet Positive line, that may not be enough these days.
The Beauty Insider Program
Sephora's Beauty Insider Program is without a doubt one of the best examples of a loyalty program in existence. It is successful both in-store and online, with many elements that help make it great. The successful use of tiers, exclusive rewards and bonus points events, and personalized product recommendations make Beauty Insider a hit with Sephora shoppers.
We do however think there is room for improvement. The program should address its reward inventory stock issues, make Rouge members feel more valued, and incorporate sustainability into the program.
That being said, we think the program benefits outweigh the negatives, and over 25 million program members seem to agree.
Editor's Note: This post was originally published on July 28, 2017 and was updated for accuracy and comprehensiveness on April 25, 2023.
Build a loyalty program for your ecommerce store.
LAUNCH A PROGRAM IN MINUTES.