What is it that drives customers to shop with luxury brands? Despite the higher quality, in most cases, it's the desire to portray a certain type of lifestyle. Customers seeking premium products want to appear exclusive and prestigious in their social groups.
While many people think that loyalty programs dilute luxury brands, that could not be further from the truth. With so many different types of loyalty strategies including points, referrals, discounts, experiential rewards and many more, there is a multitude of reward strategies that can actually create an even more valuable brand image for your luxury brand.
Experiential rewards go beyond transactions to improve the larger customer experience.
Experiential rewards create truly unique experiences that offer more than a few dollars off on a product. These types of rewards are one of the most effective retention tools because they create lasting memories that build positive emotions that customers will associate with your brand from that point on.
If you still aren't convinced, take a look at how a few of the most successful luxury brands are using experiential rewards to create unmatched customer experiences.
Neiman Marcus' InCircle
When customers purchase premium products, they are trying to portray a certain lifestyle - and they want everyone to know it. One of the best ways to help customers achieve this is through exclusivity. This is why the use of VIP tiered rewards programs are so effective in the luxury industry.  
With a name that makes you feel like part of an elite group, InCircle creates a sense of exclusivity right off the bat. Customers work their way up through 8 different tiers to earn unique rewards like access to bonus-point events, exclusive publications, as well as the opportunity to select their own bonus point day once a year. Giving customers the option to choose their own bonus points day ensures that more InCircle members will take advantage of the reward, increasing the number of repeat purchases from customers.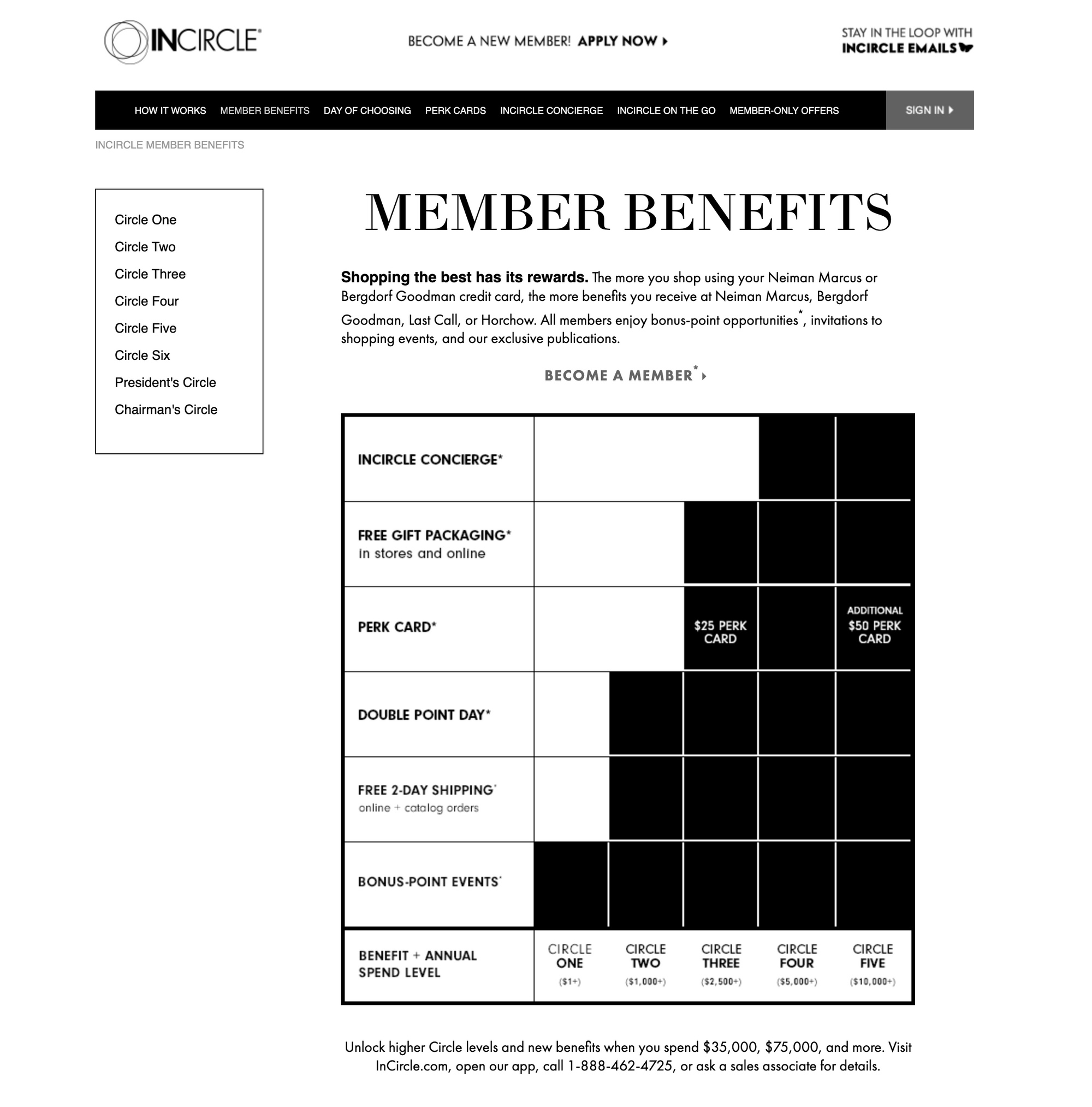 Neiman Marcus' aim is to enrich the lives of their customers even after they leave the store. Once loyalty members reach the top 5 circles, they unlock access to the InCircle Concierge. This network of seasoned professionals helps customers plan premium vacations, score tickets to in-demand events, and get choice restaurant reservations. These types of experiential rewards that go beyond the scope of your products help show customers that you really care about them and enjoy enriching their lives.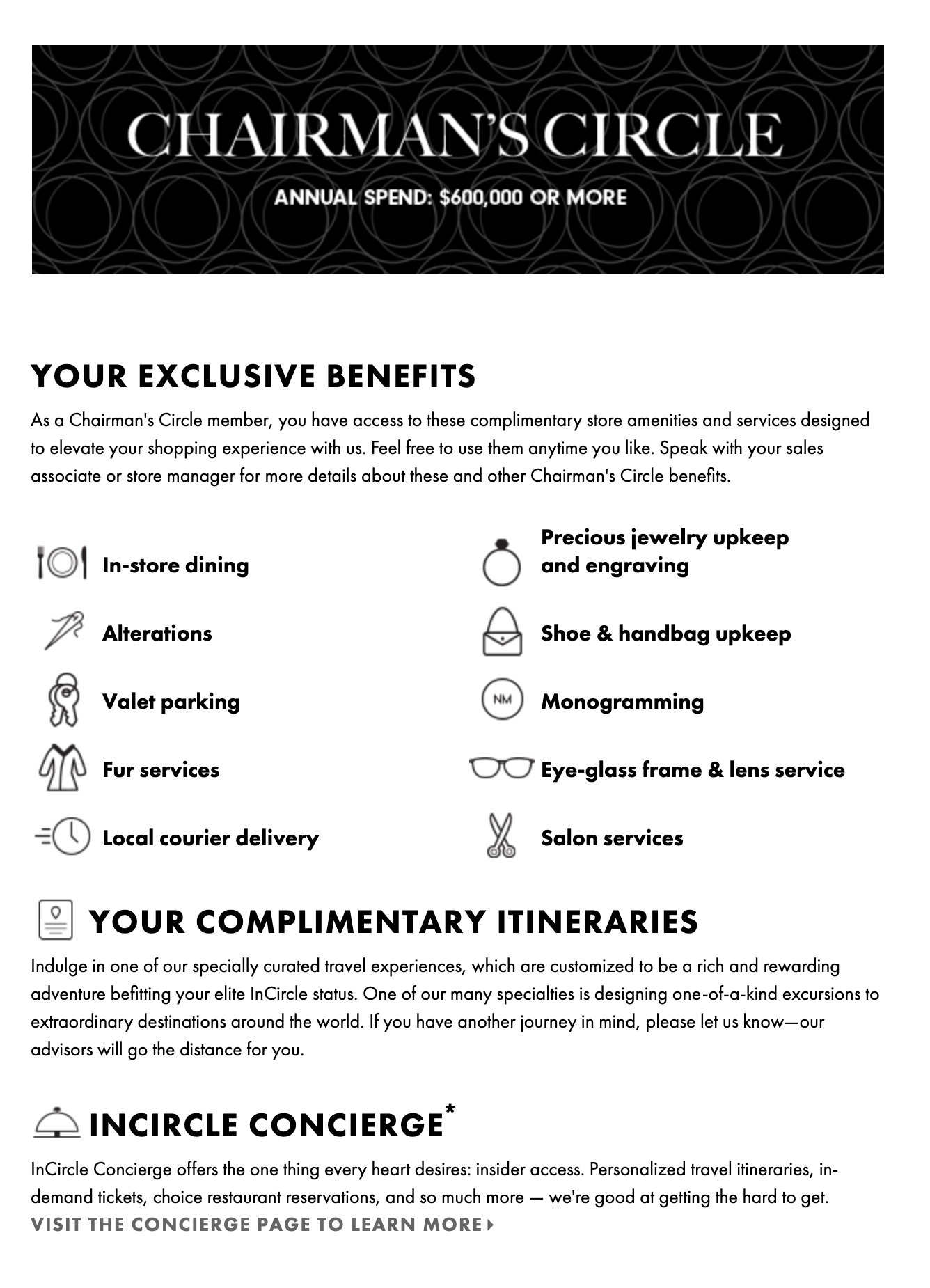 Continuing up the tiers, from the name of their highest tier to the rewards it offers, Neiman Marcus' Chairman's Circle is the perfect example of where luxury, exclusivity, and experiential rewards meet. For starters, customers need to spend $600,000 annually to reach this level, making achieving this coveted status rewarding in and of itself.
With rewards ranging from free alterations and jewelry engraving to in-store dining and salon services, Neiman Marcus wants to create an experience that shows their most loyal customers how valuable they really are.
What can you learn?
Giving your customers rewards that extend past your products creates a true VIP experience for them that they will positively associate with your brand.
Sephora's Beauty Insider Rewards
With hundreds of different brands and product offerings, Sephora is often the first cosmetics brand that comes to mind for many customers. Aside from their wide variety of products, it's the personalized customer experience that keeps them top of mind for so many shoppers.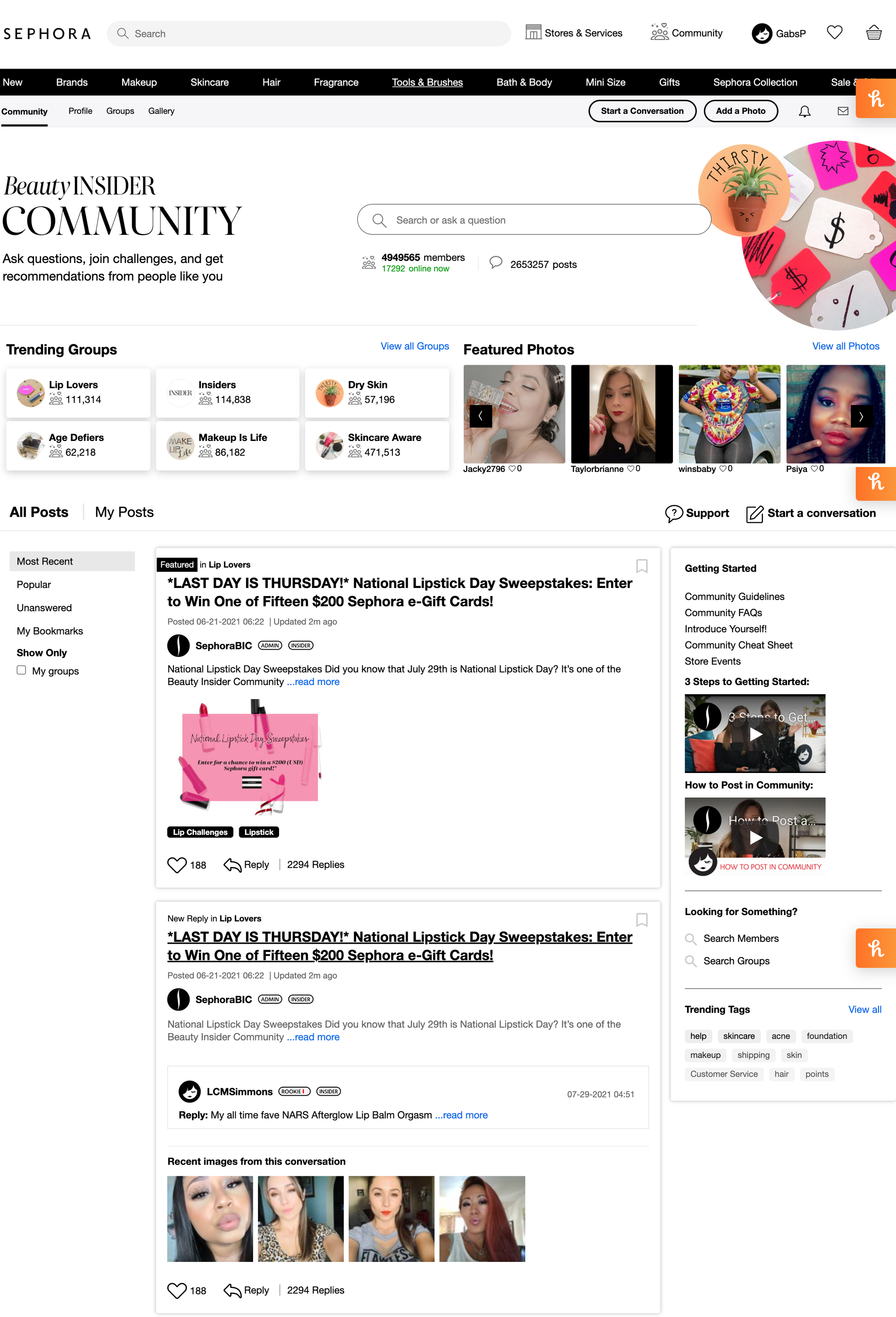 Make-up is an industry that is powered by recommendations, trials, and referrals. I spend hours reading reviews for dozens of different products before committing to one, and I'm not alone on this. The high price tag coupled with the desire to look and feel your best is what drives customers to do their research before trying something new.
This search for reliability is best rewarded through providing a medium for your customers to connect with one another. Sephora's Beauty Insider Community gives customers access to several different groups based on their beauty interests, live chats, and exclusive community meetups. Filled with product recommendations, tutorials, and expert opinions, this type of social proof is valuable to beauty enthusiasts of any level.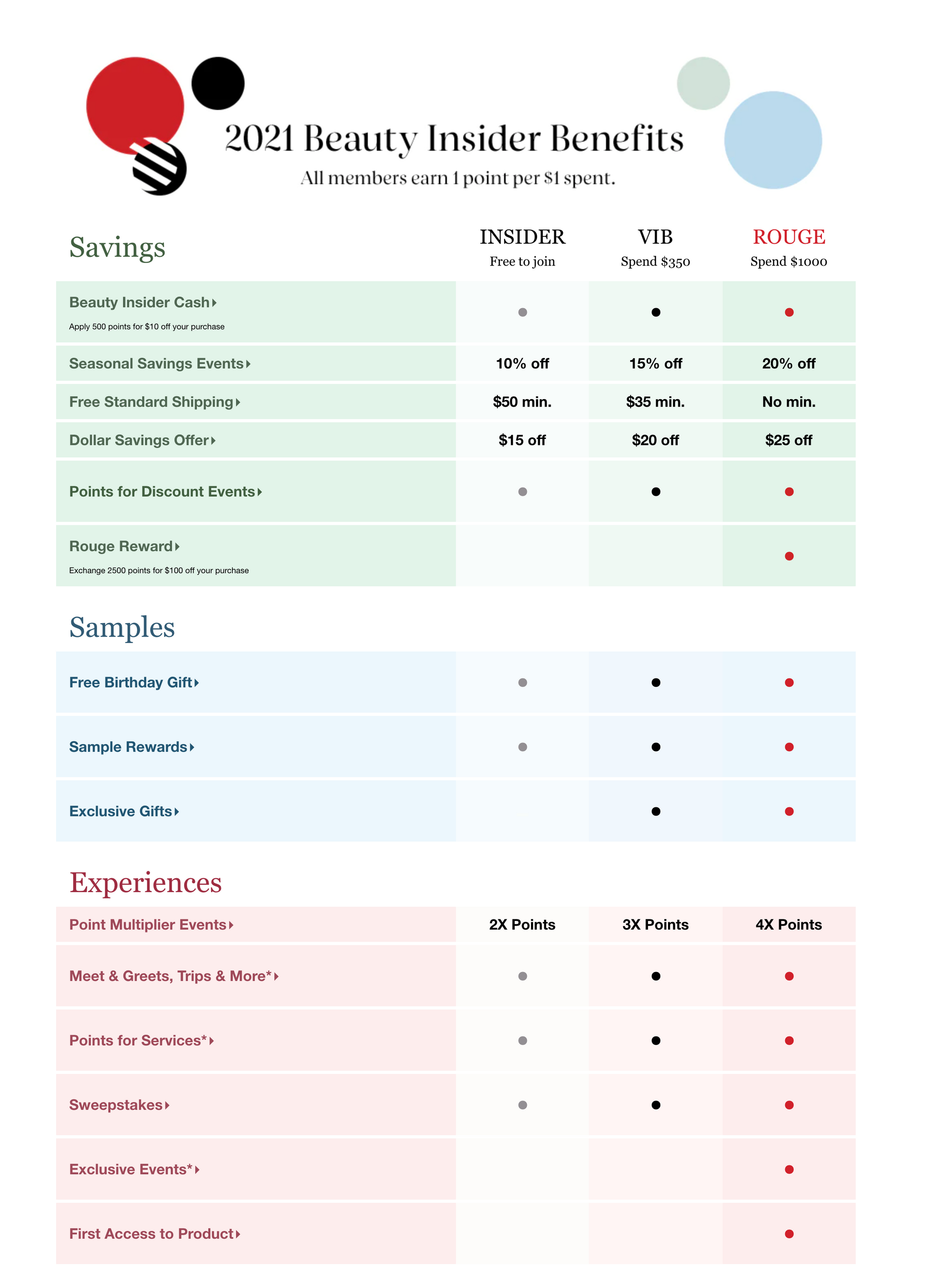 Not only does Sephora offer their customers free trial samples to help them discover the products they love, but they help them reach these realizations faster with expert-advice. Through access to one-of-a-kind experiences and exclusive events like in-store makeovers, beauty meet-ups, and masterclasses, community members are able to learn everything from creating a basic skincare routine to perfecting that perfect smokey eye look. It's these types of value-added rewards that create positive experiences for customers and encourage them to return to receive that same experience again.
What can you learn?
Offering rewards that build engagement between your customers and your brand is a great way to provide extra value to them and build a strong brand community for you.
Misha Nonoo's MN Network
A strong community does not have to come at the price of a luxurious brand image. As a female-founded and operated brand, Misha Nonoo is a US-based British-Bahraini brand focused on the values of women empowerment, ethical operations, and creating a community of confident, strong women from their suppliers to their customers. As an on-demand business, Misha Nonoo only produces products once they are ordered. Not only does this give them a gold star for sustainability, but it creates even more exclusivity as customers receive clothing that was quite literally made just for them.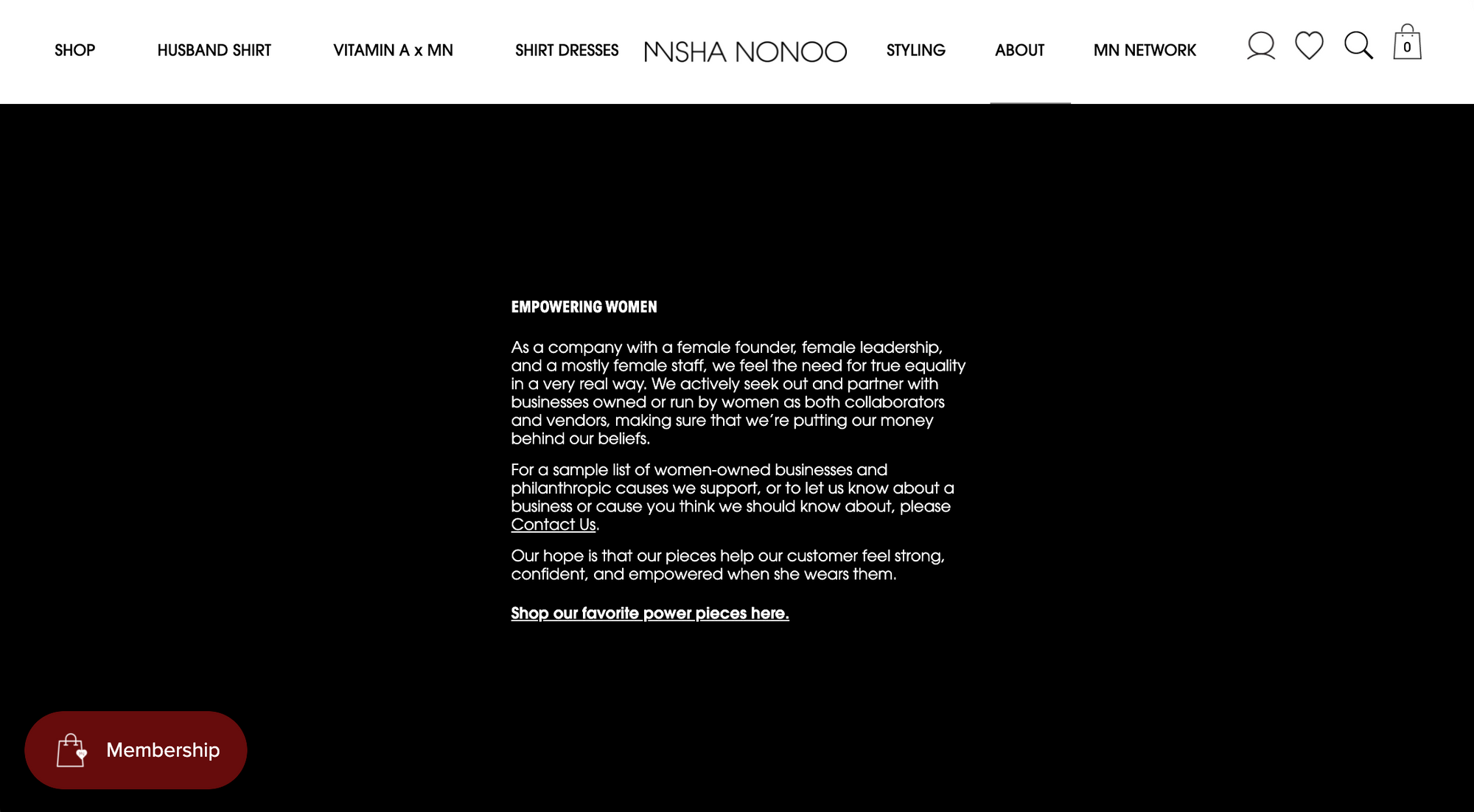 Misha Nonoo goes a step further in strengthening their brand community through their loyalty program, the MN Network. Branded as an "all-access club for the world's most interesting women", this community appeals to the brand's value of female empowerment first, fashion second. Through their tiered-VIP program, customers can work their way up from an associate to a CEO, receiving unique rewards like customized styling advice, invitations to offline and online events, and early access to new products. Having a product before anybody else has even seen it allows customers to feel prestigious and gives them that value-added customer experience that they desire.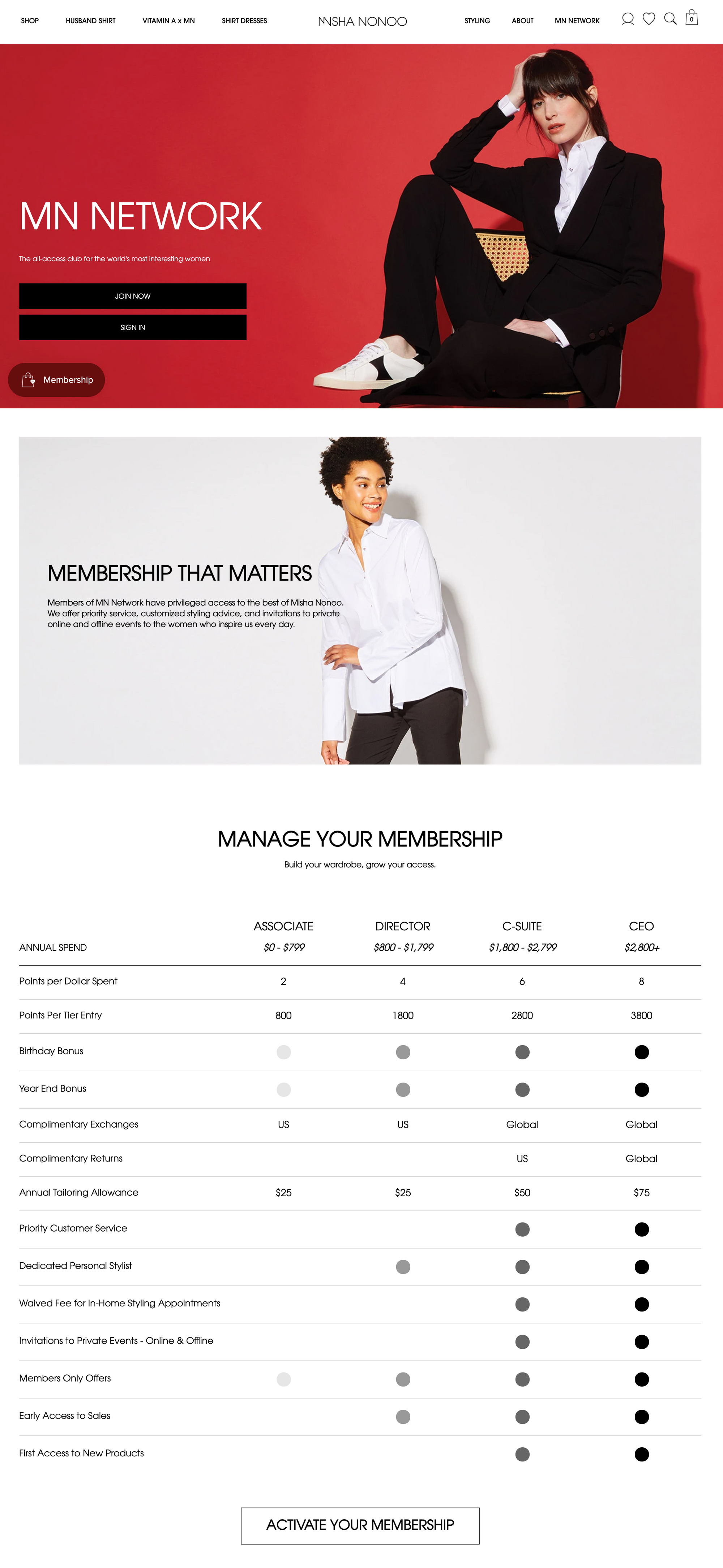 Misha Nonoo creates an even more luxurious rewards experience with some of their most unique experiential rewards. For example, CEOs who spend more than $2,800 per year are rewarded with free global returns, an annual tailoring allowance, and free home-styling appointments. MN truly brings their rewards right to their customers, in their own homes! Going above and beyond your customers' expectations like this turns them from one-time customers, to loyal brand advocates.
What can you learn?
A few small extra steps for you can mean the world of a difference in the minds of your customers.
Swarovski Crystal Society
There are very few things that scream luxury more than high-end jewelry. With a product that communicates exclusivity all by itself, Swarovski had to design a rewards program that sparkles just as much. Their program's name, Swarovski Crystal Society, creates images of beauty and luxury from the beginning of the customer journey.  
One strategy to avoid diluting your brand image is to add a membership fee for your rewards program. Offering both free and paid memberships helps you engage with every type of customer you have. When customers pay to join a membership it gives them a sense of exclusivity that coincides with your brand's luxurious personality.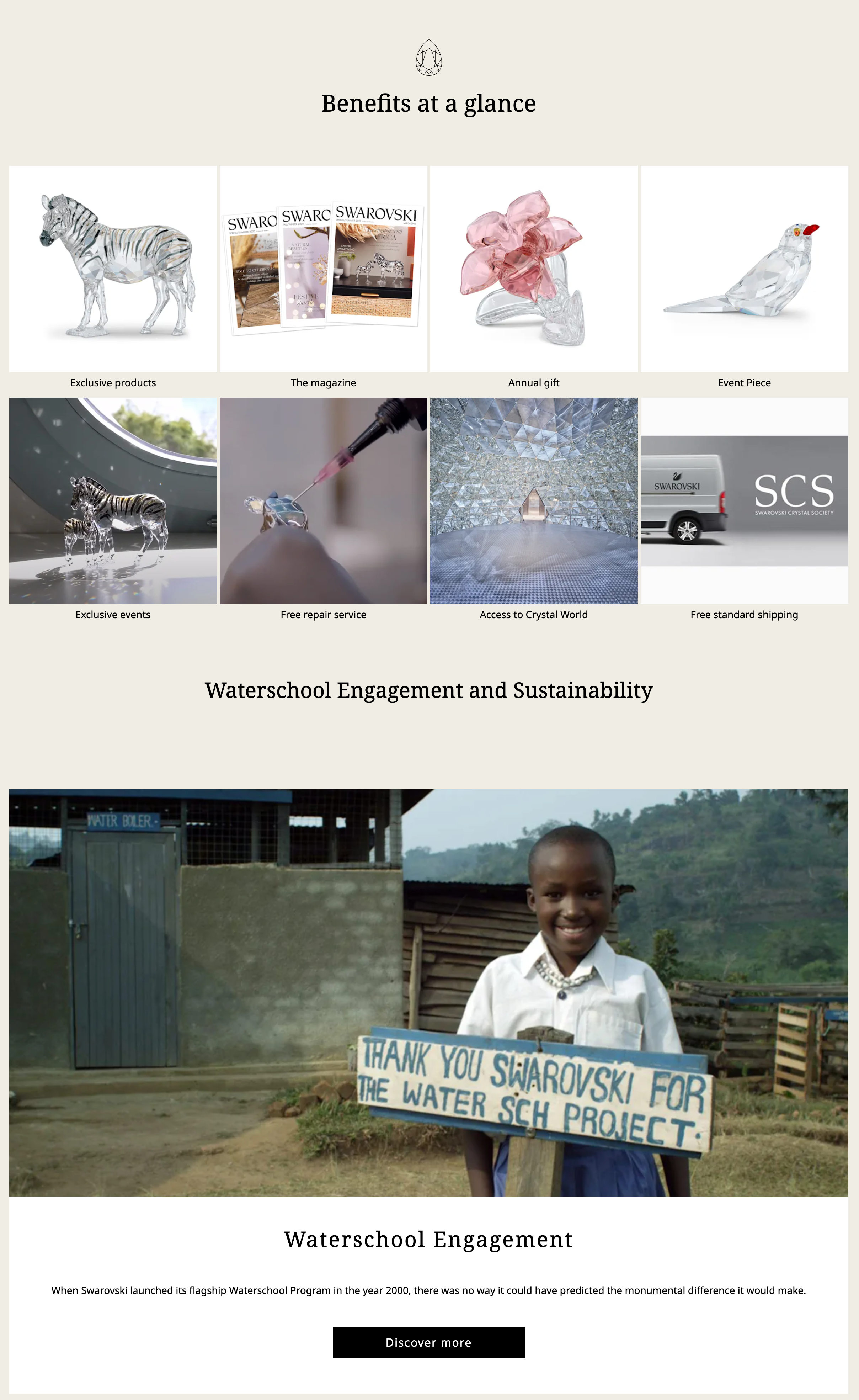 Along with the initial investment required, customers expect additional value with paid memberships. Experiential rewards are a great way to provide customers with one-of-a-kind experiences that are both valuable and memorable. Swarovski Crystal Society (SCS) offers its members exclusive benefits like early access to new products, annual SCS-only gifts, and access to member-only events.
Swarovski Crystal Society also offers some extremely unique rewards that are only available for their community members. By inviting members to participate in the Swarovski Waterschool project, Swarovski can create an emotional connection with their community by giving them the opportunity to support a social cause.
When your brand can create unique experiences that your customers can only get from you, then you not only increase the value of their interaction, but you increase the likelihood of these experiences being shared with their networks. Take Swarovski's annual free admission to Swarovski Kristallweleten in Austria for their SCS members as an example. Community members are able to travel to the Swarovski Crystal Worlds to explore the art museum, beautiful crystal parks, and VIP member lounge. The beautiful crystal sculptures are perfect for viral social-sharing, inspiring the social proof that will encourage new potential customers to seek out the experience as well.
What can you learn?
With once in a lifetime experiential rewards that fulfill their customer's deepest desires, Swarovski's rewards program creates truly beautiful customer experiences.
The Beauty Chef's Inner Beauty Loyalty Program
Health and wellness trends are truly all the rage these days. Everyone wants to look and feel their best and are becoming more and more conscious of what they are putting in their body. The Beauty Chef is an Australian beauty brand that sells natural products to improve gut health to give their customers beautiful, glowing skin. With a web experience that looks just as beautiful as they make their customers feel, The Beauty Chef creates beauty at every step of the customer journey.
It's also worth noting the language and tone of voice written all over The Beauty Chef's explainer page. By referring to their loyalty program as the "Inner Beauty Circle", they play on the concepts of an exclusive inner circle and inner beauty. This makes their customers feel luxurious from inside-out. Their tier names also stay consistent with their brand values of health and wellness by using terms like "seed", "harvest", and "glow". Communicating with a consistent tone across all platforms builds a strong, trustworthy brand personality for your customers to turn to.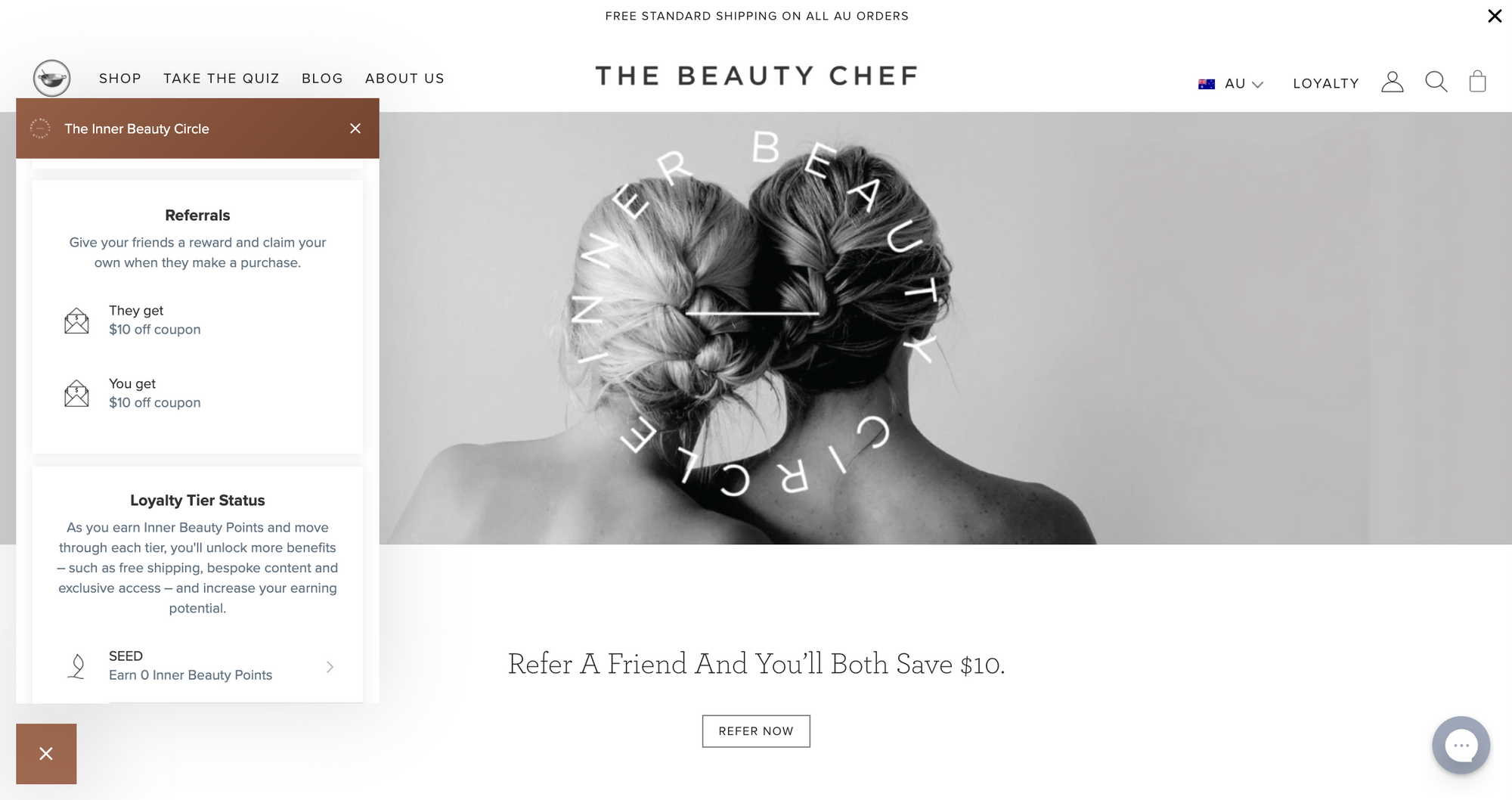 In an industry where product recommendations are so crucial to success, The Beauty Chef has leveraged two rewards strategies to build their brand community. The first lies in their blog which provides value-added content to customers for free. Their "Ask Carla" section gives customers a go-to place to get a personalized answer to their most pressing questions, improving the authenticity and approachability of their brand.
The second strategy is their use of referrals and social sharing to earn points. The motivation behind shopping with premium brands is the ability to share your high profile shopping habit with others. What's the point of having high-end products if nobody knows about it? Giving customers the opportunity to earn points for this type of social sharing is a great way to reward customers for actions that they are already doing, allowing them to be even more motivated to do so.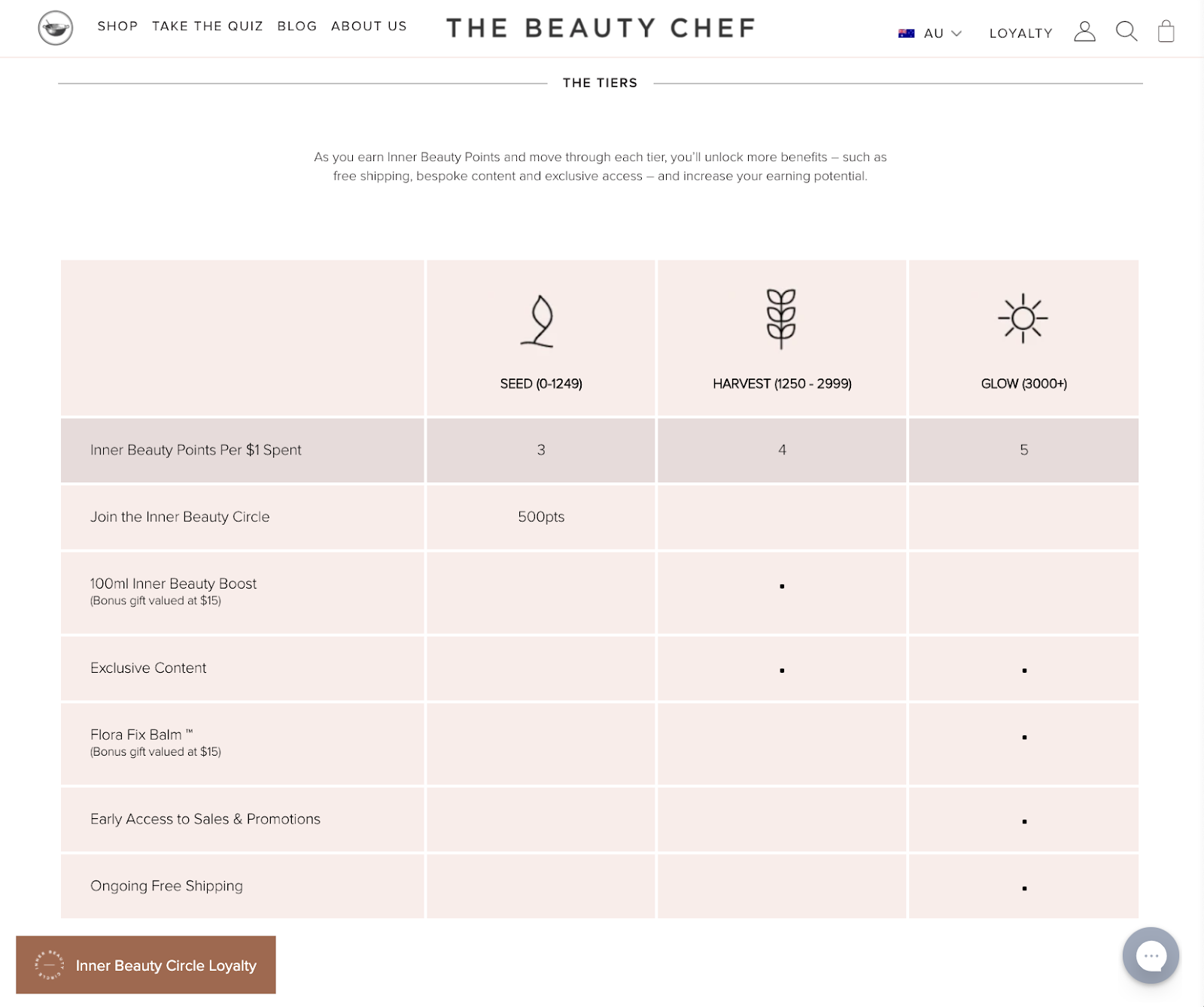 As we've seen with the previous examples, VIP tiers are a great way to offer a customer loyalty program that still feels exclusive. The Beauty Chef's Inner Beauty Circle motivates customers to grow from a seed to a glow level customer to earn different experiential rewards.
Luxury brands often avoid discounting their products in order to avoid diluting their brand image,  but luckily there are many other ways to reward your customers while maintaining your brand's value. For example, The Beauty Chef allows customers to move up through the tiers to gain access to free bonus gifts like their Flora Fix Balm. Offering customers the chance to earn points to get free products they've had their eye on creates an incentive for them to continue shopping with you, increasing their purchase frequency and giving you higher customer retention rates.
What can you learn?
Rewarding customers with exclusive products provides value to them without the dangers of discounting.
Create luxurious memories for your customers with experiential rewards
Everyone likes to be rewarded. Despite all of the myths, rewards programs can be extremely effective for your luxury brand as long as you use the right strategies, and experiential rewards are a great way to create a reward that is just as valuable and exclusive as the products your customers are shopping for. By offering customers everything from VIP access to events to luxurious vacations, the most successful luxury brands have been able to create lasting connections with their customers through experiential rewards.
At the end of the day, you can't put a price on exclusivity.
Editor's Note: This post was updated for accuracy and comprehensiveness in November 2021.