Customer engagement is a term often thrown around in the world of ecommerce and in business. How can we reach customer engagement? How can we optimize customer engagement? How can we ensure our customers are engaged? All are (valid) questions often asked when running an online business.

You probably know more about customer engagement than you think. With social commerce and ads being thrown at you all the time, you experience customer engagement every day as well. To help demystify this buzzword and what it means for your small business, we're going to take a look at how customer engagement is defined, how to measure it, and ways you can use it to acquire new customers and retain the ones you already have.
What is customer engagement?
Customer engagement is forming and cultivating a relationship between your business and your customers. Customer engagement happens before and after a transaction is made and often in the form of online engagement via your social media channels, content, email marketing, and SMS marketing. It can also happen offline through IRL events, retail locations, word-of-mouth marketing, and direct communication with your (ideal) customers.
💡
Customer engagement is intentional and aims to provide something of value to get customers to make a transaction and a repeat purchase. This also leads to the ultimate goal, brand loyalty.
How other SaaS companies define 'customer engagement'
Every interaction should have an intention. The interactions that you qualify as an engagement will be just as unique as your business. For example, if you sell through an ecommerce marketplace, then the engagement happens with the marketplace provider, not your actual brand. If your only social media channel is TikTok, then getting users to engage on every video will be crucial.
Like most definitions, SaaS and B2B companies describe "customer engagement" differently. By looking at different definitions, you'll actually get a better understanding of all of the intricacies wrapped up in the term and what they all have in common.
💡
"Customer engagement is the process of interacting with customers through a variety of channels in order to strengthen your relationship." (
HubSpot
)
This definition starts out with customer engagement being a process that should be planned out with intention. Another key component of customer engagement is giving customers options about where and when to engage with your brand. When you let your customers choose how they'd like to engage with you, you'll be more likely to uncover the type of interactions that they find valuable. By making it easier for customers to engage in ways they find valuable, you'll strengthen their emotional investment in your brand, leading to brand loyalty.
💡
"Customer engagement is delivering connected experiences to your customers instead of single, one-off, or fleeting transactions. It means optimizing your team structure, operations, and technology to create a connected feedback loop with customers." (
Salesforce
)
While the first definition focused on the idea of planning and intention, this one alludes to the fact that there are different levels of customer engagement and optimizing every touchpoint a customer interacts with you. Some customers will have a deeper level of engagement than others. For example, a new shopper might engage by following your brand on social media and placing an order, but this level of engagement is very different from someone who's placed 10 orders in the last year and also referred their friends.
💡
"The more engaged a customer is with your brand, the more emotionally invested they are and the more likely they will return for a repeat purchase." - Smile.io
After you have acquired a customer, it's time to engage them. The more emotionally invested a customer is, the stronger their connection with your brand will be, and thus begins brand loyalty and an engaged community.
Both the quality and quantity of engagements that your customers have with your brand are equally important. Finding ways to add value to your customer experience can help you drive more meaningful engagements more often. When customers feel like they have just as much to gain from engaging with your brand as you do, you'll foster a sense of reciprocity that keeps them emotionally connected to your brand.
At the core every definition shares one thing in common: customer engagement is all about interactions between your customer and your brand.
Why is customer engagement important?

Thanks to platforms like Shopify, BigCommerce, and Wix, it's easy for anyone to start a small business. As the competition within ecommerce has grown in some industries and become more crowded, there's been an overwhelming focus on clicks, conversions, and acquisition costs.

These acquisition strategies alone won't be enough to grow your business sustainably or retain your customers. Finding ways to engage with your customers before, in between, and after purchases strengthens their emotional connection to your brand, helping you retain the customers you already have while sustainably growing your business.

Often business owners forget that the entire customer experience involves the research your customer does to land on your site or products, the buying experience, and even after they have received their products. Customer experience is everything in ecommerce and a good experience is expected. According to insights, "86% of buyers are willing to pay more for a great customer experience."
Personalized customer engagement can also be the determining factor in someone's decision to make a purchase. As "49% of buyers have made impulse purchases after receiving a more personalized experience".
It's easy to see that there is a direct correlation between how engaged your customers are and how profitable your business is. There is a benefit to quality customer engagement. The question you need to ask is "how engaged are my existing customers?"
How to calculate customer engagement
You can't improve customer engagement if you don't know how to measure it. There are a number of different ways you can calculate engagement, which is why we're giving you a head start by highlighting the most important metrics to start with.
Guest checkout rates
What it is: the number of customers who complete a purchase without making an account
📊
How to calculate it: Number of orders completed by a guest/total number of orders
Why it matters: When a customer creates an account, they are more likely to come back to make another purchase
Purchase frequency (PF)
What it is: how often your customers make a purchase at your store
📊
How to calculate it: number of orders in the last 365 days divided by number of unique customers over the last 365 days
Why it matters: when you know how long it takes the average customer to make another purchase, you'll have a better understanding of how engaged they are.
Average order value (AOV)
What it is: the average amount a customer spends when they make a purchase
📊
How to calculate it: total revenue over the last 365 days divided by total number of orders placed in the last 365 days.
Why it matters: this number will tell you how much the average customer spends per purchase when they shop with you. In general, repeat customers spend roughly 7X more than their one-time purchase counterparts, making this an important metric to understand.
Repeat purchase rate (RPR)
What it is: the percentage of customers who've made more than one purchase at your store within a specific period of time
📊
How to calculate it: number of customers that bought more than once divided by total number of customers.
Why it matters: your repeat purchase rate gives you a clearer snapshot of the effectiveness of your entire retention strategy because it tells you how many customers are engaged enough to make more than one purchase at your store.

Once you have an understanding of your customer engagement baseline, you can start thinking of ways to improve it!
How a loyalty program can help increase customer engagement
The more engaged your customers are, the more emotionally invested they are in your brand. It's this emotional investment that makes them less likely to shop with a competitor and what strongly connects customer engagement to customer loyalty. It's estimated that more than 90% of companies across ecommerce industries have some type of loyalty program offered to their customers.
Customers don't want to feel like they're missing out on something. The key to customer retention is to add value to every engagement that a customer has with your brand. They'll be less likely to shop with a competitor since they'll earn additional value from your store.
🚨 Acquiring new customers is important, but retaining current ones is crucial for the success of any eCommerce business.

Maintaining customer engagement and loyalty to your brand is essential.

— Corin Romkey (@CorinRomkey) January 17, 2023
Loyalty program members not only make purchases more often, but they also have an average order value that is 12% higher than their non-member counterparts which makes them a critical part of your growth strategy. According to Shopify, "it's estimated that as many as 84% of consumers say they're more apt to stick with a brand that offers a loyalty program."
Here are four simple ways you can use your loyalty program to drive customer engagement.
Award points when a customer makes a purchase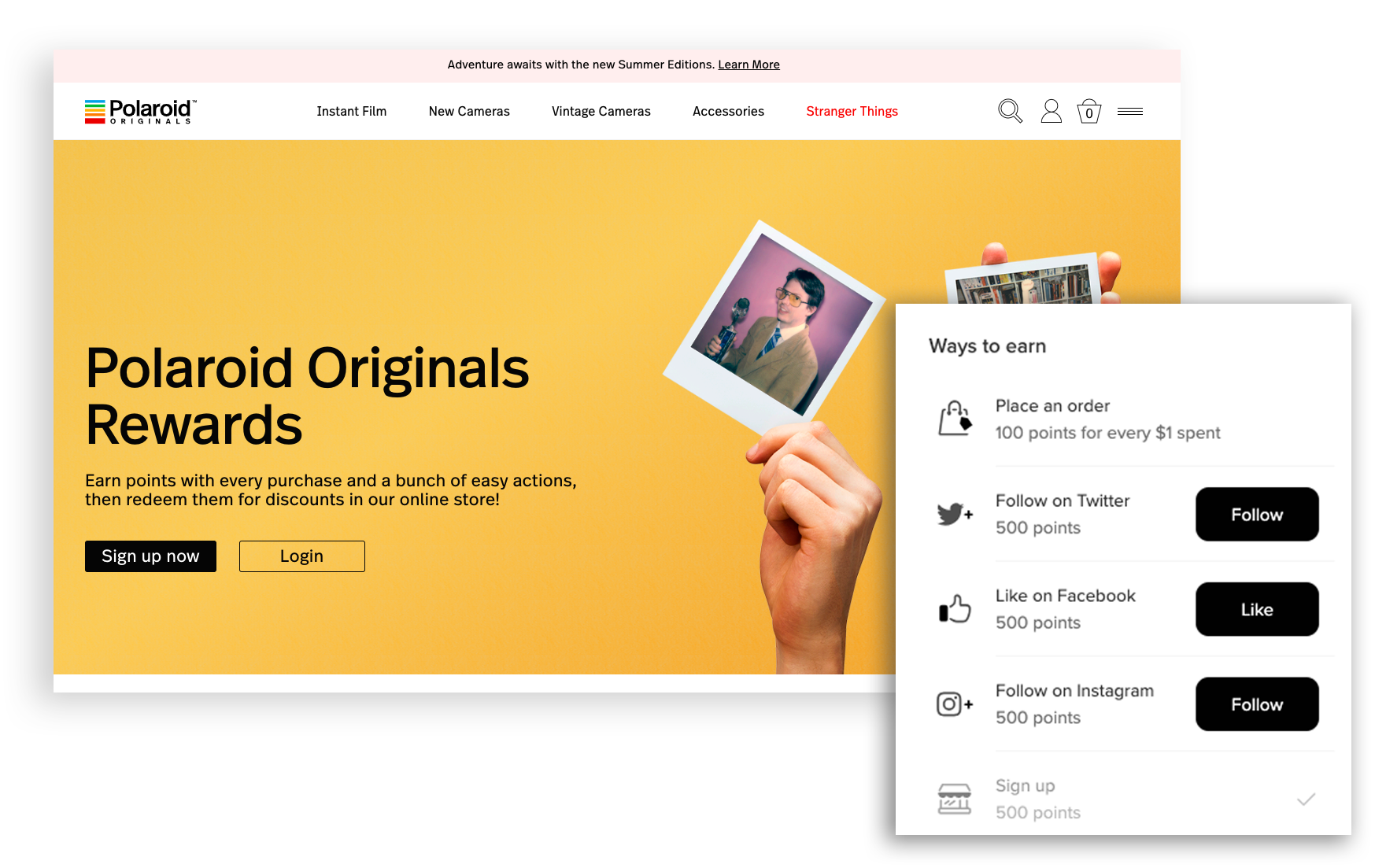 Showing your customers that you appreciate their investment in your brand can be as simple as awarding them points each time they place an order. Polaroid Originals adds value to every order its customers place, making each of them more likely to return to make another order in the future.
By showing its customers they have just as much to gain from each purchase as they do, Polaroid has fostered feelings of reciprocity that will give its customers every reason to order from them again.
Encourage your customers to connect with you on social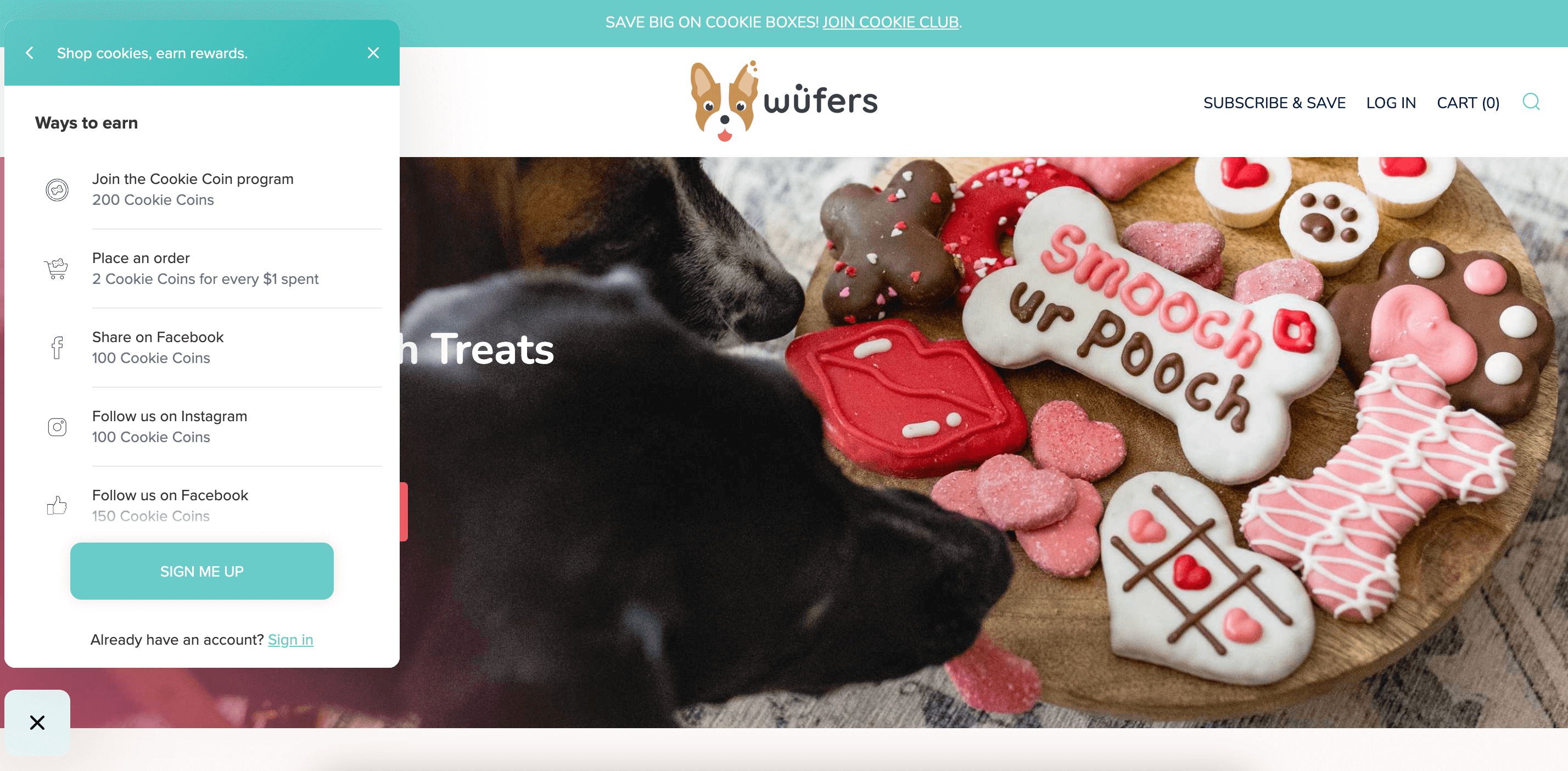 Driving engagement doesn't necessarily have to focus solely on more purchases. Simple actions like customers following your brand on social media or sharing your store with friends on Instagram can also go a long way in keeping them engaged over time. Gourmet dog treats brand, Wufers  adds tangible value for every new Instagram follower with reward points. This reward makes each new Instagram follower more likely to find other ways to engage and gives Wufers another way to stay engaged with its customers over time.
Personalize the experience
Your loyalty program should be part of the customer experience and engagement through all touch points. Personalized customer engagement can be the determining factor in someone's decision to make a purchase. It can also be the determining factor in whether or not a customer will return for a repeat purchase. Showers Pass offers rewards for different social actions and for celebrating a customer's birthday.
Incorporate other ways to reach customers on your loyalty program including SMS marketing, email campaigns, pop-up events, and in-store rewards.
Retargeting flows for email & SMS are key for businesses to increase customer engagement & conversion rates.

Personalized campaigns drive sales & boost loyalty. Reach customers at the right time for better ROI on marketing efforts.

— Jacob Thomas (@FitDadJake) January 25, 2023
Encourage your best customers to share your brand with referrals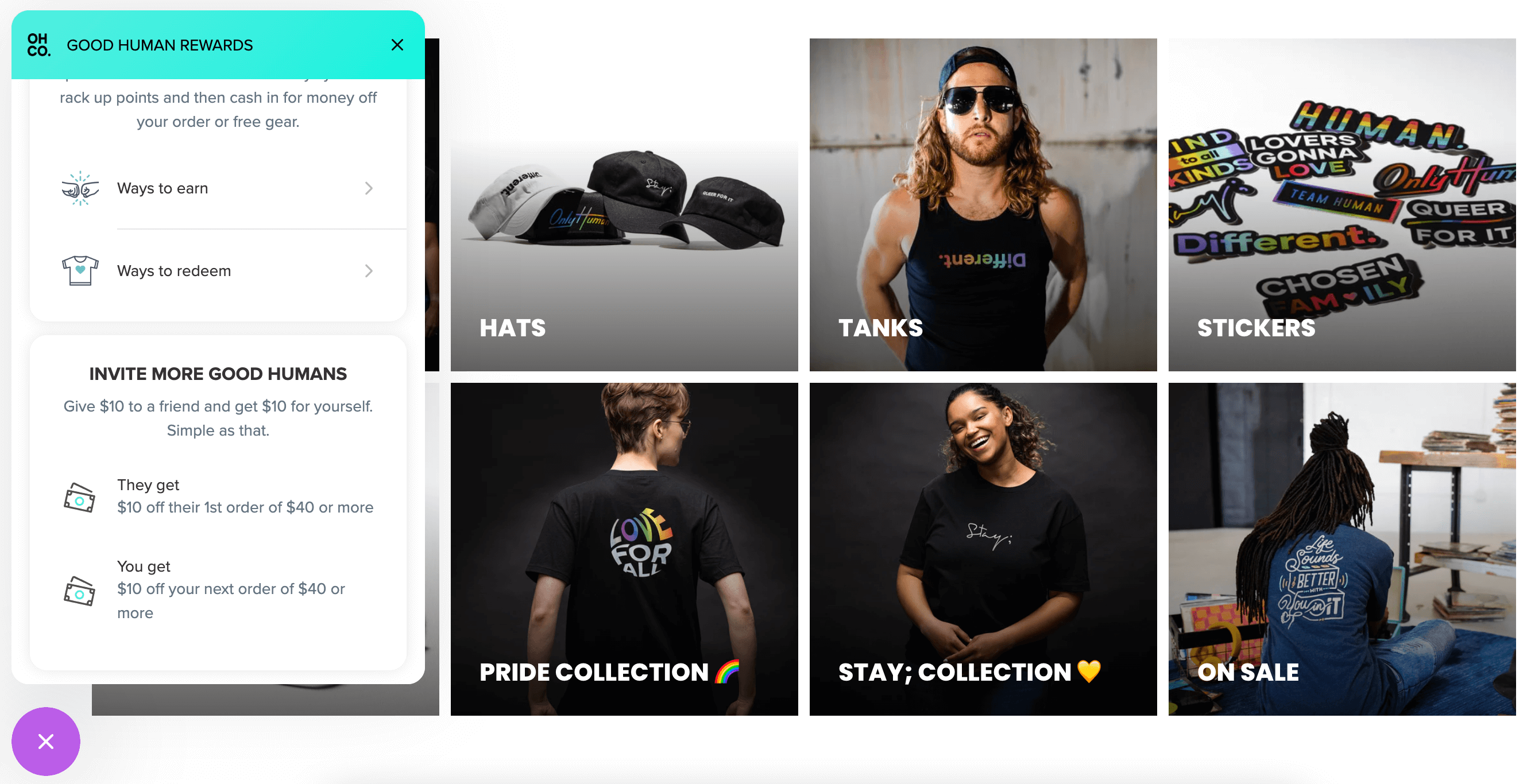 Driving engagement also doesn't have to be solely between your customers and your brand, it can also be between customers. Empowering your best customers to easily share your brand with their friends and family can not only help you acquire a new one but also engage the customers you have.

Apparel company Only Human offers a referral program where customers can refer anyone. The new customer receives  $10 off their first order of $40 or more, while the customer giving the referral receives $10 off their order. Referrals simultaneously add value to the friend that's been referred to their brand and the customer that referred their friend. It's this value that will make both customers more likely to re-engage again in the future.
Editor's Note: This post was originally published in July 2019 and was updated for accuracy and comprehensiveness on January 27, 2023.
Engage Your Customers
CREATE A LOYALTY PROGRAM IN MINUTES