Increasing your customer's average order value will increase your ecommerce store's profitability. At first this seems very logical and intuitive: just get customers to buy more and you will make more money! However, do you actually know how to do it?  More importantly, do you even know how to calculate your average order value? This post will cover both of those topics!
How Do I Calculate Average Order Value?
Before learning how to boost your average order value, it is very helpful to understand how to calculate it. Knowing your current average order value is vital to setting goals and evaluating progress.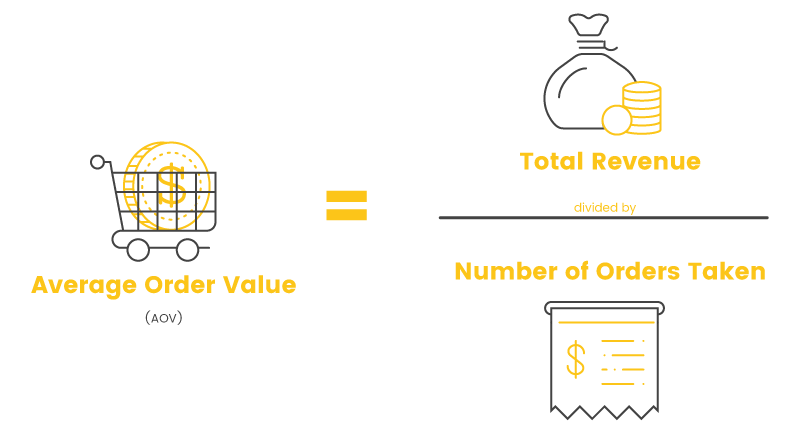 This is the simplest way to calculate average order value, but it doesn't provide the full picture. Remember to subtract expenses and cost of goods sold for a better representation of your current average order value.
Tips to Increase Average Order Value
Now that you're an expert on calculating average order value, here are 5 proven ways to increase it.
1. Create a Threshold for Free Shipping
This is one of the easiest ways to increase average order value, set a threshold that a customer must spend in order to receive free shipping. According to UPS, 61% of shoppers abandon their cart if they can't get free shipping. Setting a free shipping threshold can help convert some of those shoppers into paying customers.
61% of shoppers
will abandon their cart if
shipping isn't free.
Since the majority of shoppers will leave your site if they can't get free shipping, that also means that they will actively pursue it! You can motivate them to spend a little more in order to receive free shipping. The important thing here is to make the threshold obtainable.
The ideal threshold for free shipping is 15-20% higher than your AOV, to motivate your customers to spend slightly more without driving them away. Arbitrarily setting a threshold that is too high is a common mistake and will drive your customers away.

e.l.f. Cosmetics provides an excellent example of an effective free shipping threshold. With a free shipping value of $25, e.l.f. is motivating customers who would normally make a small purchase of $5 or $10 to add a little bit more to their cart to qualify for free shipping.
2. Start Cross-Selling
Cross-selling is presenting additional items that a shopper might see as valuable. Usually this is done by looking at what they have put in their basket, and recommending products that complement that item.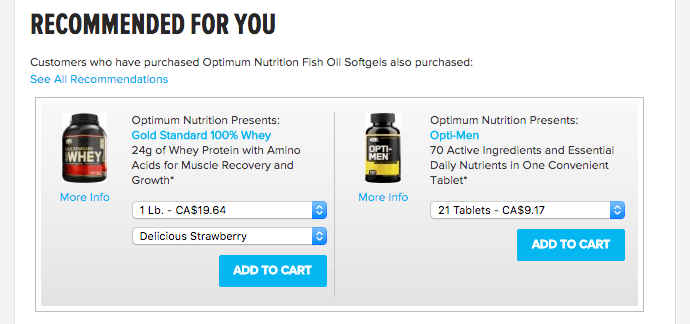 Bodybuilding.com does a great job of this by using previous customer purchases to determine what is right for you. If I'm looking for Omega-3 capsules, the site also recommends a protein powder and multivitamin of the same brand because this is a common purchase combination.
Bodybuilding.com uses a system to automatically present cross-sells, but you don't have to be that high-tech. Smaller merchants can simply place a static recommendation on a product listing. This could be putting a recommendation to jelly on all peanut butter listings or toothpaste on all toothbrush listings.
Similar products can be
paired together
to encourage additional spending.
Cross-sells are a great way to boost average order size because they remind your customer of products they may have forgotten or didn't realize they needed. You provide them with additional value and they provide you with additional order value. It is a win-win!
3. Offer a Product Bundle
Product bundling is combining multiple products into a single item on your site. It makes it very convenient for a customer to pick up everything they were looking for with the click of a button. Additionally, it reduces the risk that customers will abandon your site during their search for multiple products.
Starter bundles have to be the most effective type of bundled product. When someone decides they are going to get into a new hobby or sport they often don't know everything they need. You can make it easy for them by including everything they need in one convenient bundle. Providing a starter bundle saves your customer time, research, and money while at the same time increasing your order value.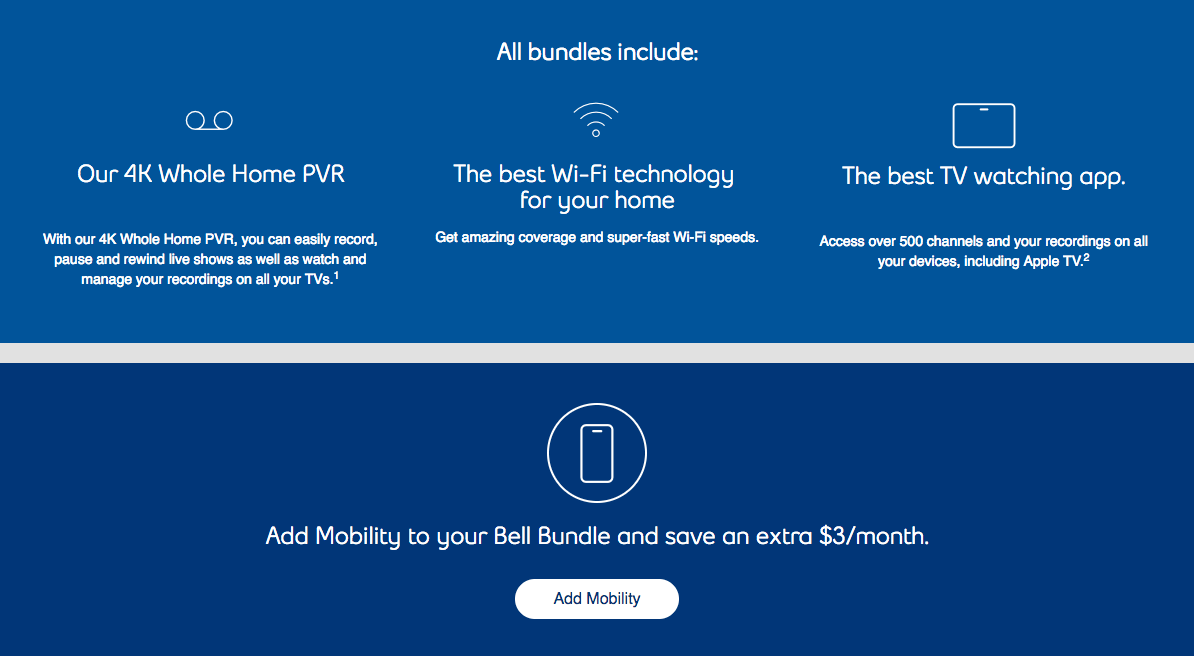 Bell's bundles all include TV and internet, likely due to heavy competition from Netflix who is challenging traditional TV services. With this strategy, Bell is able to increase AOV by ensuring that more customers are also purchasing TV services instead of switching to Netflix. They make their bundles even more appealing by allowing you to customize your bundle with a cell phone plan.  This offers both additional savings and convenience - something their customers are always looking for.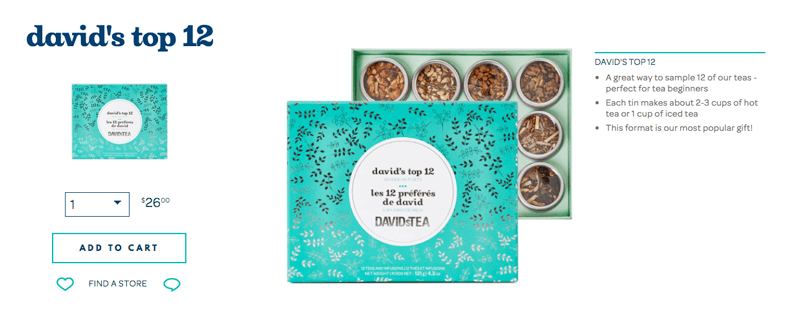 DAVIDsTEA's sampler pack is another good example of a bundle. Sampler packs are especially effective for food and beverage companies since shoppers often look for both savings and variety. A sampler pack lets them try multiple products with one purchase. This also makes it more likely that customers will find a product they like, which will lead to more repeat purchases.
4. Use Coupons with a Threshold
Coupons are another method to increase your average order size, but they must be approached with caution. Coupons that increase AOV are often used in a similar fashion to free shipping offers – if the customer spends over a certain threshold they will receive a discount. This will motivate customers to spend more than they would've without the discount to ensure they can take advantage of the savings.
Coupons can be effective as long as they match what your brand and store are trying to achieve. If you sell luxury goods, a discount won't align with your brand strategy. The best coupon strategy to maximize AOV will push customers to spend more but also make them feel like they are getting a special deal as well.
Coupons can
temporarily
increase average order value, but they're not the best long term strategy.
Although coupons are a great way to temporarily increase AOV, they're not the best long term strategy. They aren't sustainable because discounting too often will cause shoppers to expect it and never buy at full price. You want your shoppers to love you for what you sell, not because you discount.
5. Start a Loyalty Program
A rewards program can get your customers purchasing more per visit and more often. It does this by using rewards as motivation for customers to return to your store. With more incentive to shop with you instead of competitors, customers will spend more per visit and shop with you again in the future.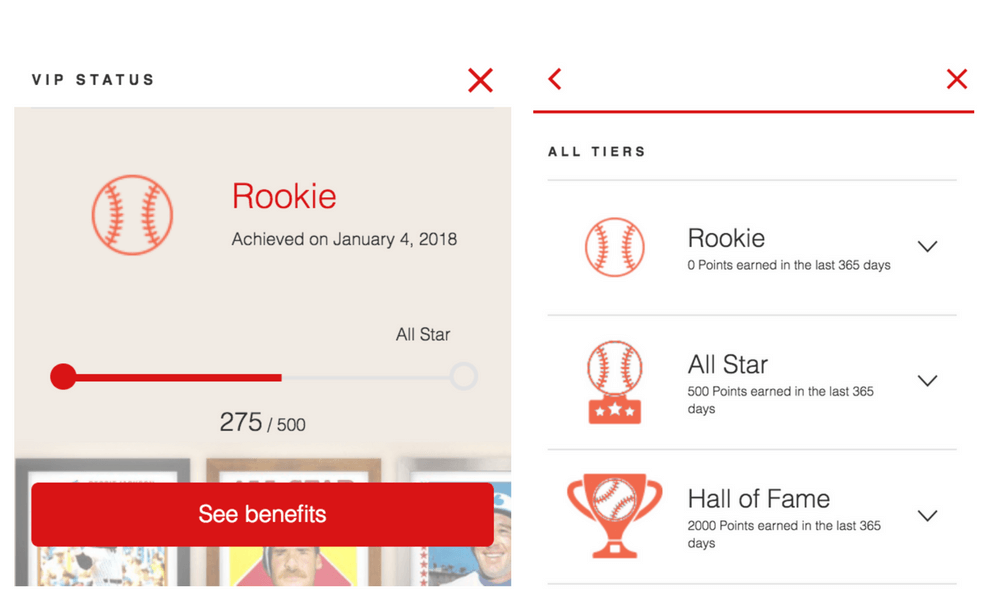 Topps Now Rewards does a great job of this through their use of VIP tiers. Higher tiers are very desirable in their program because they provide additional benefits such as free products and discount coupons. Points can be  earned by making purchases, sharing their store on social media, or even just registering an account. Their use of progress bars allows customers to visualize their progress to the next tier and increase their motivation to earn points.
Loyalty programs encourage increased spending by
creating perceived value.
Loyalty programs can help boost AOV by encouraging additional spending with points. Points are extremely valuable to customers because they can be used to redeem products with a high perceived value. This provides great return for you because something as simple as branded merchandise can be cheap to manufacture but carry high value for your customers.
Maximizing Your Average Order Value
Ultimately average order value boils down to increased profits and continued success for your brand. Incorporating tactics such as free shipping, cross-selling, bundling, coupons, and a loyalty program will deliver results and improve your customer experience. These considerations will keep customers coming back and make them want to spend more, which is great for every business.