It's officially 2023 and you know what that means–time to set new goals, dive into new projects, and build on the momentum you gained in 2022. But we'd be remiss if we didn't take a moment to celebrate the wins we experienced in 2022.
In 2022, Smile reached some pretty awesome milestones. We officially passed the threshold of 100K merchants rewarding with Smile and during Black Friday Cyber Monday (BFCM) there were over 6.5 million shoppers placing orders from brands using Smile loyalty programs. We clearly have some really great ecommerce brands trusting Smile with their loyalty programs so we thought it's time to shout out a few that really stuck out this year–the top 10 best loyalty programs of 2022 .
A redemption rate of 47% and $1 million in referral traffic revenue
No matter which loyalty program metrics you look at–total program members, reward redemption rate, or value generated–we had some brands knock it out of the park. One Southeast Asian brand reached 115K program members with a redemption rate of 47.93%, 3.5 times higher than the industry average of 13.67%. Another Colorado-based lifestyle brand reached over $1 million US dollars in referral traffic revenue. We're usually not one to brag or boast, but when it comes to our amazing merchants and their successful loyalty programs, we just can't help ourselves.
It's no secret that the busiest time of year for ecommerce brands falls between October to December, the holiday season. Between BFCM, last-minute holiday shopping, and Boxing Day sales, there is a lot of opportunity to leverage a loyalty program. In 2022, Smile merchants impressed us once again with 53,934,519 orders placed on shops using Smile from November to December. We also saw 62,306,111,117 points earned over the 2022 holiday shopping season, which is a 63.6% increase from last year's points earned. It's safe to say that our merchants have quite a bit to celebrate in 2022.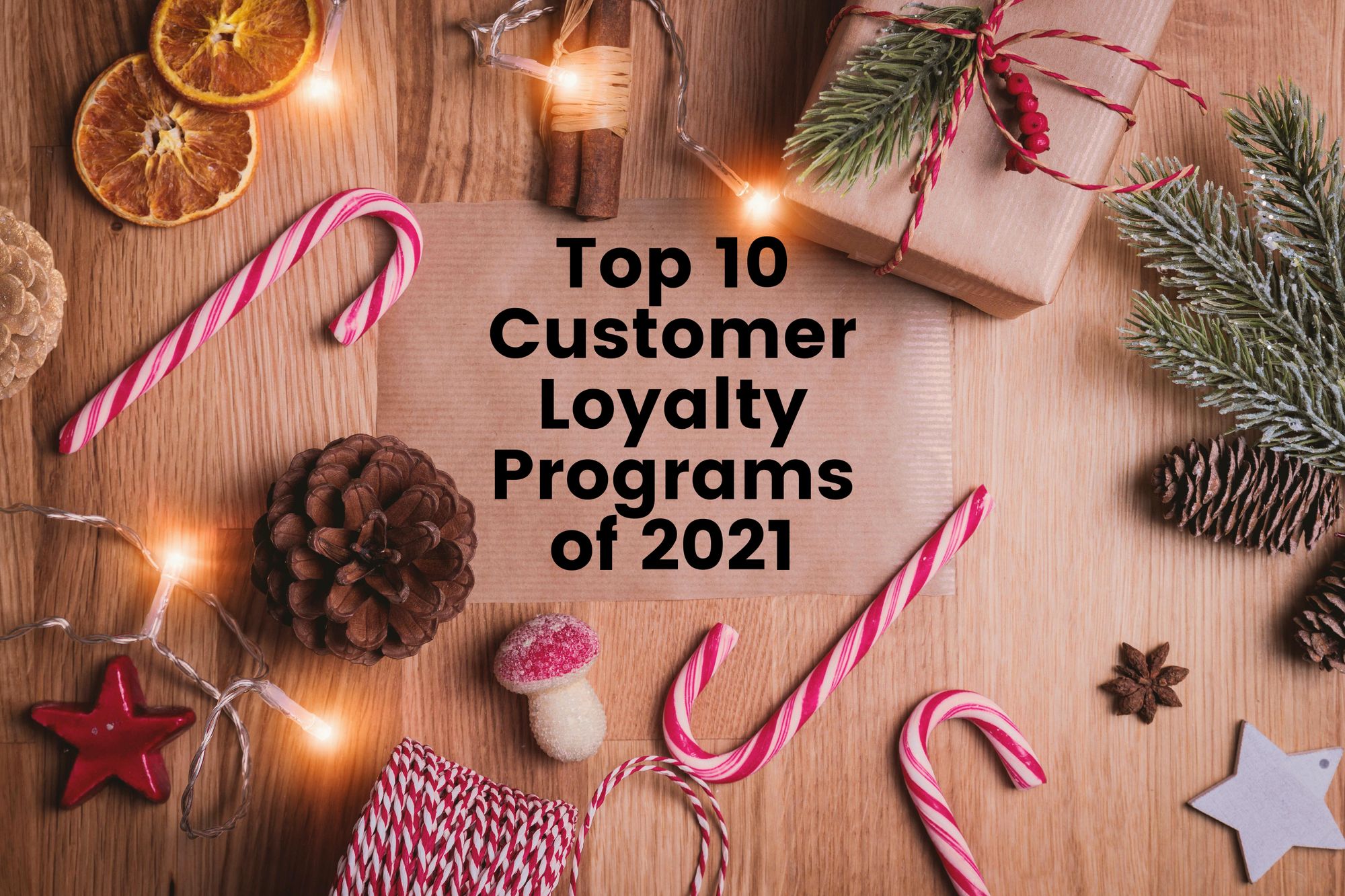 While all of our merchants blew us away last year, there were a few that stood out because of their innovative programs, impressive metrics, or beautifully branding. Without further ado, let's dive into the top 10 best customer loyalty programs of 2022.
When you operate in a competitive industry, the customer experience matters more than ever. That's the case for our first brand, sustainable drinkware company, BrüMate. They understand that provisioning high-quality products alone just doesn't cut it these days. That's where their top loyalty program, BrüCrew comes in handy to help customers feel valued and a level of exclusivity.
BrüMate incorporates experiential rewards by sending VIP perks to their loyalty program members. Through VIP-only events and the opportunity to influence future products, BrüCrew members feel special and part of a community. Their program combines a points rewards program with a referral program by rewarding existing customers 1,000 points for each referral they make–enough to redeem $10 off their next purchase. They also leverage the importance of social proof by rewarding customers for leaving reviews and offering additional points for user-generated content such as photo and video reviews. Seeing is believing, right?
The icing on the cake of BrüCrew is the on-point branding. For starters, the name is cleverly named, easy to remember, and shows that the program is an extension of their brand. When you put this all together, what do you get? A fantastic rewards program that was among the top loyalty programs for Smile in terms of number of redeemers, earners, first time shoppers, and total members.
For beauty and skincare brands, having a loyalty program is always a good idea. In an industry where customers make frequent purchases and have tons of options to choose from, rewarding them motivates them to come back to your store over competitors. Indian clean beauty brand, Sublime Life is no different. Joining their Skincare Rewards program allows customers to earn points on every purchase and get free products and gifts when they spend a certain amount on top of rewards they can earn.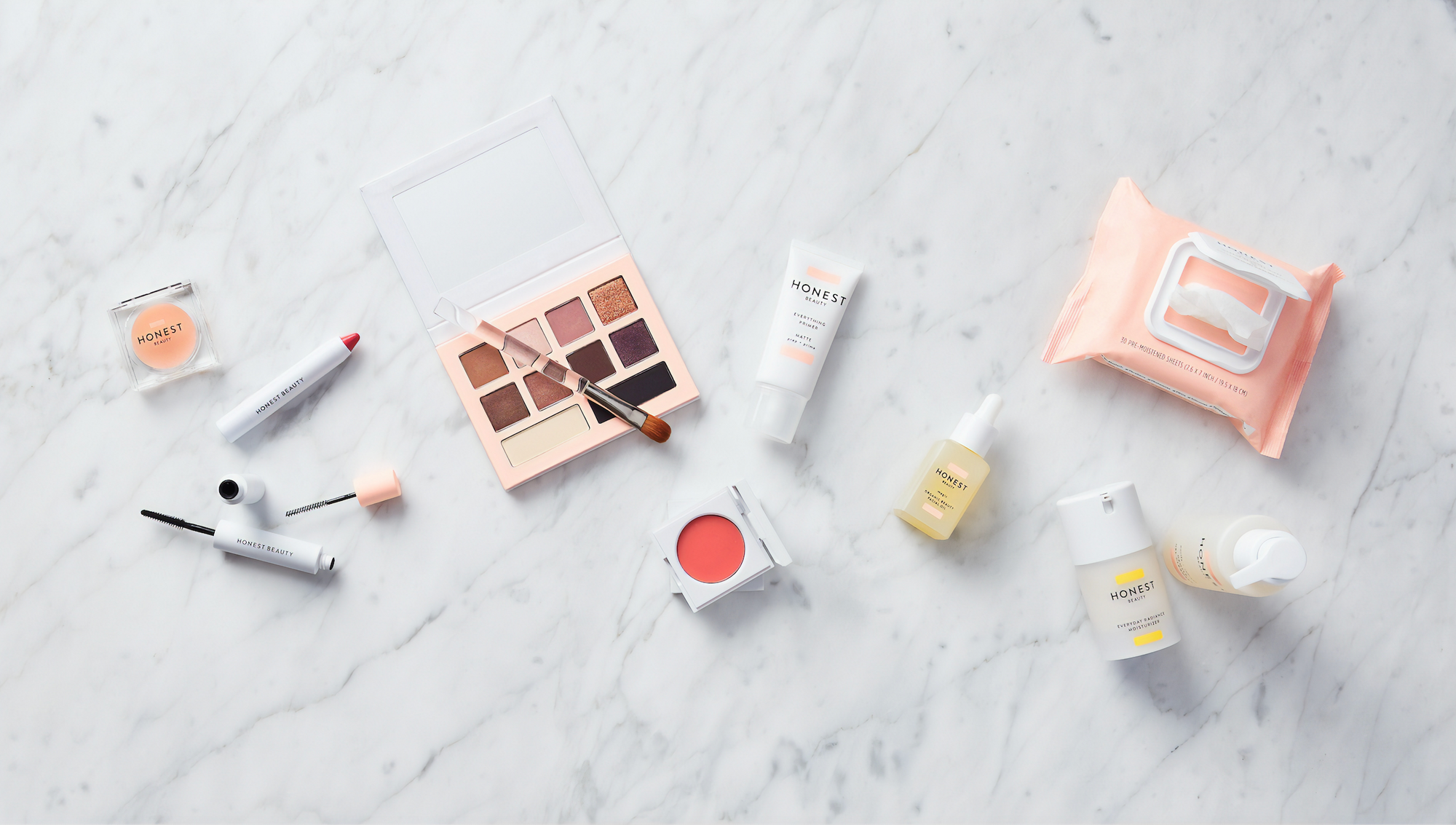 Sublime Life offers unique points earning actions for their members. Along with earning points on every purchase, signing up, or following on social media, customers are rewarded for making eco-friendly decisions. Customers can return their empty products and earn 250 points per empty when they send them back or 100 points per empty if they arrange a home pick-up. In an industry where waste can pile up and harm the environment, having sustainable incentives like this attracts customers whose values align with yours.
Sublime Life has done a great job at making their rewards attainable and motivating. Customers can earn cash discounts anywhere from ₹1 off to ₹5000 off, allowing customers to choose if they want to bank their points for a big discount or be rewarded every time they shop. This redemption scheme allowed Sublime Life to be one of Smile's top rewards programs in terms of both unique number of redeemers and redemption rate for 2022.
If there's one product that tops the charts in purchase frequency, it's coffee. Coffee is a ritual for so many people–they get it on their way to work, as an afternoon pick-me-up, or as a cozy drink to share with friends. Whether you like your cup of joe black or full of sugar, there's no doubt getting rewarded for your purchases makes the whole experience a little sweeter. That's why UK coffee brand, Pret a Manger launched their loyalty program, Pret Perks in November 2021. At the time it was only available to members of their coffee subscription program, but in 2022 it became available to all customers via their app or website.
Pret Perks members earn 1 star every time they make a purchase which they can redeem for a 'perk' after they collect 10 stars. Customers can track all of their progress in the app, making it a smooth customer experience while you're on the go.
Pret takes their customer retention to the next level through their one-of-a-kind coffee subscription program. For just £25 a month, subscribers can get nearly unlimited coffee (up to 5 coffees a day). That alone is a pretty great reason to stay loyal, but Pret sweetens the deal by seamlessly tying their subscription and loyalty program together. Customers earn 1 bonus star each time they renew their subscription and they earn an additional star every time they buy a meal or snack along with their handcrafted barista drink. There's no denying Pret served up a successful customer loyalty program in 2022!
As we've mentioned, coffee has a high frequency of purchase, making it the perfect industry for loyalty programs. Cafuné Boutique is a Canadian specialty coffee and brewing equipment store with one of the best loyalty programs we've seen–Ritual Rewards.
Cafuné Boutique's loyalty program had an incredible redemption rate of 27%, 13% higher than the industry average.
One of our favorite parts of their program is their referral program–new customers receive 10% while the referring customer gets 500 points. And we're not the only ones who loved this program–Cafuné Boutique generated one of the highest amounts of referral traffic revenue in 2022 among all Smile merchants. People take their coffee seriously, and that's exactly what their referral program success demonstrates. In such a competitive industry, referrals are key because they're built on trust.  
Aside from referrals, Cafuné Boutique also offers a points program. Customers earn 5 points for every dollar spent, which they can later redeem for cash discounts or percentage discounts off their next purchase. Throughout the year, Ritual Rewards offered several bonus points campaigns during peak times. For example, they offered a double the points campaign during BFCM and clearly communicated it through an effective email campaign. As we always say, you can have the best loyalty program in the world but it won't matter if nobody knows about it. And Cafuné Boutique did a great job making sure people knew about Ritual Rewards in 2022.
Another cult classic brand that decided to join the loyalty game last year was Bath and Body Works. They launched My Bath and Body Works Rewards in August 2022 nationwide within the United States, giving customers 10 points for every dollar spent. During that popular, annual candle sale in December, they offered an instant welcome reward of $10 off any purchase of $30 or more instead of welcome points to encourage sign-ups. This is a great example of effective event-based loyalty marketing.
During this candle craze, they marketed their loyalty program all over their website. It was clearly visible through 2 banners. This was a great retention marketing campaign as it turns their one time purchasers who only make a purchase once during this sale into retained customers who need to return to redeem those points before they expire.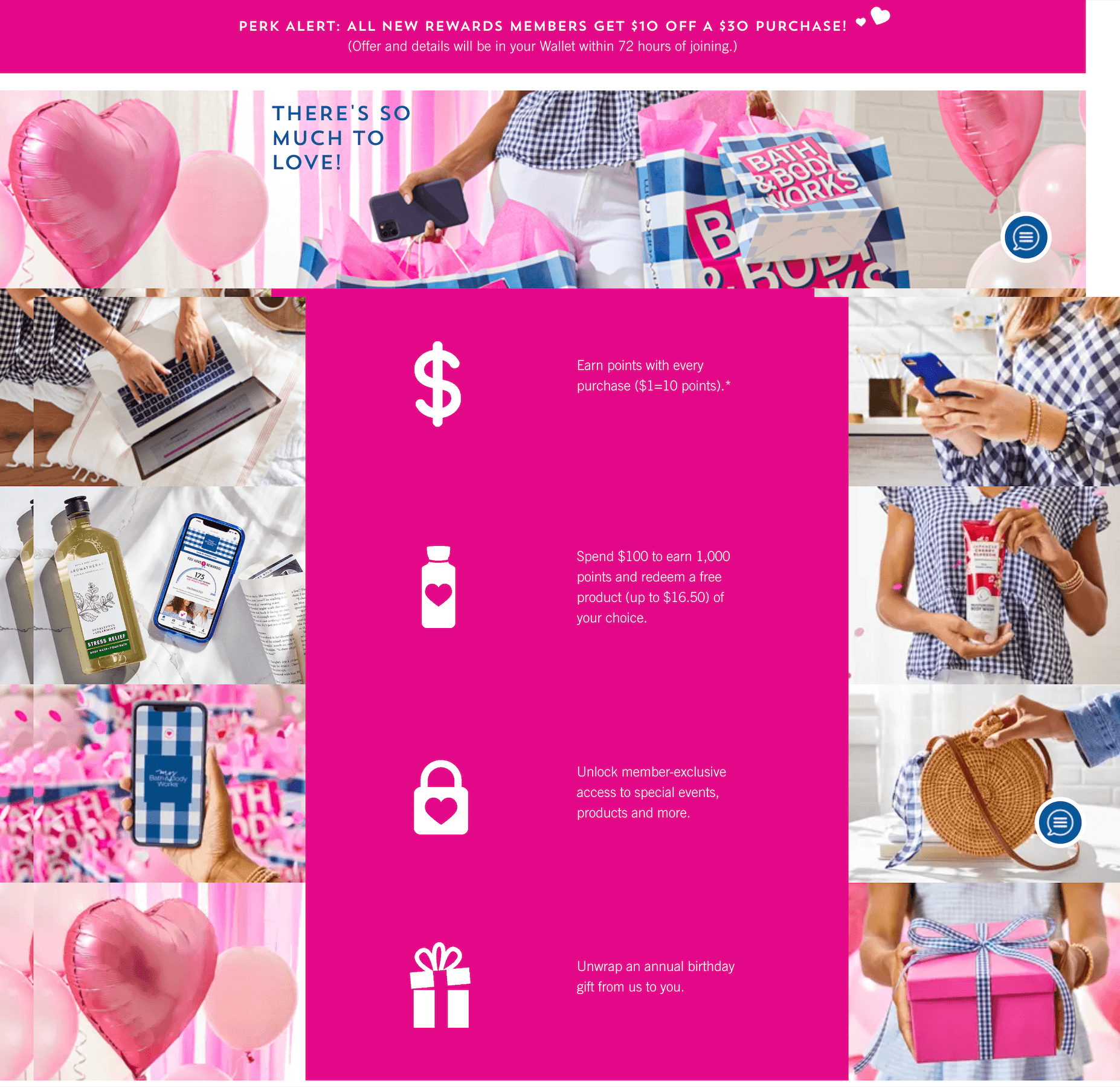 Customers who join My Bath and Body Works Rewards earn a free product (up to $16.50 in value) for every 1,000 points they earn, which is a great way to encourage product trial. Bath and Body Works also released an app for their loyalty program with a virtual wallet to store points, rewards, and offers in one convenient place. No matter if customers shop from their desktop, mobile device, or in-store, they've got their loyalty program accessible and that's what omnichannel marketing is all about!
Your loyalty program needs to be an extension of the rest of your brand. Canned water brand, Liquid Death is on a mission to reinvent the water industry by removing single-use plastics. Or as they like to call it #DeathToPlastic. Liquid Death's marketing is extreme and intense and their loyalty program is no different. Whether you're a long-time customer checking out their rewards explainer page to sign-up or a new customer visiting the site for the first time via a referral, it's clear what this brand is all about.
They've named their points currency Skulls, and reinforce the branding on their explainer page with images of skulls and a compelling call to action, "Collect skulls, get cool sh*t".  And let us assure you, it's working. Liquid Death was one of our top rewards programs in 2022 for both total earners and value generated (checkouts that included a rewards program coupon). So not only are customers joining the program, they're earning and redeeming their skulls!
Part of this rewards program's success can be attributed to their unique ways to earn and redeem skulls. Liquid Death products are available across several channels–their ecommerce storefront, several third-party retailers, and even through Amazon. But no matter where you buy from, you can rack up skulls through Liquid Death's 'Scan a Receipt' function. Talk about effective omnichannel ecommerce. When customers are ready to redeem their skulls, they can choose from dozens of products and merchandise which is a great way to build exclusivity around products and strengthen their brand community. Keep crushing it, Liquid Death!
If you grew up in Canada, chances are you remember collecting tons of multicolored Canadian Tire money. That nostalgic token of loyalty was actually the beginning of what is now called Triangle Rewards. This successful loyalty program dates back to 1958 when Canadian Tire used one of the earliest forms of loyalty programs–paper coupons. Over half a century later and many digital iterations, Canadian Tire and its subsidiary brands offer the beloved Triangle Rewards, which was officially launched under that name in 2018.
Triangle Rewards members are rewarded for shopping at a variety of stores, fueling up their cars at Gas+ and Essence+ locations, and signing up for branded credit cards. Where Triangle Rewards excels is its personalization. Members are served personalized weekly offers and bonus points campaigns that align with their shopping habits.
Although not new, this program is still one of our top rewards programs of 2022 because of its ability to adapt to changing customer needs over the last year. It's no secret that fuel prices skyrocketed around the globe in 2022. Canadian Tire did its best to ease some of customers' frustrations about this by offering a special 100 day double points offer on fuel. Triangle Rewards prides itself on being "not just any loyalty program, it's one made for you", and we think they put their (Canadian Tire) money where their mouth is in 2022.
This next brand had one of the highest redemption rates we've seen from any loyalty program in 2022, and we see a looooooot of loyalty program data. Singapore-based fashion and apparel brand, Beyond the Vines, offers a well-branded loyalty program for customers to join called The Vine Club.
We dubbed The Vine Club one of the best loyalty programs of 2022 because of its promotion of the program. The Vine Club may help customers feel exclusive, but it's no secret! From a branded launcher visible on every page, to a CTA to join right on their homepage, to a scrolling banner at the top of the page, Beyond the Vines invites all customers to join their community. And they make customers feel welcomed right away with a generous sign-up bonus of SGD10 off their first purchase. This reward helped increase their redemption rate, and create customer loyalty within a few clicks and we are loving it!
Sometimes the best rewards programs are the ones with beautifully branded explainer pages that make it hard not to join. Sometimes the best rewards programs are the ones with the most unique rewards. Sometimes the best rewards programs are the ones with the best loyalty program metrics. And sometimes, you're Muck Boots Company and your rewards program checks all three boxes.
This UK-based boots company is known for their high-quality, durable rubber boots, but the reason we fell in love with them was their incredible loyalty program, Grow Your Rewards. Their explainer page showcases a custom 3D animation promoting their loyalty program. As you scroll down the page, the branding stays just as clean with earthy green icons of seeds and plants, perfectly complimenting their natural aesthetic.
Aside from A+ branding, Muck Boot Company offers a VIP tiered program to gamify their loyalty program. Customers can advance from a Sprout to a Flower, earning more valuable rewards along the way. Some of the most unique rewards are private access to their outlet, exclusive members-only competitions, and surprise offers. To top it all off, Muck Boots Company earned one of the highest referral conversion rates we've seen to date. They've truly got it all!
IKEA originally launched their Family rewards program in the United States in 2011, but they revamped it adding new benefits for Canadian customers in 2022. On top of existing perks like members-only discounts, bonus meals, and a buy-back program, members now enjoy an additional 5% off for in-store purchases and a delivery discount. This means members can now shop in-store at a discounted price and have it delivered to their home with additional savings.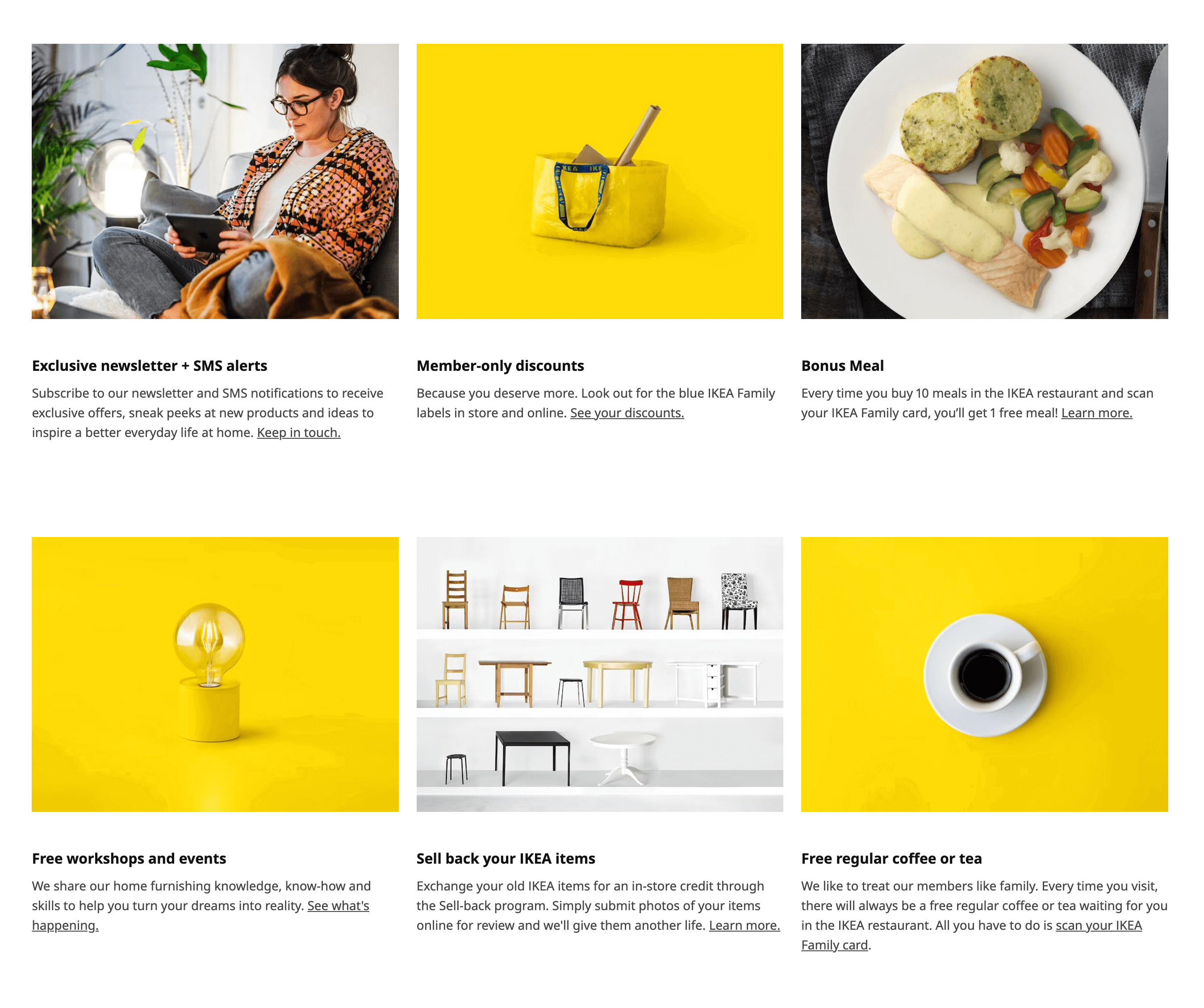 IKEA has always been focused on delivering quality, sustainable products with a hassle-free experience. Their loyalty program is no different. They offer unique perks through their program like the ability to view your purchase history, the chance to sell back your old products for a credit, and parents can even enjoy 30 extra minutes in Småland (the in-store playground) for their kids so that they can shop undistracted.
IKEA has always set the standard for understanding your customer and their new program benefits measure up. With the return of in-store shopping post-covid, IKEA delivers perks that are timely, valuable, and just what customers were looking for.
Loyalty program expert, Starbucks, officially launched the wait list for its new loyalty experience in 2023. The teased program will use Web3 to let program members collect digital stamps in the form of NFTs (Non-fungible tokens). Customers will be able to earn these NFTs through digital interactive games and challenges. They will then be able to earn points, collecting more for rarer NFTs they find. Starbucks has teased exclusive, never-been-seen before experiential rewards such as virtual espresso martini workshops or trips to Costa Rica to visit Starbucks Coffee farmers.
As a leader in loyalty, we're keeping our eyes peeled for more news about the Starbucks Odyssey and what it means for the future of ecommerce loyalty programs.
Create your loyalty program in minutes
Grow your business with repeat purchases