Valued at $523 billion, the beauty industry has scaled dramatically over the last decade, becoming more innovative and trend-focussed, with many brands finding unique ways to own the customer journey. With an immeasurable number of categories falling under the umbrella of "beauty" and large established retailers wanting a piece of the cosmetic pie, there are more players in the game than ever before.
The $523B beauty industry is one of the most loyalty packed ecommerce categories
The rapidly growing industry has been made successful by high purchase frequency and high margins, but also the growing sense of community, making beauty increasingly less intimidating and more inviting. These three things alone make loyalty and the beauty industry an essential combination. Loyalty is a surefire way to put you ahead of your competition, jumpstart or strengthen your brand community and increase customer lifetime value.
Here are 5 ways to successfully build loyalty into your beauty brand:
1. Tell customers who you are
Although many consumers are loyal to products, they can also be loyal to your brand. The key is to establish a strong brand identity that is appealing and caters to your desired audience.
Ulta is one of the largest and most successful beauty brands in the world. They've defined themselves as a one-stop-shop for all things beauty. Honest Beauty, on the other hand, exclusively sells their own line and markets their brand as clean beauty to appeal to consumers who value products that are ethically-sourced and free of toxic ingredients. Whatever your brand's branding strategy be, have it be identifiable as quickly as possible so customers know exactly what you offer.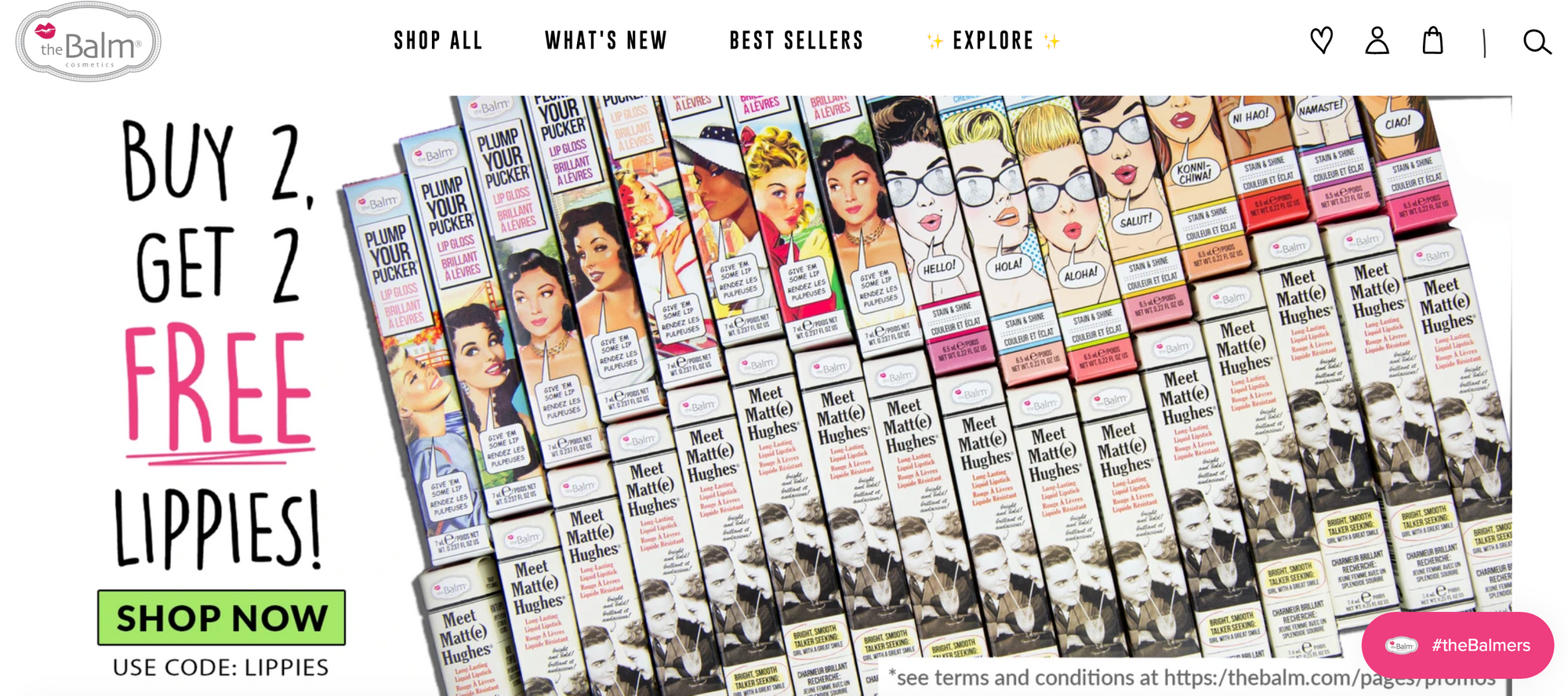 The Balm's homepage tells customers exactly what they're all about. Their product names are a plethora of puns coupled with colorful comic book-like packaging that's eye-catching and unique to their brand. Each product resembles a collectors item and the designs work together to collectively tell a story.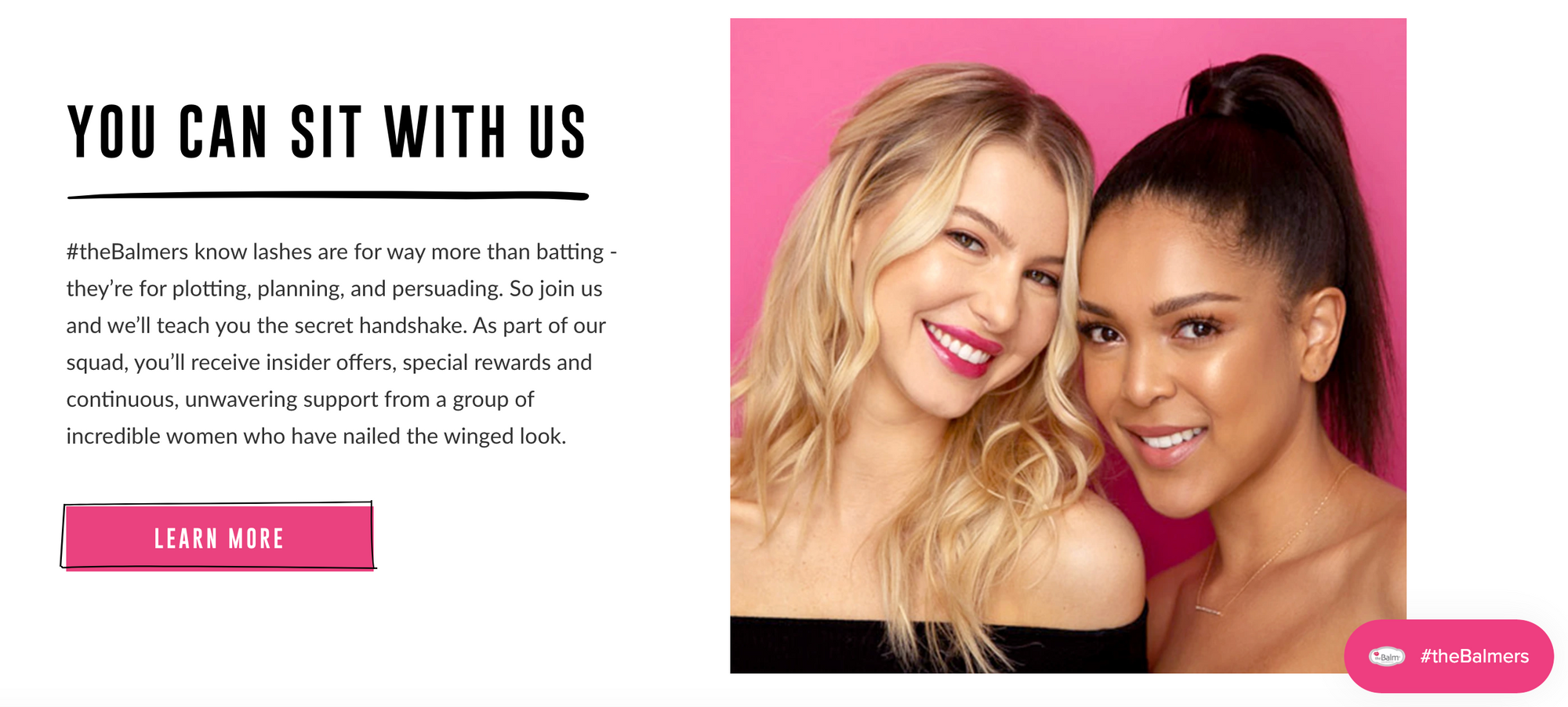 They immediately introduce the rewards program they offer while simultaneously inviting you to join #theBalmers. For many brands like The Balm, their reward program members are the core of their customer base and beauty community.  
If you're clear about your brand vision and ensure this is cohesive with your rewards program, it will help streamline the process of transforming a new customer to a member of your loyal beauty community. When a customer connects with your story, purpose, and core brand values, it increases the likelihood of them shopping with you again.
2. Build and nurture your beauty community
Sephora runs one of the most successful rewards programs in the industry resulting in one of the strongest beauty communities. They have three tiers to their community consisting of beauty insiders, VIB and Rouge members. Naming your community is key to creating a sense of immediate engagement, and it makes your customers feel like they are instantly a part of something bigger, and then you can really get the community going.
Create a constant forum for communication
In the age of social media, a potential customer can discover you on a number of online channels. Keeping up to date on your social media platforms and using them to be loud about your brand community is a great way to encourage interaction among your customer base and will help create a tight-knit community that will increase customer loyalty.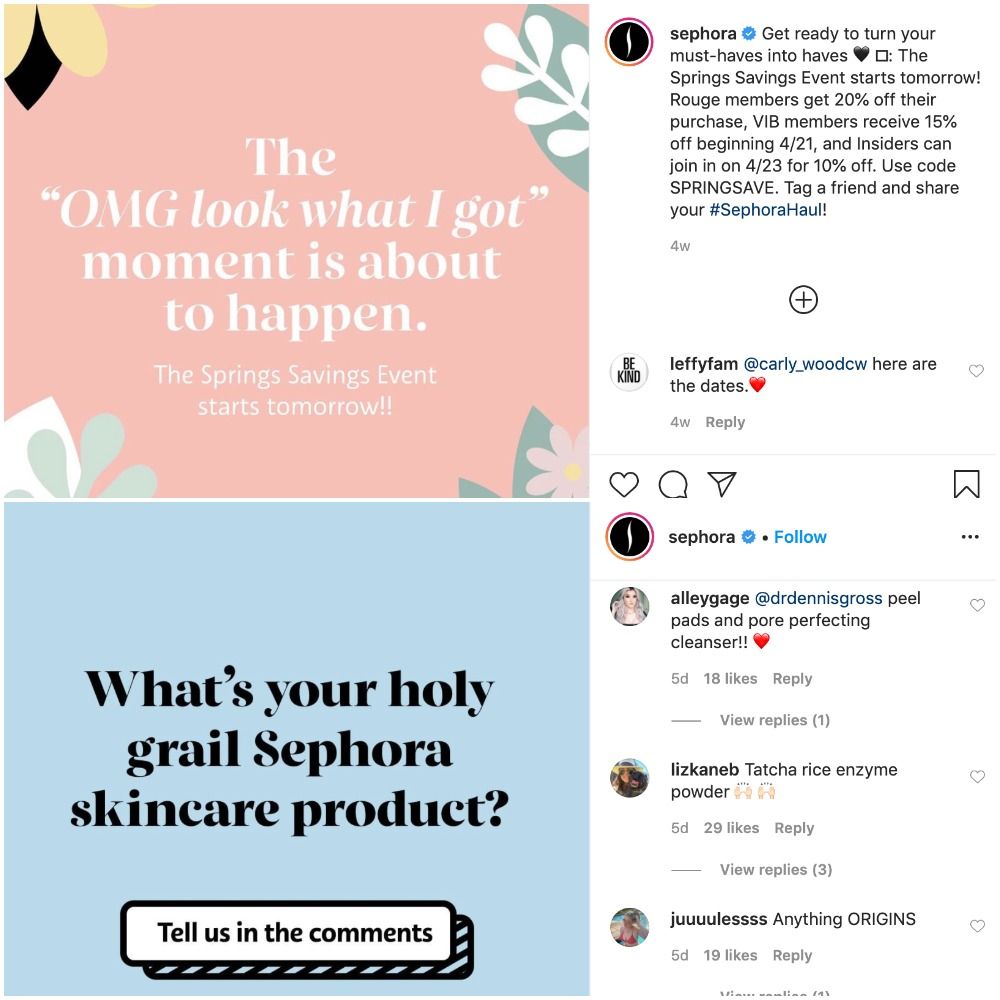 With 19.9 million followers on Instagram, Sephora uses their platform to interact with their community and encourage them to to interact with one another. They also make sure to keep all their social platforms consistent with relevant information including details on sales/promotions and when it will begin for each member tier of their rewards program.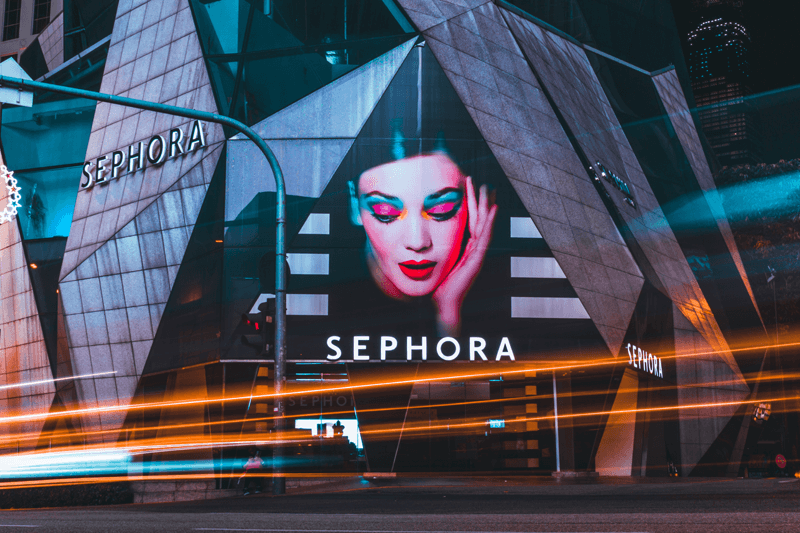 Bringing them in on the process
Leveraging your online community to crowd-source new products, get feedback or show them behind-the-scenes of your product or brand can build a more meaningful customer-brand relationship.
Glossier, a direct-to-consumer beauty company, has grown by including their customers on their journey. Exceeding a $1 billion evaluation with their last investor funding, they attribute their success to a strong focus on transparency and carefully crafted communication with their customers. Keeping a very open line of communication with their consumers allowed them to set themselves apart from other brands by crowdsourcing.
Just a blog post asking about people's dream face wash has thousands of responses across all their social media platforms and helped create Glossier's bestselling Milky Jelly Face Cleanser.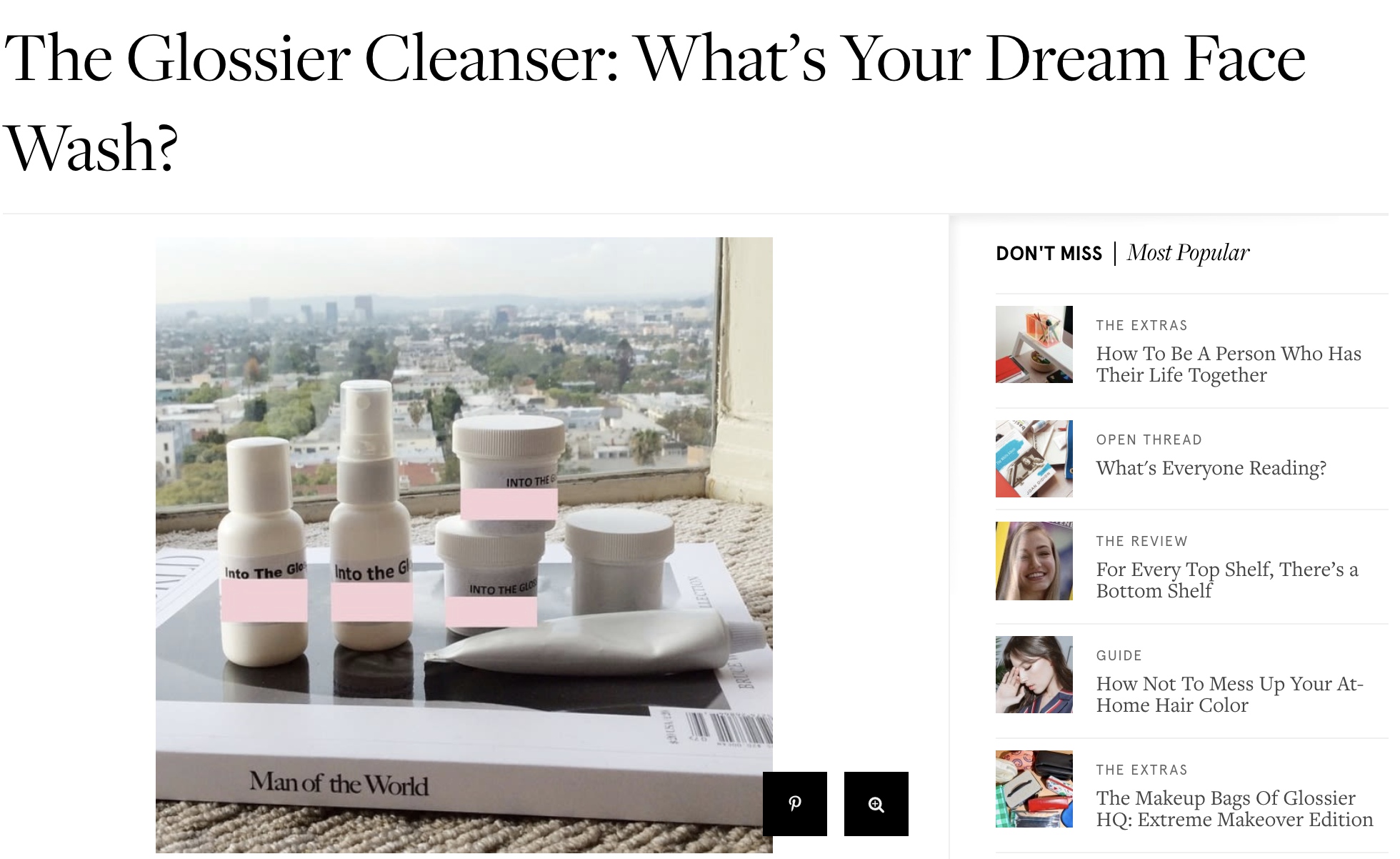 Beauty communities can become an essential part of a customer's consumer identity, ultimately strengthening their connection and loyalty to your brand. Find creative ways to engage your beauty community so they maintain a personal desire to see the success of your brand grow!
3. Build trust in your brand with social proof
Building social proof and trust in your brand is especially important for customers who are discovering your brand for the first time. This can be achieved through referrals, a strong online presence, and positive online reviews.
77% of consumers believe that loyalty programs keep them loyal to a brand and those that they refer are 4x more likely to make a purchase based on their recommendation.
Luckily, referrals are especially prevalent in the beauty industry. With many variations of products that claim to deliver the same results, people turn to their family, friends, and most recently beauty influencers, to find the tried and true products they can trust. Loyalty programs that track referrals fit naturally into this interaction as they reward both parties.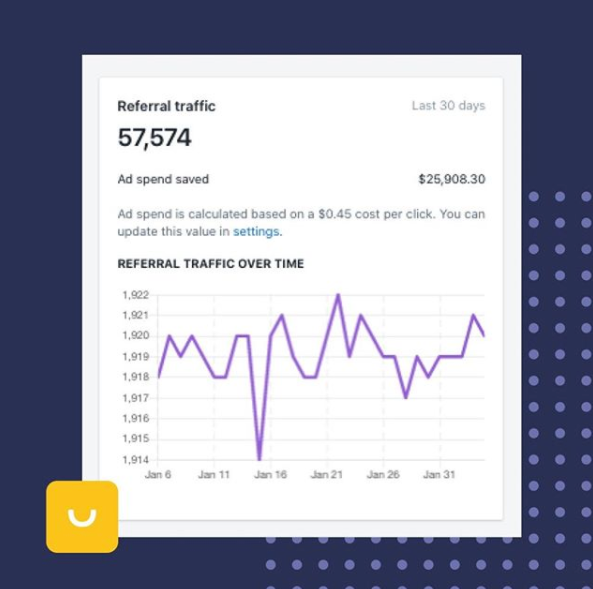 Selecting the right loyalty partner can help identify your most loyal brand advocates by tracking referral traffic and will show you exactly how much revenue you're generating from saving on ads. The above image shows real results from a top Shopify store using Smile.io to power their rewards program.  
Social media also plays a huge role in amplifying the message of your brand and your advocates to build trust in your brand. The emergence of beauty trends like glossy makeup, bold lips and extensive skincare routines, among others, have influenced consumer purchase habits. These trends have also resulted in some extremely creative marketing efforts from beauty brands on social media. Consumers are now around 40% more likely to discover new brands or products via social media.
Beauty has made a significant mark on platforms like Youtube and Instagram solidifying the need for a strong, credible online presence, and reviews are a great way to achieve this.
The average consumer spends 13 minutes and 45 seconds reading a review before making a decision
- BrightLocal
Reviews create dialogue between brand and consumer, increase engagement, and improve your online presence. A product with 5 reviews is 270% more likely to be purchased than a product with 0.
Incentivizing your customers to leave reviews with rewards, like with the TrustPilot Smile.io integration, will benefit them and also allow you to collect useful feedback while building trust in your products/services all at once.
In an industry where the competition is intense, ensuring your brand is credible and you're continually building trust with your customers is essential in bringing in new and returning business!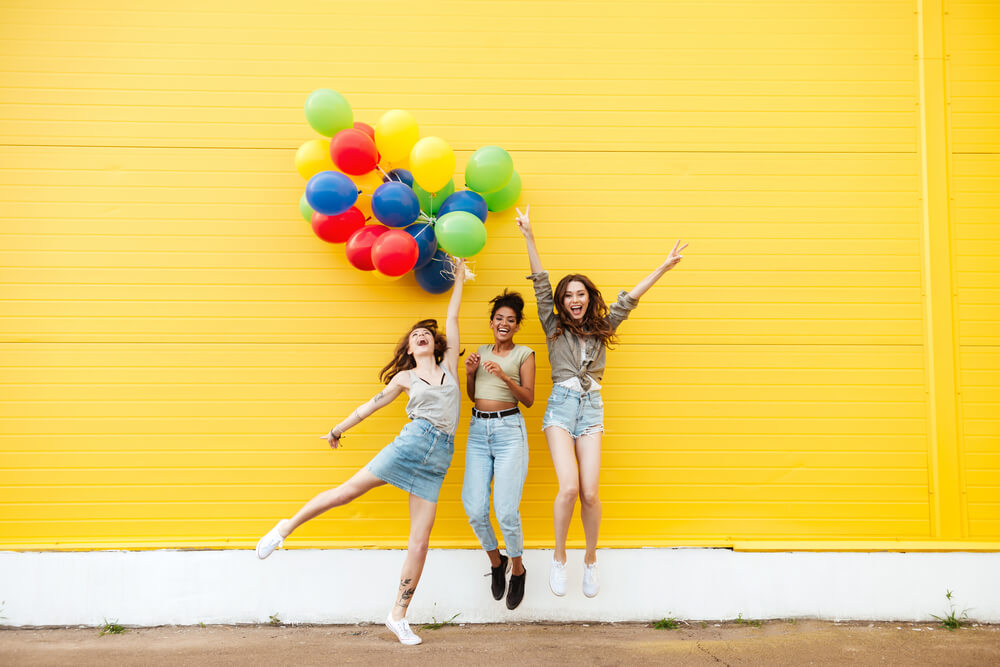 4. Reward members in different ways
With high purchase frequency and a high referral rate, loyalty is guaranteed to compliment and benefit your beauty brand strategy. Combine this with industry margins that are typically larger than 60%, you have the budget to invest in loyalty that will more than pay back its dues. Diversifying the way you reward your customers and tracking which rewards are most successful can allow for a more personalized experience that will increase consumer connection to your brand.
Here are a couple creative ways to reward your loyal customers:
"Free" samples
Samples or a free gift with purchase are great ways to reward your customers without breaking the bank. It allows them to venture out and try new products with little to no cost to you and creates a low-risk experience for the customer that could result in a future sale. Lilly Lashes combine a 200 point sign-up bonus, 1 point per dollar spent and a free applicator for every order. For a new customer these 200 points automatically unlock three rewards that can be redeemed right away.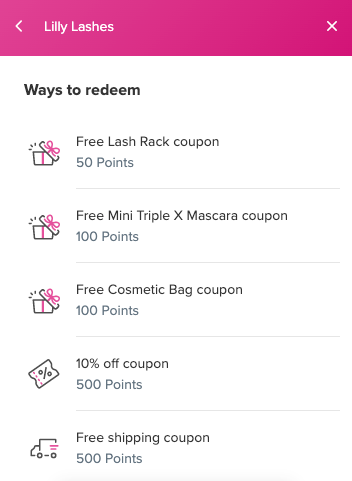 You can be strategic with your free gift/samples! The free applicator is a well-chosen gift with purchase as many who have not had experience with lashes in the past may struggle with application. This applicator is a great way to encourage customers, let them know that it's easier than they think, and Lilly Lashes is here to help.
Pairing free gifts with relevant products helps demonstrate that you know what your customers value, reinforcing how they value their relationship with you.
Gamified reward tiers:
Status is a key motivator in the beauty industry. The desire to achieve an elite status is one of the things that makes Sephora's Rouge tier and Starbucks Gold Member level so desirable. Not only do you get the bragging rights to say that you're at the top tier of their customer base but you also unlock better perks and rewards.
Once the top tier is unlocked, maintaining this VIP status by spending a certain amount of $ per year or retaining a certain number of points will keep your customers coming back.

Using Smile.io, Glow Recipe achieves the perfect balance of tiered/gamified rewards with their Glow Miles. They use catchy tier names that are fun and show you exactly what you unlock with each new tier. They also introduce the goal for their Glow Miles, which is solely to thank their beauty community for coming along for the ride. This type of meaningful communication coming from a brand can make a huge difference in brand engagement.
Rewarding your customers in the way that they want, with rewards that are worthwhile for them, will help build a strong beauty community, solidify consumer loyalty and increase interaction with your brand.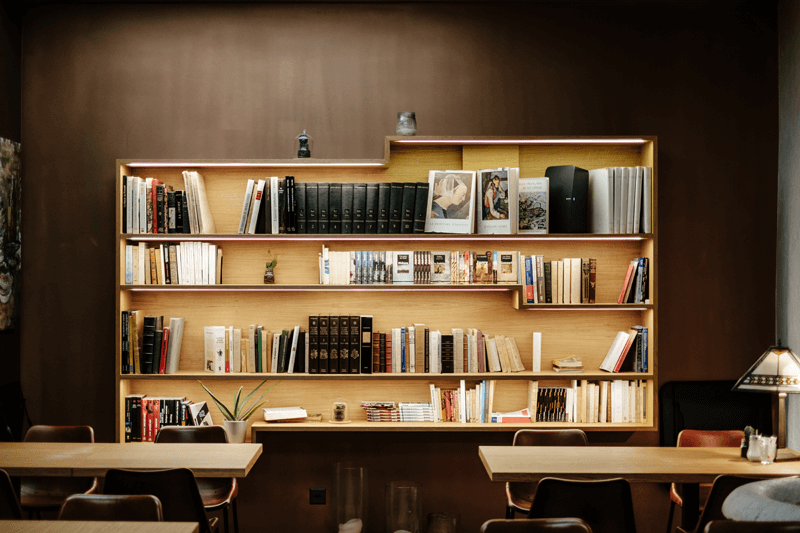 5. Get to know your customers and show them your appreciation
Understanding your customers not only helps you achieve a better product market fit, it will also help you shape your brand to be successful by adapting to/predicting trends, getting familiar with purchase patterns, and understanding which of your products are gaining the most traction.
One way to better understand your customer is by properly utilizing the insight you gain from your rewards program. Through your loyalty platform you can easily view all interactions with your rewards program and then make quick and easy changes with the information you gain. With Smile Analytics, you can iterate on new ideas and marketing efforts in real time.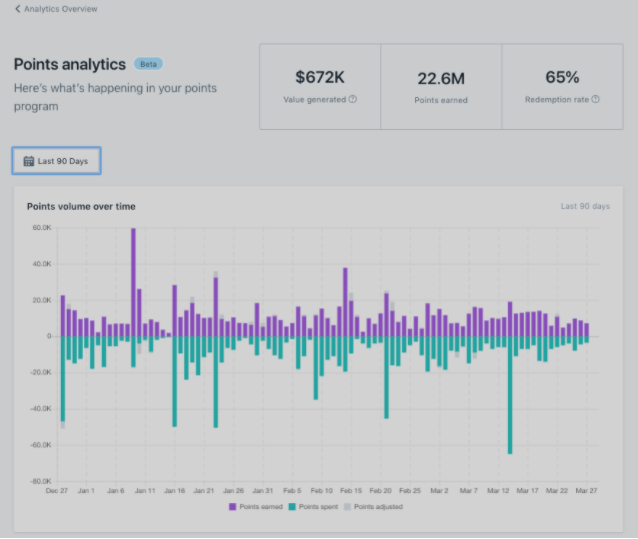 This can help you understand the decision-making process of your consumers by seeing the patterns of their purchases and what products and rewards they're most drawn to. Using this you can customize your marketing efforts with more relevant content. The VIP tier of your program is less gratifying if it lacks personalization. Showing your loyal customers that you care, that you understand them, and you're thankful for their business will make a huge impact in whether or not they return.  
Dose of Colors got creative with their efforts to better understand their customers and increase engagement. On the home page of their site they've added a quiz that not only gives them deeper insight into the demographic of their customers but also helps their customers select one of their best-selling lip products.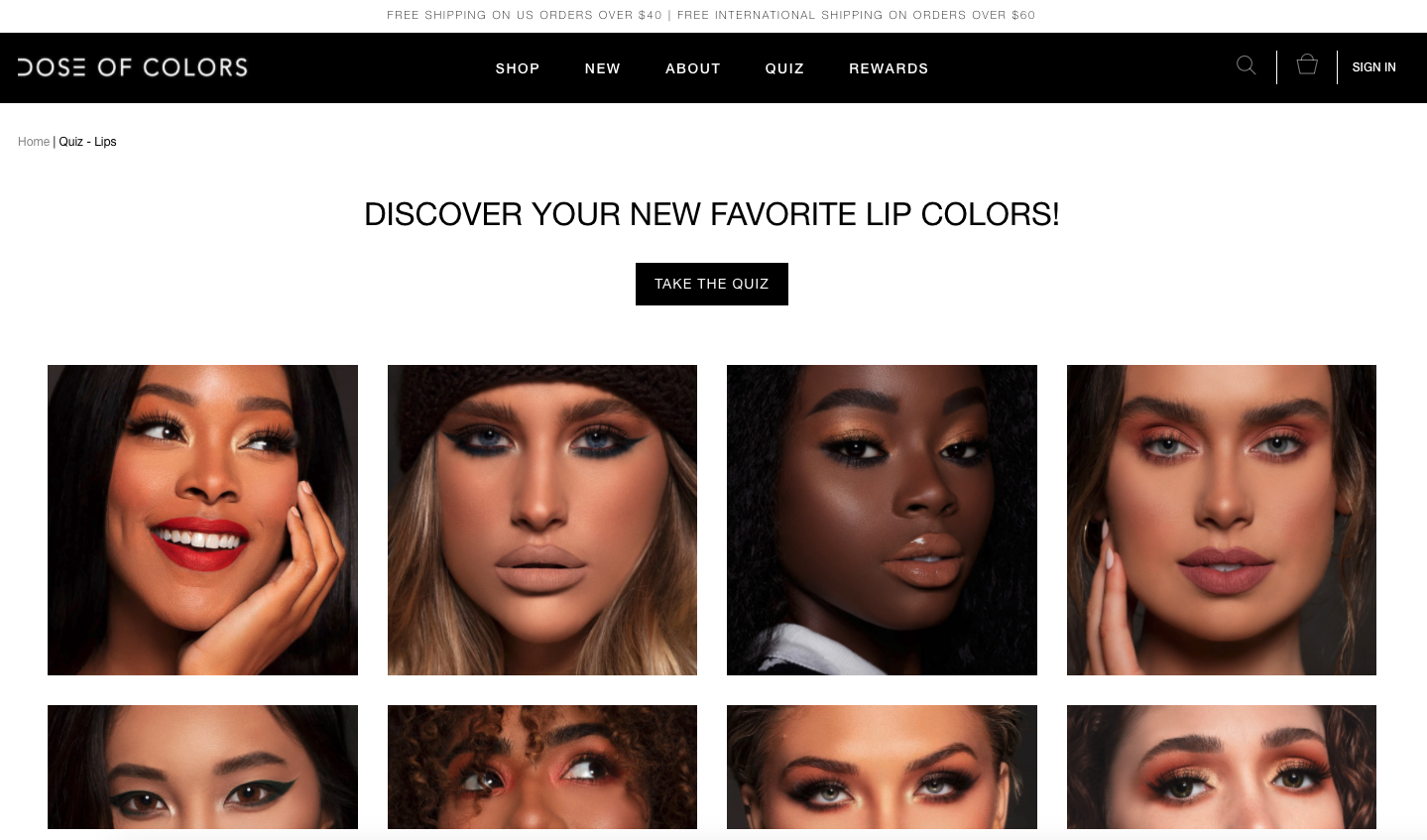 Social media and unique marketing strategies allow you to own the customer journey whatever way you like! There are no limits but your creativity on how to personalize your interactions, humanize the way your business operates, and create a more intimate purchase experience. Taking the steps to get to know your customers and show them your appreciation is the best way to earn their loyalty.
Here's the loyalty for beauty TL;DR
Let your customers know who you are
Build and nurture your beauty community
Build trust in your brand with social proof
Reward several different ways
Get to know your customers and show them your appreciation
At the core of what it is, the beauty industry is there to make you feel good. Use these tips to thank your customers and maximize loyalty and what it can do for your beauty business!
Learn how to optimize a loyalty program for the health and beauty industry
NOTHING GOES BETTER WITH A BRIGHT RED LIP THAN REWARDS