What apps are in your ecommerce stack? An ecommerce stack is the collection of different apps you have added and actively use on your ecommerce platform, needed to run your ecommerce business. Ecommerce stacks vary by platform (Shopify, BigCommerce, Wix, etc.)—but the apps function the same to run your business efficiently and smoothly.
From implementing a Shopify app that captures reviews to an app that allows you to provide subscriptions to your customers, to apps that help with post-purchase offers, loyalty, SEO, and everything in between, ecommerce apps are a vital part of your business.

Shopify apps are essential, but it is the ease of integration that is key to having a successful ecommerce business thrive from an operational standpoint. Your Shopify apps need to integrate smoothly with the tools you are already using so the apps work together to maximize your business and ROI (return on investment). Tools that don't integrate with each other or simply function without one another can harm your business.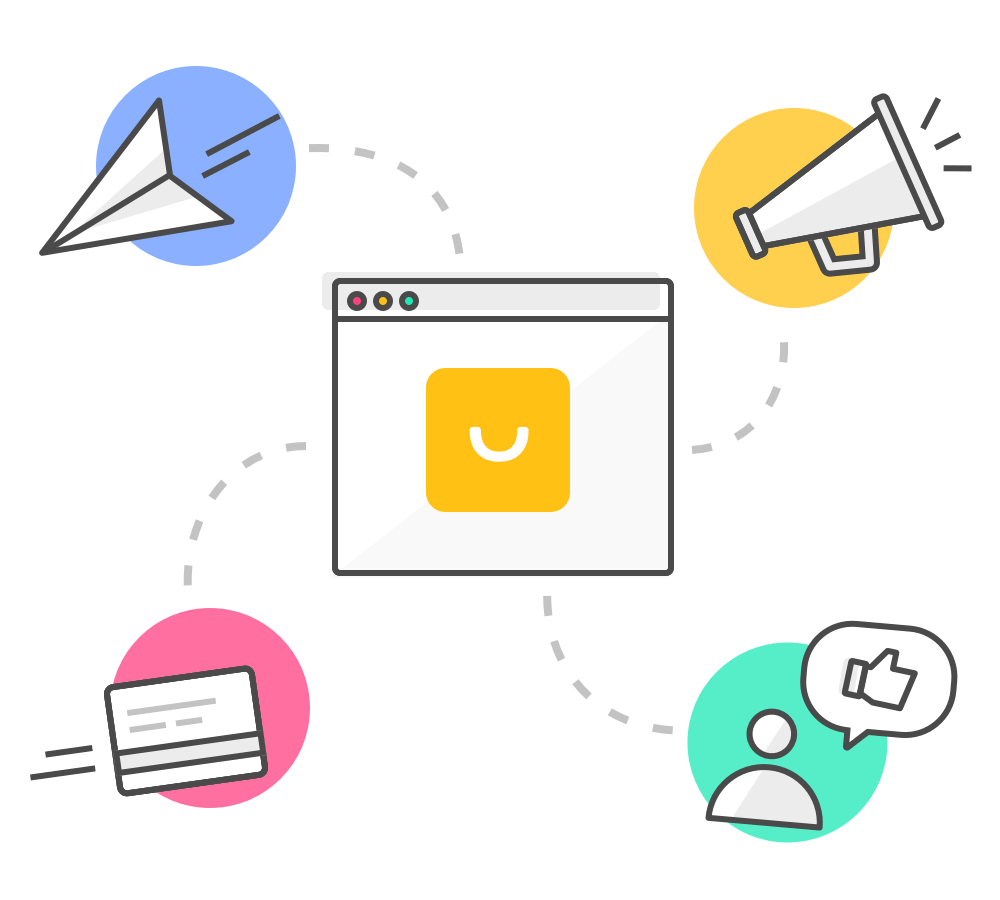 We're highlighting 6 Shopify apps that integrate with Smile.io to maximize retention rates, and loyalty while ensuring a great customer experience:
Skio
Klaviyo
Reviews.io
Fera.ai
Mailchimp
Recharge
Skio is a 5-star app that helps brands sell subscriptions to their customers. Skio operates major brands like Duke Canon, Doe Lashes, Hydrant, and many more DTC brands. Skio has an engineering-first approach, which means they have designed their app to work seamlessly with any Shopify merchant.
Subscriptions are becoming a top trait for Shopify brands, especially when you can pretty much have any product you can think of delivered right to your doorstep. Subscriptions increase average order value (AOV), and help customers return for repeat purchases.
Combine subscriptions with a rewards program and you have a winning combination. Many brands that offer subscriptions are beginning to add reward programs as part of their customer experience, allowing customers to earn rewards and save money each time an item is shipped. "A streamlined experience creates a great customer experience and reduces churn," states Skio.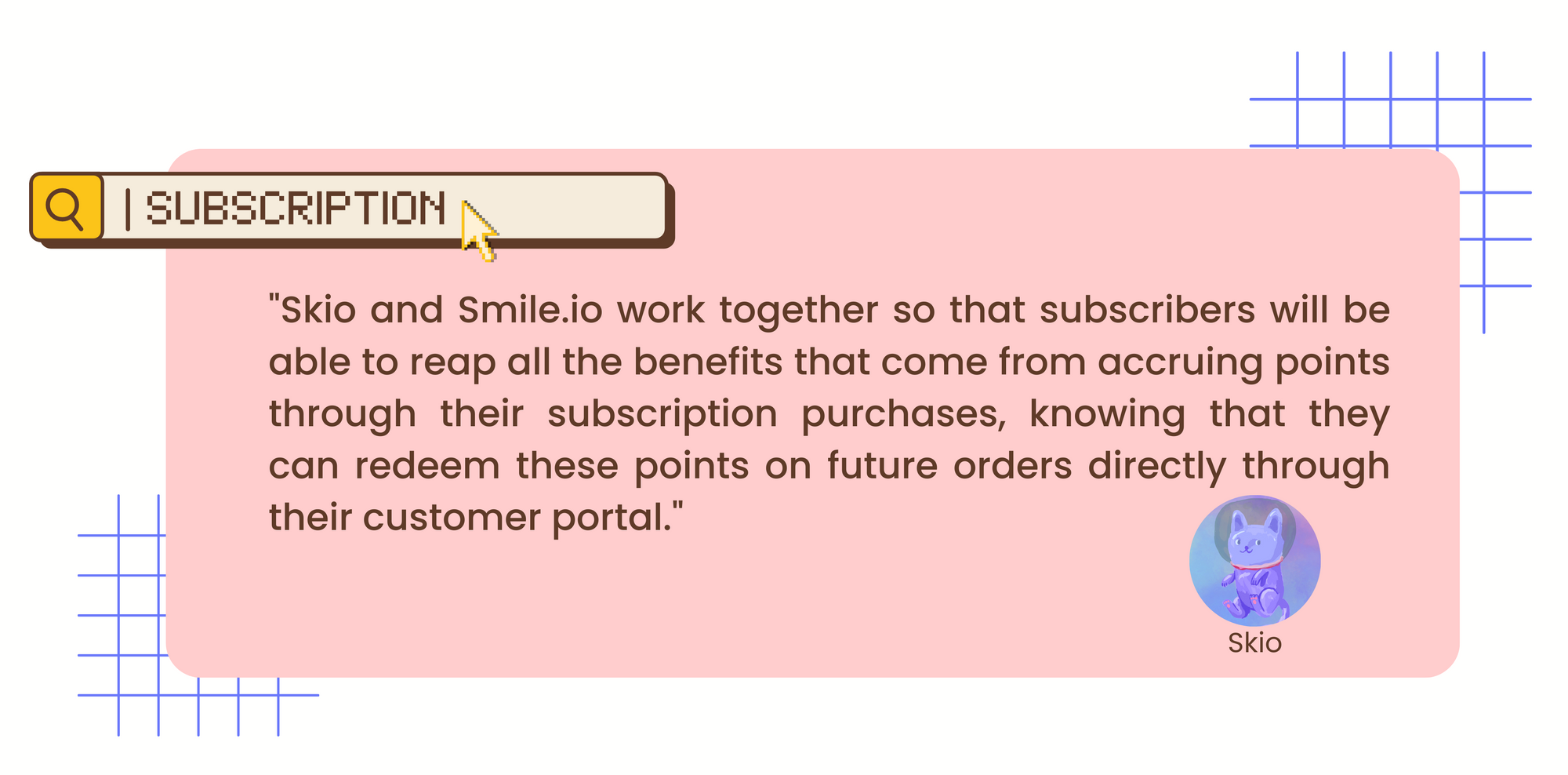 Skio identifies three essential functions Shopify brands are searching for when adding a subscription app to their ecommerce stack:  
Stress-free setup and migration: How simple is it to get set up with the new subscription provider?
Intuitive management: Simplicity is key. You have to make it easy for ecommerce merchants to manage their programs, access their data, and launch tests.
Amazing subscriber experience: If your subscribers get frustrated by limitations in your platform (eg. difficulty logging in, unclear how to skip/cancel), they will (rage) churn. Make it easy and enjoyable, and they'll remain happy subscribers.
Klaviyo is a data-driven automated SMS and email marketing platform. Klaviyo is used by over 100,000+ ecommerce brands across multiple industries to help brands communicate with their customers. Klaviyo lets you segment your data to personalize emails for new and returning customers.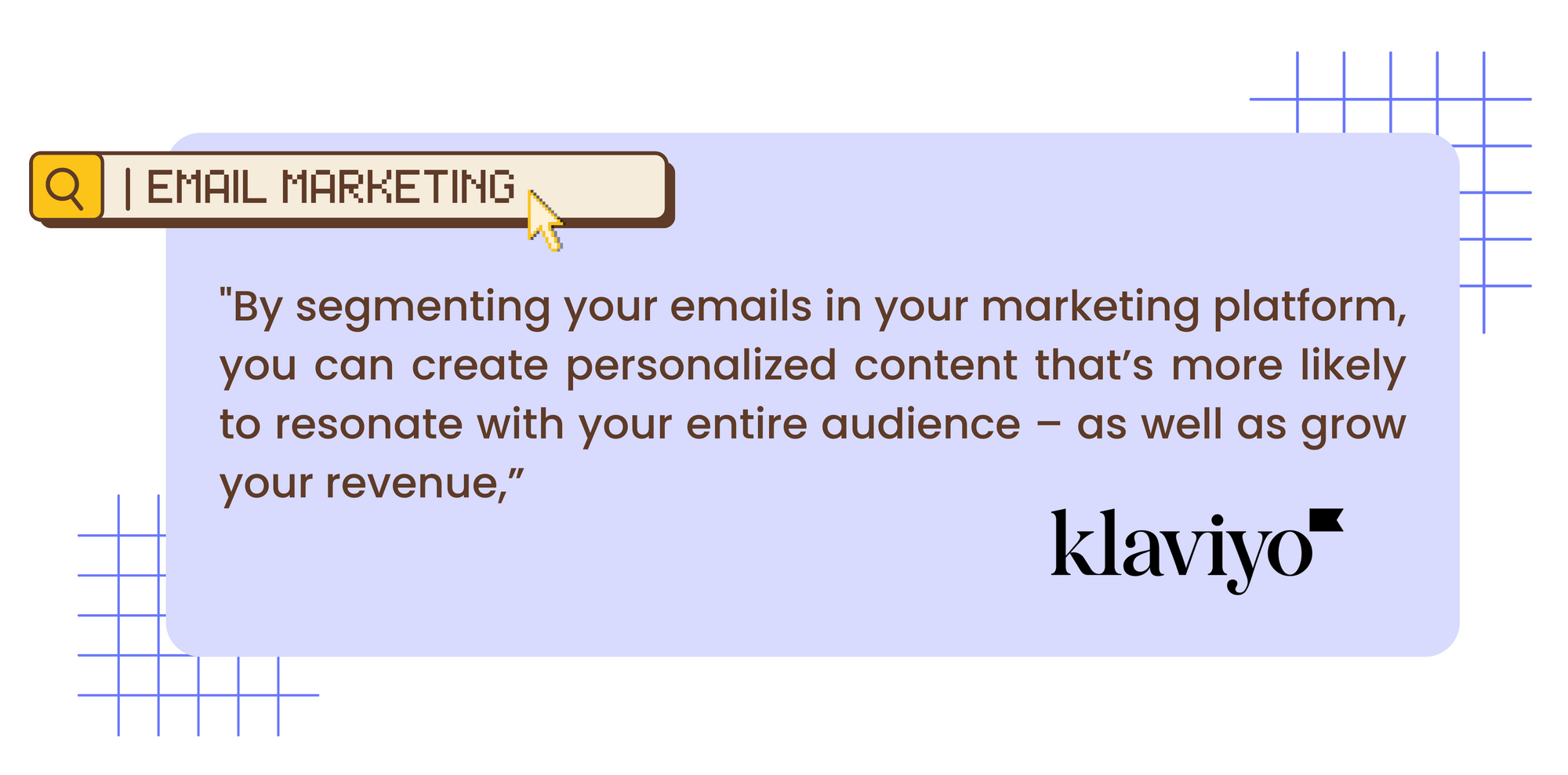 It's estimated that there are 4.3 billion daily email users—and this number is expected to hit nearly 4.6 billion by 2025. Klaviyo gives insight into its 7 steps to win at email marketing for any Shopify brand:
Get email opt-ins by making it simple for customers to opt-in to receive your emails.
Determine your email type depending on your business goals. Whether you will send welcome emails, post-purchase emails, shopping abandonment emails, or any other types.
Segment your customers.
Write a compelling subject line to increase open rates.
Use effective calls to action (CTAs).
Measure success through email marketing metrics.
Repeat and ensure consistency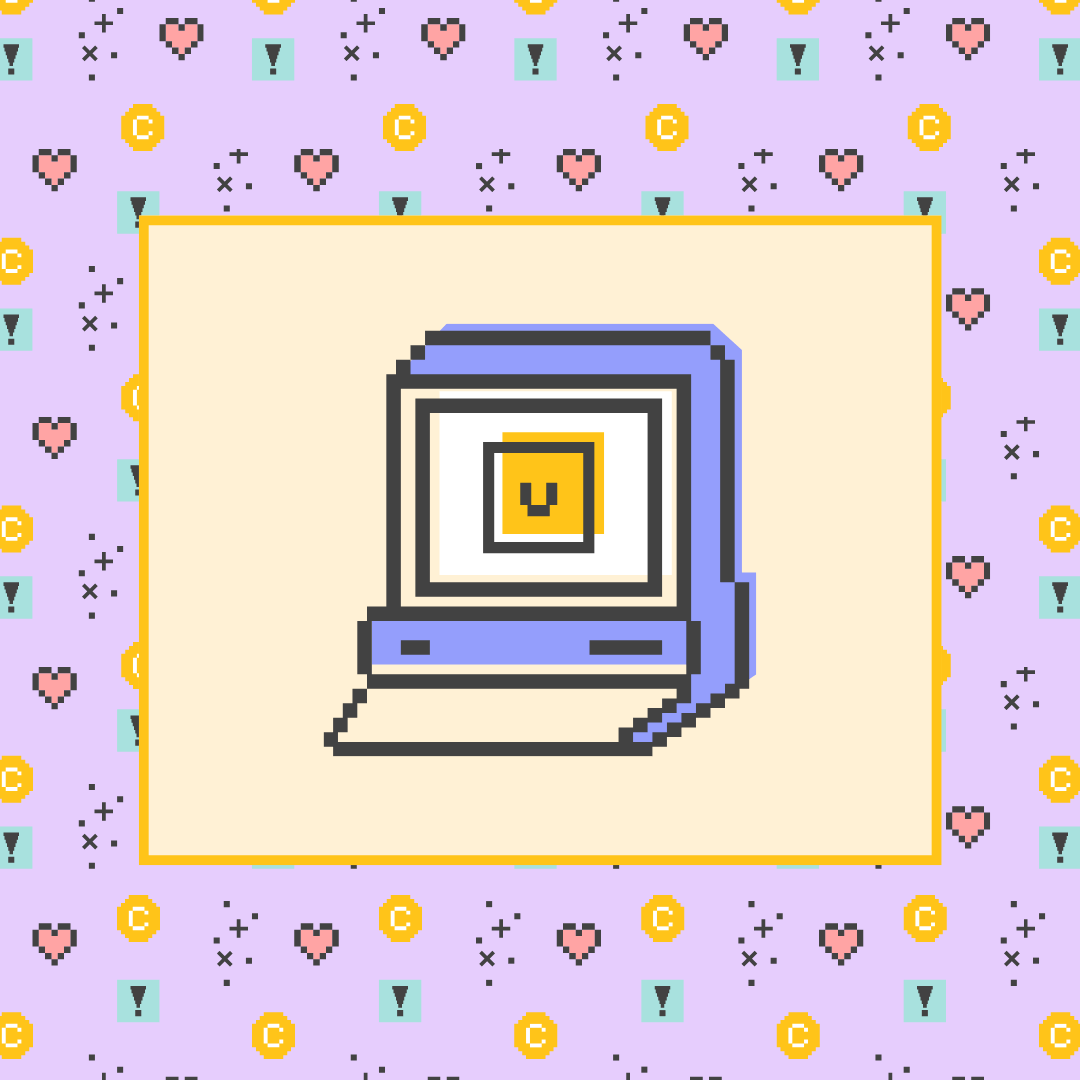 Klaviyo shares that segmenting is key to success with email marketing. "Email segments are a group of email subscribers defined by a set of conditions, like location or how recently they've clicked on an email. By segmenting your emails in your marketing platform, you can create personalized content that's more likely to resonate with your entire audience – as well as grow your revenue," Klaviyo tells us.
Reviews are a key foundation to showing potential customers why to shop with you over a competitor. Reviews act as social proof and help potential customers build trust in the ecommerce brand. Reviews.io helps Shopify brands collect text reviews, video reviews, and UGC (user-generated content) within minutes. Reviews.io works across all industries and helps merchants display reviews next to their Google Ads and shopping listings.
When shoppers see positive reviews from other buyers, they are more likely to feel confident about making a purchase. According to insights, 88% of consumers trust online reviews as much as personal recommendations.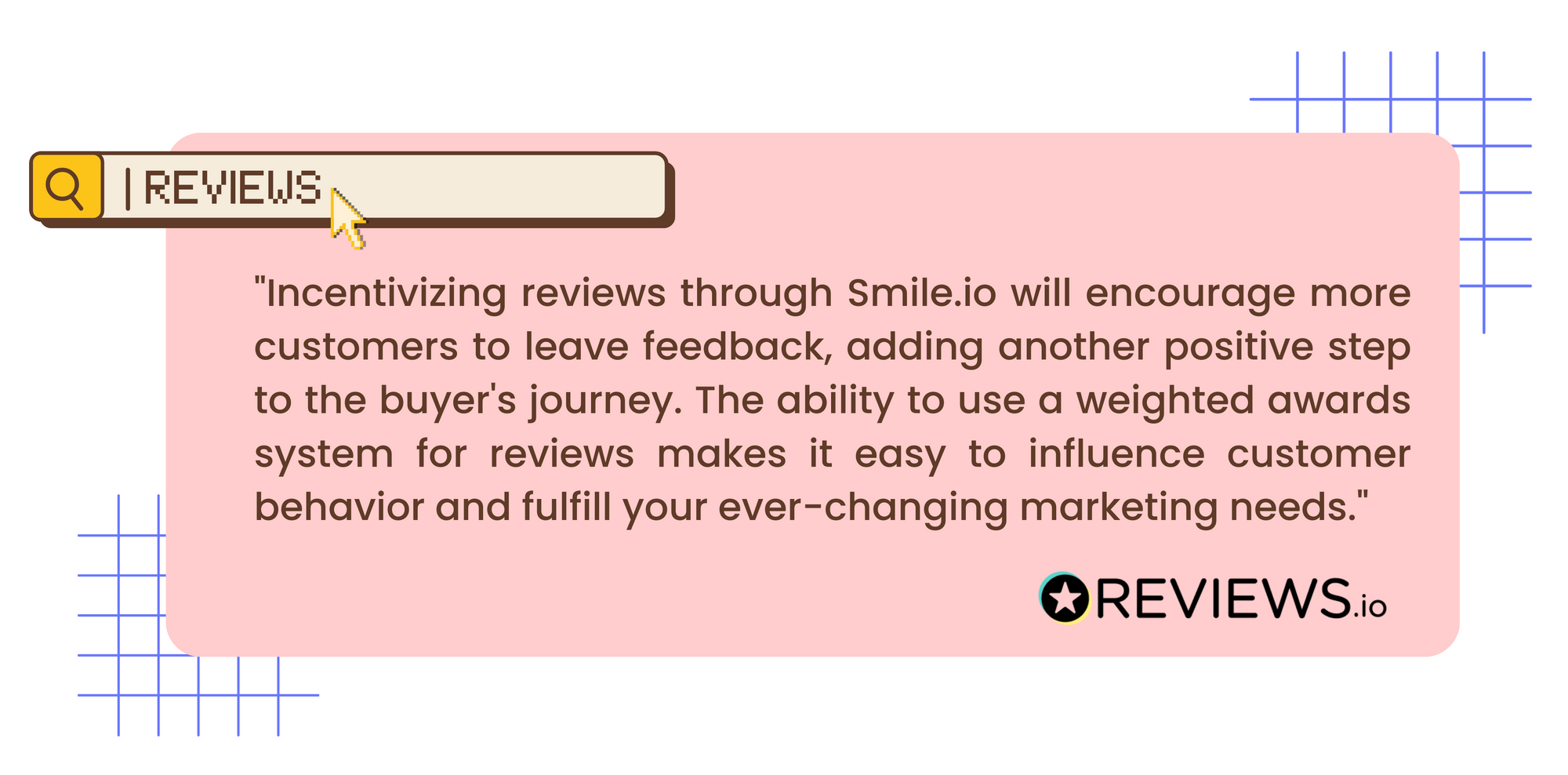 "Reviews play a crucial role in the success of ecommerce brands," shares the team at Reviews.io. "Positive reviews can significantly impact a brand's bottom line. When showcasing customer feedback, ecommerce brands can attract more shoppers and ultimately drive more sales."
Improving SEO and generating UGC: By encouraging customers to leave reviews, ecommerce brands can generate more user-generated content, which can improve their search rankings. Furthermore, reviews often contain keywords that potential customers might use in their searches, helping the brand appear in relevant search results.

Identifying areas for improvement: Reviews provide valuable feedback to ecommerce brands. They offer insights into what customers love about a product or service, as well as areas that need improvement. By actively listening to customer feedback, brands can make necessary changes and enhance their offerings to better meet customer needs.
"Reviews are essential for ecommerce brands. They build trust, increase sales, improve SEO, and provide valuable insights for improvement. By leveraging the power of customer feedback, ecommerce brands can establish a strong reputation, attract more customers, and ultimately drive growth," states Reviews.io.
Fera.ai is another Shopify reviews app that allows ecommerce brands to showcase their reviews anywhere on their site. Positive reviews from real customers create a sense of trust and credibility, assuring potential buyers that the products are of good quality and deliver on their promises.
Fera.ai shares how social proof helps acquire customers. "It's no secret that humans tend to follow the crowd! When potential customers see others leaving positive reviews and sharing their experiences, it creates a sense of "social proof," shares the team at Fera.ai. "They feel more confident that their purchase decision is validated by the experiences of others.
"In fact, 72% of customers won't take any action until they read reviews about your business. Not only that but, adding product reviews on your online store increases total conversions by 3% or more," the Fera.ai team adds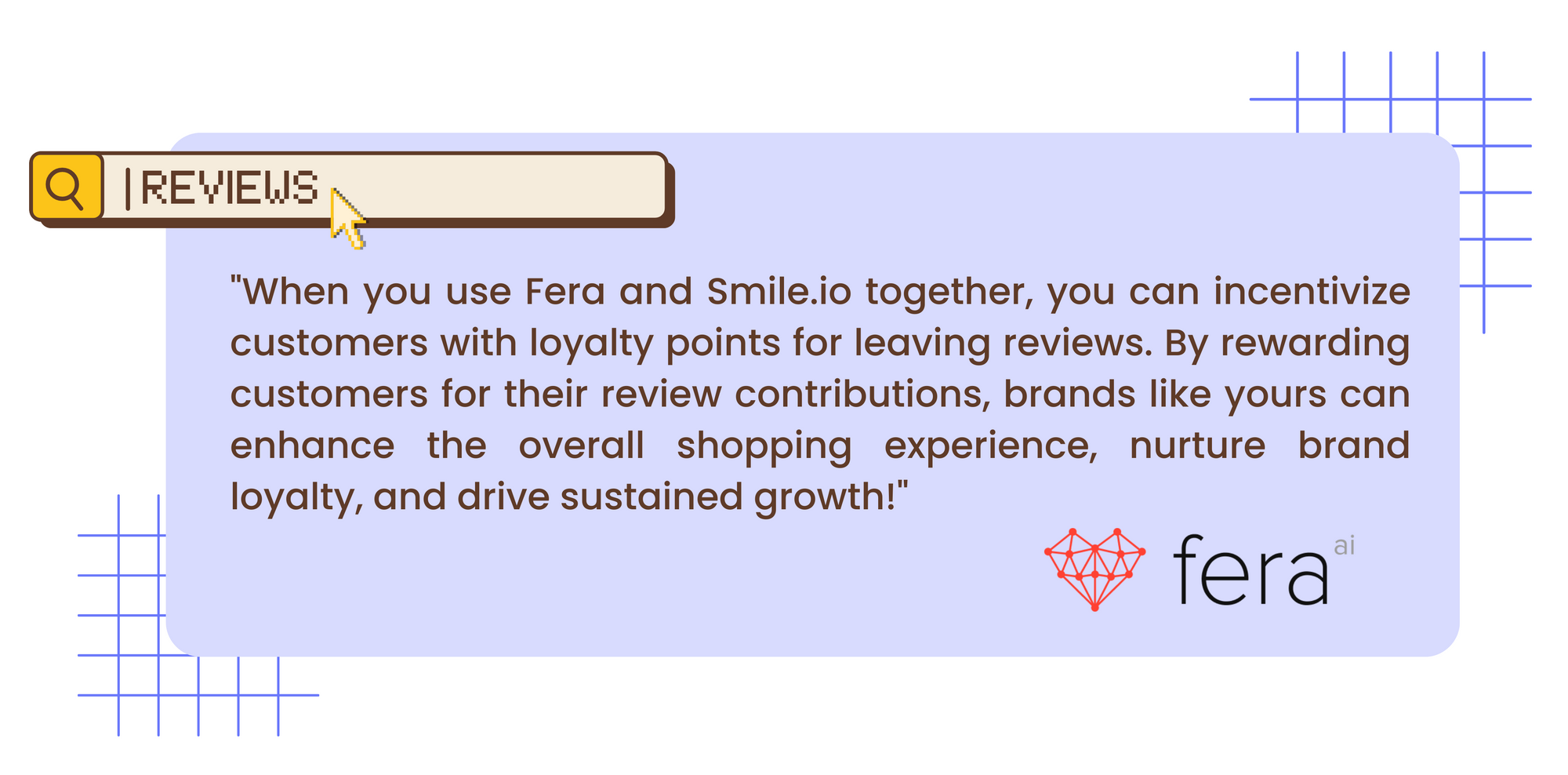 Fera.ai and Smile.io work together to reward customers for leaving reviews. ​​"Combining Fera.ai and Smile.io can provide a powerful solution for ecommerce merchants to not only increase conversions but enhance customer loyalty, which drives overall business growth in the long term," shares Fera.ai.
"You can get as creative as you want to with this integration! If you have a product that is selling well, but lacking in reviews, you can create a one-time campaign that offers a lot of reward points to past customers for reviewing the product."
Mailchimp is a powerful email marketing tool that is used across different industries to create newsletters, send out emails from a business, and segment a database. The integration between Smile and Mailchimp lets Shopify brands communicate reward program information directly to their customers.
Send special offers to your VIP members.
Add points balance and VIP tiers to newsletters and abandoned cart emails.
Let customers know they're close to earning a reward with points balance reminders.
Send customers their referral links and encourage them to share your brand.
Let your customers know when they've earned points to keep your program top of mind.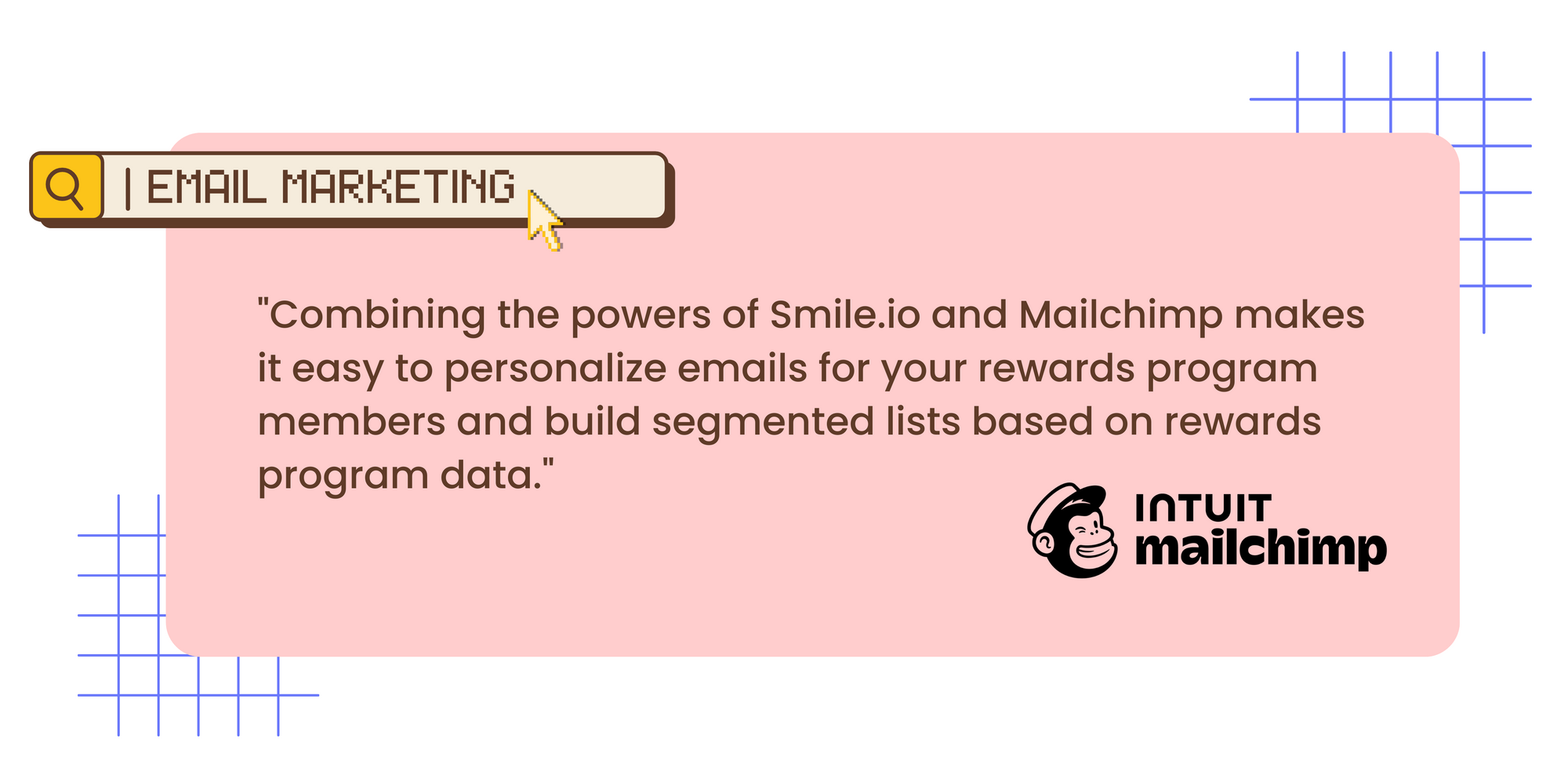 Mailchimp and Smile work together so you can send rewards program email communications to your customers and truly foster a relationship for brand loyalty. You can also segment lists based on program data such as VIP tier or point balance, and truly personalize your communication.
Recharge is a subscription Shopify app that allows ecommerce brands to offer subscription services to their customers. Recharge analyzed 15,000 ecommerce merchants with 8.5 million active subscribers and discovered that the average subscription customer held over 4 total subscriptions—a 14% increase since 2021.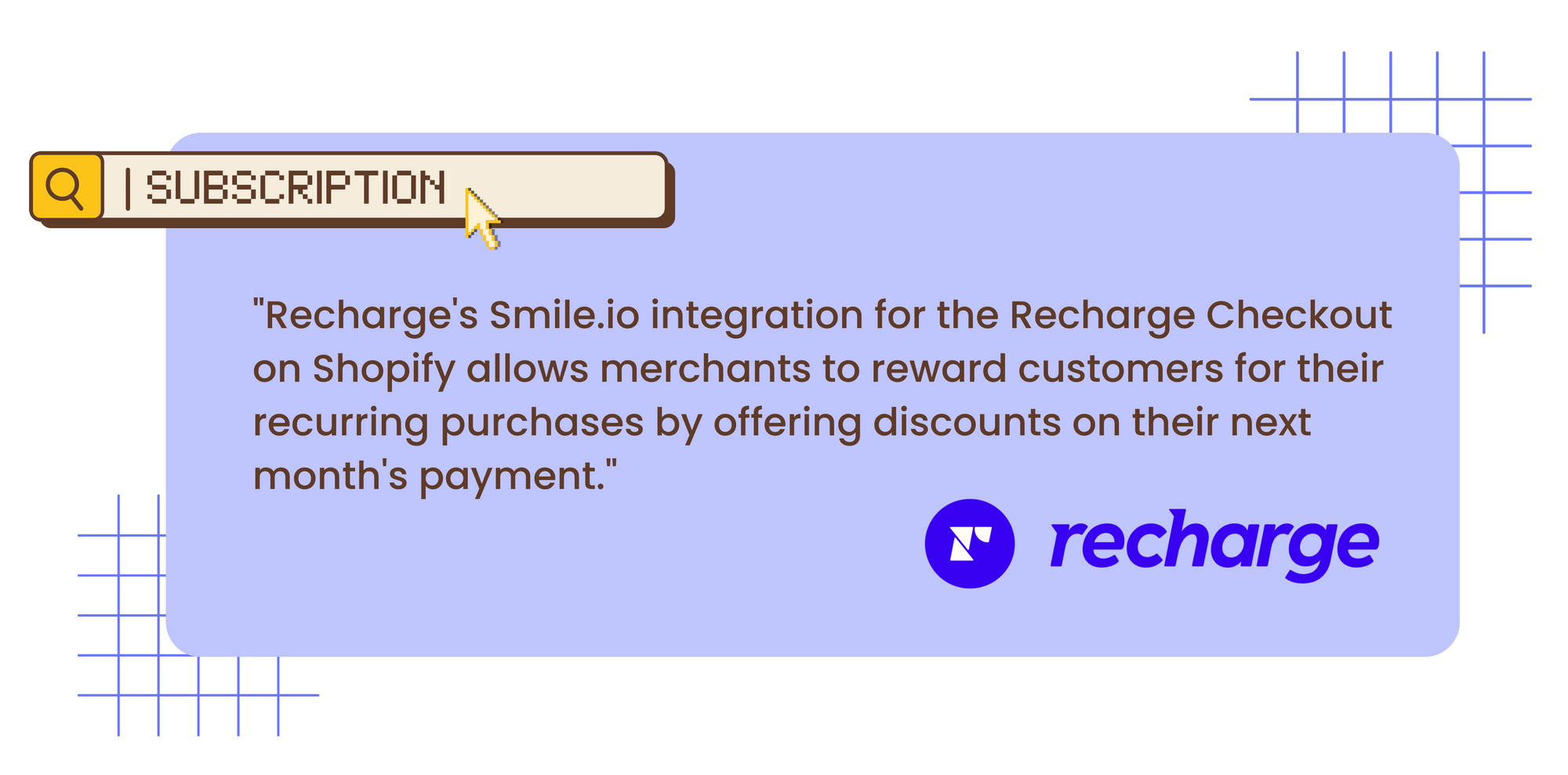 Pairing a rewards program with subscription boxes allows customers to earn rewards for the purchases they're already making with your ecommerce brand. It's a unique approach to retention and ensuring your customers feel valued, especially if they subscribe for a monthly purchase.
Here are a few ways to maximize subscription offers and a rewards program to increase your AOV, and retention rates.
Reward points for each box shipped.
Give points for product reviews.
Give meaningful rewards.
What apps are you adding to your ecommerce stack?
The Shopify apps in your ecommerce stack need to integrate seamlessly with each other in order to provide a smooth experience for both you as the business owner and your customers. Your Shopify apps also need to integrate smoothly with the tools you are already using so the apps work together to maximize your business and ROI. Check out other integrations with Smile.io and maximize retention rates, and loyalty and ensure a great customer experience.