Subscription based companies have taken the world by storm. It seems that there is a subscription based box or crate for every industry and every interest. In fact, there are over 400 subscription box startups on the investor marketplace, AngelList.
With so many subscription boxes popping up it is becoming extremely difficult for new and existing companies to differentiate themselves from the competition. Customers are beginning to ask "what makes this subscription different from my current subscription." Combat this with a rewards program.
Many subscription boxes are beginning to add rewards programs as part of their customer experience. Here are 3 examples of how to use a rewards program in the subscription industry.
Bulu Box – Reward Points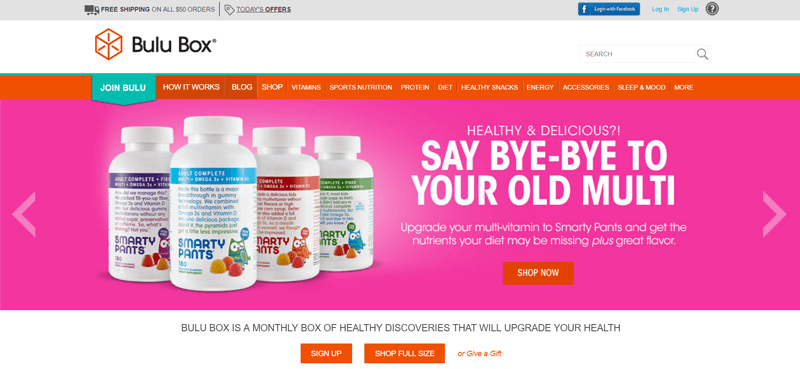 Country of Origin: United States
% Back: Varies
Rewarded Actions: Account Registration, Reviews, Surveys
Bulu Box is a subscription box that provides samples of health and wellness products. These items could be vitamins, protein, diet aids, and even sleep aids. Bulu Box leverages their rewards program to gather customer reviews.
Each month when a customer receives their Bulu Box, they are given the option to review the products they received in the box. Every successful review get the customers points, which can be used to purchase full sizes of the samples in their box. Customers can receive a maximum of 100 rewards points for doing this each month.

This is great for both the customer and Bulu Box. The customer gets a little extra spending money and Bulu gets valuable product information. This rewards program is truly a win-win and a fantastic subscription box rewards example.
Julep's Maven Box – Jules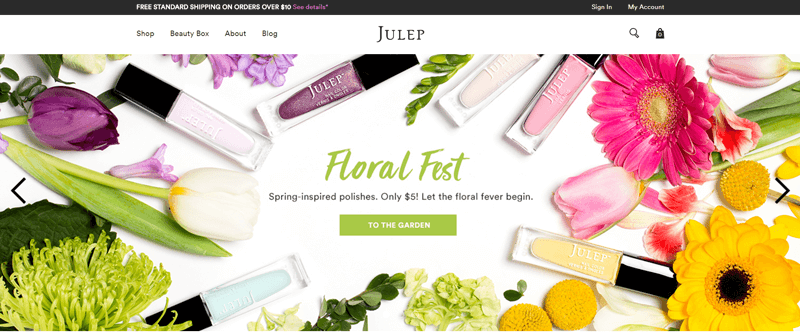 Country of Origin: United States
% Back: 15%
Rewarded Actions: Account Registration, Referrals, Birthdays
While Julep is not strictly a subscription box company, they do have their Maven program. The Maven program is a box of Julep products that is sent to the customer every month. Julep uses their rewards program to encourage customer referrals and to "wow" their customers.
The program starts by asking customers to take the "Style Profile" which asks customers 11 questions to discover their unique style. This style is then used to determine the first box of products, you will also be enrolled in the rewards program.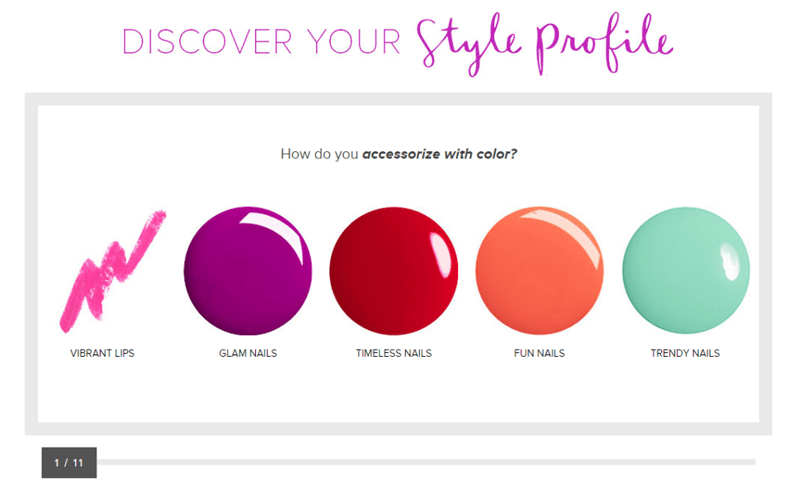 Once enrolled in the program you will begin to accumulate "jules" every month you continue to subscribe. Jules are Julep's creative name for their rewards points. Customers will also receive jules on their birthday as well as on the anniversary of when they signed up. These extra gifts are a unique way to thank your customers, and get them to continue coming back!
Julep also uses their rewards program to reward for referrals. Customers are given a referral code and receive points equal to $15 for every person they refer. You can learn more about their referral program on the referral explainer page. Rewarding points on special occasions along with a referral program is what truly makes this a special loyalty example.
Violet Box – Violet Points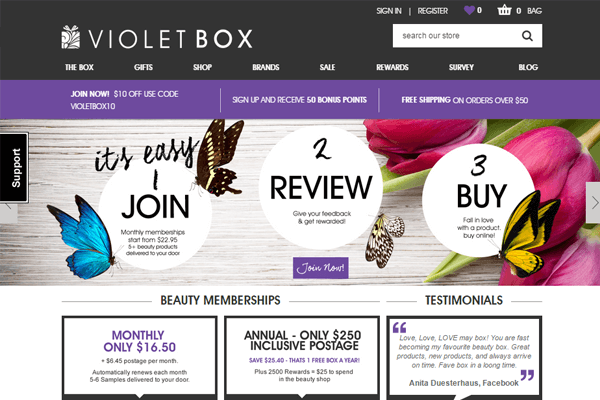 Country of Origin: Australia
% Back: 10%
Rewarded Actions: Account Registration, Referrals, Reviews, Social Sharing
Violet Box is a subscription box focusing on cosmetics, skincare, and hair products. Each month a customer can select two products from each category to include in their Violet Box. The company also has a fantastic rewards program.

Violet Box rewards customers for all sorts of profitable actions. They reward customers for onboarding (account registration) all the way through the customer journey to brand advocacy (social sharing).
This ensures that they are not only rewarding customers for subscribing, but are also rewarding them to become loyal customers who are constantly marketing for them. If you empower your customers they can end up being powerful marketers.
Violet Box is an example of a feature rich subscription rewards program.
Tips for Rewards Programs in the Subscription Box Industry
These examples are just a sample of what is out there for subscription box rewards programs. These are meant to show you what is possible with a loyalty program and inspire you for your own program. While there are many examples these three exhibit a few things that work well in the industry.
1. Reward Points for Each Box Shipped
When your revenue is based on a customer renewing a subscription, it is important to incentivize them to do so. If you give your customers points each month a box is shipped you are making it increasingly difficult to cancel the subscription. They will not want to lose their points!
2. Give Points for Product Reviews
Customers love subscriptions because it allows them to always be trying something new. However, new is sometimes scary for your customers. Remove the uncertainty by rewarding your existing customers for leaving product reviews, your future customers will thank you.