Gold never goes out of style. The jewelry industry is a unique industry because its products are always top of mind for customers, there is a style for everyone, and gold jewelry will always be valuable. The global jewelry market was valued at $256 billion in 2021 and is expected to exceed $517 billion by 2030.
Ecommerce has made jewelry more accessible at affordable prices, thanks to various brands starting a business. The growth of jewelry ecommerce brands has been growing steadily at an average rate of 5.8% annually between 2013 and 2019, according to insights from Oberlo. "From 2020 to 2023, the online jewelry market is projected to grow at an average of 13.2% per year."
With so many great jewelry brands finding their audience, it's important to look at why the top brands succeed, while others struggle to find loyal customers and a brand community. Loyalty is what fuels repeat purchase rates and higher customer lifetime value (CLV). These five loyalty programs in the jewelry industry are a great look into how jewelry brands can deliver value to their customers and keep them coming back to shop with them.
Chabacano's branded loyalty program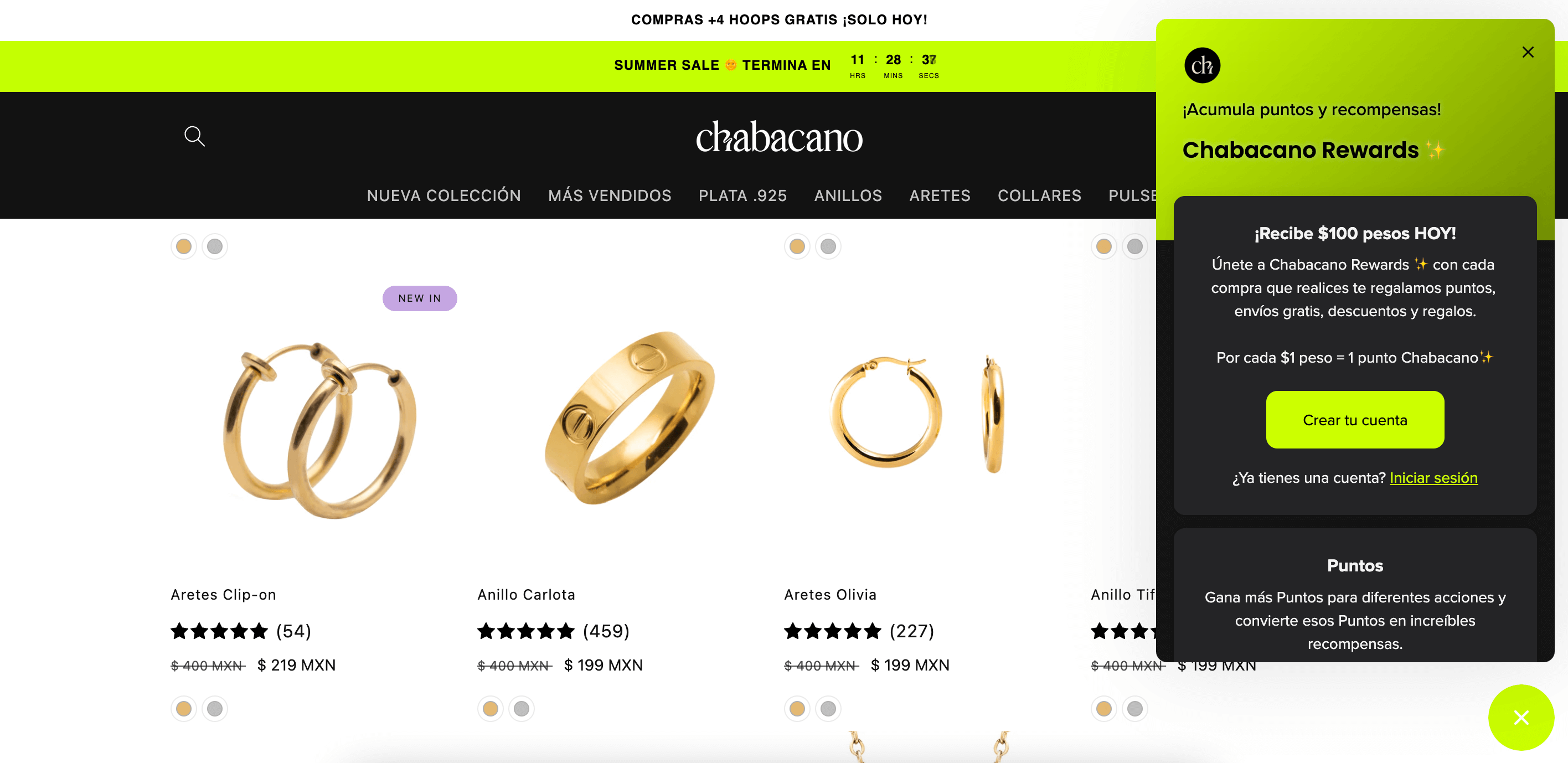 Mexican jewelry brand Chabacano Jewelry is a unique, and colorful brand that offers waterproof jewelry to customers. With more than 228,000 Instagram followers, Chabacano Jewelry has cultivated a community that can't get enough of the brand. This led to the creation of Chabacano Rewards.
They reward customers 1 point for every $1 spent, and offer welcome points for joining the loyalty program, and for celebrating a birthday. Customers can redeem for a discount on their next purchase.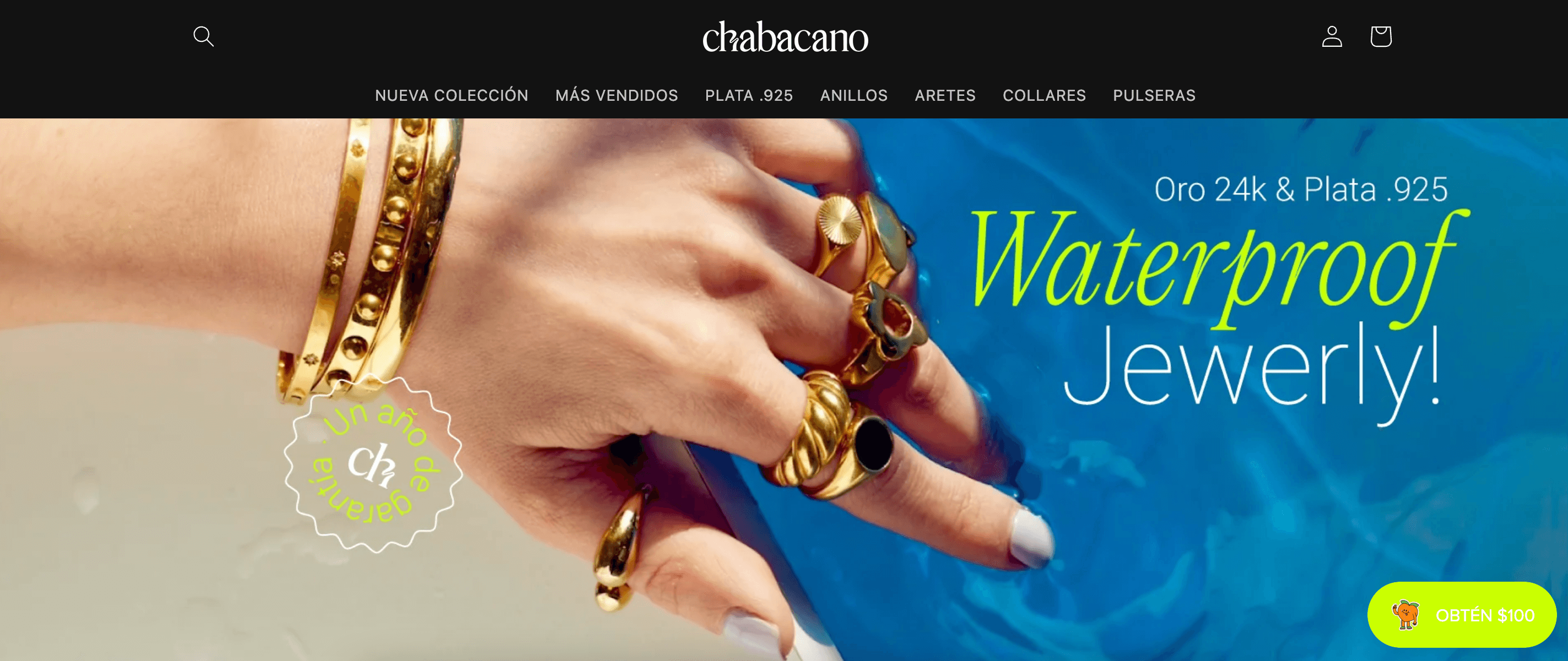 One key reason Chabacano Rewards is a great program is that its program launcher is branded perfectly. From the use of emojis to their brand colors, their program launcher is perfectly part of their website experience for customers. Their program is simple and hits all the welcome incentives to get people to join their loyalty program.
En Route uses loyalty as an event-based marketing tool
En Route is a small jewelry brand based in New York that makes accessible jewelry pieces for everyday use. With over 200,000 followers on Instagram and 40,000 on TikTok, En Route has cultivated a loyal customer base.
Its loyalty and rewards program, En Route Rewards, gives customers 30 points for every $1 spent. En Route offers welcome points for first-time customers and 150 points for customers who write a product review. Their rewards program is simple with only three ways to earn points, but in contrast, there are so many ways customers can use their points and redeem them for actual products and major discounts.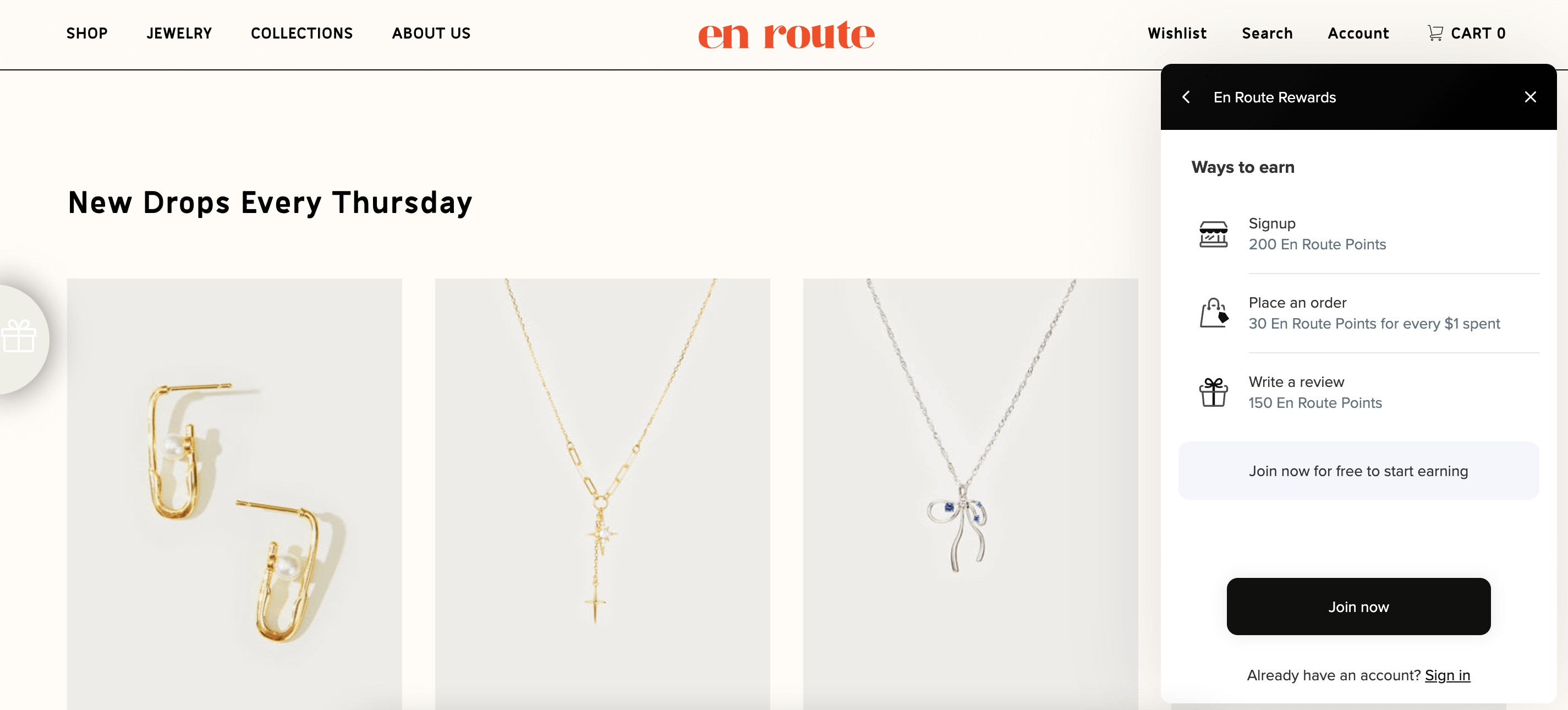 Rewards can be redeemed for discounts, gift cards, free shipping, free products including merchandise, and even mystery items. This is using your loyalty program as an event-based marketing strategy. Offering free products as a reward is a strategy that can help introduce customers to new items, clear out inventory for you, and offer more options customers can redeem points for.
Another aspect of En Route Rewards is its VIP Program which ranges from three different tiers, Silver, Gold, and Diamond. For example, members in the Diamond tier are offered a $15 off coupon, 45 En Route Points for every $1 spent, and free shipping. Each has different benefits and encourages customers to move up tiers to unlock more benefits.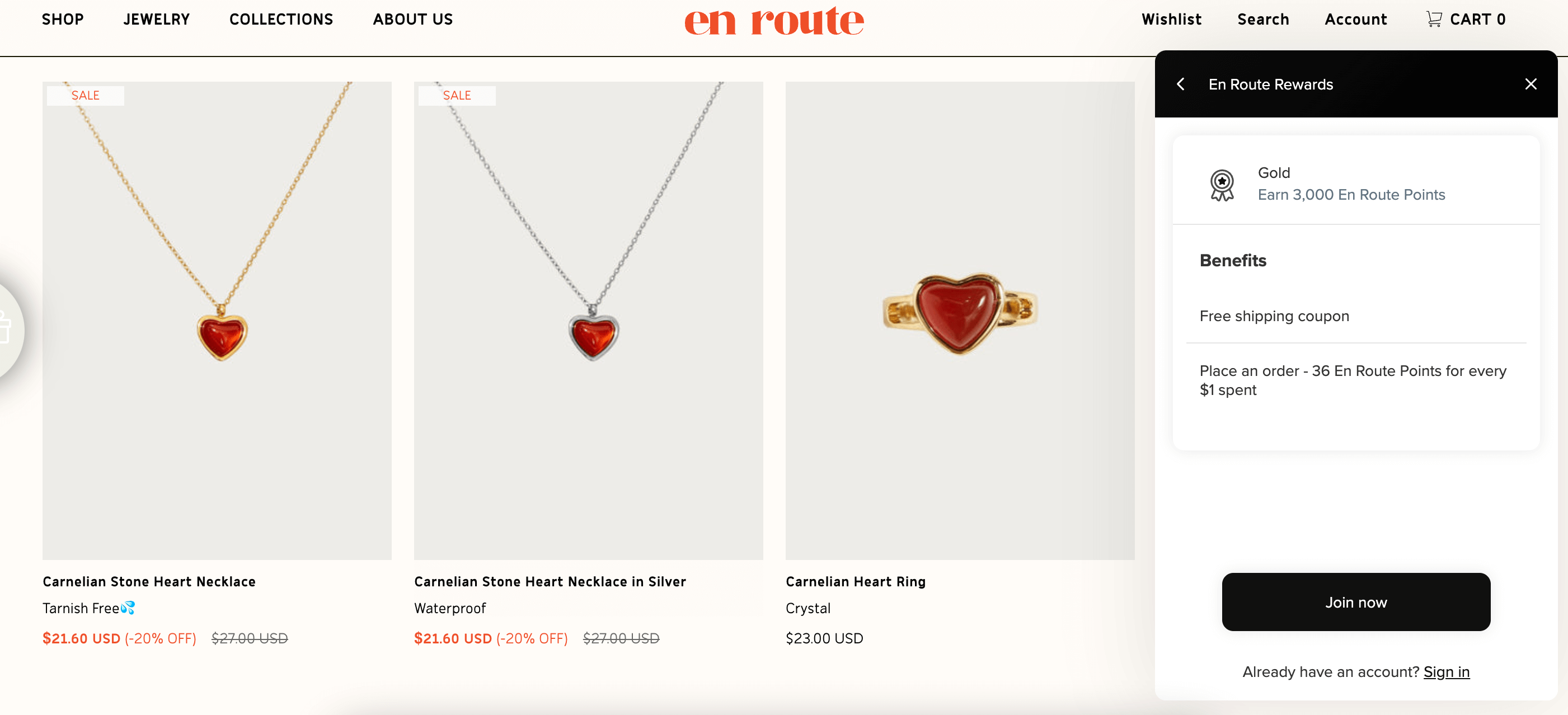 Vintage Gentlemen rewards for video reviews
Men's jewelry brand Vintage Gentlemen started in 2015 with its approach to making unique wedding bands made from deer antlers. In addition to jewelry they also sell leather bags and have expanded into women's jewelry as well.
Its loyalty program, VG Loyalty Rewards, rewards customers with 5 points for every $1 spent. Customers can earn points for celebrating a birthday, sharing products on social media channels, and writing a review.
This is the unique aspect of VG Loyalty Rewards. Through the integration between Smile.io and Loox, Vintage Gentlemen rewards customers for photo and video reviews. Customers can show off their products (rings) through a video and earn 1,500 points for a review or 2,500 points for a video review. This incentive allows you to reward customers for reviews, while also collecting social proof and user-generated content (UGC) you can share across platforms.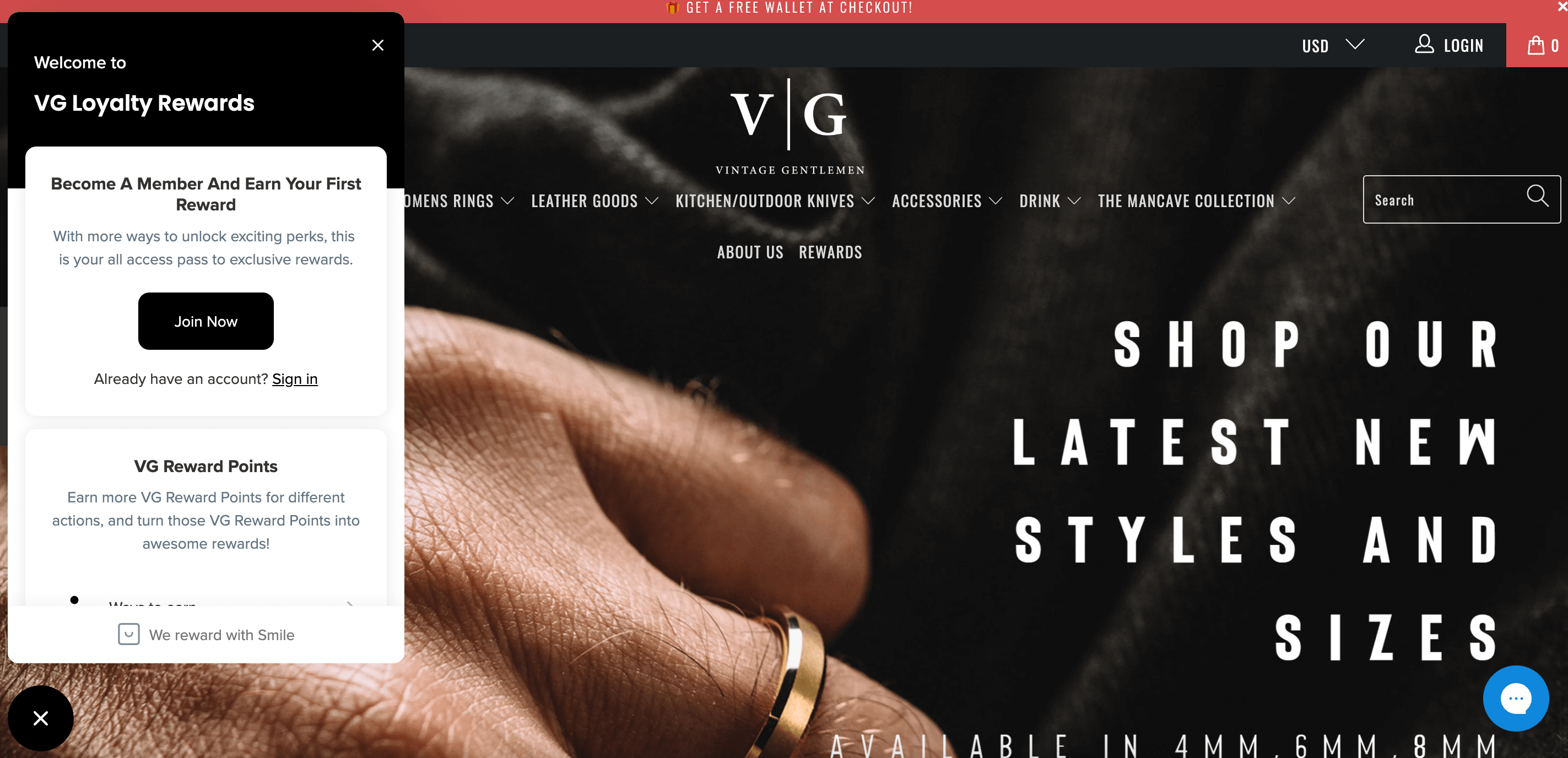 Judith Bright's visual explainer page
Judith Bright started in 2005 and has now expanded to retail locations throughout the U.S. - one major key aspect of their loyalty program, Bright Rewards is their highly visual explainer page.
Their branded explainer page answers all the questions a customer might have about its loyalty program. The page visually shows customers how the loyalty program works and the different VIP tiers Bright Rewards offers. Bright Reward's explainer page aligns with the aesthetic and visual identity of its site.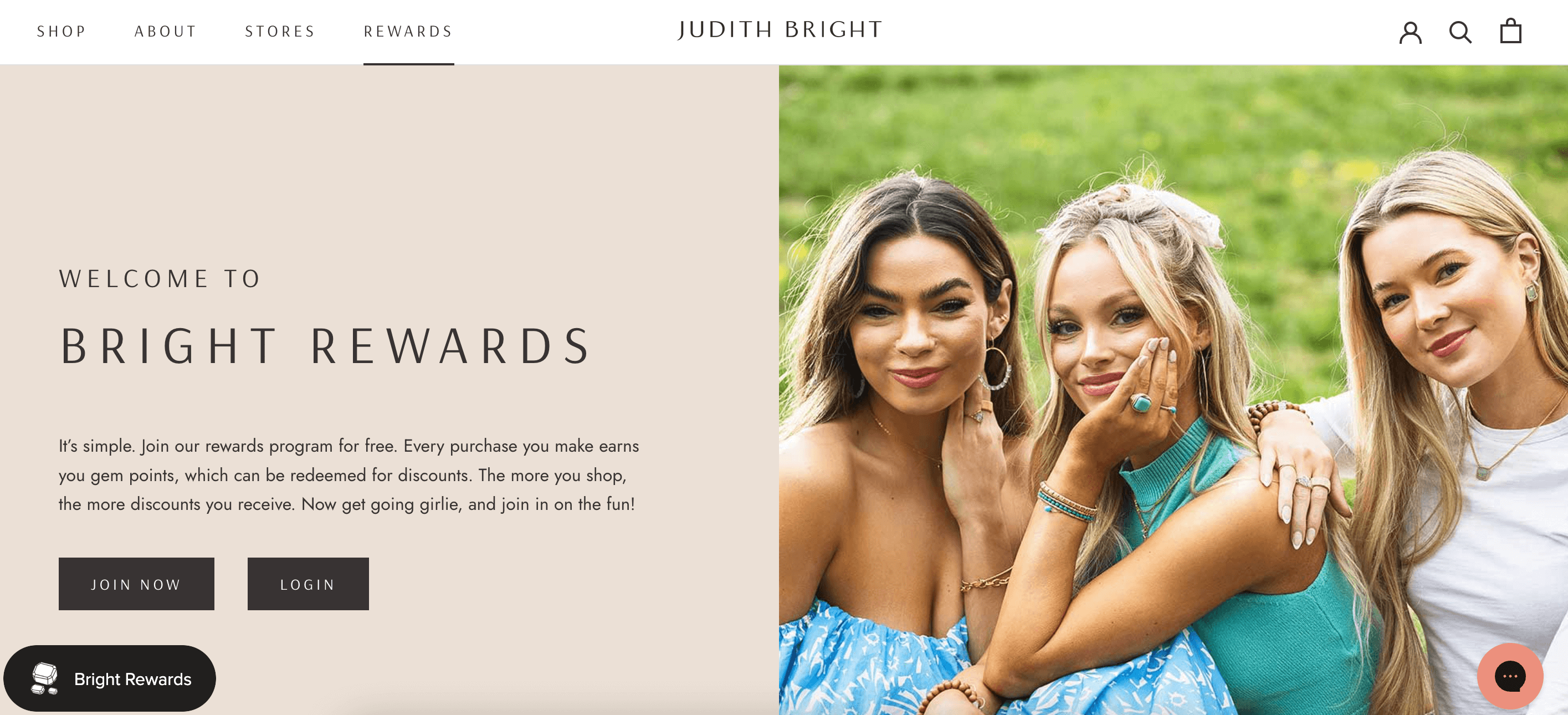 Another aspect where Bright Rewards outshines competitors is its VIP program. Ranging from different tiers, each one shows customers what they get once they reach a new tier. For example, those in the Mini Rock tier get 3 Gems (points) for every $1 spent. Those in the Petite Rock earn 5 points for every $1 spent and those in the highest tier can earn free products and 7 points for every $1 spent.

Judith Bright is a great example of creating an experience for customers no matter where they are in the buying journey. By offering a VIP program you display the value you can give to your customers whether they have bought from you once, twice, or more times.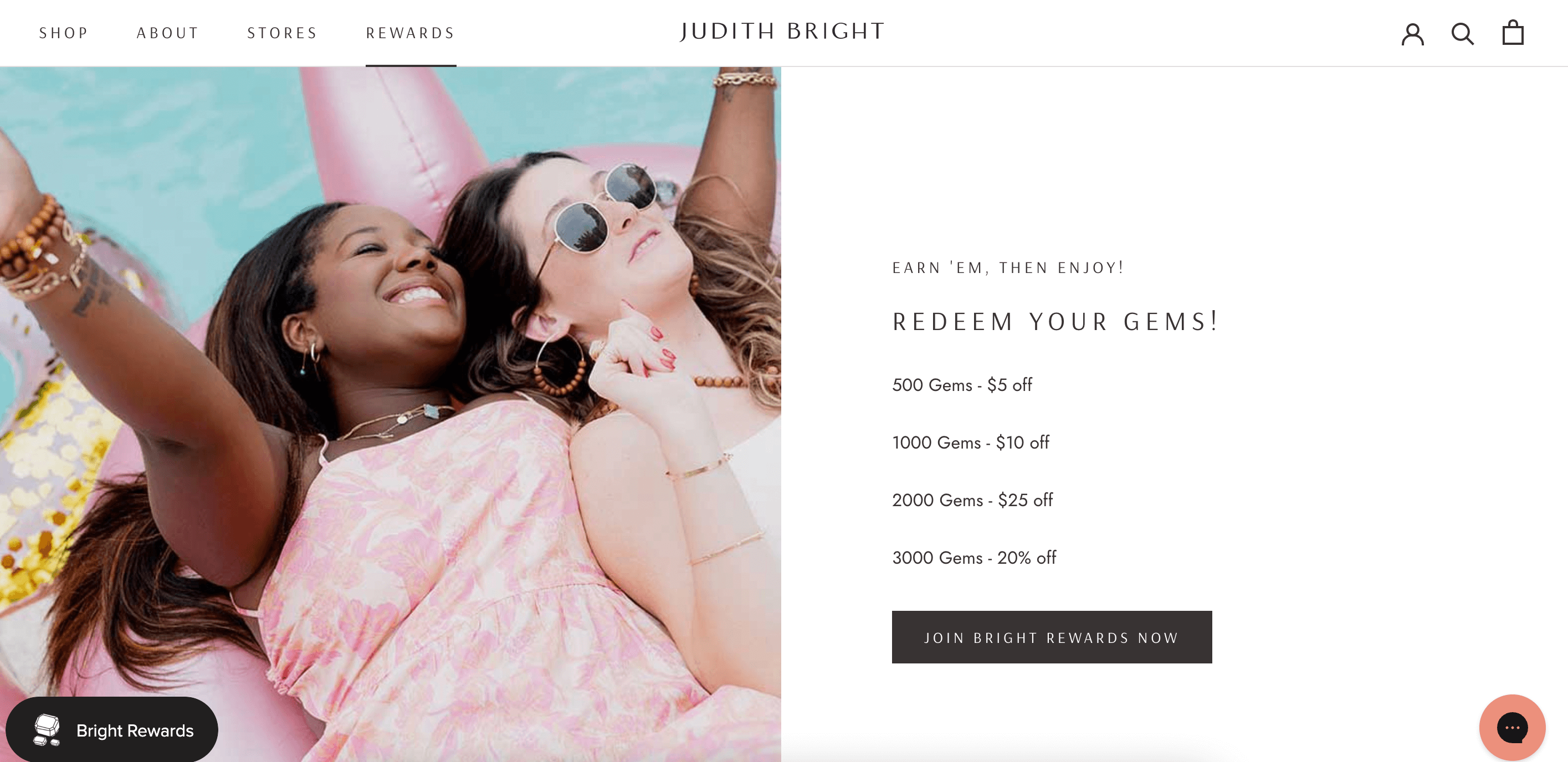 Nina Berenato Jewelry keeps it simple
Nina Beranato Jewelry keeps its loyalty program simple. From their rewards structure to the types of rewards customers can redeem points for, the ecommerce brand simply offers 1 point for every $1 spent. They reward for social sharing, celebrating a birthday, or signing up for their loyalty program.
In contrast to the simple earning structure, Nina Berenato Jewelry offers generous rewards ranging from discounts of $20 to $70. Its structure keeps them from having to offer major discounts outside of a loyalty program, where customers can redeem codes with different emails or wait for a major sale.
Having a loyalty program in place helps reward customers for shopping with you and choosing you over a competitor. Keeping their loyalty program simple allows Nina Berenato Jewelry to keep participation levels high.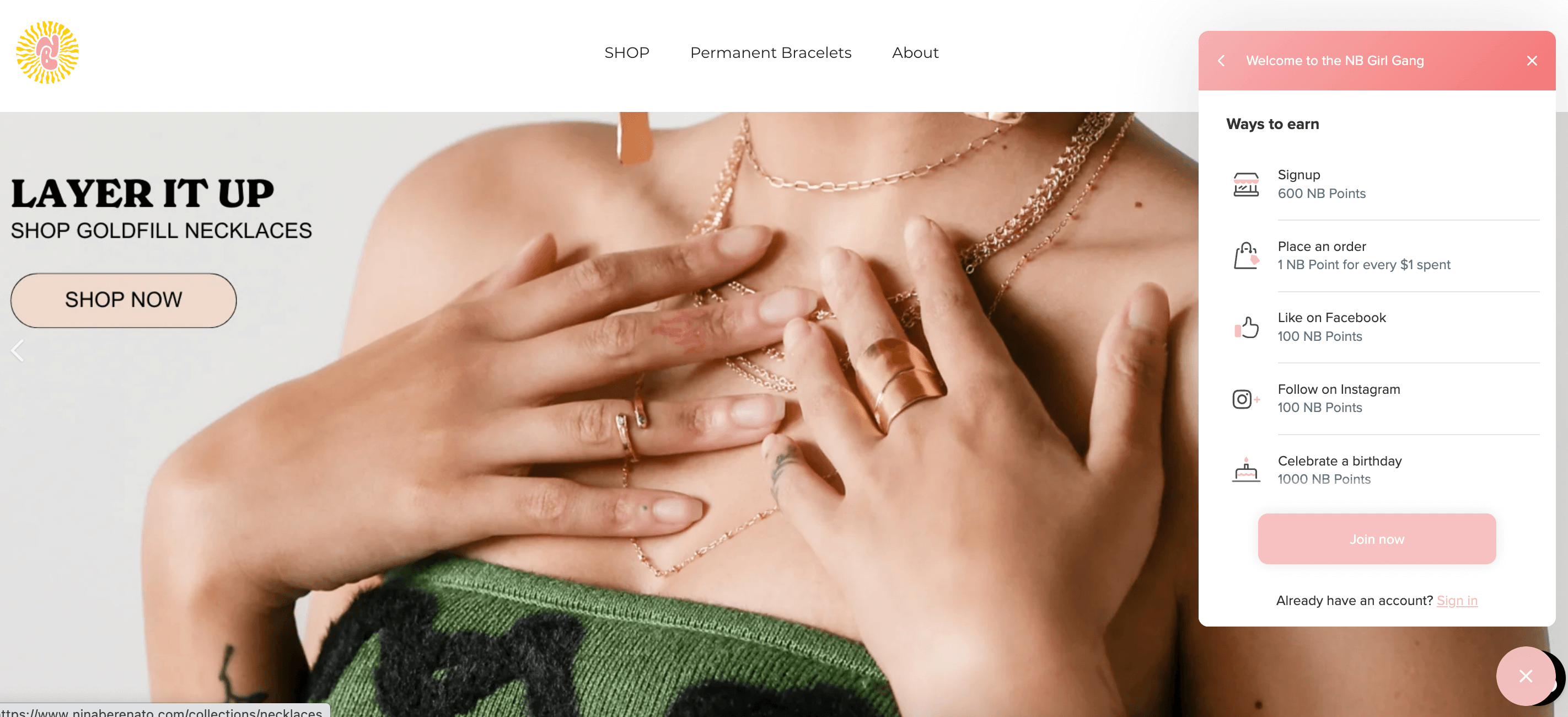 Tips for loyalty programs in the jewelry industry
Let the ecommerce experience you deliver to customers shine with a loyalty program that offers customers value and incentives to shop with you over a competitor. This is a step in building a brand community that supports you beyond one transaction.
Reward your customers for sharing your brand on social media and referring friends to establish trust between new customers and your brand. Those being referred have already established a connection with you via the person making a referral. Referral programs are a simple way to acquire new customers.
Explainer pages will answer all the questions for your customers. The more visual the better.
Integrate with other apps to bring product reviews to life on your ecommerce site, whether through video or photos.
VIP programs are a great way to incentivize customers to move up different levels and spend more to unlock exclusive rewards and products.
Launch your loyalty program in minutes
LAUNCH A BRANDED LOYALTY PROGRAM FOR YOUR JEWELRY BRAND