A loyalty program adds value to your existing marketing strategies and contributes to your overall business growth. Ecommerce brands with a loyalty program are set up for success by offering meaningful rewards to their customers, in exchange for their loyalty.
Loyalty programs offer a way to retain customers, reduce churn rates, and increase the average order value of customers. After one purchase, a customer has a 27% chance of returning to your store. If you can get that customer back to your store for a second or third purchase the percentage increases by a 54% chance of making another purchase.

In order to create this loyalty loop and engage customers to come back again and again, brands have gotten creative with their loyalty programs. Brands are using their loyalty program as an event-based marketing tool, tying exclusive points to certain products, offering a product as a reward that can't be purchased, or running special campaigns that allow customers to earn double the points during select timeframes.
Bonus points events
It's no secret the value of repeat customers. They are what build your brand community and provide loyalty. Repeat customers are nine times more likely to convert than first-time shoppers. One way to lock in customers for repeat purchases is through bonus points events and redemption campaigns.
Simply you offer double the points a customer can earn during a specific timeframe. For example, you can offer 2x the points on all purchases for a single weekend or your brand's birthday. Customers are incentivized to shop and earn more points, maximizing their reward balance, which can be spent on a second purchase. Using this as an event-based marketing strategy is great for brands that can not offer large discounts. It's also a great way to get shoppers in during slow seasons for retail.
ECS Coffee is a perfect example of using bonus points campaigns to get customers to earn more on purchases during their select campaigns. ECS Coffee creates several bonus points campaigns throughout the year, offering 5x the points on purchases. Their Instagram caption reads, "Our Brew Bucks Event is on NOW! Today only, all purchases will earn 5x the points!"

Through this bonus points event, ECS Coffee can lock in customers and maximize their points for their next purchase. It's a great way to use loyalty as an event-based marketing tool without having to provide a deep discount that can cut into profit margins or contribute toward the death spiraling of the discount.
Rewards based on products
The most common way to reward customers with loyalty points is through the total amount of items purchased. Offering something similar to 5 points for every dollar spent. One way to go above and beyond using your loyalty program as an event-based marketing tool is by tying exclusive points to certain products.
Through this marketing strategy, you can drive certain products to be worth more than just an actual price and have customers earn more by purchasing that specific item. This is a perfect opportunity to introduce customers to new products and drive sales.

Nook Vibrant Kitchen, a ready-to-eat, organic, and plant-forward food delivery brand, gives bonus points for new meals when they first launch the new item. Normally offering 1.5x the points for every meal purchased—for the newly launched items, the points are worth more. "When we want to test out a new product, we'll say hey we're launching a new menu for those—if you order those, you're going to get 5 times the points on those," explains Madison Warnock of Nook. It's a great way to get customers to try newly launched products and get rewarded for their loyalty.
Limited-time product rewards
A creative way to use your loyalty program as an event-based marketing tool is by offering actual products as rewards customers can redeem for. These can be products that are not offered in your store, an opportunity to offer a sneak peek into a product that is going to launch, or simply a past popular product to drive exclusivity. For example, let's say our most popular product is shiny lip gloss, and we are adding the grape flavor to our lineup. But for the month of July, it will be available exclusively for 500 points. Then will fully drop for purchase in September. This will only work to hype up highly anticipated items.  
One way brands have used limited-time product rewards is to clear stock of items and make way for new inventory. This gets products out the door without having to discount them.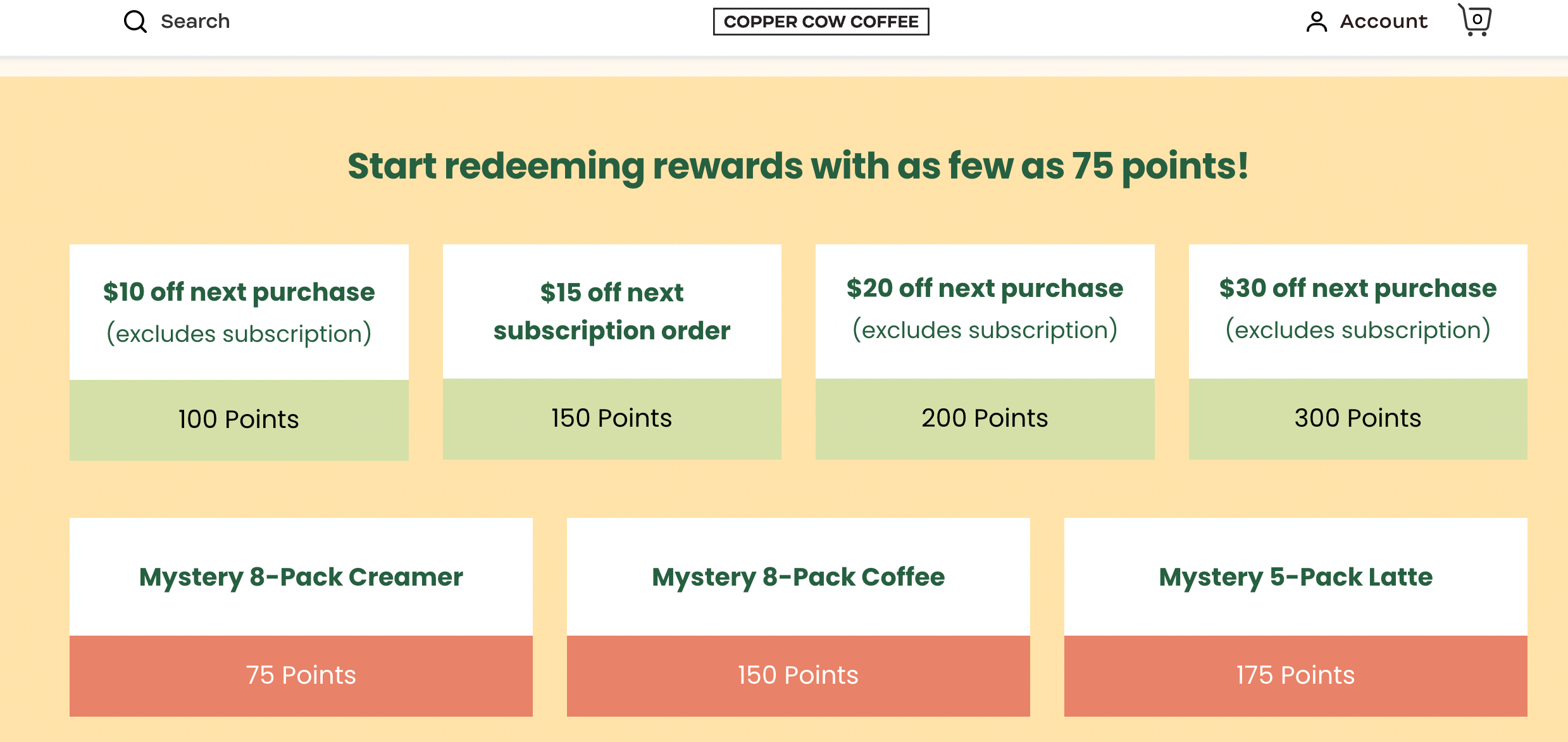 Copper Cow Coffee builds excitement in its loyalty program by offering mystery packs as a reward customers can redeem. For 150 points customers can redeem and get a mystery 8-pack of coffee. For 175 points customers can redeem a mystery 5-pack of lattes or continue to earn more points for greater discounts.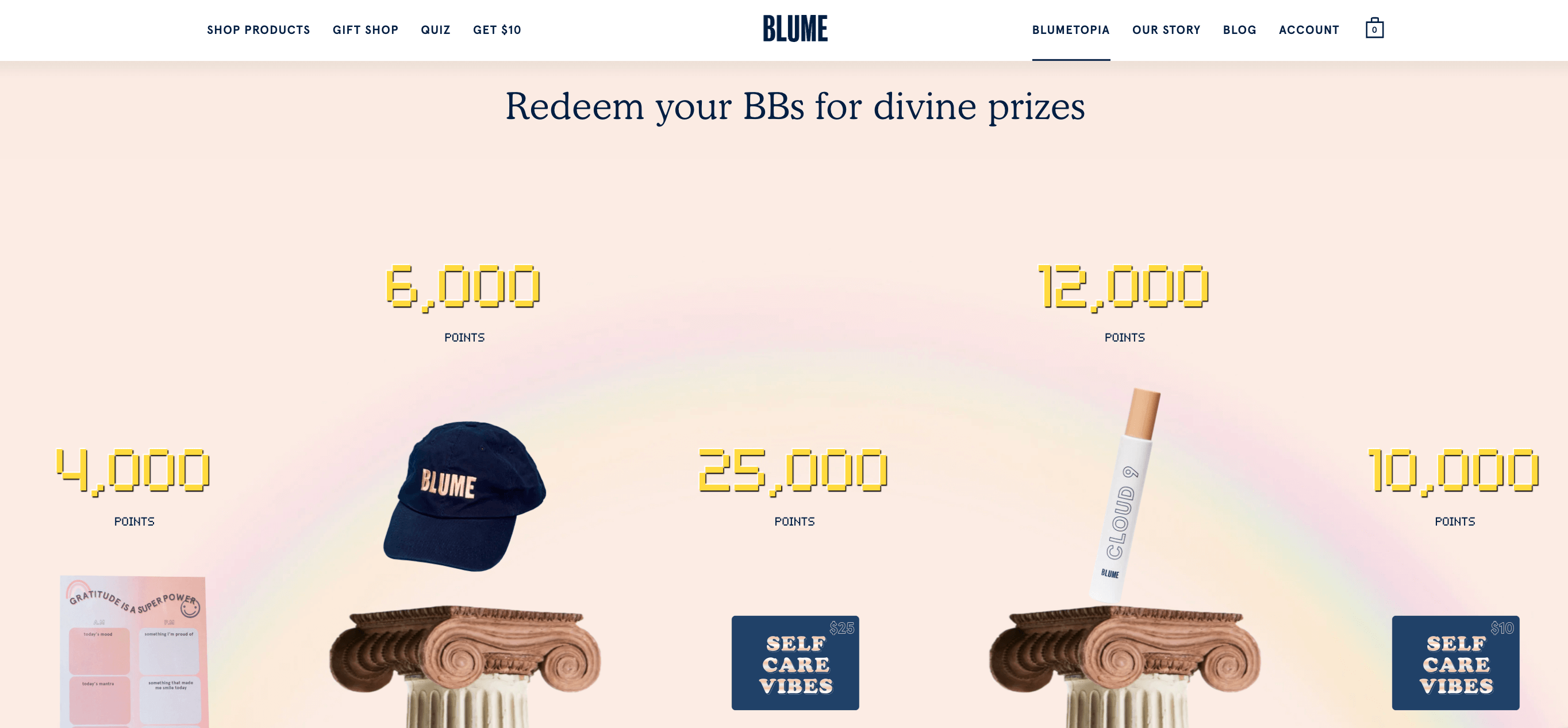 Blumetopia is Blume's loyalty program that offers exclusive merch and products as rewards customers can redeem. This allows Blume to reward customers with exclusive merchandise and have their products and merchandise out where customers can wear them.
By adding a loyalty program to your business growth strategy, you can start to build a loyal community. Going a step further and using your program as a marketing strategy can launch your business to grow, increase revenue, and get customers to make repeat purchases. Loyalty programs create a loyalty loop that builds a loyal customer base.
Create your loyalty program in minutes
Grow your business with repeat purchases