Our pets have a special way of capturing our hearts, and let's face it, our wallets. Anyone who has a furry, fuzzy, or scaly friend at home will likely agree on one thing—they want the best for their pet.
The pet industry has undergone several changes in the past few years, but none more notable than the premiumization of pet supplies. Customers view their pets as part of their family and who wouldn't want the best for their family?
The global pet industry is worth $320 billion and is expected to grow to almost $500 billion by 2023, according to a report from Bloomberg Intelligence. Pet owners are willing to spend more on premium pet products like organic and plant-based food or leather and ethically sourced accessories. The pet food industry alone is expected to grow 52% to $135 billion by the end of the decade.
With all of this growth, comes increased competition for pet supplies brands. And with new ecommerce brands emerging daily, retaining customers has become more important than ever.
So how do you keep your customers as loyal as their beloved golden retrievers? Well, a loyalty program is a great place to start.
Here are 8 examples of loyalty programs in the pet supplies industry!
Doglyness' Doglycoins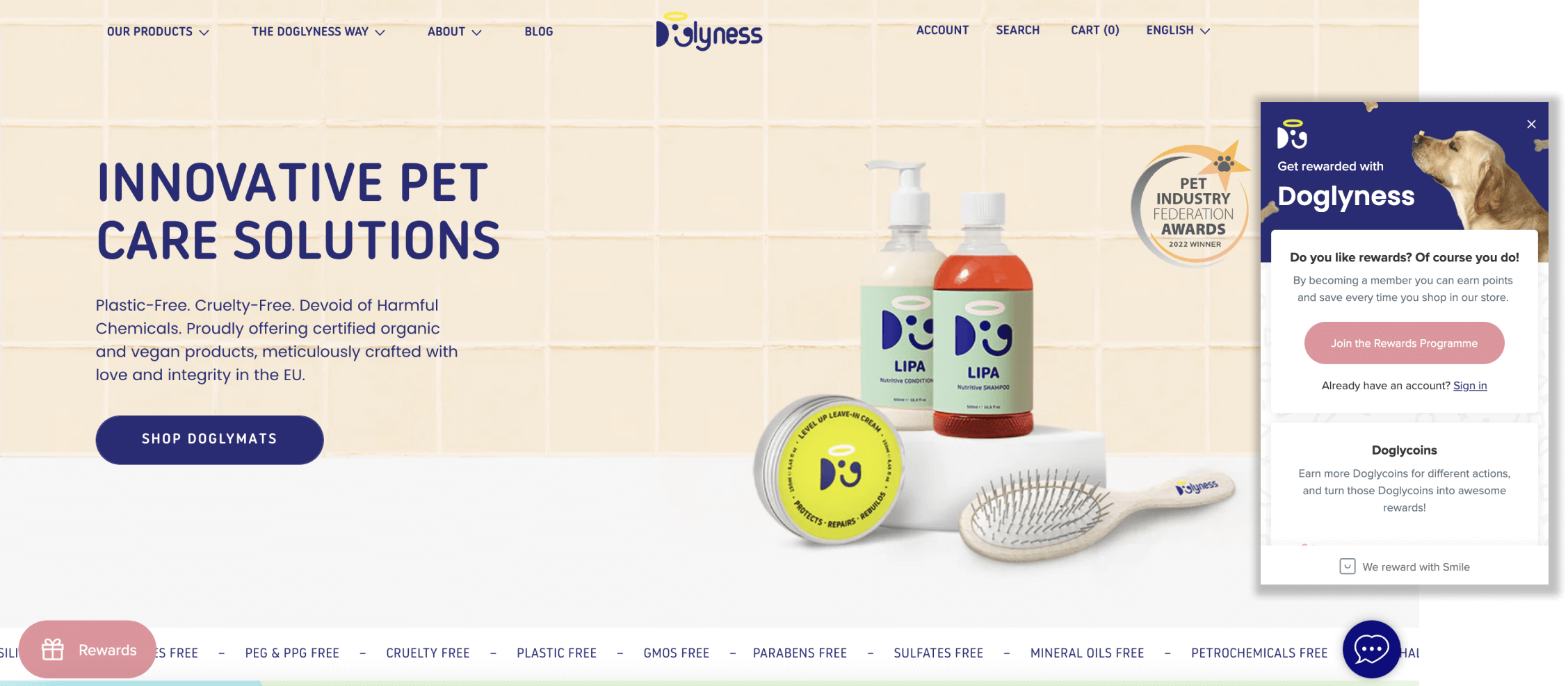 Dogylness is a zero-waste premium pet care brand based in Germany. Its products are organic-certified, vegan-certified, plastic-free, cruelty-free, and made in the EU, demonstrating its full commitment to providing the absolute best grooming products to its furry customers.
With a brand philosophy of "nurturing canine beauty and environmental well-being," Doglyness is a truly sustainable brand that customers feel good supporting. If its wide range of innovative, quality products isn't enough to keep customers coming back, its rewards program surely is.
Doglyness offers a points and referral loyalty program as a way of rewarding its loyal customers. Shoppers earn 1 Doglycoin for every €1 spent, and can also earn points for interacting on social media, celebrating a birthday, or simply signing up for the program. With playful messaging and branded colors on its rewards panel, Dogylness makes the loyalty experience as enjoyable as the rest of its brand.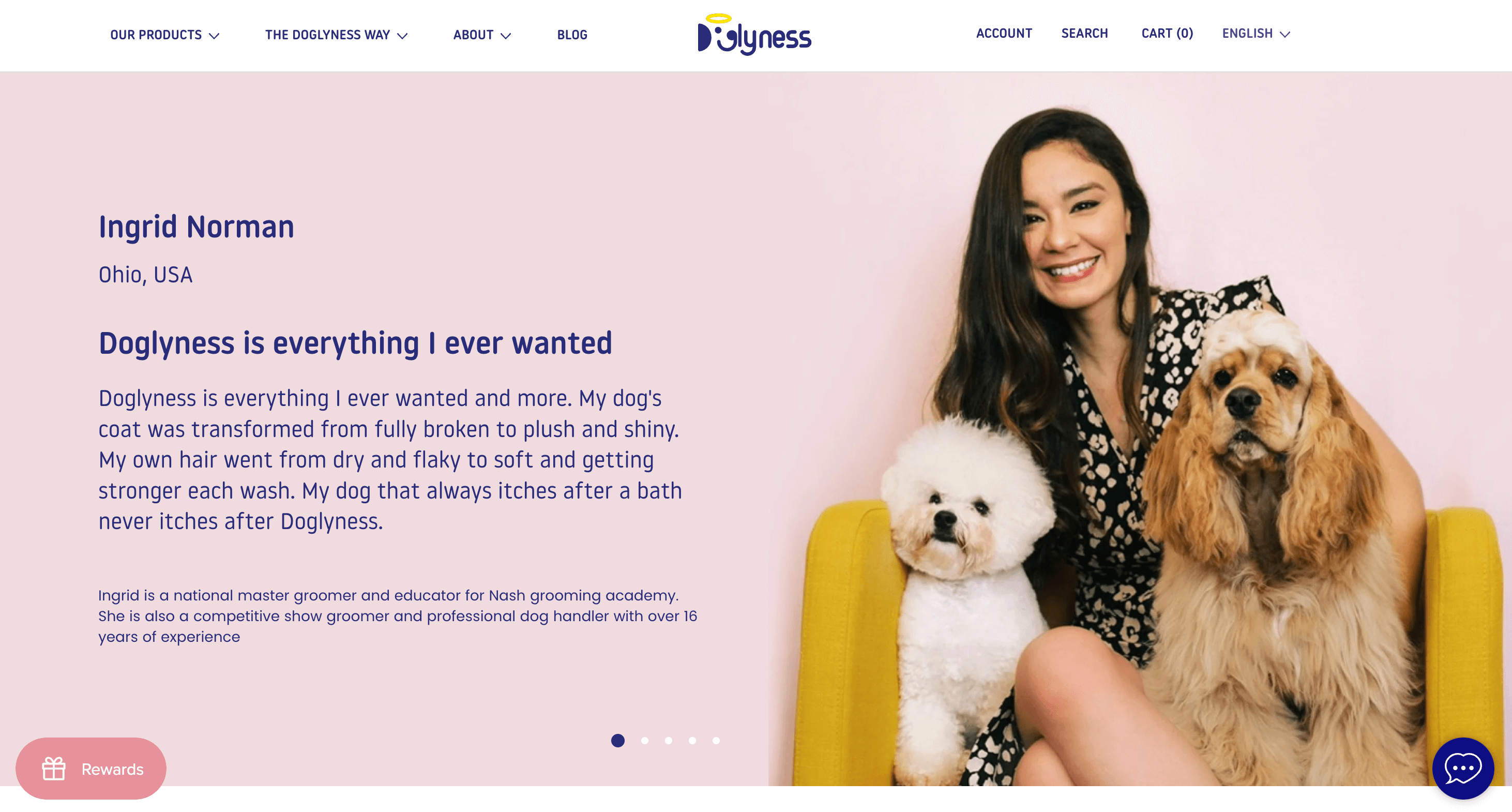 In an industry where trust is everything, Dogylness uses the power of social proof through its referral program. With a generous €10 reward for both referring and referred customers, the brand encourages its brand advocates to share the store with their fellow dog lovers.
It also leverages user-generated content with a dedicated "Happy Customers" page showcasing real customer reviews. With hundreds of reviews, Doglyness shows that its products are loved by professionals, master groomers, and dog parents alike. Let your customers do your marketing for you and better yet—reward them for it just like Dogylness does.
Presidential Paws' VIP Club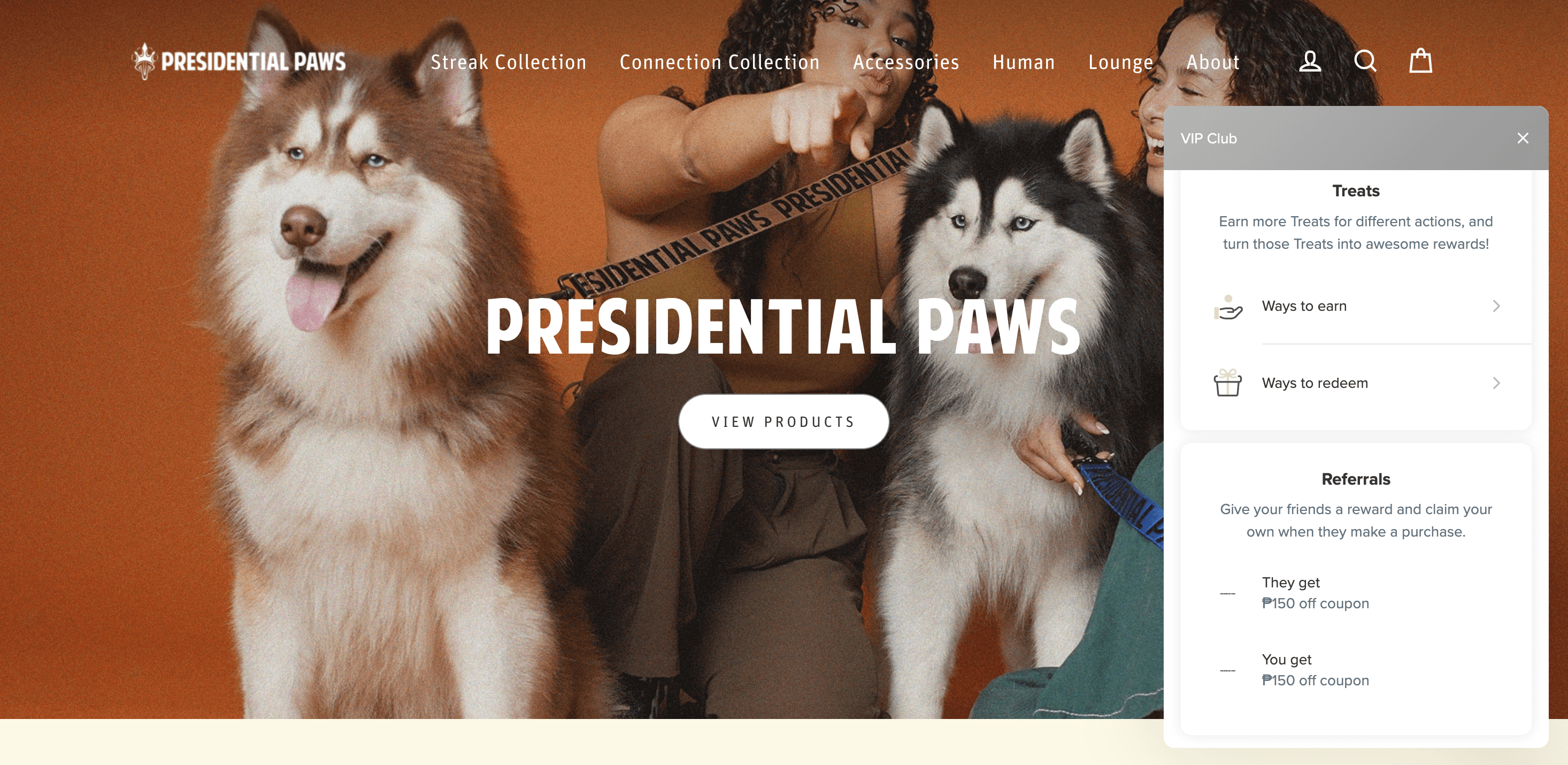 More often than not, the four-legged family member is the king or queen of the household. We give our pets the royal treatment and no brand seems to understand that more than Presidential Paws. This Filipino dog accessory brand has built a community of enthusiasts who go the extra mile for their dogs.
Presidential Paws sells functional and fashionable collars, leashes, harnesses, and more. They may be all about giving pups the presidential treatment they deserve, but they allow their human customers to look and feel good while doing so.
No element of the brand displays its commitment to its community more than its Presidental Paws VIP Club. Customers (the human ones) can earn 5 "Treats" for every ₱1 spent, 500 for signing up, and a generous 1000 for celebrating a birthday. A lot of pet owners will enter their furry friends' birthdays here so offering a reward this high (equal to ₱10 off), shows customers that you share the same values as a brand.
Aside from effective program branding like its points currency name, Presidential Paws' VIP Club is configured extremely well. With an earning rate of 5 points per ₱1 spent and a reward rate of ₱1 off for every 100 points earned, Presidential Paws offers customers 5% back for every ₱1 spent. Smile recommends offering anywhere from 3% to 10% to motivate customers while protecting profit margins.
Woof and Wonder's Wonderfam Rewards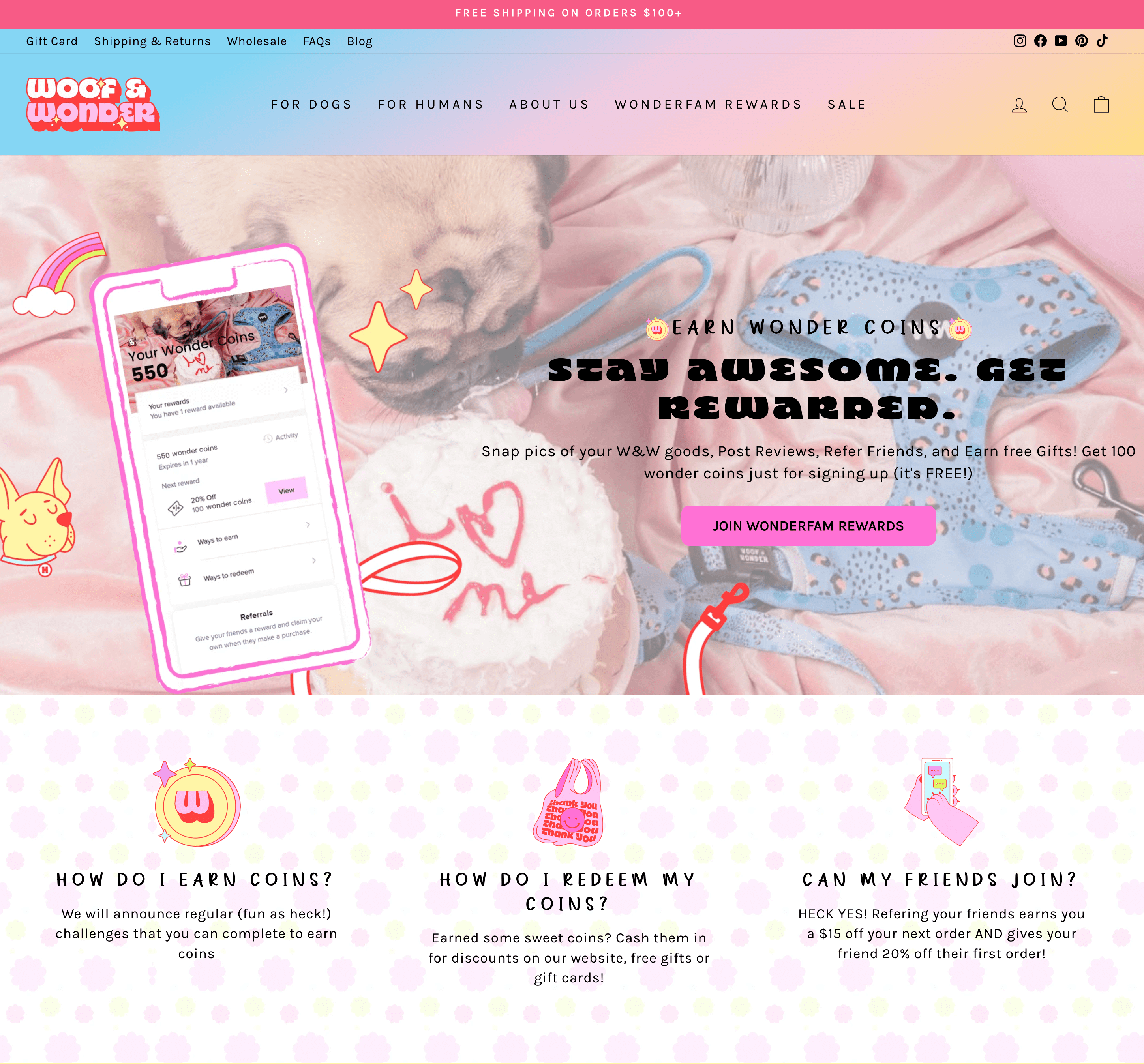 Dogs bring so much joy to our lives. That's why the dog-lover community is such a strong one—pet parents want to share the tales that warm their hearts with other people who truly get it. Leda Akyuz was inspired by her goofy French bulldog and wanted to share his silly, fun spirit with others. With that, Woof and Wonder was born.
Made famous by its popular Poopy Loop, Woof and Wonder has built a strong community of its own on social media with over 2 million likes on TikTok and nearly 20K followers on Instagram. As a thank you to its loyal community, Woof and Wonder introduced its Wonderfam Rewards program.
💗
"Loyalty rewards have been an incredible way to show our appreciation for each and every customer by allowing them to build up their rewards & redeem them in a variety of ways."
- Leda Akyuz, Founder and CEO of Woof and Wonder
There are so many things to love about Wonderfam Rewards but the impossible one to ignore is its perfectly branded, attention-grabbing loyalty program explainer page. Accessible from the main website menu, this page explains how customers can join, earn, and redeem rewards while remaining a natural extension of the rest of the brand through its colors, language, and imagery.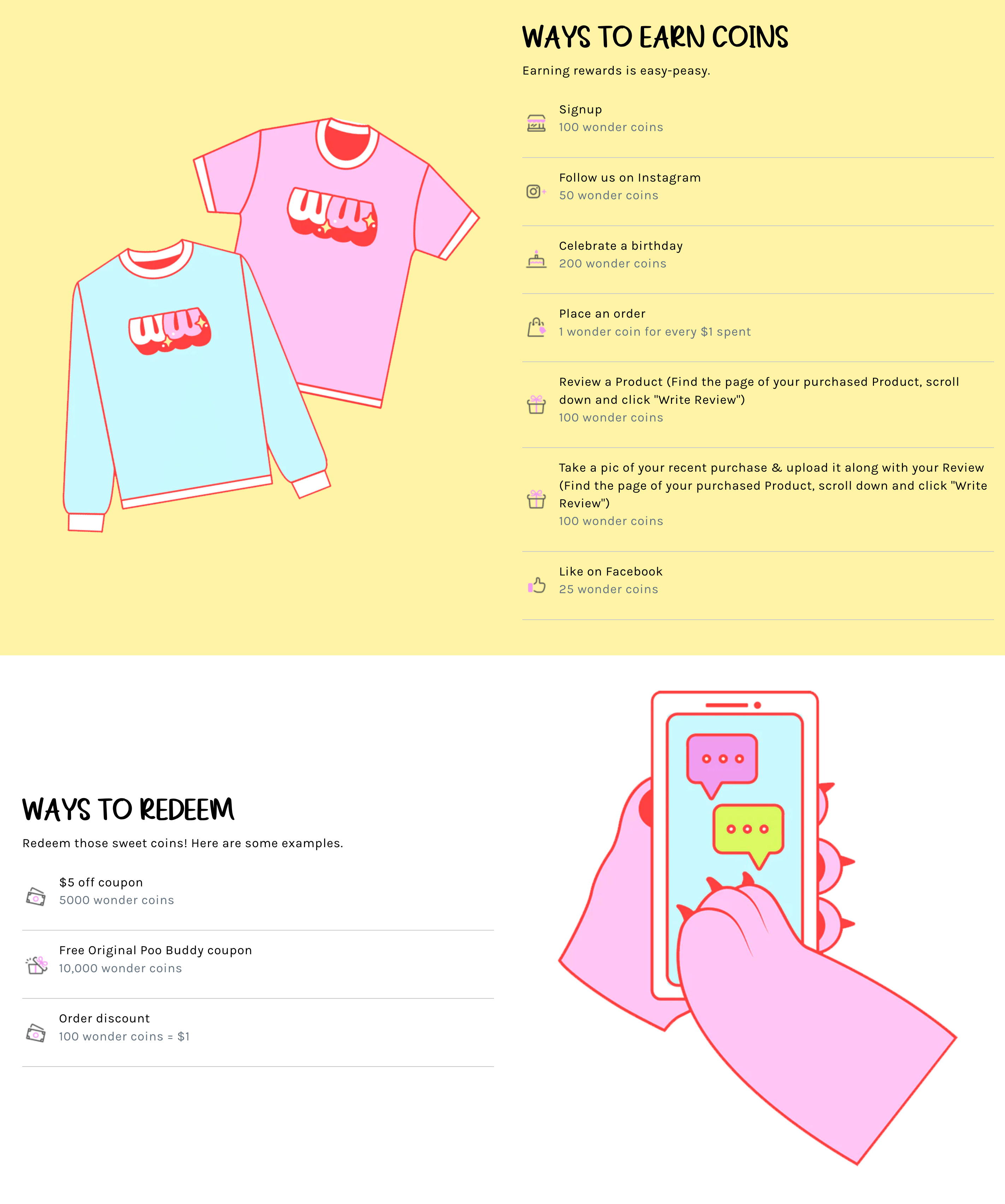 When it comes to the program details, it just gets better. Customers are rewarded for every product review they leave with an extra 100 points up for grabs for including an image. This is the perfect way to incentivize user-generated content that is essential in the pet supplies industry. With such an active and thriving social media community, Woof and Wonder also strategically offers points for following on Instagram and Facebook.
To tie everything together, Woof and Wonder offers one of its most famous products, the Poopy Loop, as a reward. With dozens of unique designs that customers obsess over, this is a motivating reward that customers are excited to work towards. Woof and Wonder understands exactly who its customers are and what they value through its top-tier pet supplies loyalty program.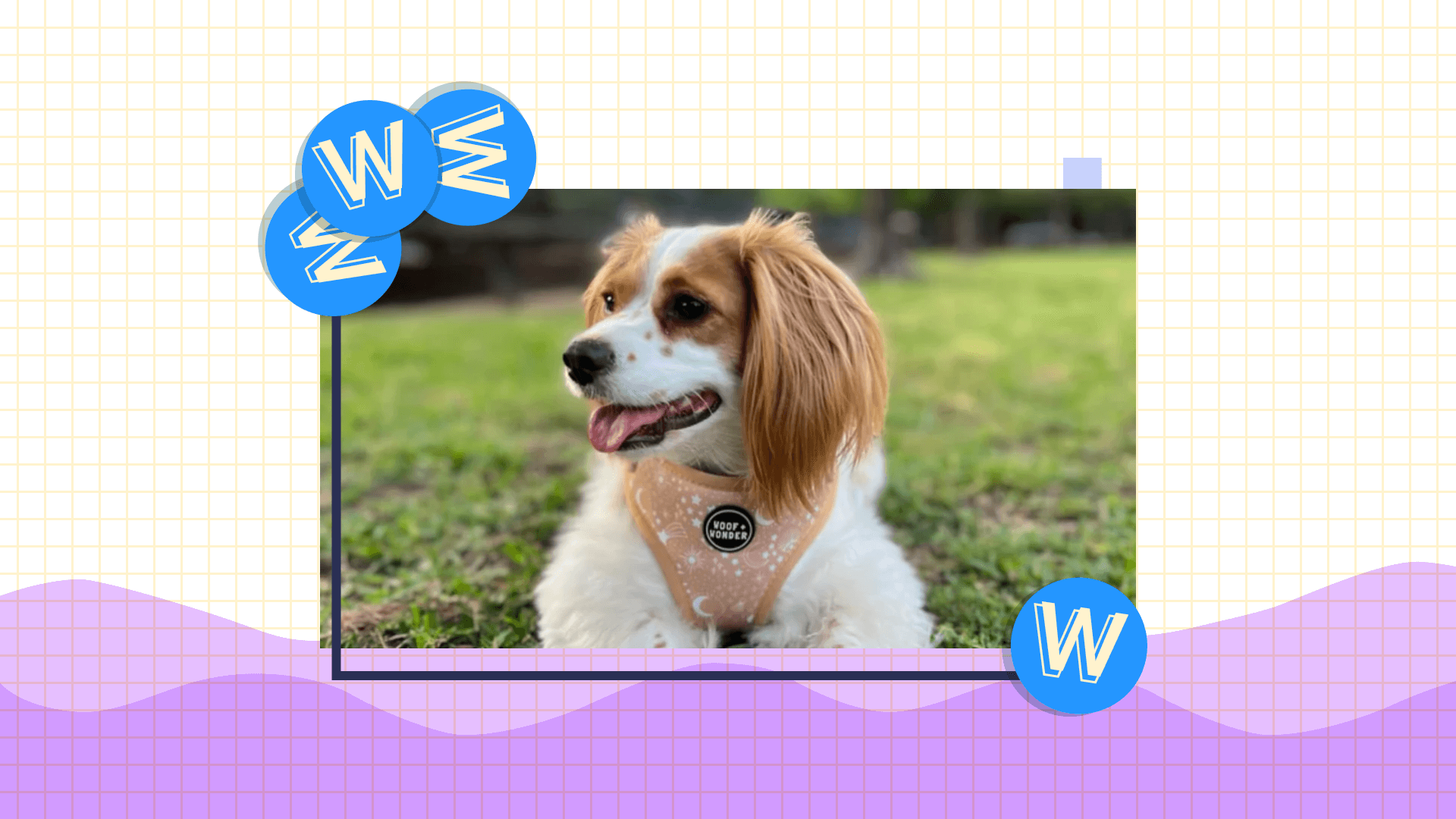 Pottycats Rewards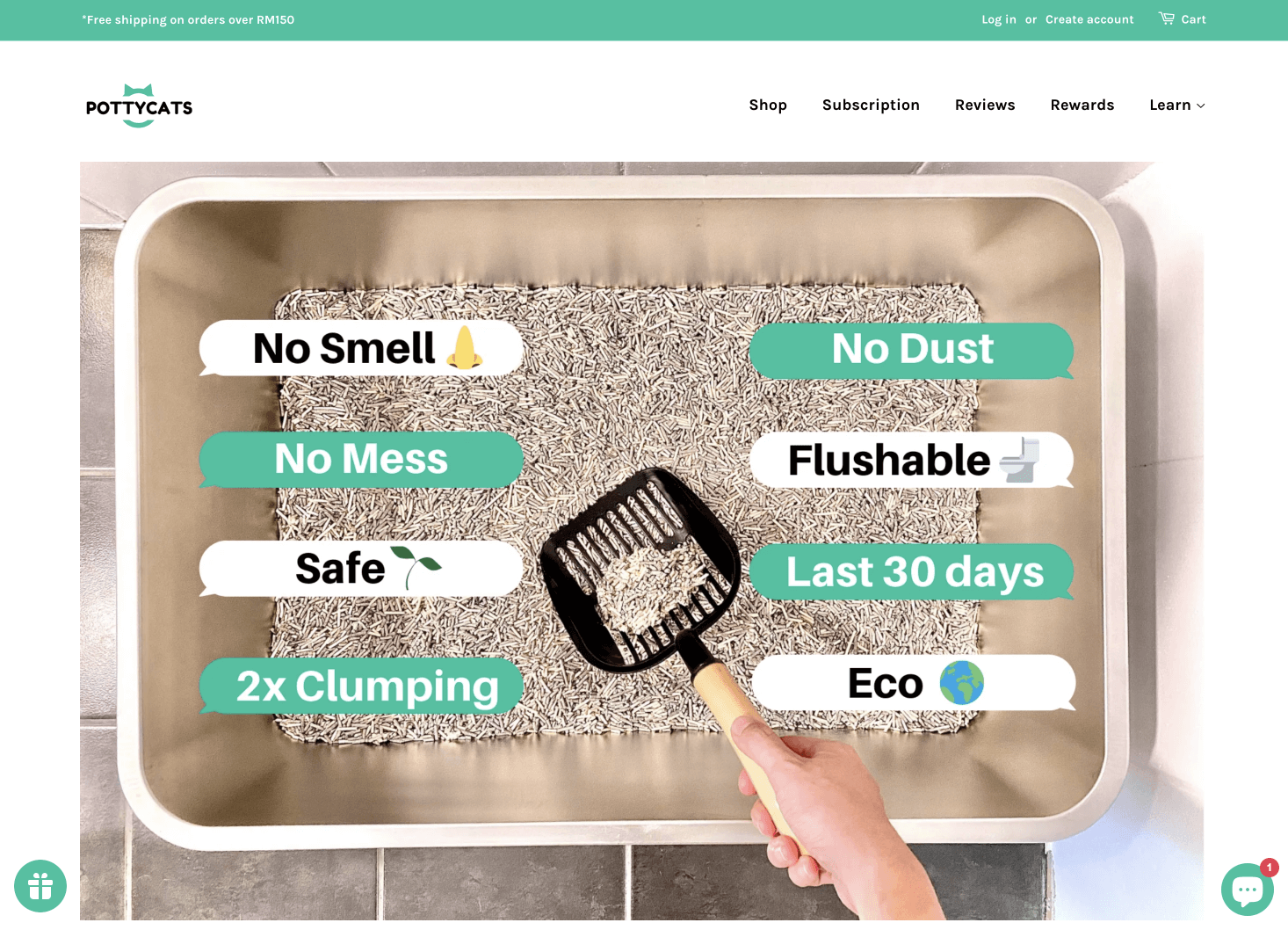 While people value their pet's comfort and happiness, the number one priority is their pet's health. After seeing her cat, Mr. Miyagi suffer respiratory problems from ingesting clay dust from harmful litter, this cat mama was inspired to do something about it. She worked with feline experts to create an all-natural litter that would protect cats' health and that's how Pottycats came to be.
This Malaysian pet supply brand is all about "enhancing the cat parenting journey" and what better way to do that than with a loyalty program? Its Pottycats Rewards program offers both points and referrals to thank customers for their loyalty.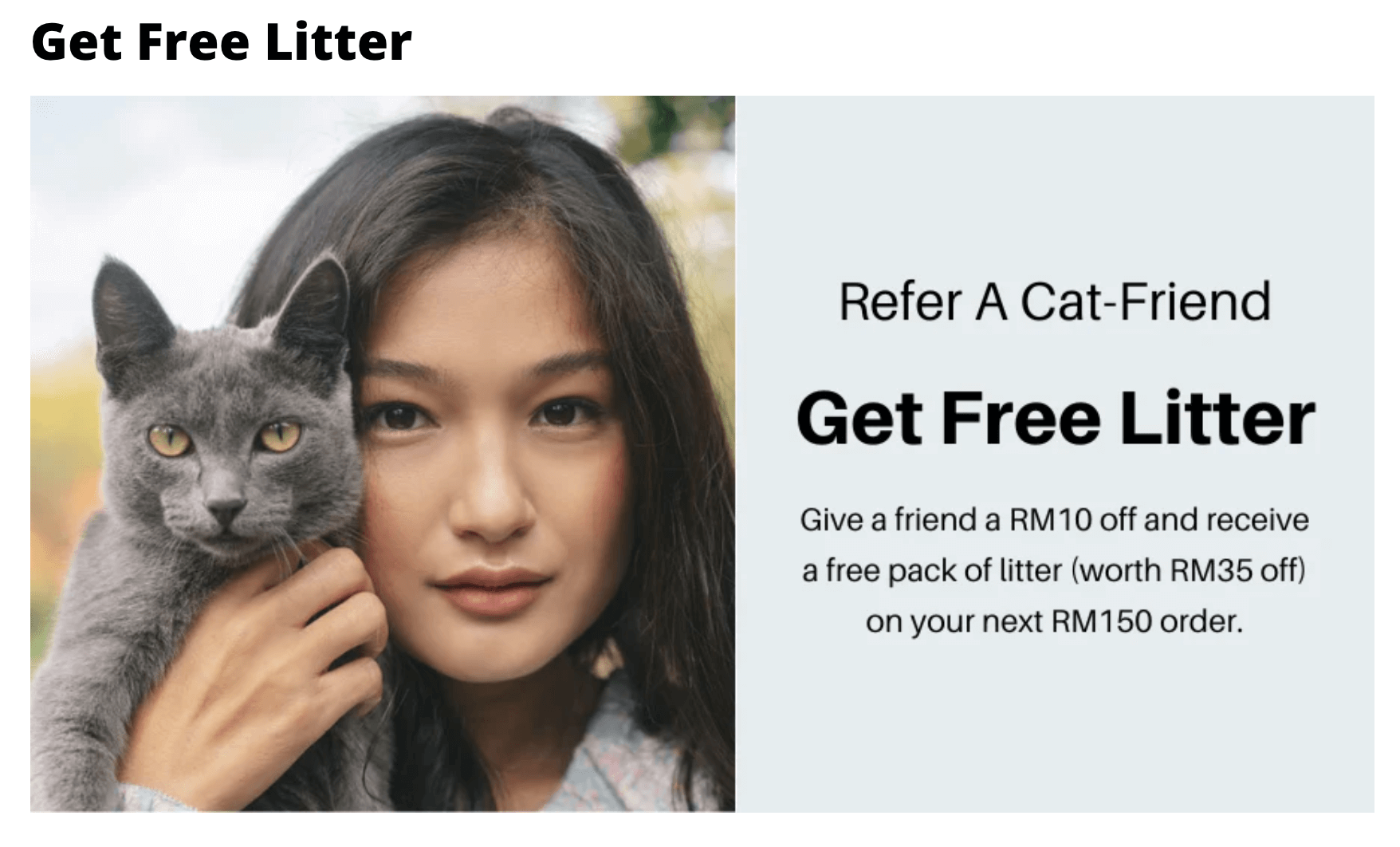 When customers refer a new cat friend, they give them RM10 off and receive a free litter (value of RM35) for themselves! With a high purchase frequency products like cat litter, offering an entirely free product as a referral reward is highly motivating and encourages your customers to turn from repeat customers to brand advocates.
Pottycats also offers a points program where customers can earn "Treats" for things such as making purchases, following the brand on social media, leaving reviews, or simply signing up. It offers a sign-up bonus of 600 points when customers create an account which is the perfect way to lock in customers in such a competitive industry like the pet supplies industry.
Customers also are rewarded 1000 points for each review they leave, which gets them halfway to redeeming their first reward with 2000 points giving them RM20 off their next purchase. Valuing this action so highly is a great strategy since social proof and trust are invaluable amongst pet owners. Pottycats also showcases these rewards prominently on a dedicated Reviews Page on its website, once again signaling transparency to new customers.
DoggieLawn Rewards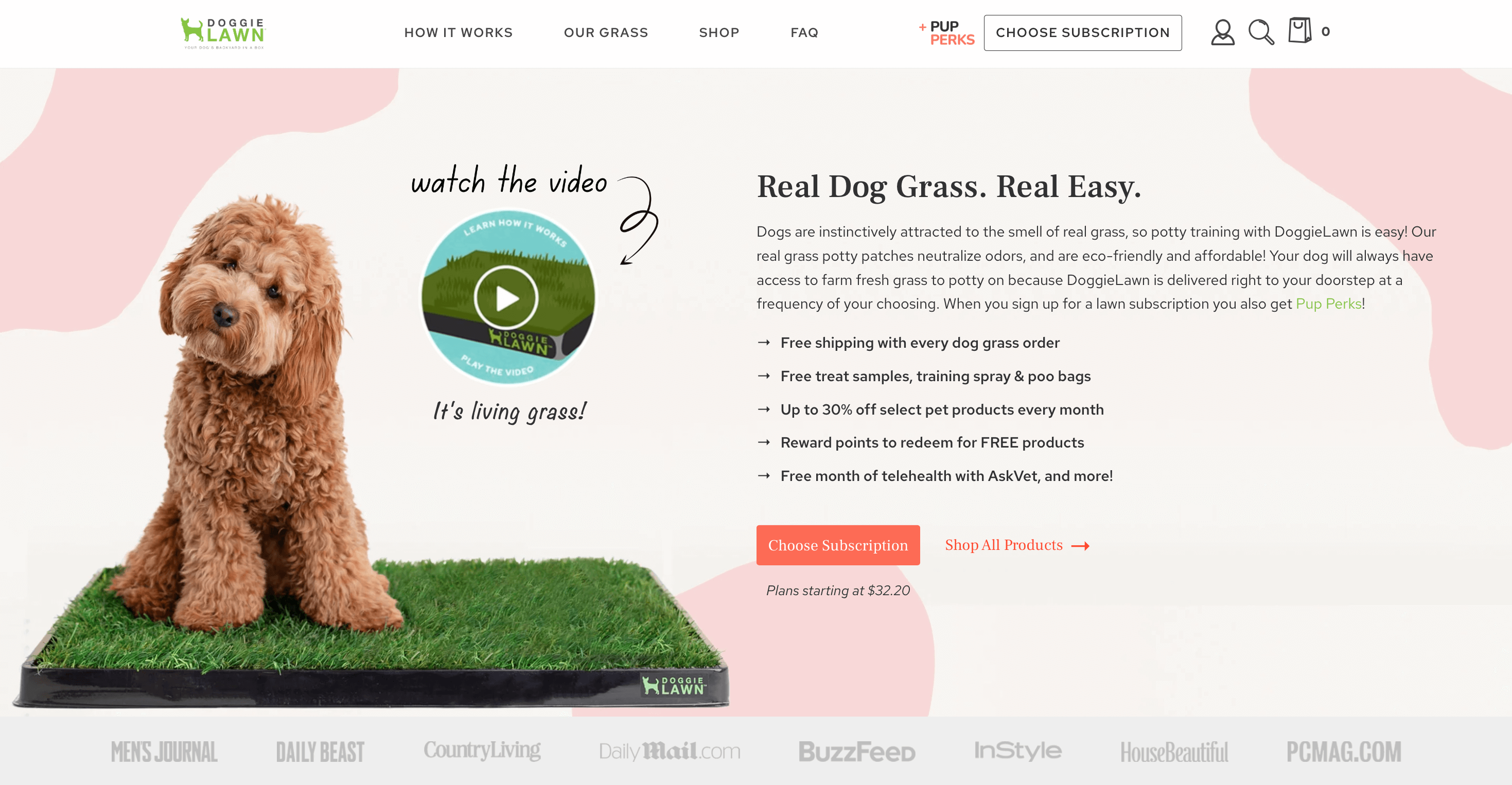 If you've ever brought a new puppy home, you've been through the highs and lows of puppy training—including house training or potty training your pup. DoggieLawn is a brand founded by dog lovers for dog lovers that aims to make this experience easier for everyone, pets and owners alike.
Its range of real grass pads is designed to work perfectly indoors or outside and uses natural and fresh dog grass to neutralize odors. It brings the natural backyard environment that dogs are drawn to into the comfort of your home in a sustainable and affordable way. Customers can choose from a variety of different sizes to fit their dog's needs and can even sign up for a subscription.
Using subscriptions is a great strategy to encourage repeat purchases and improve your purchase frequency. And pairing subscriptions with rewards is an even better strategy. That's what DoggieLawn Rewards does through its rewards program.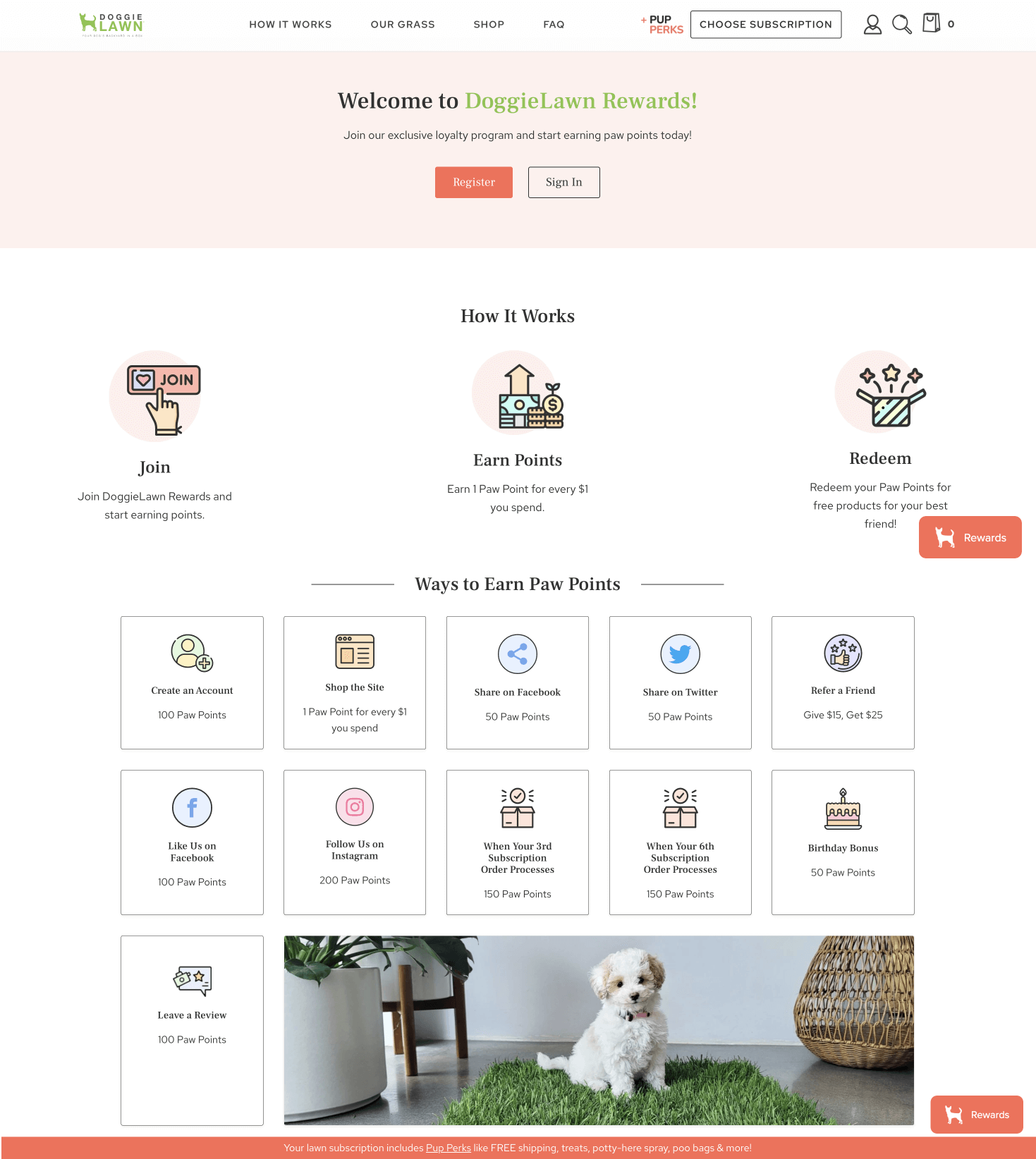 Customers are rewarded for their long-term commitment by unlocking 150 PawPoints when they order their 3rd and 6th subscriptions. This helps ensure a consistent purchase frequency and higher customer lifetime value. DoggieLawn has also tied its referral program to subscriptions by offering a $15 off lawn subscription coupon for new members and a $25 coupon for existing customers. This not only shows existing customers how much their advocacy is valued, but it once again acts as a switching barrier by incentivizing customers to opt for a subscription.
DoggieLawn Rewards also has its customers wagging their tails through the rewards offered. Customers can choose from a variety of free product rewards ranging from a collapsable travel bowl for just 200 points or an XL Doggie Lawn pad for 20,000 points. Offering a rewards catalog this robust ensures there is something valuable to everyone and creates a sense of exclusivity when customers unlock a high-value reward. Customers can get a new toy for their pup on every purchase or bank their points to cash in a big reward like the Ultimate Birthday Set or an XL DoggieLawn grass set.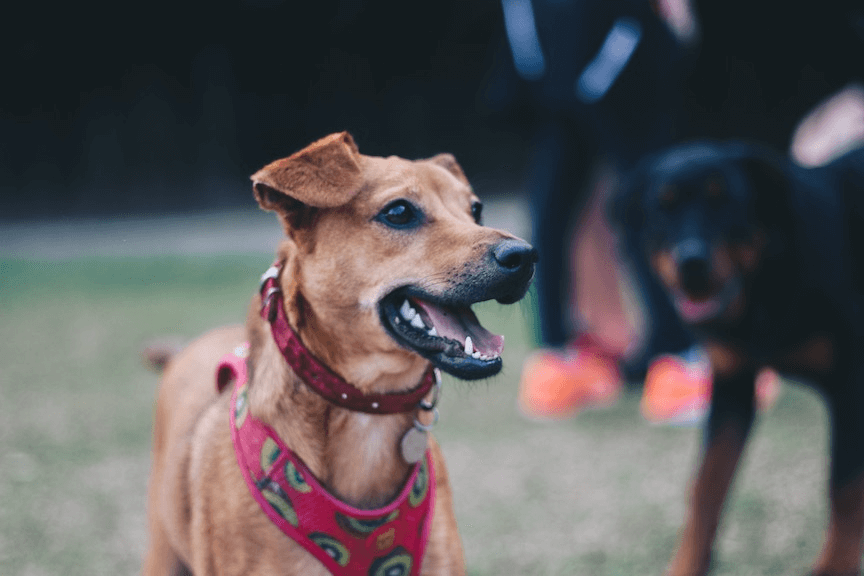 PUP Style's PUP Rewards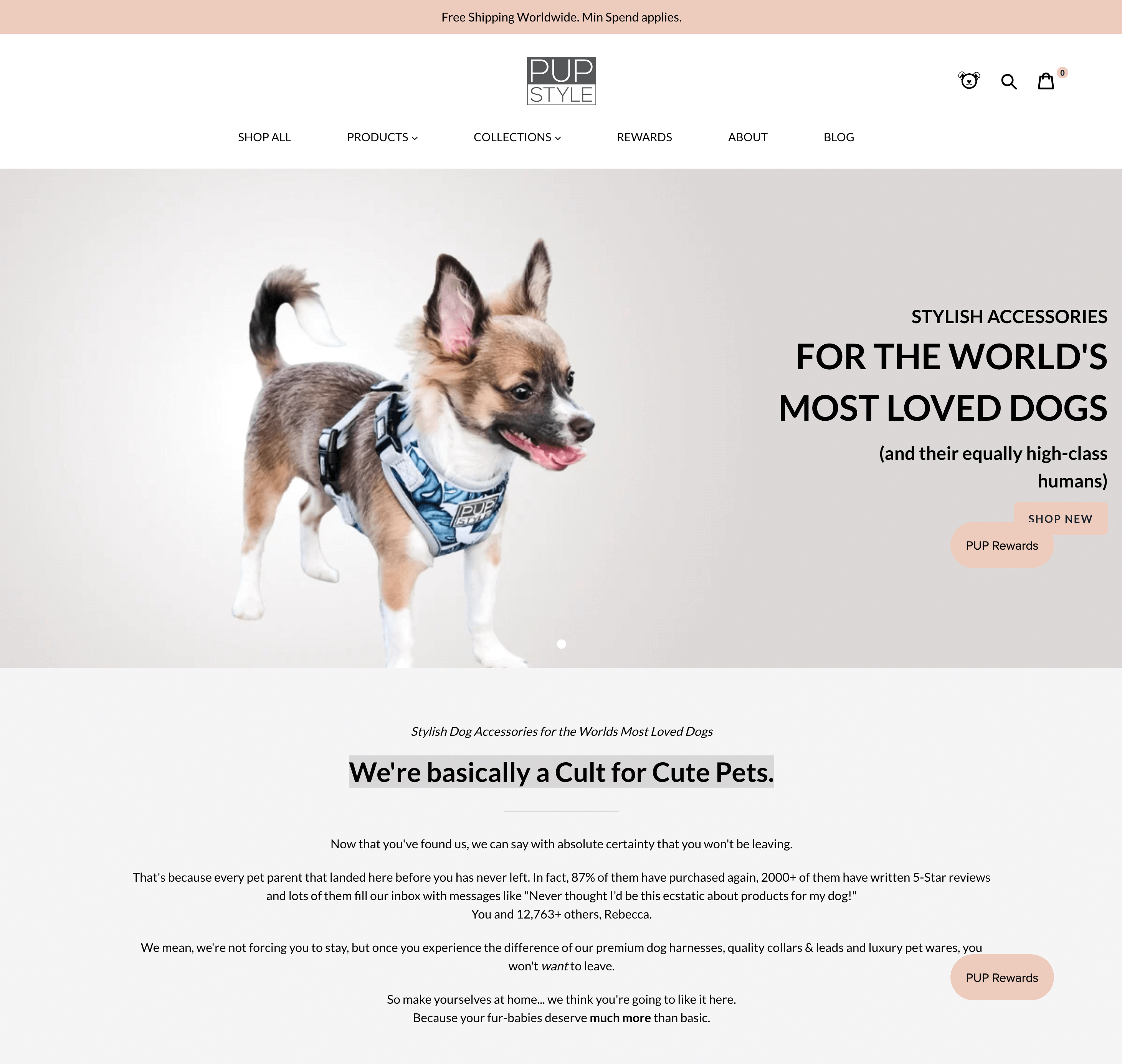 As you can probably tell by now, there are a lot of pet supplies brands out there. Convincing pet owners to stick by your side is no easy task in this industry, but sometimes you can let your community speak for itself. That's the approach Australian pet supply brand, PUP Style took and with over 50K social media followers, it seems to be working.
From the second you land on its homepage, PUP Style lets browsers know how much its customers love the brand. With a memorable heading like "We're basically a Cult for Cute Pets," followed by social proof statistics like its 87% repeat customer rate, and 2000+ 5-star reviews, it's hard to not be intrigued.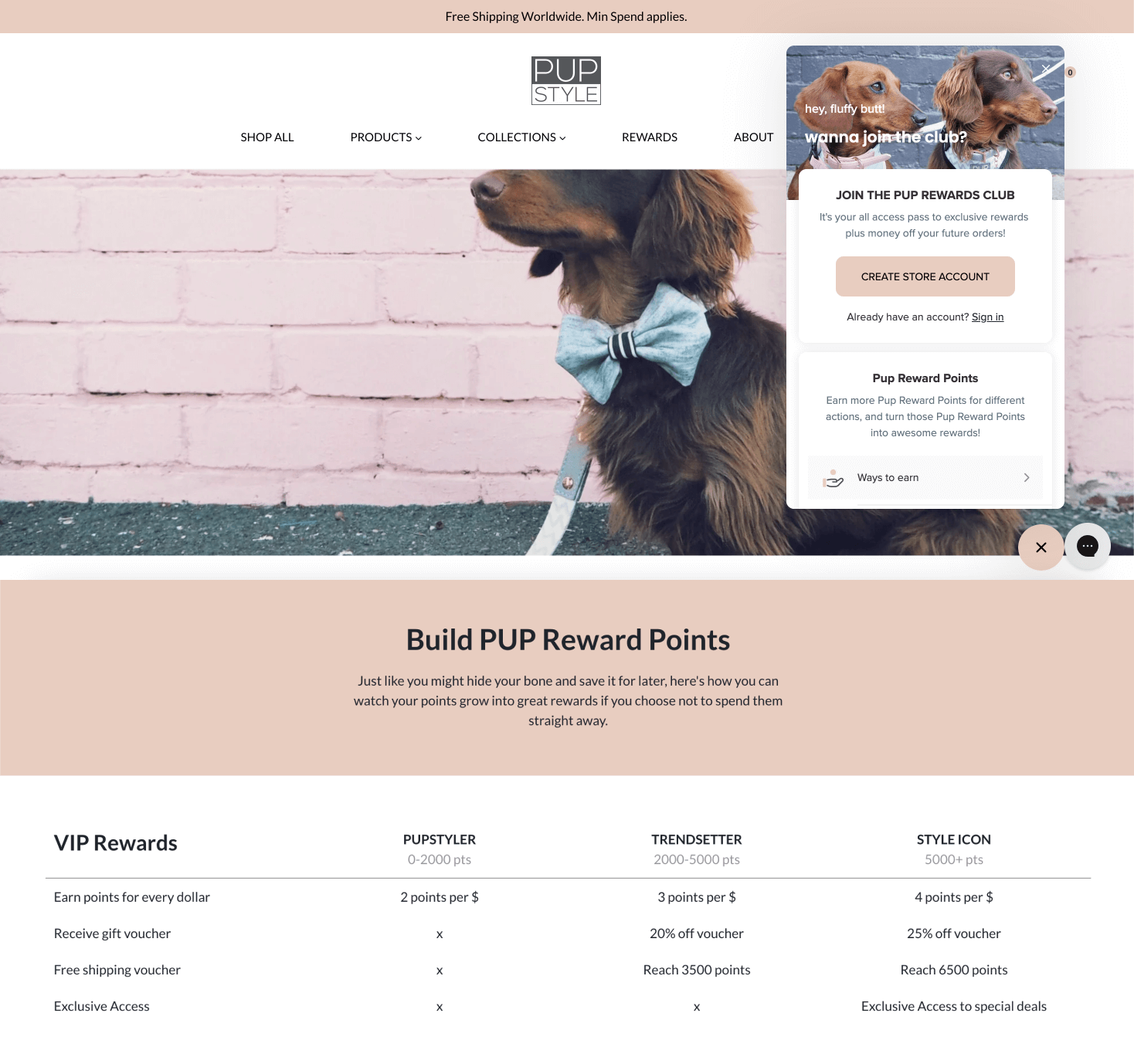 PUP Style invites customers to its loyalty program with cute, on-branded calls to action (CTAs) on its rewards panel like "Hey, fluffy butt! Wanna join the club?". This inviting language puts a smile on customers' faces from the jump and gets them excited about joining.
From there, PUP Style sweetens the deal with motivating VIP tiers that customers can work through to earn even better rewards. It offers more points per dollar spent for higher tiers and more exclusive rewards at each level. PUP Style's best customers in the Style Icon tier unlock exclusive access to special deals, as well as a 25% off voucher. This combination of transactional and experiential rewards keeps all customers engaged whether they are financially motivated or looking for status.
Mau's Loyalty Program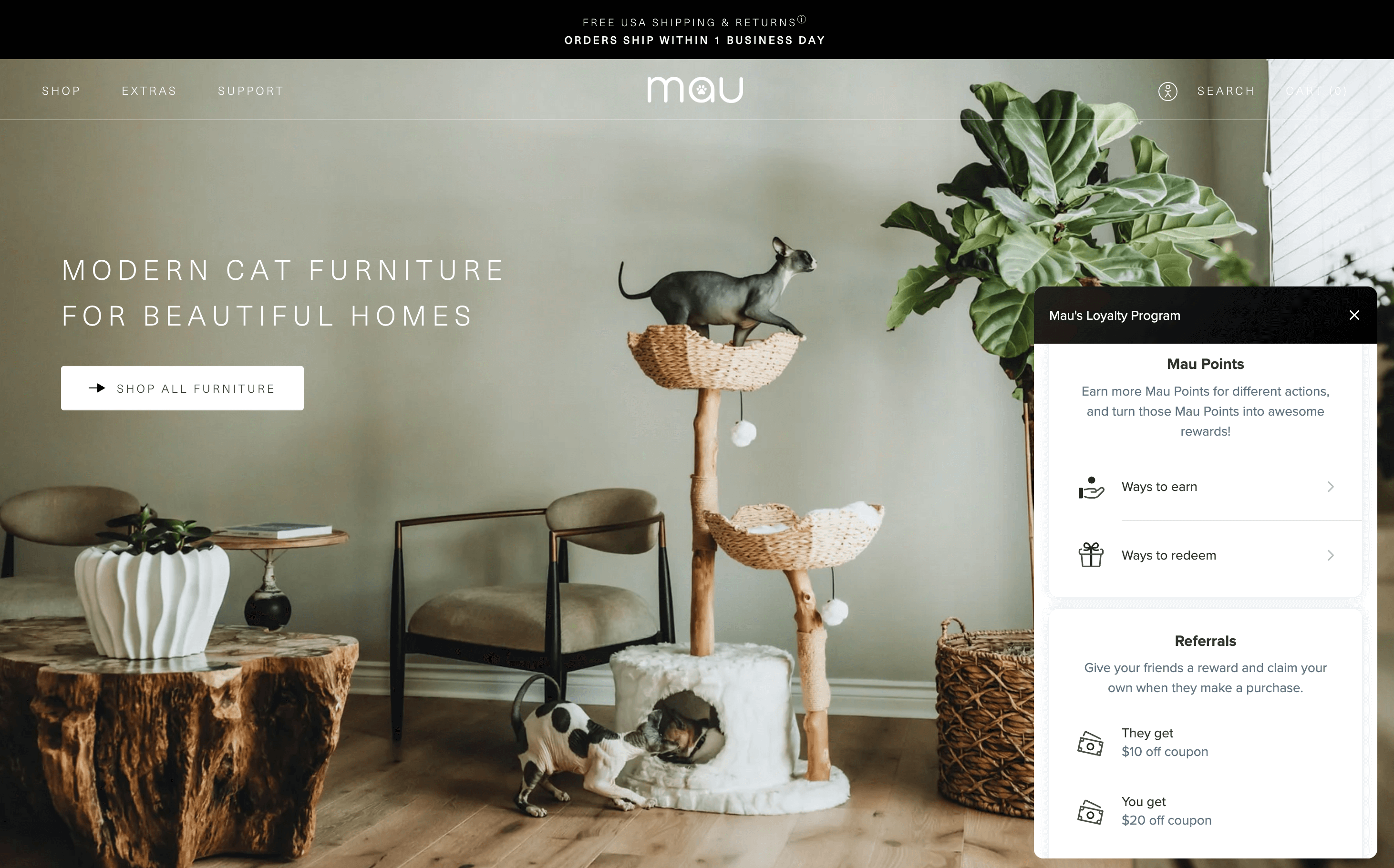 When you have a pet, you want to make your home as comfortable and enjoyable for them as possible. It's their home too, after all. But that doesn't mean you should have to sacrifice the aesthetic or design of your space. That's where Mau comes in—a pet care brand specializing in modern cat furniture for beautiful homes.
Mau's range of cat trees, beds, and scratch posts are made of the highest quality materials and are professionally designed to satisfy customers' kitties while looking like art in their homes. The brand also has sustainability engrained every step of the way. Mau donates 5% of all proceeds towards animal welfare and environmental conservation as well as planting 1 tree for every product purchased. Mau has its customer in mind with every aspect of its brand from product design and appearance to materials used to its social mission.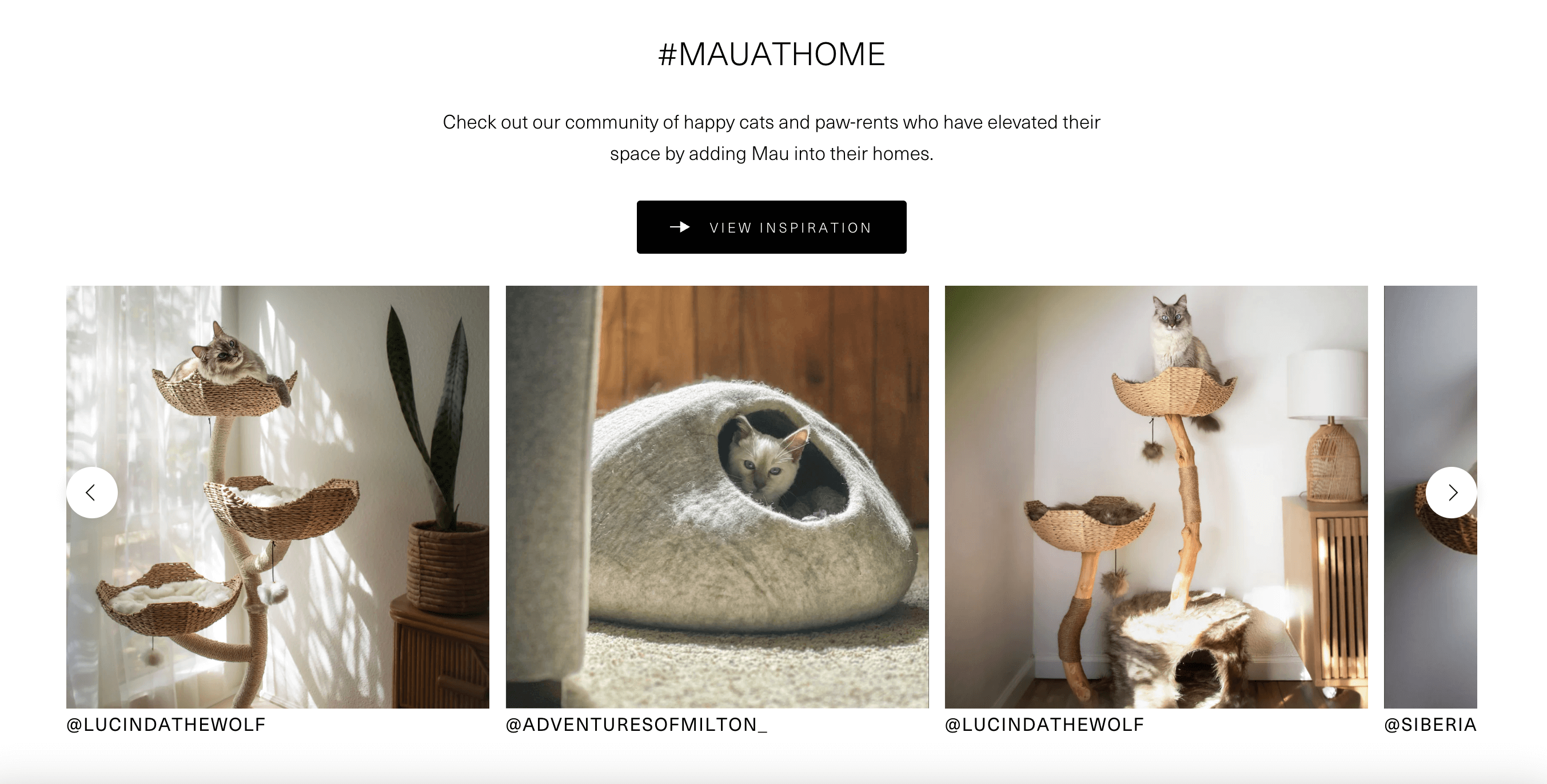 Although the beautiful designs speak for themselves, there's nothing more powerful than user-generated content from a dedicated brand community. Mau features customers' social media posts right on the homepage of its website using the hashtag #MauAtHome. Not only do new customers get to see inspiration, but existing customers get the chance to be recognized by the brand they love while showing off their happy cats. This type of experience is more generous than a simple discount to Mau's most loyal customers.
Mau bakes the importance of social media into its loyalty program seamlessly by rewarding customers for following the brand on Instagram and Facebook. By rewarding customers for engaging with the brand where it is most active, Mau simultaneously builds loyalty and a community. When you have more enthusiastic followers, it makes joining the online community all that more rewarding for newcomers.
Building loyalty with pets and their paw-rents
In an industry full of high-quality pet foods, grooming products, and accessories, it can be hard to keep your customers by your side. Adding a loyalty program to your ecommerce pet supplies store is one way to inspire loyalty.
Use these best loyalty program practices:
Add a referral program to build trust.
Offer free product rewards to encourage product trial.
Reward customers for user-generated content and reviews.
Celebrate your customers' pets' birthdays with generous birthday rewards.
Looking to retain customers with your pet supply brand?
Add a loyalty program that works for you!