This is part of our #SmileABCs series, highlighting and going in-depth with small businesses and ecommerce brands. Check out the full series here.
Adding a dog into your life comes with many new responsibilities and experiences, but most importantly, it adds a healthy dose of fun. This delight and joy are what Woof and Wonder aim to replicate with its products, posts, and brand in general. Being "anything but your average dog mom brand", Woof and Wonder is a Chicago-based dog accessory brand that sells high-quality, imaginative dog goods and sassy dog mom apparel.
After ten years in the corporate world, Leda Akyuz needed a creative change. If you take this and add the desire to stay home with her soul dog, Handsome, you have the grassroots origin of Woof and Wonder. "Through Handsome's Instagram and the French Bulldog community, we got to make tons of new friends and learn about what kinds of products we would enjoy introducing into the dog accessories space," Leda shares.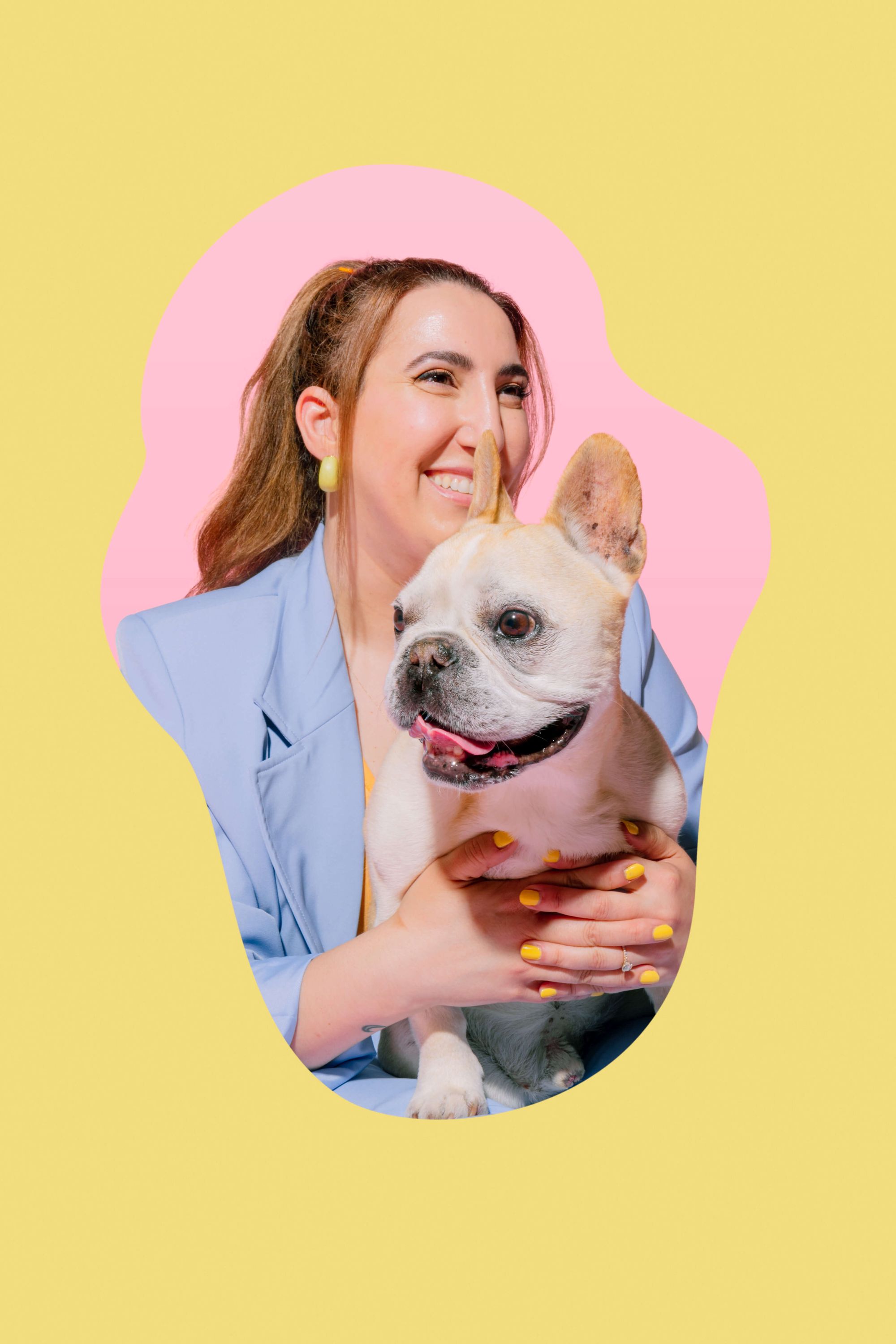 Although Handsome has sadly passed, he was and remains the inspiration, model, and face of the brand. Leda combined what she learned from other dog owners with her own silly imaginative stories (like dogs being in space) to create unique and functional collections for all dogs.
Building a community of passionate pup parents
Whether it's the great products, Leda's inspiring business tips, or adorable dog content, Woof and Wonder has built a thriving brand community. With 50k+ followers on TikTok and nearly 20k on Instagram, this fun, tongue-in-cheek brand has found its pack.
💗
"I'm lucky to have the greatest community of supportive, kind, and hilarious customers. They are an integral part of product development and give me a lot of inspiration AND feedback from start to finish. They trust that Woof & Wonder will always create fun and functional products which means the world to me."
- Leda Akyuz, Founder of Woof + Wonder
Although they have dozens of cute, sassy products available today, Woof and Wonder (like most small businesses) started with only a few. One of its original products was the Poopy Loop. "Our Poopy Loops have been a viral hit for nearly 2 years now and we are so proud! Customers love purchasing them for themselves and friends/family because they are so helpful on dog walks and cute as well." Because who said the age-old poop+scoop can't get just a tiny bit cuter?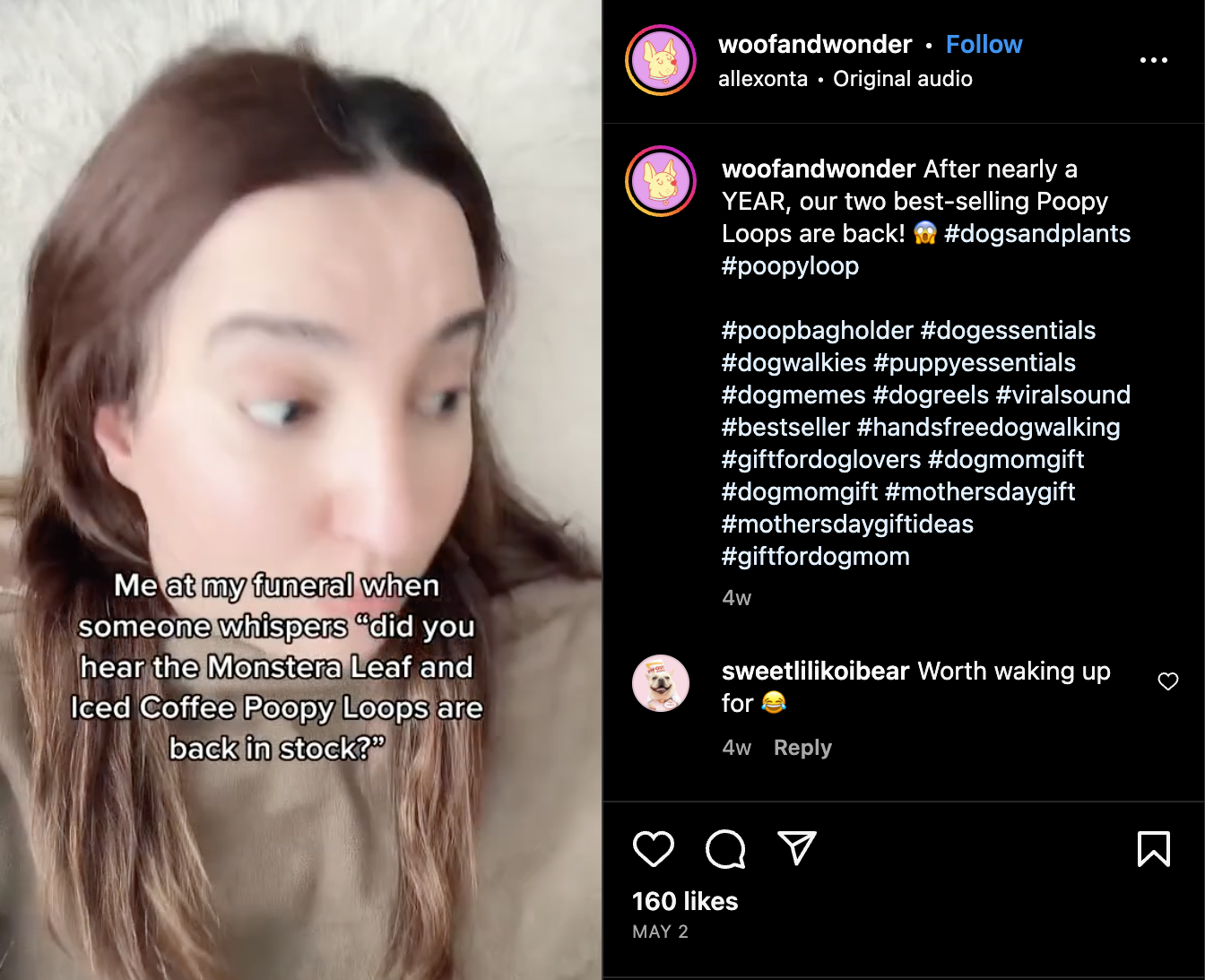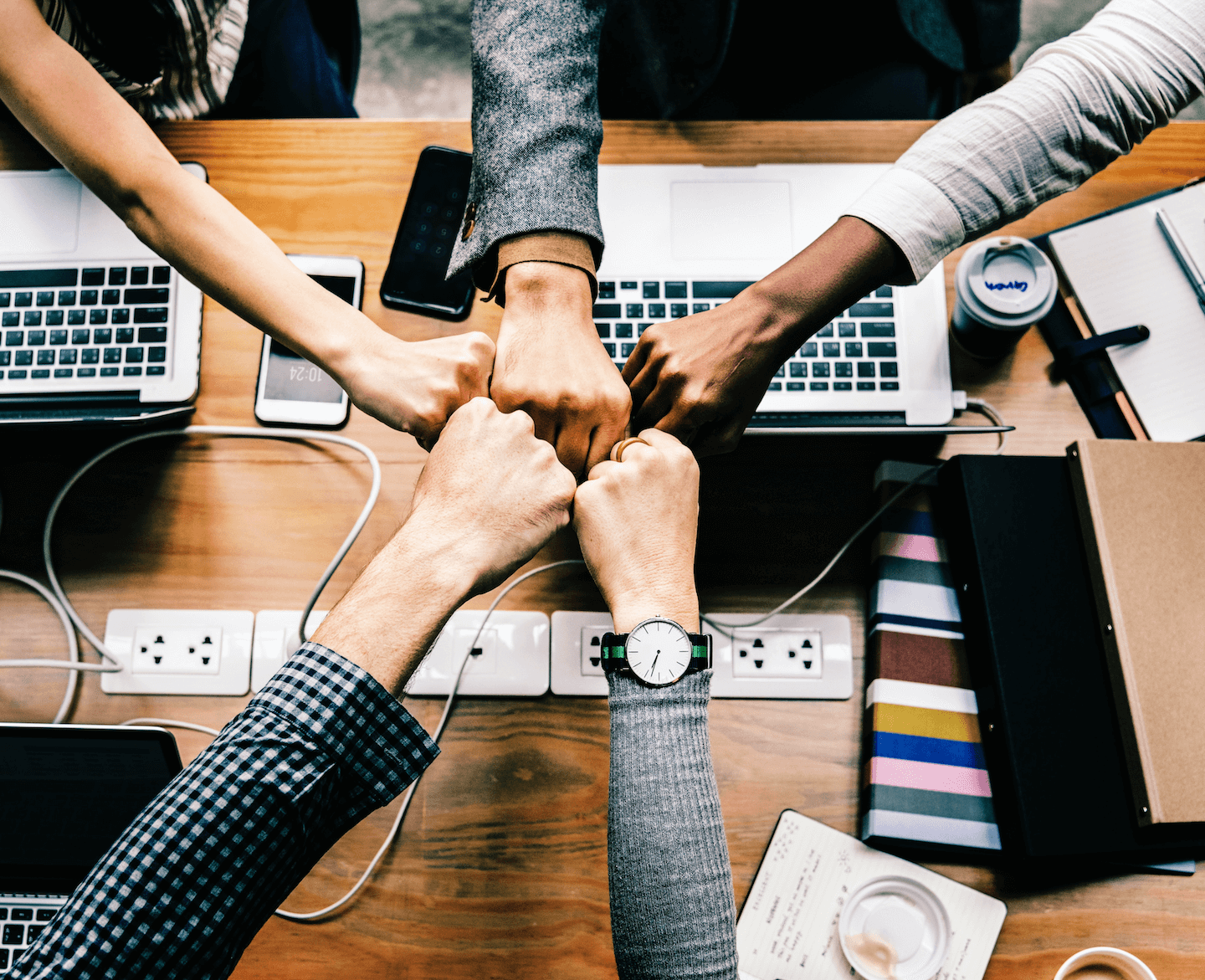 Wonderfam Rewards
Since Woof and Wonder's community has done so much for the brand, Leda was looking for a way to say thank you. The solution? A loyalty program! ;)
💰
"Loyalty rewards have been an incredible way to show our appreciation for each and every customer by allowing them to build up their rewards & redeem them in a variety of ways."
Wonderfam Rewards lets customers earn points (or Wonder Coins) for leaving reviews, following on Instagram, placing orders, and more. Customers can then redeem their Wonder Coins for discounts on their next purchase or free products, like the best-selling Poopy Loop. Leda tells us, "I love the freedom it gives us to create so many different rewards while allowing customers to choose which rewards they would prefer. Earning is so easy due to the messaging and automation, I wish I started sooner!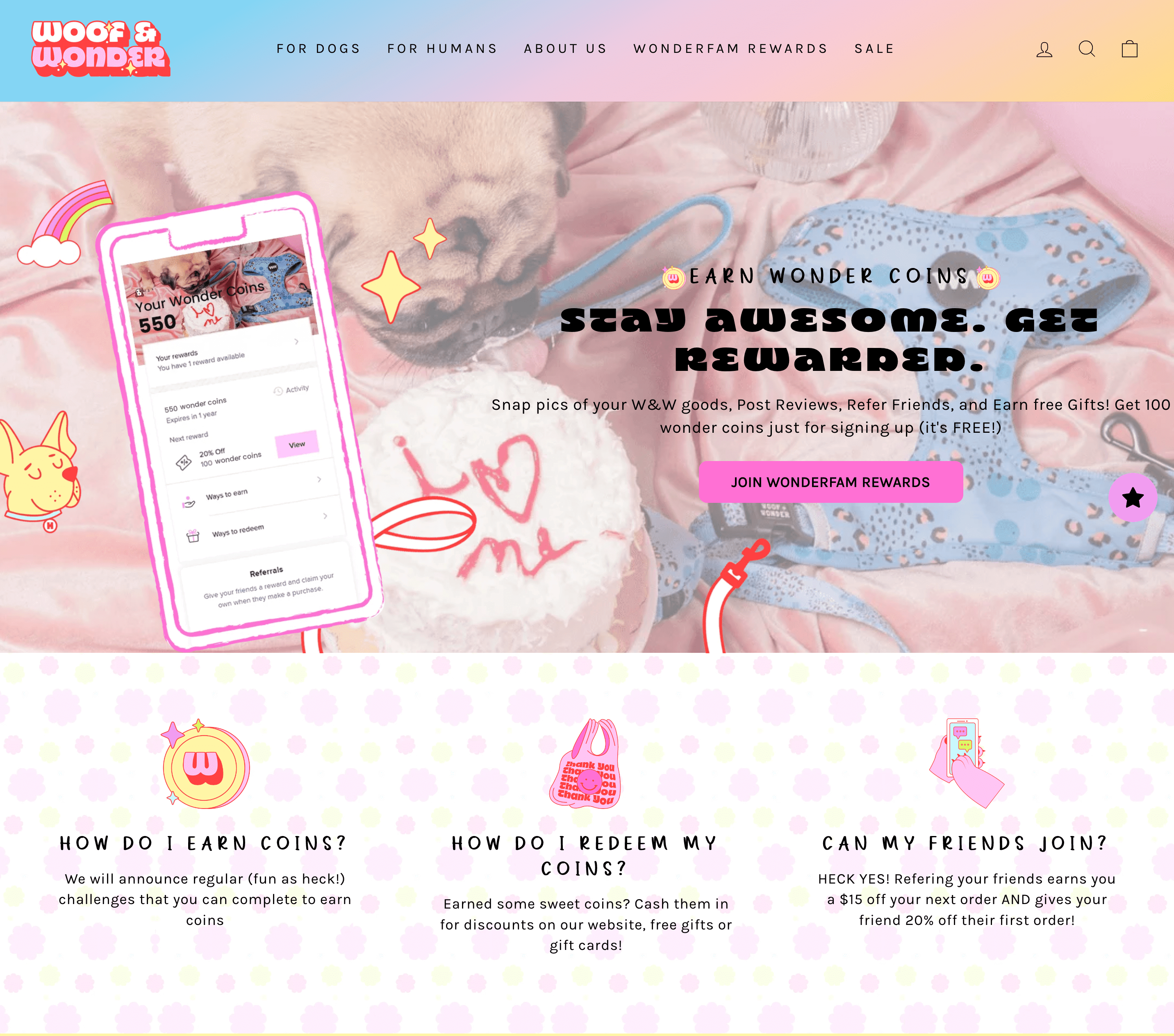 With a focus on providing a positive customer experience, Woof and Wonder loves the feeling customers receive from interacting with its loyalty program. "It allows our customers to feel that each purchase not only gets them a great product but also brings them a few steps closer to earning really cool rewards–it's like an extra benefit when they shop!"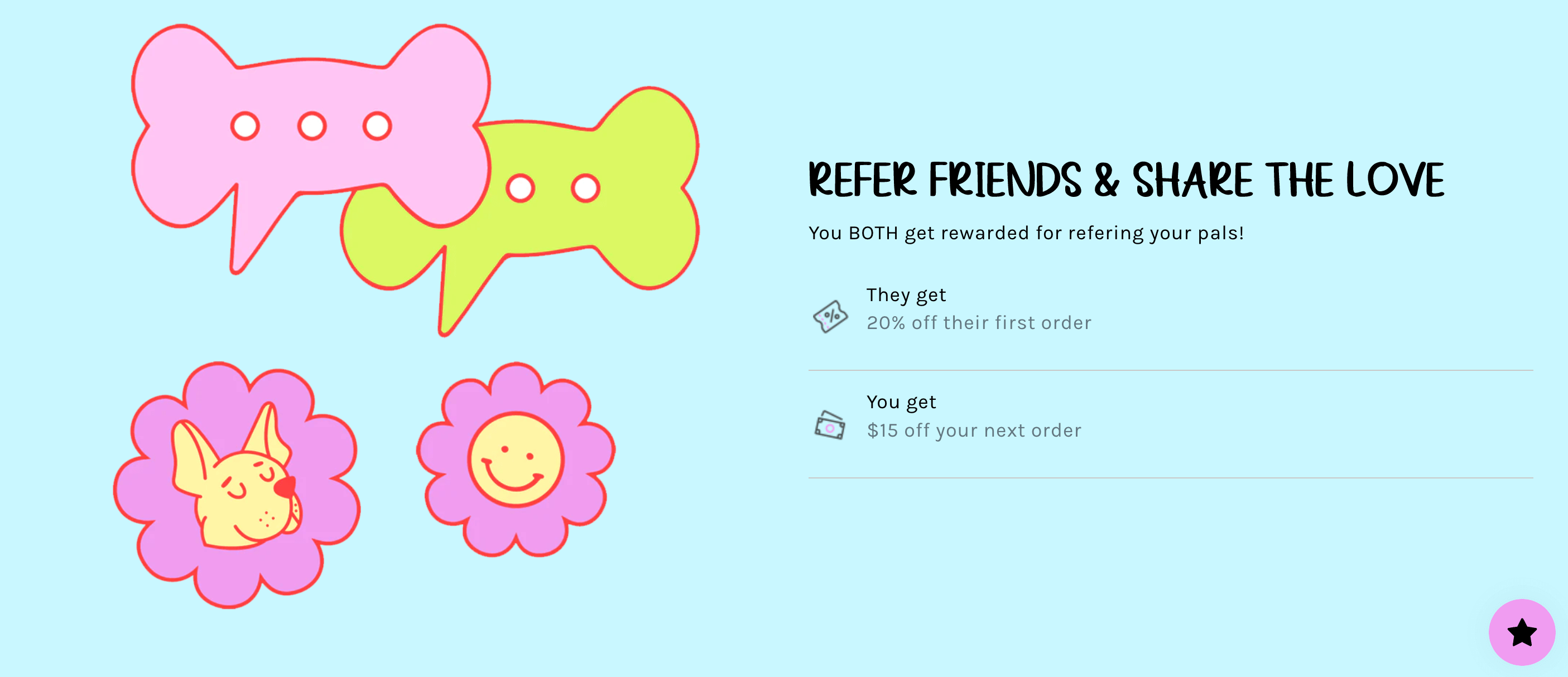 Wonderfam Rewards also offers a referral program where new customers get 20% off their first order and the referring customer gets $15 off their next order. This is a pretty sweet treat that's sure to leave dog parents celebrating and have their four-legged friends wagging their tails.
📣
"Customer satisfaction is our top priority and showing them that we care about their joyful experience has been possible with this program. A happy customer will spread the news to their friends and family!"
Social media advice from a multi-viral brand
Any marketing guru, social media manager, or content creator will agree on one thing–going viral is not a strategy. But, a great strategy can help you go viral.
Many small businesses start posting content immediately without a clear marketing strategy. Sure–some get lucky and gain popularity or that coveted viral status, but most end up experiencing burn-out or a confusing customer experience.
The Woof and Wonder team have gone viral multiple times on both TikTok and Instagram, and it wasn't just dumb luck. Leda shares some of her secrets to success, "For strategy, I try not to overthink it as I am prone to getting burnt out on filming quite fast. I have 4-6 video themes that I stick to which help prevent burnout or fatigue. Some examples are mini "day in the life" vlogs, order packing, product showcase, funny dog mom relatable videos, and business advice."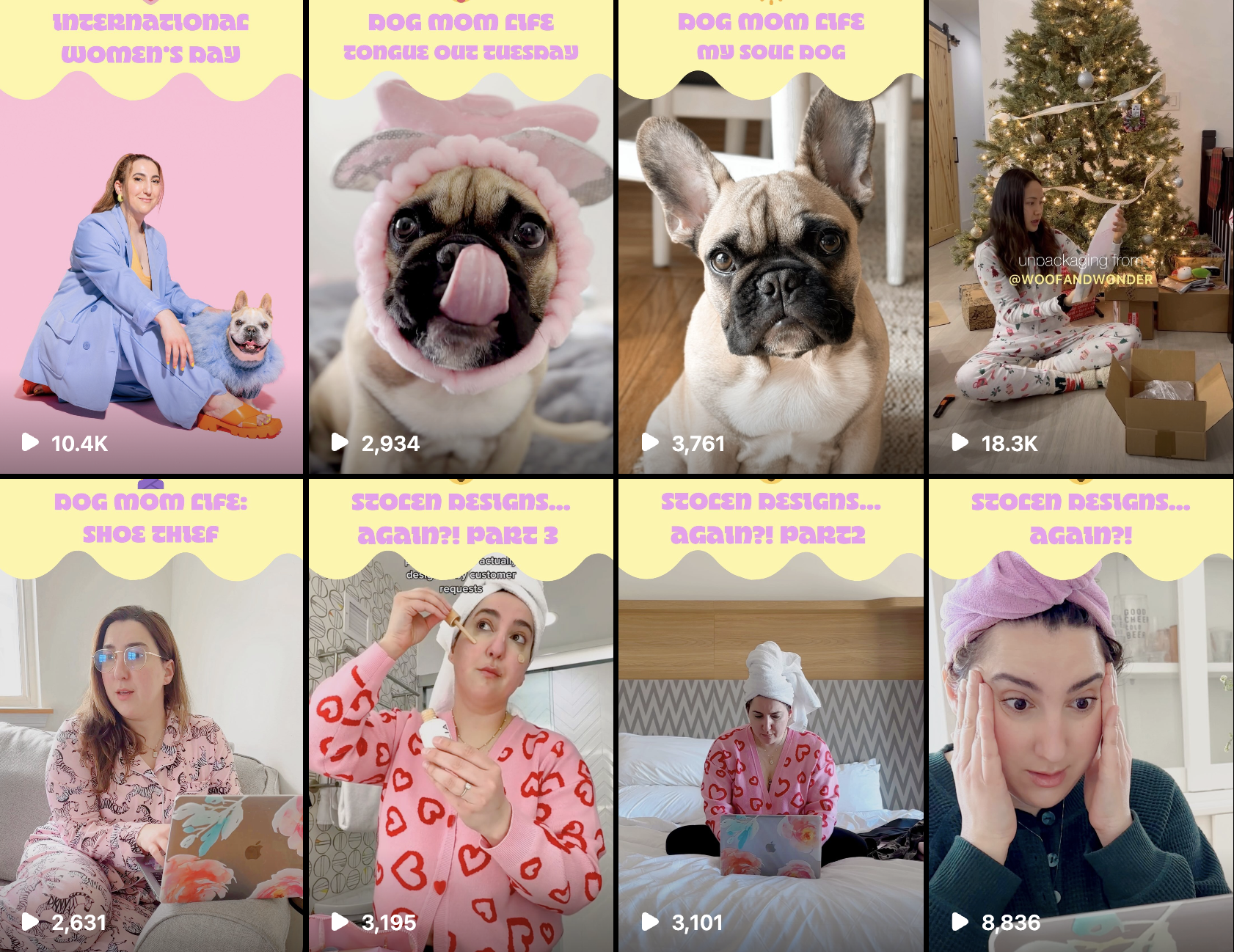 By sharing a variety of content, Leda feels she is able to share the complete story of who she is as a person and small business owner, allowing her audience to connect with her and build emotional connections. This is key for any small business. The reason people love supporting small brands is because they know they are supporting someone's dream and passion–so don't be afraid to share that part of your story.
🎬
"I've learned that being genuine is all you need to grow. Show up with a clear message that day. It can be as simple as "I had 1 order today, let's pack it & get a coffee" to a more complex message about your business failures. As long as you are sincere and ALLOW your audience inside, you will do great. Oh, and make sure you have good lighting."
No matter if you sell adorable and quirky dog accessories or high-tech gadgets, the lesson is the same–understand what matters to your audience. You need to create content that the people you're targeting will connect with. Once you connect with your community, learn from feedback, and have a clear marketing strategy, you'll be well on your way to achieving success just like Woof and Wonder.
Subscribe to Talking Shop, the Smile Newsletter
Advice from Entrepreneurs Right to Your Inbox