Nordstrom is one of those rare brands that screams both luxury and comfort. Between their fashion, home, and office products it's easy to find everything you need to build your dream lifestyle.  No matter what you're looking for, Nordstrom has it – including a fantastic customer loyalty program.
Like many other large department stores, Nordstrom has developed a retention marketing strategy that targets their best customers.   With Nordstrom Rewards, customers have the chance to earn a wide range of transactional and experiential rewards with every purchase.  But what does this program actually look like?  To answer that, we're going to have to dig a little deeper.
The Benefits of Nordstrom Rewards
Like any loyalty program, Nordstrom Rewards is designed to make customers happy. However, unlike other rewards programs, Nordstrom has a few extra tricks up their sleeves that set them apart from their competitors.
1. Canada Debut Rewards
As you recall from my Marvel Insider case study, I often fall victim to what I refer to as "the plight of being Canadian".  Many products and services aren't available to me and my fellow Canucks simply because we're not American, and this can be extremely frustrating.
Thankfully, this isn't the case with Nordstrom Rewards!  As the company breaks into the Canadian market, they have adopted their program in order to make it available for an entirely new branch of customers.  The best part?  Canadian shoppers are offered the same earning and redemption model as their American counterparts, which means that no value is lost for new and existing members.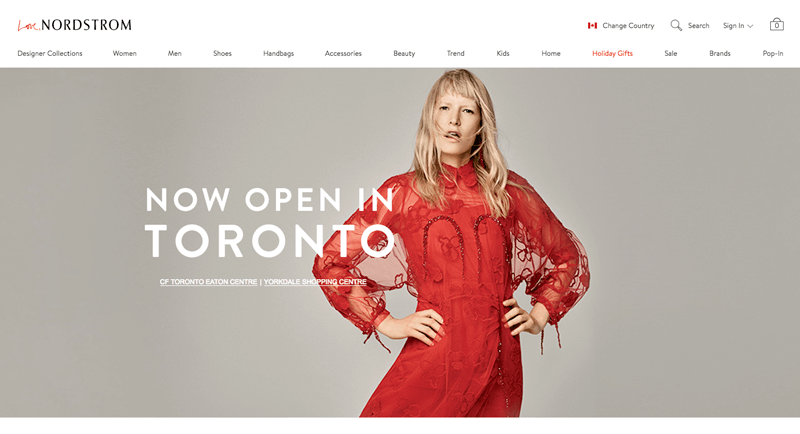 While they might seem like minor matters, these considerations help expand Nordstrom's marketing reach while making an entire region of new customers feel welcome to the Nordstrom family.  It's nice to be properly acknowledged for a change, and this makes Nordstrom Rewards a big winner in the customer experience department!
2. Generous Redemption Period
One of the biggest crimes any loyalty program can commit is setting narrow redemption windows.  Simply put, customers don't like being put under pressure, and as a result are more likely to join a loyalty program if it gives them a comfortable redemption turnaround period.

Nordstrom Rewards delivers in this department, too!  When a customer earn points, they have 3 years from the last day of the year that the points were issued to redeem them.  This means that if I earned points in March 2016, I would have until December 31, 2019 to redeem them - a full 46 months from my purchase date!
This is an exceptionally healthy redemption window that gives customers the choice of how and when to redeem their rewards.  So whether a shopper wants to stock-up their points or spend them throughout the year, they can. On top of that, customers receive emails that inform them of their points balance throughout the year to keep them aware of their account activity.

By acknowledging these different customer behaviors, Nordstrom Rewards is able to eliminate a very common loyalty pain point for their shoppers. Nordstrom's program members are able to see, save, and spend their points in ways that fit the diverse needs of each customer. These are the types of considerations that make Nordstrom Rewards a program for any shopper.
3. Credit Card Rewards
Like many of their competitors, Nordstrom gives customers the option to apply for a credit card that earns them extra rewards.  This is a fantastic addition to their loyalty program for two reasons.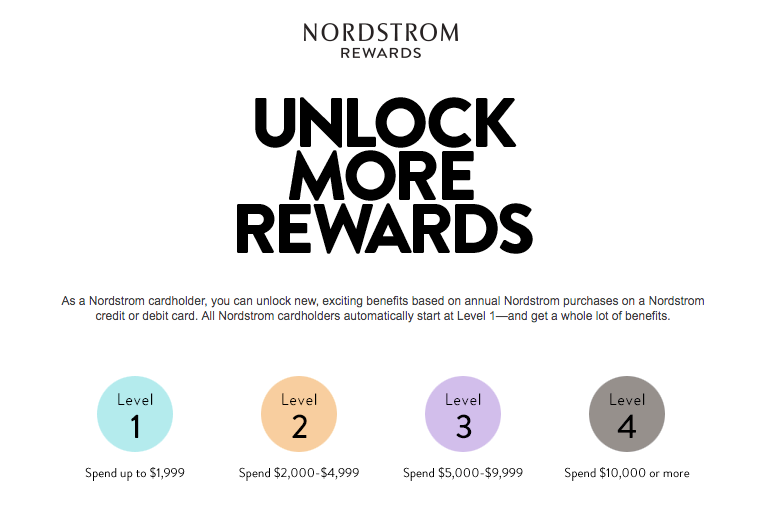 First, customers are able to earn double the number of points when the make a purchase at Nordstrom with their Nordstrom credit card.  In other words, instead of one point per dollar they're earning two. This double points offer acts as a great retention tool that keeps cardholders engaged with both their Nordstrom credit card but also the Nordstrom brand as a whole.

Secondly, customers can earn rewards for any purchase made with their Nordstrom credit card – no matter where it's used.  This allows the Nordstrom Rewards program to be seamlessly integrated into a customer's lifestyle and keeps it top of mind for every shopping trip.
The Downside of Nordstrom Rewards
No matter how fantastic a loyalty program is, I have yet to find one that's perfect from top to bottom.  Nordstrom Rewards is no exception, and the following observations made this loyalty program a little less appealing.
1. Lack of Information
I've always been someone who needs to know what's going on.  Some people might call that being nosy, but when it comes to loyalty programs you can never give your customers too much information.  That's why we recommend brands design explainer pages to help educate shoppers on the ins and outs of their program.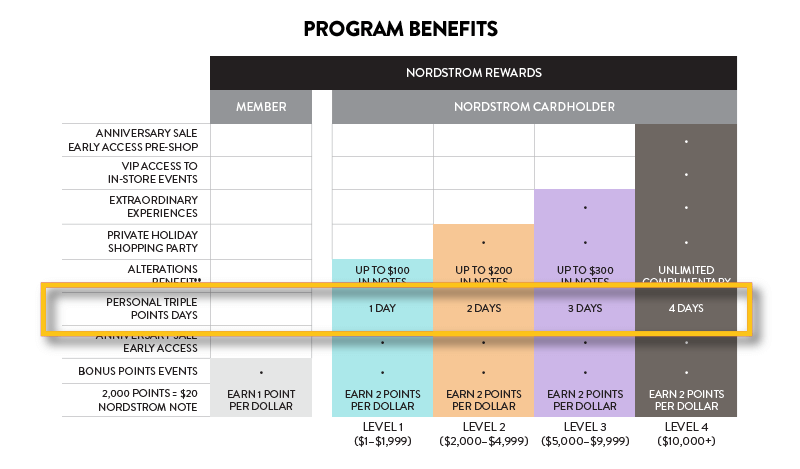 While Nordstrom does have an explainer page, it could definitely be more informative. For example, their Benefits table mentions Triple Points Days but doesn't really elaborate on what that means.  Even though I can assume what these days are, it's important that customers be told explicitly to ensure the value of the program is understood by every single customer.  These are the types of details that can turn an exceptional customer experience into a frustrating one.
2. Unclear Organization
Remember how much I love the Nordstrom Rewards credit card?  Well, just because you love something doesn't mean you think it's perfect (just ask my mom).
When you look at the Nordstrom Rewards explainer page, you can see that they've broken some links out into a different section called Cardholder Exclusives.  The card in question is the Nordstrom credit card.  Since this information was labelled differently, I expected it to be dramatically different from the information about the general program.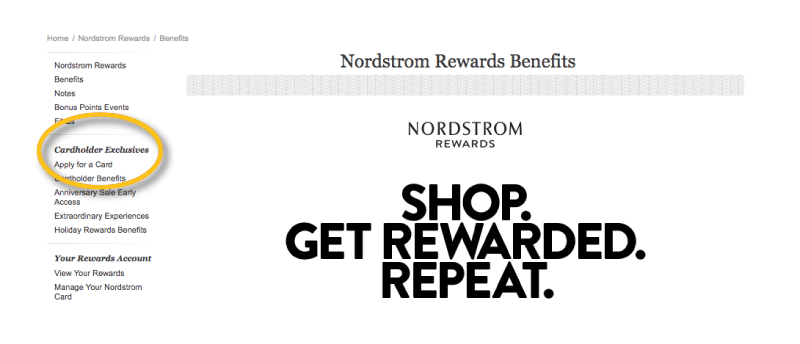 Unfortunately, most of the information in both sections is the same which leaves me wondering why they bothered to make the distinction.  If a brand is offering two different loyalty features, it's important to make sure that the information is specific and grouped accordingly.  In the case of Nordstrom Rewards, the true value of their branded credit card is hidden within the FAQ section, making it difficult for customers to find the value of engaging with this component of the program.
3. Incomplete Rewards Section
This is a continuation of my previous point.  I mentioned that the Bonus Points Events page was blank, and this prompted me to click-through each of the other pages listed in the navigation menu.  This led to the discovery of yet another blank page – Notes.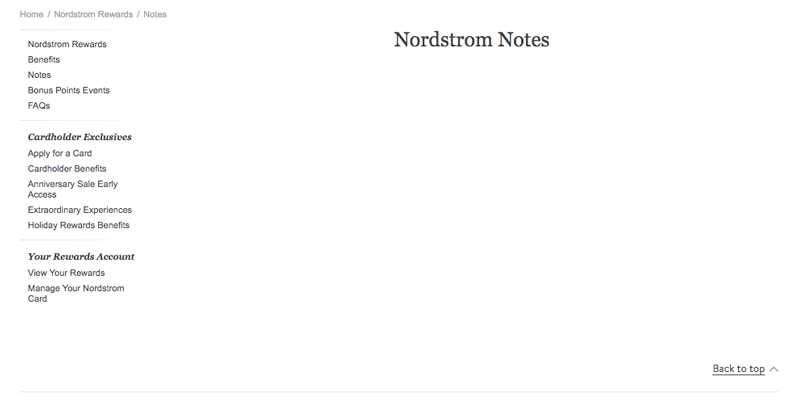 This is very concerning since Nordstrom Notes is the program's discount currency. These blank pages create confusion and make the entire program seem a bit unprofessional.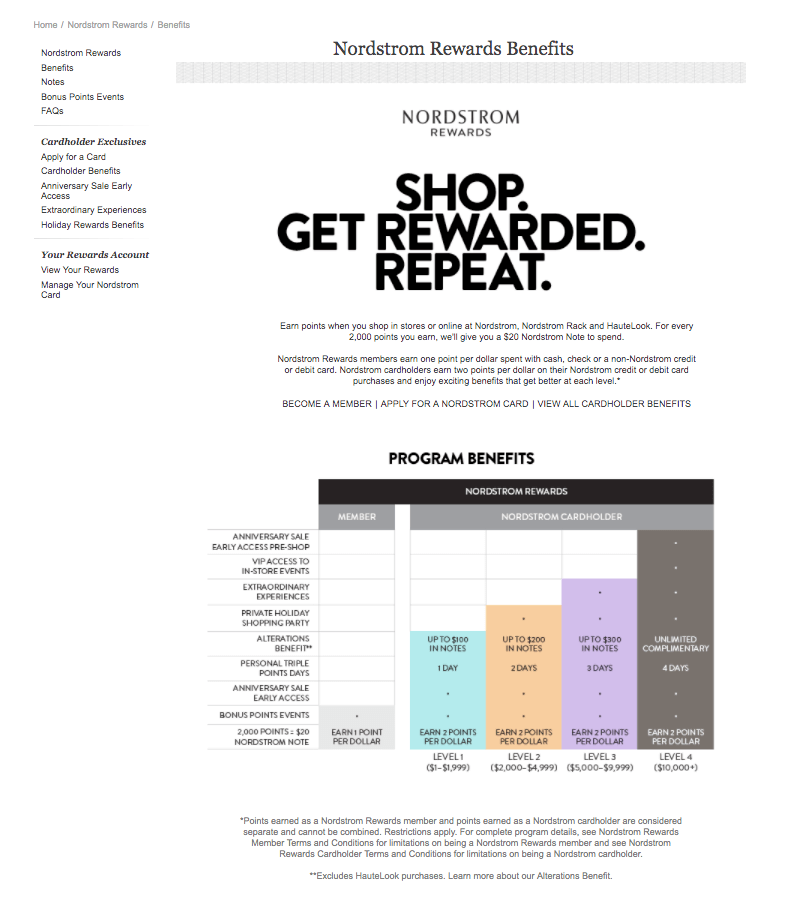 This lack of professionalism continues with the cluttered feel of the explainer page.  With small text and minimal graphics, each section is difficult to absorb at a glance.  This, combined with the unclear organization, makes the program seem confusing and difficult to join.  These considerations are huge roadblocks to getting customers to join a loyalty program – no matter how appealing the rewards are.
Bringing It All Together
My discussion of Nordstrom's loyalty program makes it clear that a functional explainer page is key to both customer satisfaction and understanding.  With more information about specific rewards, clearer sections, and a more streamlined design, Nordstrom Rewards would be better equipped to highlight each of the program's amazing features.
That being said, Nordstrom Rewards is still able to satisfy their customer's needs, and continues to do so!  By including their growing Canadian market in the program's structure and combining credit card rewards with generous redemption periods, Nordstrom has crafted an experience that appeals to shoppers of any kind.