When you look at the numbers, the fashion industry is an extremely attractive market to be in (pun fully intended). With the global apparel market estimated to be an over $1.7 trillion industry, the market is huge.
This is directly related to the fact that, as a society, we love to shop for fashion. In the past few years, customers are changing their habits from only shopping in-store to purchasing online with 76% of Americans shopping online for clothing.
With so much money being spent every year, the fashion industry is extremely competitive. As the cost of acquiring new customers continues to climb, many online fashion retailers are turning to loyalty programs and customer retention. While programs continue to become more commonplace in this highly profitable industry, a few stand out from the rest.
Here are 5 great loyalty examples in the fashion industry that help retain customers and increase profitability.
Blackbough Swim's Beach Club Rewards
Blackbough Swim is a bikini brand "designed for the tropical soul". Founded in the owner's bedroom in the Philippines in 2017, this brand has grown into a cult classic with over 800K followers on Instagram. The secret to their success? A thriving community that customers want to be a part of, built partly through their loyalty program–The Blackbough Beach Club.
There's a lot to love about this loyalty program, but the first thing that caught our eye is how it is a natural extension of the rest of the brand. When customers land on the program explainer page, they're greeted with on-theme beach images, matching brand colors and fonts, and a playful brand voice that matches the rest of their messaging.
If the inviting design isn't enough to convince customers to join, the rewards will have them diving in head-first. The Blackbough Beach Club offers a variety of motivating reward options from free products like tote bags and their best-selling bikinis, to free shipping or 20% off. Offering a variety of rewards is a great way to appeal to a wide range of customers.  
Blackbough Swim ties their loyalty program together by promoting it well on social media, offering points for photo reviews to build social proof, and offering a referral program. We've got total heart eyes for Blackbough's Beach Club.
Nordstrom's Nordy Club
Nordstrom is another great example of a large fashion retailer doing loyalty right. Nordstrom uses tiers to create an engaging customer experience with exciting rewards at every VIP level.
While The Nordy Club program only focuses on rewarding shoppers for purchases, they incorporate bonus point events and the rewards they offer make up for the lack of variety in their earning actions. Customers can redeem their Nordstrom Notes for anything from $10 off to exclusive VIP store events and personal in-home stylists.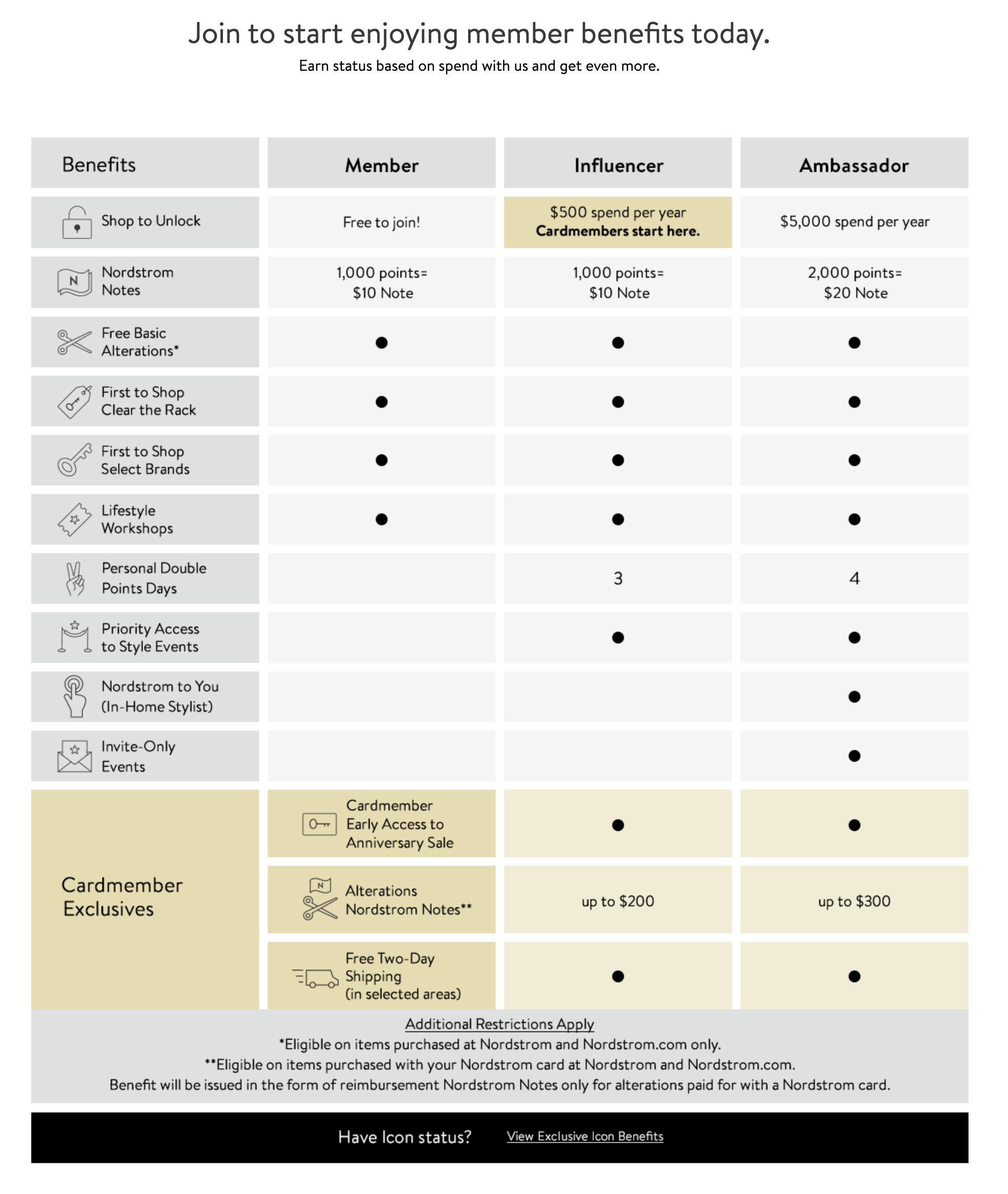 As you can see, these types of experiential rewards are reserved for Nordstrom's two upper tiers. This is a great example of aspirational marketing at work because it plays upon your customers' desire to be part of an exclusive, luxurious club.
Nordstrom's special points events are another exceptional component of their program.  Several times a year, Nordstrom hosts events where customers can earn bonus points or be given exclusive access to products and sales. The additional point days are both a great way to drive additional business and promote a loyalty program. These events, along with their other exclusive rewards, help set Nordstrom's Nordy Club apart.
By incorporating special reward dates and exclusive rewards into your rewards program, you can make it more valuable to existing and new customers!
Misha Nonoo's MN Network
One of the main goals of your loyalty program is to build a community of loyal brand advocates. Misha Nonoo accomplishes that by appealing to their customers' feminist values through their loyalty program communications. From an invitation to join a network "for the world's most interesting women," to a referral program that is all about "women supporting women", it's clear that female empowerment is at the forefront of this loyalty program.
In an industry such as fashion where customers have endless options, it's important to appeal to them on more than a superficial level. When customers join the MN Network they get access to "membership that matters" and gain access to a variety of exclusive rewards such as priority service, customized styling advice, and invitations to online and offline events.
Misha Nonoo also leverages the power of a tiered-VIP program to engage its customers. Tiered loyalty programs are fantastic because they encourage customers to return to your store more often to earn better benefits. With the MN Network, customers start as an Associate and work their way up to a CEO. Each time they level up they gain better perks, such as a higher annual tailoring allowance and free in-home styling appointments.
Using experiential rewards gives your customers something more valuable than a nice shirt or dress–it gives them positive memories and feelings that they associate only with your brand.
KYDRA Activewear's KYDRA Rewards
While many fashion retailers specialize in business or casual attire, other brands choose to cater to other elements of people's lifestyles. Singapore-based brand KYDRA specializes in activewear and has successfully built an engaged community of athletes named the #KYDRASQUAD.
🛒
"To grow our community, we launched our loyalty program, KYDRA Rewards, in April 2021, using Smile.io. Through this, customers earn points with every dollar spent and can then accumulate and redeem their points for discount vouchers, thus encouraging recurring purchases," says Rachel Seet, Marketing Lead at KYDRA.
This culture is what allowed them to develop a community-oriented loyalty strategy that rewards its customers for sharing on social media and referring friends to the store. Program members can earn 400 Kydra points for referring a friend who also gets a $30 off coupon. This referral reward ensures customers will return to the store to redeem those points.
KYDRA has done a great job of building a community centered around living an active lifestyle, evident by the thousands of tagged photos their customers post. By offering points for following them on social media or posting reviews, KYDRA is encouraging customers to share this valuable user-generated content.
"Since the launch of the KYDRA Rewards program, our customer database has grown by more than 70%."
In the fashion industry, UGC is like gold–customers want to know what the products look like on real people that they can relate to. Rewarding your customers for reviews is a must in the fashion industry.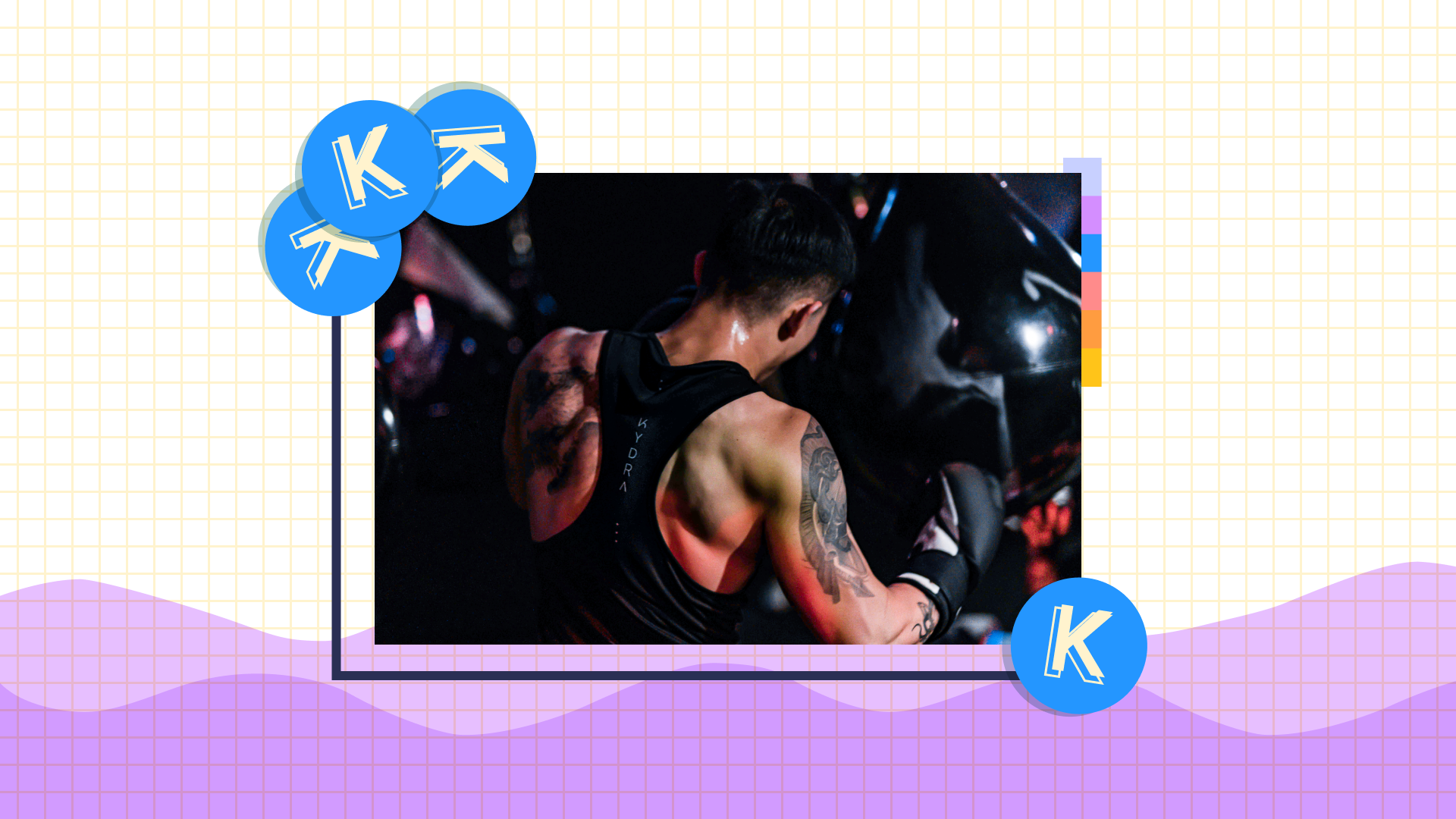 ROOLEE's Club ROOLEE
With three different brands catering to different shoppers, ROOLEE attracts a wide range of customers. But this Utah-based fashion brand invites everyone to join its loyalty program, Club ROOLEE. No matter if a customer is shopping from ROOLEE, Salt, or ROOLEE Moms, they can earn points on their purchase to redeem for rewards later on.
Club ROOLEE allows customers to earn their aptly named Roowards Points on purchases, social media interactions, and for leaving reviews. Customers can then cash these points in to save on their next purchase.
Club ROOLEE also incorporates a VIP program to encourage customers to shop with them even more often. Members move through Insider, Trend Setter, Style Muse, and Icon tiers, earning more exclusive rewards along the way. Not only do these VIP tier names reflect the brand well, but they add to the fun for customers! Club ROOLEE members want the title of that Icon status as much as they want the rewards along with it–a personal 10% code on all purchases, automatic entry into Icon-only giveaways, and an exclusive Icon handbag.
When you make the perks at the top of the VIP ladder as exclusive as ROOLEE has, customers will want to climb their way to the top.
Tips for loyalty programs in the fashion industry
We hope the examples we provided here have given you ideas of what a loyalty program could look like for your store. It's easier than ever to launch a store for your fashion brand, and so many examples of loyalty programs in the fashion industry, these ones are a great place to start and are meant to inspire a program of your own!
Based on Smile.io's experience with fashion loyalty programs, here are a few tips that we think are essential in the fashion industry.
1. Reward for reviews–bonus points for photos or videos
In the fashion industry, seeing is believing. No matter how authentic and trustworthy your brand is, customers will still always trust their peers more. A study revealed that customers are three times more likely to say content created by customers is more authentic than brand-created content. This is why user-generated content is a must and rewarding your customers for their photo and video reviews is a great way to incentivize UGC. Using a combination of paid, owned, and earned media and influencer marketing can help build trust in the fashion industry.
2. Give exclusive rewards
The fashion industry is very competitive. As a result, every single program is offering customers the chance to save a few dollars or receive a percentage off. To really differentiate your program, you need to offer something the competition can't replicate. This could include store events, early access to product releases, or exclusive products. But don't stop there–brainstorm ideas for what experiences you can give your best customers.
3. Have a referral program
Fashion sites that do not have a referral program are missing out on a huge opportunity to sustainably acquire and retain customers at the same time. Since there are so many fashion options out there, it is really easy for a customer to be persuaded to try a new brand or store. And with over 50% of millennials basing their purchasing decisions on recommendations from friends and family, referrals are the perfect way to get them to choose your brand. So give customers a reason to stick with you–you will be glad you did.
Editor's Note: This post was originally published on November 28, 2015 and was updated for accuracy and comprehensiveness on February 16, 2023.
Subscribe to Talking Shop, the Smile Newsletter
Learn from other entrepreneurs and small businesses