When you look at the numbers, the fashion industry is an extremely attractive market to be in (pun fully intended).  With menswear estimated to be over a  $400 billion industry and women's fashion eclipsing that at nearly $700 billion, the market is huge.
This is directly related to the fact that, as a society, we love to shop for fashion. In fact, it is estimated that we spend somewhere between 15% and 23% of our discretionary income on apparel annually!
The average person spends
between 15% and 25%
of their discretionary income on apparel.
With so much money being spent every year, the fashion industry is extremely competitive.  As the cost of acquiring new customers continues to climb, many online fashion retailers are turning to loyalty programs and customer retention.  While programs continue to become more commonplace in this highly profitable industry, there are a few that stand out from the rest.
Here are 5 great loyalty examples in the fashion industry that help their brands retain customers and increase profitability.
Cents of Style's VIP Rewards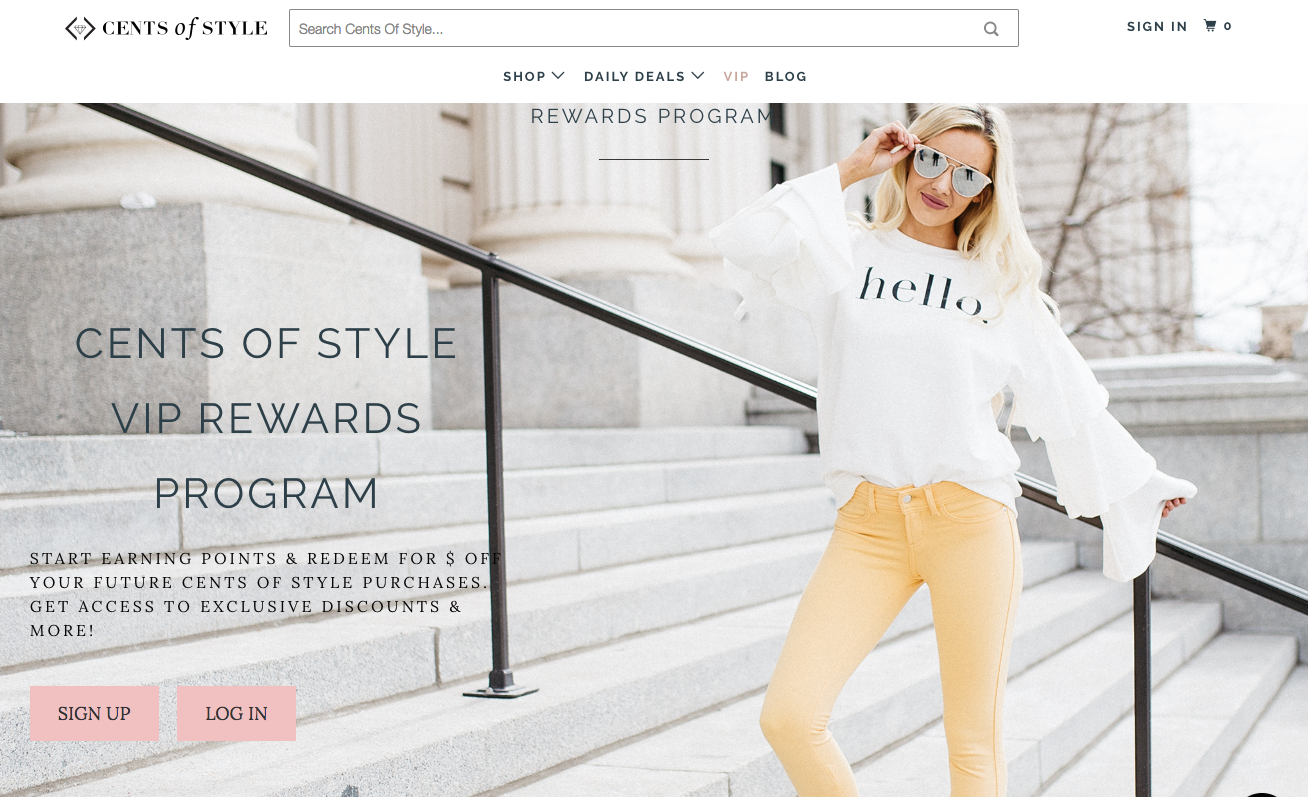 Cents of Style has had great success using a "daily deals" model. That means that each day of the week there's a different kind of deal available to take advantage of, such as Monday's #Stylesteals or 2-for-Tuesday.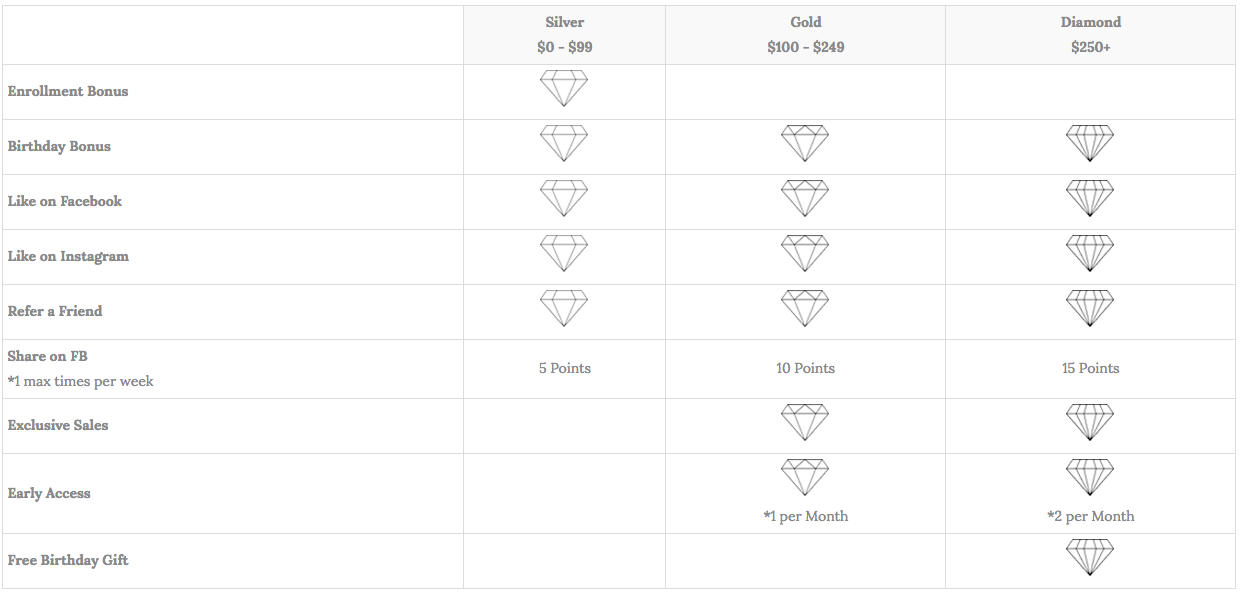 This unique business model has allowed Cents of Style to implement some cool components into their loyalty program, including customer tiers.  Tiered loyalty programs are fantastic because they encourage customers to return to your store more often.  The more your members engage with your site, the better their benefits become!

With Cents of Style VIP Rewards, you start at the Silver tier and work your way up to Diamond. Every time you progress up a tier you get access to more benefits, such as exclusive sales and early access to new products.  Since their popular new products often sell out quickly as part of their daily deals, both of these benefits are hugely valuable for customers in the higher tiers.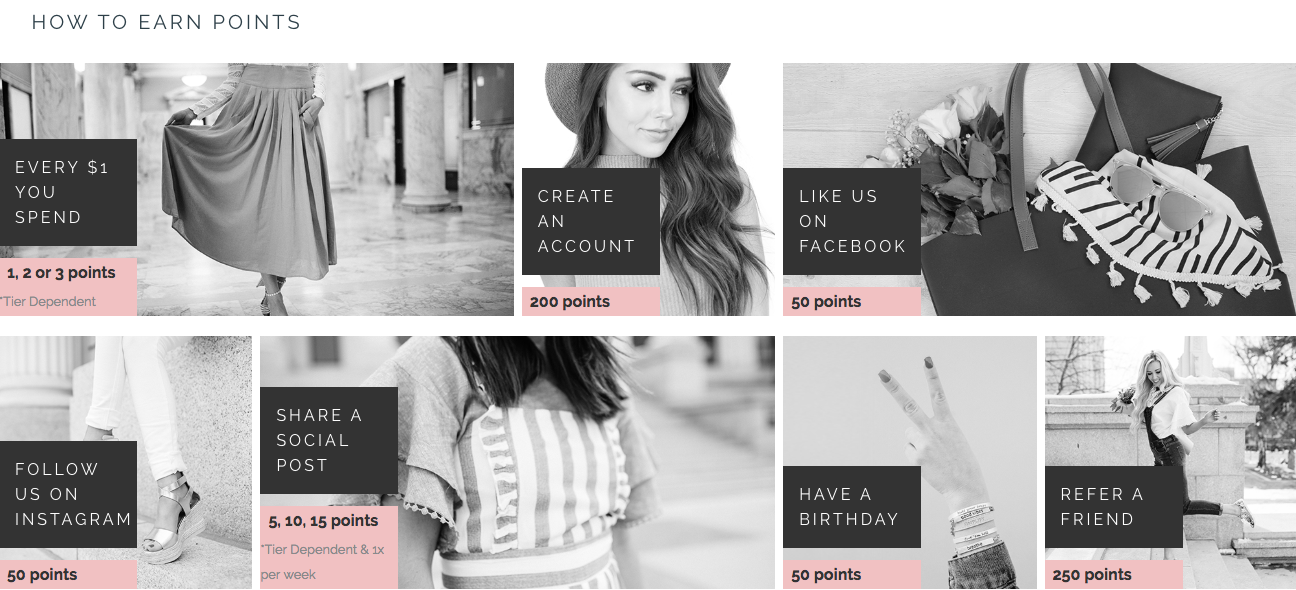 In addition, they've given their customers a number of different ways to earn points.  From points for purchases (with better earning rates for higher tiers) to social sharing and referrals, Cents of Style has curated a rewards experience that allows customers to interact with their brand in a number of ways.  For these reasons, Cents of Style VIP Rewards is a great example of a well-rounded fashion loyalty program.
Nordstrom's Fashion Rewards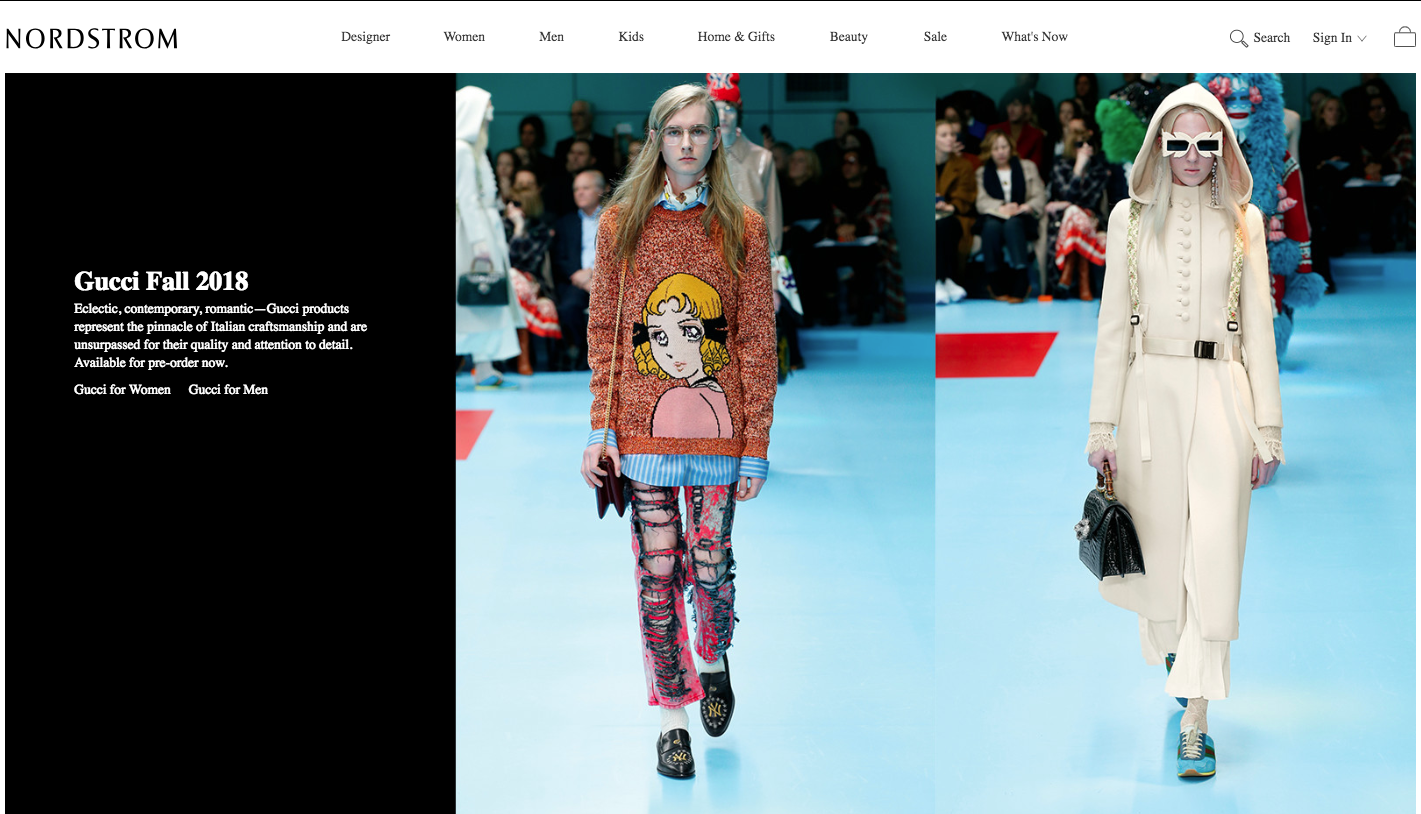 Nordstrom is another great example of a large fashion retailer doing loyalty right. Like Gilt, Nordstrom uses tiers to create an engaging customer experience with exciting rewards at every level.
While the Nordstrom Rewards program only focuses on rewarding shoppers for purchases, the rewards they offer more than make up for it!  Customers can redeem their Nordstrom Notes for anything from $20 off to holiday party invites and exclusive VIP store events.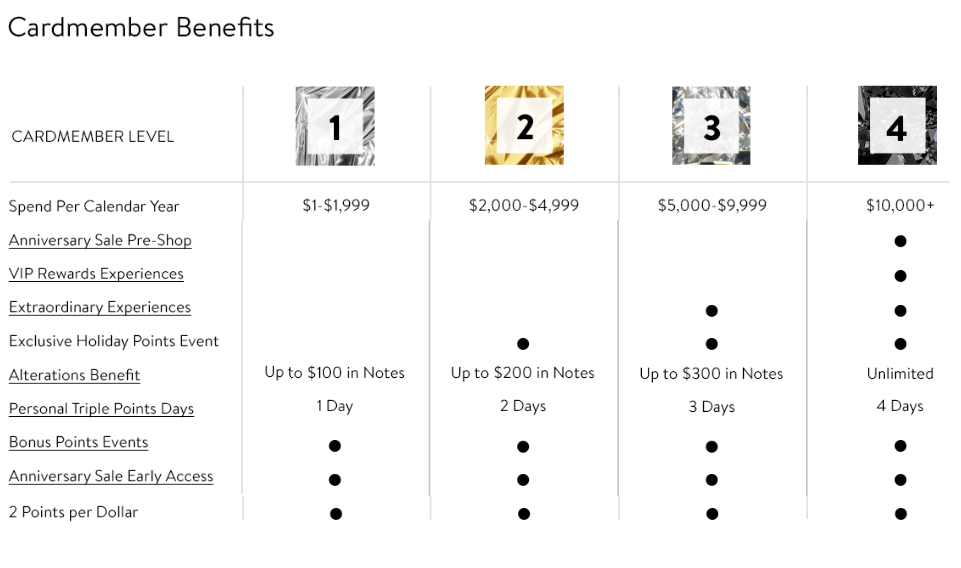 As you can see, these types of experiential rewards are reserved for Nordstrom's two upper tiers. This is a great example of aspirational marketing at work because it plays upon your customers' desire to to be part of an exclusive club.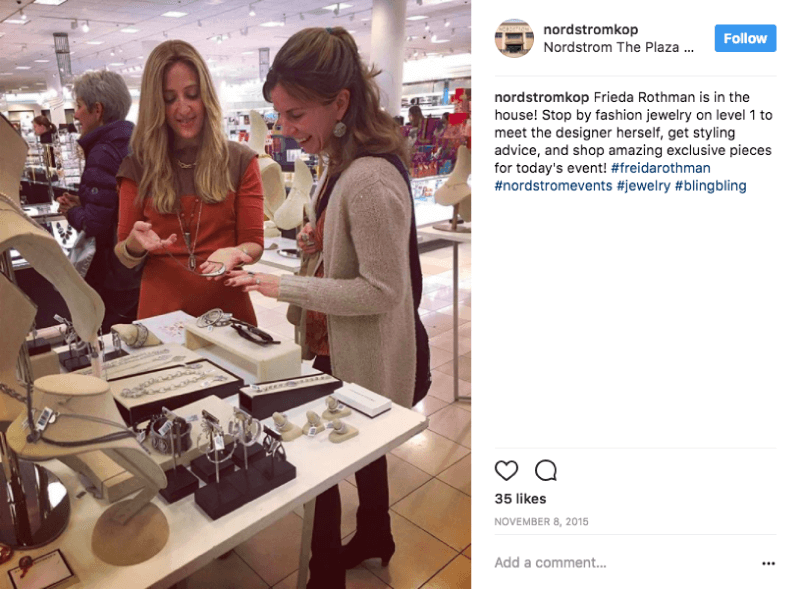 Nordstrom's special points events are another exceptional component of their program.  Several times a year, Nordstrom hosts events where customers can earn bonus points or be given exclusive access to products and sales. The additional point days are both a great way to drive additional business and promote a loyalty program.  These events, along with their other exclusive rewards, helps set Nordstrom's Fashion Rewards apart.
By incorporating special reward dates and exclusive rewards into your rewards program, you can make it more valuable to existing and new customers!
jeweliq's Heart Rewards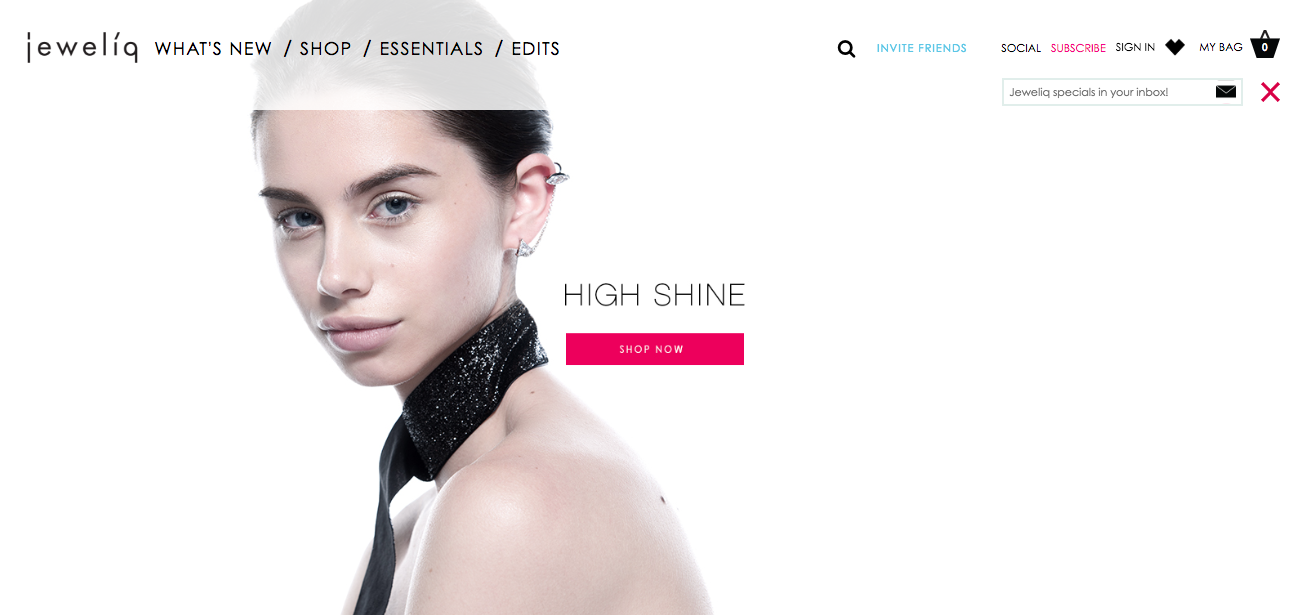 jeweliq is a very unique loyalty program example. Instead of rewarding points for every dollar spent, jeweliq rewards one point per piece purchased. Since the number of points customers accumulate is the same no matter the price of  the items you buy, the percentage back varies anywhere from 4% to 25%. Plus, you can also earn 5 bonus points when you refer a friend.
While the system might seem complicated, the earning and redemption cycle is actually very simple: after earning 10 points, you earn a free piece of jewelry.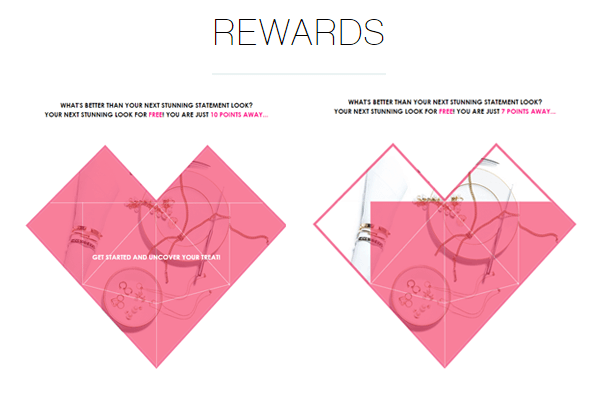 A great visual representation of how many more points I need for a reward (I was buying for my girlfriend, I swear!)
jeweliq's program is a great loyalty example because it has earning and spending rules that are truly unique for the fashion industry - while still being easy to understand. The choose-your-own rewards offering is also a strong motivator to get customers shopping more often and sharing their experiences with friends.
Van-Dal Shoes' Van-Dal Rewards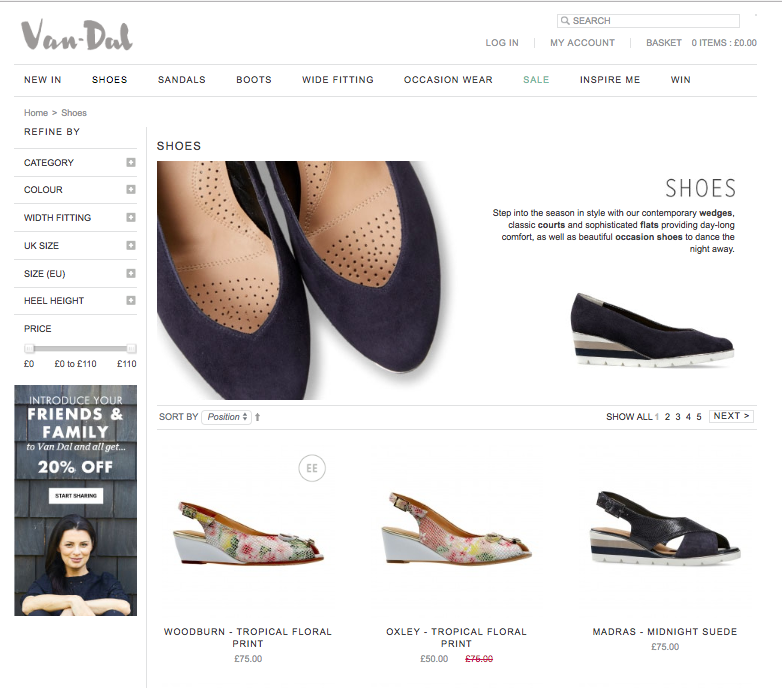 Van-Dal Shoes are a UK-based shoe company that has a great loyalty program. The program is great because it rewards for some unique customer actions that we haven't talked about yet: product reviews and order values.
97% of customers say reviews have an impact on purchase decisions.  This means shoppers see reviews as credible sources of information, so rewarding customers for writing them helps establish trust between shoppers and the brand.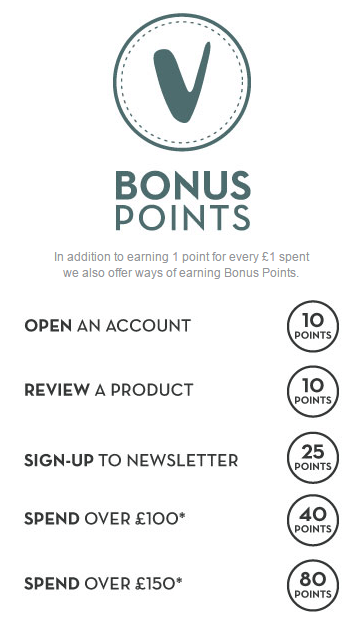 Along with rewarding reviews, Van-Dal also rewards customers based on order value. This means that customers whose orders exceed a certain value receive extra points. Rewarding this action is great for extracting additional value from your program and increasing a customer's lifetime value.  If you want to implement this strategy in your own program, discover what the average order size is for your store and then set extra points for orders 10% - 15% higher than that.
This loyalty program is a great example of how rewards can help you establish credibility and increase order size.
GONGSHOW's Gonger Nation Rewards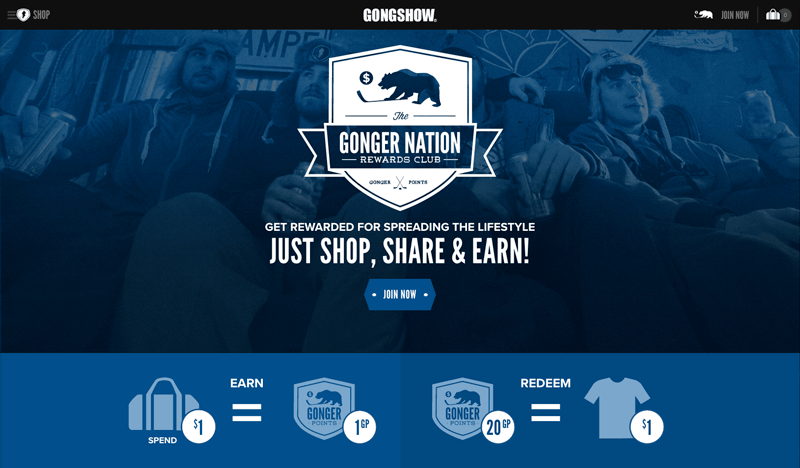 While many fashion retailers specialize in business casual attire and accessories, other brands choose to cater to other elements of people's lifestyles.  GONGSHOW specializes in athletic wear for a variety of sports, and has successfully built an entire culture around their brand.
This culture is what allowed them to develop a community-oriented loyalty strategy that rewards its customers for sharing on social media and referring friends to the store.  Considering the average person has 634 social contacts, the advertising potential here is huge!  Both of these actions work to cement the customer's engagement with the brand and its marketing strategies, leveraging their best customers as brand advocates.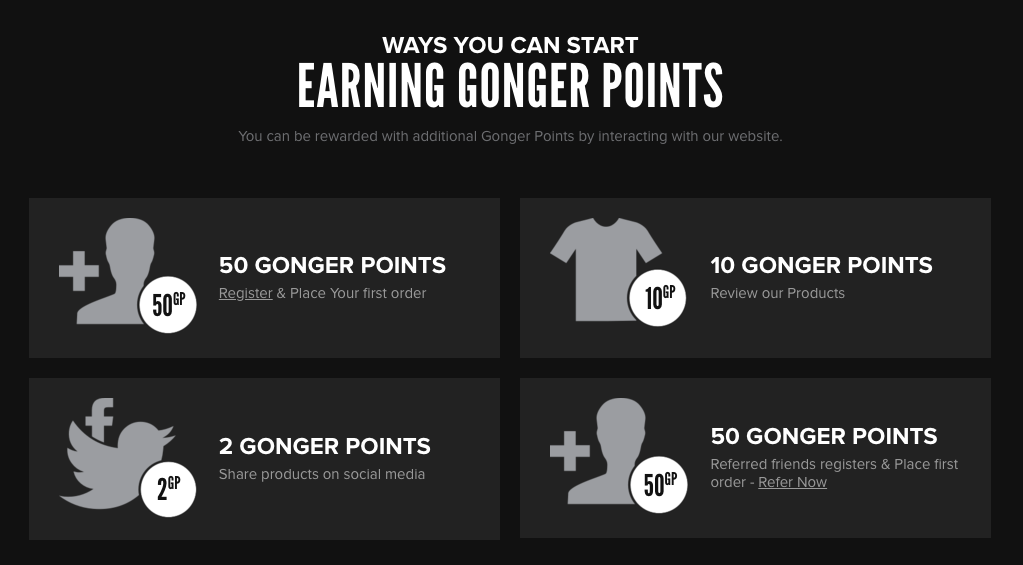 GONGSHOW also offers bonus rewards for orders over a certain size.  This a great way to encourage customers to increase their basket size while still creating value.  Between these ways to earn and the freedom to redeem points on any available product, Gonger Nation Rewards is a slam dunk.
Tips for loyalty programs in the fashion industry
I hope the examples I provided here have given you ideas of what a loyalty program could look like for your store. With so many examples of loyalty program examples in the fashion industry, these examples are a great place to start and meant to inspire a program of your own!
Based on Smile.io's experience with fashion loyalty programs, here are a few tips that we think are essential in the fashion industry.
1. Reward for Pinterest pins
Pins are viewed by many as a form of customer review.  Since fashion is one of the most pinned categories on Pinterest, it's also one of the most reviewed.   Just log on to Pinterest's homepage and you will see exactly what I am talking about!  This is extremely valuable for your fashion brand, especially when you consider that 87% of Pinterest users have purchased something because of Pinterest.
2. Give exclusive rewards
The fashion industry is very competitive. As a result, every single program is offering customers the chance to save a few dollars or receive a percentage off. To really differentiate your program, you need to offer something the competition can't replicate.   This could include store events and experience, but don't stop there!  Brainstorm ideas for what experiences you can give your best customers.
3. Have a loyalty program
Fashion sites that do not have a loyalty program are missing a huge opportunity to get customers returning. Since there are so many fashion options out there, it is really easy for a customer to be persuaded to try a new brand or store. So give them a reason to stick with you – you will be glad you did!