What makes your rewards program stand out? Whether you've considered this question before or not, there's no denying that simply having a rewards program isn't enough. With more ecommerce competition than ever before, chances are your competitors have also considered starting a loyalty program, so how do you stay relevant in this volatile climate?
A successful rewards program stands out from the competition by being memorable.
One of the best ways to make your rewards program memorable is through effective branding. Colors, logos, and product images are all great places to start, but what you choose to name your program and currency are what customers will remember.
Since we've already talked at length about how to name your rewards program, I'm going to focus on the importance of creatively naming your program's currency. Calling your loyalty points "points" puts your program in danger of becoming generic, leaving your brand at risk of flying under your customers' radar.
From puns to brand-specific references, there are several merchants who have truly embraced and exemplified what it means to take your rewards currency to the next level. We've gathered 8 of our favorites to share with you, and hope you'll be inspired to apply some of these concepts to your own program.
Without further ado, let's see who made the cut.
1.Blume's Blumetopia BBs
Currency Name: BBs (Blume Bucks)
Blume's Blumetopia is one of our all-time favourite reward experiences. From the second you land on their website, you're treated to a completely branded experience encouraging you to reach Blumetopia.
From their beautiful explainer page, to their friendly and fun calls-to-action like "Are you a Blume Babe?" Blume delivers an on-brand customer loyalty experience. Blume's Blume Bucks are easy to remember because of the inclusion of the brand's own name, the association with cash, and the use of memorable alliteration.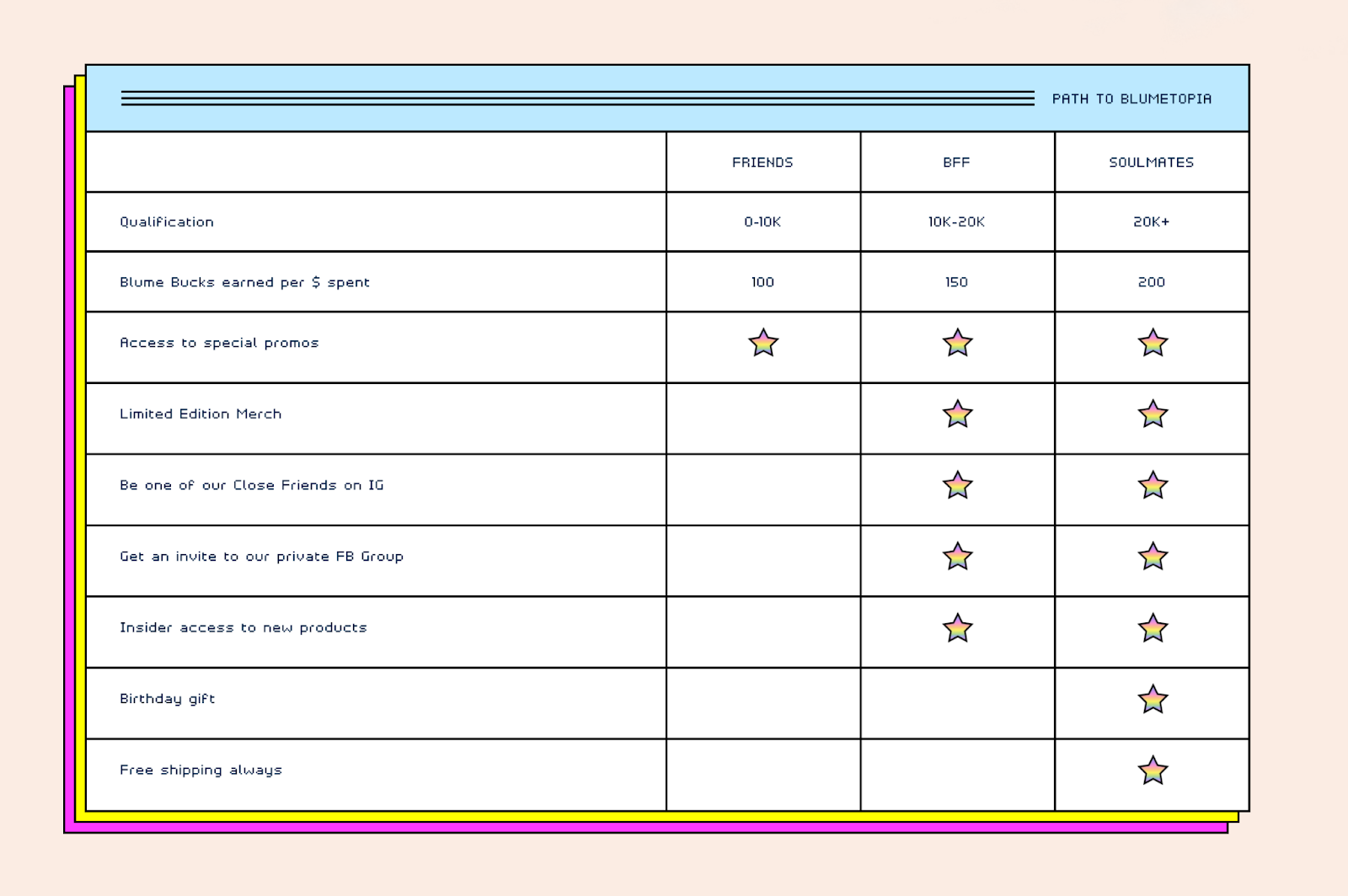 The use of the term "BBs" is also entirely appropriate, as the term is slang for baby, a flirty and fun term of endearment.  This value of creating an inviting brand community is further driven home by the VIP tier titles of: Friends, BFFs and Soulmates. It's clear from the second you land on Blume's website that they want their customers to feel like they are a part of their inner circle of friends.  This 360 degree rewards experience demonstrates the strength of their currency's name as well as the value of belonging to their brand community.
2. Smokea's Tokins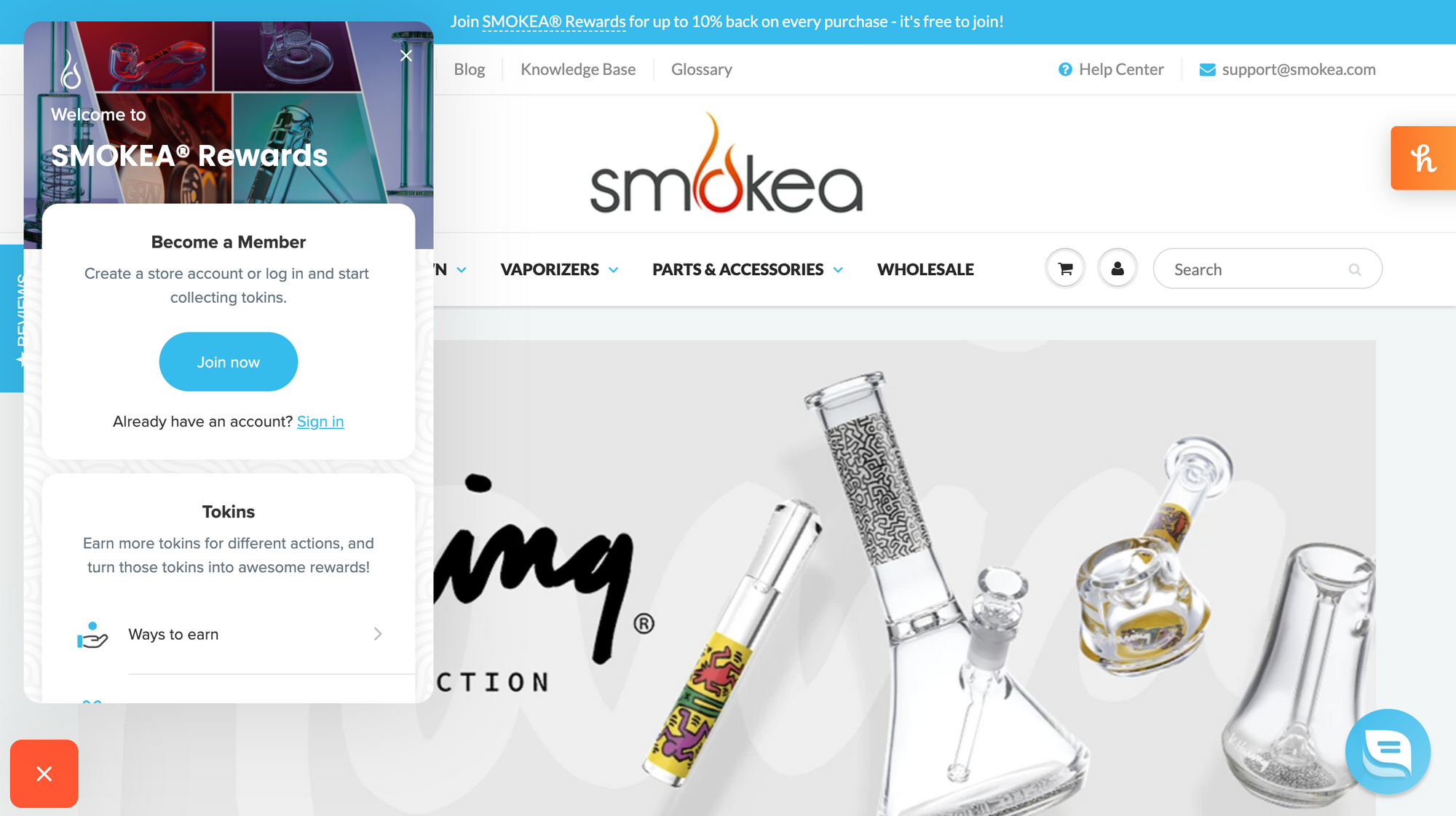 Currency Name: Tokins
Who doesn't love a good pun?.  Even if it borders the territory of a cheesy dad joke, there's no denying Smokea's currency is an extremely clever nod to their brand's culture.  It's also hilarious – when we first read it we actually laughed out loud, and couldn't wait to find out more about their program. That initial hook is extremely important and can have a profoundly positive impact on a shopper's decision to join your rewards program and brand community.
Tokins is more than just a funny currency name, though.  The fact that it's short and sweet also makes it very easy to remember, guaranteeing that customers will think of Smokea first when considering all of their past vape shop experiences. Combining this memorability with the relaxed, stress-free vibe of their products is what makes their program so appealing. This increases the  likelihood of customers joining the Smokea brand community before completing their first purchase.
3. Starbucks' Stars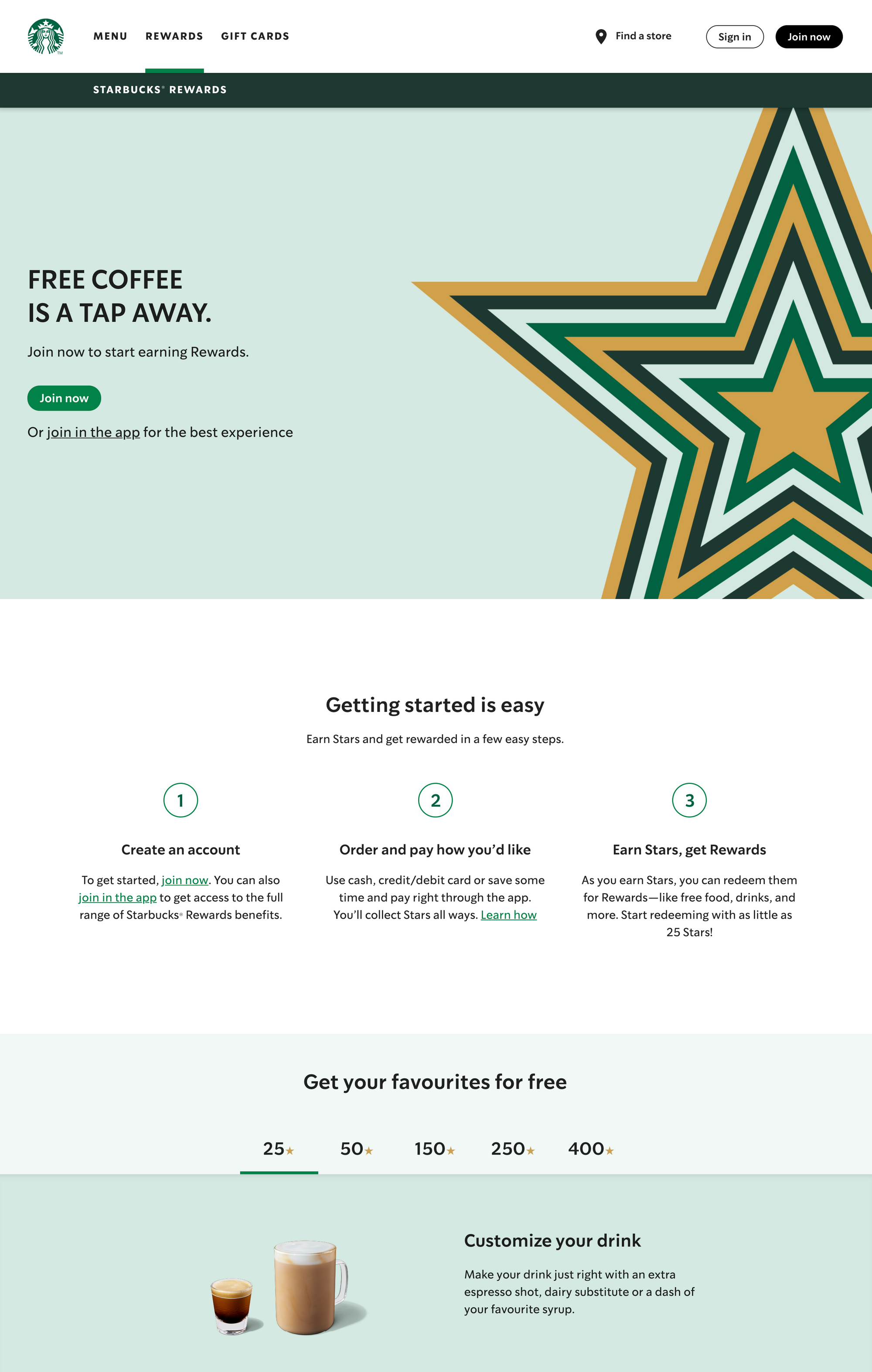 Currency Name: Stars
Who'd have thought something as simple as gold Stars would have such an impact on the customer experience? Since the debut of Starbucks Rewards, customers have been driven to collect the coffee mogul's shiny, five-pointed symbol of customer loyalty and they show no signs of stopping.
So what makes it so successful? Firstly, it looks and feels valuable. Gold is often associated with wealth, luxury, and money, making it a strong visual reminder of the value customers are gaining by participating in the program. Secondly, Stars are a universally understood way of recognizing success. Small children are often rewarded with stars for good behavior or learning their lessons at a very early age, reinforcing the concept of stars as a symbol for excellence and achievement.
These two factors combine to create a one-two punch rewards currency that makes customers feel special and creates the desire to earn more. Whether you're a Starbucks fan or not, you can't deny that they're the one of the original masterminds behind effective reward points names.
4. Karma Culture's Karma Bank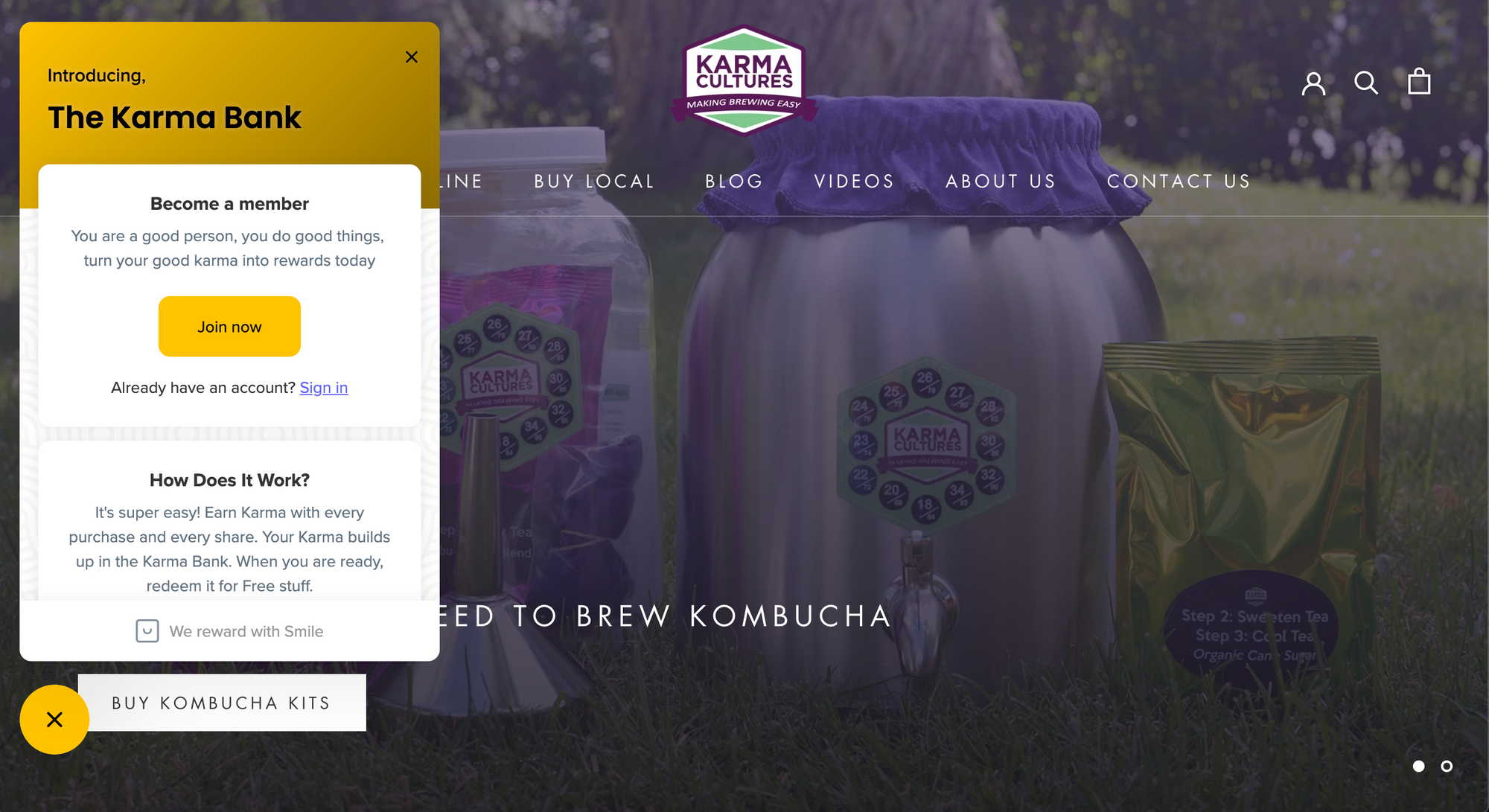 Currency Name: Karma
Everybody wants good karma. That's exactly what Karma Culture delivers with their loyalty program, The Karma Bank. Seeing as karma is all about cause-and-effect, this kombucha brand is able to really drive home their brand values with their currency name. It's simple, buy karma, earn karma, redeem karma.
Customers are able to earn Karma with their purchases and redeem it for rewards. Karma Culture further demonstrates the value of their loyalty points by including the word "bank" in their loyalty program name. Having a term often associated with currency is a great way to communicate the value of your points to your customers.
Karma Culture's entire customer loyalty experience communicates one clear message: do good things and receive good things. When your brand values shine through in your points currency name, you know you've done good.
5. Planner Anonymous' Hearts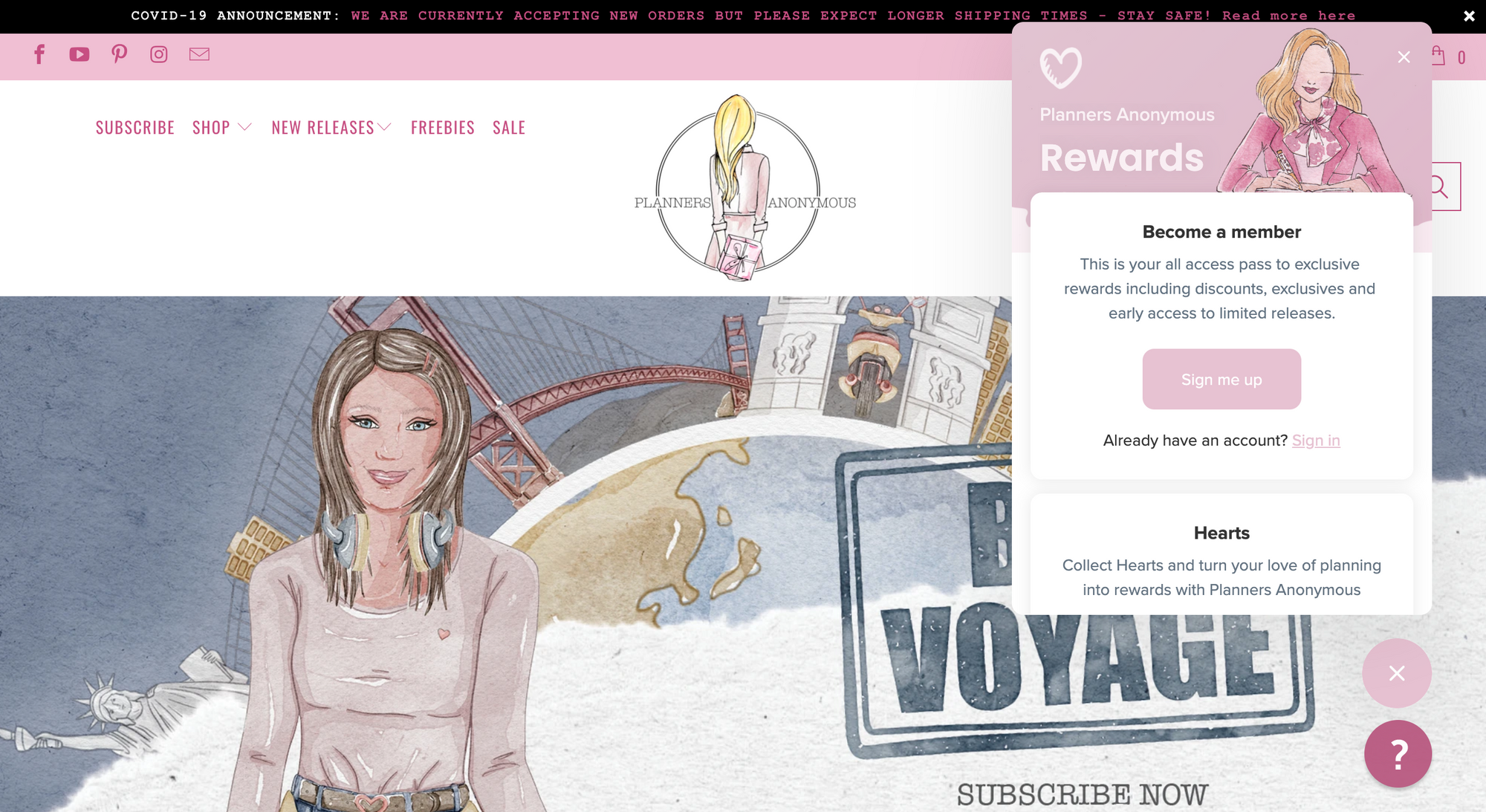 Currency Name: Hearts
Planners Anonymous has ensured that their customers will love their rewards experience with all of their heart(s). Customers are treated to an on-brand experience from the second they land on their website. With consistent colours, illustrations, and messaging, Planners Anonymous has delivered a beautifully branded customer loyalty program.
Hearts are the symbol most commonly associated with love and after all, don't you want your customers to love you? By calling their reward points hearts, Planners Anonymous has formed that association between their products and something extremely loveable. Everything from their pink heart-shaped launcher to their clear and catchy messaging makes it clear that their program is one worthy of your admiration.  
Planners Anonymous is a brand who clearly understands their target customers, knows what they like, and delivers it to them in a pink heart-shaped box.
6. Pixi Beauty's Pixi Dust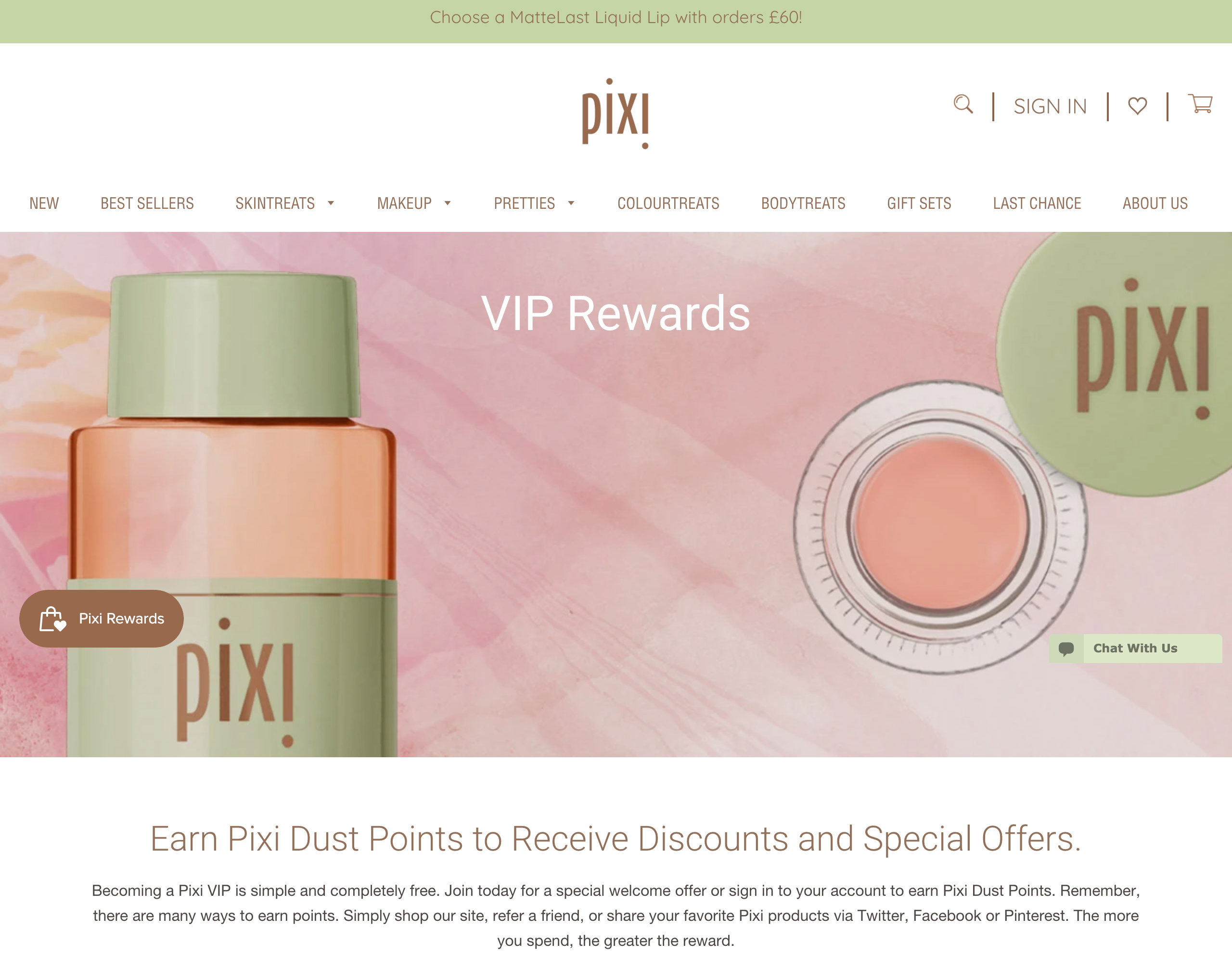 Currency Name: Pixi Dust
Although Pixi Beauty has nothing to do with the popular culture concept of pixie dust, they were able to draw on the whimsical nature of this association to create a loyalty currency that feels fun and spirited. With Pixi Dust, Pixi Beauty connects their rewards program to ideas of fantasy and beauty that adds a little bit of magic to the earning and redemption process. This throwback to childhood whimsy helps them establish emotional connections with their community members early on in the customer relationship.
Those connections help make this small differentiator – and their beautiful explainer page –  enough to make them stand out from the crowd.
Want to learn more about building a reward program in cosmetics?
Get our free industry guide and find out everything you need to know
7. Frostbeard Studio's Pages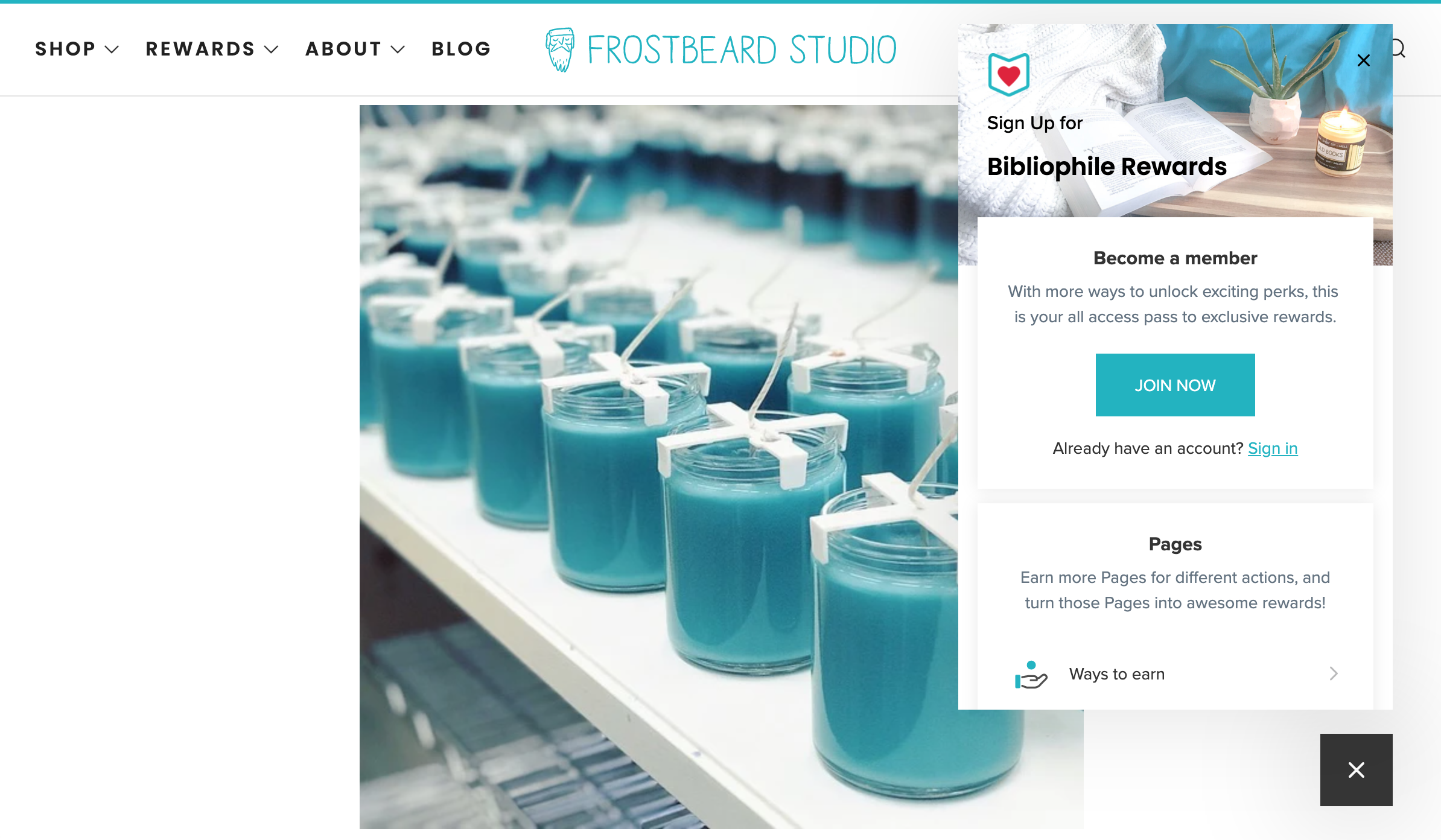 Currency Name: Pages
As soon as you land on Frostbeard Studio's homepage, you know who their target customers are. References to books and the joy of reading are everywhere, including their rewards program.
Aptly named the Bibliophile Rewards Program, Frostbeard Studios rewards their customers with Pages for completing a variety of actions. This is a very clever way of connecting the satisfaction of earning a reward to flipping through the pages of an amazing book. As any bookworm knows, there's no greater feeling than racing through the chapters and seeing how much closer you are to finishing another good book.
It's also a great initial hook to pique the interest of reading enthusiasts who want to see what the Frostbeard community is all about. This strong correlation between the customers' and brand's values creates that emotional connection that makes this reward experience enjoyable and truly rewarding.
8. Tushy's Butt Bucks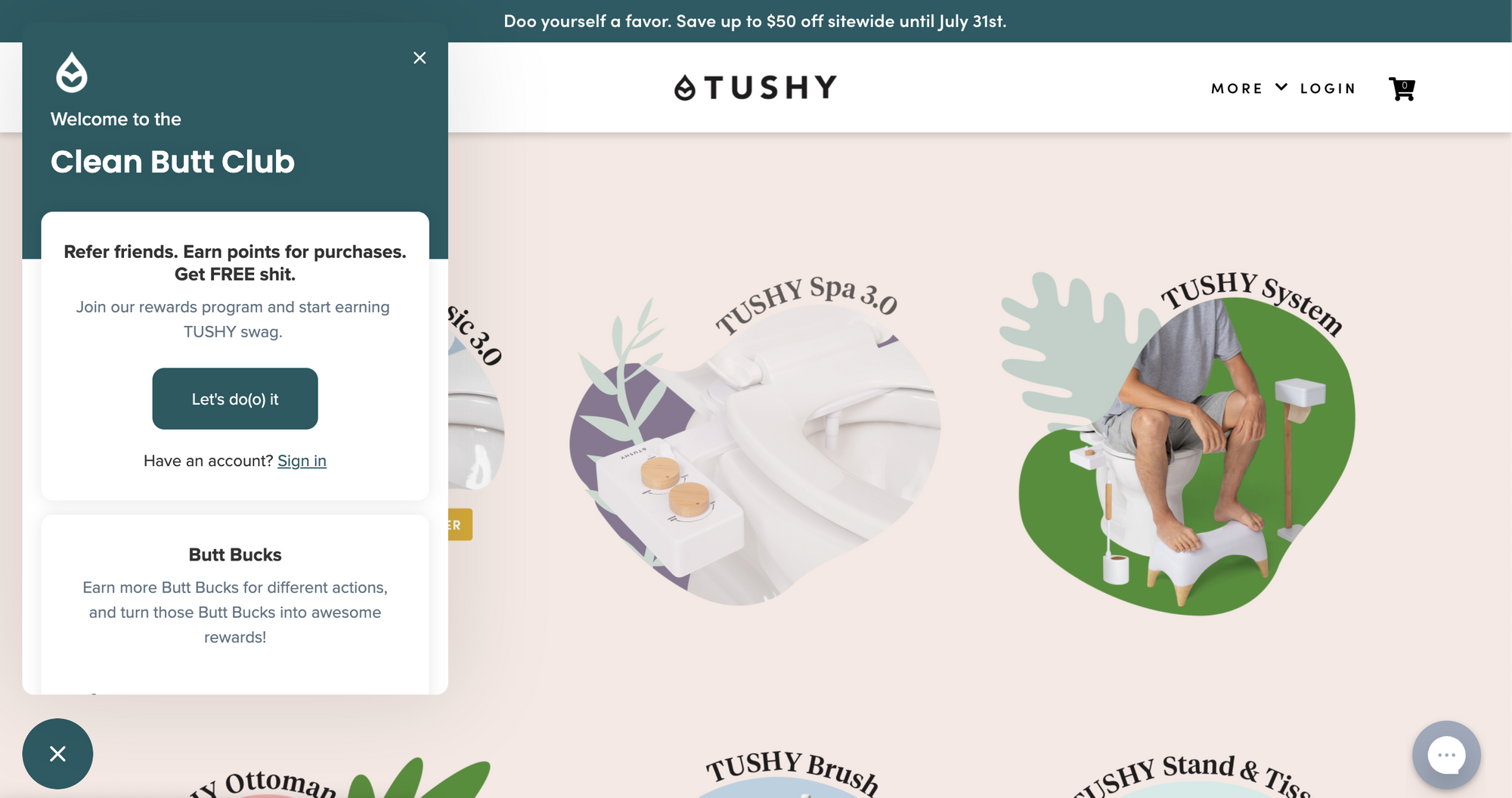 Currency Name: Butt Bucks
It's no secret that bidets are not the most glamorous of products out there, but that didn't stop Tushy for a second. This quirky brand delivers a fun tongue-in-cheek shopping experience from start to finish. And it all starts with their loyalty program - the Clean Butt Club.
Customers are encouraged to earn Butt Bucks to earn "free shit". But(t) the puns don't stop there. With perfectly on-brand CTAs, Tushy invites customers to join their program by just do(o)ing it. Tushy just goes to show that you can make anything exciting with some clever copywriting and a clear brand voice.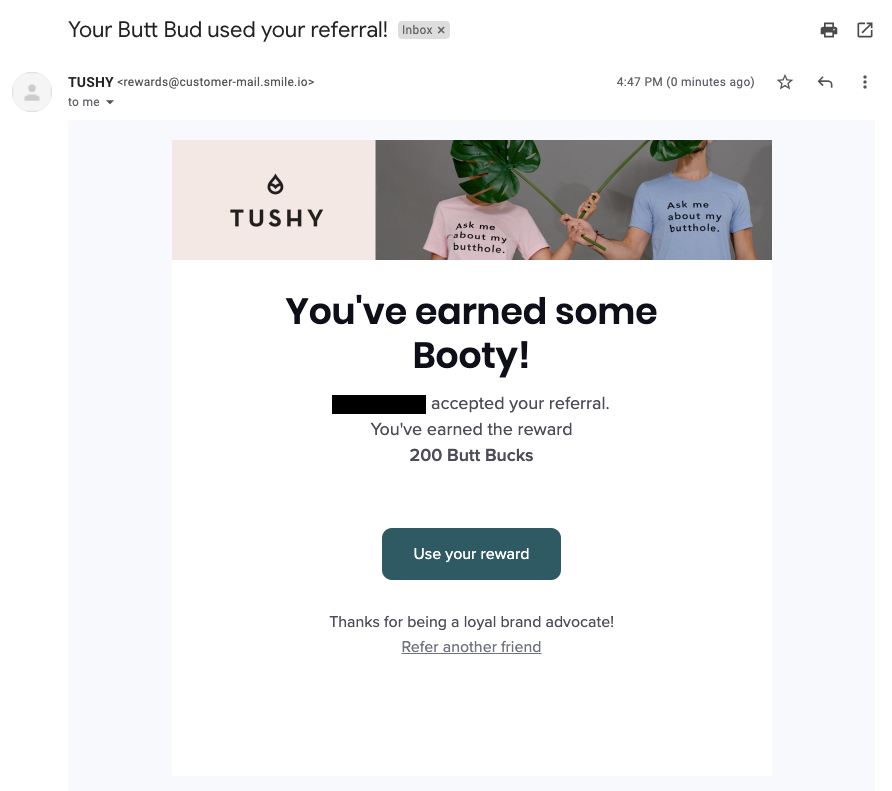 Tushy even extends their playful personality to their loyalty program and referral emails. From the subject line right down to the header message, it's clear that Tushy delivers messages that will not be forgotten any time soon. By breaking the barriers down about a somewhat 'taboo' topic, this is a great example of why your reward points should be memorable. Their email could have simply said "You've earned some points", in which case you probably wouldn't be reading about it right now. Customers are going to remember earning "booty" and this keeps Tushy exactly where they want to be, top-of-mind.
Tushy's brand experience is a great example, from top to bottom.
The power of naming your reward points
Whether it's through puns, clarity of vision, or brand culture, each of these brands have developed a name for their reward points that speaks to who they are as a business. From health and wellness to beauty retailers, these currencies have shaped reward programs to provide incredibly valuable communities for their customers.
Whether you're just getting started with rewards or giving an existing program a facelift, make sure you take the time necessary to develop a name that appropriately represents the values of both your brand and the community you want your customers to be a part of. After all, your currency name could be your first (and last) impression – make it count!
Editor's Note: This post was updated for accuracy and comprehensiveness in August 2021.