What makes your rewards program stand out? Whether you've considered this question before or not, there's no denying that simply having a rewards program isn't enough. With more ecommerce competition than ever before, chances are your competitors have also considered starting a loyalty program, so how do you stay relevant in this volatile climate?
A successful rewards program stands out from the competition by being memorable.
One of the best ways to make your rewards program memorable is through effective branding. Colors, logos, and product images are all great places to start, but what you choose to name your program and currency makes an even stronger first impression.
Since we've already talked at length about how to name your rewards program, I'm going to focus on the importance of creatively naming your program's currency. Calling your loyalty points "points" puts your program in danger of becoming generic, leaving your brand at risk of flying under your customers' radar.
Throughout my time as a loyalty marketing specialist, I've come across a number of creative reward points names. From puns to brand-specific references, there are several merchants who have truly embraced and exemplified what it means to take your rewards currency to the next level. I've gathered 8 of my favorites to share with you, and hope you'll be inspired to apply some of these concepts to your own program.
Without further ado, let's see who made the cut.
1. Glow Recipe's Glow Miles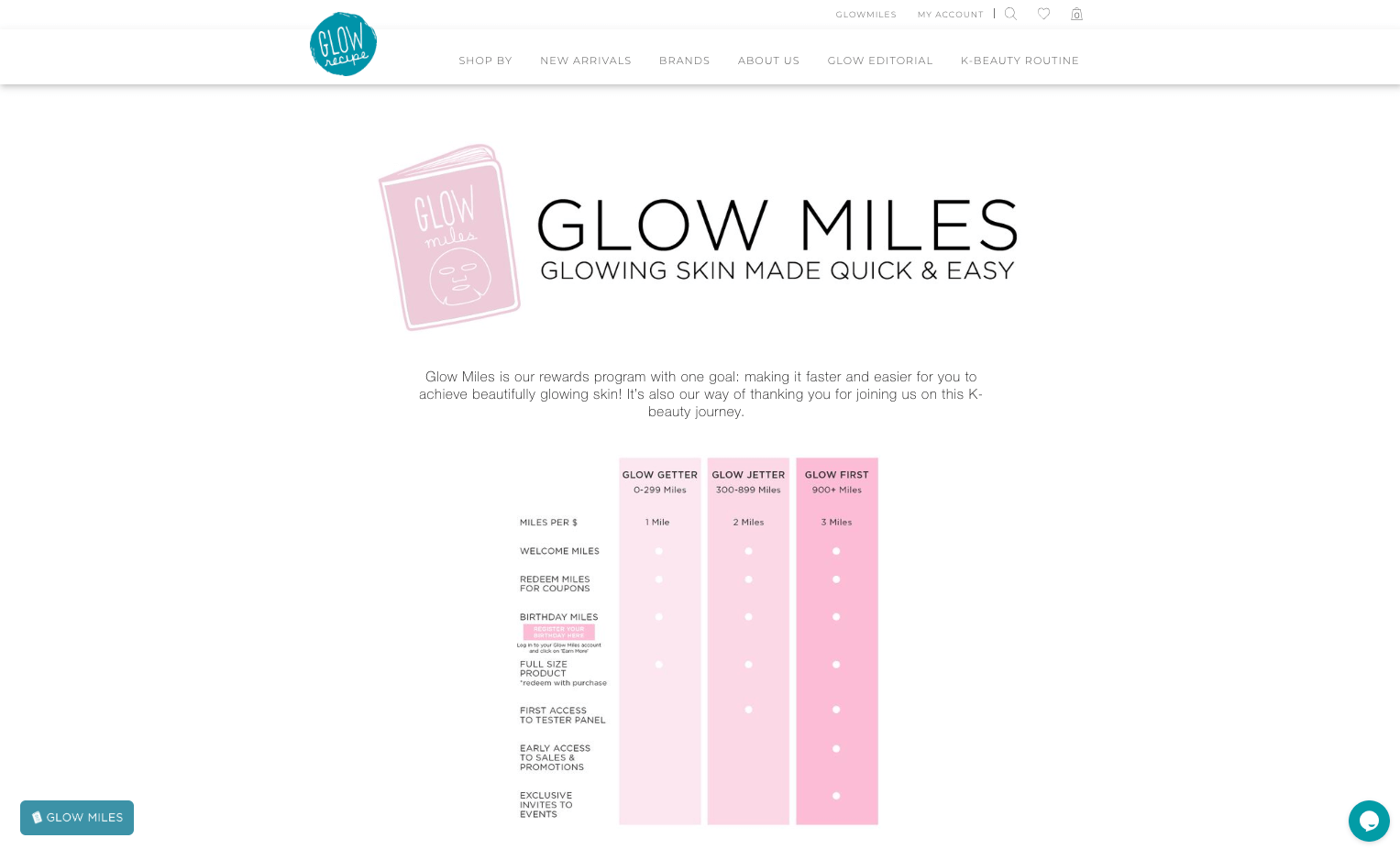 Currency Name: Glow Miles
Glow Recipe is one of my all-time favorite reward programs . From the second you land on their website, you're treated to a completely branded experience with their Glow Miles program leading the charge.
As a beauty brand, Glow Recipe is looking to evoke ideas of beauty, radiance, and health in their brand community. Keeping the word "glow" in their reward points name is a great way for these ideas to transfer to their program while also keeping a strong tie to the other elements of their brand. This connection between their program's name and brand values  creates an emotional connection between customers and the Glow Recipe brand. When members are emotionally connected to a community, it motivates them to keep coming back, engaging with other members and the brand itself, not to mention making purchases.
The use of the word "Miles" is also entirely appropriate, as their customers are coming from all over the world to get the latest Korean beauty trends.  This travel theme is also evident in the way they've structured their customer tiers. As customers move through the Glow-Getter, Glow-Jetter, and Glow First levels of the program, they're treated to a first-class branded rewards experience that feels luxurious, special, and elite. This 360 degree rewards experience demonstrates the strength of their currency's name as well as the value of belonging to their brand community.
2. Bee Built's Swarm Swag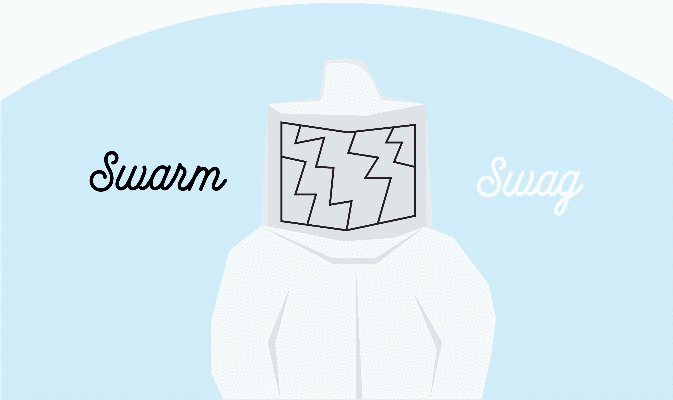 Currency Name: Swarm Swag
When I discovered Bee Built's rewards program, I was immediately captivated by the simple yet impactful name for their loyalty points: Swam Swag.  As a bee-keeping supplier, the concept of a swarm perfectly reflects the values of their brand, tying it into the customer experience seamlessly. With these ideas at the forefront of their program, they know that they're rewarding like-minded customers and breeding a strong sense of community.
Coupling the points with the bee-themed VIP tiers of Drone, Worker, and Queen, their customers know that belonging to the Bee Built brand community means an investment, but there is certain payoff for being a contributing member. By telling customers what the value is in joining the program and promoting a sense of belonging to a larger "swarm,"  Bee Built keeps their program's barrier to entry as low as possible.
3. Smokea's Tokins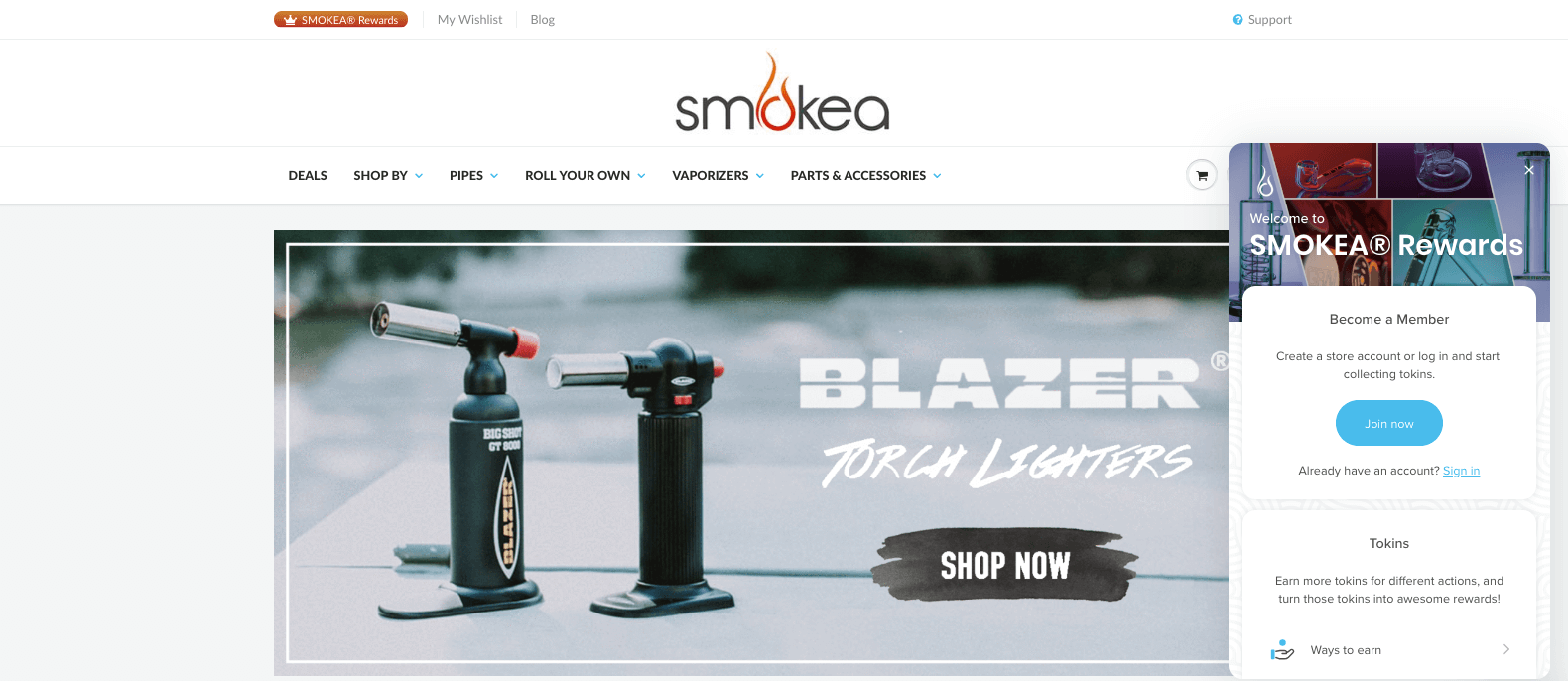 Currency Name: Tokins
I've always loved a good pun.  Maybe it's because my dad's the type to laugh uproariously at the lamest play-on-words, but regardless Smokea's currency is an extremely clever nod to their brand's culture. It's also hilarious – when I first read it I actually laughed out loud, and couldn't wait to find out more about their program. That initial hook is extremely important and can have a profoundly positive impact on a shopper's decision to join your rewards program and brand community..
Tokins is more than just a funny currency name, though.  The fact that it's short and sweet also makes it very easy to remember, guaranteeing that customers will think of Smokea first when considering all of their past vape shop experiences. Combining this memorability with the relaxed, stress-free vibe of their products makes their program so much more appealing and a lot less daunting, increasing the likelihood of customers joining the Smokea brand community before completing their first purchase.
4. Starbucks' Stars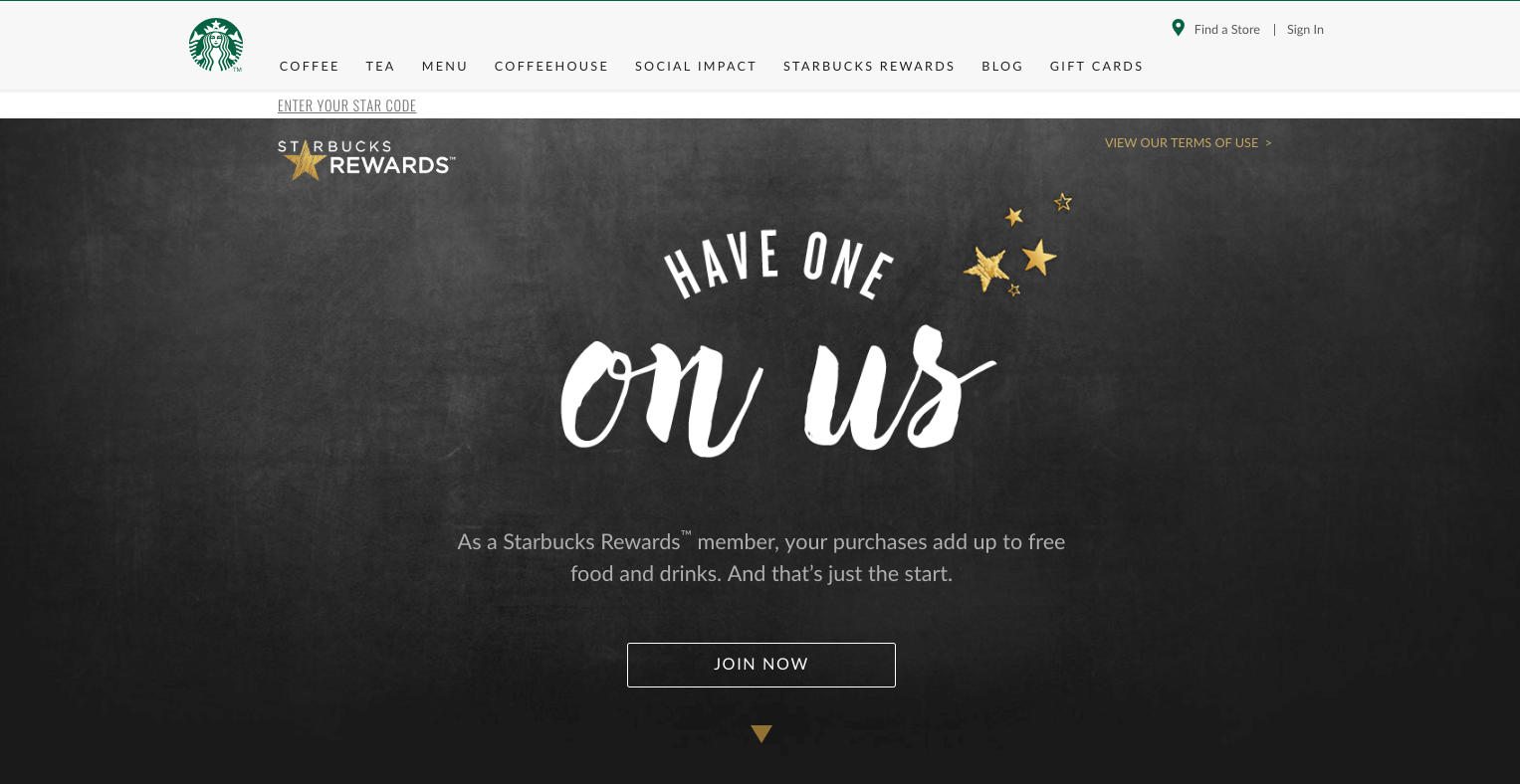 Currency Name: Stars
Who'd have thought something as simple as gold Stars would have such an impact on the customer experience? Since the debut of Starbucks Rewards, customers have been driven to collect the coffee mogul's shiny, five-pointed symbol of customer loyalty and they show no signs of stopping.
So what makes it so successful?   Firstly, it looks and feels valuable. Gold is often associated with wealth, luxury, and money, making it a strong visual reminder of the value customers are gaining by participating in the program. Paired with their Gold level VIP tier, the feelings of exclusivity are too good for customers to pass up. Secondly, Stars are a universally understood way of recognizing success. Small children are often rewarded with stars for good behavior or learning their lessons at a very early age, reinforcing the concept of stars as a symbol for excellence and achievement.
These two factors combine to create a one-two punch rewards currency that makes customers feel special and creates the desire to earn more. Whether you're a Starbucks fan or not, you can't deny that they're the one of the original masterminds behind effective reward points names.
5. Pixi Beauty's Pixi Dust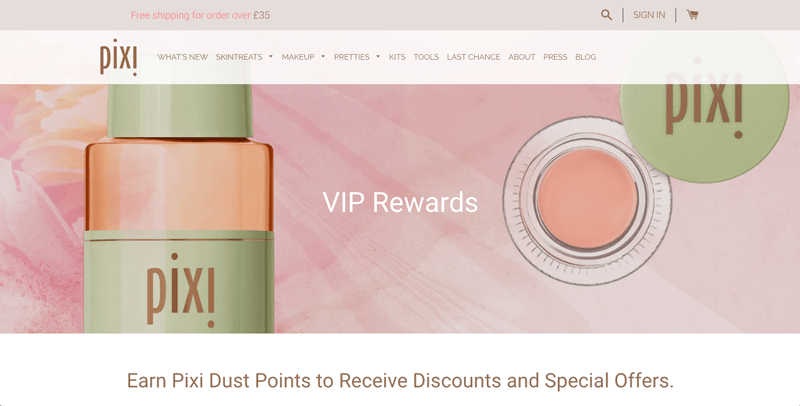 Currency Name: Pixi Dust
Anyone who knows me knows how much I love Peter Pan, so it should come as no surprise that Pixi Beauty's Pixi Dust made it onto this list. Bias aside, this is still an excellent example of how to keep your reward points engaging.
Even though Pixi Beauty has nothing to do with the popular culture concept of pixie dust, they were able to draw on the whimsical nature of these associations to create a loyalty currency that feels fun and spirited. With Pixi Dust, Pixi Beauty connects their rewards program to ideas of fantasy and beauty that adds a little bit of magic to the earning and redemption process. This throwback to childhood whimsy helps them establish emotional connections with their community members early on in the customer relationship.
Those connections help make this small differentiator – and their beautiful explainer page –  enough to make them stand out from the crowd.
6. Frostbeard Studio's Pages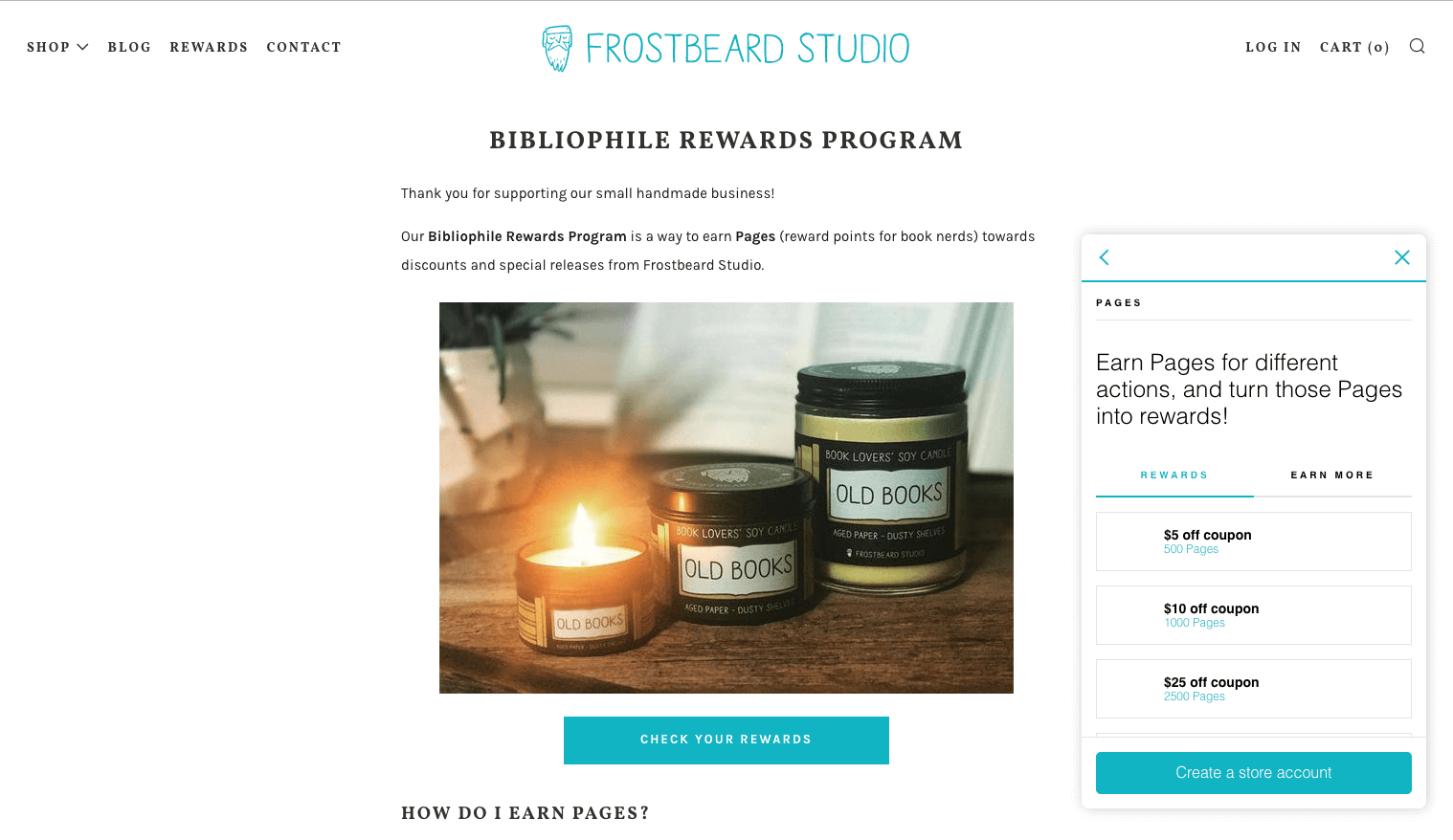 Currency Name: Pages
As soon as you land on Frostbeard Studio's homepage, you know who their target customers are. References to books and the joy of reading are everywhere, including their rewards program.
Aptly named the Bibliophile Rewards Program, Frostbeard Studios rewards their customers with Pages for completing a variety of actions. This is a very clever way of connecting the satisfaction of earning a reward to reading an amazing book. Being a booklover myself, I can tell you how good it feels to read a couple of chapters and see how much closer you are to finishing another good (or bad) book.
It's also a great initial hook to pique the interest of reading enthusiasts who want to see what the Frostbeard community is all about. This strong correlation between the customer's and brand's values creates helps create that emotional connection that makes this arewards experience that's enjoyable and truly feels rewarding.
7. Catchin' Deers' BUCK$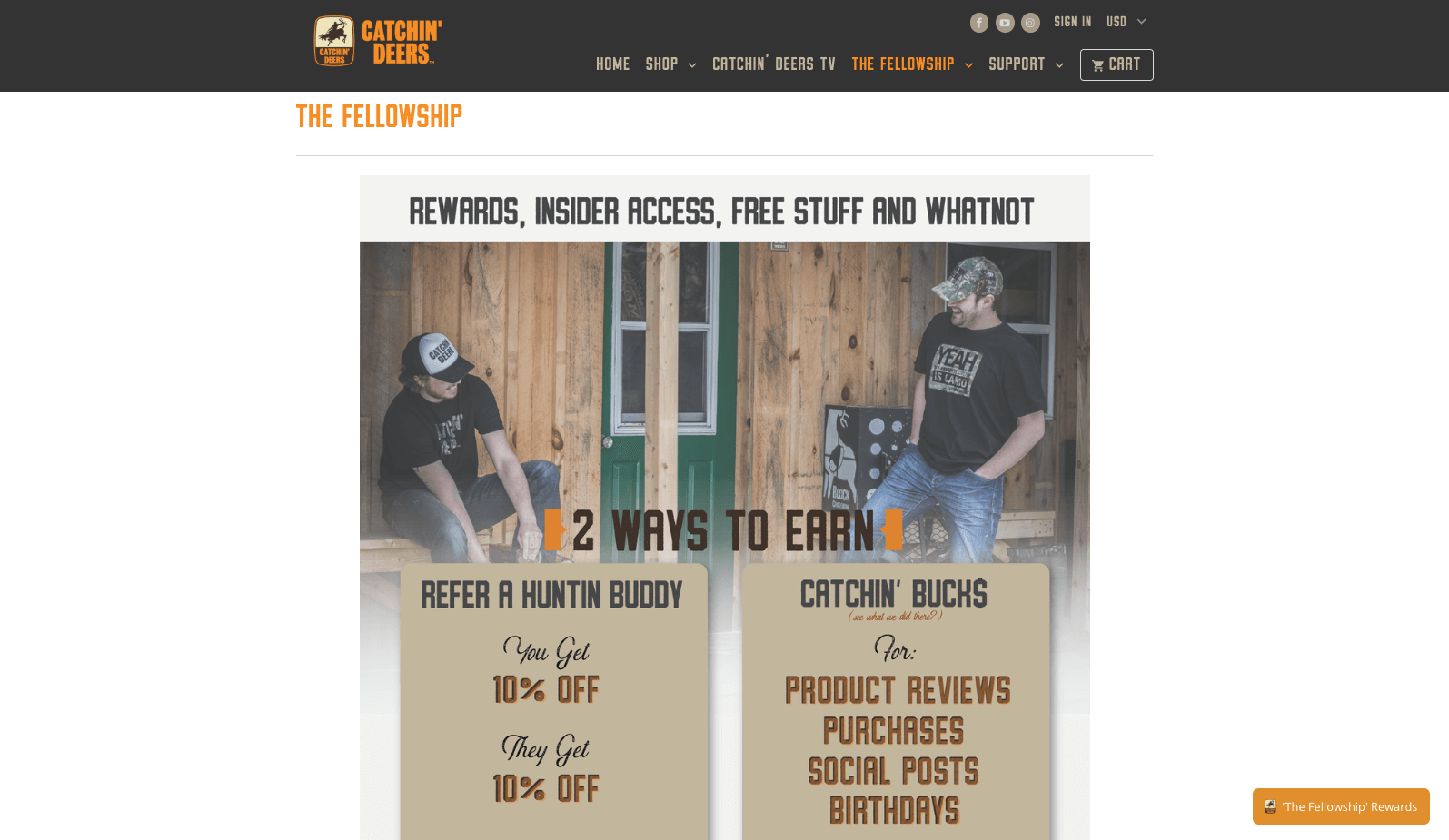 Currency Name: BUCK$

When you hear the word "bucks," you probably think of money". With Catchin' Deers, however, it takes on an additional meaning. As a hunting apparel company, "bucks" is not only the value of their points but also a direct connection to who they are as a brand, adding a second layer to a clever currency name.
This clever connection is what makes this punny currency so strong.  With BUCK$ as the currency for their Fellowship brand community, Catchin' Deers is clearly communicating the benefits of their rewards program and the comradery of being a member all at once. This places emphasis on value that's easy to understand.
In addition, it also took a page from Smokea's book and designed a currency that's easy to remember. By using a pun that's so directly related to their brand, Catchin' Deers has ensured their customers will never forget where to go when they need some gear for when they're hot on a game trail.
8. Workout Empire's Sass Cash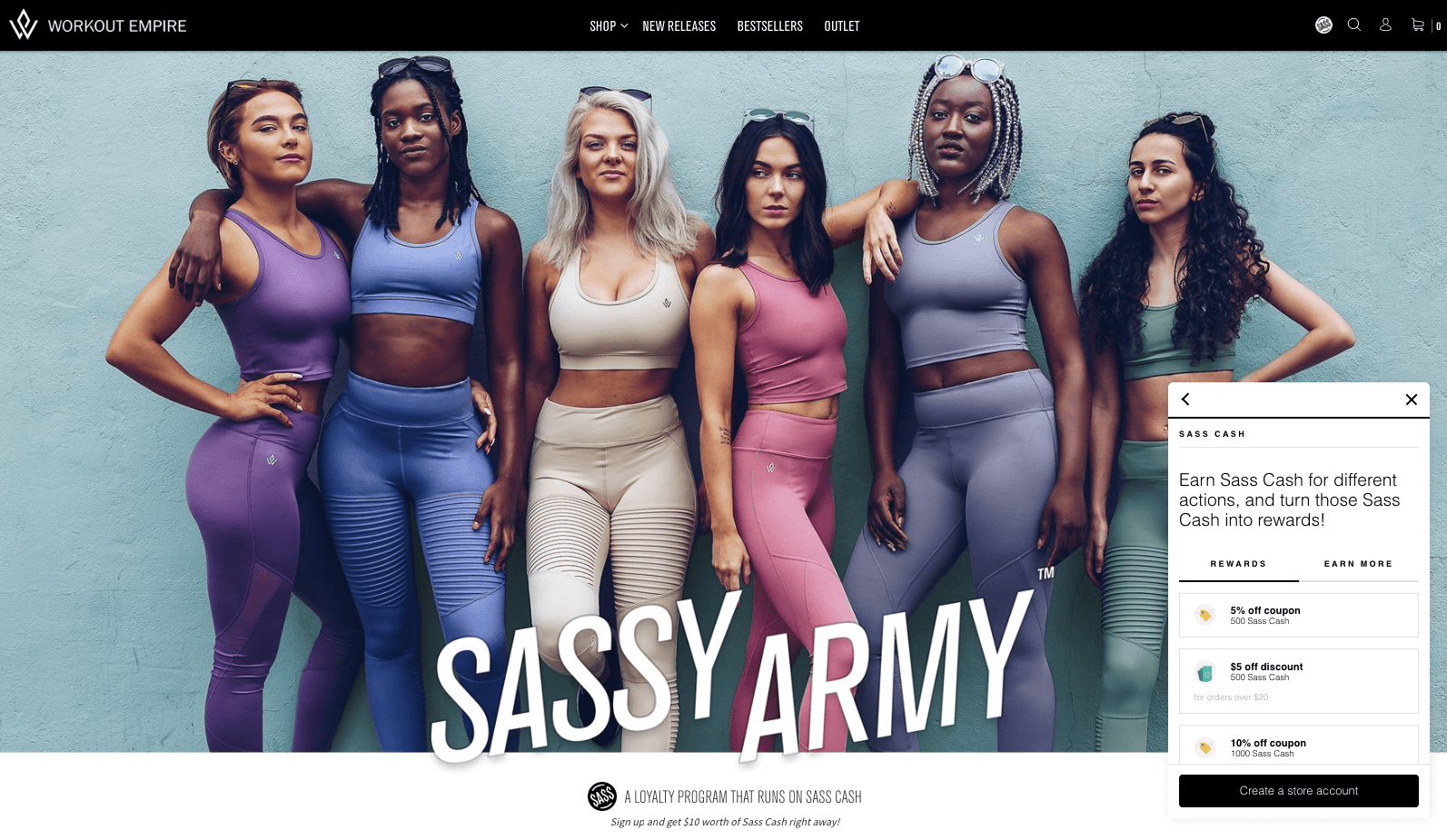 Currency Name: Sass Cash
As we saw with Catchin' Deers, there are few words that hold as much power as ones associated with money.  Whether they're saving it or spending it, customers are very preoccupied with how much money they have and are always looking for opportunities to make more of it.
Workout Empire clearly understood this motivation when naming their reward points. Once again puns are reigning supreme, but this time the biggest draw is their attention to what motivates their customers.  Including the word "cash" in their currency name put an additional value on their loyalty points that would not exist otherwise. Now, when customers are rewarded for making a purchase or completing another earning action, they're given "cash" that can be used to get them more in the future. This clearly communicates the benefit of signing up for their program and creates a greater desire to do so.
The "cash" part of Workout Empire's currency isn't the only part that is appealing either though. As a brand, they create workout wear for women who are full of sass:  strong, ambitious, stylish, and stunning. By steeping their rewards currency in these emotions, every interaction with the program helps draw in women who identify with the brand's lifestyle, creating a community of sass - or as Workout Empire calls it, a Sassy Army.
The Power of Naming Your Reward Points
Whether it's through puns, clarity of vision, or brand culture, each of these brands have developed a name for their reward points that speaks to who they are as a business. From sports and recreation to beauty retailers, these currencies have shaped rewards programs to provide  incredibly valuable communities for their customers.
Whether you're just getting started with rewards or giving an existing program a facelift, make sure you take the time necessary to develop a  name that appropriately represents the values of both your brand and the community you want your customers to be a part of. After all, your currency name could be your first (and last) impression – make it count!