Editor's Note: This post was originally published on November 21, 2014 and was updated for accuracy and comprehensiveness on November 29, 2018.
The beauty industry is one of the most competitive markets out there.  With extremely high purchase frequency and an ever-broadening line of products, customers have more options than ever before. So what makes them choose you?
As advertising costs continue to skyrocket, retention marketing is becoming even more important. This has led to more and more beauty brands exploring the idea of brand communities. With rewards, these brands have been able to encourage customers to join, engage with, and share their community with others, helping them retain more customers and increase customer lifetime value.
The best beauty brand loyalty programs
The following beauty brands have done an incredible job of building strong brand communities with rewards that provide value for their customers all over the world.
e.l.f.'s Beauty Squad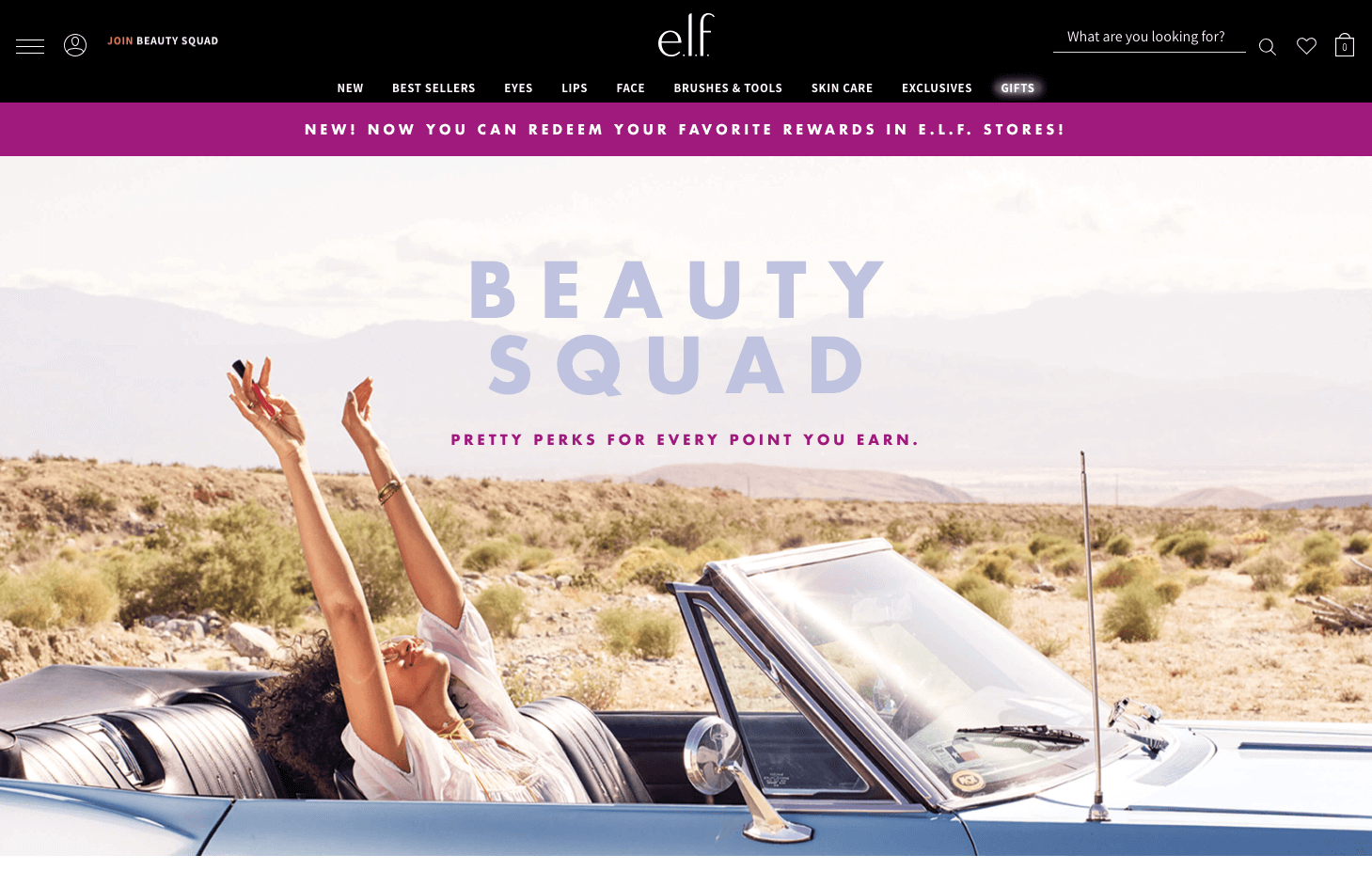 Since they launched their Beauty Squad loyalty program in 2016, e.l.f. has quickly established themselves as experts at building an exclusive, luxurious brand community
Status is an important motivator in the beauty industry because shoppers associate beauty products with high class and style. e.l.f. understands these customer motivations, and designed their program to meet and exceed their customers' expectations. With three distinct valuable VIP tiers, e.l.f.'s Beauty Squad is an excellent example of how to leverage status to appeal to customers with any type of budget. From Glow Getter to Rising Star to A-Lister, customers are given additional rewards when they return and continue engaging with the e.l.f. community.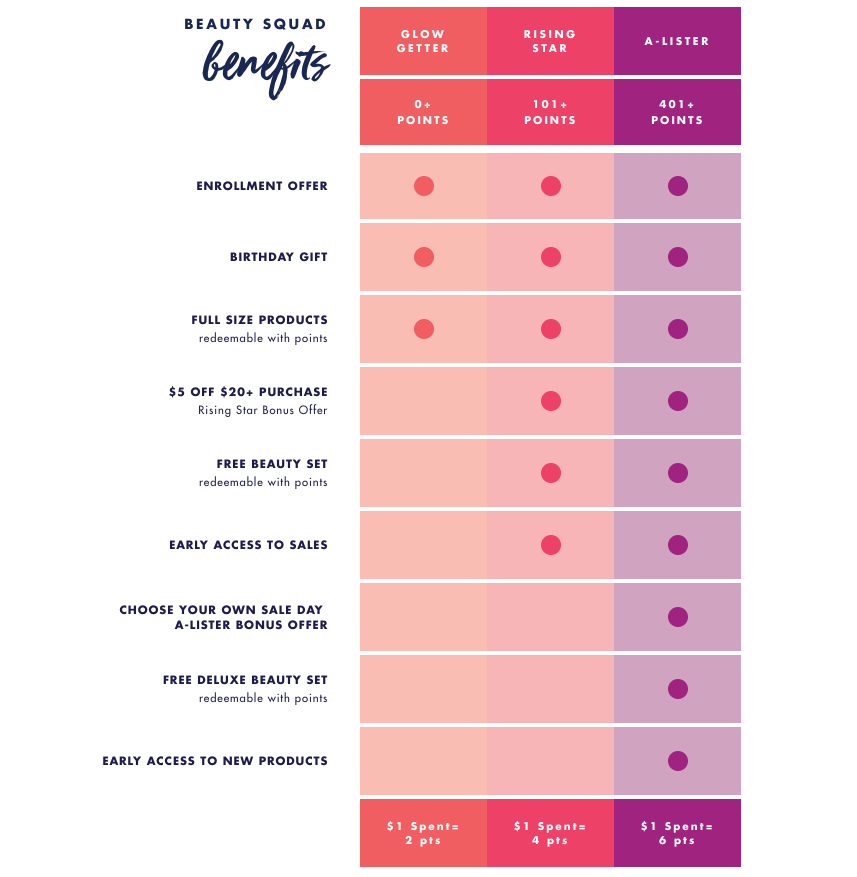 With enrolment rewards, free products, birthday rewards, and early access to sales, e.l.f.'s program combines customer tiers with easy-to-see value. The result is a world-class loyalty program customers can't wait to join, love to engage with, and are quick to share with their friends.
oVertone's The Color Club

oVertone is a beauty brand that specializes in hair care for colored or dyed hair. As more of a niche beauty brand, they needed to design a program that would draw similar-minded customers to their community.
Their Color Club rewards program turned out to be the perfect solution! Using a three-tiered VIP structure, they catch their customers' attention right away with perfect tier names: Pastel, Vibrant, and Extreme. Not only do these names perfectly match the products they sell, but they also align with the statements their customers love to make with their hair. This makes it easier for them to build real, lasting emotional connections with each customer and foster a strong sense of belonging as part of their program.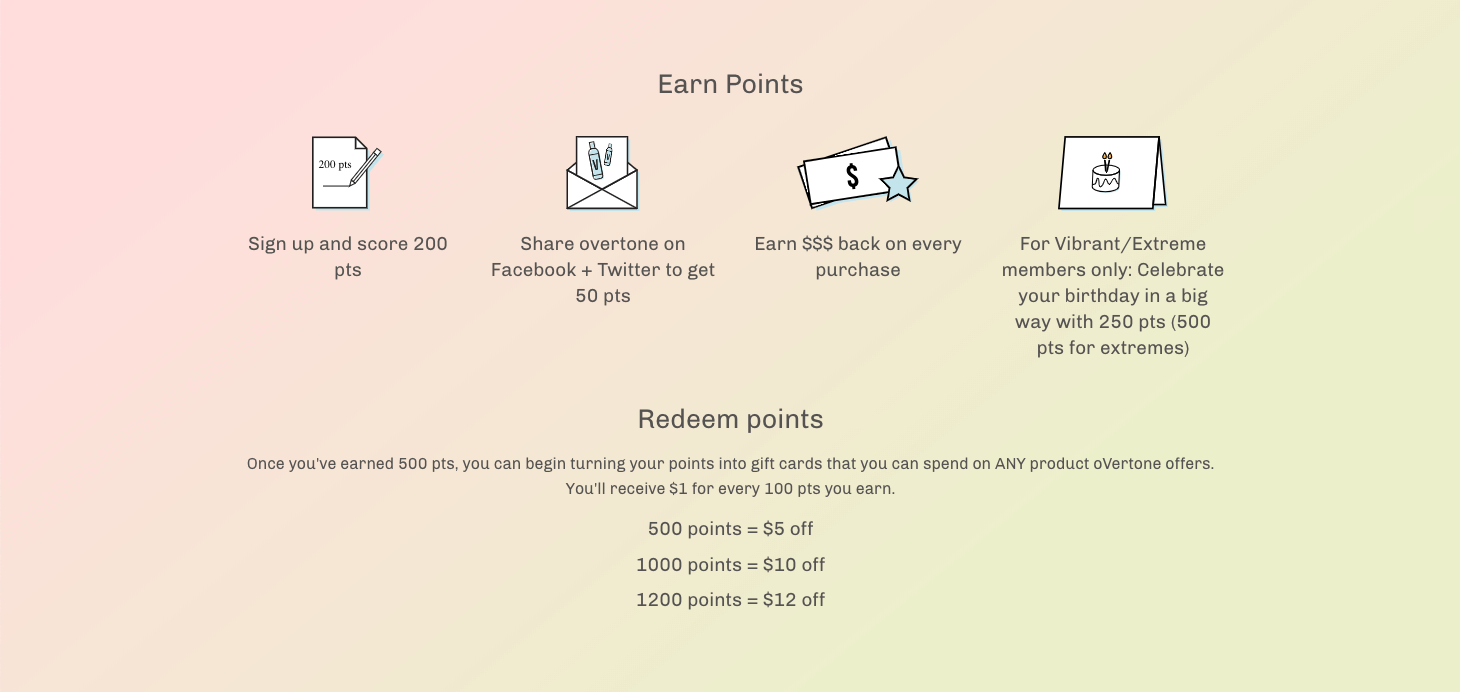 They've wrapped their entire rewards experience up with a beautiful explainer page. By clearly laying out how customers can earn points and what they can redeem them for, it's easy for them to see the value of joining and why they should stay engaged over time.
By keeping it clean, simple, and (most importantly) brightly colored, oVertone has designed a loyalty program that speaks to their brand and resonates with their customers. Talk about a bright idea!
Pixi Beauty's VIP Rewards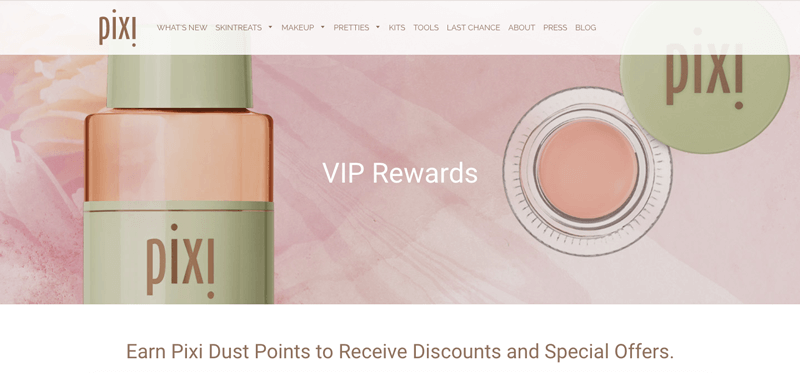 One of the best ways to communicate ideas of luxury is with effective branding, and this is something Pixi Beauty does extremely well. By naming their rewards points "pixi dust," they have cleverly tied their brand to not only the points their customers earn but ideas of whimsy and magic as well.
Their currency name isn't the only thing that makes them a fantastic loyalty program example, though. Pixi refers to their enrolment process as "becoming a VIP," which is appropriate given that the customer gets access to special offers and exclusive tips and tricks unavailable to non-members.

Pixi awards customers with points for a variety of actions, and as a result these engaged customers feel special and valued because of the rewards they receive. This goes a long way to making sure each customer shares their experience with others. For these reasons, it's obvious that Pixi's customers are truly treated as VIPs, making Pixi another outstanding beauty industry loyalty example.
Sephora's Beauty Insider and VIB Rouge

Sephora's VIB program is an example of one of the world's best brand communities. With three exclusive tiers and an outstanding number of ways to get engaged, customers have the opportunity to earn points and redeem exclusive rewards they simply can't get anywhere else
The allure of these exclusive perks — including the coveted VIB Rouge status — is ultimately what drives the success of the program. Customers are divided into three distinct groups that each have very specific rewards. The first stage is called Beauty Insider, where customers receive a few basic loyalty rewards for free. From there, customers can move to the VIB tier and receive additional rewards after spending $350 in one year, or VIB Rouge for spending $1,000.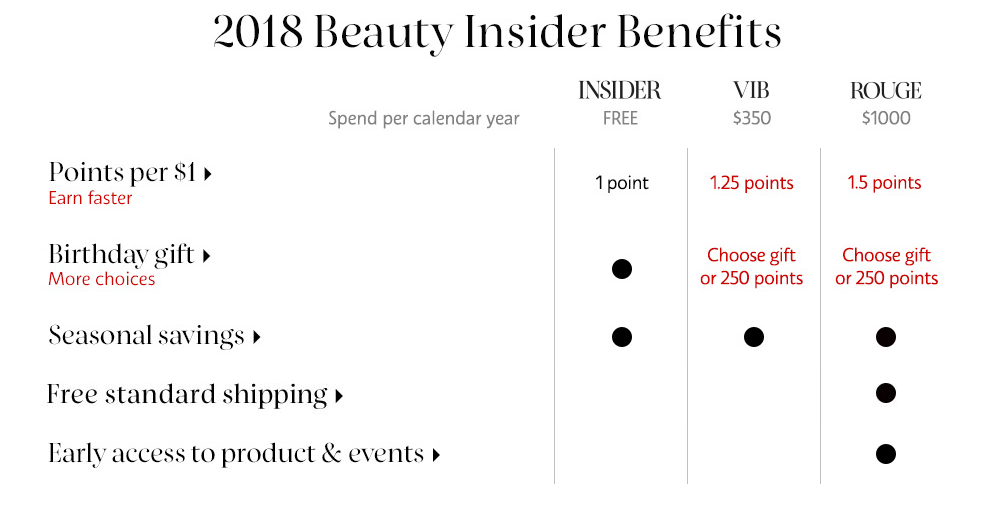 While $1,000 might sound like a lot to spend in one year, millions of customers do it every year simply because the experiential rewards they can earn are so motivating. From free products to invites to VIP events,  Sephora's program is built on a strong foundation of experiential rewards that transform their brand community from being just one of many to being the place to be.
Glow Recipe's Glow Miles

If you're looking for a fun and unique loyalty experience, look no further than Glow Recipe.  Glow Recipe has designed their Glow Miles program as a cohesive extension of their brand, using consistent brand icons and colours to communicate the benefits of their three-tiered program. Whether customers are a Glow-Getter, Glow-Jetter, or Glow First member, they're treated to a consistent brand experience that helps extend the value of their products beyond the initial transaction.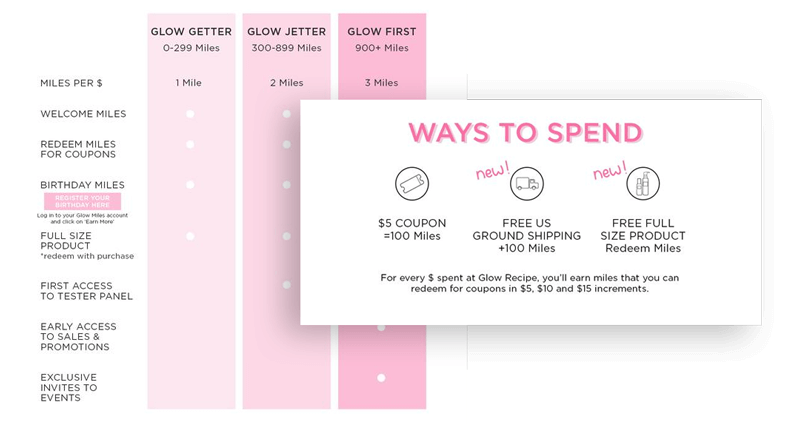 This value is easy to see when you consider how customers can redeem their rewards.  Where other programs only give customers points or standard free products as rewards, Glow Recipe actually offers their loyal customers a number of diversified rewards, including the opportunity to preview exclusive new products or become a member of their product Tester Panel.
These exclusive rewards demonstrate Glow Recipe's understanding of their customers base and what they look for in a program. With Glow Miles, Glow Recipe goes the extra mile to show their customers how much they appreciate their business and how valuable that business is to their overall success.
Spectrum Collections' Reward Yourself!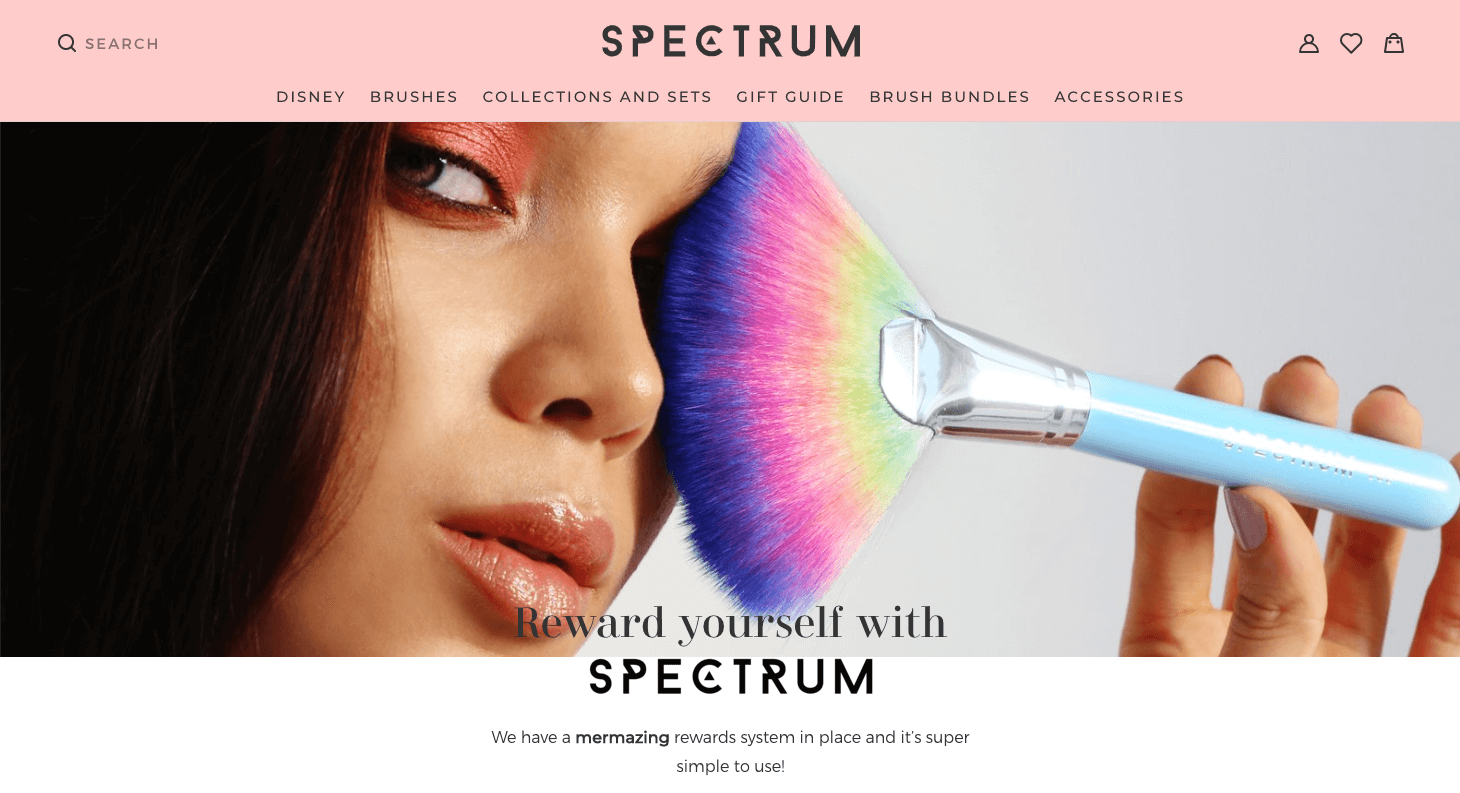 As soon as you land on Spectrum's website, you know you're in for something special. From mermaids to unicorns, their site is bright, colorful, and enchanting — three adjectives that apply to their rewards program, too!
Their beautiful explainer page makes heavy use of branded photography and custom fonts to clearly describe how members can earn and spend points, making it easy to join and get engaged right away. However, while the rewards they outline on their page are great, it's the rewards they give out for free that truly make their loyalty program stand out.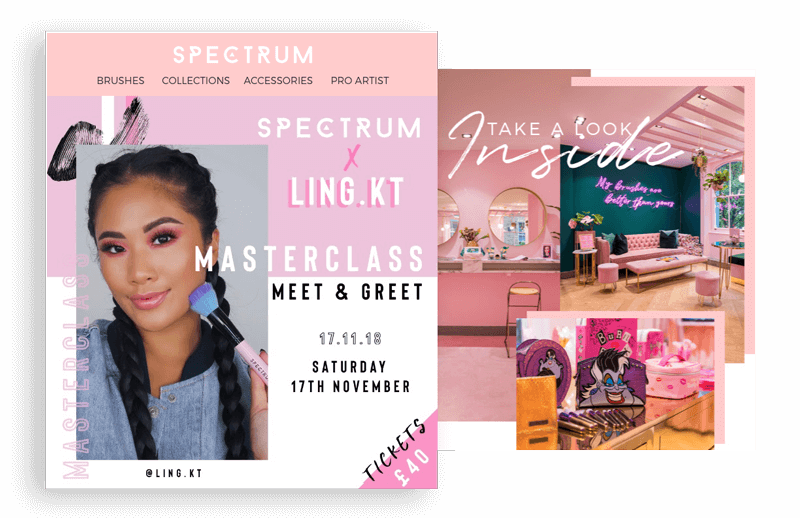 When you're a member of Spectrum's brand community, you're treated to a huge variety of value-add content that enhances your experience not only with their brand but with beauty products as a whole. From masterclass tutorials to pop-up shops and instructional videos, Spectrum makes every interaction with their brand a rewarding one.
With so many amazing pieces of content at their disposal, Spectrum's beauty-minded customers get excited to share their new expertise with others. This extends Spectrum's reach beyond their normal marketing efforts, reinforcing their brand community and getting new customers to join their program in one sweep. Now that's what I call truly mermazing.
Luxury and social status are the keys to success for beauty rewards
Whether you're only starting to build your beauty brand community or looking to strengthen an existing one, these six brands make it easy to see that a rewards program is the perfect tool for the job.
By offering your customers what they truly value in the form of exclusive VIP status and early access to new products, you can motivate more of your shoppers to choose you first when it comes time to replace their signature lip color or shimmering highlight.