The nutrition industry has become a very competitive place both in retail and online. The surge in popularity can be attributed to the the general populations increase interest in living a healthy and fit life. In fact, 61% of people are actively seeking to live a healthier life and of those 50% are strength training.
In order to combat all the increased competition many supplement companies are looking at customer retention through loyalty programs. Here are 7 loyalty program examples in the supplement industry.Click on the site image to go to that respective site, and click on the program name to see more about that program. You can also get our free how to guide on building a loyalty program in the supplements industry.
Bodybuilding Warehouse's Protein Pounds
Country of Origin: United Kingdom
% Back: 2% Private Brand / 1% Other Brands
Rewarded Actions: Customer Referrals, Product Reviews, Facebook Shares
Bodybuilding Warehouse is a great loyalty program example. They use their loyalty program to not only reward repeat business but other profitable actions as well.
The site rewards points to customers who refer their friends to buy from the site. The program gives the existing customer 5 protein pounds for referring a friend and gives the friend 5% off their first order.

The program also rewards customers for performing actions that help the site sell more in the future. This includes rewarding customers for writing product reviews (0.1 Protein Pounds) and liking a supplement on Facebook (0.05 Protein Pounds)
Bodybuilding Warehouse also uses their loyalty program to promote their house brand products. Customers are rewarded Protein Pounds equal to 2% of the purchased product. This is more than the 1% they earn on all other brands on the site.
Bodybuilding Warehouse is a great loyalty program example because it rewards customers for sharing the BBW brand and it aids in the selling and promoting of their house brand products.
GNC's MyGNC Rewards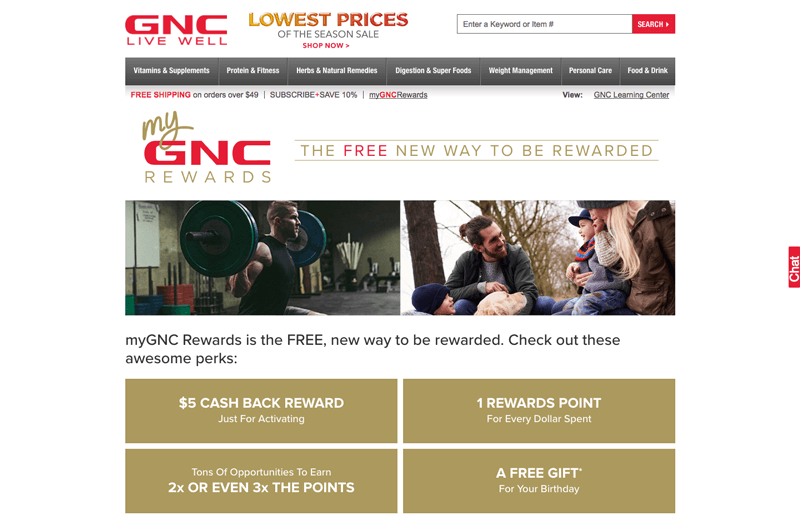 Country of Origin: United States
Rewarded Actions: Account Activation, Purchases
GNC is an example of a paid loyalty program.  Customers can either choose to participate in the free program and earn points for every dollar they spend, or pay an annual $39.99 membership fee in order to receive additional perks like free shipping, special giveaways, and quarterly pick-your-sale days.  These considerations allow customers to customize their loyalty experience and participate at the level that suits their lifestyle.
Gold Standard Nutrition's Gold Points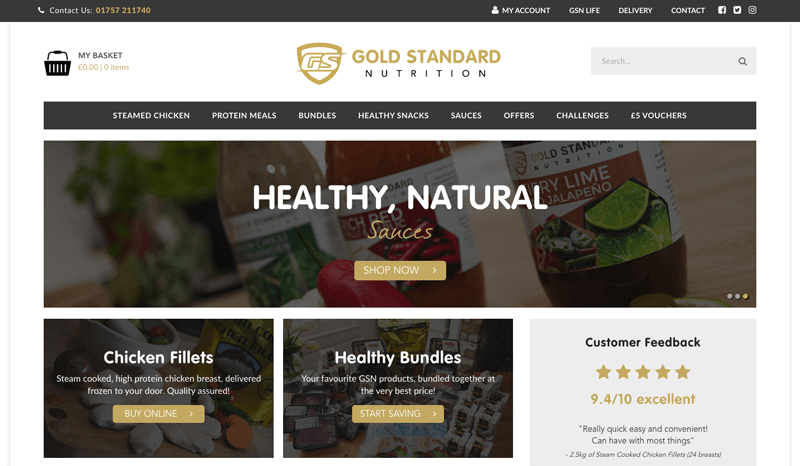 Country of Origin: United Kingdom
% Back: 8% Private Brand
Rewarded Actions: Product Reviews, Facebook Shares, Twitter Shares
Gold Standard Nutrition does many things right with their loyalty program. They reward points for buying specific products, sharing over social media, and have points only products that the customer can spend the points on.

The Gold Standard Nutrition loyalty program rewards the most points for their two flagship products (15, 10 gold points). They also reward a smaller amount of points for actions they know help drive success, such as product reviews and social sharing.
The Program allows for customers to redeem the points they have collected for specific products (shown above). Points only products are a great way to clear point balances while also promoting your brand.
Gold Standard Nutrition is great loyalty program example because they have incorporated a unique way for customers to redeem their points. The site has also beautifully themed there program to fit with the look and feel of the site.
Popeye's Canada's Popeye Bucks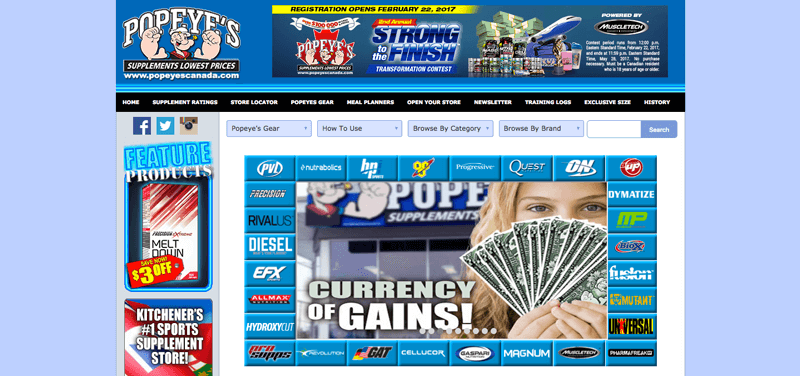 Country of Origin: Canada
% Back: 4% All Brands
This loyalty program example is a retail only one. The popular Canadian supplement retailer awards Popeye Bucks that can later be redeemed for product in the store. The customer earns $1 for every $25 spent in store.
The program has been very successful because of the simplicity of the program. There is no confusion as to how much the rewards are worth, each buck is worth a dollar that they can spend in store. Earning Popeye Bucks is just as simple: every $25 dollars regardless of what is purchased gives you 1 Popeye Buck.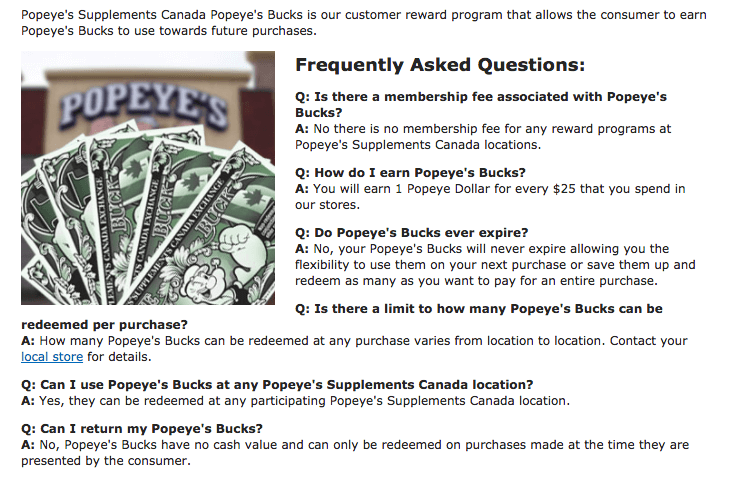 This loyalty program shows that a program does not always have to be feature rich to be effective. In fact many of the best programs start simple and evolve over time.
Predator Nutrition's Predator Points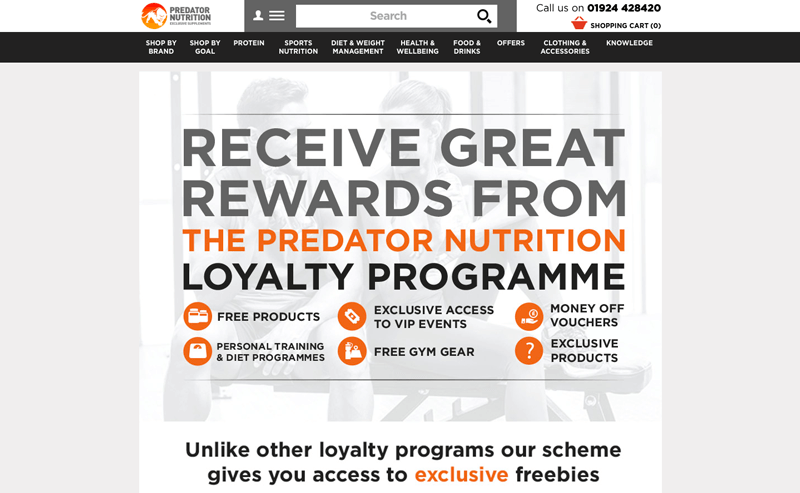 Country of Origin: United Kingdom
% Back: 3% Select Brands / 1.5% All Brands
Rewarded Actions: Customer Referrals, Product Reviews, All Social Sharing, Newsletter Subscription, Account Registration
Predator nutrition is an example of a loyalty program that awards points for dollars spent and supplements it (pun intended) with a host of other rewardable actions.
Predator rewards for many of the actions we have previously mentioned including social media and referrals, but they also reward for newsletter signups and registered accounts.
Rewarding for account registrations is a very effective way to leverage a loyalty program. by providing an incentive to sign up now you can remarket to them later using email marketing tactics. for similar reasons Predator also rewards for newsletter signups.
Predator Nutrition also rewards 2x the amount of points when a customer purchases their featured brands.
The Vitamin Shoppe's Healthy Awards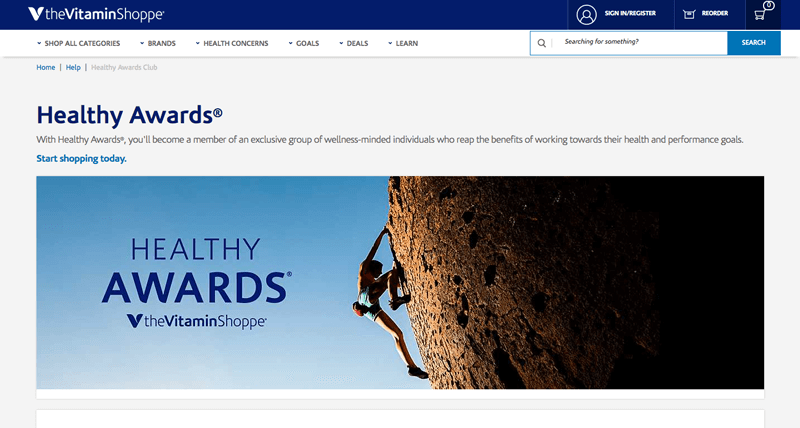 Country of Origin: United States
% Back: 5% All Brands
The Vitamin Shoppe is a loyalty program example that is offered both online and instore. The program has a loyalty card for the in-store and you automatically become a member of the program when shopping online.
The Vitamin Shoppe's program is a little different than the other programs we have shown. When you shop on the site you earn 1 Healthy Award for every dollar spent. You cannot spend the points you earn right away, instead you accumulate points until the end of the calendar year.

At the end of the year you can redeem your points for shopping credits. The program also uses what we call a tiered system. Customers who spend more than $1,000 in a calendar year are moved into the VIP status and gain access to all sorts of other features.
USN's USN Points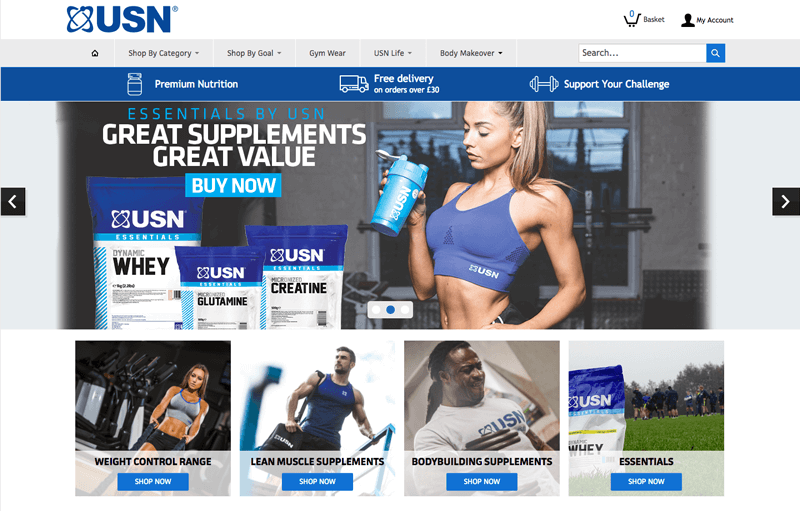 Country of Origin: United Kingdom
% Back: 1% All Brands
Rewarded Actions: Customer Referrals, Product Reviews
USN is a loyalty program example that demonstrates how easily a program can be integrated into a shop. This is an example of a clean and well integrated program.
The program itself rewards for customer referrals, product reviews and for spending on the site, 1 point for every 10 Pounds spent. This program is simple yet clean.
Tips for Loyalty Programs in the Supplement Industry
This list by no means shows all the supplement companies that are using a loyalty program, there are hundreds. These examples are meant to help illustrate what different programs are doing and give you inspiration as to how a loyalty program could look on your site.
In our experience with supplement loyalty programs there are three key things to remember:
1. It Has Become Next to Impossible to Compete on Price
That is why customer retention is so vital. Privatelabelsupplements.com has a post that explains why a loyalty program makes sense in the supplement industry.
2. Reward More for Purchasing House Brands
If you have a supplement site you either have or are thinking of implementing a house or private label brand. A loyalty program is a fantastic way to encourage your customers to give your brand a try and even become loyal to it.
3. Reward for Customer Referrals
People who buy supplements love telling their friends about it. If they are rewarded for telling their friends, they like it even more. Our supplement clients who have implemented referral rewards have seen great results.
Some of the examples above are Smile.io clients some are not. To see what you can do with a Smile.io program check out the features below.