Have you ever thought about the best way to reward your customers for their loyalty? While you could stick to traditional methods such as giving 10% back on all purchases, you could also offer new and exciting experiences such as invites to exclusive events.
Understanding the difference between these transactional and experiential rewards is the key to deciding which type is most valuable to your customers. Let's start by defining each of these rewarding methods before diving into when and why you should use each for your business.
The Difference Between Transactional and Experiential Rewards
Transactional Rewards
Whether you know it or not, you're probably already very familiar with this type of reward! Transactional rewards are financial incentives that customers can use to save money on future purchases. From free shipping to dollars off, these rewards are extremely common in customer loyalty programs, and are quite popular with many types of shoppers.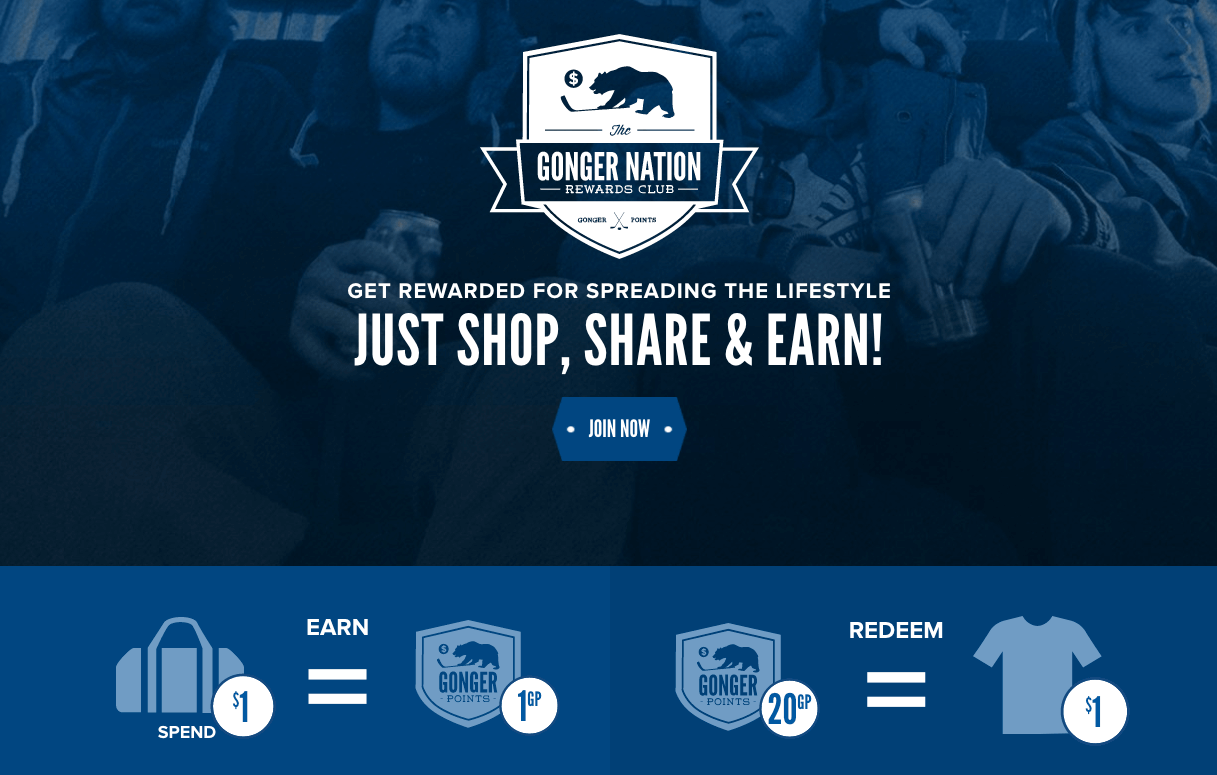 GONGSHOW's Gonger Nation Rewards Club rewards their customers for each dollar they spend with dollars off their next purchase. If I were to purchase $100 worth of merchandise, I'd earn enough to save $5 on my next order.
This is a classic example of a transactional reward that makes it easy to understand why they are so popular. Customers love them because they help save money and businesses love them because they encourage repeat purchases.
Experiential Rewards
Unlike transactional rewards, this type of reward goes beyond a dollar value to improve the larger customer experience. Instead of simply saving your customers money, experiential rewards give your customers access to experiences that can't be found anywhere else, allowing you to build deeper relationships with your customers.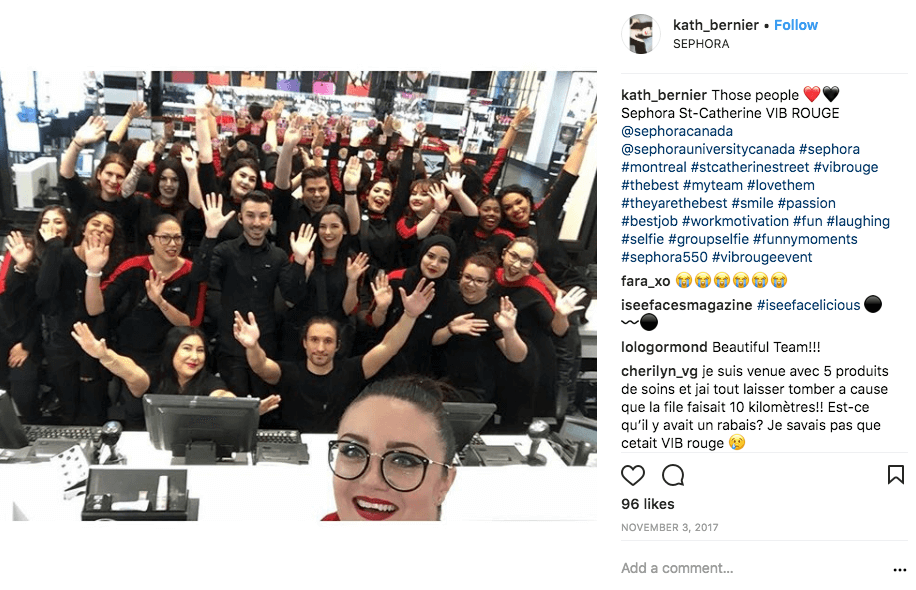 Sephora is a global leader when it comes to creating unforgettable experiences for their loyal customers. By becoming a VIB Rouge, Sephora customers receive invites to exclusive events with other makeup fanatics! They don't stop there, though. The cosmetics giant also offers other experiential rewards such as access to the Beauty Insider Community, free custom makeovers, and even a private hotline.
The Pros of Transactional Rewards
They Provide Easy-to-See Value
Transactional rewards are the best way to show customers the value of your rewards program quickly. Receiving $10 back after spending $100 is a very tangible return on investment that's not only easy to understand but also helps justify additional purchases. These rewards give customers extra bang for their buck, making your brand very appealing when compared against competitors who don't offer any additional value per purchase.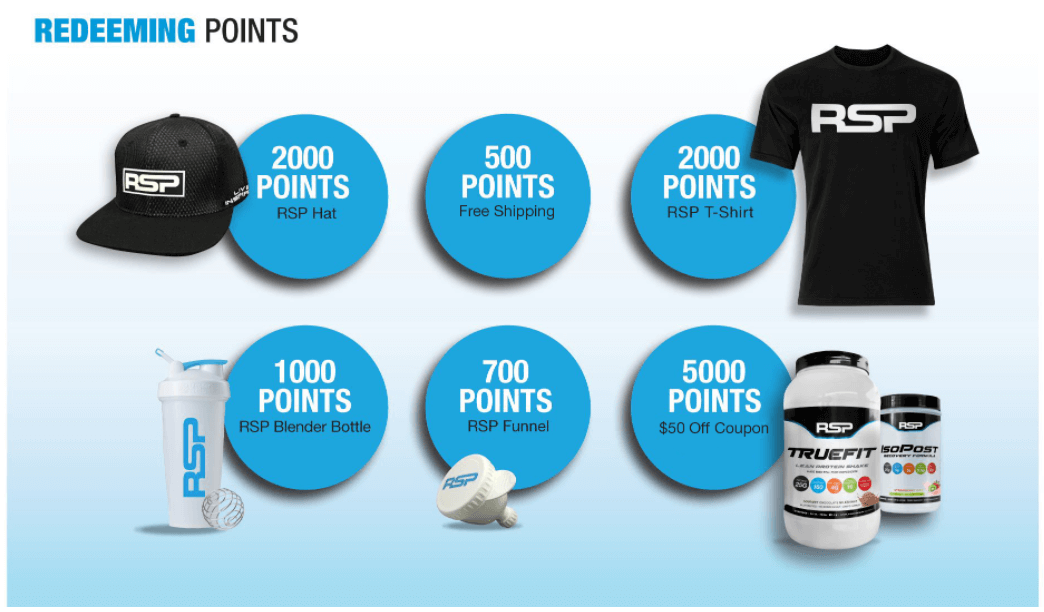 RSP Nutrition's explainer page shows me what my points are worth before I even join their rewards program. By being very transparent with what their program was able to offer me, I understood how it worked and signed up in less than a minute. This is very valuable for RSP because it allows them to maximize the number of customers who become loyal members in their program.
They're Easy to Implement
Another benefit of using transactional rewards is that they are easy to set up, especially if you're running a points program. Building a points program allows you to automatically award points for a number of different actions (including purchases, social shares, and more) and gives customers the ability to spend the points they earn on store credit.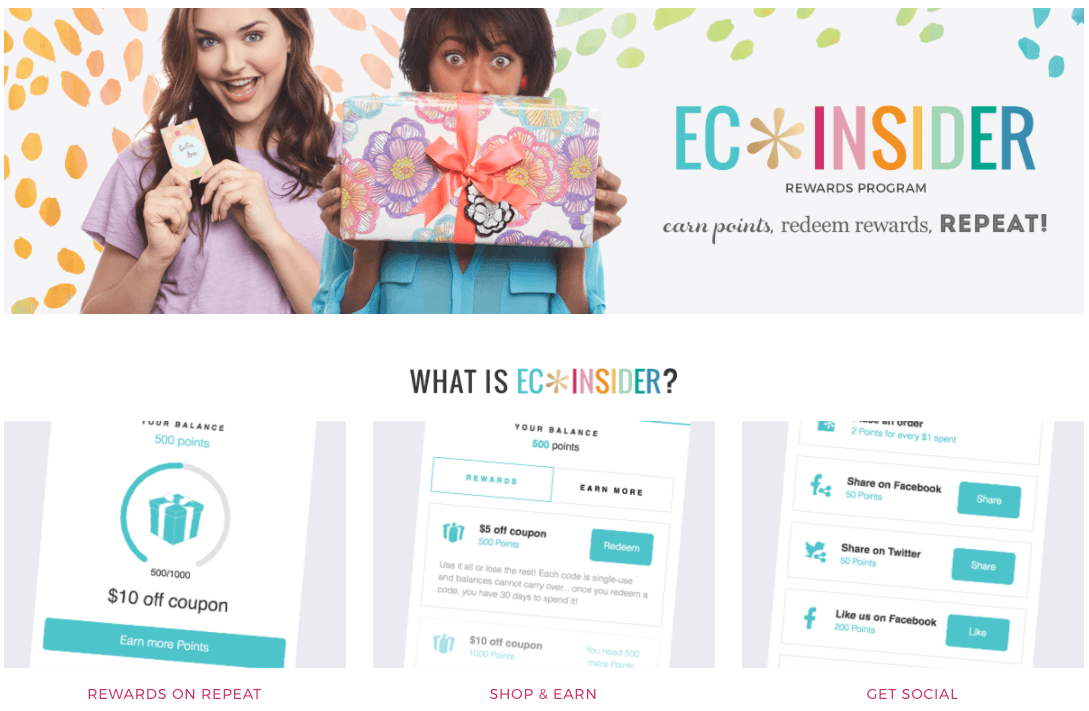 With their EC Insider program, Erin Condren was able to quickly build a points program that rewards customers 2 points for every dollar they spend. These points are very valuable because they give shoppers the chance to unlock rewards that save them money on their next order. This earning and redemption cycle is handled automatically through Erin Condren's Smile rewards program, creating an effortless rewards experience for both the customer and the brand.
They Avoid the Dangers of Discounting
A lot of businesses wrongly turn to discounts in an effort to convince more customers to make purchases. Whereas discounting can lead to a dangerous death spiral, offering money-saving rewards doesn't! Offering rewards as an incentive to shop with you is beneficial for both your brand and your customers: your customers receive additional value with each purchase, and you're able to encourage customers to perform a number of profitable actions, such as making purchases, sharing your store on social media, and writing product reviews. Traditional discounts on the other hand simply condition customers to expect cheaper prices for your products.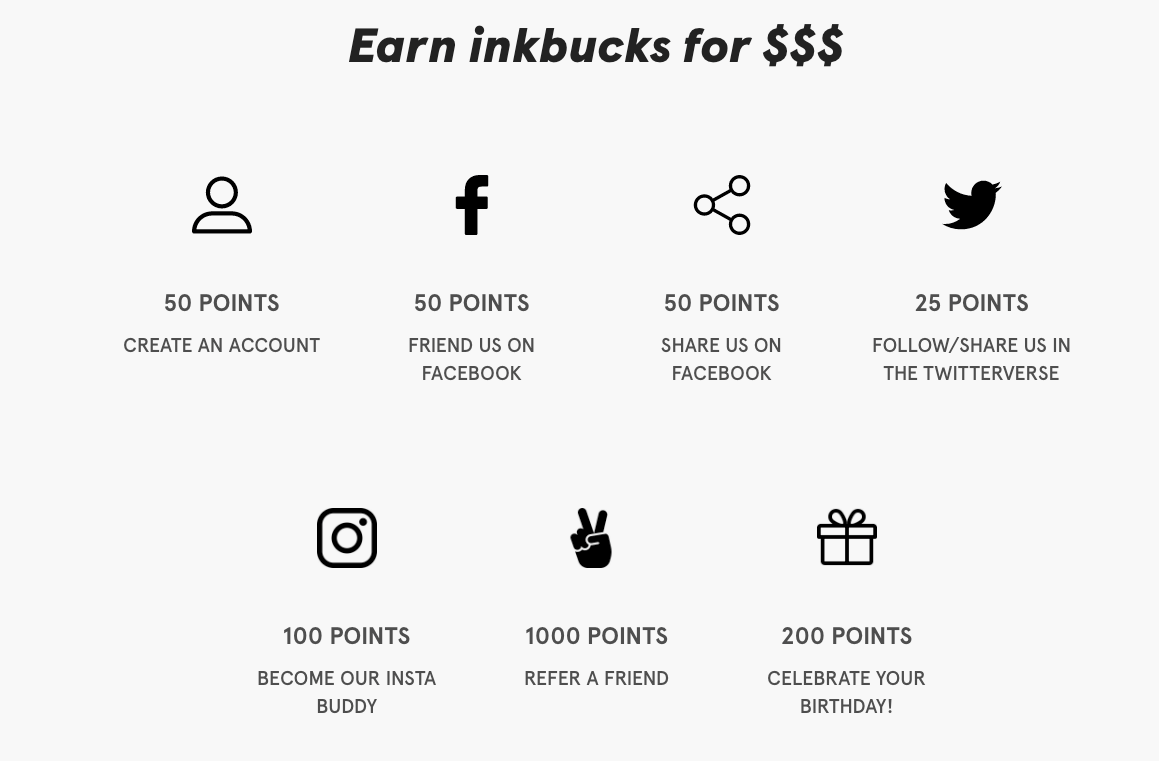 Rather than simply handing out a $5 coupon, Inkbox gives their customers many different ways to earn it. This makes the entire process more engaging and creates a better connection with their customers since they need to interact with the brand in order to receive it. Even though customers are receiving the same coupon value in both scenarios, Inkbox is building a stronger community by providing accessibility to their products through their rewards program.
The Cons of Transactional Rewards
They're Not Unique
One of the biggest downsides to transactional rewards is that most businesses with reward programs are already offering them. Considering the pros it's easy to see why, but that also means that you won't be the only business offering additional value in your industry. Customers will have equal incentive to choose you or your competitors, making your program's branding and marketing a higher priority in order to help you stand out.
They're Not Exciting
Another minor problem with transactional rewards is that they can become stale over time. If you're only ever receiving $5 back on $50 orders, the earning and redemption process becomes predictable and loses its novelty after it's been accomplished a few times.
This phenomenon can be explained by the Law of Diminishing Marginal Utility, which states that "the more you consume a good or use a service, the less satisfied you will be with each successive use." To ensure the longevity of your program, diversifying your rewards becomes crucial.
They Can Be Expensive
It's also important to consider that transactional rewards can add up. Since you have a direct financial obligation to uphold discounts and free shipping charges, you need to be aware of how many rewards you're issuing and how quickly customers are redeeming them.
That being said, this isn't a reason to not offer transactional rewards! As we saw earlier, transactional rewards can be highly motivating to value-centric customers - you just need to award them carefully.
The Pros of Experiential Rewards
They Provide a Memorable Experience
One of the best things about experiential rewards is that they provide a more memorable experience and establish a deeper connection with your customers because they are more personalized than financial rewards. Since they can be tailored to the interests of your customers, this type of reward creates a positive emotion for a longer period of time than a transactional one does, which gets your customers coming back again and again. When a customer is faced with the decision of shopping with a competitor or returning to your business, they will remember the positive experience they had with your brand and the decision becomes a no-brainer.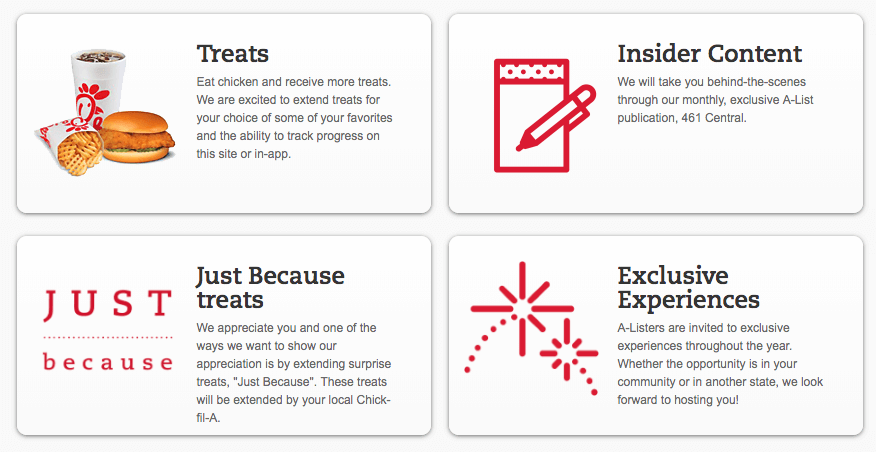 While Chick-fil-A is famous for their outstanding customer service, their rewards program is what really stands out. Becoming an A-Lister gives you access to exclusive experiences that are impossible to forget. For example, Brittany Breen was invited to a free private VIP dinner when she became an A-Lister. This not only made her years of brand loyalty worth it, but also gave her an experience she won't forget.
They Help Your Brand Stand Out
If you made a large purchase at a sports store, which of these rewards feels more tailored to you? Receiving a $5 coupon towards your next purchase or receiving an exclusive invite to a meet and greet with baseball superstars? This another key strength of experiential rewards. Since they can be virtually anything you want, they give you the flexibility to offer rewards that are truly customized to your customers. Rooted in what makes your brand unique, they deliver one of a kind experiences your customers simply can't get anywhere else.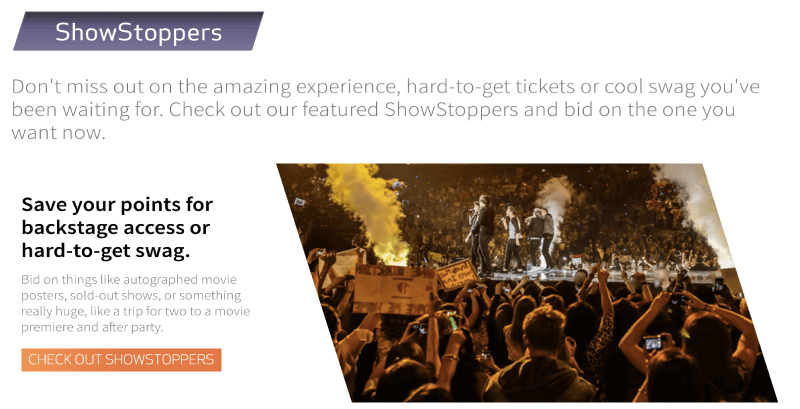 Sony's rewards program is among the best in the world because of the life-changing prizes that are up for grabs. Sony offers rewards that perfectly match their customers' taste, such as tickets to concerts, Hollywood movie premiers, and access to premiere golf tournaments. Even without mind-blowing backstage passes, offering a reward that matches your target audience can increase it's perceived value, making it very motivating to reach.
They Help You Build Strong Relationships with Your Customers
Being able to build strong relationships with your best customers is perhaps the biggest advantage of using experiential rewards. The best way to do this is by building a VIP program that offers one of a kind experiential rewards to your best customers. This promise of additional value will motivate every customer to spend more to gain more, increasing program engagement and sales.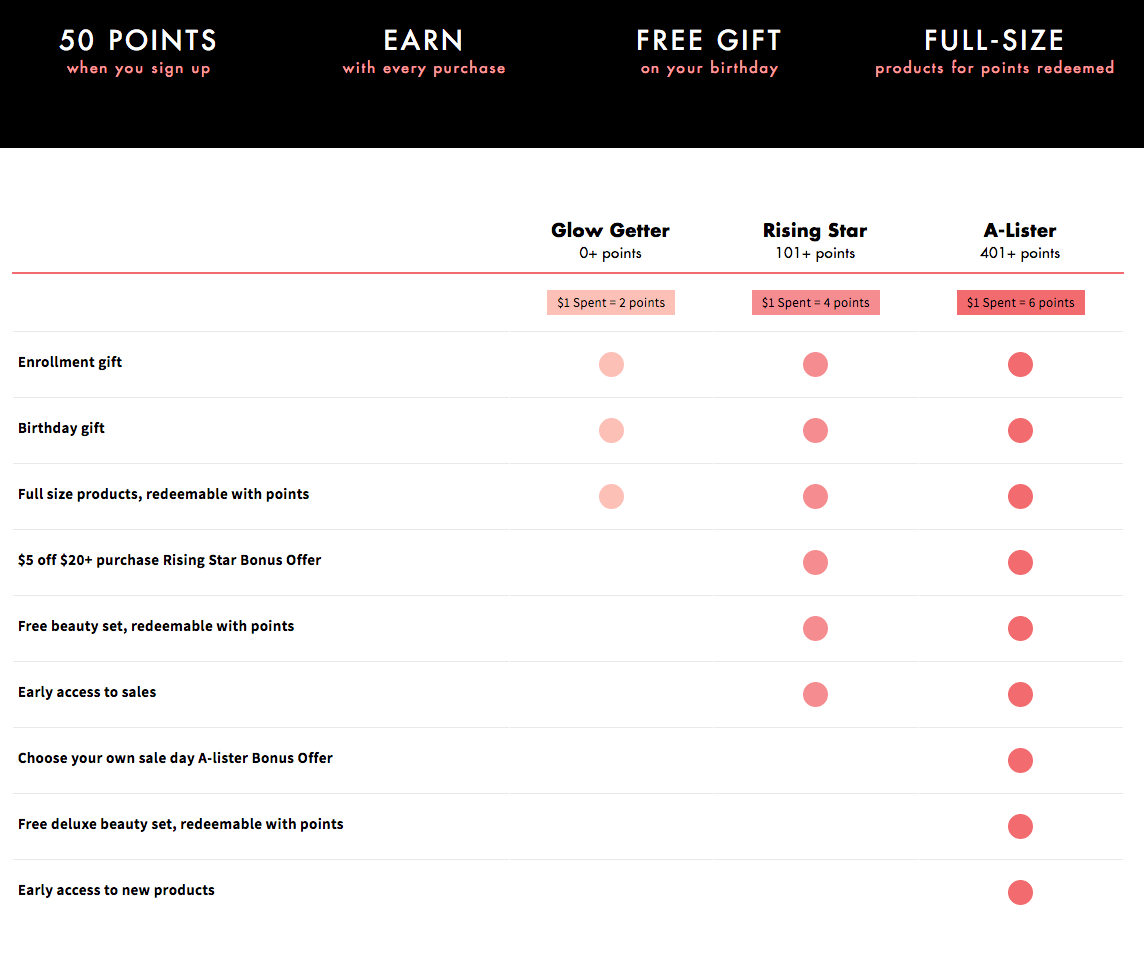 e.l.f. Cosmetics uses VIP tiers to provide their top customers with exclusive access to sales, early access to new products, and "choose your own" sale days. This allows them to retain their highest paying customers and motivates "Glow Getters" to move up through the ranks by earning more points.
The Cons of Experiential Rewards
They're Not Automated
The primary downfall with experiential rewards is that they require more manual processes than transactional rewards. They are harder to automate since they are personalized, and as a result will require more effort from your end. To illustrate this point, think about the time involved in setting up a meet and greet event versus letting your points program run on autopilot.
These considerations are important to keep in mind when designing your rewards program, regardless of how many advantages experiential rewards have.
Their Value Isn't Tangible
Another limitation of experiential rewards is that their tangible value may appear to be lower than that of transactional rewards. Consider when you walk into a store and go to buy a product - you extract a lot of information about the products you're looking to purchase from the price tag. As a result, your experiential rewards need to be positioned in a way to show off their true value, since it's easier to explain what a $15 coupon is worth than an invitation to an event.
Should You Use Transactional or Experiential Rewards?
While this shouldn't come as a surprise, I'd definitely recommend incorporating both into your rewards program!
Offering both transactional and experiential rewards allows you to
automate and differentiate.
Using both types of rewards allows you to have an automated rewards strategy while while still delivering a personalized experience that sets you apart from competitors. Transactional rewards are easy to automate and should be used to reward every customer, whereas experiential rewards require manual processes and should mainly be used to reward your top customers.
Moroccanoil combines the best of both worlds by offering transactional rewards to all customers and experiential rewards to higher tiers only. New customers start as "Argan Insiders" and are offered rewards that run on autopilot such as store discounts or free shipping. This allows more time to focus on retaining "Beauty Enthusiasts" and "Iconic Golds" with tailored experiential rewards such as exclusive access to new products and invites to VIP events.
With these tips in mind, how will you incorporate transactional and experiential rewards into your program?