Do you sell products online or have you built a real, successful brand?
You may not have considered it before, but the two are actually different, and a loyalty program is what will transform your store from a company that sells things into a powerful brand with a community of advocates.
When you have a brand, it's because you've retained a group of loyal customers who share your brand with their peers, engage with it online, and continue making repeat purchases. Your brand becomes a part of their personal identity, which is exactly the kind of relationship you'll want to strive for with your customers.
One reason why this is important is because the probability of selling to an existing customer is 60 – 70%, whereas the probability of selling to a new prospect is 5-20%. Since loyalty and rewards are the way to foster your best customers to keep them engaged, you'll want to ensure you're branding your program for the best results. In this article, we'll share the best tips for branding your loyalty program to increase customer engagement and retention.
Make your loyalty program a part of your ecommerce website
If you have a loyalty program, you can't just expect customers to sign up whenever they make a purchase at your check out page. In fact, without making it visible and clear that you have a loyalty program, people won't engage at all. It's best practice to include a rewards explainer page somewhere on your website, and if you're using Smile, you can include the rewards launcher on every page too! Check out Fusion Tea's Perks Program as an example.

Along with their launcher where customers can sign up or sign in, they've created an on-brand explainer page that shares all the information customers would need to know about how their loyalty program works. This is one way you're ensuring that your loyalty program is a part of your regular website branding. You have to treat them as one in the same in order to maximize the value of having loyalty to increase customer retention.
By sharing pages and launchers where customers can easily discover and engage with your rewards on your website, you're fostering a relationship with each customer, and they will become your loyal brand advocates.
Incorporate your key messages into your rewards
What does your brand stand for? Whatever message you share with your customers should be reflected in all your marketing efforts and communications, including your loyalty program. Integrating your key messages and brand values into your rewards program will also get your regular customers to resonate with your loyalty messaging too. Essentially, if customers engage with your brand's values now, they'll engage with your loyalty program if it matches those values.
Take Pacific Northwest Cookie Company, for example, as a brand that incorporates its regular brand values naturally.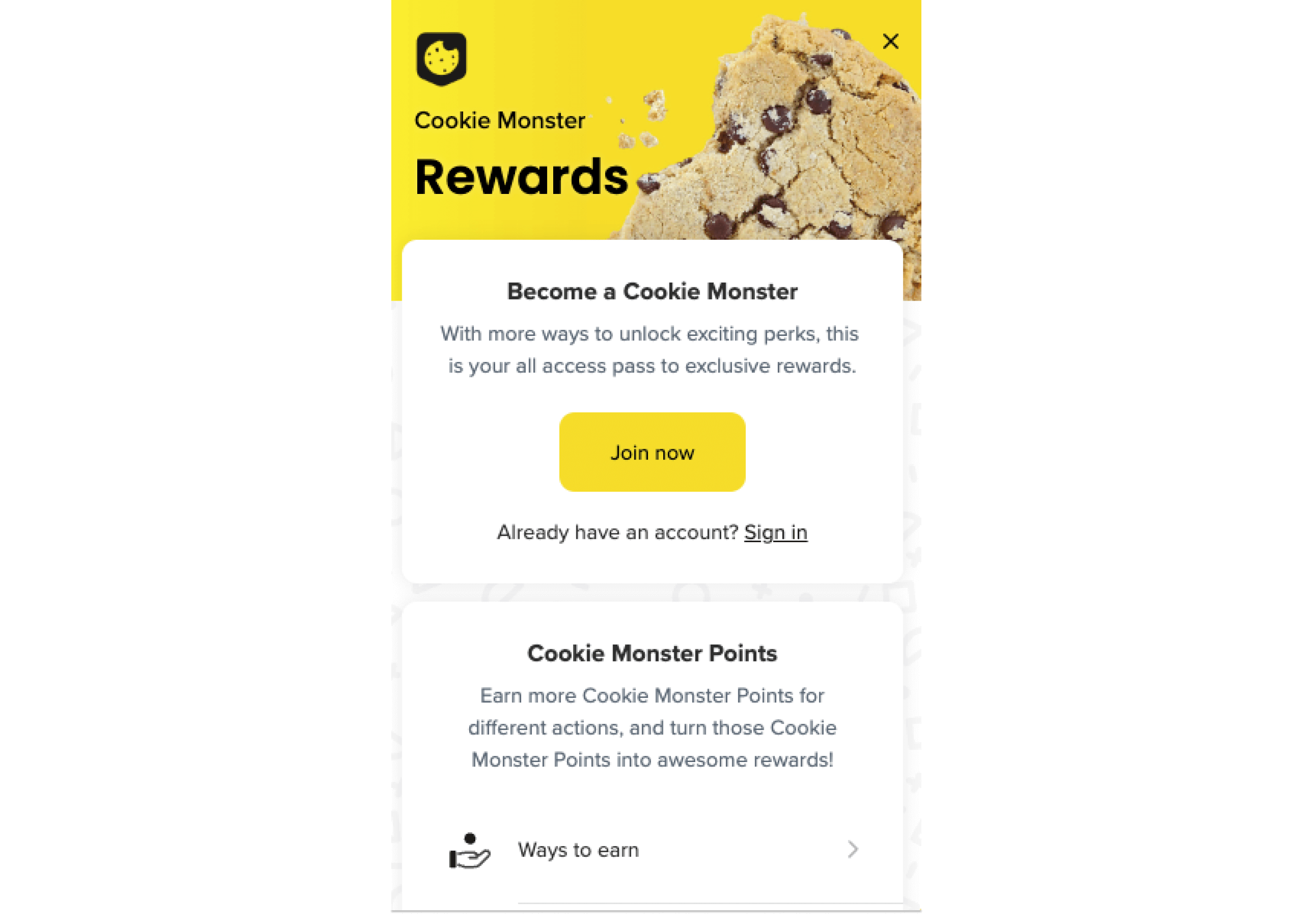 As part of their brand story, PNW Cookies shares their founders' struggle with finding delicious cookies that meet the needs of one of their family member's extreme food allergies and intolerances. They've included this messaging subtly on their loyalty program panel when they say "Become a Cookie Monster" and let customers earn "Cookie Monster Points".  Also, by adding in brand colors and imagery on its rewards panel, PNW Cookies is making the rewards experience just as tempting and delicious as its products.
This consistent messaging ensures you're reflecting the same values in every way your customers engage with you, and it will motivate them to sign up and start earning rewards, leading to repeat purchases and increased retention!
Keep it simple
When creating rewards explainer pages or launchers, it's important to keep them simple and clutter-free. If you add too much information in one section or make the design too complex, it'll be difficult for customers to engage and digest the information. Our suggestion is to make the important stuff stand out, like the points, sign in buttons, and brand images. Take Ruff Houzin for example.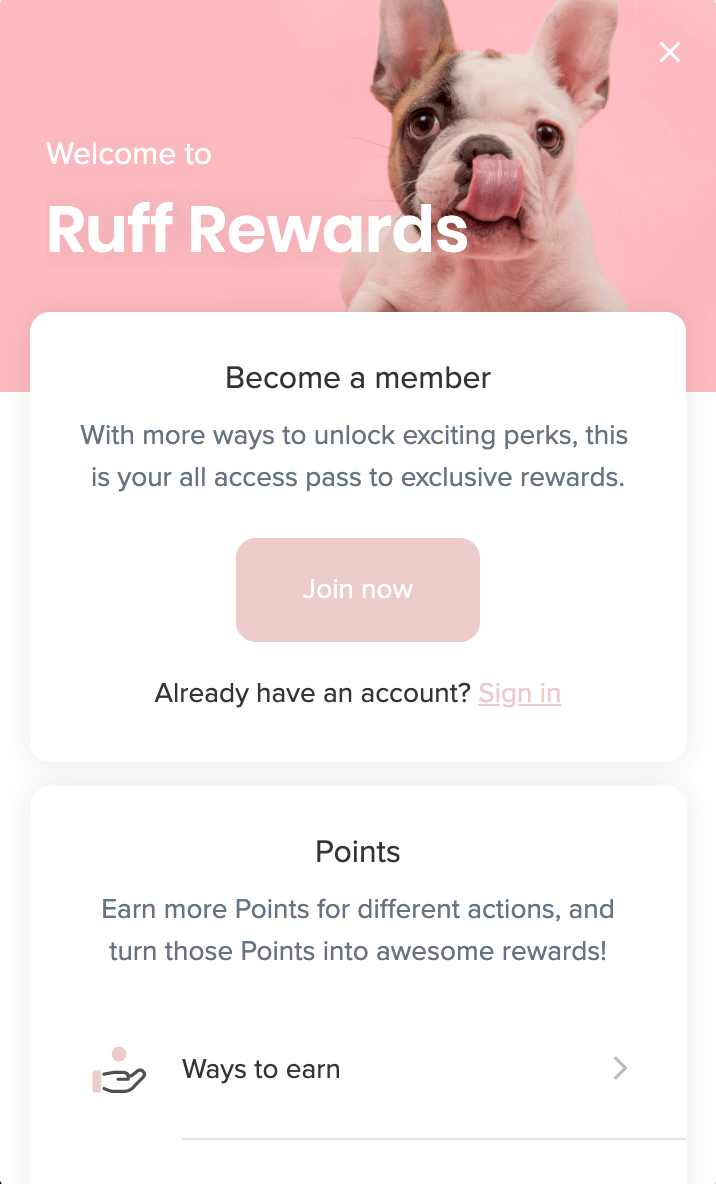 Using Smile's loyalty app, Ruff Houzin added this launcher on their ecommerce website. Not only do the brand colors in the launcher match their regular brand colors, but the information is broken up into sections where customers and members can easily read through to get information about how the loyalty program works.
Keeping your rewards simple through design and easily-digestible sections helps you highlight the important features that your future brand advocates should know.
Don't forget to engage with visual communication
Speaking of simplicity, ensure you're adding visual communication with your loyalty program. Whether it's in a launcher like Ruff Houzin or on a regular explainer page, adding graphics and images helps break up the text. This gives you an opportunity to add more consistent brand elements to your rewards experience. One main tip is to keep the images and colors on-brand with your regular website color scheme. One brand that does this well is Psylo Fashion.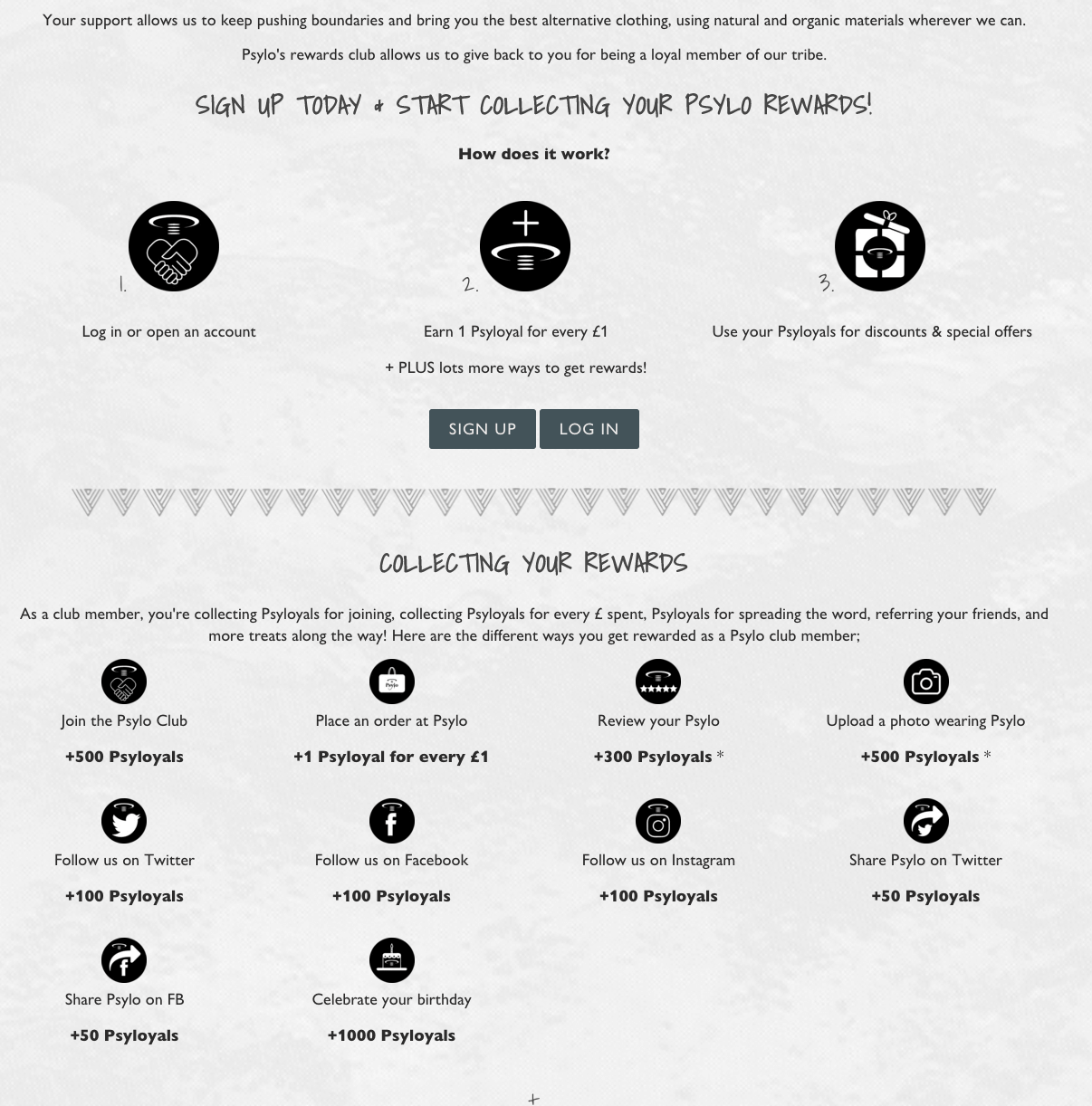 Aside from their launcher, they've also included an explainer page on their website where they neatly share the information customers need about being a Psylo Member. They've paired the information with graphics, headings, and white space to ensure it's easy to understand. Also, the colors and graphics are consistent with the appearance of the rest of the website, ensuring they've properly branded their loyalty program to match.
Adding consistent visual communication is a key branding strategy that ensures customers who discover you will engage with your program. If your loyalty program is visually different, customers will second guess joining, and you don't want that!
Get creative with copy
As a shopper yourself, what do you typically prefer: text that's plain and boring, or something exciting that hooks you in? Your answer is most likely the latter, which is why it's important for your loyalty program to have branded copy that's both exciting and creative. Ensure you have the following:
An engaging loyalty program name.
A unique points currency so customers don't just "earn points."
Customized default language that's on-brand.
One brand that includes all this is ReThink Oil.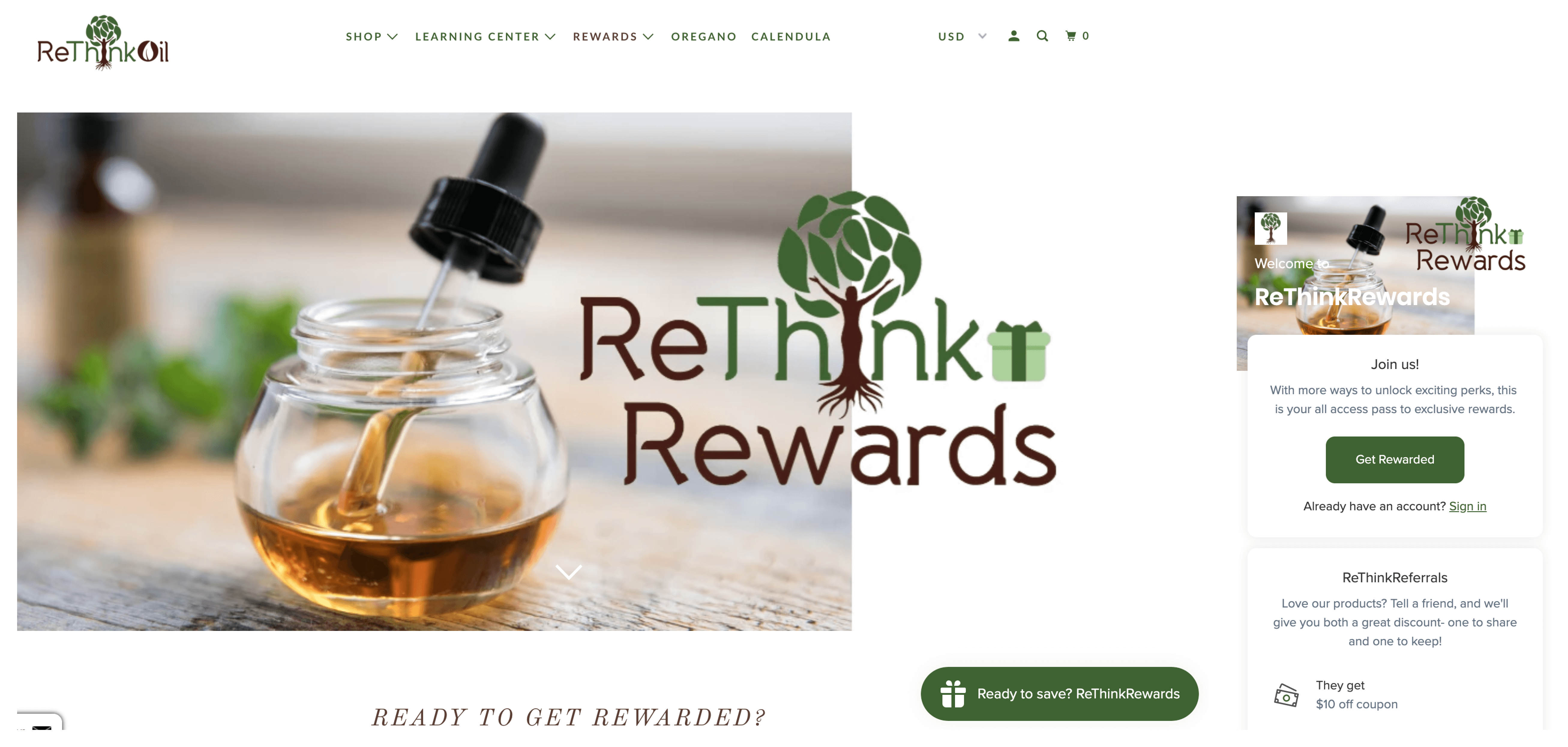 Using their launcher, ReThink Oil adds engaging copy by saying "Ready to save? ReThink Rewards." This makes the launcher button extremely click-worthy since customers are told they'll save. Once they open the launcher, they're greeted with more inviting copy such as an on-brand rewards name ("ReThink Rewards") and "ReThink Referrals." Their points currency is also called "Leaf Tokens," ensuring every aspect of the copy for their rewards program is both on-brand, different than what most ecommerce websites offer, and engaging.
Creative copy like ReThink Oil's is a great way to get customers interested in signing up for your brand's rewards program, getting them to start earning right away, and turning those customers into loyal brand advocates.
Include your program in your regular brand activities
If you're an ecommerce brand, you're probably already engaging in regular marketing activities such as social media, email, or SMS marketing to push your brand message out to the world. However, did you ever consider that these channels are also areas that you should be marketing your loyalty program? Email marketing, SMS marketing, and social media are three ways customers engage with you off your ecommerce website, so include loyalty in these messages to make it truly a part of your brand.
ECS Coffee does this well by sending specific emails to loyalty program members; however, you can also target customers who have shopped your products or visited your website but haven't signed up for rewards. Basically, engage both rewards members and non-members in your campaigns for maximum impact.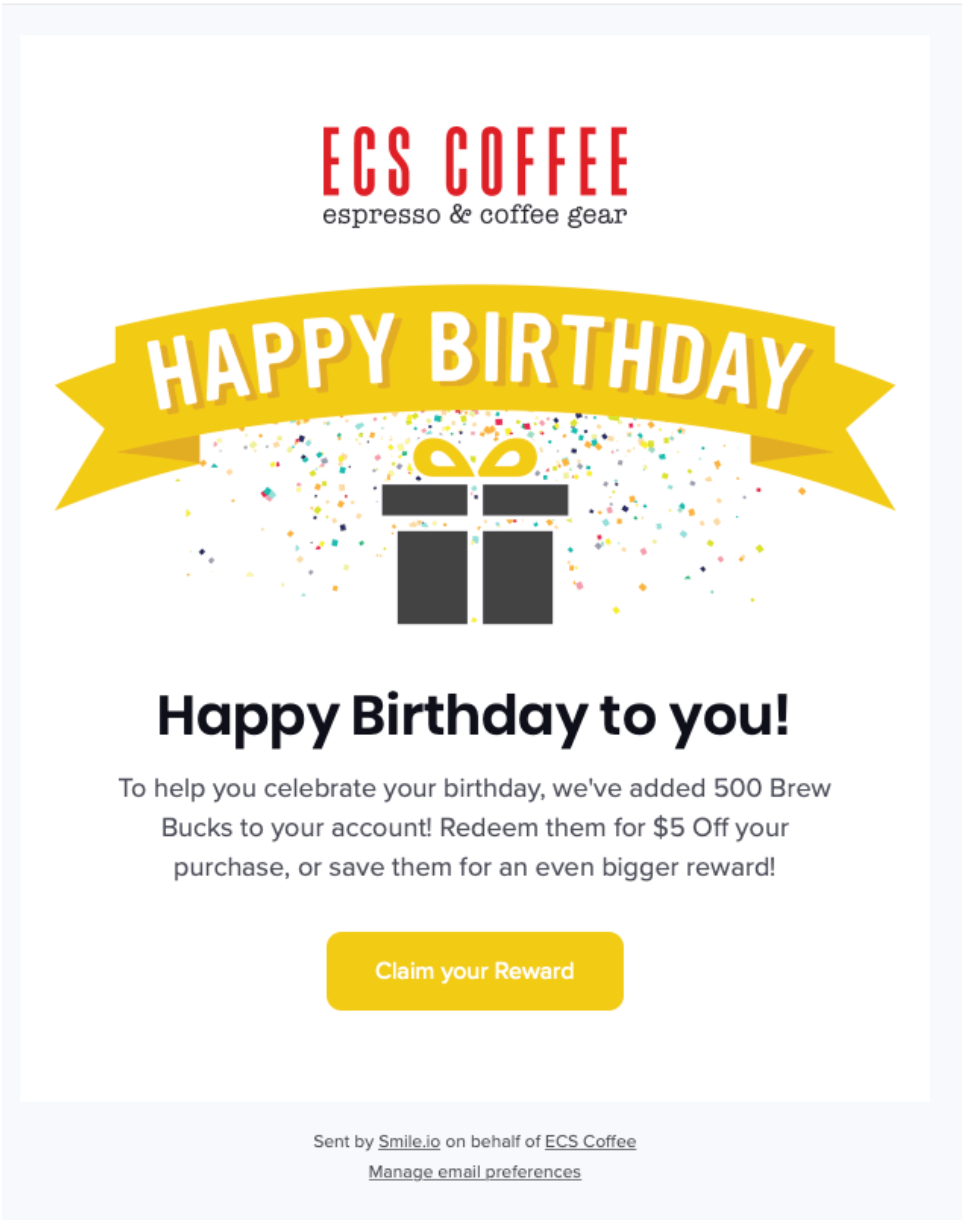 Your brand followers already expect emails, messages, or social media posts from you, so weaving loyalty into these messages helps get the word out that you offer rewards, and it reminds your rewards members what offers could be waiting for them.
Including loyalty into your other marketing efforts ensures it holds its value as being a part of your brand.
Key Takeaways
If you're going to offer a rewards program for your customers, you'll want to ensure you're putting the effort in to make it on-brand and engaging. These tips are the best way you can do that, which in turn will give you retained customers that will continue to provide value for your brand.
Make your program discoverable on your website.
Incorporate your brand's key messages.
Keep your program simple.
Add appealing visual communication and design.
Use creative copy to increase engagement.
Include your program in your regular brand marketing.
With these tips, you're now on the journey to becoming a powerful brand. Good luck!
Ready to keep learning how to brand your program?
Check out our industry guide on branding your loyalty program for success.