If you or anyone you know has pets, you know that pet owners want nothing but the absolute best for their furry, scaled, and feathered family members. That's why so many people were excited about PetSmart's new Treats program, including me!
As a cat owner, I'm always looking for the next way to treat my cat like a king, and Treats seemed like a good way to do that. Not only is there a new program, but Treats is open to all PetSmart customers in both the United States and Canada. While this might sound like a silly thing to note, you'd be surprised how often Canadian customers like myself get the short end of the stick!
Time to find out if Treats deserves a scratch behind the ears or needs to go back to obedience school!
Treats that have our tails wagging
One of most important jobs of any rewards program is to delight customers. For pet supply program, that means delighting both your customers and their pets! Luckily, Treats was designed with features that not only make owners happy but get their pets purring as well.
Easy to find and simple to join
One of the biggest challenges of starting a new program is letting people know it exists. A successful rewards program needs to be easy to find if you want  customers to join, and PetSmart started off on the right paw by making their program highly visible on their website in a number of different ways.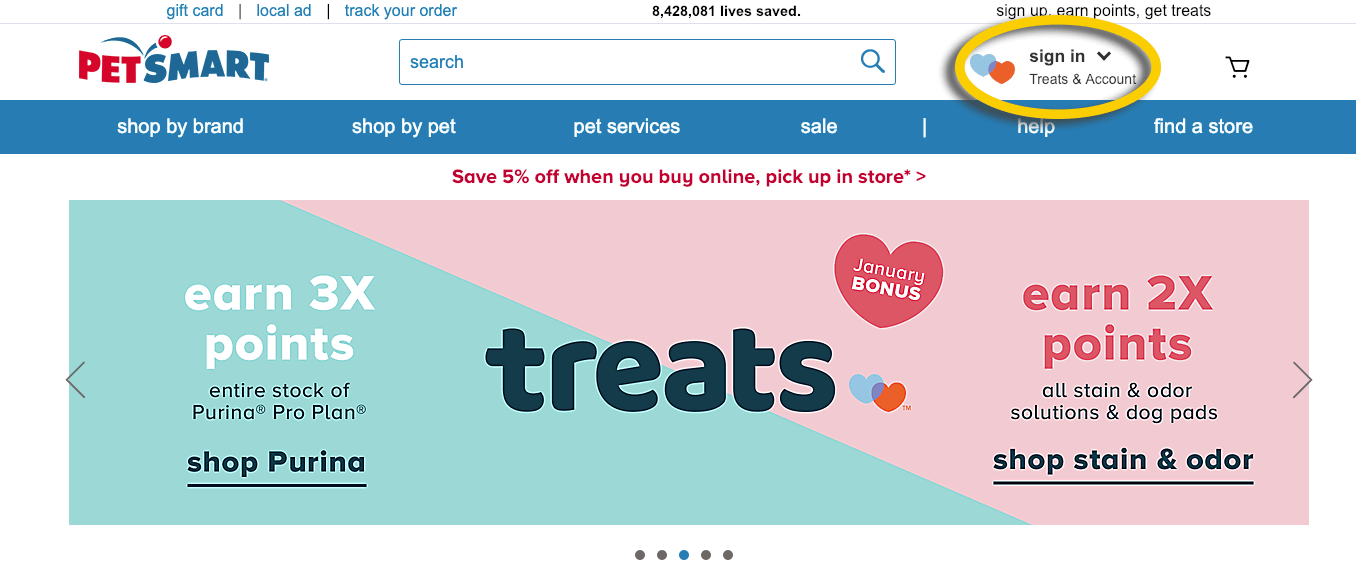 For starters, PetSmart included a large, colorful banner on their homepage that highlights some of the benefits that Treats members can enjoy. Before shoppers even dig into the program details, they can already see that there are perks to joining the program that they're missing out on by not participating.
PetSmart has also included a highly visible Treats program sign in button in the main navigation bar. For non-members, hovering over the button prompts them to sign in or sign up, while existing members will see their points balance. Regardless of your status, having an always-present program reminder is a great way to encourage shoppers to enroll from anywhere on the PetSmart website.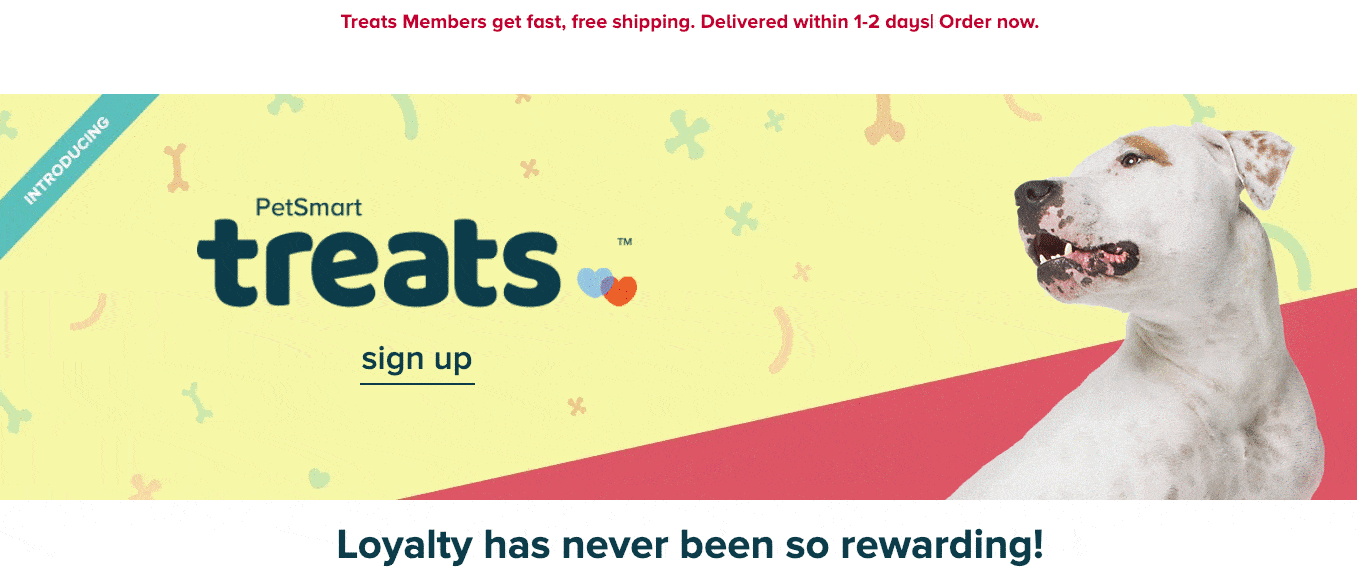 The final visibility factor is a fun and simple explainer page. After seeing the program banner on the homepage and the icon in the navigation bar, shoppers will want to find out more details about Treats. This page easily shares the important details about the program while showing off all the great benefits that will entice customers to sign up.
These three factors combine to leave customers with no doubt that the Treats program is not only easy to join but also highly valuable  to participate in, prompting more of them to reap the great benefits of the program.
Rewards that keep on giving
While it's easy to come up with a program structure that only benefits your business, the most successful programs are crafted with rewards that continuously motivate customers. In the case of Treats, the benefits aren't all for the birds! With members earning 8 points per dollar spent, Treats offers customers a healthy conversion rate of 2% back on purchases.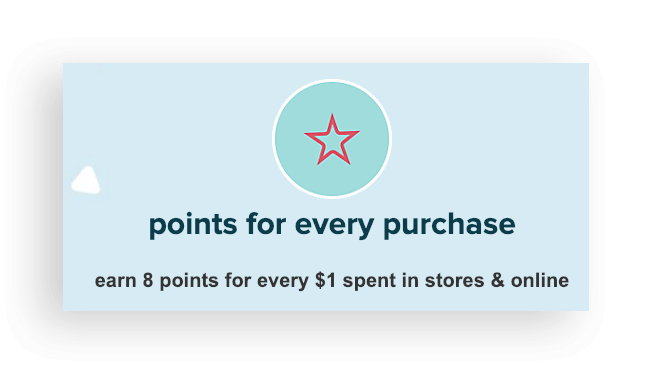 When you consider that we typically recommend new programs start by offering 1% back, the Treats program is already twice as rewarding as many other programs out there!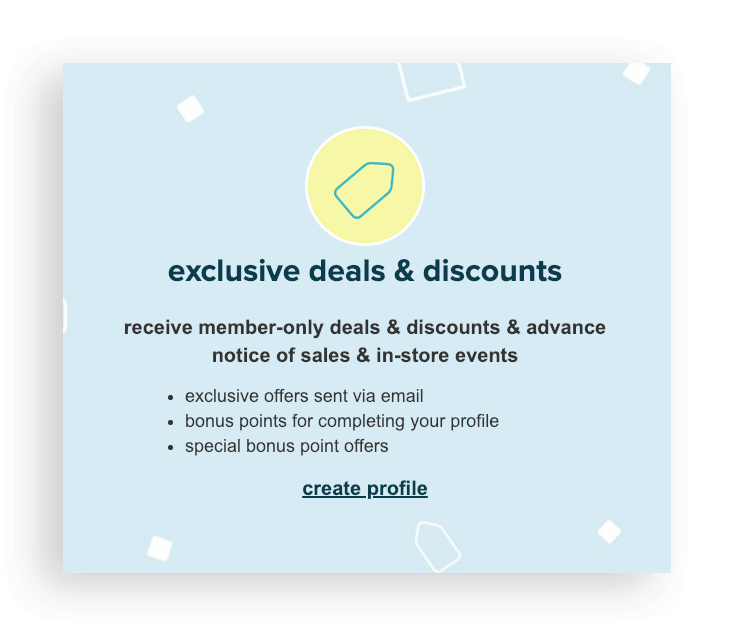 PetSmart doesn't stop there, though. Not only do members earn points on regular purchases, but Treat's members also get access to members-only website and email offers and in-store discounts.
These different types of perks help the program feel fresh and exciting as opposed to a carbon copy of the other pet supply programs out there. Now, customers will be excited about not only the launch and promotion of the new program but the many members-only perks as well.
PetSmart has done a lot to make sure that it pays handsomely to be a Treats member and show customers that they made the right decision to choose PetSmart over a competitor.
Creates a furry friend connection
There are lots of reward programs out there, which means only those that go above and beyond will really delight customers and keep them coming back. In the case of the Treats program, PetSmart does that by creating a connection not just with owners but with their pets as well.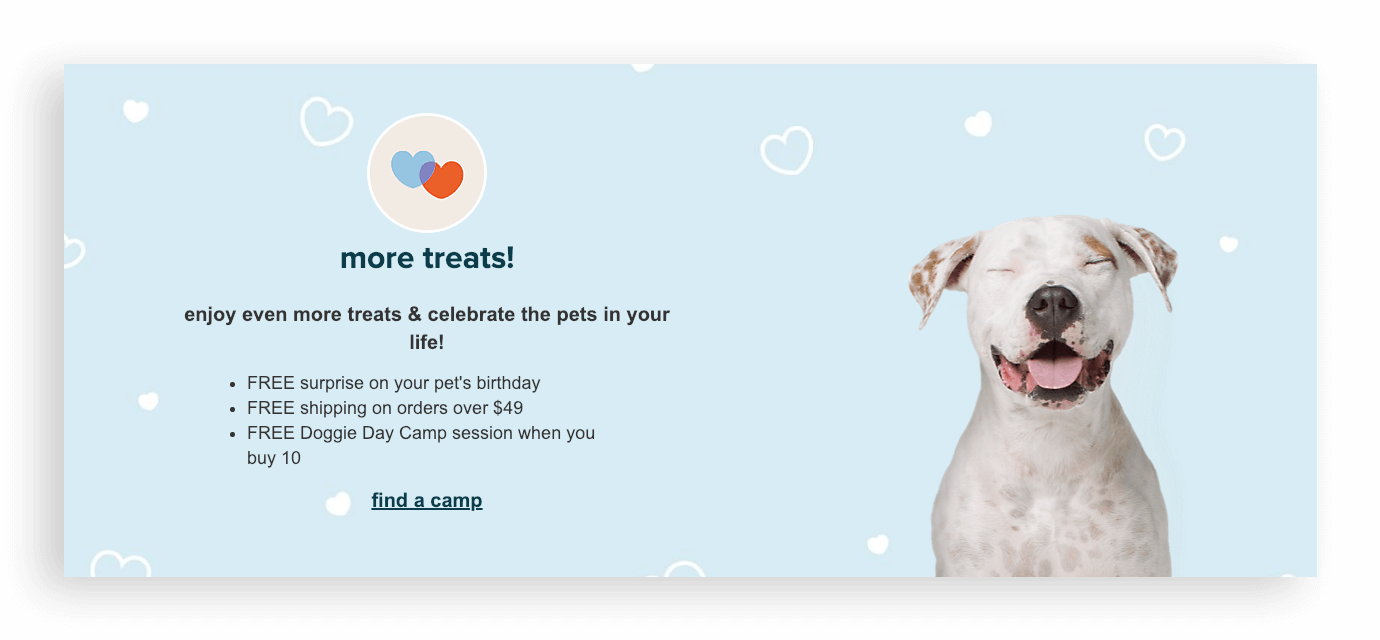 As you explore The Treats program, you quickly see that they care just as much about rewarding your pet as they do about rewarding you.  For starters, members will receive a surprises on your pet's birthday. While birthday rewards aren't uncommon, this is definitely the first time I've heard of someone rewarding my pet!  

Your pets can be rewarded in other ways, too. PetSmart has also made it rewarding for you to take advantage of their services, including grooming services, doggie day camp, or having your pet stay at the PetSmart PetsHotel. Each of these services put an emphasis on your pet's comfort and pampering, showing you how much they care about not only you but your pet as well.
However, the real treat that brings it all together is the fact that members can earn the same amount of points donating to PetSmart Charities that they would on a purchase. Knowing that PetSmart values the same things their customers do makes it easy for them to create a strong emotional connection with each of their customers, showing members that they've made the right choice to shop with them.
Treats that make us hiss
While the Treats program certainly got us purring, it is not without its faults. Flawless programs are few and far between, and for new programs like this there will always be some kinks to iron out.
No rewards for sharing
Referrals are a staple of many reward programs in different industries. That's because it allows you to easily mobilize your existing customers as marketers, bringing you like-minded shoppers who are more likely to love and stay loyal to your community.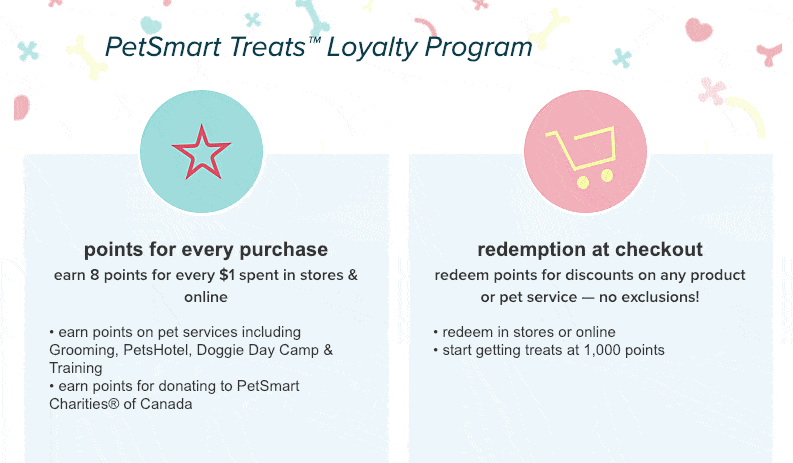 While this loyalty feature is extremely popular, it seems to be completely absent from the Treats program. If you look through the program overview or even dive deeper into their detailed FAQs, you won't find any mention of referrals being part of the Treats program.
Not only are direct referrals like email invites not included, there is also no way to earn rewards for sharing the program on social media either. This is a huge oversight — not only are most customers active on social media, but "pet parents" in particular love to share their love for their pets online.
By excluding these sharing features from the Treats program, PetSmart is missing out on the chance to move their members from being mere customers to becoming brand advocates. With no incentive to share the program, customers have no reason to encourage others to join the PetSmart brand community.
No VIP experience
Motivation is a key part of keeping program members engaged long-term, and one of the best ways to build motivation is a VIP experience. Through principals like gamification and social comparison, a tiered program can create a sense of belonging that strengthens ties between community members and your brand. Unfortunately for Treats, this is another area where the program seems to have more bark than bite.

With no membership tiers "at this time," all customers are treated the same. While equality is important in most circumstances, it can be quite demotivating for high-spending customers to be treated the same as occasional shoppers.
This is especially true for pet owners who have to spend more annually depending on what pet they have. For example,  fish owners spend on average $750 per year on their pets while dog owners spend nearly $1,700 per year on theirs. Cats are apparently in the middle of the pack at around $1,100 per year, but I find that low considering how I'm constantly buying food, litter, treats, and toys for my own feline fur-ball.
This imbalance not only demotivates top spending customers from choosing PetSmart for every purchase but also stops lower spending customers from wanting to spend more to achieve a higher tier.
Poor use of social proof
Social proof is one of the most important ways to show customers the value of your brand. Whether it's through social media posts, product reviews, or customer testimonials, combining it with rewards is rocket fuel for driving growth and strengthening a brand community.
For anyone exploring a brand for the first time, product reviews and testimonials are definitely the most powerful forms of social proof. This shouldn't come as a surprise when you consider how much people love their pets — after all, they want nothing but the best for them! However, it is surprising how little emphasis PetSmart seems to put on them.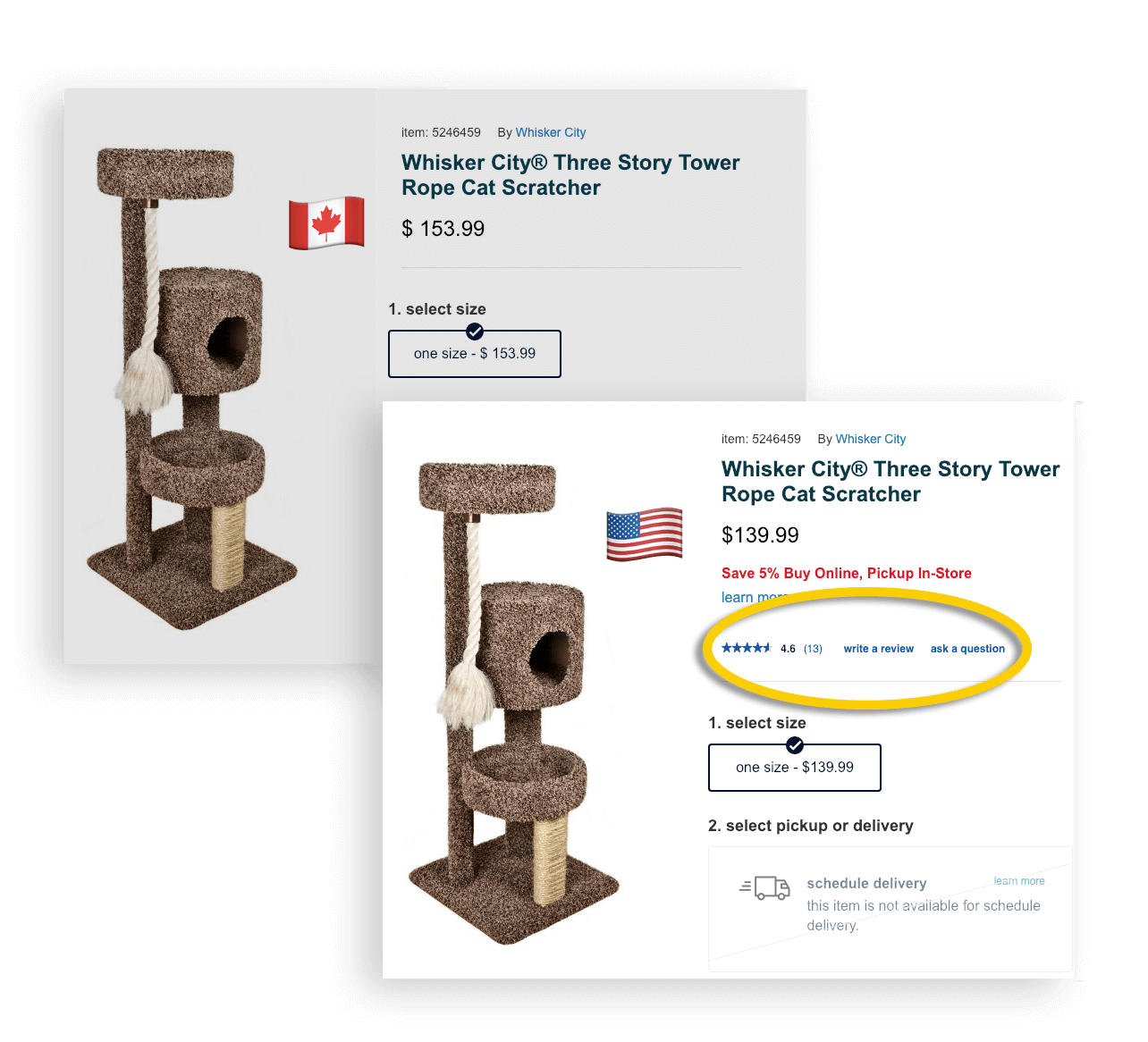 Depending on which site you're on (either American or Canadian), there seems to be different value placed on product reviews. The US website has quite detailed reviews for nearly every single product listed. The reviews show customers ratings on the Quality, Value, and Pet Satisfaction of products, as well as whether the customer would recommend the product in general. This social proof is fantastic because it shows new shoppers that the products are tried and true.
Unfortunately, the Canadian website has no reviews whatsoever, making it much harder for Canadian customers to confirm the value of PetSmart products.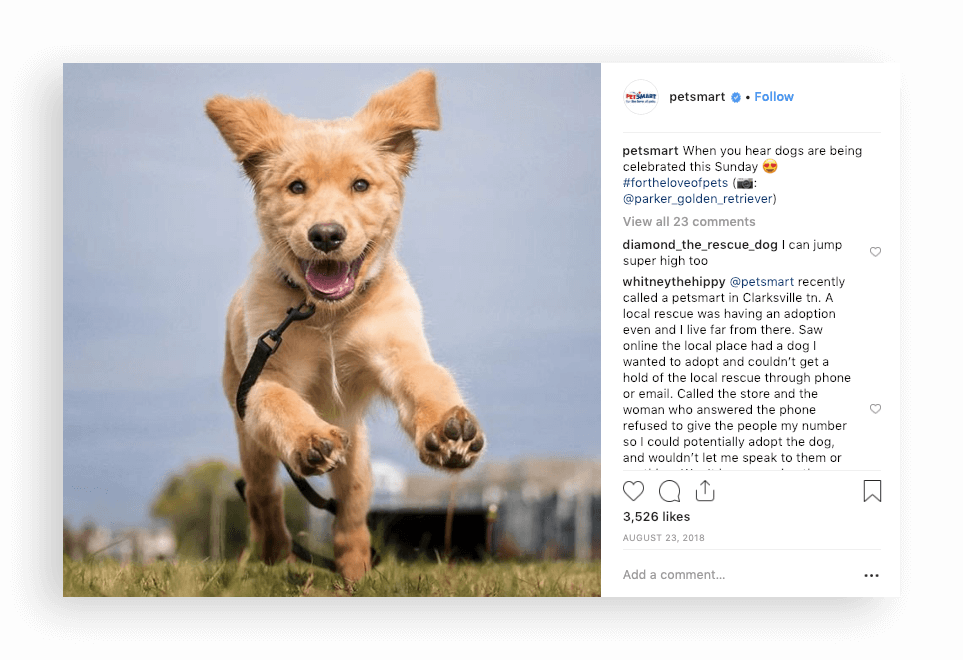 I wish the inconsistency stopped there, but PetSmart's social media channels aren't overly effective at demonstrating their value as a brand, either. Even though many of their posts are user-generated content from customers, they often don't have any connection to the PetSmart brand or products themselves. This turns each post into just another cute picture of a dog instead of social proof for the PetSmart brand itself.
Showing more content featuring customer's pets with PetSmart products would be much more valuable for social followers to see and build more trust in PetSmart as a brand. As good as that sounds, though, it's going to be tricky until PetSmart rewards customers for sharing their products online. Until then, their social channels are likely to remain the runt of the litter.
PetSmart Treats needs some additional grooming
For a new program, Treats has a lot of good things going for it. It focuses on rewarding both customer and their pets and provides members with a variety of valuable benefits with the addition of the charity connection, Treats adds a warm and fuzzy feeling beyond what members already get from petting their own cats and dogs.
Unfortunately, there are also lots of things left to be desired. Without referrals, VIP, or compelling social proof, the Treats program still feels like it's lacking the real treats that separate ok programs from really great ones.
New programs always go through some growing pains, but I hope PetSmart takes the best parts of their program and amplifies them to become a rewards experience that keeps the cats (and their owners) coming back.