With rising acquisition costs and fiercer competition, more brands are feeling the need to start their own rewards program. With easy to understand structures and simple earning and redemption models, points programs are by far the most popular type of rewards program.  The biggest question for most people, however, is where to begin?
Follow our 7 simple steps and you'll be getting more repeat customers than ever with your own brand new points program.
Step 1: Set the Goals for Your Loyalty Program
A ship with no compass will end up going in circles. The same is true for loyalty programs - set a concrete goal before embarking on your journey to ensure you actually reach your destination.
Use metrics to benchmark your progress because they are easily measurable. Determine how much you want to increase your repeat purchase rate, average order value, or purchase frequency to make sure your rewards program stays on track.
Step 2: Determine How Customers Earn Points
After you've set your goals, determine how customers will earn points towards rewards in your program. It's extremely important to give options for how your members can earn points. This will keep them engaged and encourage them to explore more of your brand.
The best way to engage your customers is by rewarding them for actions that make sense for them. What are they likely to engage with?  How do they interact with your brand?  A great example of this thinking at work is in the jewelry market.  As a visual industry, I commonly see jewelry brands rewarding customers for following them on Instagram. Clearly, rewarding for more than just purchases is important!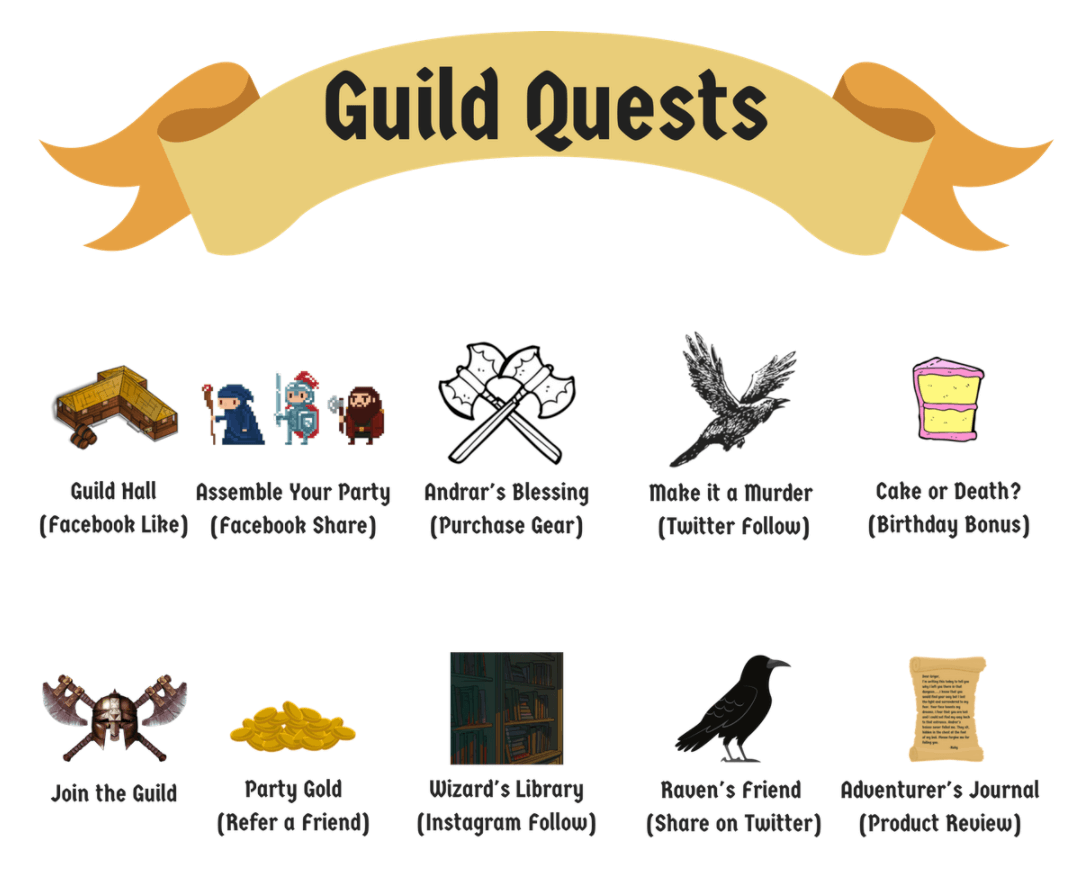 Skullsplitter Dice rewards their customers for completing "quests" likes following them on Instagram or referring a friend. Earning points for completing these actions will motivate customers to interact with the brand more often, meaning Skullsplitter keeps them as a customer for a longer period of time!
Reward your customers for the following actions to maximize the effectiveness of your loyalty program:
Setting up an account
Celebrating a birthday
Making a purchase
Engaging with your store on social media
Reviewing a product
Step 3: Choose How You're Going to Reward Your Members
Selecting the rewards you will offer is one of the most important steps because they are the primary motivator for your customers to earn points. Don't make the common mistake of thinking that customers only want to earn points - rewards are what actually motivates them!
Offer your customers a healthy variety of rewards to choose from to maximize the probability that they will see them as desirable. Put yourself in their shoes: would you stay in a loyalty program that gives you 5% off coupons as a reward, even though they regularly run 25% off events? Of course not! In a program with that rewards structure, you would see very little value.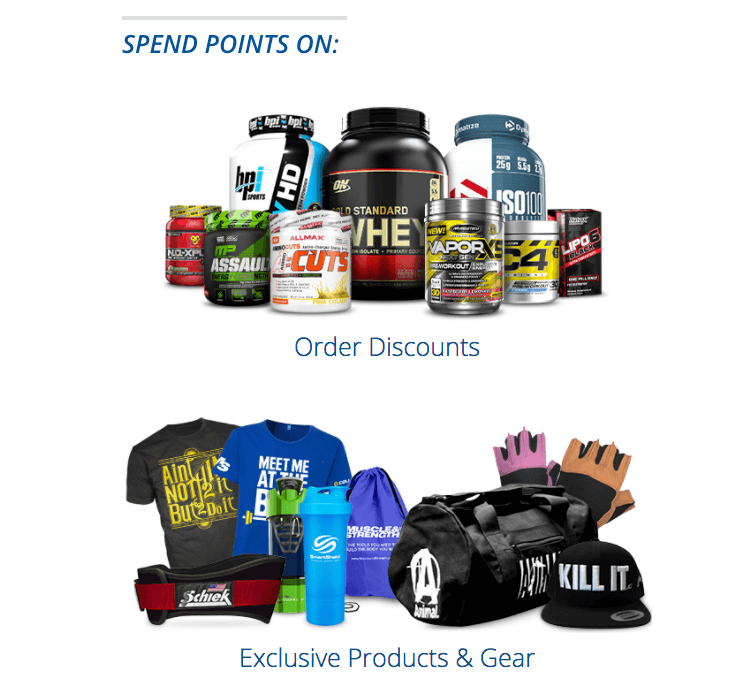 Muscle and Strength understands that their customers are looking for supplements and gear to improve their workouts.  As a result, they offer incredible discounts on their wide variety of products as well as exclusive access to branded workout gear and equipment. This allows them to please every single customer who shops at their store, from the one looking to lose weight to the one who's looking to build muscle.
Get your customers motivated to earn points by offering these rewards:
Free products
Free shipping
Dollars-off discounts
Percentage discounts
Make your loyalty program irresistible by offering valuable rewards that customers cannot pass up.
Step 4: Decide On the Value of Your Currency
The value of your loyalty point currency is the determining factor if a customer will stay in your program or not. You can offer many ways to earn points and desirable rewards but if it requires $4,239 in purchases over 4 years to claim a single reward, it's unlikely anyone will be remaining a member in your program.
The key is to strike a balance between the cost of points for you and the value of points for your customer. The ideal scenario is to have rewards with a high perceived value that make points feel beneficial but have a low actual cost for you. This will ensure customers are driven to actually earn points, redeem rewards, and ultimately remain loyal to your brand.

Klova has found the perfect balance between these two types of value.  Just by signing up for an account, I've already earned enough points to get free shipping on my next order. This shows me that points are valuable right from the start. This means I'm genuinely excited to earn more points because I know they will bring me closer to savings and free products.
Set the value of your currency at a fair balance between value for your customers and your business.
Remember, you want your customers to actually be earning rewards - that's what will truly drive brand loyalty.
Step 5: Brand Your Loyalty Program
Branding your loyalty program makes it feel connected to the rest of your store and easy to remember, and there's no one who knows that better than Starbucks.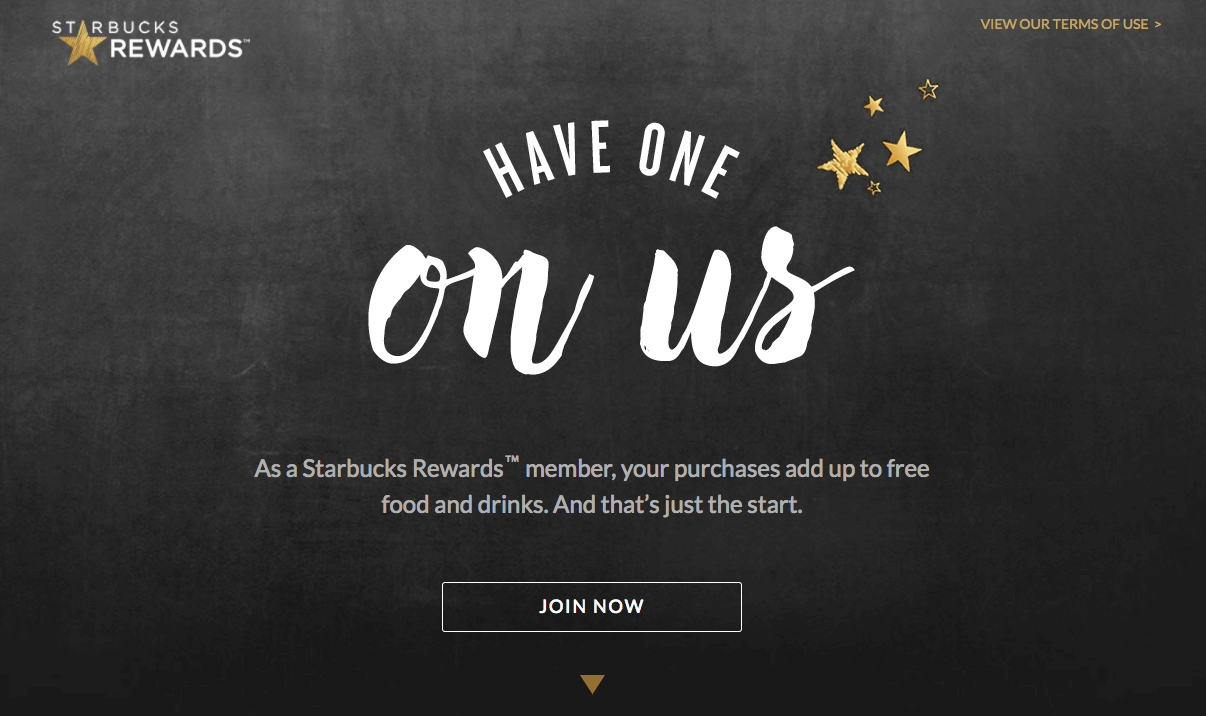 Starbucks has created an entire brand for their loyalty program and as a result it's one of the most famous and effective coffee rewards programs in the world.
Paying attention to these types of details will make sure that your rewards program is the one that stands out in your customers' minds.  From its name to the way you design your explainer page, creating a memorable name and style will allow you to create the program that breaks through the noise.
Use these strategies to get your customers coming back again and again:
Give your program a memorable name
Call your currency something catchy
Stylize using familiar colors
Add graphics that compliment your loyalty program
Step 6: Launch and Advertise Your Program
You've come this far and now have a great rewards program ready to go live, but don't forget that you need to actually tell people how great your program is!  If customers don't know it exists, how can they get excited to participate?
Creating an explainer page is a great way to tell people about your program. This standalone page uses visuals and short text to demonstrate how customers can earn and spend points in your rewards program.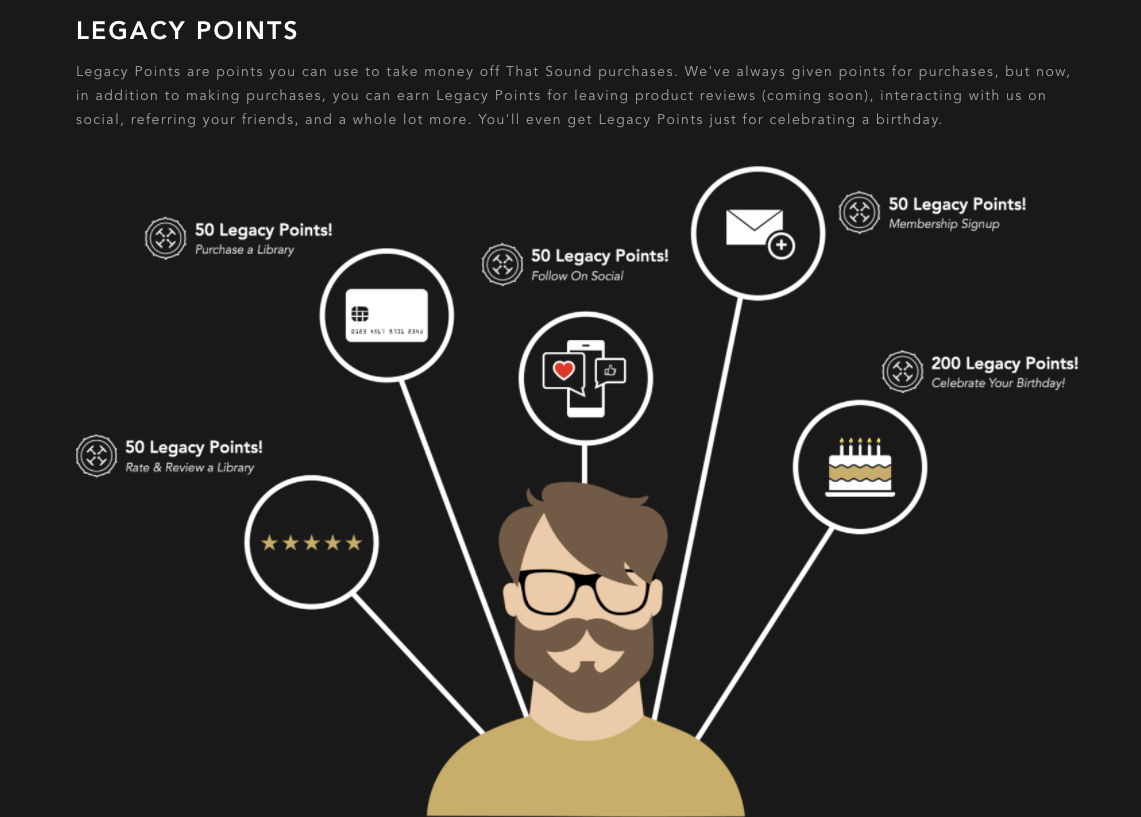 By looking at That Sound's explainer page, I understand everything there is to know about their program in seconds. Creating an explainer page is extremely beneficial in convincing new customers to join because no one is going to join a confusing program and sift through fine print to figure out how it works.
Once you've actually launched your rewards program, it's highly recommended to send an email to your customers alerting them that you've launched. Your existing customer email list is a great resource to leverage because they already have an interest in your brand.  Showing them the value of your program will make joining an easy sell for these already engaged customers.
If Mpix didn't send me this email, I probably wouldn't know they had a brand new rewards program! Since only 27% of your customers will actually return for another purchase, make sure they know they can now earn points for shopping at your store. An email campaign will bring back customers who may have forgotten about your store and reward your already loyal customers to continue engaging with your brand.
Ensure your rewards program is successful by following these steps:
Build an explainer page that illustrates how to earn and spend points
Launch your program and address early customer feedback
Send an email to your customers letting them know you've launched
Step 7: Never Stop Improving
As much as you might wish otherwise, a rewards program is not a machine that spits out free money at the touch of a button. However, with continuous experimentation and learning you can create a program that effectively and continually builds customer loyalty.
Continuously experimenting with your rewards program will ensure it's better tailored to your customers and ensures there is always a reason for them to come back. This experimentation can take any number of forms, but the ones I'd highly recommend would be new marketing initiatives like bonus points events. This type of campaign encourages customers to get even more engaged and keeps your program feeling fresh and exciting.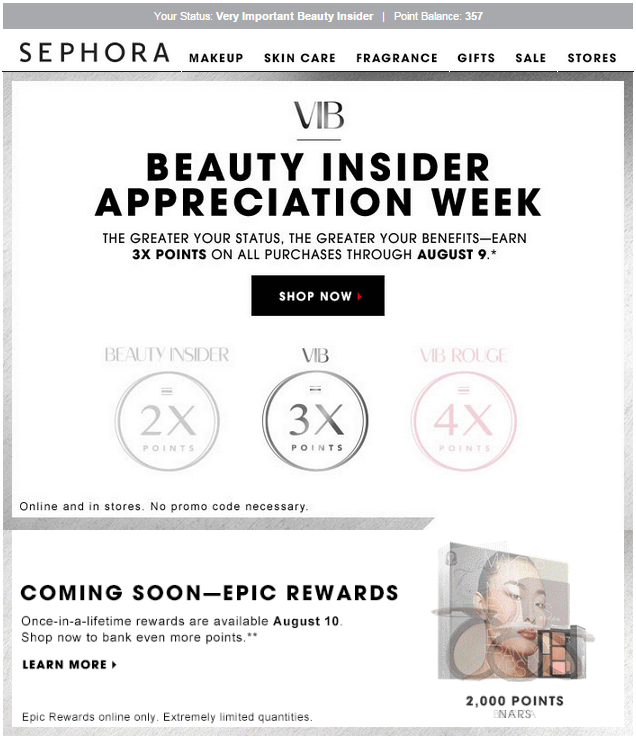 Sephora's Beauty Insider Week is always extremely successful because they offer up to 4x more points for purchases which gets customers excited to spend. If you're in the market for some new makeup when this promotion starts, it makes much more sense to purchase it right away than to wait a month or two so you can take advantage of the extra points. Since points can be spent on samples and free products, there is value in this campaign for both Sephora and the customer.
In the months following the launch of your rewards program, it becomes very important to learn what your customers are responding well to. You can boost engagement in this period by offering new rewards, new ways to earn points, or bonus points. You should think about these strategies as adding wood to a fire - don't let it die out!
It's More Important Than Ever to Launch Your Points Program
We know that the cost to acquire new customers is increasing, so it's more important than ever to shift your focus to retaining the customers you already have. This will allow you to bring in additional revenue by keeping your customers more engaged with your brand and making it tougher for them to switch to your competitors.
Simply following the 7 simple steps I've laid out will get your points program up and running, with the opportunity to improve it over time. Not every rewards program is perfect from inception, and yours doesn't have to be either! The key is simply getting started, so what are you waiting for?