A rewards program is an amazing way to retain your customers and celebrate their loyalty to your brand, but before you can start rewarding them you need to get them to join!
Although this might seem like a daunting task, it doesn't have to be. There are a number of ways to get your customers engaged no matter who they are or what they're like, and we've made a list of the 7 best ways to get your customers lining up to join your program!
1. Offer welcome points
A great way to kick off your rewards program is by offering customers welcome points for signing up. Rewarding customers for completing a simple task like signing up is a fantastic way to provide them with immediate value that boosts the overall appeal of your program.
The other key benefit of offering welcome points is the head start it gives your customers towards earning their first reward. If your customers can see themselves earning their first rewards after just one purchase, they're far more likely to actually make their first purchase in order to redeem it. It's important to remember that your customers find value in your program when they spend points, not when they earn them!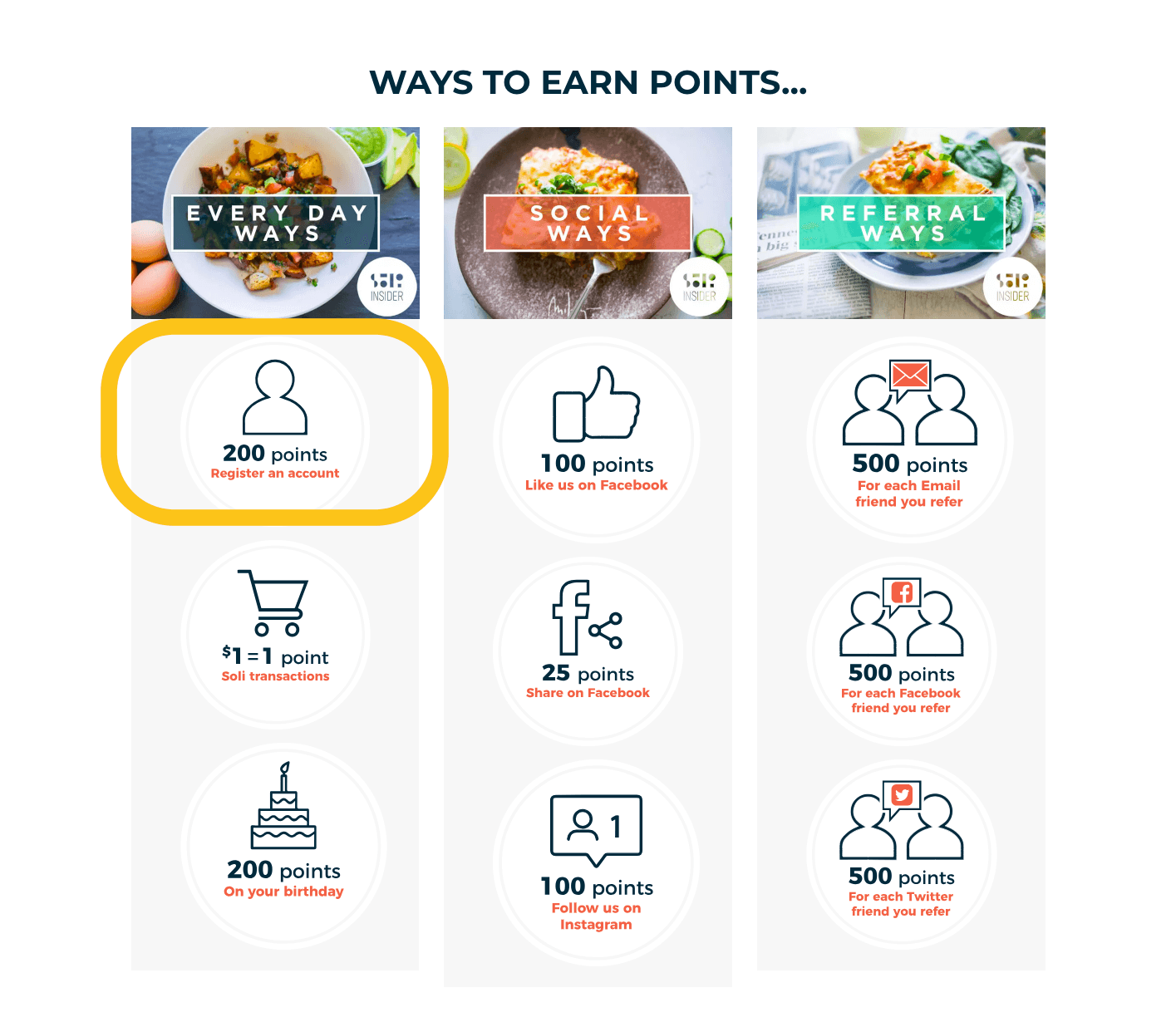 Soli motivates their customers to join their rewards program by offering every new member  a sign up bonus of 200 points. This reward is front and center on their beautiful explainer page, making it easy for their customers to see why they should join the program in the first place. When value is this easy to see, customers will quickly join to start earning right away!
2. Tell them about it in an email
Customers are only able to join your rewards program if they know about it, and a launch email campaign is the best way to spread the word! Through a short series of emails, you can effectively explain the value of joining your program highlighting the benefits and explaining how customers will be rewarded for engaging with your brand.
The most important part of any program email, however, is a clear call-to-action. When you send each of your emails, you need to make it easy for customers to join right away -- otherwise, they won't. Including direct links to your account sign up page maximizes the chance of customers joining, boosting your engagement rates significantly.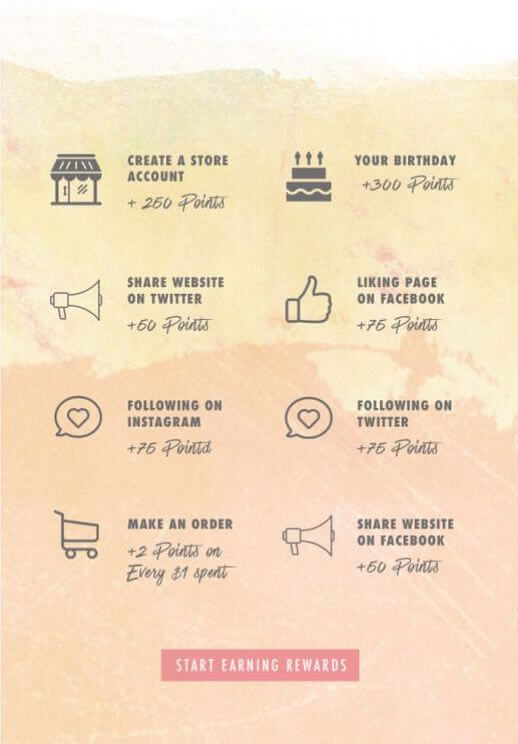 Ivory Ella creates a beautiful brand experience with their program emails. I particularly liked this program announcement email because it clearly outlines how I'll be able to earn points and how easy it is to get started. A clear call-to-action is also included at the bottom as a button prompts me to "Start Earning Rewards." After everything I've read about their exciting program, nothing could stop me from clicking it and signing up!
3. Brand it beautifully
Branding your program is one of the most important parts of providing a seamless rewards experience for your customers. Your program should be a beautiful extension of the rest of your brand rather than just an afterthought, and paying attention to every customer touchpoint will make that happen.
A great way to do this is by branding your program launcher and customer panel. Since these are the first parts of your program that most customers will see, it makes sense to make them attractive and on-brand. This means choosing colors, images, and icons that speak directly to the rest of your onsite experience.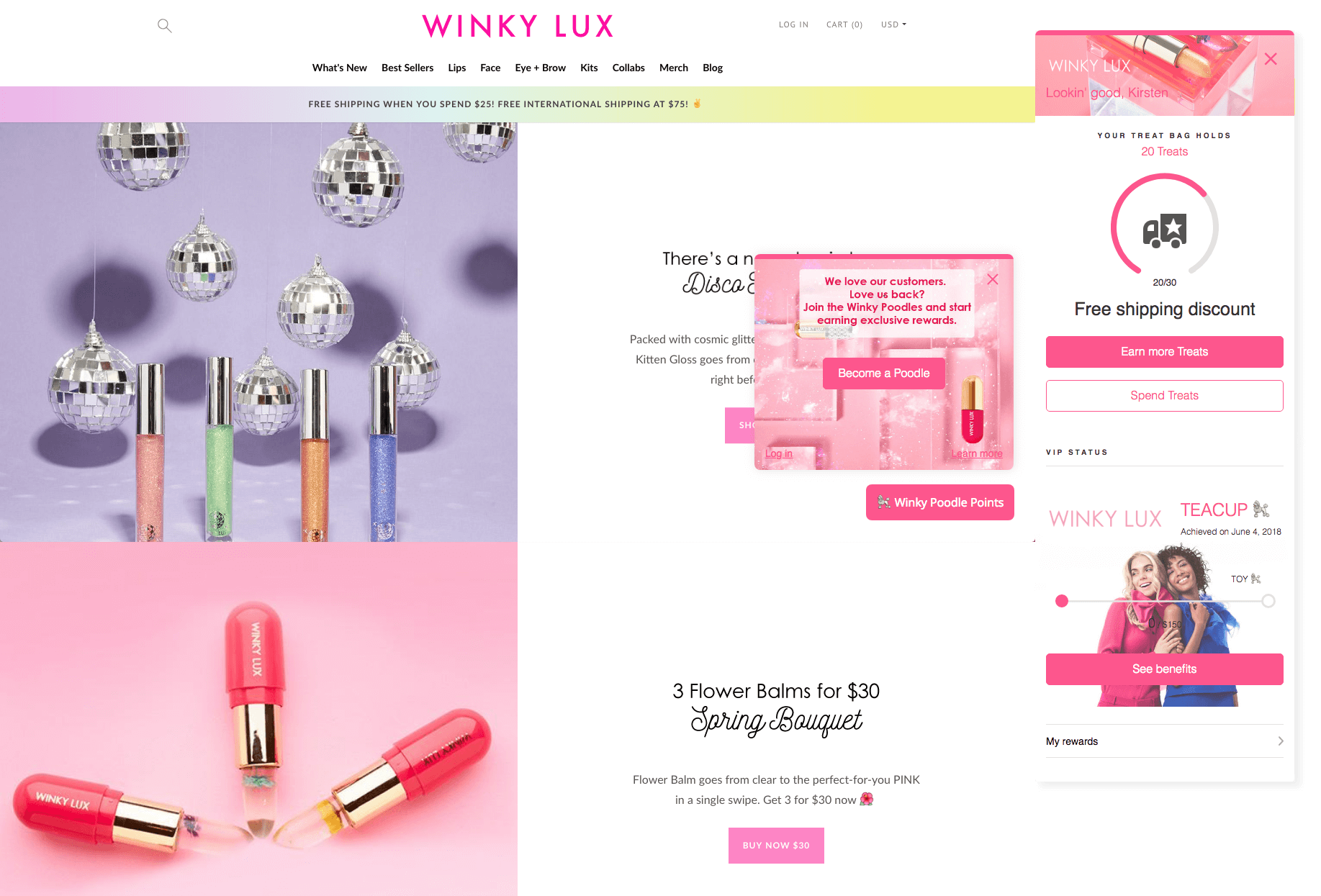 With custom colors and images, Winky Lux has created an impressive customer panel that matches the rest of their website perfectly. Their customers will appreciate the cleverly named tiers, custom icons, and playful pink branding that melts perfectly into the rest of their site's branding, making their program another exciting way to get involved with their brand.
4. Include a call-to-action on your homepage
If you're excited about your rewards program, show it! Adding an announcement on the front page of your website is a great way to draw attention to your program and get customers interested in learning more about rewards.
You can make your announcement even more effective by using it to highlight the best parts of your program.  Whether it's the incentive they'll receive for signing up or the other rewards you're offering, use your program's most valuable assets to catch your customers' attention and get them excited to join. You should also make sure that your call to action is clear, so customers know exactly what they should be doing next in order to join your rewards program.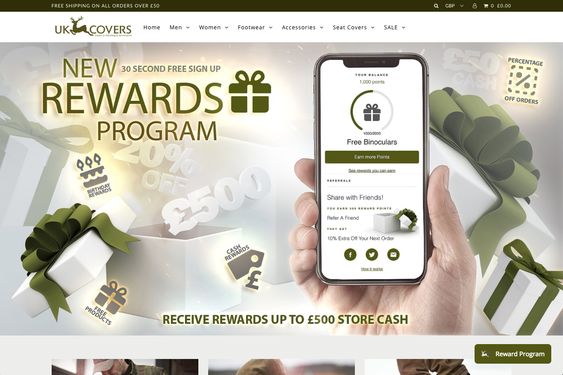 UK Covers does an incredible job of letting customers know about their new program! The colors they use are on-brand and attractive, and they've taken the time to focus their banner on how valuable their rewards program is.  By highlighting what customers can earn as rewards and how easy it is to sign up, it's incredibly difficult for their new and returning customers to turn down an opportunity to get engaged.
5. Make the first reward easy to earn
Like I mentioned earlier, customers don't find value by earning points but by redeeming rewards. One common mistake that brands make is making all of their rewards difficult to earn.  By structuring their programs this way, they inadvertently reduce their reward redemption rate and make it less desirable to join.
To avoid this problem, all you need to do is offer a couple of ways customers can earn rewards quickly. If customers can see that earning rewards is an easy task, they're more inclined to join your program and take advantage of its benefits. Rewarding customers for joining, celebrating a birthday, and engaging with your brand on social media are all great ways to make your rewards more accessible.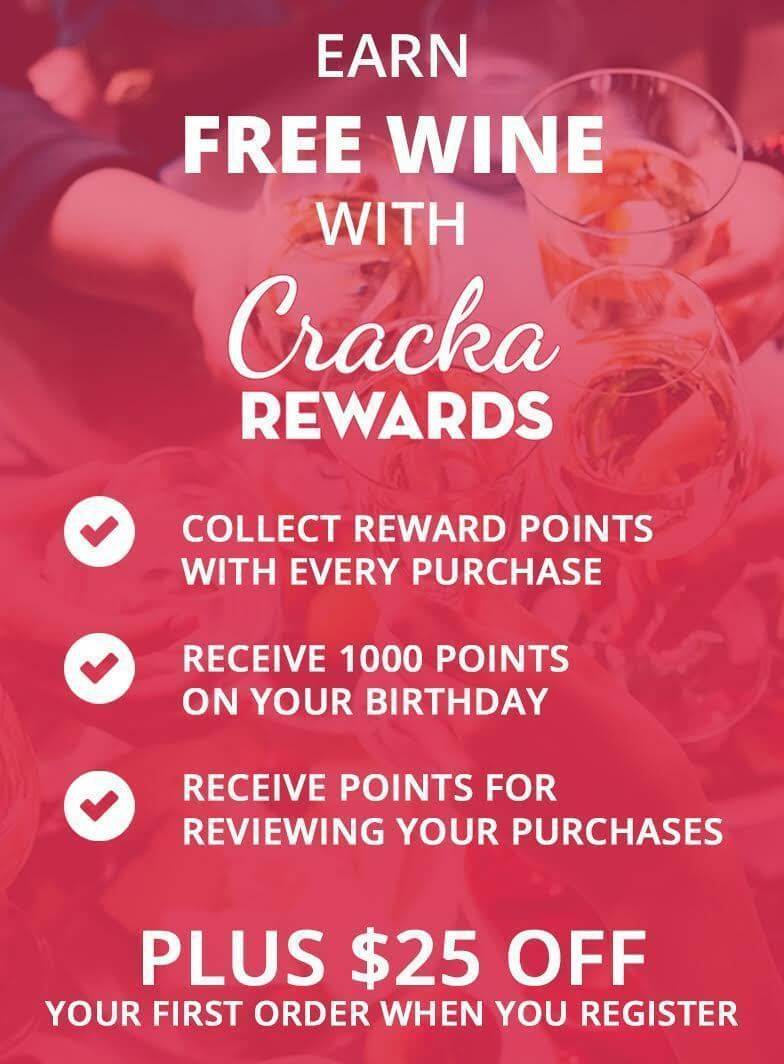 You don't have to stop there, though. Cracka Wines also offers customers incredible discounts on their first purchases. In addition to $25 off your first order, they also offer 250 points (redeemable for $5) if you like them on Facebook, or even just sign up! When customers are able to earn points as easily as this, the program becomes irresistible to any customer.
6. Make your rewards appealing
This might seem like a no brainer, but understanding what your customers actually want from your program is an important part of building your rewards experience. Some brands find that their customers are simply interested in discounts on future purchases, while others find more value in exclusive merchandise they can't get anywhere else. The important thing is understanding what your customers are looking for.

 It's important to understand which rewards

your customers value most.
How you find out what they want is up to you. One way is to a run a Twitter or Instagram poll in order to proactively figure out what some of your most dedicated customers want from a rewards program. You can also send an email to your existing customers inviting them to share feedback.  These strategies will not only get you the answer you need but also help you build stronger emotional relationships with your customers by including them in your program's development process.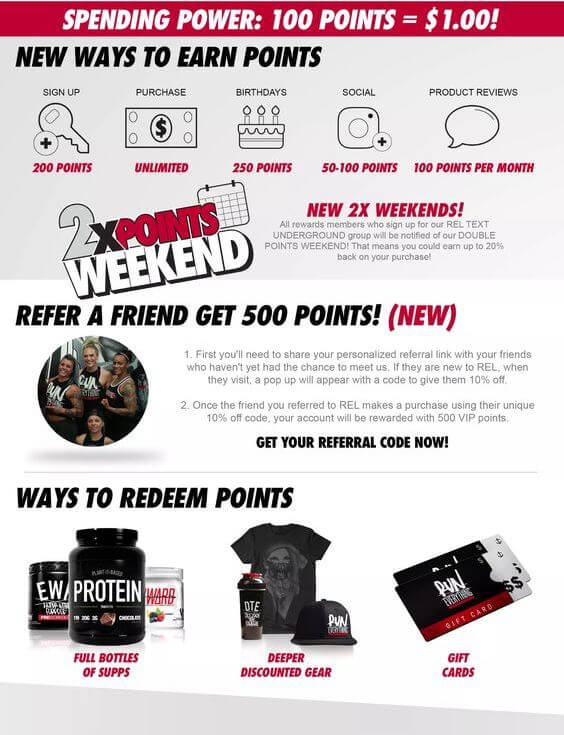 Run Everything Labs understands that their customers love their products and gear, so they make that the focus of their rewards menu. That being said, they also ensure that customers who are just looking for discounts are happy as well by allowing them to earn gift cards instead. These awesome options mean that customers are motivated to join the program no matter how they want to be rewarded.
7. Run a bonus point event
Sometimes the best way to get customers to join your program is to make them feel like they're missing out on value. If you run a weekend event where you award double the points, customers will join your program in order to avoid missing the awesome deal!
Bonus points events are not only a great way to increase reward program sign-ups but also to reward current members for their loyalty to your brand! Bonus points give your customers the necessary motivation to complete purchases they might have been on the fence about and join your loyalty program in order to reap the rewards.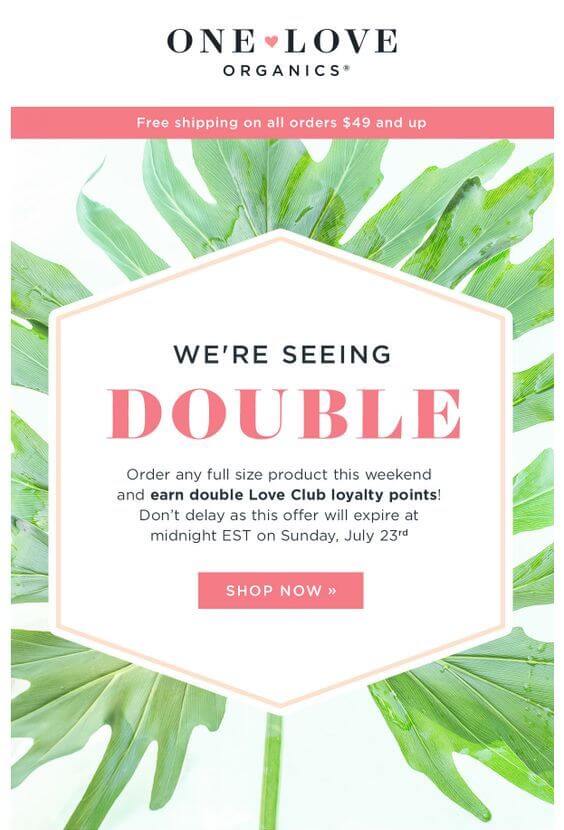 Like anything else, a bonus points event can only be successful if your customers know about it. One of the master of this is One Love Organics. Every time they run a special event, they do an awesome job of advertising it. Their promotion is attractive, simple, and clear in its messaging: they're here to save you money. They also promote a sense of urgency by including an expiry date on when the bonus points event will be over. All of this leads to more customers turning into lifetime loyalty club members.