Launching your rewards program can be an intimidating task. From creating your explainer page to naming your VIP tiers, there are a lot of elements to keep track of. However, one feature is arguably more important than others: promotion. You need to get your customers excited about your program! Otherwise, they won't sign up and get engaged.
The best way to spread the word is with an email launch campaign. We've made a list of the 5 emails you should be sending your customers to ensure they start interacting with your program and earning rewards!
Email 1: explain your program
The first email in your campaign is extremely important because it's the first time most of your customers will be hearing about your new loyalty program. As a result, it needs to do a couple of things:
It should excite your customers about joining your program
It should clearly explain how the program works

These goals mean that you should avoid getting into the nitty-gritty details. You want your program to appear valuable and easy to join. If you overload the email with terms and conditions and specific earning and spending details, you risk scaring your customers away.
Keep your emails simple to make your program's value the focus.
This first email should be sent 4-5 days after the launch of your program. That way you're able to ensure all aspects of your program are working smoothly before too many customers start engaging.
You also want to make sure that you include a call to action in your email. The purpose of this entire email campaign is to drive more members to your new rewards program, so your emails should make it simple and easy for them to do so. Include a direct link to your account creation page somewhere in the email so your customers know what they need to do to start getting rewarded as soon as possible!
Key takeaways
Summarize how your program works
Don't get caught up in the details
Include a clear call to action to join the program
Email 2: how to earn & spend points
The second you should send is a more in depth email about how earning and spending works in your rewards program.
You need to give your customers a reason to care about your loyalty program. They want to know what is in it for them, which is why the main focus of this email should be the value of the rewards that you're offering. You also want to show them how simple earning points are — this is how you convince them that earning your awesome rewards is both achievable and exciting.
Your second email should convince your customers of the value of joining your rewards program.
An awesome way to do this is by offering welcome points. By giving customers points just for signing up, you make your program's value easy to see and experience for customers regardless of how they've engaged with your brand in the past. This simple incentive is an extremely powerful motivator to spur your customers into action.
Key takeaways
Convince your customers of the value of your rewards
Show customers how easy it is to earn points
Use welcome points to entice them to join the program
Email 3: introduce referral rewards
After you've detailed how your customers will earn and spend points, an important follow up email is introducing your referral rewards. These rewards are an amazing way to reduce your acquisition costs by harnessing the power of your loyal customers.
Since customers are motivated by what they can get out of your program, you need to make these benefits clear in your email! You want to include the rewards that both the referrer and the person being referred will receive once the new customer makes a purchase. That way the customer can see that by sharing the referral link with their friends, they're helping themselves out and helping their friend in the process.
Show your customers how they can reward themselves and their friends by making referrals.
You'll also want to include the customer's unique referral URL so that they can start referring their friends right away. Making this process easy and straightforward will help customers see the value in participating and help you expand your marketing reach.
Key takeaways
Let your customers know what they get for making a referral
Give them their personal referral link
Make it clear that rewards can only be redeemed once the referred customer makes a purchase
Email 4: explain your VIP benefits
VIP programs are one of the best ways to build an engaged brand community because they make customers feel special. However, in order to do that your customers need to know what each of your VIP tiers are and how they work.
Your VIP email should be designed to highlight the benefits of engaging with your brand more often, and generate excitement amongst your customers about moving up the loyalty ranks.
The method for doing this is simple: showcase the benefits of the higher tiers, and create a sense of exclusivity. You want to show customers what they will be rewarded with if they give you their loyalty. By showcasing a combination of experiential rewards and transactional discounts, you give your members the incentive they need to become one of your most loyal customers.
Key takeaways
Get customers excited to join your brand community
Highlight the benefits of moving up through your program
Showcase a variety of exclusive rewards
Email 5: highlight a launch promotion
A special launch promotion is a great way to tie in all your previous emails together because it provides the perfect opportunity for procrastinating customers to join your loyalty program. This promotion could be a bonus points event, free product giveaway, or anything else that gets your target audience excited.
Be generous with your launch promotion to make it irresistible for customers.
No matter which type of promotion you choose to run, you want your email to use bright colors and eye-catching graphics to catch the attention of any customer just skimming through their inbox. Once your email's grabbed their attention, you need to make sure your program keeps it! You want to be incredibly generous with your launch promotion, making it irresistible to your customers. A great way to do this is by offering 5x the points or an exclusive gift with every purchase if customers sign up for a rewards account.
Once they're sold on what you're offering, making sure they can take advantage of it! As always, a clear call-to-action will push them back to your site and right into your rewards program.
Key takeaways
Use bright colors and custom graphics to draw attention to your email
Offer incredibly generous rewards to make your promotion irresistible
Include a link for them to sign up for the program
Emails we loved
While there are tons of excellent email campaigns that we've seen, some stand out from the rest. Here are a couple program launch campaigns we loved and why.
Mark Bell's Strong Squad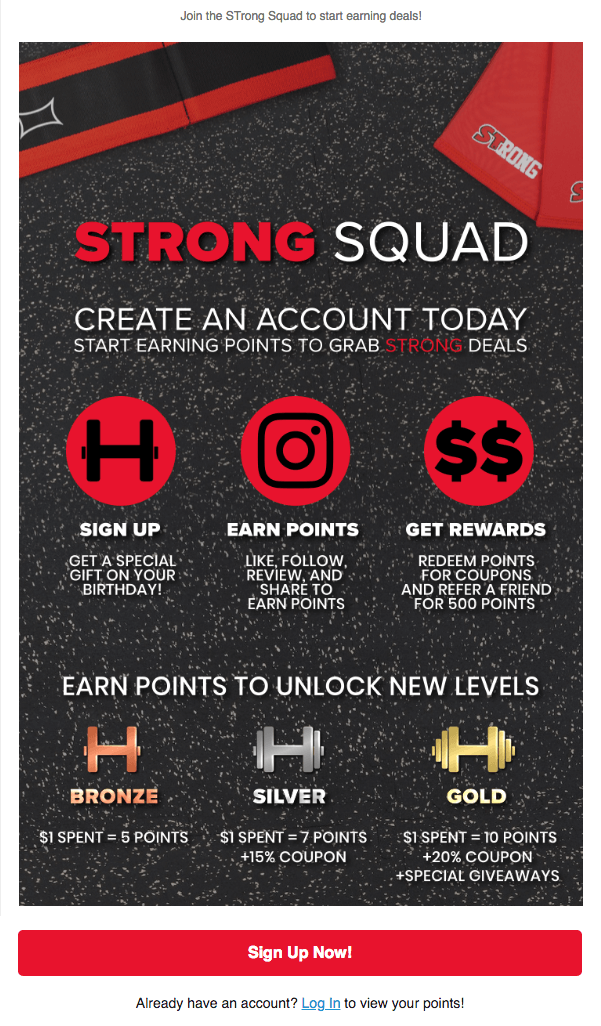 Mark Bell's Strong Squad does an amazing job of building an overview email. With bold, attractive graphics, they outline the program without overwhelming their members with information. All of the information they included is useful and gives you a clear idea of how you'll earn and spend points.
It also finishes off with a clear next step at the bottom, inviting you to push the button to sign up for their awesome loyalty program.
inkbox's inkfam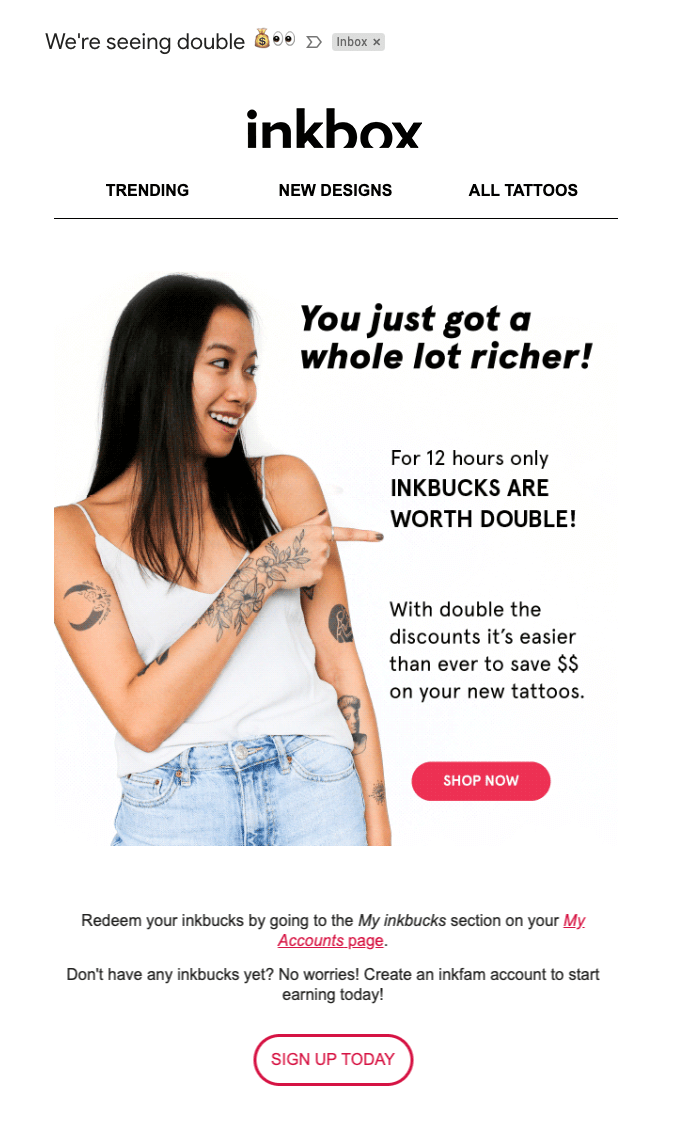 inkbox's promotion email is an awesome example of how to get customers excited. With an eye-catching emoji in the subject line and fun photography, they grab and hold your attention as they outline the details of their limited time bonus points campaign. Each of these features work together to encourage members to take immediate action.
They also included a link to their rewards program explainer page so that you're able to check out the full benefits of their program and sign up right away!
One Love Organics' The Love Club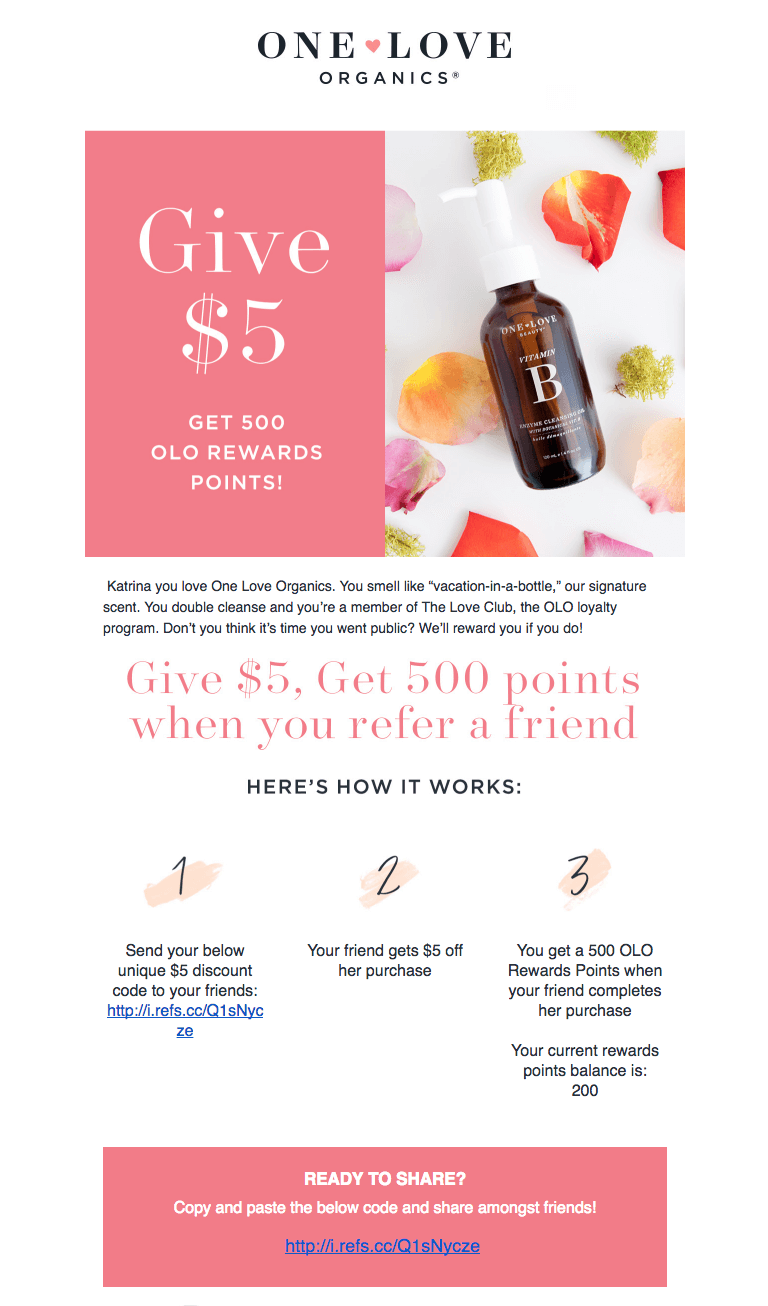 One Love Organics does an amazing job of explaining how you can get rewarded for referring friends. In this email, I can clearly see that I'll receive 500 points for each referral, and my friends will receive a $5 discount off their first order.
Their email is easy to understand, beautifully on-brand, and includes a clear call to action. By including the customer's direct referral link, One Love Organics ensures customers are able to start referring friends right away!
Time to launch your program to the moon!
Now that you've learned about the five emails you should be sending and seen some of our favorite examples, it's time for you to come up with your own! Remember that your enthusiasm is contagious, so the more excited you are about your loyalty program the more excited your customers will be, too.