The foundation for any strong relationship is communication. Luckily, your rewards program is an incredible conversation starter, especially when it integrates seamlessly with the rest of your online experience.
Whether it's an email celebrating their birthday, congratulating them for entering a new VIP tier, or letting them know they've unlocked a new reward, your customers will be more likely to engage with every email you send them when they fit with the look and feel of your brand.
That's why I'm super excited to share the new email theming updates we've just released! It's now easier than ever to build on-brand emails that your customers will love opening. We're rounded up 4 easy ways you can make the most of our new email theming tools.
1. Give customers a compelling reason to open your emails with a creative subject line
How many emails were in your inbox the last time you checked? I'd be willing to bet it's way more than you have time to read. The reality is everyone's inbox is crowded, which makes your subject line more important than ever.
The difference between customers opening your rewards program emails or sending them to their trash folder often comes down to your subject line. Your brand voice is hands down the greatest asset you have at your disposal to capture your readers' attention before they even open your email. Using a consistent tone of voice that your customers have come to know, love, and immediately associate with your brand will give them every reason to open your email.

I really loved Maniology's creative email subject line for their referral emails. In six short words (and two emojis) they were able to capture the fun, conversational tone their shoppers will immediately recognize. This connection to the rest of their brand gives members every reason to open this email because they know what they're getting. Needless to say their fun subject line definitely caught my eye when it landed in my inbox, moving me (and everyone else on their email list) one step closer to engaging with their program.
2. Add your logo to ensure a seamless off-site experience
Now that you've crafted the perfect subject line, you'll want to shift your attention to the visual content of your email. Members will need to immediately connect the visuals in your rewards emails to the rest of your online experience. If they don't recognize these emails are from your brand they'll quickly hit the trash folder, even if you have something really valuable to offer your program members.
This is why including your logo is a critical step. Your logo is your brand's most recognizable visual asset. Adding your logo to your rewards emails is the easiest way to ensure your customers connect your rewards messages to the rest of your online experience. When they can make that connection, they'll be more likely to trust the offer you're giving them or a referral link they can share with their friends.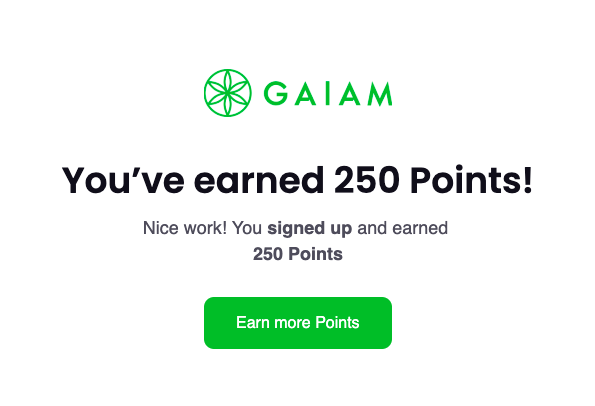 Logos are so powerful they can stand on their own - think about what that means for your program emails! Gaiam makes it really easy for program members to connect their program to the rest of their online experience by keeping their logo front and center. Just by adding their logo makes it more likely their customers will trust the reward code that they are offering in their email, moving them one step closer to using it towards a purchase.
3. Grab their attention with an impactful banner image
The images you use in your rewards emails can help you cultivate an emotional connection with your customers, even when you're separated by a screen. This makes them a really powerful tool to grab and hold your member's attention once they've opened your email.
As a result, the banner images you use in your rewards emails should be selected with the same thought and care as the visuals you include on your social channels and the rest of your site. Ensuring your rewards emails are a visual extension of your online experience will give your customers a reason to take notice and build on the trust you've already established with your logo.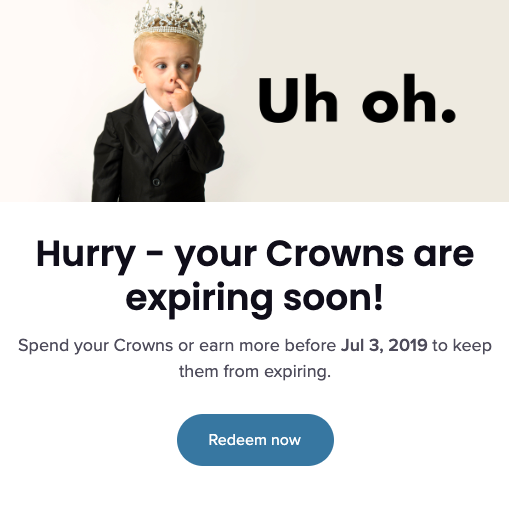 The cute, fun visuals Littlest Prince Couture uses throughout all of their emails definitely capture your attention and immediately draw you into the rest of their content. By capturing their attention with a creative banner image they give every customer a reason to keep reading, giving them every reason to engage with their program.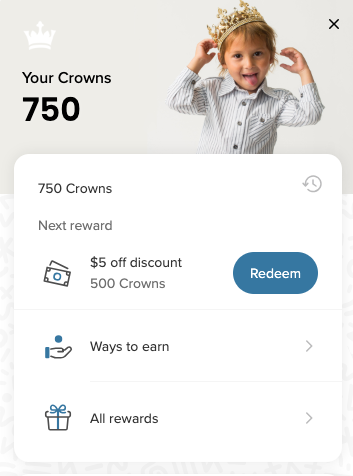 The banner images they've used throughout their rewards emails are also similar to the banner image they've used in their program Panel, creating a really consistent program experience.
By making it super easy for shoppers to connect their rewards emails with the rest of their program, members will be inspired to take action and engage with their program every time another beautiful email lands in their inbox.
4. Humanize your brand with custom text
The words that you use in your emails are equally as important as the visuals you include. The best rewards program emails have written content that finds a good balance of value and personality. Reminding your customers of the value they've gained by engaging with your program can help you keep your program top of mind. However, it's when you communicate this value in a tone that they recognize as your brand that really influences ongoing engagement.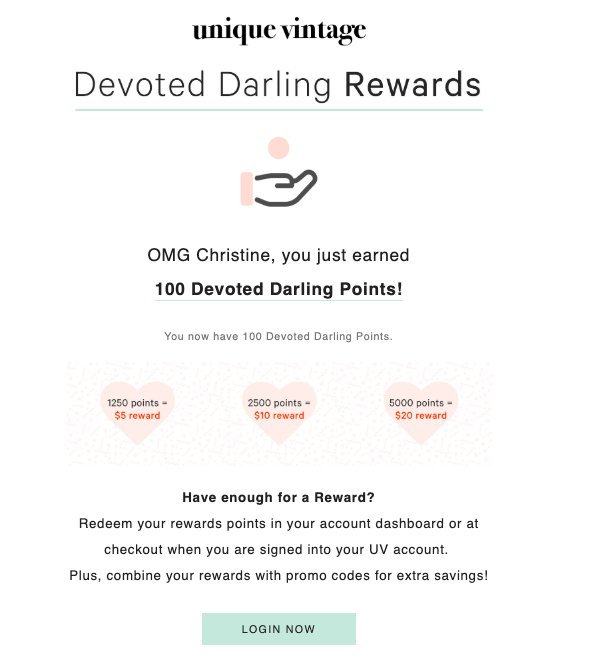 The fun, retro-inspired tone found throughout fashion brand Unique Vintage's site can easily be spotted throughout their rewards program emails too. By adding in the fun, casual language their customers know and love to their emails, they've seamlessly connected their program with the rest of their shopping experience.
Ensuring your rewards emails use a consistent tone of voice makes it easy for your community members to see them as an extension of your brand, which fosters trust. It's this trust that will make them more likely to take the action you've asked them to, moving them closer to using their rewards towards a repeat purchase.
Encourage every customer to engage with your rewards program with beautifully branded emails
Rewards emails are a simple, impactful way for you to keep the conversation with your customers going even after they've left your site — especially when you brand them properly!
Creative subject lines, stunning visuals and compelling copy are all effective ways to build rewards emails that your customers will want to open and engage with. The best part is, all of these customizations can be made in minutes with our new email theming editor.
At the end of the day, reminding customers of the value they've earned as part of your community goes a long way to develop emotional relationships with your members. It's this connection that will encourage them to share your community with others and, ultimately, keep coming back for more.