Everyone is super excited that Smile is now natively integrated with Bronto, Mailchimp, Klaviyo, and Dotmailer - but what does this mean for you? If you're already using one of these email providers, these integrations mean you can send better emails to get more people engaged with your rewards program.
Here are some tactics you can use to pack real value into your emails so your customers are excited to receive them and engage with your program as a result.
1. Display Point Balance and VIP Tier in All Emails
Including your rewards program communications in the emails you're already sending out allows you to keep your email marketing strategy lean and effective. You are not actually increasing the number of emails you send but you're still giving visibility to your rewards program with this strategy.
Keep your email marketing strategy
lean and effective
by promoting your rewards program inside your other emails.
We've seen some brands use their newsletters or abandoned cart emails to promote their rewards program.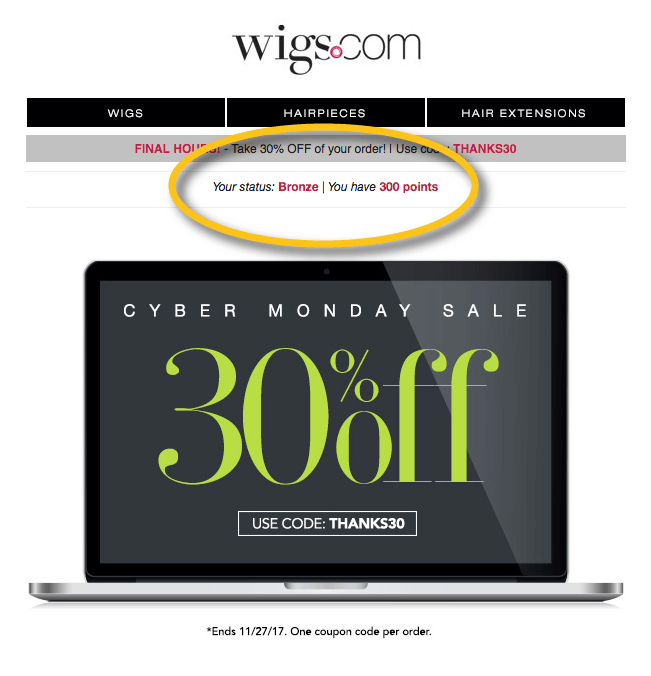 Wigs.com promotes their rewards program in all their emails by including their customer's current VIP tier and point balance. This reminder ensures that customers are always aware of the additional value they have at Wigs.com, and discourages them from shopping with a competitor.
2. Send a Referral Code to Repeat Customers
You can maximize your referrals by sending customers with multiple purchases their custom referral code. This makes it easy for fans of your products to share the link with their friends, earning rewards for both of them.
A customer with multiple purchases is more likely to refer their friends to your business.
Be sure to encourage that behavior!
We've seen some businesses schedule these emails to send two weeks after a customer's second purchase. This identifies customers who are satisfied with your product and allows them enough time to receive their shipment.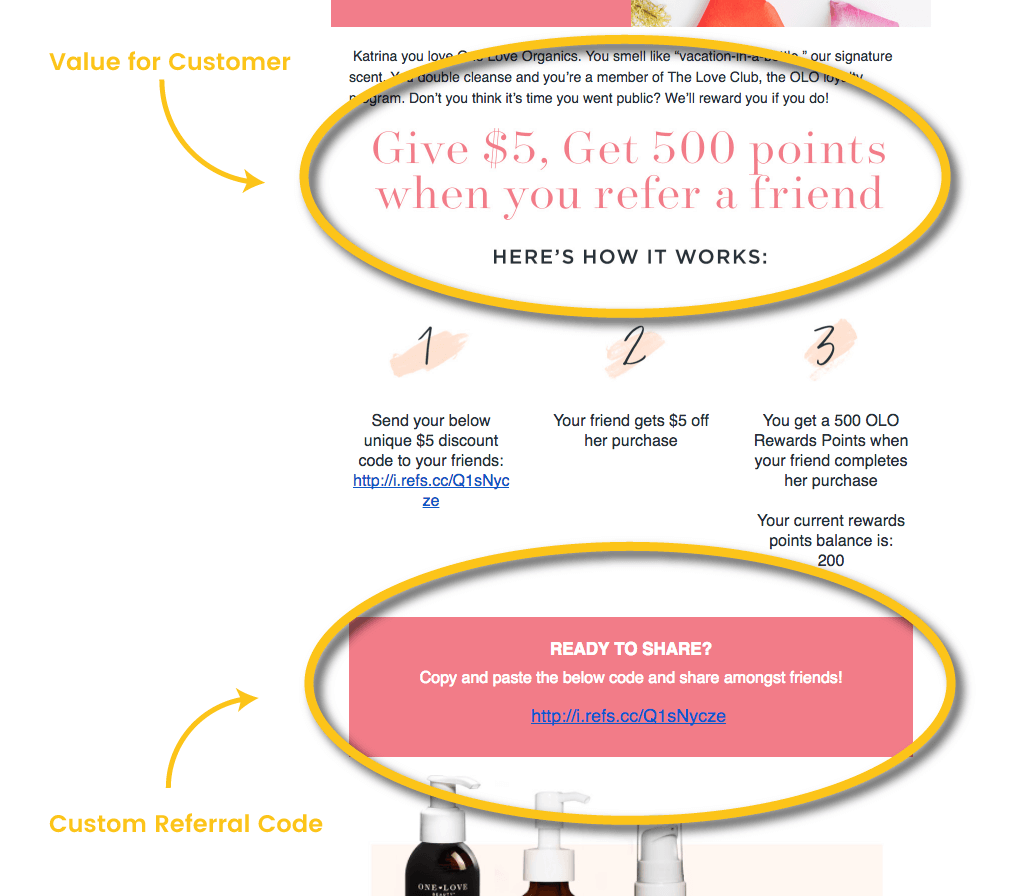 One Love Organics makes their emails engaging by showing the value to the reader right away. This encourages customers to share their referral link with their friends to receive the 500 points.
Start sending emails that provide a rewarding experience for your customers by highlighting what's in it for them. Doing this will ensure they are motivated to send their referral link to their entire social circle.
3. Remind Customers They Are Close to a Reward
Keep your customers engaged in your rewards program by showing how close they are to a reward. When people get close to a goal, their motivation level increases because with a little more effort they can achieve it.
Showing your customers they are
close to their next reward
prompts them to reach that goal.
A clear sign that your rewards program is successful is when your customers are spending their points. Motivating them to redeem rewards is a phenomenal way to make sure they are engaging with your brand to earn points.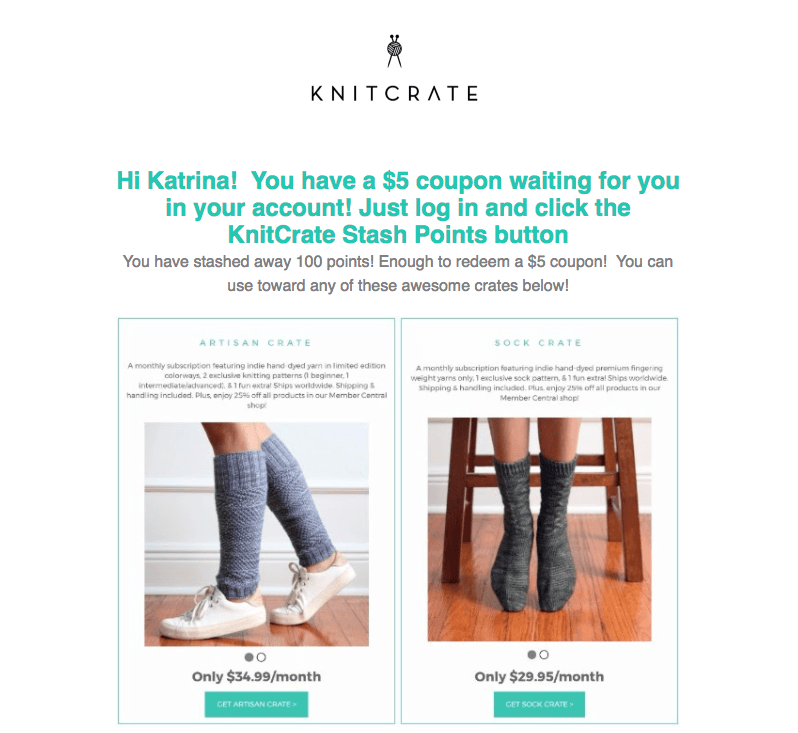 Knit Crate actually takes this a step further and reminds customers when they have enough points to actually redeem a reward. This can be a very convincing factor to make another purchase, especially if they simply forgot they had points saved up for a purchase at a later date.
Show your customers that your program is valuable by reminding them they have a reward ready to be redeemed. This gets members using your rewards program again and can revive inactive customers.
4. Send Your VIP Customers a Value-Packed Email
Reward your best customers for the time and effort they put to reaching the top tier in your VIP program.
Sending a
dedicated email
to your
best customers
ensures they feel valued in your rewards program.
You need to determine the best way to reward your best customers, but here are a few effective strategies that work for most brands:
Send them bonus points or free products
Invite them to an exclusive early access sale
Remind them they are close to the next VIP tier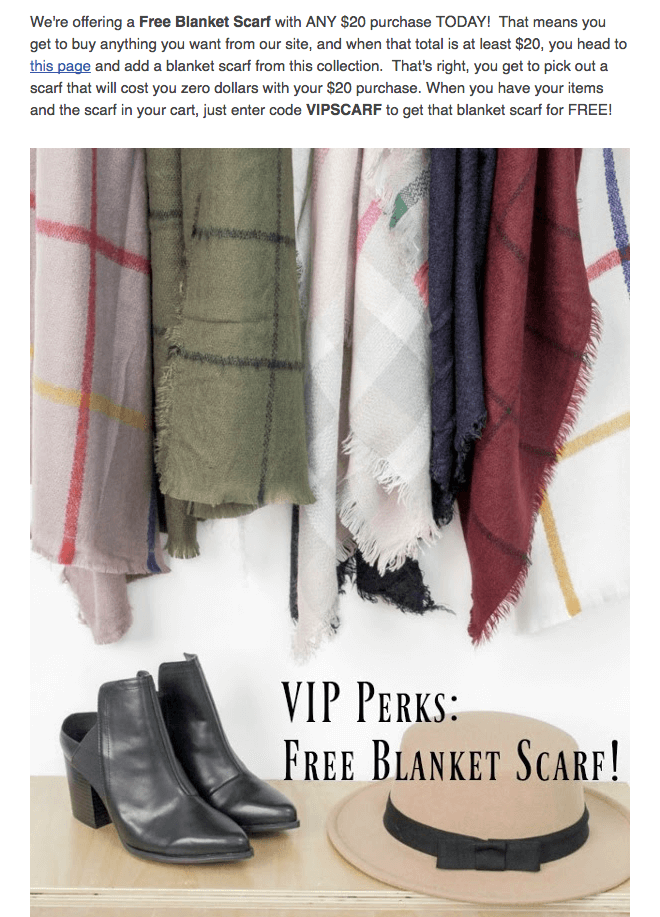 Cents of Style showed how valuable their VIP customers are by sending them a free blanket scarf to top tier members in this email campaign. These superstar customers are likely frequent purchasers so retaining their loyalty has a significant impact on your bottom line.
Keep your best customers from shopping with your competitors by showing them they're valuable to you. Segmenting your top tier VIPs and emailing them a free gift or exclusive discount code is an amazing way to do this.
Excite Your Customers with Personalized Rewards Program Emails
Personalize your emails to make them more valuable and ensure your customers continue to open them. Whether you're displaying their loyalty point balance or sending them bonus rewards, sending great emails keeps your customers engaged with your brand.
Smile's native integrations with Bronto, Mailchimp, Klaviyo, and Dotmailer make it easier than ever to segment your email lists and include Smile point balances, referral links, and VIP tiers. Combining this capability with our suggestions in this post results in effective emails that create loyal customers.