Awareness, or more specifically brand awareness, can be described as the extent to which an individual is familiar with a particular product, service, or brand. There are two forms of awareness: top-of-mind and aided-recall.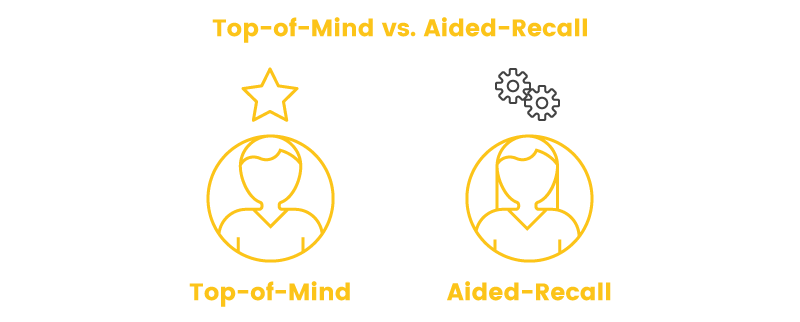 Top-of-mind is when a product or brand comes to mind first when a customer is thinking of a particular industry. A prime example is Nike as this brand comes to mind when many think of sports/athletics apparel. Aided-recall, on the other hand, is when a customer remembers a brand when prompted or provided with a clue.
The Goal of the Awareness & Recall Step
The end goal of this stage is to have the potential customer visit and browse through your website. Customers are often skeptical and will only visit the sites that they believe will be beneficial for them. So not only do you have to make people aware of your brand, but in a short period of time pique their interest and leave them wanting more – easy enough, right?
Why is Brand Awareness So Important?
Awareness is the basis for any relationship with a brand. It is a necessary step in the complete customer journey and the foundation upon which purchasing lies. Many organizations are able to identify niche segments in the market, but fail to generate enough brand awareness for their product to ever take off.
Brand awareness is the foundation of forming a relationship with customers and is essential for any business.
This being said, although driving brand awareness is expensive and does have its difficulties, it is impossible to make a sale without it. Thus, awareness is a stepping stone to developing market share. The importance of brand awareness really boils down to this: if consumers are not aware of your product in the first place, how can you expect them to purchase from you?
Where Does Brand Awareness Come From?
Initial brand awareness comes from a variety of sources including: word-of-mouth, social media, organic search, referrals, and direct links.
Word-of-Mouth
Word-of-mouth recommendations from peers are the most influential advertising source, with 84% of people believing these recommendations to be trustworthy.
84% of people
believe word-of-mouth recommendations are trustworthy.
A customer could become aware of your business because their co-worker (mother, brother, crazy uncle etc.) will not stop raving about how chic and trendy your furniture is. Or perhaps they see a friend wearing a unique article of clothing and ask the brand name. In both situations, the consumer trusts the source of these messages as they see them as unbiased and authentic – words often not used to describe a business's marketing efforts.
Social Media
Brand awareness could also come through various social channels such as Twitter, Facebook, Instagram, and more. For reasons similar to word-of-mouth, social recommendations are often seen as more trustworthy than other forms of promotion.
Social recommendations are as trustworth as word-of-mouth because people choose their connections personally.
This improves the trust that consumers have in these networks because they have created them. According to Nielsen, 92% of consumers trust earned media, which includes social media and word-of-mouth promotion.
92% of people
trust social media recommendations and word-of-mouth promotion.
If a current customer professes their love for your brand in a Tweet, their social following is exposed to you. I Followers see these sources as credible and often aspire to be like them. Any product or brand that influencers promote can hold the same clout that the figure does.

Organic Search
Most often, when a customer is looking for something specific (i.e. they know what they want), their search beings on Google or another search engine. In fact,  44% of online shoppers begin by using a search engine.
44% of online shoppers
being their customer journey by using a search engine.
For example, if a customer was looking to purchase a bedside table, they might conduct a search for "modern bedside tables." The higher you rank for that search, the more likely shoppers will be to click through to your site. A recent study found that the No. 1 position in Google search results received 32.5% of clicks whereas the No. 10 position received 2.4%. This staggering difference shows how impactful SEO strategy can be for brand awareness.
Referrals – Customer and Site
There are two different types of referrals that could drive awareness for your store, site and customer. First, site referrals are instances when your store is linked to on another site such as a blog or a top 10 list.
Site referrals link to your site from another source, causing potential customers to keep your brand in mind.
For example, a new shoe manufacturer would benefit from being included in an article from a high traffic blog (e.g. Into the Gloss) such as "15 Fall Shoes You Have to Have." Third party content from a source such as this that is deemed as "expert" can go along way in driving brand awareness. Expert content has an 88% greater impact than branded content and 50% greater than user generated reviews.

Expert content has an
88% greater
impact than branded content.
Customer referrals are when an organization incentivizes current customers to promote their products for them. These individuals are provided with a referral URL that they share with their peers. The referrer will earn a discount for every person that makes a purchase using referral URL. This URL is usually emailed to friends/family or broadcasted on social networks. Programs such as these leverage the power of word-of-mouth and the credibility of the source who is sharing the information.

Paid Advertisements
Finally, a consumer could become aware of your brand from paid advertisements.
Search and display ads are the most utilized forms of paid ads by online marketers. Search ads are those that linked with results in search queries on search engines such as Google.
There are two methods of pricing for paid advertisements – cost-per-click (CPC) and cost-per-thousand-impressions (CPM). With CPC you pay for each click through from your advertisement whereas with CPM you pay for the number of times your ad is shown on a web page, regardless of the number of clicks it receives.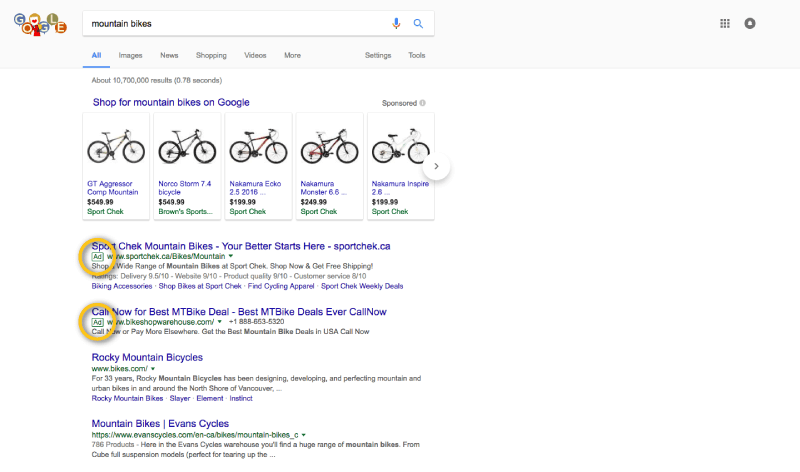 Example of paid search for the search term "mountain bikes"
It is much more difficult to move consumers from awareness to visiting your site through this method because paid advertisements do not carry the same trustworthiness – about 42% less –  as word-of-mouth recommendations.
Designing Strategy to Influence Brand Awareness
Now that we have discussed how ecommerce stores gain awareness, we can dive into some strategies and tools that will help you gain significant and quality awareness for your store.
The key to brand awareness is having both a great product and exceptional customer service.
Word-of-Mouth
Showing that you are unique and differentiated from competitors will allow you stand out in a crowd. The goal is to have customers draw associations to your brand that are not similar to associations they draw from your competitors.
Differentiate yourself from competitors by creating unique associations with your brand.
Coke is a perfect example of this with their "Happiness" campaign.  Sugar and calories are generally associated with soft drinks, not happiness – but somehow Coke has convinced customers that they can be happier when drinking their products. When a customer makes this unique connection to your brand, they are likely to share this connection and experience with others.

Magic moments are a great time to let your brand's personality shine by going "above and beyond"!
In all that you do let your personality shine through! Not only is it more entertaining but it will also help improve your authenticity among followers.
Social Media
An effective way to improve the reach of your social channels is to identify influencers such as journalists, bloggers, or simply network members who have built a loyal following of their own.
Provide them with value through your relationship – find out why they have influence and create a discussion surrounding their content that relates to your brand. When they see that the relationship is two-way and they are not a means to an end, they will likely promote your brand.
Establishing two-way connections with social influencers is an excellent way to get your brand promoted.
Providing content that your audience will share could also expand the reach of your brand. For example, in the very visual fashion industry, photos have shown to be the best way to engage consumers as this is generally the way people view fashion products.
Give those who already love your product the opportunity to share it with their social networks. Include social sharing links on your product pages so that customers can show off the new item they purchased to their following.

Organic Search
In order to drive brand awareness through organic search, your site needs to be optimized. When your site is optimized for specific keywords, the more likely it will be returned in searches for those keywords. – the ROI from SEO is proven and your competitors are investing in it. There are many great tools available – such as Moz.com – to help improve your search ranking and provide you with valuable analytics.
Referrals — Customer and Site
As mentioned above, customer referral programs are often successful because they leverage the credibility of the individual sending the referral code or URL. To run an effective referral program, you need to offer potential referees enough incentive to ensure they participate.
Find out what sort of incentive your customers value most. They could prefer a dollar discount to a percentage discount or free branded swag they couldn't purchase anywhere else. Leverage influencers such as those mentioned in the social media section to bolster the utilization of your program. Given their wide reach your brand will surely benefit from the increased exposure.
Paid Advertisements
For a search ad campaign to be successful your first step is to list all of the potential keywords a consumer could search for that relate to your site. Once you have made this list, there are a number of tools you can use to select targeted keywords. Programs like HitTail are very useful in determining the keywords that are optimal for your store. Going after generic keywords is logical, but many others do the same, driving up the price. When you have selected targeted keywords and bid on them, now it is time to make your ad appealing. Catch the searchers attention with an interesting headline. Even if they don't click right away, they might remember the unique caption in your ad.
Your ads should be attention-grabbing and memorable. Don't underestimate the power of an interesting headline.
In order to get the most out of display ads, the locations you choose need to be spot on. This will require research into your current customers – what do they do in their spare time and what sites do they frequent? If you can get an accurate picture of what your typical customer looks like you are on the right track. Make sure that display ads are clean but still draw the visitor's attention. It needs to stand out or else they will move past it without stopping to investigate. However, you don't want to make it so loud that it overloads the senses.
Lastly, the ad should provide value to the site visitor. Just having them know your brand name is not enough. From seeing the ad they should be able to determine what your brand's key value proposition is and why they should visit your site.
Final Thoughts
Remember that developing brand awareness does not happen overnight. Like with any goal, you need to have a consistent, organization-wide effort in order to achieve this. Don't get frustrated if it doesn't happen right away – it will take time and a little bit of luck to gain some traction. Get out there and start building a network of people who love your brand for one reason or another. Once this network is in place you will be able to spread your brand/products to the masses and gain "significant" awareness – whatever that means to you!
The next post in the Complete Customer Journey series – The Site Visit!