With the rise of fast-paced social media videos and interactive blog content, it's easy to think that email might be a thing of the past. Audiences today have shorter attention spans than ever and are being conditioned to expect more exciting forms of content. However, is email actually irrelevant?
Thankfully, the answer is no. Whether you're going on engagement, clicks, or straightforward sales conversions, email is still one of the most powerful marketing tools to have at your disposal — especially when it comes to building customer loyalty.
As the cost of acquiring new customers skyrockets, it's crucial that online retailers and businesses of all shapes and sizes focus on sustainable growth. Email is one of the best ways to encourage customers to get engaged with your brand community because it's accessible and highly visual, giving you the perfect opportunity to show new and returning customers exactly who your brand is and why they should fall in love with you.
Let's look at six ways you can use email to boost loyalty, build engagement, and ultimately improve your bottom-line.
1. Tailor email campaigns to customer groups
Segmenting your customers into groups based on their purchase patterns and behaviors is one of the most effective ways to boost loyalty and retention. This is especially true when you group customers according to their position in your rewards program. Whether you're simply running a points program or incorporating VIP tiers, you have a lot of data at your fingertips you can use to craft personalized, highly-relevant emails that speak directly to specific groups of people.
In general, there are four types of data you should incorporate into your marketing campaigns.
Demographic data
Segmenting customers based on factors like age, location, and gender can be immensely useful for putting together targeted emails that speak directly to the needs of your customers. This is especially true if you sell a variety of products that appeal to a number of different audiences.
Purchase frequency
Knowing how often your customers are shopping with you will give you the most insight into how your customers prefer to shop with you. If you notice that most customers are only making purchases every 6 months, you can run special events and send them campaign emails to get them excited to attend.
This is especially useful if you're running a rewards program. Bonus points events are one of the best ways to improve overall engagement with your brand and larger community and are a highly valuable addition to your regularly scheduled marketing efforts.
VIP status
A VIP program makes it very easy for you to see who your most valuable customers are. These are the customers who spend the most at your store and are most engaged with your brand community, making them an extremely important group to keep engaged.
When you separate these highly active members from your disengaged customers, you can begin to craft personalized campaigns designed to motivate inactive members to take advantage of your program's benefits. It can even be as simple as including each customer's VIP status and points balance in every email you send. These small reminders can often be the difference between a customer exploring more of your program or falling off.
Top referrers
Referral programs are among the most powerful marketing techniques available, with 74% of shoppers identifying referrals as a key factor in purchase decisions. As a result, focusing extra attention on your top referrers is worthwhile because they represent a huge source of new customers.
Send your top referrers an email thanking them for engaging in your program, and offer an additional incentive or reward for helping you grow your brand community. Similarly, remind customers who haven't made a successful referral what their unique referral URL is and what they can earn to motivate them to share your brand community with friends and family.
2. Send personalized "event emails"
Over 90% of customers like receiving personalized content from brands. That's because personalization helps customers feel truly valued as part of your brand community, helping them form strong emotional connections with your brand they might not experience otherwise.
Personalized emails build strong emotional connections between customers and your brand, involving them in your brand community.
This means you need to make personalized content a staple in your email marketing efforts. Whenever you wish a customer happy birthday or let them know about a relevant buying holiday like Mother's Day, they form a positive association with your brand that will keep them coming back in the future.
You can send personalized messages on a number of different occasions.
Wish your customers a happy birthday
Sending out birthday emails is one of the easiest ways to build loyalty. It shows your members that you care about them as an individual and want to share their excitement and join the celebration.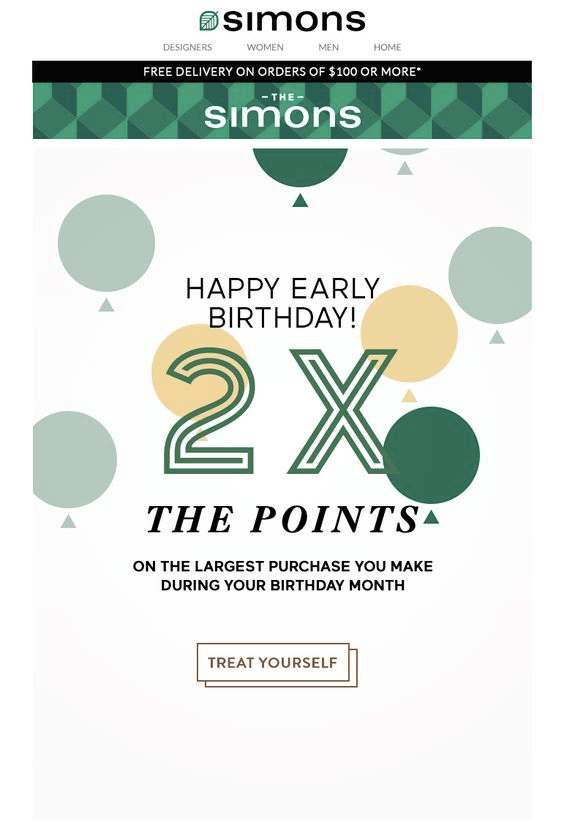 You can even sweeten the deal by offering them a special reward as a gift. Simons offers their customers double points on their birthdays, making it exciting for every customer to shop for something special on their big day. This type of incentive is great for reminding customers of the value of your program and getting them engaged in the year to come.
Celebrate a holiday
While it's not a good idea to celebrate every holiday, you can send customers personalized emails on the holidays most relevant to them as a group. Consider who your customers are and what you sell to come up with a list of celebrations you'd like to share with them and design tailored messages for each of those events. These campaigns will provide another chance for customers to include your brand in their day-to-day lives and, as a result, for them to engage in your community.
Recognize their new VIP status
It's always nice to be acknowledged when you achieve something you've been working towards, and the same goes for your customers' VIP status! When a customer enters a new tier, send them an email welcoming them to the next stage of their program and thanking them for their participation in your brand community.
This would also be a great opportunity to remind them of the benefits of their new status and how they can earn even more fantastic perks and rewards with your program.
3. Send powerful incentives to inactive customers
Your rewards program's inactive members are actually some of the most valuable. That's because they represent a group of people that are already interested in your product and brand. That makes it much easier to re-engage than to devote more resources to finding new customers through expensive acquisition channels.
The key is to make your emails valuable to these customers. One of the reasons they might have disengaged in the first place is because they no longer find your program valuable. That means it's your job to remind them of why they joined your community in the first place and get them excited to re-engage.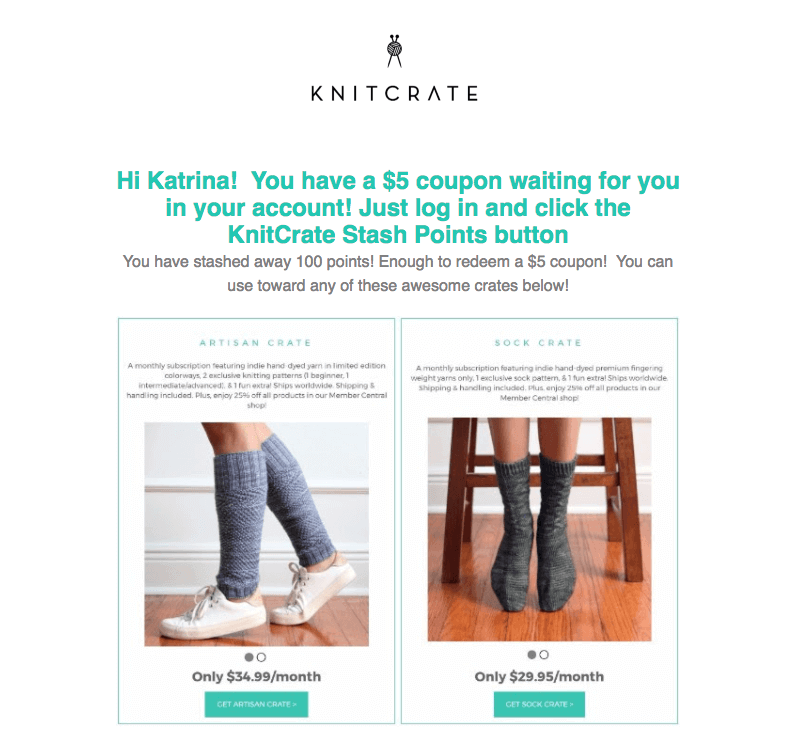 Reminding customers that a free gift, bonus reward points, or a discount reward are waiting for them are all easy ways to demonstrate your commitment to providing these customers value. In this example from Knitcrate, they remind their customers how many points they've earned and show them what they could spend them on, making the connection between both their program and products stronger and more valuable.
Through this value-add marketing, you make it easy for customers to see and understand what's in it for them and get them to re-engage with your community as a result.
4. Ask for and act on feedback
Asking for feedback is a great way to make your customers feel appreciated. The trouble is often getting them to actually give it to you. While customers want to be heard, they also want it to be worth their time and won't necessarily seek out your contact information or look for you on social media.
That's where email comes in! Sending emails that asks your engaged brand community for their feedback on your products, services, or rewards program is a fantastic way to include them in more of your brand experience.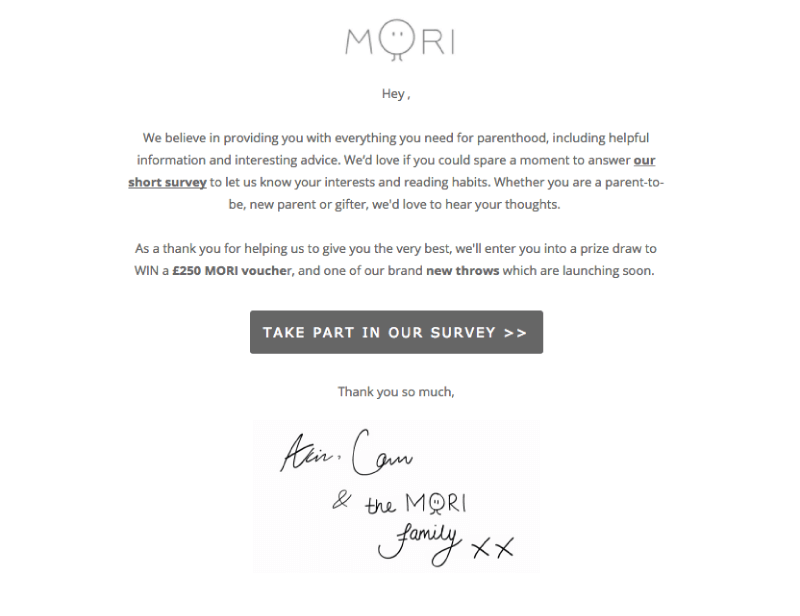 To make this even more valuable for your customers, why not give them a gift for taking the time to respond? Mori offered their customers a significant reward in exchange for taking part in their survey, and encouraged both new and existing customers to share their opinions. Rewards show customers their opinions mean something, and imply that you are gathering feedback because you genuinely want it rather than as an arbitrary exercise.
5. Show customers how close they are to their next reward
One of the most exciting parts of a points program is watching your progress to the next reward. By incorporating gamification into the rewards experience, earning points becomes a game that customers can't wait to keep playing. However, it's only satisfying if you know what you're working towards. Without knowing how close you are to the next reward, you can get demotivated pretty quickly,
You can solve this problem by sending emails to let your program members know how close they are to their next awesome reward. These messages don't need to be complicated — even something as simple as "you're so close!" will inspire customers to make that one more purchase that pushes them into rewards redemption territory.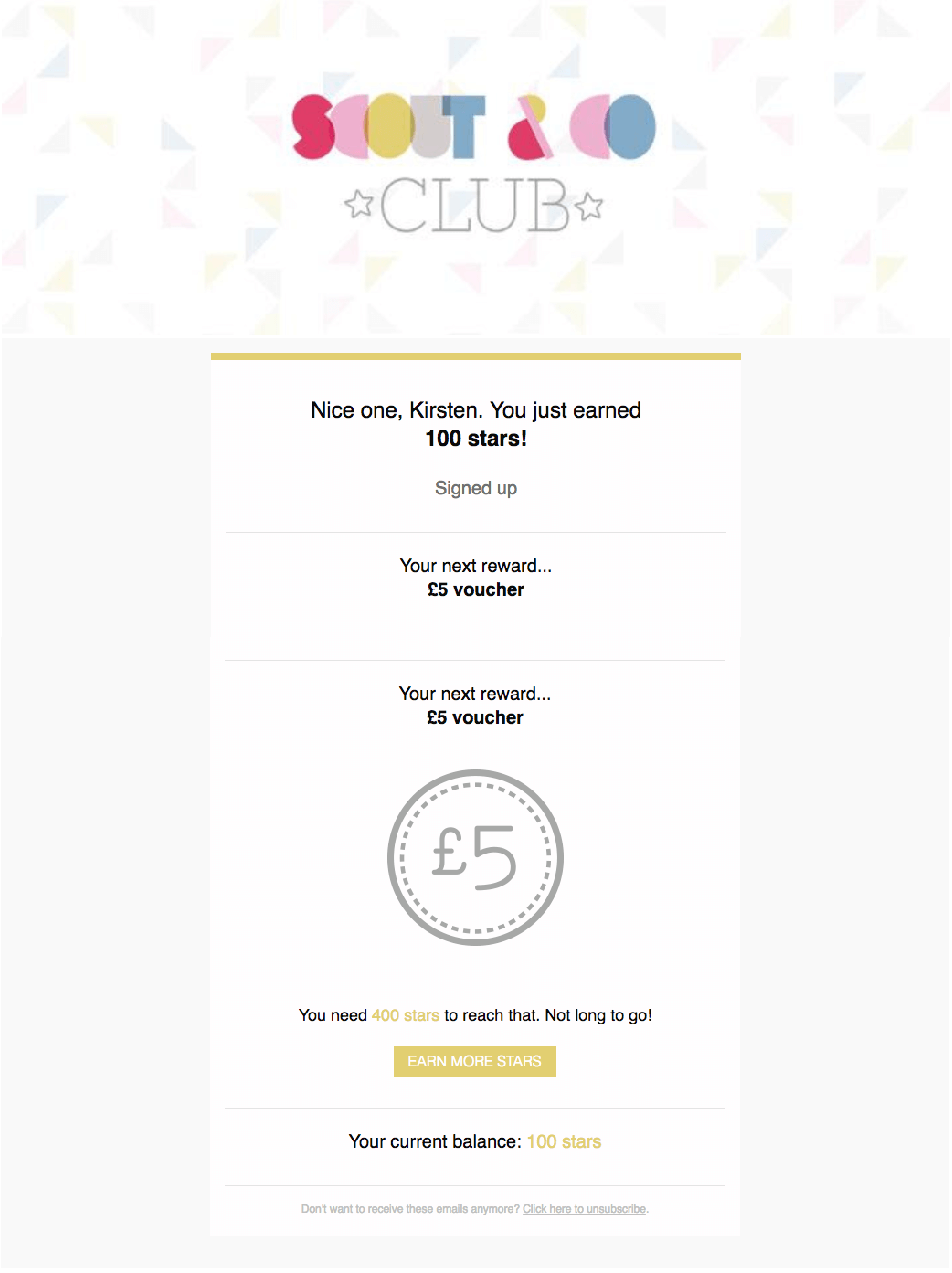 Scout & Co sends regular reminders to their members reminding them how many Stars they have and how close they are to the next reward. These short, simple messages help turn the abstract idea of "Stars" into something tangible and make it easier to see how earning those Stars are adding value to their community experience. With these messages in their inbox, Scout & Co's customers are motivated to keep earning and spending rewards, keeping their brand community active and engaged.
6. Build emotional connections through value-add marketing
It's easy to get caught in the trap of thinking that building loyalty is all about offering rewards and free stuff, but that's not actually true. Customers are looking for opportunities to engage with brands who take the time to develop real, emotional connections with them. In fact, research shows that "emotional connection" is a stronger contributor to loyalty than popular "conversion" elements like "ease" and "effectiveness."
With so many of your competitors focusing solely on these transaction-based features, you have the opportunity to create an incredible experience that goes above and beyond what customers expect. You can do that by including the following types of content in your future email campaigns:
Blog content that tells customers more about your brand values
User-generated content, like Instagram photos or testimonials
Entertaining features (like videos) involving employees and customers
This style of marketing is known as "value-add" because it goes beyond simply promoting products. In these campaigns, you delight customers beyond a simple purchase and end up building deeper emotional connections with customers as a result. This makes these types of campaigns more effective than many other to establish strong loyalty in existing (and new!) customers.
Email + loyalty = a winning combination
When customers are loyal to your brand, you reap the benefits of engaged, excited community members who are committed to engaging with and sharing your brand with others. Using the tactics on this list will ensure that you foster as much loyalty as possible with these valuable customers using a marketing channel that is still one of the easiest and most effective.
By introducing each of these email campaigns to your marketing efforts, you will dramatically improve not only your customer's loyalty but your overall brand experience as well. With value-add marketing at the helm, you're well set up to build stronger customer relationships that last.
Now, time to start working on your next email!
Chad Rubin is the CEO and co-founder of Skubana, an online suite of tools that helps ecommerce merchants manage, track, and update inventory while drawing insights from analytics reporting.