Any idea who the world's most powerful brand is, besting even Disney? If you guessed LEGO, you'd be right! The brand is an international powerhouse with fans in every corner of the globe. Showing up in 75% of American households and 80% of European households, it's clear that LEGO has one of the strongest brand followings on the planet.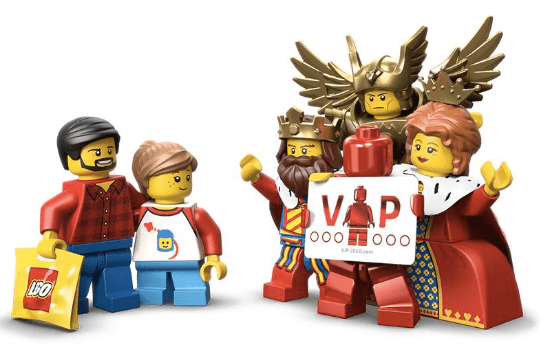 With such a passionate fanbase, LEGO realized they had a fantastic opportunity to harness that enthusiasm to create an even better customer experience.  Enter the LEGO VIP Program. With an outstanding user interface and plenty of rewards for customers to choose from, LEGO has dedicated a lot of time and energy to creating a program that customers are genuinely excited about joining.
However, while the program definitely shines in many key areas, it also falls short on a few essential parts. But let's not get ahead of ourselves – we must build it up before we break it down.
LEGO VIP: A Very Important Program
The LEGO VIP Program is a great example of a simple and elegant retention strategy. Using familiar characters, simple instructions, and enticing offers, they prove that they know how to strike a chord with their consumers.
1. Easy to Understand
LEGO's business revolves around the task of instructing children how to create intricate creations from a pile of bricks. For years they have excelled at making these complex tasks easy to follow, and the LEGO VIP Program is no exception. Right off the bat, they explain the benefits of joining in a clear, bolded list. The rewards are simple, easy to understand, and enticing.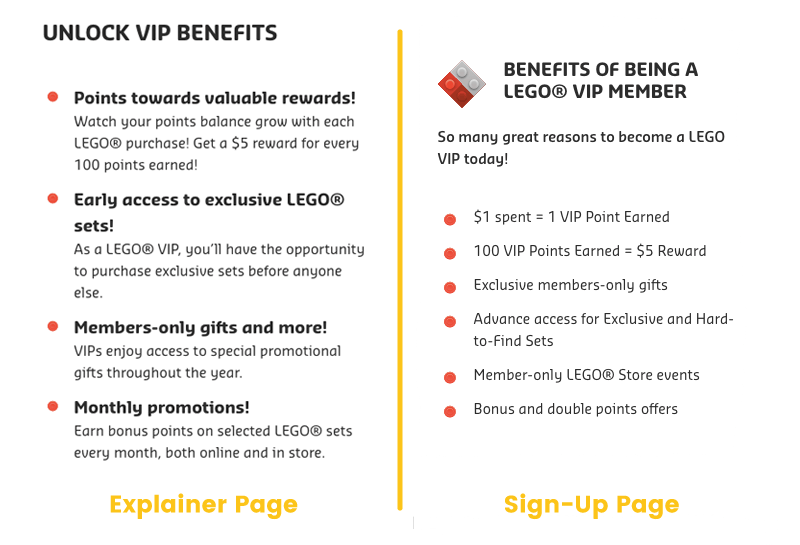 Upon entering the portal to sign up, they explain the benefits of joining yet again. Clearly, they want you to understand exactly what you are signing up for. This consideration goes a long way to encourage engagement in their program, since 81% of shoppers claim that a clear outline is important to them. With these stats in mind, it's great to see that LEGO prioritized this.

Not only is the signup process fluid, but every experience after it is as well. The VIP program home page shows you clearly what your account balance is, what rewards you have available, and how many points you need to get to the next reward. This means that I don't have to do any annoying conversions to find out how much credit I'm actually earning. There's nothing worse than getting my receipt from Loblaws and having to calculate how much money my 23,563 PC Points are actually worth.
LEGO makes this process seamless, clearly displaying how many points I have and how much that's worth in real dollars. This ease of use, packaged with a simple interface and friendly design encourages higher engagement and participation from avid LEGO builders and thus increases the value that the program provides.
2. Omnichannel Support
Being an insanely powerful international brand, LEGO knows that it has to be widely accessible to all types of consumers. The LEGO VIP Program does exactly that with an omnichannel approach to their rewards program. This means that the customer can enjoy and participate in LEGO VIP through multiple channels.

The three channels that LEGO chose to use are in-store, online, and over the phone. This ensures that none of their customers are being left out to dry. Through any of these channels, you can register an account, make purchases, check balances, and claim rewards! If you're wondering how all of this happens, the answer is simple: a VIP card.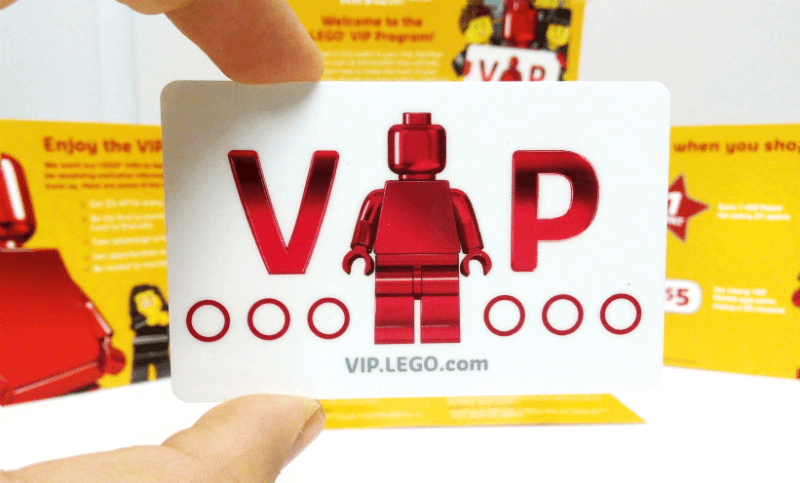 The LEGO VIP Card is delivered in a beautiful package that addresses me personally, includes instructions on how to use the card, and tells me what the next steps are. Adding to the VIP experience of it all, the whole ensemble opens up like I'm unwrapping some precious gem. The presentation was quite impressive and it was really refreshing to see a company effectively use print to make the customer feel important.
3. Variety of Rewards
On the same page of being all-inclusive, LEGO has provided a good variety of rewards to please and engage everyone. On the surface the LEGO VIP Program looks like a basic points-based rewards system, but it actually offers much more. To make their customers feel like VIP's, LEGO's program perks also include exclusive offers to buy sets before anyone else, monthly promotions just for members, and access to exclusive gifts that only VIPs can enjoy.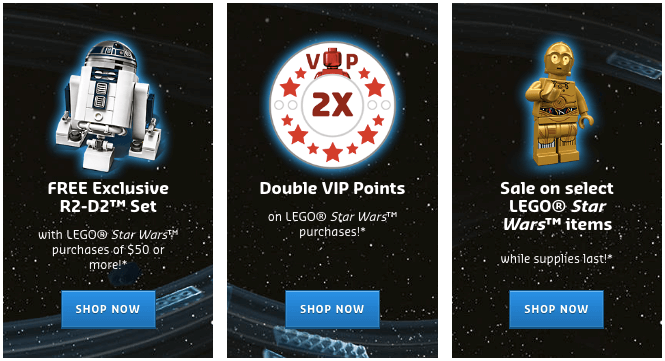 Providing a variety of rewards generates a greater incentive for customers to join the program and get hooked. Different customers are motivated by different things and by diversifying rewards, LEGO gives the customer more of an opportunity to discover the value of the program. As a lifelong LEGO fan, these program specific perks were especially exciting.  I don't care that much about saving money, but I do want access to exclusive items – especially if I can get them before anyone else!  LEGO shows that they know the value behind varied rewards and they master their implementation with LEGO VIP.
Where LEGO Missed a Few Steps
Let's be honest- we don't all follow LEGO's building instructions step by step. Most of us skip a few here and there, assume where certain blocks fit, and take a few creative liberties. Sometimes, this can be fruitful and result in wild creations, but in LEGO's case they seem to have missed a few crucial steps for building a perfect rewards program.
1. Limited Ways to Earn
I'm pretty sure that most people have some kind of collection. Whether it's LEGO sets, Disney mugs, or Rubik's Cubes, we innately love to collect. So why is it that the LEGO VIP Program only gives us one way to collect points?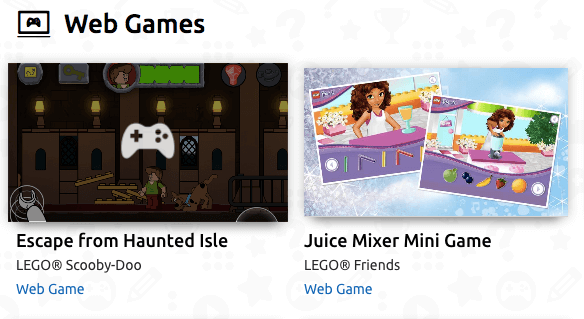 From what I can tell, the only way to earn VIP points is to make purchases through one of their three channels (online, in store, or over the phone). LEGO's audience is an engaged and active demographic who wants to engage with the brand. The brand community is so active, in fact,  that LEGO's site has video games, a platform to upload cool creations, and a section of short films for viewers to watch.
If someone posts an awesome monster they built or they score big in one of the games, LEGO could reward them. As a kid, I'd take pictures of my LEGO creations, send them to the LEGO Magazine and anxiously await the next copy to see if I made the cut. That kind of enthusiasm should be harnessed and encouraged! The moral of the story here is that the LEGO VIP Program is missing out on an easy way to encourage engagement and foster an army of fans (like me) who love everything LEGO and want to talk about it.
2. Age Restricted
Now, we've already talked about the inclusivity of this program and how it allows customers on different platforms to participate. The fact that it's organized this way is fantastic, but there is one small (or maybe not so small) caveat.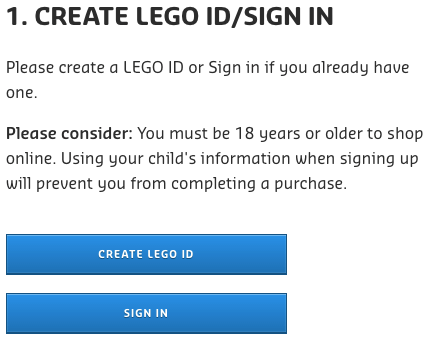 If you are under the age of 18, you cannot order products off the LEGO website. Just for perspective, that means that last year as a first year university student, I would have been prohibited from giving LEGO my business. This makes no sense to me since the younger demographic is their core audience and it would only make sense to be rewarding them.
A rewards program is all about thanking your customers for remaining so loyal! The children are the ones playing LEGO games, making videos on YouTube, and scouring the store to find the coolest sets. LEGO should encourage that behaviour by letting their biggest fans accumulate points! After all, they'll need to ask Mom and Dad for a credit card to make a purchase anyway.  Either way, LEGO will still retain the customer's business and provide a better customer experience by rewarding them.
3. Lacks Email Personalization
Getting something with your name on it is always exciting. The LEGO VIP Program masters this by sending a beautiful membership card to each new member in the mail, personalized and addressed to them specifically. But why would they go through all of that effort just to fall short on the email side of things?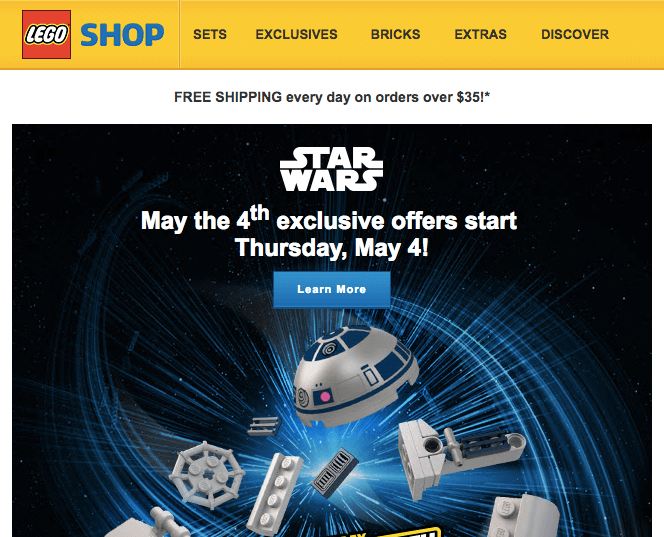 Email remains an incredibly strong marketing platform because it can allow brands to deliver highly targeted campaigns. LEGO recognizes the importance of email by sending out frequent emails with promotions and sales, but they miss out on a crucial part: personalization. Personalization goes a long way to add value to any sort of ecommerce experience. In spite of this, LEGO sends a carbon copied email to everyone on their list.
In regards to their future, Amazon CEO Jeff Bezos said this: "If we have 4.5 million customers, we shouldn't have one store. We should have 4.5 million stores". If a giant brand like Amazon is thinking about personalization, it must be a key to making your customers feel like VIPs and maximizing engagement. To take advantage of that, LEGO could address the VIP member in the header of the email, inform them of rewards tailored specifically to them, or curate content for what they might be interested in based on previous transactions.

Also, in the footer of the email, there is no need to ask me to become a VIP again – I already am one! Treat me like I'm actually important, show me my balance in points, and get me to come visit the site again and interact with it.
LEGO VIP is Built with the Customer in Mind!
Despite the unnecessary age limit and the limited ways to earn points, the LEGO VIP program is a top notch example of a simple and sleek approach to retaining customers. They iterate time and time again what the benefits of the program are and, just in case you missed something, they have a thorough FAQ section to answer any outstanding questions.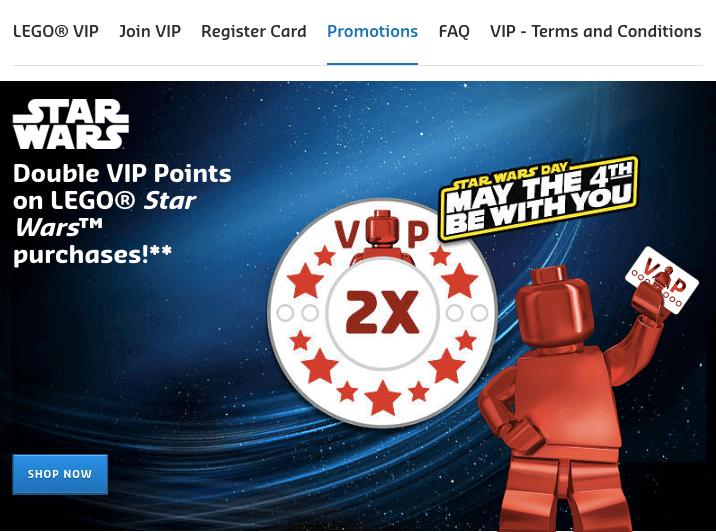 LEGO takes the simplicity of their creations and applies it to their VIP program in a fun way that is sure to promote engagement from customers. I know I've said it a hundred times, but the name of the game for LEGO is clarity and simplicity. If we can learn anything from them, it's that a rewards program should be as easy to follow as a set of LEGO building instructions.