From LEGOLAND to The Lego Movie to the pain you feel when you step on a small piece, LEGOs are everywhere. And they have been around since 1958. LEGO produces an average of 36 billion pieces a year. Simply, LEGO is a huge brand with a global reach, unlike any other toy for boys and girls and most recently for adults.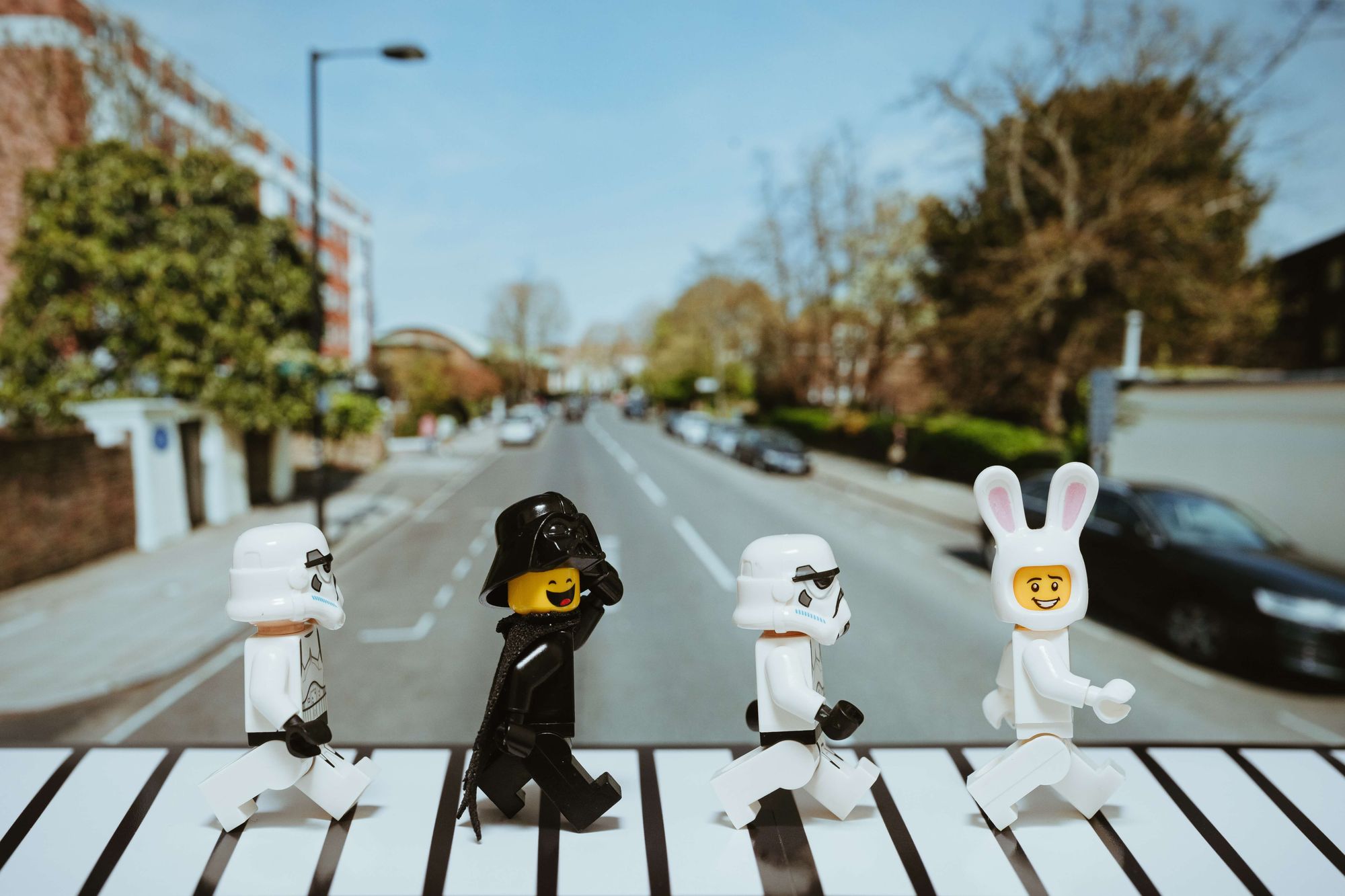 With such a passionate fanbase and a deep history, LEGO realized they had a fantastic opportunity to harness that enthusiasm to create an even better customer experience for all customers. The LEGO VIP is their rewards program. Named VIP, LEGO aims to make every customer that joins their program feel like a VIP with meaningful rewards and an easy-to-use loyalty program interface. With an outstanding user experience and plenty of rewards for customers to choose from, LEGO has dedicated a lot of time and energy to creating a program that customers are genuinely excited about joining.
Customers can earn points for shopping at any LEGO stores across the world or online. Let's take a dive into what makes LEGO VIP rewards program special and some lessons you can take from this historic brand.
LEGO VIP-A very important program
The LEGO VIP rewards program is a great example of a simple and effective retention strategy. Using familiar characters, simple instructions, notable collaborations, and enticing offers, LEGO proves that they know how to strike a chord with their consumers, no matter the age.
1. Easy to understand
The simpler your rewards program is, the easier your customers will find it to join, earn, and redeem rewards. LEGO's business revolves around the task of instructing users how to create intricate creations from a pile of bricks. For years they have excelled at making these complex tasks easy to follow, and the LEGO VIP rewards program is no exception. Right off the bat, LEGO explains  the benefits of joining in a clear list.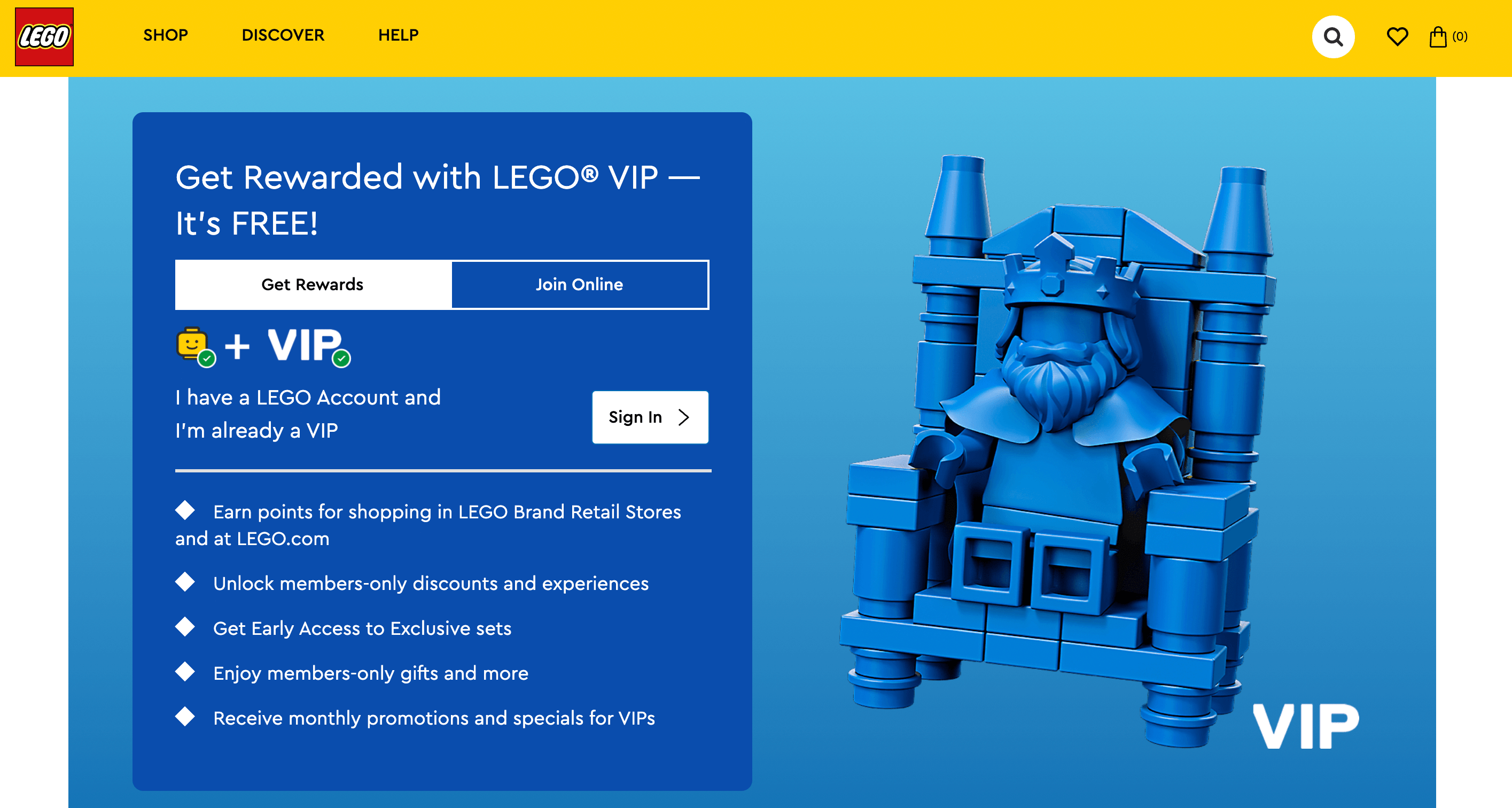 Upon signing up for their rewards program you enter the rewards dashboard where you can view your rewards, points, and any bonus point offers. This consideration goes a long way to encourage engagement in their program and generate repeat purchases from customers.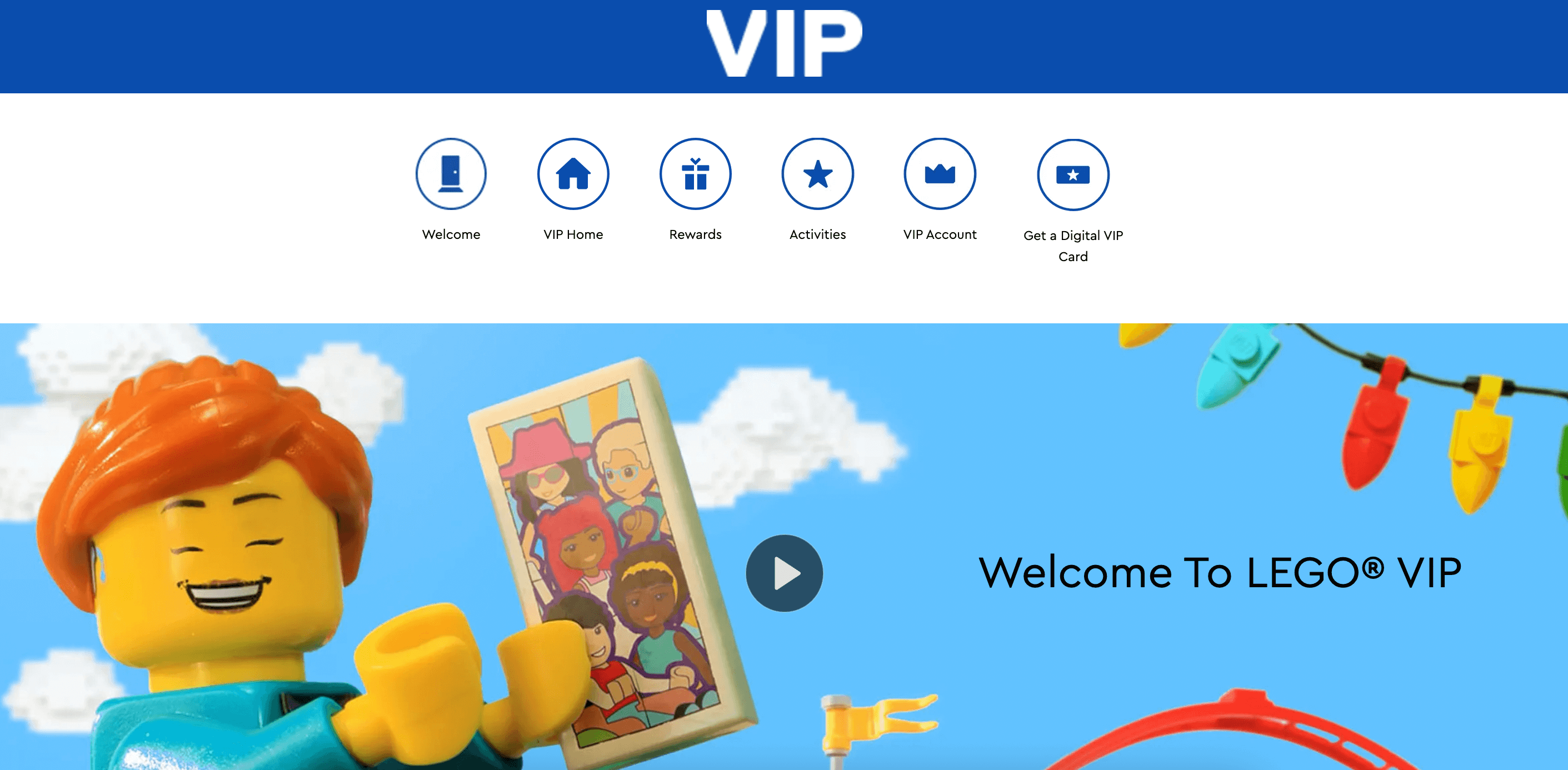 Not only is the signup process smooth, but every experience after it is as well. LEGO is a toy brand at the end of the day and ensures each step in the rewards program is fun and on brand. The rewards program dashboard shows you clearly what your account balance is, and you can click on each icon to show you around. What rewards you have available, how many points you need to get to the next reward, the types of offers you can redeem, and so much more.
LEGO makes the entire process seamless. This ease of use, packaged with a simple interface, and on-brand  design encourages higher engagement and participation from avid LEGO builders and thus increases the value that the program provides.
2. Notable collaborations
Collaborating with notable brands and pop culture has kept LEGO relevant for so long. Their collaborations with Harry Potter and Star Wars helped revenue grow by 17% last year alone. These partnerships along with others have helped LEGO remain at the top of consumers' shopping lists every time they are released.
Recent collaborations with Landrover and BTS have kept LEGO in the minds of its adult and Gen Z consumers. Collaborations with a product, brand, or other business can help reignite engagement for your business and hype new releases.
After one purchase, a customer has a 27% chance of returning to your store. That number increases if customers return for a second or third purchase, which grows to a 49% and 62% chance of making another purchase. What lessons can you take from this? Keep your audience and reward members engaged by offering products that speak to them and will genuinely excite themt, to ensure repeat purchases.
3.  A variety of meaningful rewards
It's estimated that more than 90% of companies across ecommerce and retail industries have some type of loyalty program offered to their customers. The only way to build a brand that loyal customers will support is by making them feel valued before and after they purchase from you. LEGO has provided a good variety of rewards to engage everyone in their rewards program.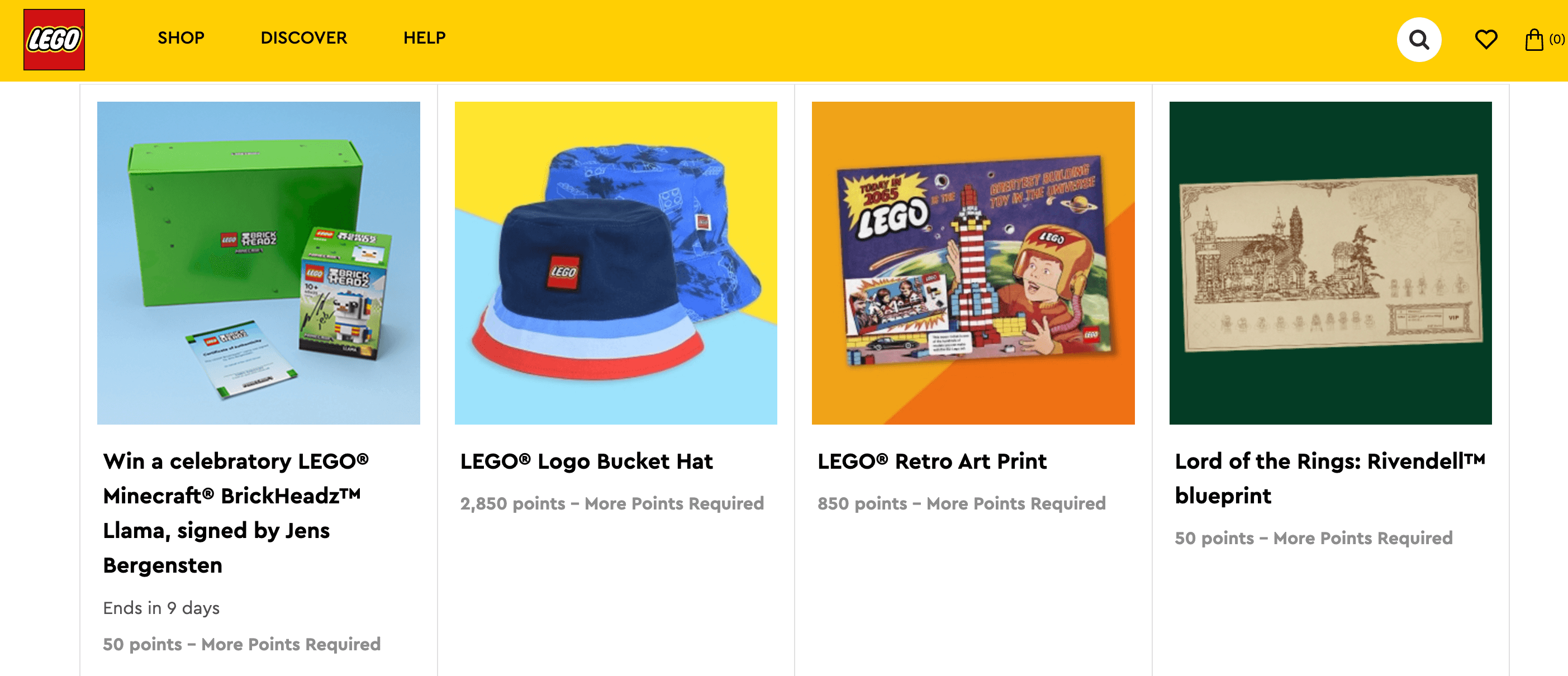 Right from the start, LEGO VIP offers 6.5x the points for every $1 spent both in-store and online. LEGO offers double points during specific timeframes throughout the year and members are able to redeem points online and in-store.
This omnichannel strategy of earning points no matter where you buy LEGOs allows customers to truly earn on any purchase, anywhere. On the surface, the LEGO VIP Program looks like a basic points-based rewards system, but it actually offers much more.
To make their customers feel like VIPs, LEGO's program perks also include exclusive offers to buy sets before anyone else, monthly promotions just for members, tickets to its theme park in San Diego, California, art prints, and access to exclusive products that can be redeemed only by VIPs.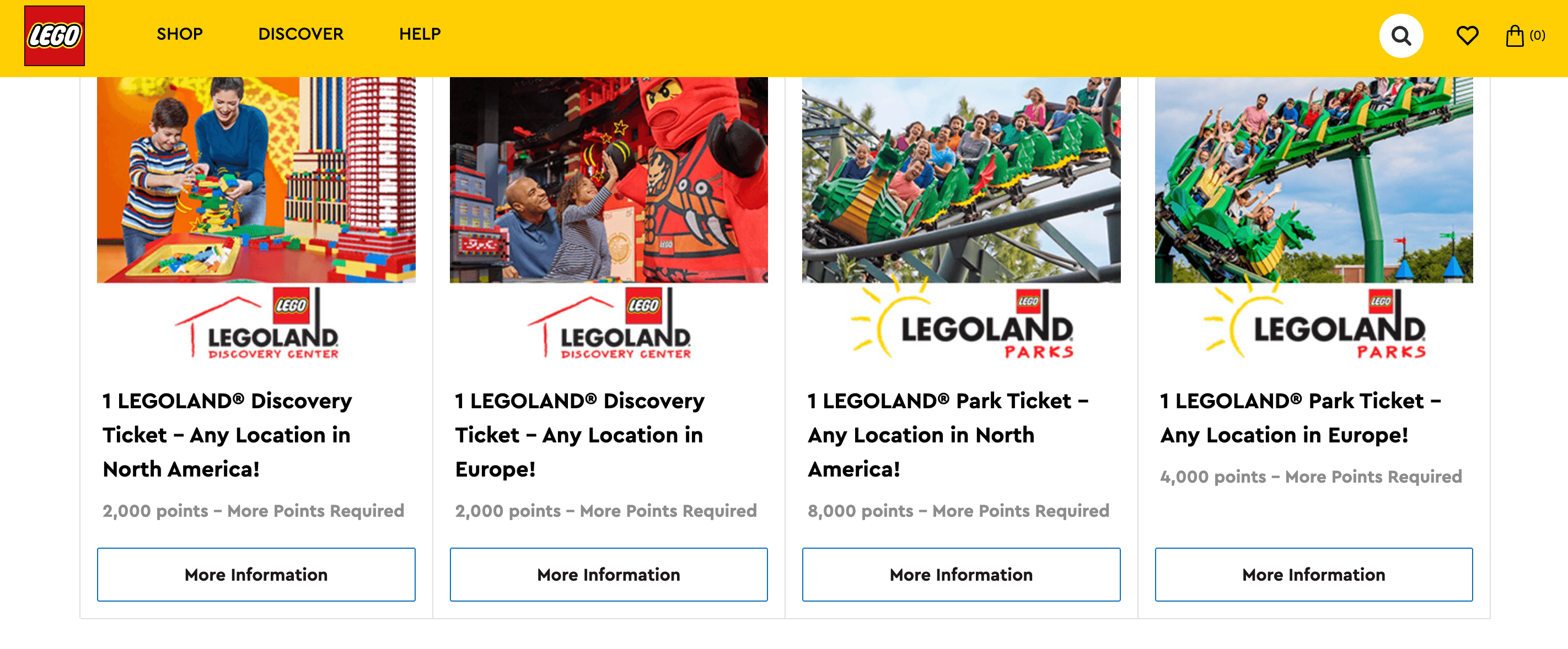 Providing a variety of rewards generates a greater incentive for customers to join the program and get hooked. Different customers are motivated by different things and by diversifying rewards, LEGO gives the customer more of an opportunity to discover the value of the program.
If your customers don't care as much for a discount but will eagerly await a new product release or access to exclusive items–especially if customers can get them before anyone else, this will be a big draw to your program! LEGO shows that they know the value behind varied rewards and they master their implementation with LEGO VIP.
Where LEGO misses a few steps
Most major big box stores like Walmart and Target have LEGOs available for purchase. The big downside is zero points earned for those making a purchase at a third-party retailer. Buy them at Target or Walmart and you miss out on points for buying LEGOs. One way LEGO misses the mark is by not allowing LEGOs purchased anywhere other than their website and official stores to be eligible for points. Same product, just purchased elsewhere.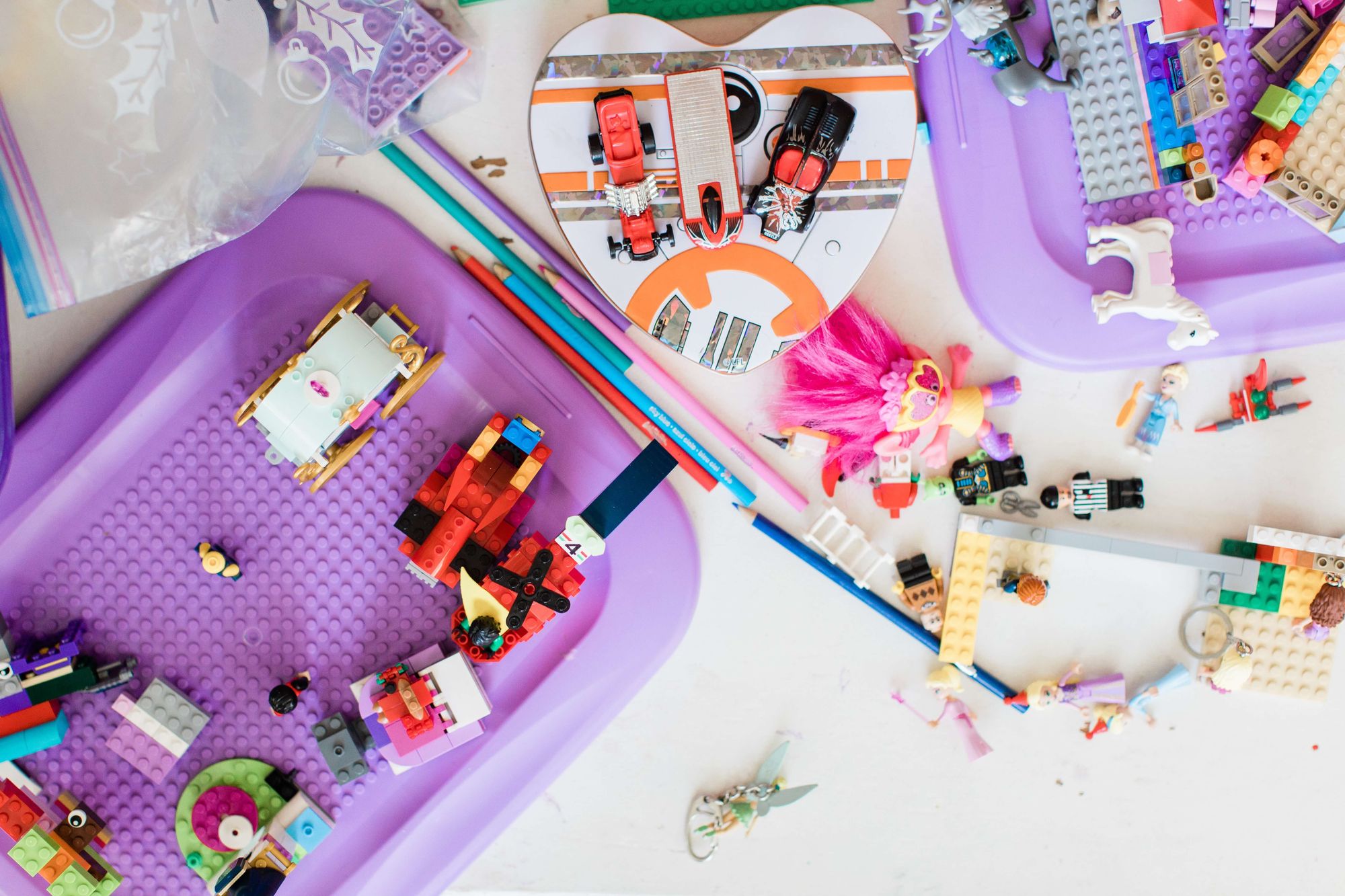 The only way to earn VIP points is to make purchases through one of their three channels (online, in-store, or over the phone). LEGO's brand community is an engaged and active demographic, which is why LEGO should incorporate more ways customers can earn points. Allowing an omnichannel approach will create a better experience for new members.
The moral of the story here is that the LEGO VIP rewards program is missing out on an easy way to get more rewards program members and encourage repeat purchases with points reminders.
LEGO VIP Rewards is built with the customer in mind!
LEGO is a top brand and its rewards program is becoming a top rewards program that customers can find deep value in. Despite the limited ways to earn points, the LEGO VIP rewards program is a top notch example of a simple and sleek approach to retaining customers. They iterate time and time again what the benefits of the program are and, just in case you missed something, they have a thorough FAQ section to answer any outstanding questions.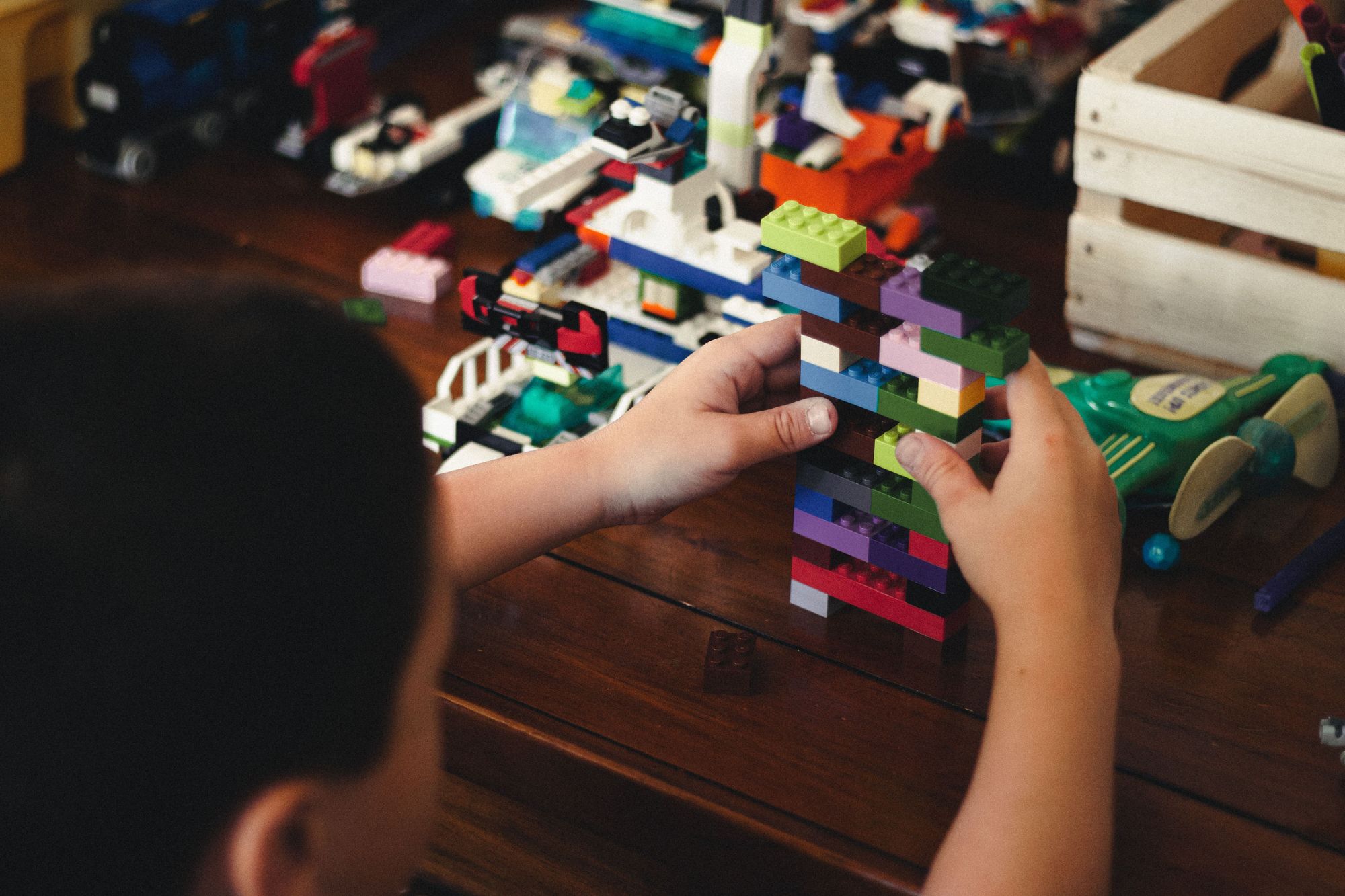 LEGO takes the simplicity of its creations and applies it to its rewards program in a fun way that is sure to promote engagement from customers. We know we've said it a hundred times, but the name of the game for LEGO is clarity and simplicity. If we can learn anything from them, it's that a rewards program should be as easy to follow as a set of LEGO building instructions. From its history to its iconic products, LEGOs will continue to be around for generations, and with a top rewards program like LEGO VIP, that's sure to stick around as well.
Editor's Note: This post was originally published on May 16, 2017, and was updated for accuracy and comprehensiveness on April 27, 2023.
Subscribe to Talking Shop
LEARN FROM LOYALTY PROGRAMS STRAIGHT TO YOUR INBOX