Today's top brands know that if they want to succeed, they need to look at the maximum potential of each customer. That value extends beyond just their customer lifetime value and into the additional ways they can generate value for your brand beyond a purchase.
Perhaps the most valuable thing customers can do for your business is share it with others.  Word-of-mouth marketing is one of the best ways to expand your brand awareness, and offering rewards is the perfect way to encourage this profitable behavior in your current customers.
Referral and affiliate programs are only successful if you understand which one is best for your business.

With ad costs constantly rising, you need to be motivating your customers to talk about your store. This makes affiliate and referral programs the best place to start, but not all programs are the same.  While you can turn your existing customer base into a powerful network with rewards, it's important to know the pros and cons of both referrals and affiliate programs.  
In general, referrals bring in customers who provide long term value while affiliates help achieve short term goals. Although combining rewards and referrals may seem like the obvious solution, it's still a good idea to look at both programs from top to bottom and draw your own conclusions.
What is a referral program?
Referral programs are one of the most successful marketing tools in the world.  With customer referral programs, you empower people to promote your products or services to their friends and family by offering some kind of reward. Rewards can be free products, free shipping, or discounts off a future purchase.
This dual-sided value makes referrals an extremely popular way for customers to get involved with the brands they love, and creates more opportunities for new customers to fall in love with your brand experience.
Pros and cons of referral programs
Today, people buy through learning–not from being sold to. That is why you see people using content marketing, encouraging reviews, and looking to promote referrals. Some of the biggest benefits of using a referral program are:
Referrals require no upfront financial commitment.
Referral programs benefit both the sender and the receiver with something that encourages them to come back and shop again.
Referral programs maximize high value shares from those who love your brand.
However, there are some things that you need to consider with referral programs. Some of the challenges are:
Customers may forget about your referral program over time. But you can easily overcome this with a gentle email reminder.
Customers may not feel motivated to share a referral link. Ensure your referral reward is enticing and keep an eye on your referral redemption rate to see how effective your referral program is.
You have little control over what type of customers you aquire. But if your brand advocates are doing the referring, then they have a good idea of what your brand is all about and are likely bringing in the right kind of people!
Referral Example: Dropbox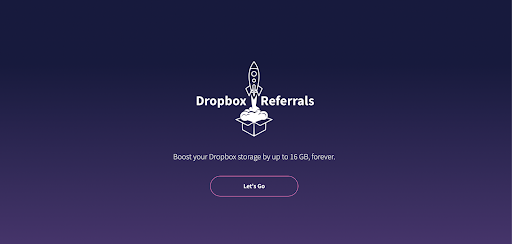 Dropbox is one of the best examples of a referral program in action. The popular digital storage system offers customers the opportunity to earn extra space by inviting their friends to try Dropbox out. With different reward levels based on the customer's existing account type, existing users are not only motivated to refer friends to the service but also to increase their payment plan in order to earn a greater reward.
This simple strategy has been extremely effective at bringing in new users, and has created a highly rewarding experience for their ever-growing customer base.
What is an affiliate program?
Affiliate programs allow businesses to reward particular individuals for sending them traffic.  Also known as associate programs, these programs are built around an agreement that states how much the referring website will be paid for the amount of traffic they send.  Typically, affiliates are paid based on the number of people they send to the brand's site or the number of referred people who perform a valuable action.
More often than not, affiliate programs require potential affiliates to go through an application process that determines whether they're a good fit or not.  With many new and returning customers interested in picking up some extra cash, some brands see affiliate programs as an easy and effective acquisition marketing strategy.
Pros and cons of affiliate programs
Although affiliate programs tend to focus on short-term gains as opposed to sustainable business growth, there are still some great benefits:
You can reach a large audience of potential customers. This is beneficial for that customer acquisition stage but it may not necessarily help in engaging or retaining customers.
You can have control over who your affiliates are through application processes. This ensures that you have your ideal customers sharing your message.
If you have influential affiliates, it could act as a great brand discovery tool.
Despite those benefits, there are still a lot of drawbacks to affiliate programs:
Affiliate programs often feel impersonal and inauthentic because of their generic messaging and broad audiences.
Affiliates are financially motivated for personal gain so if another higher paying opportunity comes along, they may not remain loyal to your brand.
Affiliate programs are still traditional advertising which can be expensive and inefficient as you are spending your marketing budget with little control over who you are actually targeting.
Affiliate Example: Herbalife Nutrition
Herbalife has gotten a lot of attention in the affiliate marketing space.  The weight loss company is one of the most well-known affiliate programs out there, offering a standard commission rate of 2% for linking back to the Herbalife site.  Any sales made by customers who clicked through an affiliate link will be recognized and honored by the affiliate program, keeping affiliates ultimately responsible for their success with the program.
Choosing which program to run: referrals vs. affiliates
When it comes to choosing which type of program would be most beneficial for your business, there are a couple of things you should keep in mind.
First off, determine your business objectives. Are you looking for short-term customer acquisition or long-term customer retention? Affiliate programs are great for acquisition because  anybody can share your affiliate rink, increasing your reach. Referral programs are great for retention because a recommendation from someone we know is the most trusted form of advertising.
Second, since affiliate programs are still a form of traditional advertising, keeping your marketing budget in mind is a must. Affiliate programs try to maximize the amount of clicks that each link/code generates. While this is great for brand awareness, you run the risk of attracting the wrong customers and racking up an expensive bill. So be careful when selecting your affiliates and ensure that they are credible and effective.
Referral programs on the other hand require no upfront financial investment and only require payment in the terms of rewards. If you have a points program, offering your referrer points is a great way to save money and ensure they shop with you again to redeem those points.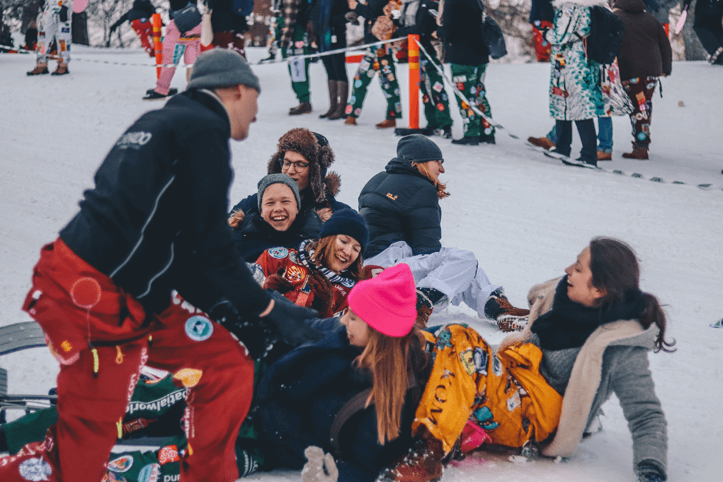 Finally, always keep your brand and products in mind when selecting a product. If you have a very niche, complicated, or expensive product, then you may want to opt for a referral program. This is because customers will do a lot of research before purchasing your product and a trusted recommendation from a friend may just be the nudge they need to hit the purchase button.
Affiliate programs are better-suited for generic, simple, or inexpensive products. This is because customers are more willing to make impulse purchases for these types of products. Stumbling upon your brand in a blog post or social media story might just be all the motivation they need to click the affiliate link and then click purchase shortly after.
At the end of the day, there is no universal right answer to the referral vs. affiliate program debate. But there is a right answer for your brand. We may be biased, but we think referral programs are a great tool for small businesses looking to grow and retain customers. And we happen to know of a pretty great referral program tool that could help you out ;).
Keep Your Referral and Affiliate Program Separate
When it comes to affiliate and referral programs, there's a time and a place for both.  While some brands choose to run them simultaneously, they are achieving very different goals.  
Referrals are a fantastic way to attract and retain new business from customers who actually find value in what your brand delivers.  The reason people will keep referring their friends to your store is because they genuinely want their peers to have the same great experience they did, making them highly valuable acquisitions long term.
Referrals bring in customers who provide value long term.  Affiliates help achieve short term goals.
Affiliate programs on the other hand are better for achieving short-term gains.  They can successfully bring new customers to your store, but those same customers won't necessarily turn into long lasting business.  As a result, affiliate programs are effective at inflating sales numbers without necessarily improving retention or establishing ongoing purchase behaviors.  
No matter what type of program you choose to run, the key is understanding their differences and choosing the one that will actually help you achieve your business goals.  After that, it's up to you to run your program accordingly in order to get the best results possible.
Start improving your business with an effective referral program.
Put your most loyal customers to work for your brand with a world-class referral program.