Today's top brands know that if they want to succeed, they need to look at the maximum potential of each customer. That value extends beyond just their customer lifetime value and into the additional ways they can generate value for your brand beyond a purchase.
Perhaps the most valuable thing customers can do for your business is share it with others.  Word-of-mouth marketing is one of the best ways to expand your brand awareness, and offering rewards is the perfect way to encourage this profitable behavior in your current customers.
Referral and affiliate programs are only successful if you understand
which one
will benefit your business the most.
With ad costs constantly rising, you need to be motivating your customers to talk about your store.  This makes affiliate and referral programs the best place to start, but not all programs are the same.  While you can turn your existing customer base into a powerful network with rewards, it's important to know the pros and cons of both referrals and affiliate programs.
In general, referrals bring in customers who provide value long term while affiliates help achieve short term goals.  Although combining rewards and referrals may seem like the obvious solution, it's still a good idea to look at both programs from top to bottom and draw your own conclusions.
Referral Programs
What Is It?
Referral programs are one of the most successful marketing tools in the world.  With customer referral programs, you empower people to promote your products or services to their friends and family by offering some kind of reward. Rewards can be free products, free shipping, or discounts off a future purchase.
This dual-sided value makes referrals an extremely popular way for customers to get involved with the brands they love, and creates more opportunities for new customers to fall in love with your brand experience.
Referral Program Example: Dropbox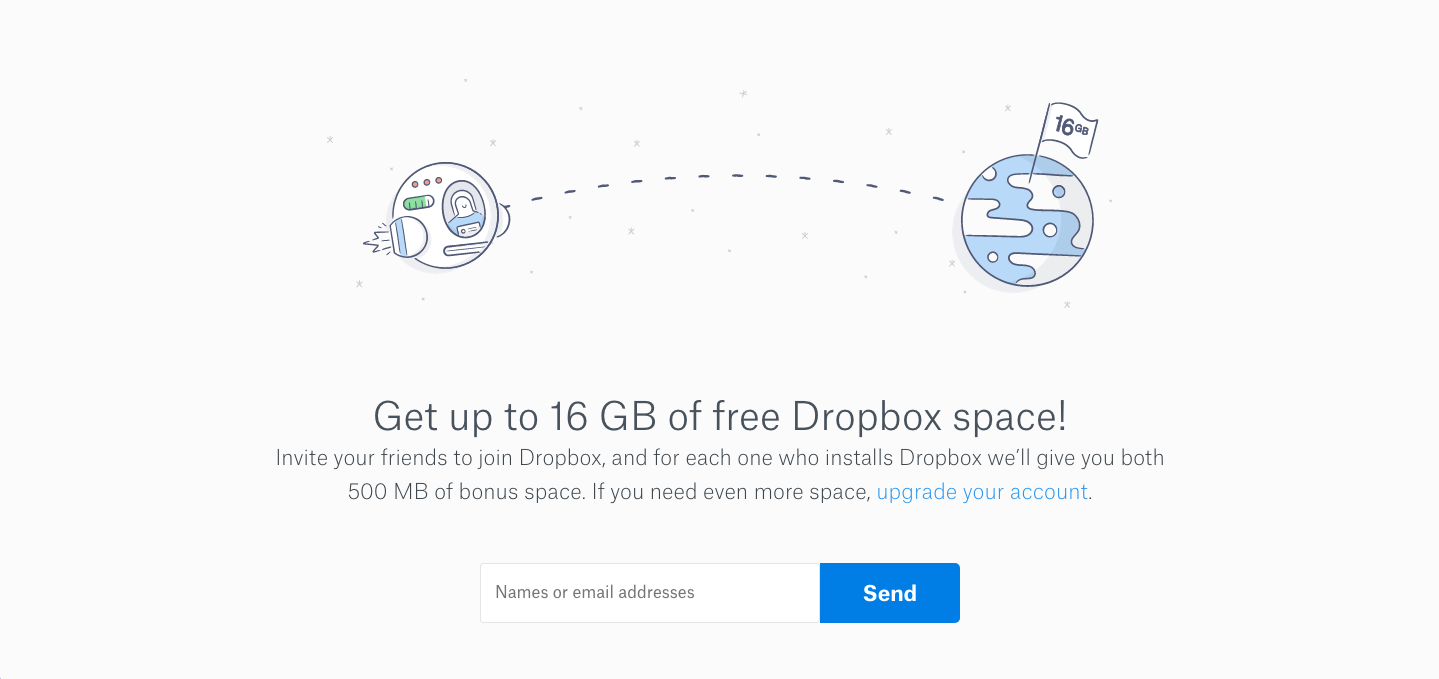 Dropbox is one of the best examples of a referral program in action. The popular digital storage system offers customers the opportunity to earn extra space by inviting their friends to try Dropbox out. With different reward levels based on on the customer's existing account type, existing users are not only motivated to refer friends to the service but also to increase their payment plan in order to earn a greater reward.
This simple strategy has been extremely effective at bringing in new users, and has created a highly rewarding experience for their ever-growing customer base.
Affiliate Programs
What Is It?
Affiliate programs allow businesses to reward particular individuals for sending them traffic.  Also known as associate programs, these programs are built around an agreement that states how much the referring website will be paid for the amount of traffic they send.  Typically, affiliates are paid based on the number of people they send to the brand's site or the number of referred people who perform a valuable action.
More often than not, affiliate programs require potential affiliates to go through an application process that determines whether they're a good fit or not.  With many new and returning customers interested in picking up some extra cash, some brands see affiliate programs as an easy and effective acquisition marketing strategy.
Affiliate Program Example: Herbalife Nutrition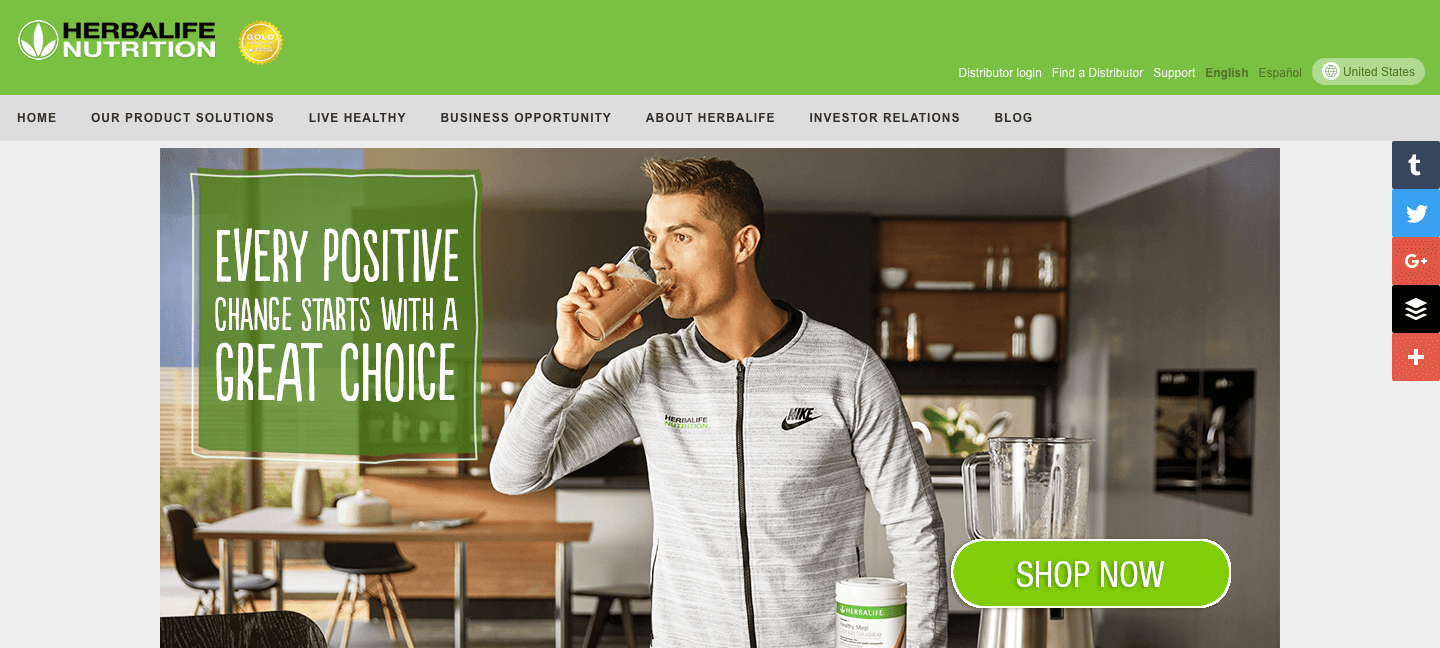 Herbalife has gotten a lot of attention in the affiliate marketing space.  The weight loss company is one of the most well-known affiliate programs out there, offering a standard commission rate of 2% for linking back to the Herbalife site.  Any sales made by customers who clicked through an affiliate link will be recognized and honored by the affiliate program, keeping affiliates ultimately responsible for their success with the program.
Choosing Which Program to Run
When it comes to choosing which type of program would be most beneficial for your business, there are a couple of things you should keep in mind.
Referrals Are More Authentic and Natural
Advertising and marketing is not the same as it was even a decade ago. Shoppers buy differently, and as a result you are seeing traditional advertising become less effective.
Today, people buy through learning -- not from being sold. That is why you see people using content marketing, encouraging reviews, and looking to promote referrals.
"A referral from someone we know is the most trusted form of advertising."
Nielsen
Most referral programs reward both the sender and the receiver with something that encourages them to come back and shop again. This reward can only be claimed at the store they are referring, which means customers need to value shopping at your store in order to make that referral to their friend.
This connection between you and your customer results in high value referrals from those who genuinely love your business and want their friends and family to enjoy a similar experience.
Referral programs
maximize high value shares
from those who love your brand, while affiliate programs
maximize for a low value but high quantity of shares
for personal financial gains.
An affiliate, on the other hand,  is simply trying to maximize the amount of clicks that each link/code generates. They are looking to maximize personal financial gain and may have no personal connection to your store or brand.  Their shared links may then feel forced and impersonal, leading us to generally avoid them unless we really trust the poster.
Affiliate programs often feel
impersonal
because of their generic messaging and broad audiences.
In general, those who see a referral from a friend will be way more trusting than a generic link they see posted to a forum or comment section on YouTube.
Affiliate Programs Are Still Traditional Advertising
With top online brands shifting to retention marketing, it's surprising that so many merchants are still considering affiliate programs.  When you consider how they work, it's easy to see that they're no different from traditional marketing: you pay someone to spread your message and hope that the right people see it.
"If you do what you've always done, you'll get what you've always gotten."
Tony Robbin
At the end of the day, you're still paying for your brand to be put in front of others.  The difference is that you've got others to help you with the legwork.
This blanket approach to advertising does little but simply expand your brand awareness -  something that sounds great up front, but isn't exactly actionable or useful long-term. With no consideration for who you're impacting through your affiliate links, you're still shooting in the dark, hoping to hit the right target.  This doesn't do much to help you save or retain money, creating a funnel for resources you could be effectively channeling elsewhere.
Affiliate Marketing is Not Influencer Marketing
One of the biggest marketing buzzwords is "influencer marketing."  This method of advertising enlists the help of an influencer to promote your brand or products to their specific audience.  Influencers have large social followings, and have the power to encourage thousands of potential new customers to try your brand.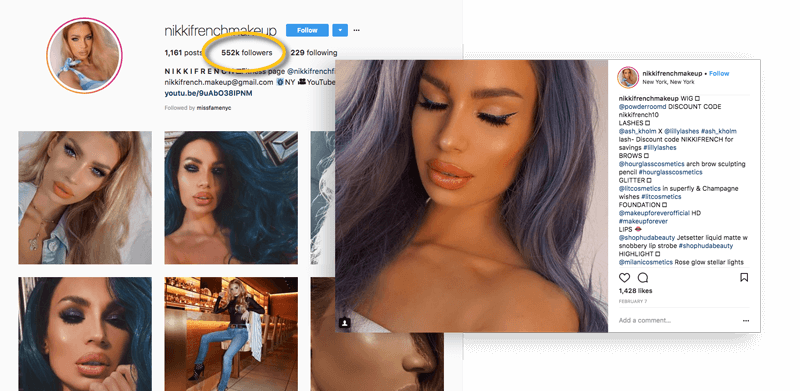 This hyper-focused marketing style makes influencer marketing more of a partnership between a brand and the influencer.  Targeting specific groups of customers with an invested interest in the types of products being promoted places the focus of the campaign on delivering value to all parties involved: the brand, influencer, and audience.
Influencer marketing
targets specific groups of relevant customers
while affiliate programs merely blast as an audience as possible.
Unfortunately, affiliate marketing is more a machine gun approach.  Since virtually anyone can start sharing your affiliate link, you have no control over the credibility of the marketers involved in your program.  This leads to more people sharing your brand with wider audiences of people who aren't a good match for your products or services, costing you money without bringing in new business.
In these ways, an affiliate program broadens your reach but cheapens your message, which often ends up doing more harm than good.
Keep Your Referral and Affiliate Program Separate
When it comes to affiliate and referral programs, there's a time and a place for both.  While some brands choose to run them simultaneously, they are achieving very different goals.
Referrals are a fantastic way to attract and retain new business from customers who actually find value in what your brand delivers.  The reasons people will keep referring their friends to your store is because they genuinely want to engage with your brand on an ongoing basis, making them highly valuable acquisitions long term.
Referrals bring in customers who provide
value long term.
Affiliates help achieve short term goals.
Affiliate programs on the other hand are better for achieving short-term gains.  They can successfully bring new customers to your store, but those same customers won't necessarily turn into long lasting business.  As a result, affiliate programs are effective at inflating sales numbers without doing anything to improve retention or establish ongoing purchase behaviors.
While I'm personally not a huge advocate of affiliate programs, there are some instances where they can be effective.
No matter what type of program you choose to run, the key is understanding their differences and choosing the one that will actually help you achieve your business goals.  After that, it's up to you to run your program accordingly in order to get the best results possible.