As an ecommerce merchant, you're probably wondering what you can do to show your customers some gratitude for their continued loyalty. After all, without your customers your store is just another website!
Before we begin looking at the reasons you should be thanking your customers, I would like to start with a quote about customer experiences that came from a rather unlikely source:
"Kind words can be short and easy to speak, but their echoes are truly endless."
Mother Teresa
While there are many ways this quote can be interpreted, here is my take on it: sometimes, we can forget how easy it is to make someone's day. A simple thank you or personal note can have a lasting and meaningful impact on a customer, and help create an emotional connection they won't soon forget.
So what's the impact of thanking customers in the world of ecommerce? I'm sure you already know that you should be thanking customers all year round and not just around the holidays, but you may not know the reasons behind supporting this line of thinking.
Reasons to be thanking customers
Your customers want to feel valued
No one likes being in a one-way relationship - the kind where you're the only one committing any time or attention to keeping it going.   When you're always giving and never receiving, it's easy to feel unappreciated and undervalued.
60% of businesses have lost a customer because they feel the business is indifferent to them.
Customer Experience Insight
The same is true in ecommerce. When customers are committed to your brand community, they want to feel like you care about them as individuals.  Otherwise, you run the risk of them taking their business elsewhere.
This is one of the biggest contributing factors to a customer choosing to shop with another brand.  While you might assume that most customers choose competitors based on prices and products, 9% of customers leave because of what a competitor is offering while 60% of businesses have lost a customer because they feel a company is indifferent to them. Clearly customers expect a little gratitude in return for their business.
In order to avoid losing them, the simplest thing you can do to make a customer feel valued is to continually thank them for being part of your community.  Through email communications, social messages, and handwritten notes, you can remind customers that you are aware of their business and appreciate it. Trust me - you'll be glad you did, and you may even create a couple of brand advocates in the process!
Thanking customers has financial benefits
If making your customers feel valued isn't enough motivation to thank them, maybe the fact that gratitude has financial benefits will be!
Studies have shown that 38% of customers attribute a good customer experience to personalization, and a good customer experience is what will keep delighting your customers.  When your customers are happy, they're bound to come back to your brand, join your community, and make more purchases as a result!  In fact, shoppers are willing to pay more in order to get a better customer experience, meaning your gratitude has the potential to skyrocket your profitability.
86% of shoppers are willing to pay more for a better customer experience.
Oracle
If we put those two points together, we can see that customers want a personal, emotionally driven customer experience. As a result, building a personalized experience leads to a better customer experience which customers are willing to pay more for.
If you want to increase profitability, start getting personal!
When you acknowledge each of your customers individually for being engaged members of your brand community, you demonstrate a desire to get to know them and continue building that relationship. This personal attention goes a long way towards endearing customers to your brand, so making sincere "thank yous" should be a key component of your ongoing business model.
How to start thanking customers
Now that you know why thanking customers is important, it's time to start doing it! Since there are an infinite amount of ways to thank your customers, it's important to find a way that makes sense for your business, your brand, and above all your customers.
Here are 5 simple ways that you and your business can start thanking your customers.
1. Include a thank you note with every order
This is by far one of the easiest and most effective strategies to start implementing, and can take any number of forms. Whether you thank your customers on social media or with a handwritten note inside the packaging, you can brighten their day by acknowledging their business every time they place a new order.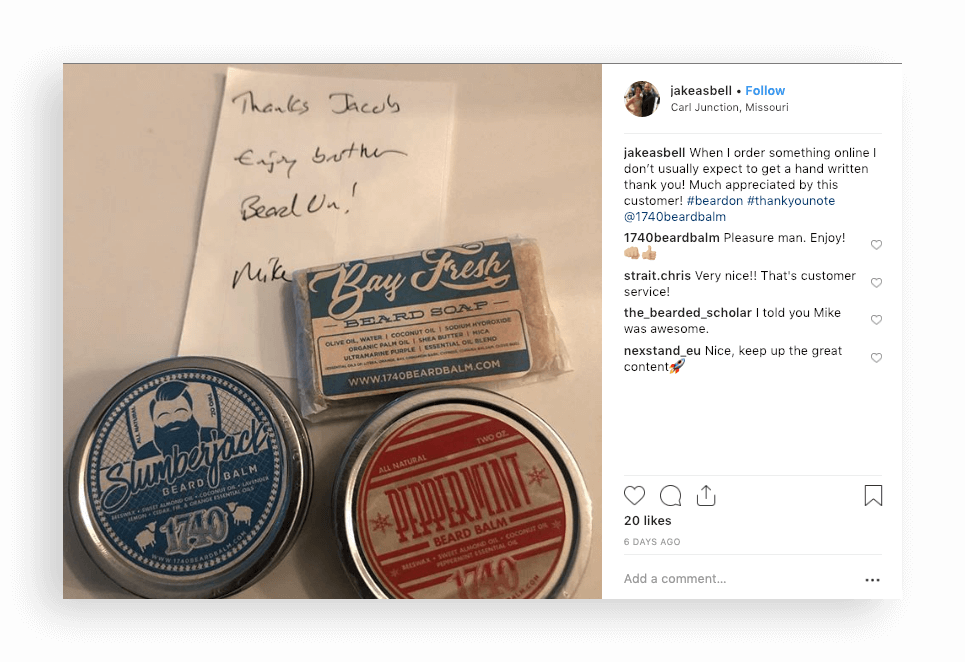 Besides making your customers smile, this will also help set your business apart. Most ecommerce packages are only shipped with the product, some packing peanuts, and an invoice - an experience that feels completely impersonal. When you include a personal message, you turn the entire experience (even after the sale!) into an opportunity to strengthen your relationship with the customer. This turns a simple order into an exchange among friends.
2. Provide customers with value-add content
Value-add marketing is an extremely powerful tool to help improve your customer experience. Not only does it provide extra value for your customers, but it also becomes a valuable resource for your not-yet-customers! So what does value-add content look like?  For starters, you can provide customers with a learning centre or knowledge base where they can increase their knowledge about your product or industry.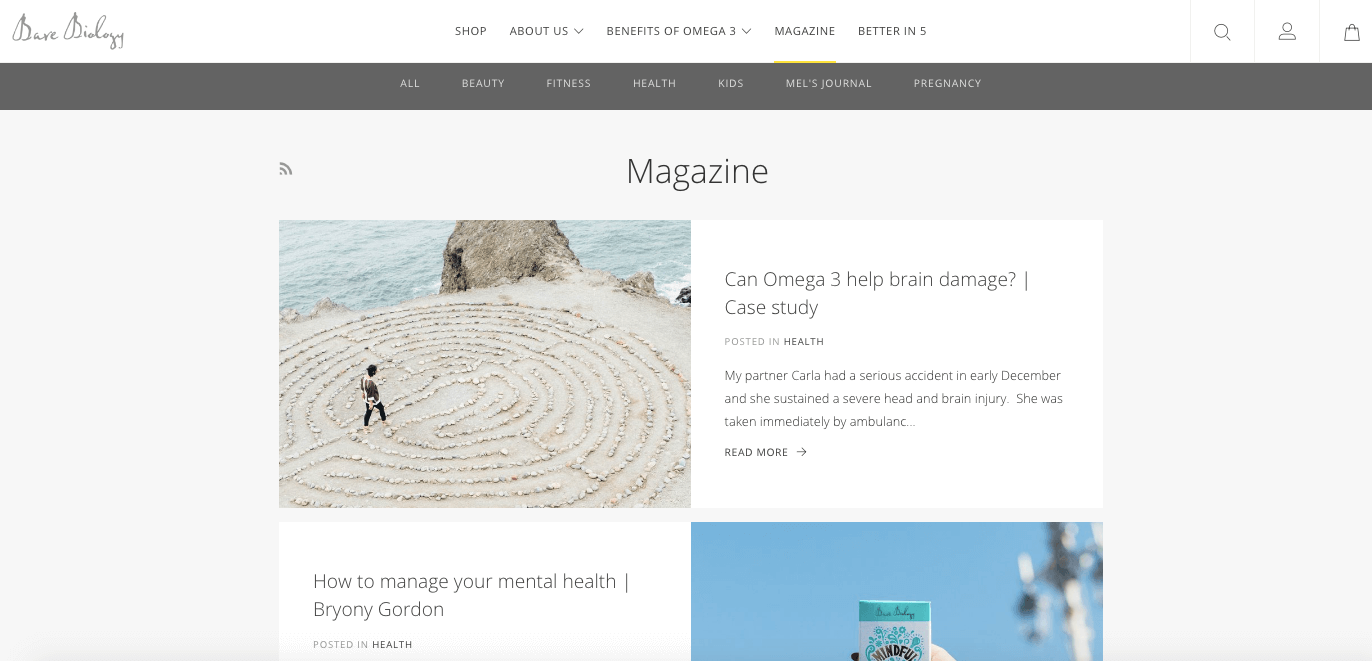 A fantastic example of this is Bare Biology, who offers customers access to an online magazine that discusses everything from fitness to beauty. This lets Bare Biology highlight their industry expertise while also helping customers find articles related to a brand they love.
This type of content will look different depending on what your business does.  For example, if you're a fashion retailer, you could offer customers a style guide on your site that inspires their next outfit.
Whatever you choose to do, this additional content acts as value propositions that improve your customer experience and position your brand as the industry expert. These considerations demonstrate your commitment to helping customers get the most out of your brand at no additional cost.
3. Think of the individual as well as the group
As I've already mentioned several times, customers love personalization! This means that you need to start thinking about your customers as individuals who belong to your larger brand community.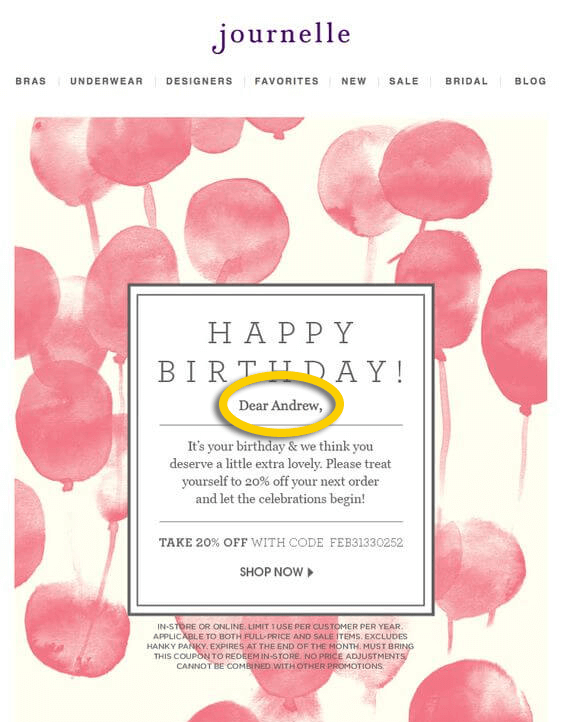 This individual personalization can take a number of different forms.  For starters, you can address customers by name in your marketing and post-purchase emails, or even thank them for another year of business every year on their birthday.
No matter how you choose to do it, approaching each customer as an individual is the perfect place to begin to say thank you on a deeper and more meaningful level.
4. Send a handwritten letter
In a world driven by beeps, clicks, and keystrokes, there are few things as exciting as receiving a handwritten letter. There's something special about knowing that someone took the time to sit down and address them personally that makes it immediately more valuable. This goes a long way in a world that has become obsessed with automation, and will help you further distinguish yourself from your competition.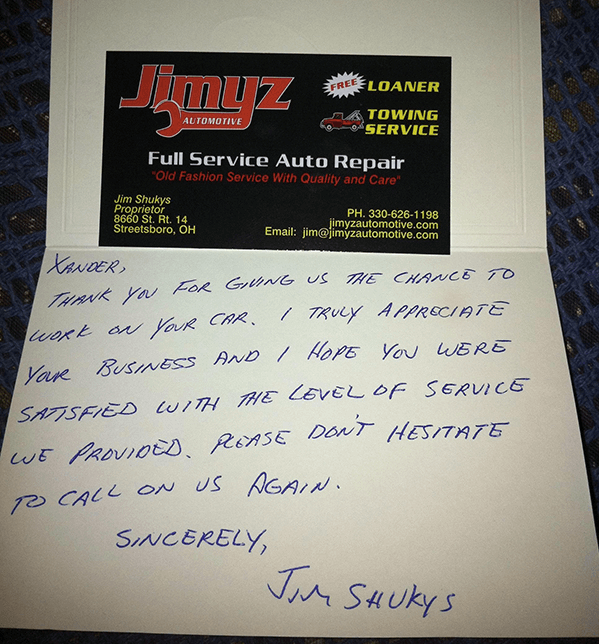 Take a look at this example from Jimyz Automotive. This customer experience went viral on Reddit immediately after it was posted, with many Reddit users commenting that they actually knew the business and loved Jim, too.
The customer that received this letter is sure to remember it for a long time, and you can bet that the next time they need car service Jimyz Automotive will immediately come to mind!
5. Throw a thank you event
Nothing is as impactful as a thank you given face-to-face. Even though it can be difficult with customers all over the world, there are ways to do it! You can thank your customers on a much smaller scale without diminishing your gratitude's impact.
Two great ways to do this is by inviting customers to attend a webinar or a podcast. You can sweeten the pot by inviting a celebrity or micro-influencer to address your customers all at once.  This is a great way to minimize expenses while still delivering an above-and-beyond experience.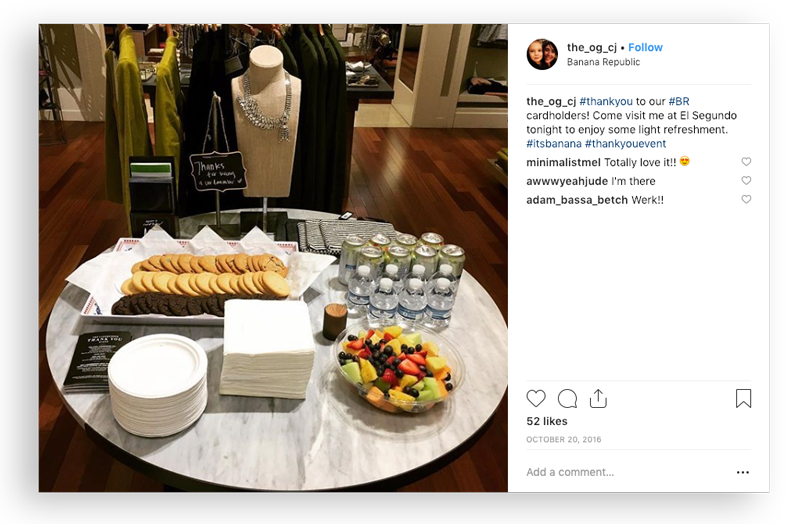 Don't feel limited to only using these ideas, though.  If you have the resources to run an in-person customer appreciation event, do it!  Inviting your customers to spend time with other valued members of your brand community is a great way to make them feel special and appreciated - especially if they're given a little something extra.  A free gift, special meet and greet, or bonus discount are only three of the ways that you can turn a regular Friday night at your store into a wonderful evening of value for your loyal customers.
A personal thank you story
Now that you have seen some of the many ways you can start thanking your customers, I want to share an example of a business showing me thanks!
My example comes from a bank, of all places. I had gone into the bank to convert some money for my upcoming trip to the Dominican Republic, and mentioned to the teller that my girlfriend and I had been dating for 5 years and the trip was our way of celebrating. When I returned from my trip, I had a hand-written postcard from my bank in my mailbox saying that they hoped my girlfriend and I had a wonderful time on our vacation and thanking me for my business.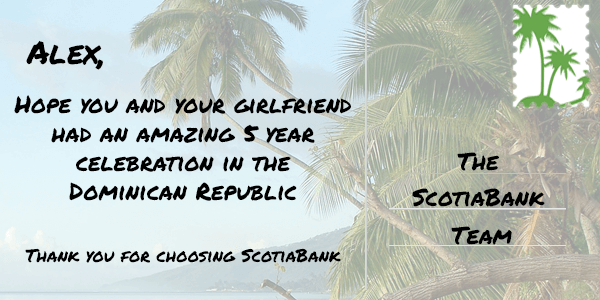 (Recreation of the original postcard)
This personalized thank you blew me away! It left me feeling valued and important, and guaranteed that I will continue to do my banking with ScotiaBank.
If this small gesture can guarantee my customer loyalty, imagine what a combination of thank you gestures can do for your customer base!  At the end of the day, thanking customers is a huge step towards a thriving brand community that will keep your customers happy and coming back time after time.